After my week in Cyprus, the cheapest flight took me to Crete, Greece's largest island. This gorgeous Aegean paradise island offers loads to see and do, from world-renowned beaches to a thriving food scene to ancient ruins and historical hot spots.
I spent my time on Crete in Chania, the second largest city near the top of the western half of the island. While I was there I split my time between a funky budget-friendly hostel, KUMBA, and a stunning self-contained boutique apartment right in the old town. Here's a full review of the apartment, Palazzo di Irene.
YOU MIGHT ALSO LIKE: How I can afford to stay at world-class hotels without blowing my budget
What's Palazzo di Irene like?
Palazzo di Irene is a small but beautiful boutique hotel in the middle of Chania's old town. There's four suites to choose from and they are fully serviced with self-catering facilities.
How was the room?
My room felt like a home from the moment I walked in. It's a spacious studio apartment with a living area as well as a decent-sized terrace, the bed was gigantic, and the kitchen was small but totally fine for a solo traveller or a couple.
The rooms all have speedy WiFi and air conditioning, and my terrace was sun-soaked for hours of the day.
The kitchen is stocked with cooking utensils so it's a great spot for anyone who prefers cooking their own meals when they're abroad, and Chania has a fantastic market to fill your basket with local ingredients too.
Palazzo di Irene also has two rooms with saunas in the bathrooms if that's your kind of thing!
Where is Palazzo di Irene?
Palazzo di Irene is located down a cobbled pedestrian-only alleyway in the middle of Chania's Old Harbour. Your Chania airport transfer or taxi will drop you off at the entrance to the old town and it's a short 5-10 minute walk from there.
There are endless restaurants, bars, ice cream shops and souvenir stores near Palazzo di Irene.
Does Palazzo di Irene serve food and drink?
There's no restaurant or breakfast served at Palazzo di Irene but there's a kitchen for you to cook your own, as well as loads of nearby places to eat.
I recommend checking out Ginger Concept for brunch, To Koutourouki for local dishes, or head to ABABA just a few doors down for a cocktail in a funky atmosphere.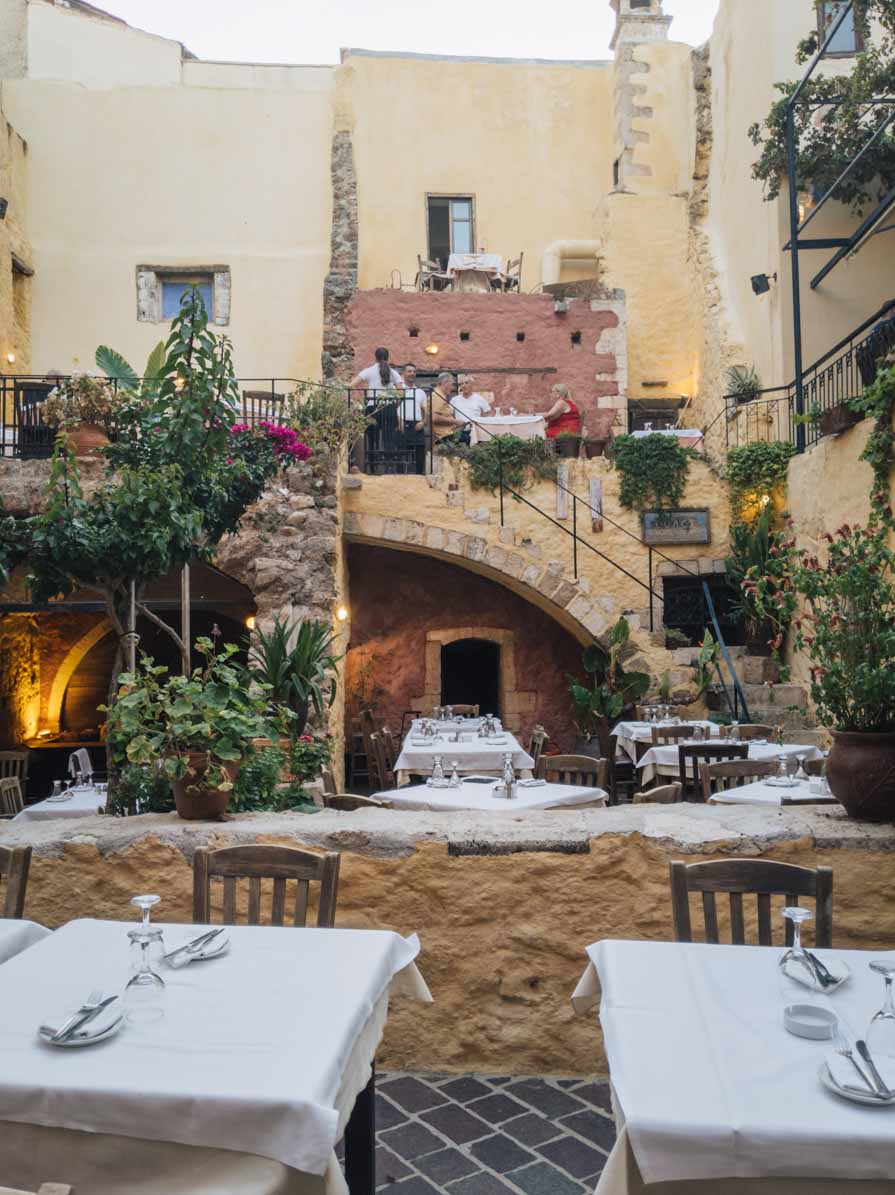 The verdict
Palazzo di Irene is the ideal apartment set up, and it was exactly what I needed after a few weeks of hostels!
The location was brilliant and it meant I was smack bang in the action as soon as I stepped out the door, there was loads of space which meant it was a great relaxing environment to come home to, and having a kitchen with a terrace was perfect for a DIY brunch in the sun.
I'd recommend this place for any solo travellers wanting a quiet break, couples, friends or families who want to stay somewhere beautiful in the middle of old town. I'll be back!
Looking to somewhere to stay in Crete? Search for hotels on your travel dates right here
Read more about my 52 in 52 adventure here, see all of my blog posts from the trip here, or check out my Instagram @findingalexx to see all of my travel photos.
All the basic details from my big 52 in 52 trip:
How do you find your flights? Skyscanner! I use the Everywhere tool to find the cheapest place to fly to each Tuesday
Do you fly every week? Not every week no, once I have the destination I check trains and buses to see if there's any other transport options aside from flying. If so, I usually book these using the Trainline app.
How do you book your accommodation? I book all my hotels, hostels and apartments on either booking.com or Hostelworld.
Do you have travel insurance? YES, I always travel with travel insurance and you should too. I'm insured for an annual policy with Worldcare NZ.
Do you offset your carbon credits? I sure do! I always offset when I book if the airline gives me the option (Ryanair does), and I also offset all my flights using Co2nsensus.com.
What luggage do you travel with? I travel with a 75cm Samsonite Cosmolite suitcase, a matching Samsonite Cosmolite 55cm cabin luggage hardcase, and a cheap laptop backpack.
What camera do you use? You can see the full list of what's in my camera bag right here.
What laptop do you use? I have a super portable HP Spectre x360 13.3″ laptop, which is an absolute dream to travel with.
For more FAQs about my 52 in 52 trip, see this post.
Huge thanks to Palazzo di Irene for hosting me for three nights. As always, all opinions are my own and are based on my experience.