A Portugal road trip has been at the top of our road trip wish list for a long time now, and after months of ogling at photos of Algarve beaches online and tagging each other in Instagram posts DAILY, we put together the ultimate Portugal road trip itinerary and were on a plane from London to Faro faster than you can say Pastéis de Nata.
YOU MIGHT ALSO LIKE: FAQs about my 52 countries in 52 weeks trip
We covered more than 1100km of Portugese perfection over our five day Portugal road trip, from the crystal blue waters of the Algarve to the winding coastal roads of the Atlantic Ocean, the fog-topped mountains of Sintra, and the decorated streets of Lisbon and Porto.
Covering that amount of ground in five days isn't everyone's cup of tea, but for the restless amongst us there's definitely enough to see while still allowing time for naps on the beach, cocktails at sunset and some cheeky sunrise swims.
If you're lucky enough to have more time, head on over to Poppin' Smoke for a brilliant slow travel itinerary in Portugal.
Here's what we got up to over five days on our Portugal road trip with our trusty Turis Prime rental car.
---
TRAVEL TIP:
I find all my flights using Skyscanner! You'll get the best deal if you're flexible on where to go. Just put in your origin, your departure date (or month) and type 'everywhere' into the destination bar to see the cheapest locations to fly to on your next holiday.
---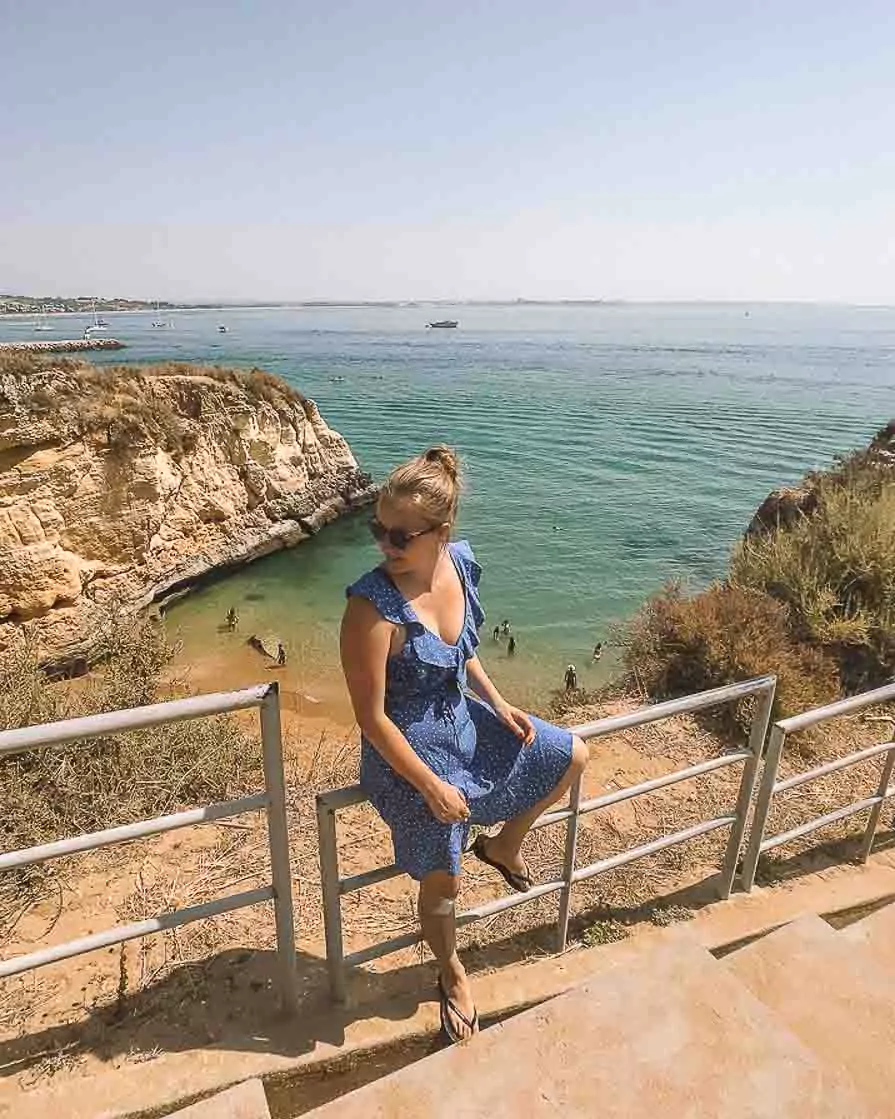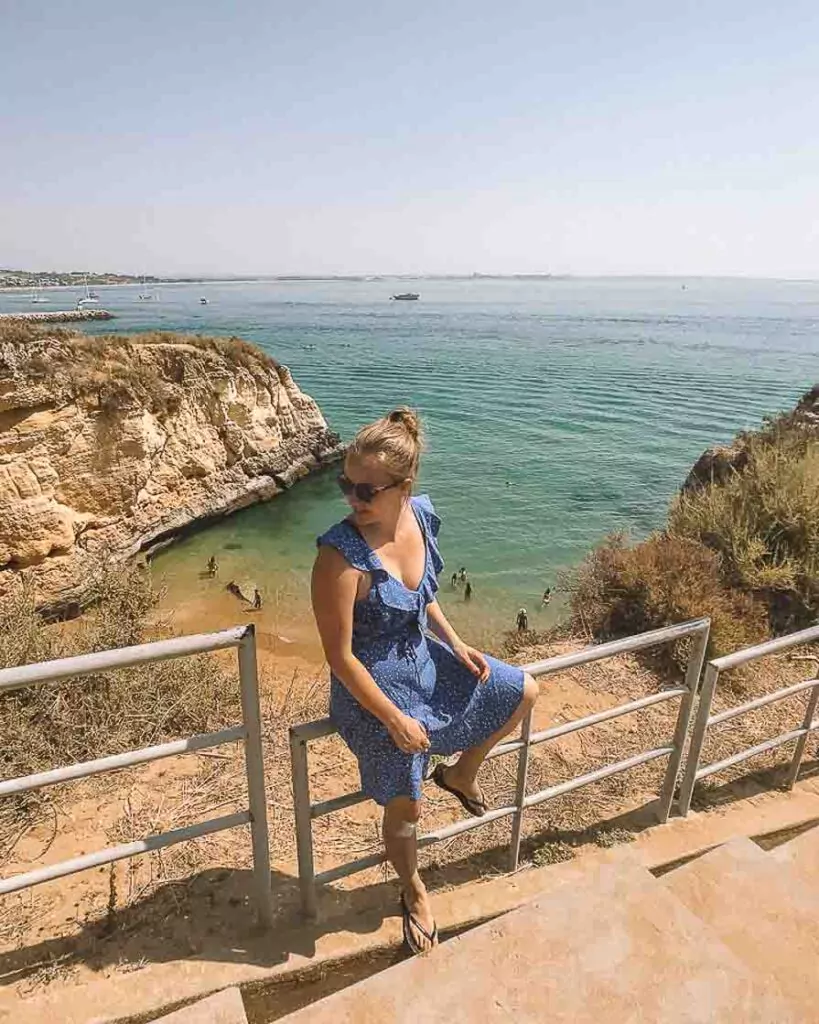 Day one
Waking up from an interrupted sleep in a hostel isn't the ultimate way to start a holiday, however after flying in late on a Friday night, Hostellicious in central Faro was an ideal location for an affordable and easy night's stay.
It was only a five minute walk from the bus station so getting there from the airport was super easy.
Things I loved about Hostellicious:
The beds! Solid wood built into the walls so there's none of that shaking when your bunk buddy rolls over
Power points beside every bed – enough said, this is an essential.
Location – five minutes to the bus station, and just around the corner from a few bars and eateries
Absolutely my make-or-break for any hostel is super clean with nice bathrooms – Hostellicious passed!
We took an Uber (only a few £s) to collect our car for the journey – a Renault Captur from the lovely team at Turis Prime. Only good things to say about this rental company! They were super helpful and friendly, allowed us to pick up from Faro and drop off to Porto, and the car was in perfect near-new condition.
By 10am we were already sweating so our first day was dedicated to Algarve beach-hopping – THE DREAM!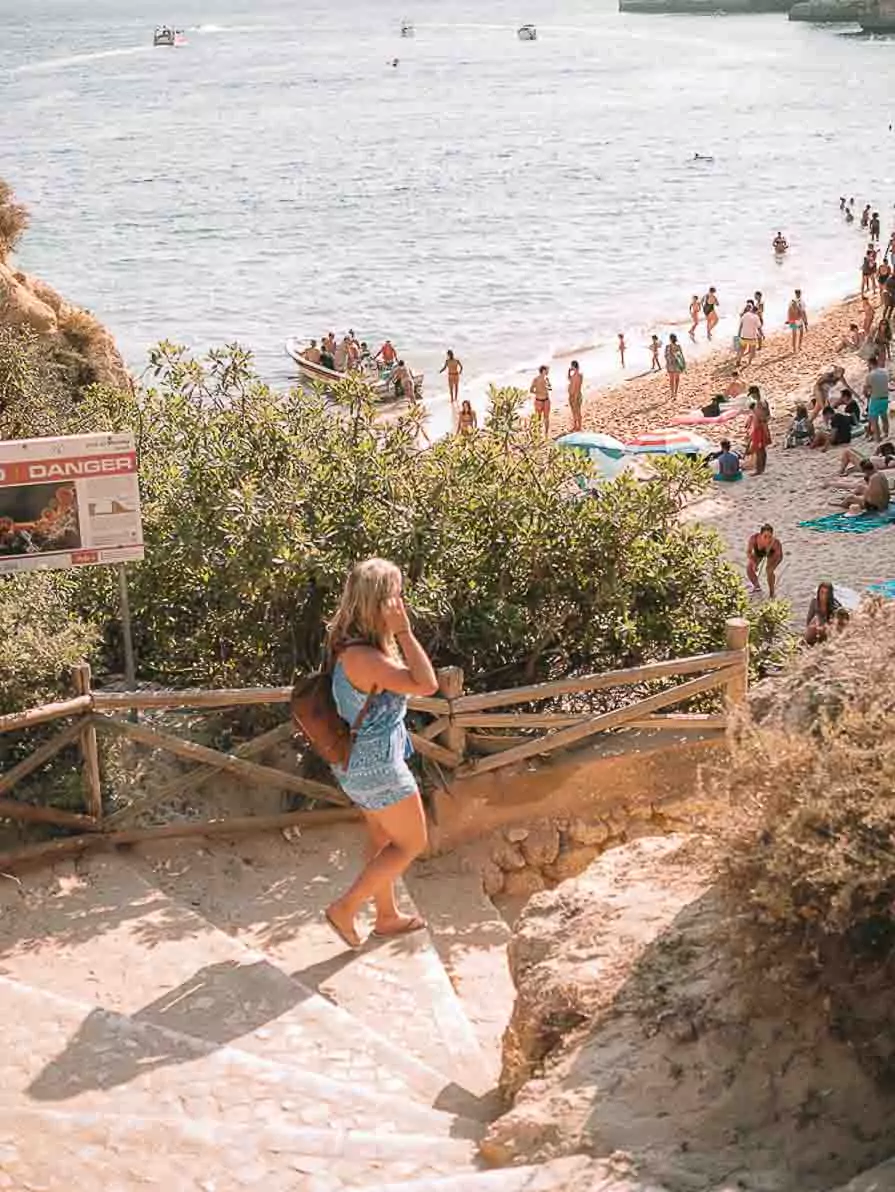 Starting from Lagos and working our way back to Faro, here were our eye-boggling stops:
Praia dos Estudantes – the dreamiest swim EVER! With an easy walk-down the stairs, lots of coves for shade, a really protected bay for relaxed swimming and the clearest water we saw the whole time. We parked in a huge carpark up the road for only €1 – too easy!
Estrada da Ponta da Piedade – an incredible must-see view, but no access for swimming so definitely good to sandwich this in between two swimming stops in hot weather (our car said 42 degrees at this point, so needless to say we were melting)
Praia dos Três Irmãos – big and long… just how I like my… beaches. (Honestly, wouldn't bother with this one).
Benagil Beach – we took a quick dip here and booked a Benagil Caves boat tour for the next morning, without realising that the caves were literally a quick swim around the cliffs! (BUT the tour was totally worth it with lots of other stops along the way – more on this in day two's details)
Praia da Marinha – a bit of a wander down a path to this one, and some creative carparking to find a spot, but another amazing swim. Much more crowded and the water was a lot choppier as it's a bit more exposed. Better to do this one first thing in the morning when it's quieter and calmer I think.
Note – we skipped Camilo Beach, which is the classic one you see in a lot of photos with people on the staircase leading down. Going in the peak of summer the area was packed out and you can find just as beautiful spots only five minutes down the road with more space to spread out.
The best treat is a retreat…
Thinking a day of beach hopping couldn't get any better, we were mistaken. Arriving at our incredible accommodation for the night at Mercedes Country House felt like coming home… a really, really, fancy home. The ultimate combination of high-end luxury and grassroots homeliness made this one of the best places I've ever stayed, with incredible thought put into every single detail – down to the cutlery!
Miguel and his lovely family have created the ultimate haven of relaxation in the countryside just 20 mins drive from central Faro. It is the perfect getaway after a day of sightseeing and activity and absolutely transformed our travels into a holiday.
YOU MIGHT ALSO LIKE: What's in my camera bag for a year of travelling around the world?
Dinner in their restaurant was made with organic ingredients grown in their garden or sourced locally, and we even got to try his home-made lemon and ginger liquor – AMAZING! We can't thank Miguel enough for his hospitality, and would recommend this to anyone looking for an absolute escape for an incredibly competitive price.
For a full review of Mercedes Country House, read on here.
Day two
Best. Sleep. Ever. Aaaand we are back on the road early for our Benagil Caves boat tour with Taruga Benagil Tours – an hour-long loop starting and ending at Portimão Marina, with a stop and swim in Benagil Caves and multiple cave visits on the way back.
Shout out to our overly flirtatious but very funny skippers who totally added to the experience. As mentioned above, yes, strong swimmers could definitely swim into Benagil Caves from Benagil Beach and save on the €25 but we were totally glad to take the boat so we could take cameras etc. with us.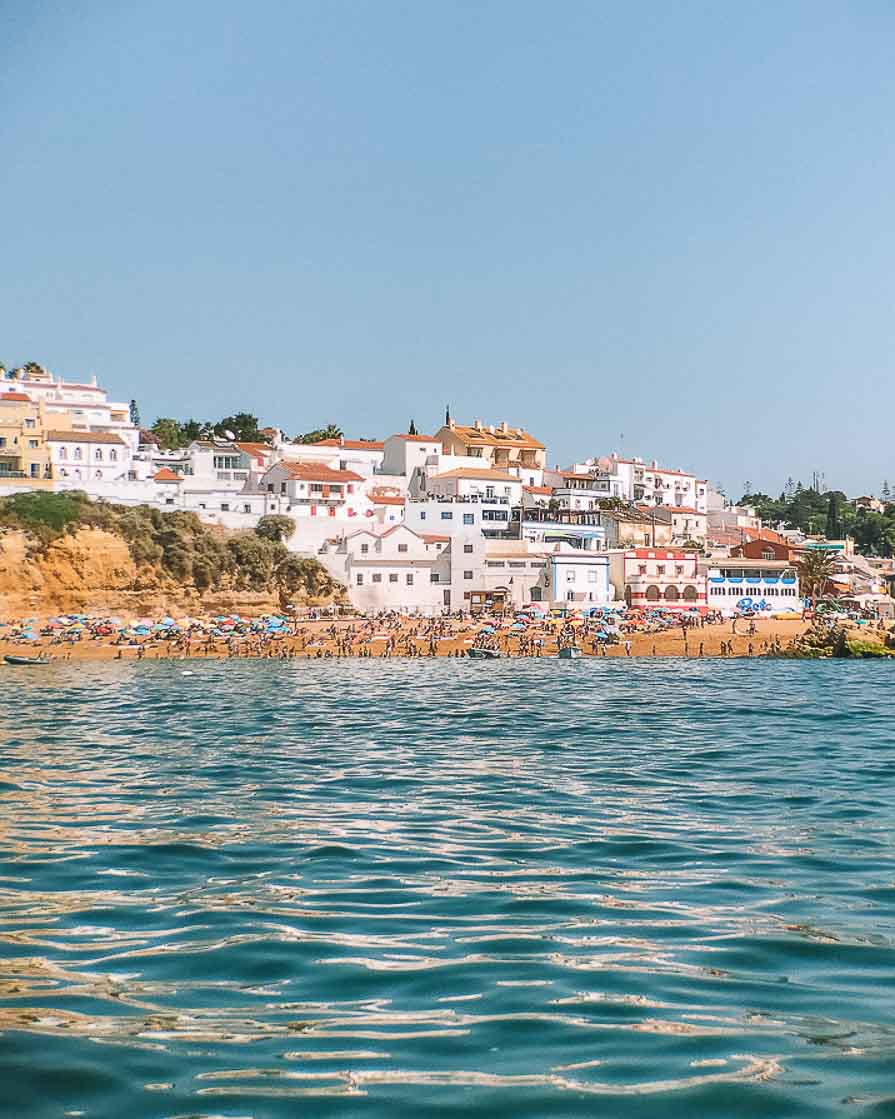 After a perfect start to the morning in the Algarve, we were back on the road and on our way to Lisbon. It was nice to arrive with time to settle into our accommodation because Hotel White was another great spot – parking included across the road, rooftop pool and beautiful rooms. For more on Hotel White, read our full review here.
We got jazzed up and headed out after looking up 'the best rooftop bars in Lisbon' which led us to Sky Bar, on the rooftop of Tivoli Hotel. A semi-expensive drink (normal London prices) was 100% worth the views over the city.
Then it was dinner time and we struck ACTUAL GOLD with a pizza, burger and cocktail bar around the corner. What more could we want! Guilty combined all of our favourite things, with some of the best hospitality from their bar staff and even a DJ. We were lucky enough to be there for my birthday and they truly made it the best birthday ever. I won't give away all the details but I will say DEFINITELY go there for a birthday if you can.
Day three
Sunrise rooftop swims have gone to the top of my favourite-things-ever list after my morning dip at Hotel White.
Then it was off to see some of the best of Lisbon. Head to the Bairro Alto district for some of the best tiled exteriors and cobbled streets! So many photo spots, so little time.
Make sure you stop in at Time Out Market for lunch for a selection of the best Lisbon restaurants and featuring specially-curated menus from five top local chefs. Allow a few hours to explore because this is seriously one of the biggest food halls you'll ever see.
For another perspective on the city (and one of my favourite views of the entire trip), we took our trusty Renault Captur across the Ponte 25 de Abril to Santuário Nacional de Cristo Rei – think Golden Gate Bridge, Portugal-style.
After spending the previous night in the city, we took the 40-minute drive out to Cascais (west of Lisbon) to our jaw-dropping night away from the hustle and bustle at The Oitavos five-star luxury hotel. It was complete opulence – ocean views, two pools, a jacuzzi, and our room looked like a beauty spa. Check out the full review here.
Day four
No breakfast will ever compare to the buffet of dreams at The Oitavos. We managed to stretch breakfast out for more than an hour before heading off to Porto, via Sintra and Nazare along the way.
Sintra
This was one of the places I was most excited for, with the fairytale colours of Pena Palace to the winding wells of the Quinta da Regaleira estate. BUT, turns out August was not a good time at all to go; the place was absolutely swarming with people.
It took over an hour to drive through the traffic in the area, find a park and then walk back to the entrance to another big line, and getting to see anything without 50 people standing in front of you felt like a mosh pit.
I would definitely say hold this for an off-peak visit when you can take your time and have space to see and enjoy the place, or go with an organised tour that gets you right to the door. We spent a while in the Initiation Well at Quinta da Regaleira but unfortunately had to skip Pena Palace.
Nazare
Known for producing some of the world's biggest waves over the winter season (October to March) so we did wonder whether it was worth the visit out of season, but it 100% was. With fog rolling in it made for epic misty vibes and you really still did get a sense of how powerful the ocean must be in season.
YOU MIGHT ALSO LIKE: The Ultimate Guide to Solo Female Travel
Definitely drive up to the iconic lighthouse and look down over the huge cliffs back towards the cute little Nazare town – which I imagine could be a really nice and chilled place to spend a night if you're wanting a more authentic beach stay, and a potential spot of surfing while you're there in summer. I'll definitely go back there, hopefully next time in winter to see the epic beasts! A well-worth-it stop after the chaos of Sintra.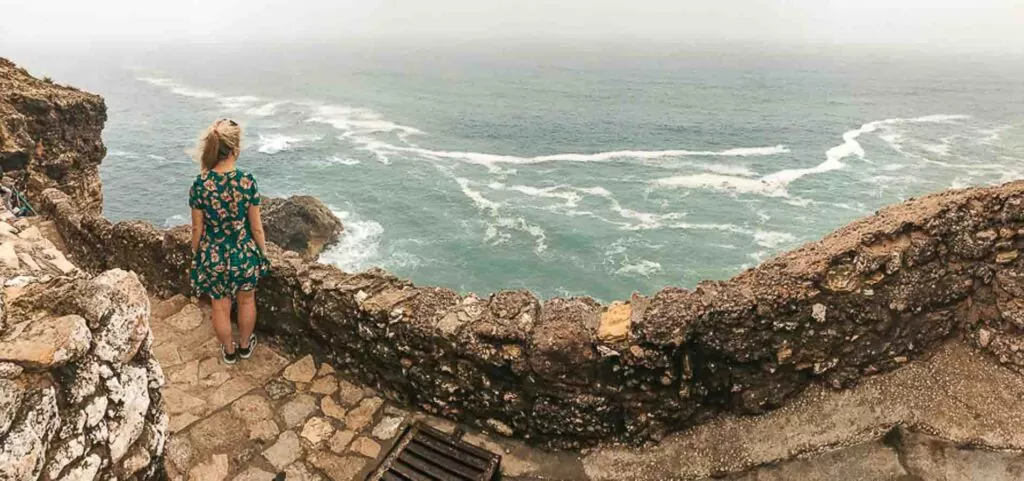 Then it was off to Porto for the night where we were given one of the warmest welcomes of the trip from the lovely Paolo at Design Palacio Flats, who made us feel totally at home. This place is amazing! It was an incredible two-storey apartment, literally a five-minute walk to the Porto Cathedral and Luis Bridge. Read more on our glorious stay at Design Palacio Flats here.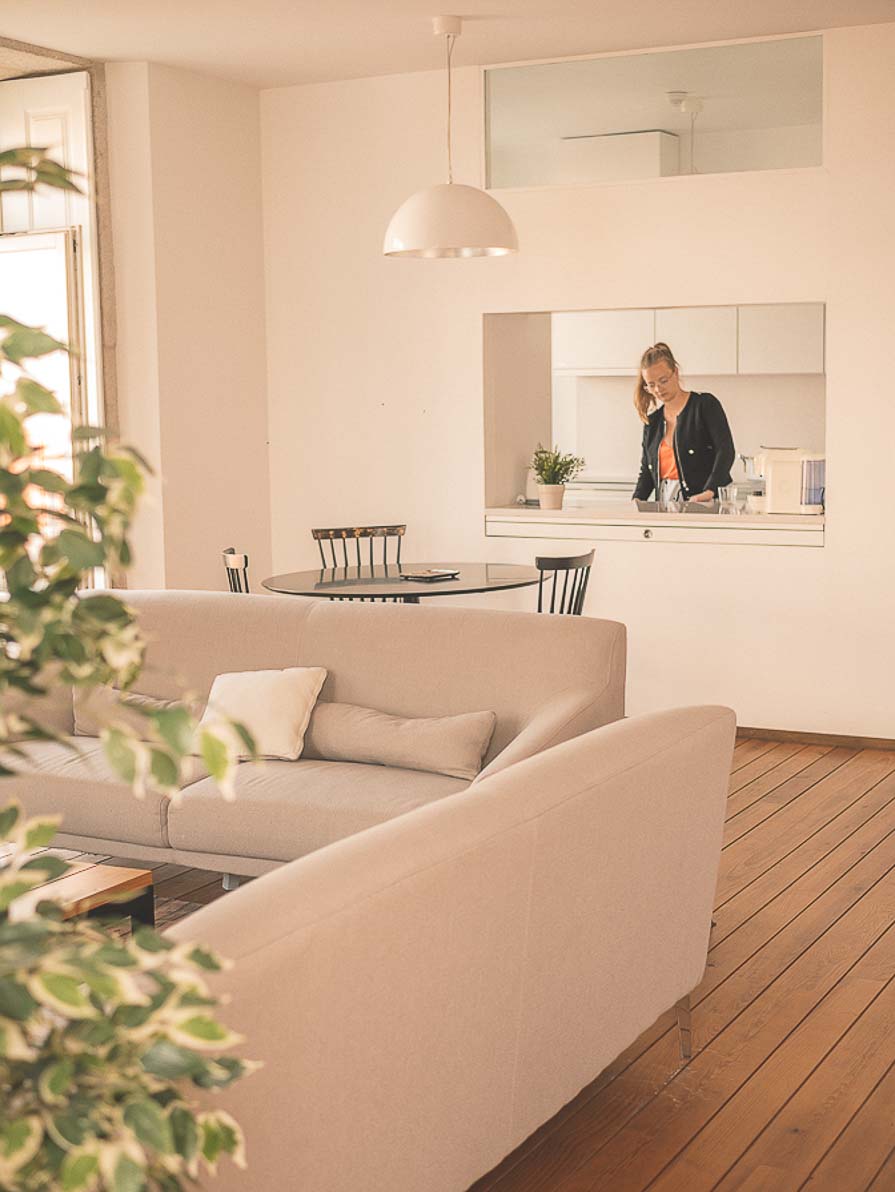 Day five
Porto, I love you! I haven't known many people to visit Porto as people tend to either do Lisbon, or Faro/Lagos if they're in the Algarve, but I can easily say it was my favourite city. The streets are so colourful and the whole place just has a great vibe! So many beautiful tiled walls for keen photographers and we even fit in some shopping along Rua de Santa Catarina.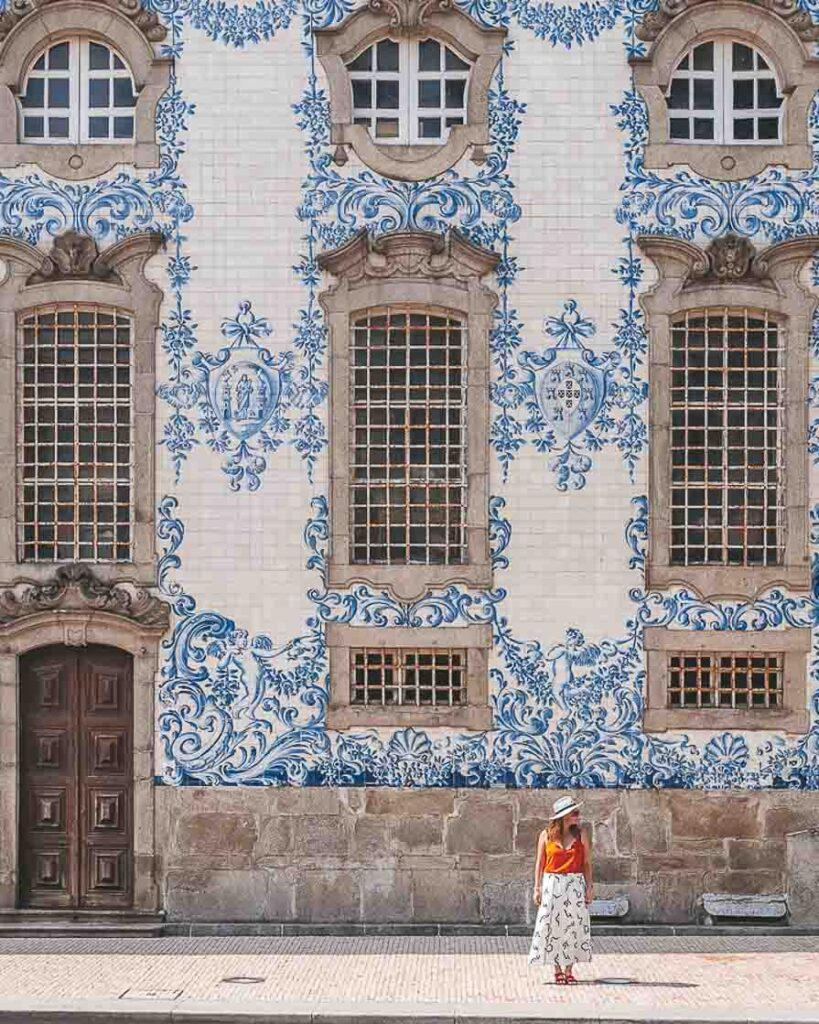 Our favourite photo spots of the day were:
After dropping our noble steed to Turis Prime (and they even gave us a lift to the airport!) we were packing up and saying, not goodbye, but see you again soon to an incredible five days in Portugal!
At a glance
Day-by-day itinerary
Explore the Algarve, from Lagos to Faro
Benagil Cave tour, drive Faro to Lisbon
Explore Lisbon, drive to Cascais
Drive to Porto, via Sintra and Nazare
Explore Porto
Where we stayed
Best places we ate/drank
Getting around
We hired a Renault Captur from Turis Prime, picked up from Faro and dropped off to Porto. It gave us complete freedom and meant we could be spontaneous and get off the beaten track.
Travel insurance
I have an annual policy with NZTI that covers me for all trips I do throughout the year. The best way to do it I reckon!
Key lessons learnt
I would drive in the other direction – Porto to Faro – in order to spend my last day on the beach
Sintra is beautiful but because of the crowds, it wasn't particularly enjoyable. In the same way I wouldn't go to Rome in August, I would also leave Sintra for an off-peak trip.
Accommodation 100% makes a trip. I've always been one to skimp on accomm in the past and always thought of it just as 'a bed for the night', but our stays in Portugal were absolutely the highlights and completely added to the experience. It turned our travel into a holiday and I would definitely recommend at least one night of luxury and escape!
Overall our road trip was a whirlwind, but it was an epic experience that gave us a taste of Portugal. We'll be back for sure, hopefully with more time to explore further!
Written by Bex Savory
Thanks to Turis Prime for providing us with a car for our Portugal road trip. As always, all opinions are my own and are based on my personal experience. This blog contains affiliate links that give me a small commission from any purchase, at no extra cost to you. I would never advertise anything I don't use or believe in, and this commission helps Finding Alexx reach more travellers. Thank you for supporting me!