If you're visiting Florence on a budget and want to get the best value for money, Yellowsquare Hostel is your best bet.
With both dorm rooms and private rooms, multiple onsite bars, a buzzing events calendar, a shared kitchen, a co-working area, and even a rooftop pool, Yellowsquare Florence is certainly up there on the list of the best hostels in Europe.
I recently spent two months travelling through Europe by train and spent a lot of that time exploring Italy, it was my sixth time visiting the country but I hadn't been to Florence since my first trip to Italy back in 2016. It was AMAZING to be back, this city is just brimming with culture, history and art.
My trip was in early December which I discovered is quite an expensive time in Florence thanks to Christmas markets (very small ones) and lead up to the holidays, but Yellowsquare offers incredibly well-priced dorms and rooms with the added extra of saving money on food with a shared kitchen and having access to free or cheap activities too.
Here's all you need to know about Yellowsquare Florence for your next Florence trip.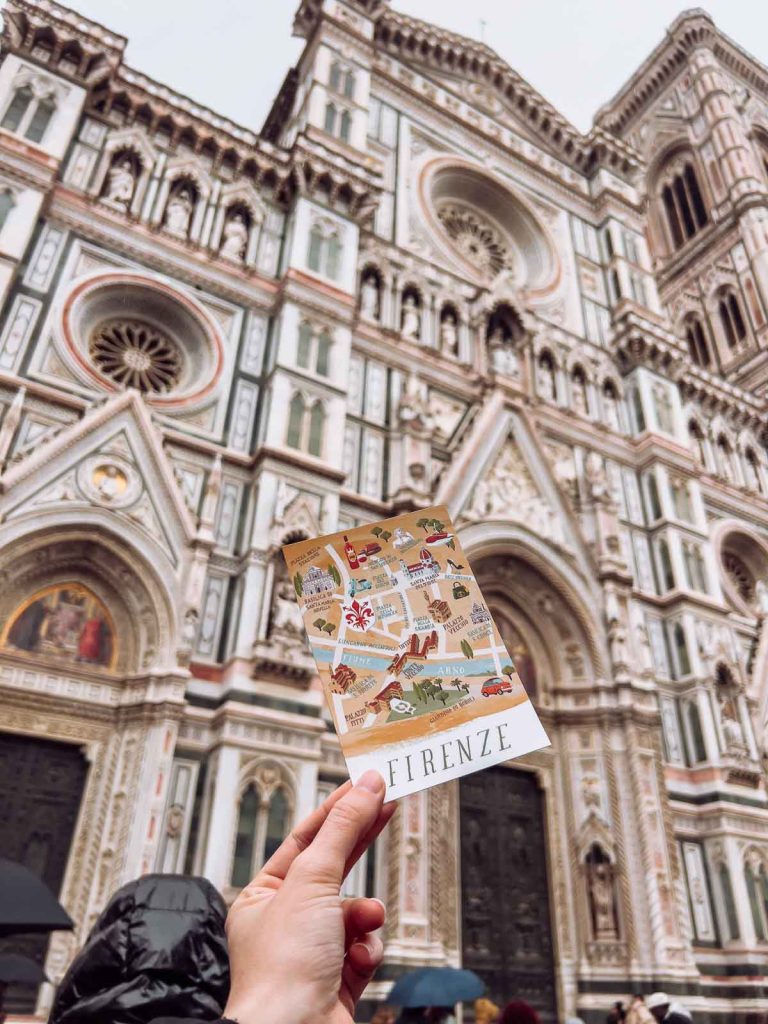 ---
Where is Yellowsquare Florence?
Yellowsquare Florence is just a 15 minute walk from the main train station, Santa Maria Novella, which makes it the ideal base to explore Florence.
If you're arriving by train then you can take the right exit from Santa Maria Novella (when walking from the train platform towards the shops) and go down the stairs to the Alamanni tram stop, and catch the T2 towards Aeroporto. Get off three stops later at Redi, and Yellowsquare is just 200m down the road.
From the airport, just catch the T2 tram towards Unita for 8 stops (just 13 minutes) and get off at Redi.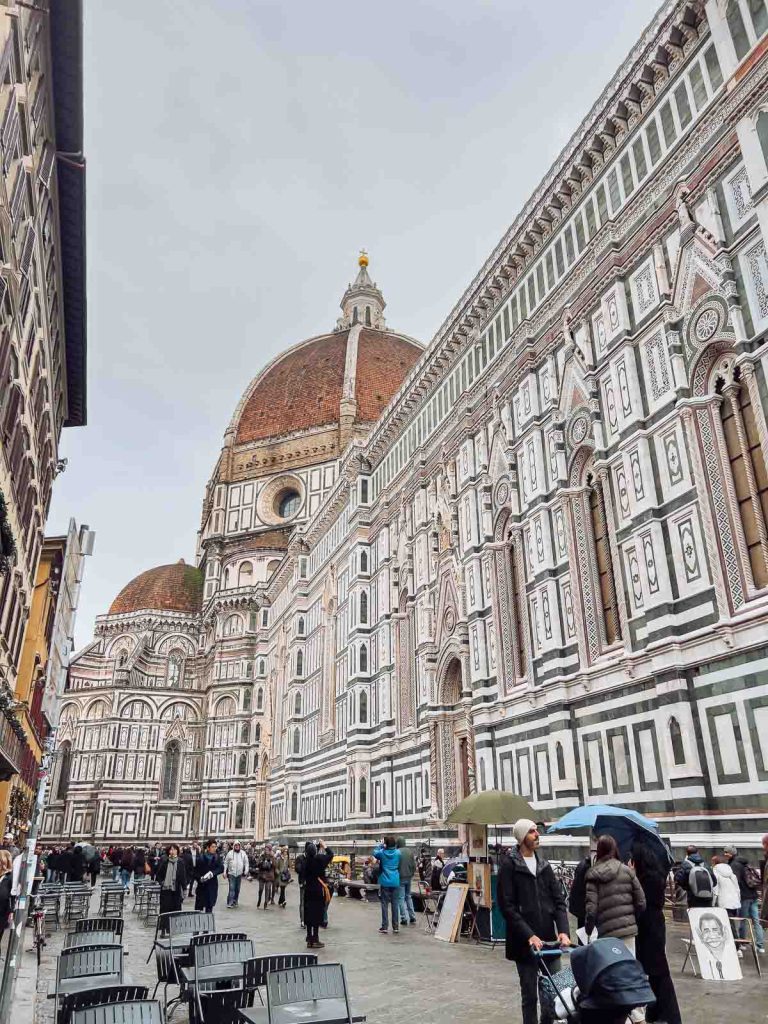 ---
What are the rooms like?
I stayed in a private room with an ensuite and it was fantastic, super spacious with a rack to hang clothes, a desk for working, even access to my own balcony! The bathroom was a weird triangular shape but it was totally livable for my short stay. Very comfortable bed, high speed WiFi, really felt like a hotel room rather than a private room at a hostel.
The dorm rooms are simple but spacious and comfortable, with a light and power plug in each bunk bed. There are no curtains as they removed them for hygiene reasons during the pandemic, but there is a curtain rod, and their reception team will give you an extra sheet to hang up and use as a curtain if you'd like.
There are both mixed and female dorms available with either 4, 6 or 8 beds, and each dorm room has air con, storage lockers and an ensuite. Towels aren't included in the dorm rooms but you can rent one for €2, and they're included in the private rooms.
My favourite thing about the rooms though is that they were super quiet, so even though the hostel is a social hostel with three different bars, you couldn't hear any music or bass reverberating through the walls.
---
What are the facilities like?
Yellowsquare has fantastic facilities, with a focus on offering loads of spaces for travellers to meet and make friends.
The shared kitchen is not huge but is well-equipped, great for budget travellers wanting to save money on food.
On the main floor there's a large bar and dining area (a basic breakfast is served for €8.50 or you can buy pastries and coffee) as well as a co-working space.
On the rooftop you'll find a swimming pool (dreamy!) and a bar perfect for a sundowner cocktail while hanging with new travel buddies, and there's also a sun-soaked deck which is used for yoga and sunbathing.
And underground is a third watering hole, Bargiù nightclub which hosts parties, comedy shows, karaoke and more.
And winning first place for the most random facility in a hostel, Yellowsquare Florence has a music studio if you feel the need to record a song, video or podcast during your trip!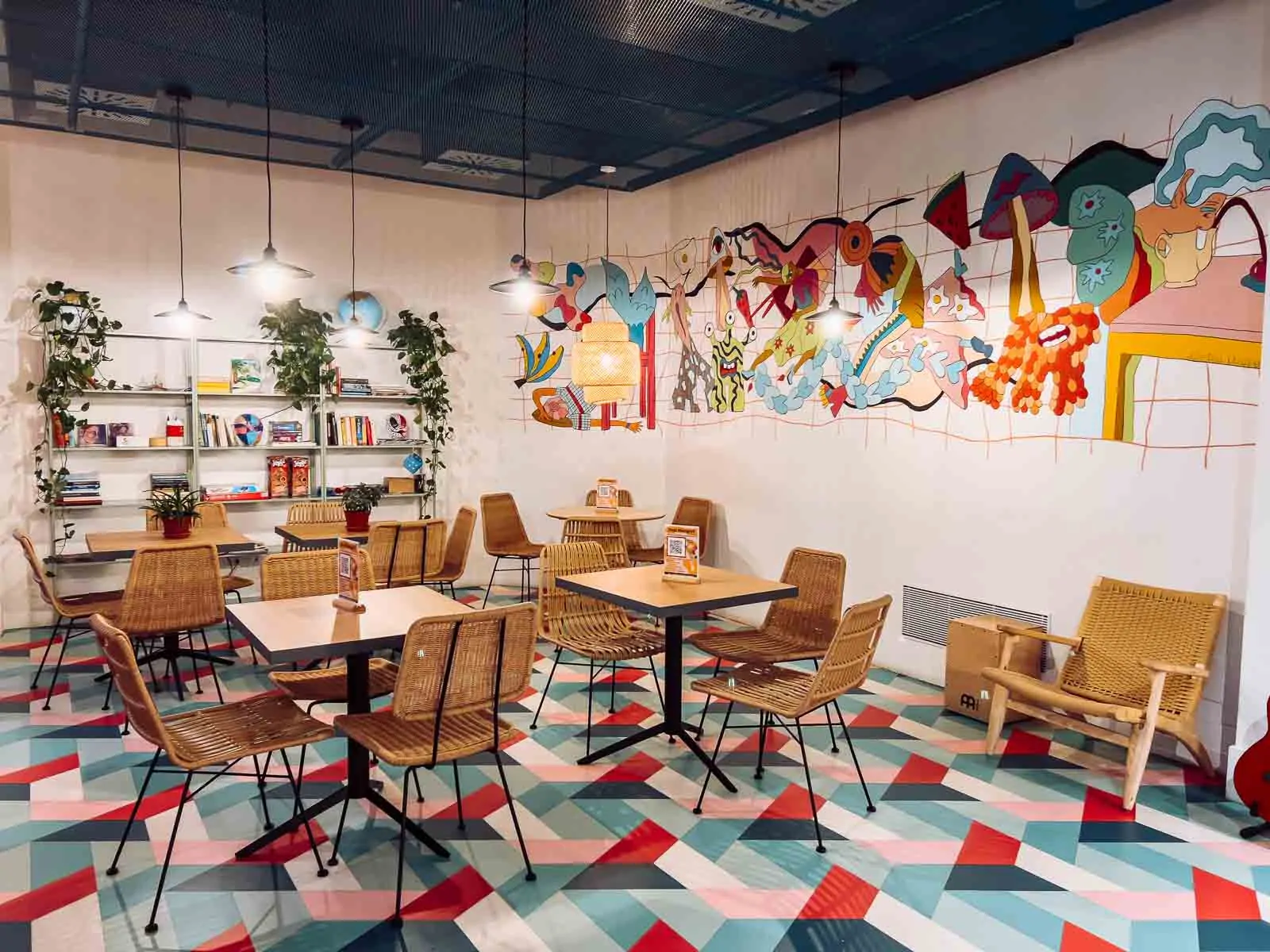 ---
What events does Yellowsquare Florence run?
The hostel offers LOADS of different events! Explore the city with a free walking tour, watch a stand up comedy show, try your hand at a cooking class, enjoy free pasta night, test your skills at a beer pong tournament or a pub quiz, or even channel your inner Bob Ross with tote bag painting or an arts and crafts session.
If you're travelling to Florence solo and want to meet other travellers, Yellowsquare has plenty of events for you to do that.
---
What is there to do in the area?
Yellowsquare is a short walk from the main tourist centre where there's loads to do, including:
Visit Florence's Duomo
Marvel at the masterpieces inside Uffizi Gallery
See Michelangelo's David in Galleria dell'Accademia
Try an all'Antico Vinaio sandwich (worth the wait in line)
Do a cooking class
Take a day trip to Bologna for my favourite food tour in Europe
Search for the city's best gelato
---
The vibe at Yellowsquare Florence
Yellowsquare is a social hostel without being too rowdy or too young. I'd say most guests were in their 20s and 30s, the bars kicked off in the evenings but the daytime was pretty chilled, and you could either get amongst the revelry and meet other hostel guests or you could keep to yourself in your room or in the co-working area and that was fine.
The hostel staff were super friendly, always keen for a chat with guests and more than happy to help with any hostel queries or questions about Florence.
---
The final verdict on Yellowsquare Florence
I'd happily stay here again and it'll be my go-to hostel in Florence going forward, a great location near public transport, comfortable rooms, digital nomad-friendly spaces, plenty of opportunities to make friends, and a rooftop pool which is just unbeatable!
---
MORE ITALY & EUROPE BLOGS:
Huge thanks to Yellowsquare Florence for hosting me during my time in Florence. As always, all opinions are my own and are based on my personal experience.