The Dolomites are one of the most scenic parts of Italy, and in a country this beautiful, that's truly saying something! Here are some important Dolomites travel tips to know before you plan your trip.
Nestled in the heart of the Italian Alps, the Dolomites mountain range is breathtakingly beautiful and provides adventurers with endless epic travel experiences. With charming villages to explore, unforgiving peaks to summit and windy mountain passes to drive, there's enough to see and do to visit for weeks and you'll still only see a fraction of what the region has to offer.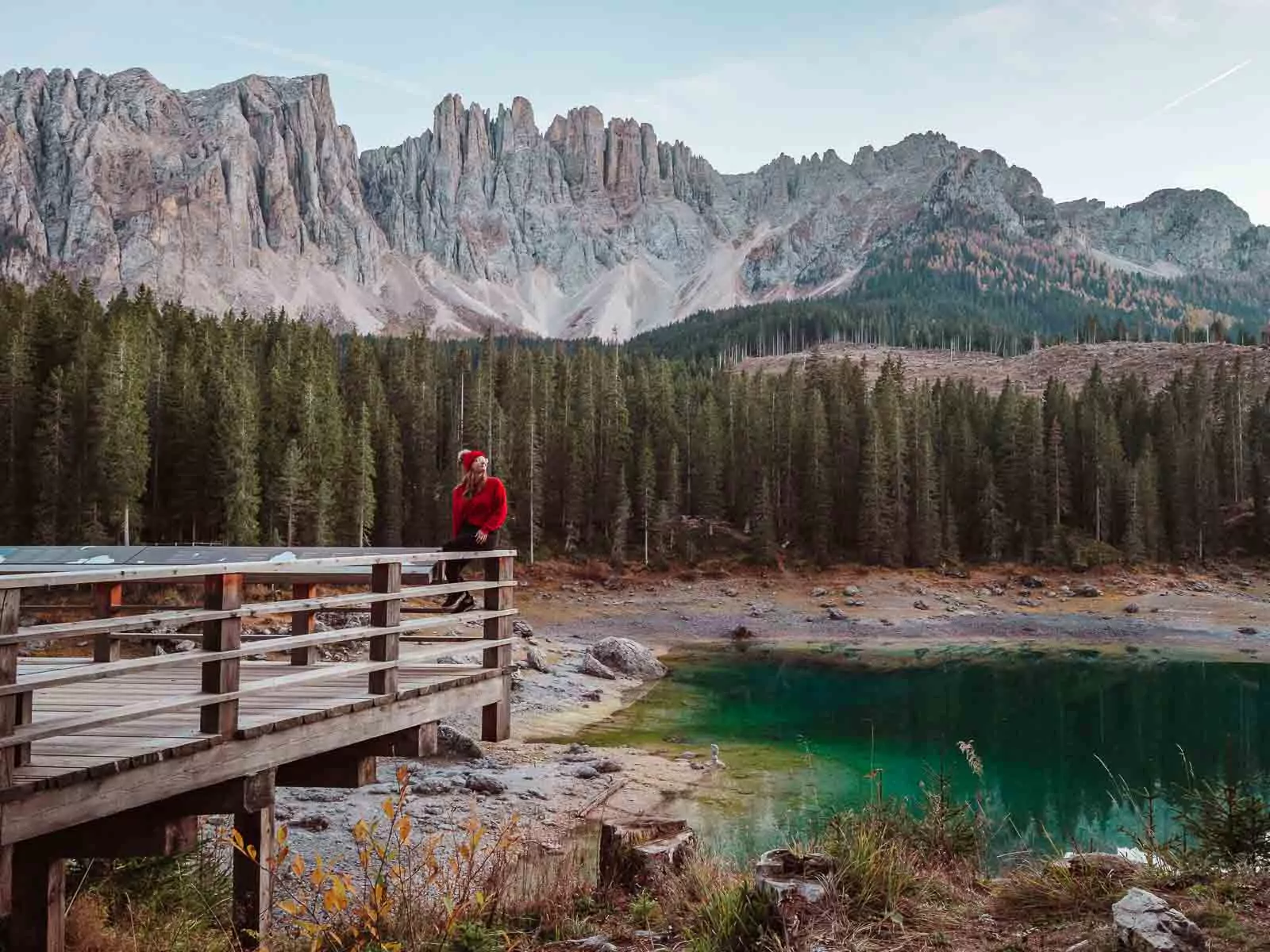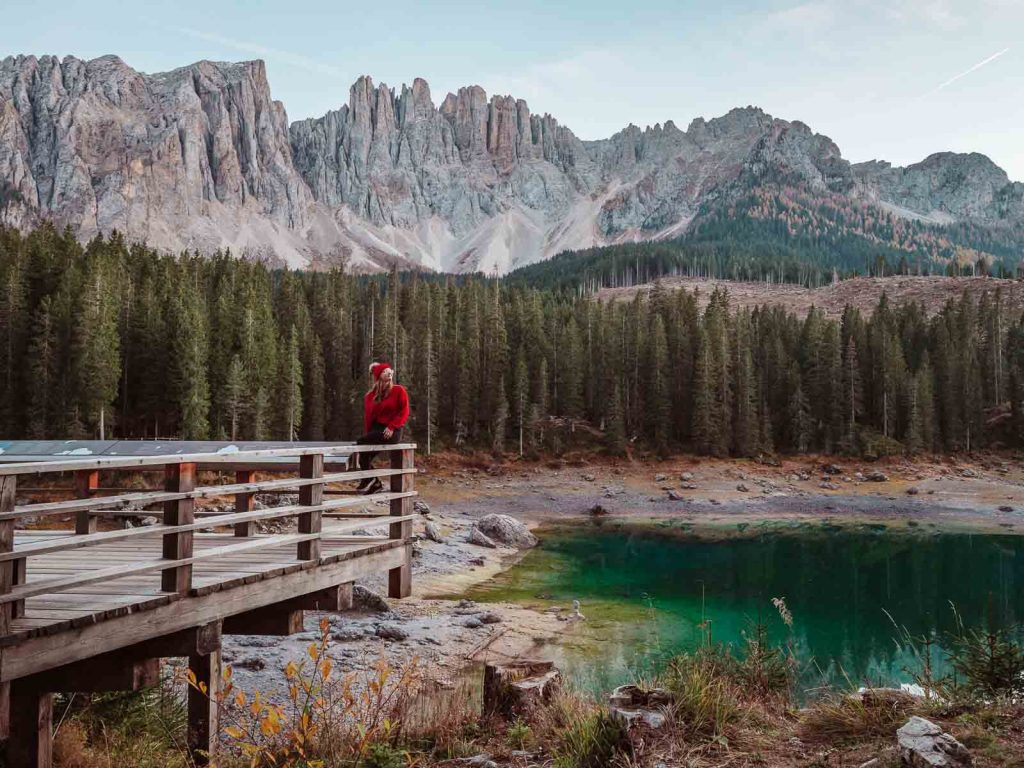 If the Dolomites aren't already on your Italy bucket list, they should be!
Planning a Dolomites trip does come with some logistical difficulties though – the public transport is limited, place names are in both German and Italian which can cause confusion, and there are so many hiking trails to choose from that it's hard to know where to start.
But no stress, in this Dolomites travel blog I answer all the FAQs about the Dolomites, I share my own experience from two visits to this superb part of Italy, and I go over things like how to get to the Dolomites, how to get around without a car, the best hikes to do, the best non-hike things to do, how to stay safe and more.
So without further ado, here's all you need to know about visiting the Dolomites before you plan your trip.
---
How to get to the Dolomites
Though they're tucked up into the northeast corner of Italy, the Dolomites are actually easily accessible from Venice, Milan or even across the Austrian border from Innsbruck or Munich in Germany.
The Dolomites region encompasses a whopping 15,000km², but there are two main 'gateways' that you drive through to reach the mountains, Bolzano to the west of the Dolomites and Cortina d'Ampezzo to the east.
If you're travelling by air, the easiest airport to fly into is Venice, where you can pick up a rental car or catch a bus. If you're travelling Europe by train you can reach Bolzano quite easily from any hub that connects with Milan, Innsbruck or Munich.
To get from Venice to the Dolomites you can drive 2h 15m to reach Cortina d'Ampezzo or catch the 2h 30m Cortina Express 100 bus from Venice Mestre. To get to Bolzano from Venice it's a 2h 45m drive or a 3h 20m train journey with a change of trains in Verona (it's 1h 30m direct from Verona).
To get from Milan to the Dolomites you can drive 3h 15m to Bolzano or take a three hour train journey with a change in Verona. To get from Milan to Cortina d'Ampezzo is a long drive (4h 40m) and even longer on public transport (4h 55m train to Venice then Cortina Express bus), so if you're coming from Milan then Bolzano is the best gateway for you.
To get from Innsbruck to the Dolomites is easy, just a 1h 30m drive to Bolzano or a direct 2h train, or for Cortina d'Ampezzo it's 2h 30m by car and 3h 35m with a slightly annoying train-bus-bus combo.
To get from Munich to the Dolomites it's a 3h 30 drive or a 3h 55m direct train to Bolzano.
There's also a small airport in Bolzano which services some flights from around Italy, Germany and other parts of Europe, but from my experience these flights are very expensive so flying into Venice or arriving by train is probably best.
---
The Dolomites are the perfect place for a road trip
Unfortunately the fantastic public transport network that Northern Italy, Austria and Germany are all known for doesn't quite extend into the mountains, so the easiest way to see the Dolomites is without a doubt with a rental car.
You can rent a car in Venice or Milan and drive to the Dolomites, or there are local car rental depots closer to the Dolomites like Trento or Bolzano.
Once you've got a car, you're totally free to explore at your own pace. It's time to hit the road!
The Great Dolomites Road (or Grande Strada delle Dolomiti in Italian) is a scenic route that should be on every traveller's Italy bucket list, and is hands down one of the most scenic drives in the world. It's about 110km long and stretches from Bolzano to Cortina d'Ampezzo, with panoramic viewpoints, hairpin turns and views that will blow you away.
The drive takes a few hours if you did it all at once from your base, but I'd recommend setting aside at least a full day to include time for photo spots, or making a trip of it and spending a couple of nights in smaller villages along the way.
---
But seeing the Dolomites without a car is possible
If renting a car and driving isn't an option for you then don't stress, it is possible to see the Dolomites without a car. It might be a bit tricky and require some logistical planning, but it is possible.
If you're travelling without a car I'd recommend staying a little bit longer, as reaching the hot spots by public transport will take longer than if you're driving, so you'll need more time than a road trip. Also note that most of the cable cars and shuttle buses to hike trailheads are seasonal and likely won't be running outside of May/June to October/November.
Here's an example five day itinerary for the Dolomites without a car:
Day 1: Bolzano & Lago di Carezza
Arrive in Bolzano by train
Check in to hotel in Bolzano
Catch bus 180 to Lago di Carezza (50 minutes)
Catch bus 180 bus back to Bolzano (50 minutes)
Dinner in Bolzano (highly recommend PastaLab!)
Day 2: Ortisei & Seceda
Breakfast in Bolzano
Check out of Bolzano hotel
Catch bus 350 to Ortisei (57 minutes)
Check into hotel in Ortisei
Catch the Ortisei-Furnes gondola and then Furnes-Seceda cable car up to Seceda and spend the rest of the day hiking up there, with a picnic lunch or lunch at the Rifugio Firenze
Walk down or head back to the mountain station to catch the cable car
Dinner in Ortisei
Day 3: Alpe di Siusi
Breakfast in Ortisei
Take a day trip to Alpe di Siusi, you can catch the Mont Sëuc gondola to the top, either spend the day hiking in a loop and catch the same gondola back down, or walk to the Seiser Alm Aerial Cableway (three hours without stops) and catch that to the bottom, then catch a short bus back to Ortisei
Dinner in Ortisei
Day 4: Dobbiaco & Lago di Braies
Breakfast in Ortisei
Check out of Ortisei hotel
Catch bus/train combo from Ortisei to Dobbiaco – #350 bus to Ponte Gardena (28 mins), train to Franzensfeste/Fortezza (26 mins), switch to train to Dobbiaco/Toblach (1h 15m)
Check in to Dobbiaco hotel
Lunch in Dobbiaco
Catch bus 442 to Lagi di Braies (28 mins), the lake is about 8 minutes walk from the bus stop
Catch the bus back to Dobbiaco, have dinner in Dobbiaco
Day 5: Tre Cime di Lavaredo
Breakfast in Dobbiaco
Catch the #444 shuttle bus to the Tre Cime trailhead (45 mins)
Spend the day hiking Tre Cime di Lavaredo, the main loop trail is a 10-11km easy to moderate route but there are slight detours available and plenty of photo stops
Head to the jagged peaks of Cadini di Misurina after your Tre Cime hike, they're a short walk from Rifugio Auronzo (where the hike ends)
Catch the bus back to Dobbiaco, be sure to check the timing of the last bus
Dinner in Dobbiaco
Day 6: End of the trip
Breakfast in Dobbiaco
Check out of your Dobbiaco hotel
Catch the train back to Bolzano and then on to wherever you're heading next
---
Book your Dolomites accommodation and car rental in advance
The Dolomites are one of Italy's most popular hiking destinations, which means that accommodation and rental cars can get booked up well in advance, particularly in the busy summer months of July and August.
If you're travelling during these times I'd recommend booking somewhere to stay and your vehicle at least a couple of months before your trip. And if you're a bit of a foodie and have specific restaurants you'd like to eat at, you'll need to reserve tables in advance too.
Where to stay in Bolzano | I stayed at a stunning new boutique hotel called Loom Hotel, it is a living showroom for an interior design company and all the hotel rooms have a totally different layout, design, textiles, colours and furniture. So cool! It's a bit out of the city but there's carparks available, it's the ideal Bolzano base for your Dolomites adventure.
Rental car in Bolzano | Rental car prices will vary drastically depending on when you book and when you're visiting. When I visited in mid-October, at the very end of the hiking season but a great time for seeing autumn colours, there were rental cars available on the day for €60 without insurance. If you're visiting in busiest periods then you can expect to pay up to €150-200 per day for a vehicle not including insurance. You can search your travel dates to find the best car rental deals here >>
---
These are some of the best Dolomites hikes
The hiking opportunities in the Dolomites are some of the best in all of Europe, with a fantastic variation of walks on offer to suit all skill levels, timelines and travel preferences.
Some of the best hikes in the Dolomites are:
Tre Cime di Lavaredo loop (8.8km, easy-moderate)
Seceda circuit (9-12km, easy-moderate)
Alpe di Siusi (lots of different trails)
Lago di Braies loop (4km, easy)
Cadini di Misurina viewpoint (3km there and back, easy)
Lago di Sorapis (11.6km return, moderate, or a longer/more difficult loop trail at 12.7km)
Adolf Munkel circuit (9.2km, easy-moderate)
Santa Maddalena Panorama Trail (9.5km circuit, easy)
---
But there's also plenty to see in the Dolomites without hiking
While this corner of Italy certainly is a hiker's paradise, there's also stunning places to see even if you'd like to avoid any sort of physical exertion. Here are some places to see in the Dolomites without hiking:
Lago di Carezza
Lago di Braies
Charming towns like Cortina d'Ampezzo and Ortisei
Rifugio Scoiattoli by chairlift
Lagazuoi by cable car
Alpe di Siusi by cable car, public bus or bike
Seceda by cable car
Cima Tofana by cable car
Passo Pordoi mountain pass
Passo Gardena mountain pass
Val di Funes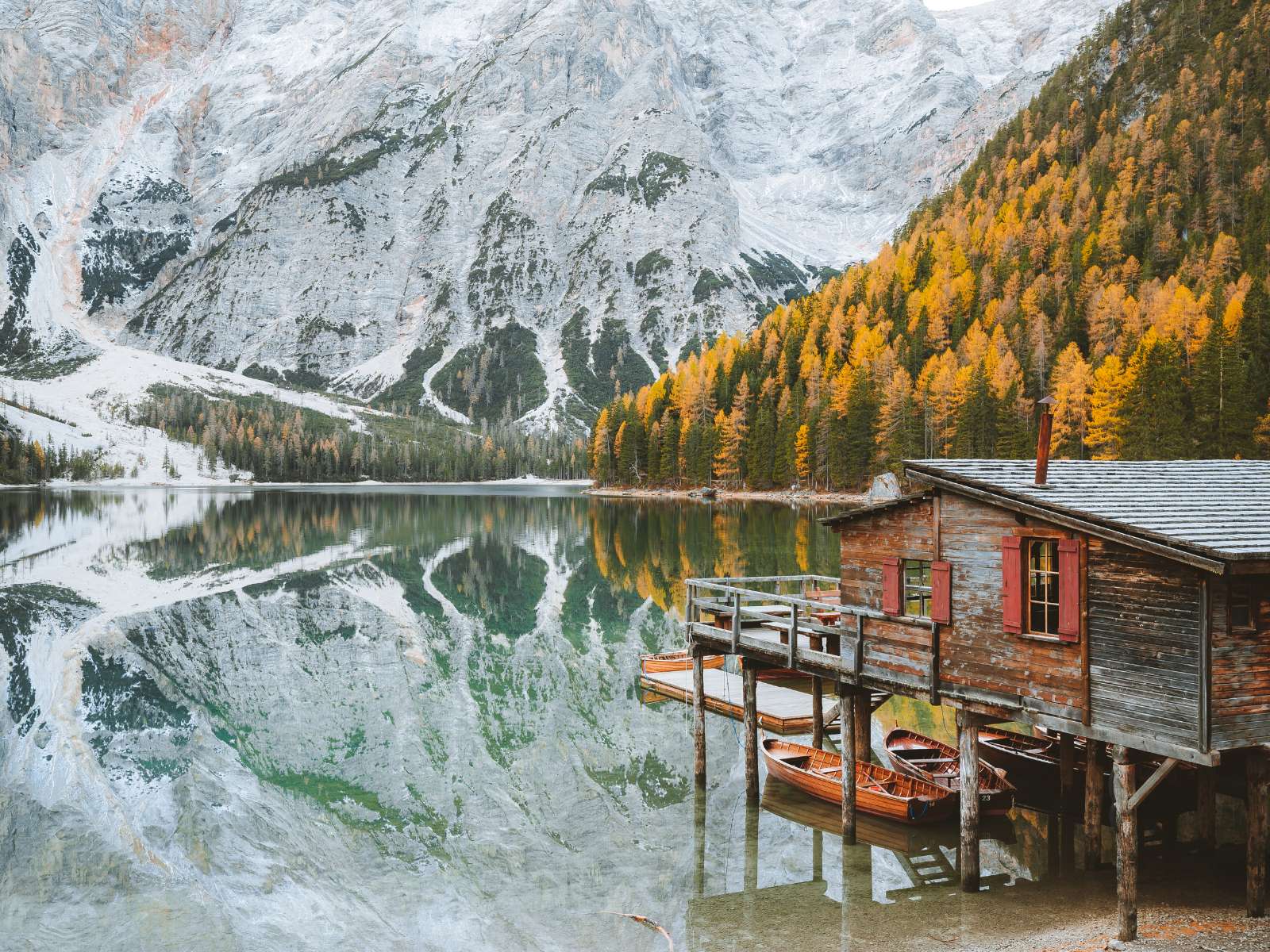 ---
You can step out of your comfort zone with a via ferrata
The Dolomites has more than 700 via ferrata (or "iron paths") built into the rocky cliffs and peaks, once used as routes for soldiers to traverse the mountain ranges and now a brilliant way to see the Dolomites while getting your heart rate up.
There are via ferrata for all skill levels, no matter whether you've never even tried indoor rock-climbing or you consider yourself an expert. You will need a basic level of fitness and appropriate footwear (normal walking shoes are fine for the beginner/intermediate via ferrata unless stated otherwise).
To try out a Dolomites via ferrata you can book a local via ferrata tour, which includes an experienced guide as well as the safety gear you require.
---
The Dolomites in summer gets CRAZY busy
I've mentioned this already but just in case it didn't sink in last time, it gets really busy in July and August. I'm talking lines for cable cars, hoards of hikers hitting the same trails, restaurants that are full from open to close, and high prices for hotels, cars and tours unless you book far in advance. You'll struggle to get any photos without other people getting in the way or in the background, and the mountains will feel far less serene than what you expect based on the photos you've seen.
If you can avoid it, I'd recommend staying away from the Dolomites in July and August. The number of people coupled with the hot summer sun can really impact your experience, and it would be a shame for anything to ruin your visit to this magnificent place.
Instead I'd recommend June and September for great weather while everything it still open, or for cheaper prices you could consider the second half or May or the first half of October, some cable cars might be closed at these times so just check operating dates for the places you want to visit before booking anything.
The autumn colours really pop all through the Dolomites from mid-October through to November, but many cable cars will be closed by this stage so keep that in mind. It's best to rent a car for your autumn holiday in the Dolomites, this gives you easier access to search for the red, orange and yellow shades.
---
The Dolomites in winter means skiing
The Dolomites Superski region encompasses 1200km of ski slopes and 450 chairlifts at 15 different ski resorts, with runs ranging from perfect beginner areas through to thrilling black runs for experts and daredevils, making it one of Europe's best ski holiday destinations.
One ski pass gives you access to all 15 ski resorts, so you could visit for weeks and hardly even scratch the surface. The Alpe di Siusi/Val Gardena region is perhaps the best place to base yourself, you'll have access to 60km of slopes at Alpe di Siusi and 175km at the neighbouring Val Gardena.
Aside from the ski slopes themselves, the Dolomites also has loads of dreamy mountain hotels that are perfect for a winter holiday, with steamy infinity pools, panoramic views and cosy chalet vibes.
The ski season typically runs from the end of November through to the end of April.
---
Off season in the Dolomites means things might be closed
If you want to take advantage of cheap accommodation and car rental then you could visit the Dolomites outside of season, but you need to be aware that as a seasonal destination, lots of places close during quiet periods.
From mid-October to the end of November things are pretty dead, ski resorts are prepping for winter which means cable cars and chairlifts are closed, and many hotels and restaurants have their annual shutdown period. The first half of May is also generally sleepy and slow, the winter season has finished by then but the hikes may not be accessible yet due to snow.
---
It doesn't feel entirely Italian
Because of its location right next to the Austrian border, the Dolomites feels like a somewhat jarring combination of both Italian and Austrian influences, and both countries are represented in terms of language, cuisine and culture.
The region is trilingual, with destinations, street signs, menus and newspapers being offered in both German and Italian, as well as some use of the ancient Ladin dialect which has 30,000 speakers.
In terms of food, you'll have the chance to try both traditional Italian and Austrian dishes, with an alpine twist. Have pasta for dinner and strudel dessert, or switch it around with a schnitzel main and tiramisu afterwards. The area is a big producer of dairy too, you'll hear the bells of cows ringing through the valleys, so your meals will likely use locally-produced milk, butter and cheese.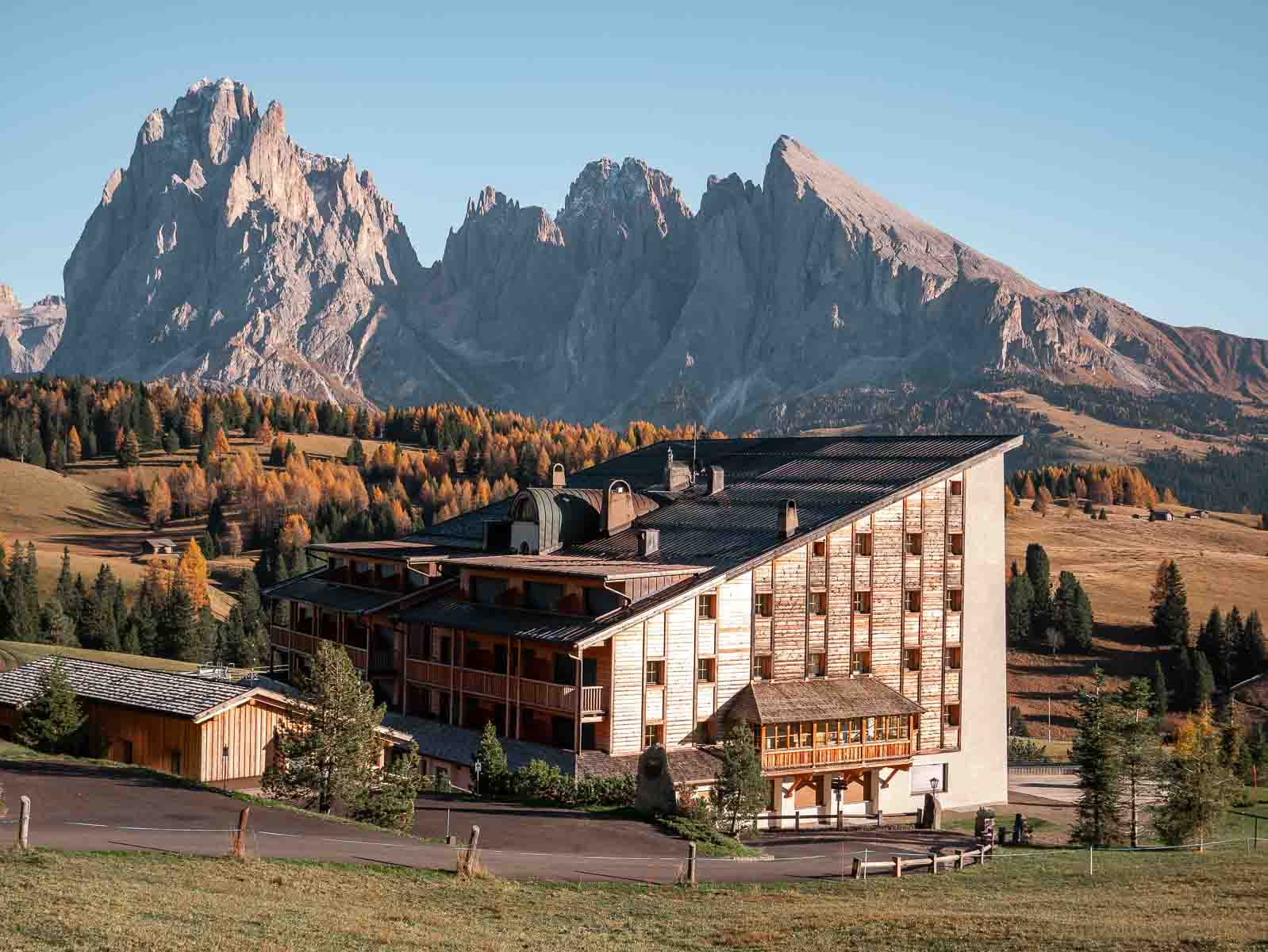 ---
Most places in the Dolomites have two names which can get confusing
On that note, it's super important to remember that the Dolomites uses both Italian and German for destinations interchangeably, and some even have Ladin names too. Someone might tell you they're from Bolzano and someone else might say they're from Bozen, these are actually referring to the same place.
This was SO CONFUSING to me when I first arrived, I was looking for directions to Alpe di Siusi and Google was taking me to the Seiser Alm cable car and I just had no idea what was going on.
Here are some common place names you'll probably see, in both German and Italian:
Bolzano (Italian) and Bozen (German)
Alto Adige (Italian), Süd-Tirol (German), South Tyrol (English)
Bressanone (Italian) and Brixen (German)
Dobbiaco (Italian) and Toblach (German)
Lago di Carezza (Italian) and Karersee (German)
Lago di Braies (Italian) and Pragser Wildsee (German)
Ortisei (Italian), Urtijëi (Ladin) and St. Ulrich in Gröden (German)
Alpe di Siusi (Italian), Mont Sëuc (Ladin) and Seiser Alm (German)
Tre Cime di Lavaredo (Italian) and Drei Zinnen (German)
Val Gardena (Italian) and Gröden (German)
Lago di Sorapiss (Italian) and Sorapissee (German) (or Lake Sorapis, one 's', in English)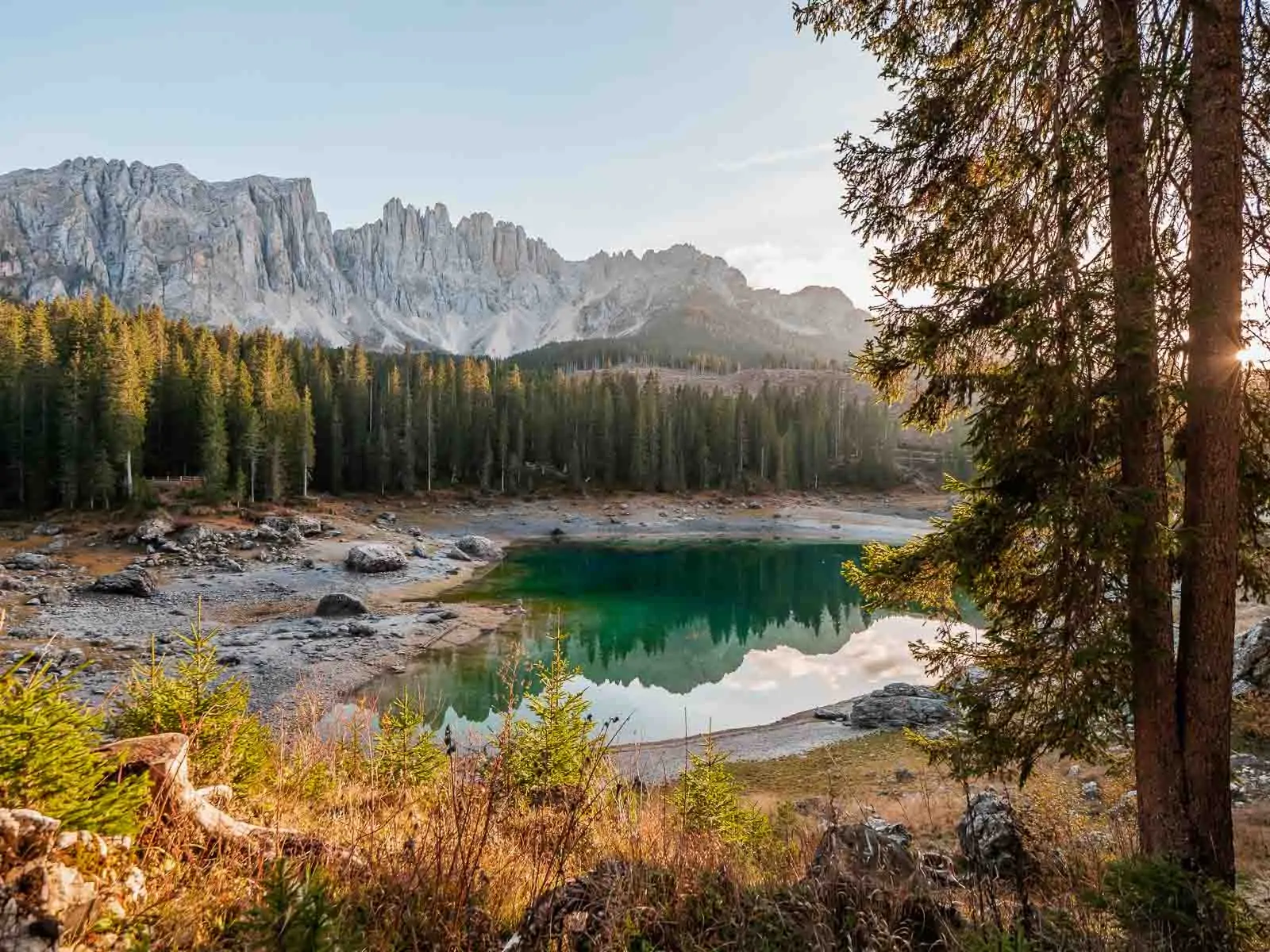 ---
Are the Dolomites safe for solo female travellers?
The Dolomites are super safe in terms of crime, there's minimal risk to you or your belongings. As always, ensure valuables are kept somewhere secure and out of sight when you're not using them, avoid walking alone after dark if you can help it (although I often walked down lit streets to my hotel after dinner and felt totally safe), and be aware of your limits with alcohol consumption, especially if you've spent a day hiking and may be a bit dehydrated.
The main risks to solo female travellers in the Dolomites (or any travellers for that matter) are the elements, the terrain and the driving.
The elements
To combat the elements, always be prepared for cold weather even if the sky is clear and the sun is shining. In the mountains the weather can change quickly, and if you find yourself in the shadow of a huge peak the temperature can drop alarmingly quickly. Always have warm layers to chuck on over your clothes and take a rain jacket too.
Be sure to check the weather forecast before setting off on any hikes, if you're unsure then better to be safe than sorry and choose to do something less weather-dependent.
The terrain
In terms of terrain, it's important to know your physical and mental limits. Some of the popular hikes and viewpoints may require scrambling over rocky patches, if you're not comfortable with this then don't feel bad about turning around and heading back. Check what type of footwear is necessary before heading out on a hike, many walks will be fine with normal sneakers but the more rugged paths would be safer with proper hiking boots.
If you're hiking solo, always tell someone where you're going and when you expect to be back. I'd recommend telling someone local (like an information centre or your accommodation provider) as well as a friend or family member back home, so you've got two people looking out for you. Don't veer off-track when you're solo, it's not worth the risk. If you'd like to explore off the beaten path (literally) then hire a local mountain guide to take you.
Driving in the Dolomites
To drive in Italy, and to be covered by insurance, non-EU drivers need an International Driver's Permit. You can get these from your home country before you go, in New Zealand they cost about $40NZD.
Rental car companies will likely let you rent a car without an international license, they'll just want to sight your own license from home, however the IDP is a legal requirement for driving in Italy unless you've got an EU license. This means that if you get pulled over for any reason you might get an additional fine to whatever you were pulled over for, and if you have an accident you will not be covered by insurance. In a country that's known for narrow, windy roads and impatient drivers, it's just not worth the risk.
Get your IDP sorted before you leave home. If you're reading this and you've already started travelling, some countries allow you to apply for an IDP online so you could do this for your home country and have it shipped to you on the road, or shipped to a friend who can send it to you.
Get travel insurance
As always, and as with any other destination, travel insurance is a necessity when visiting the Dolomites.
Travel insurance could cover you for an injury you get on the mountain, including emergency evacuation if necessary, it could cover delayed luggage lost by airlines on the way to the Dolomites, it could cover rental car excess from a car accident, or it could cover your additional costs if you get stuck somewhere due to bad weather cancelling your flights.
Always check the exact policy inclusions (e.g. some policies might only cover mountain hiking to a certain altitude or only on marked trails), but travel insurance is a must.
I travel with Covermore insurance, I've made three claims with them this past year (accommodation when I got Covid and had to isolate, delayed luggage when an airline lost my bags for four days, and additional accommodation plus new flights when a cyclone cancelled my flight back to NZ and I had to book with another airline). All three claims had an easy claim process and were paid out fully and quickly.
---
Thanks for reading my Dolomites travel tips, I hope they have helped you plan out your Dolomites adventure! If you think I've missed anything important then let me know in the comments as always.
Safe travels and have an incredible time in this magical corner of Italy.
MORE EUROPE & ITALY BLOG POSTS: