This 2 month Europe itinerary is the perfect route to spend two months in Europe by train. For each destination I've included train details on how to get there, train costs, seat reservation fees for rail pass holders, things to do, places to eat and where to stay.
Planning a two month Europe itinerary? I've taken my actual Europe rail itinerary from my recent Europe adventure, made it much cleaner and easier, and typed it up into a super detailed, easy-to-read 2 month Europe itinerary that you can easily replicate for your own trip.
From iconic European cities like Paris, London and Rome to the stunning Italian coast, fairytale cities like Bruges, some of the most scenic train journeys in the world and some world-class culinary gems thrown in for good measure, this 2 month Europe train itinerary will show you a diverse selection of the continent's highlights.
You could copy and paste this entire itinerary and save yourself weeks of planning, or just use it as a starting point to see where some of the easiest train routes go and then tailor it to fit your timeframe, budget and travel preferences.
So without further ado, let's dive into this epic Europe train itinerary and get started on planning your European adventure!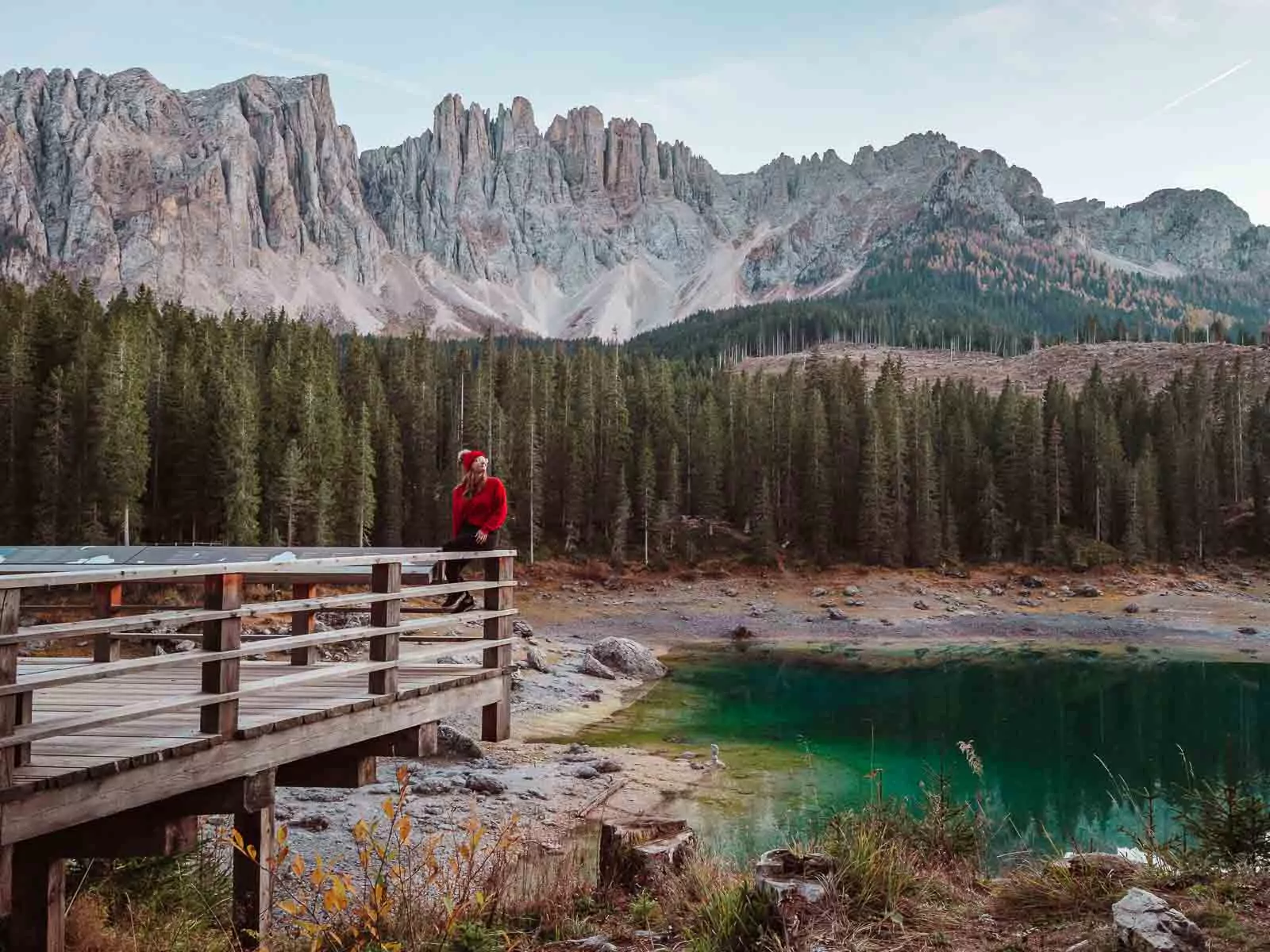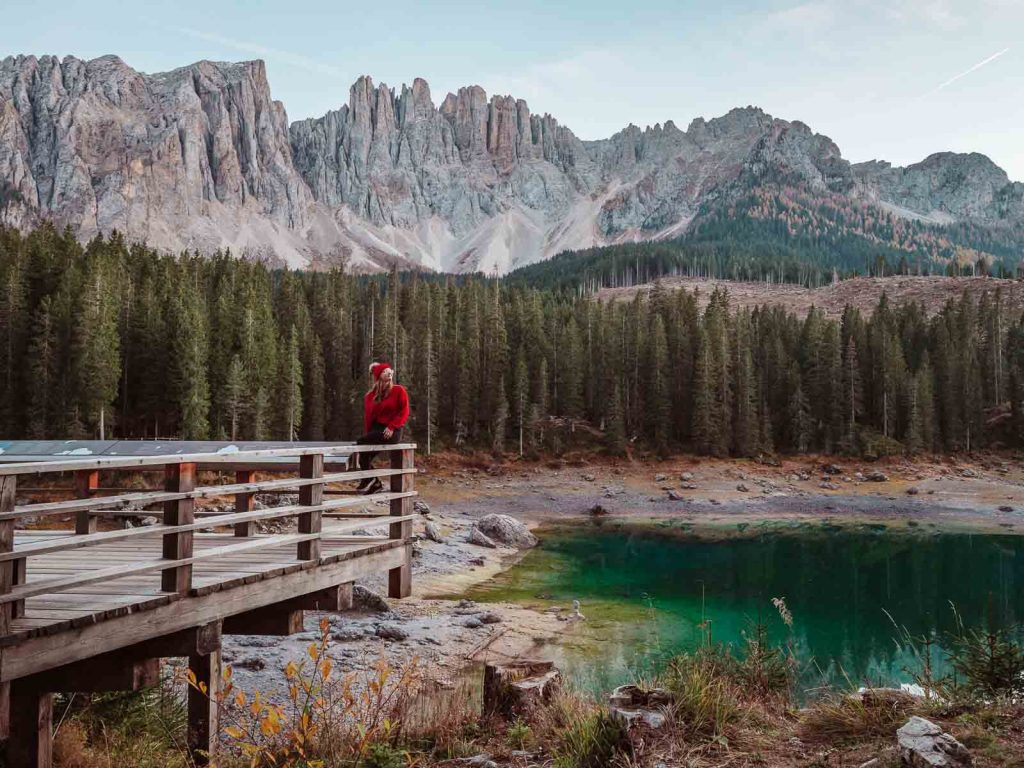 ---
How to use this 2 month Europe itinerary
This two month Europe itinerary is based on my own exact two month Eurail trip at the end of 2022, but it's been fixed up to make much more sense and save time and money.
You can see my exact Eurail itinerary here, but I had to fit my plans around a conference in London, various hotel collaborations on set dates, Christmas markets and some train strikes, so I wouldn't recommend copying my actual route. Instead you can use this two month itinerary to get ideas for places to visit with two months in Europe.
Do I need a Eurail pass for this trip?
You should consider purchasing a Eurail Pass (or Interrail Pass if you're an EU citizen) for this Europe train itinerary, because it could save you a tonne of money (and stress!).
If you know your exact travel dates you can check the train prices for each route (you can do this on a website like RailEurope.com or with the specific train company directly) to calculate if a Eurail Pass is worth it. If you've got your route fully confirmed 2-3 months before your trip then it might be better to buy all your tickets outright.
If you're not sure of dates yet/want to keep things flexible then for this particularly itinerary a Eurail Pass is definitely recommended.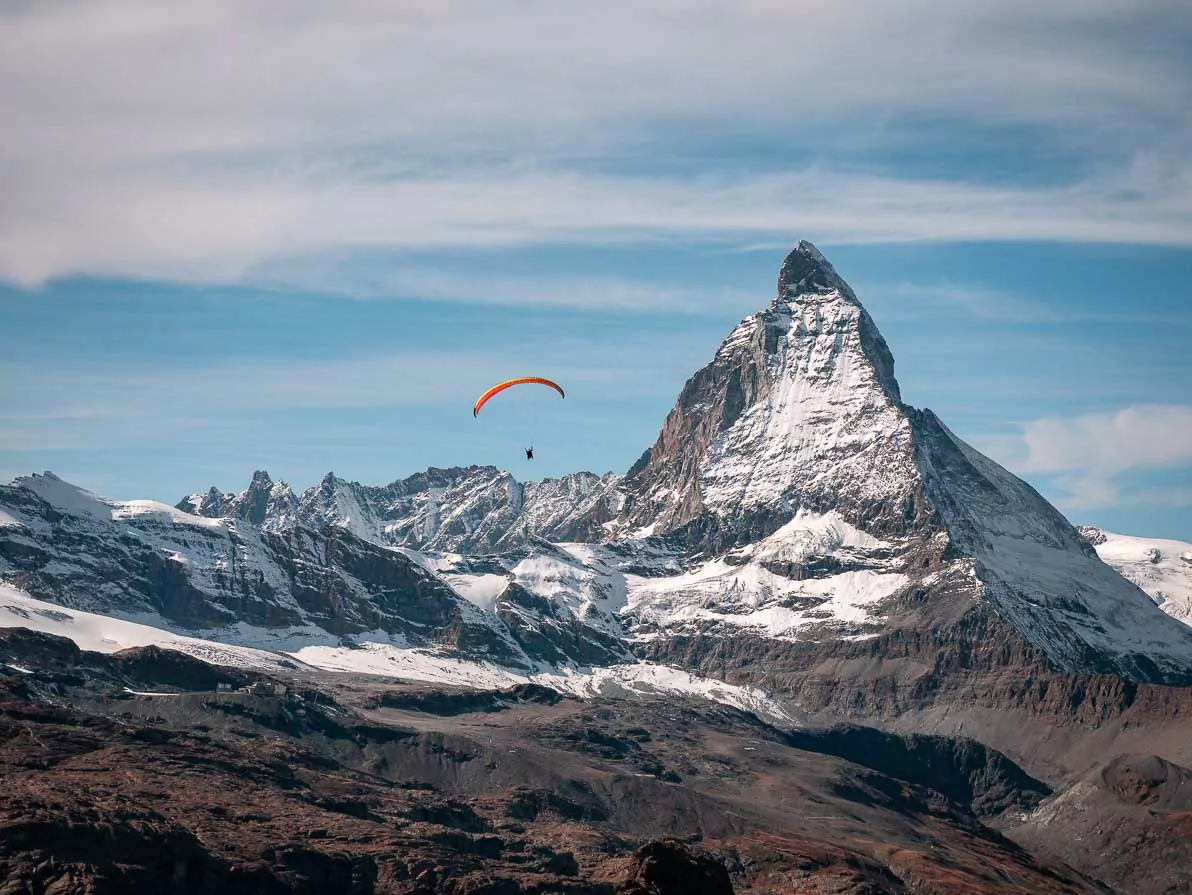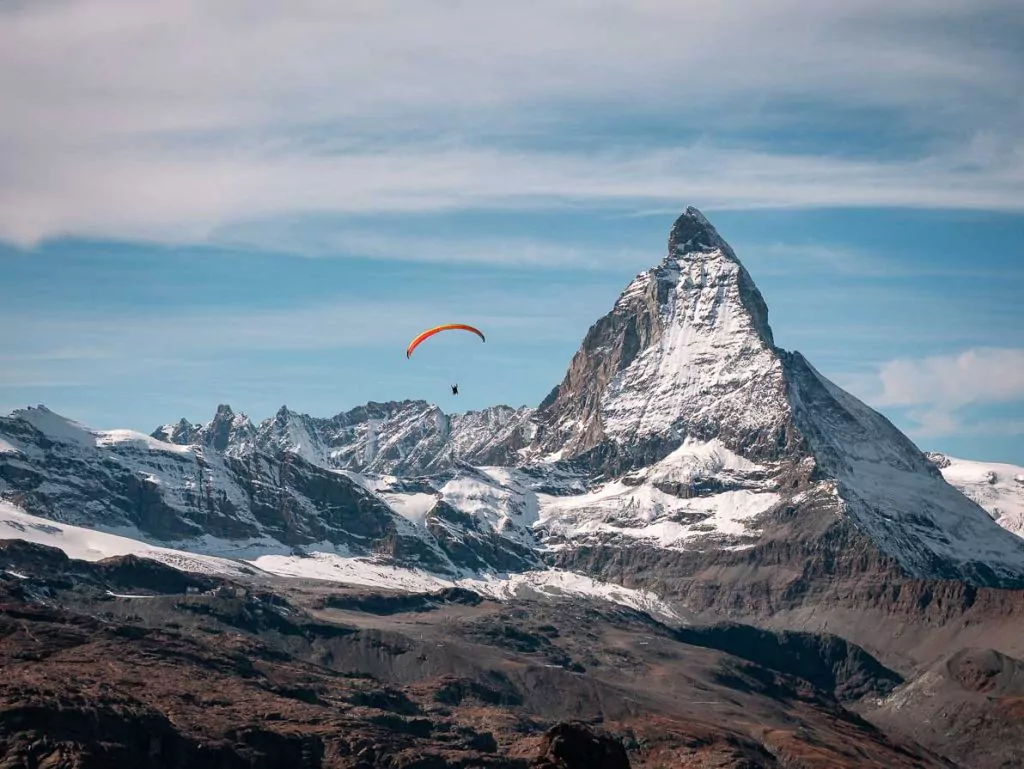 What's the best Eurail Pass for this two month Europe itinerary?
I travelled Europe for two months with a '15 travel days in 2 months' Eurail Global Pass. If you go with this pass you'll need to look at your route and try to figure out what 15 travel days will be most expensive, and use your Eurail travel days for these. There's no point in using one of 15 travel days for a short €15 train journey between Tirano and Milan.
If you want to visit even more places, travel for another month, or just want the maximum flexibility then you could consider a consecutive Eurail Global Pass for two months or three months. These passes are much more expensive than the limited travel day passes, but they give you total freedom to wake up and catch a train wherever you want without worrying about calculating if a travel day is worth it.
Note: The Interrail Global Pass and Eurail Global Pass are basically the same, except for some specific requirements for leaving/entering your home country. When I say 'Eurail Global Pass' this can be interchanged with 'Interrail Global Pass' if you're an EU citizen.
What are seat reservations?
When you travel with a Eurail or Interrail Pass, the pass covers your train ticket but for some trains you still need to pay for seat reservations. Many trains in Europe don't require reservations, but for high speed trains, particularly busy routes, long-haul international trains and overnight trains you probably will need to pay for a reservation.
Seat reservation costs can vary drastically, ranging from €5 to €12 for the vast majority of reservation-required trains, but can be from €25 to €48 for high speed international trains like the Eurostar.
Seat reservations for most trains can be made on the Eurail website, they charge an fee of €2 per reservation which I have built into the price (e.g. when I say €12 reservation this is actually a €10 reservation with a €2 fee). If you can't book them on the Eurail website (the Eurostar is an example), the Eurail website will send you through to the correct link or will tell you that you need to call the train company or visit a ticket office in person.
You can sometimes book reservations directly through local rail companies like DB (Germany) or OBB (Austria) and avoid the Eurail fee, but for ease of research I've taken the prices from the Eurail reservation search tool and therefore included that €2 fee in all the prices in this post.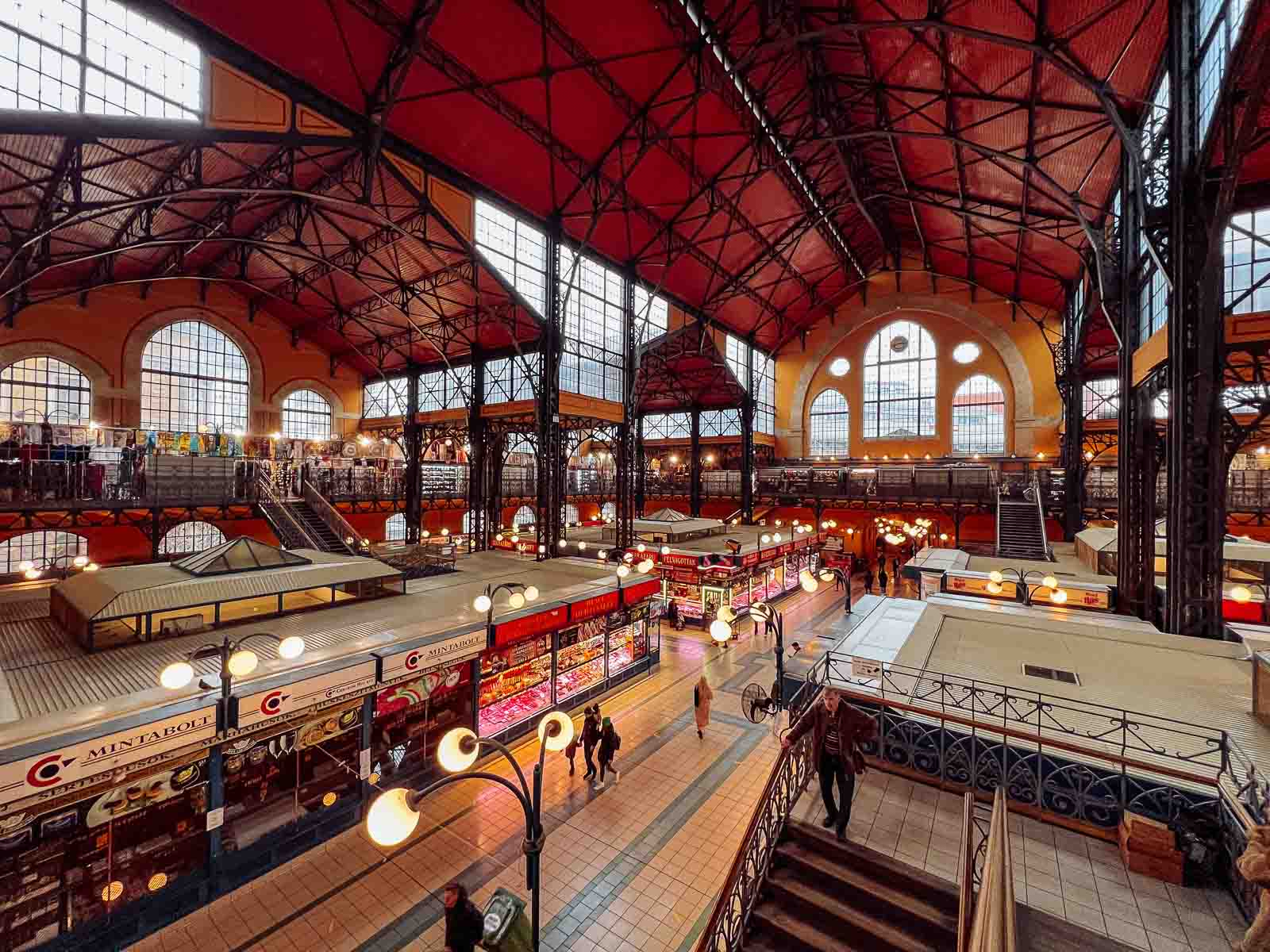 What does this two month Europe itinerary include?
This Europe train itinerary includes many of Europe's iconic must-do cities, as well as some lesser-visited regions and towns, plus some options for easy day trips or stopovers.
There are many, many more places to see in Europe of course, but for this itinerary I've focused on creating a simple train route that's easy to follow without too many complicated train journeys or drawn out travel days.
There are also a bunch of simple alternative routes at the bottom of the blog, including places you could skip and places you could add on depending on your interests and priorities.
Please note that my 'how long to stay' recommendation is an absolute minimum length of stay to see the top sights, but every city has much, much more to explore if you have the time.
Where should I start this Europe train itinerary?
You could start this trip anywhere, it's pretty much a loop so it'd be possible to start in London, Paris, Barcelona, Rome or any other major airline hub city.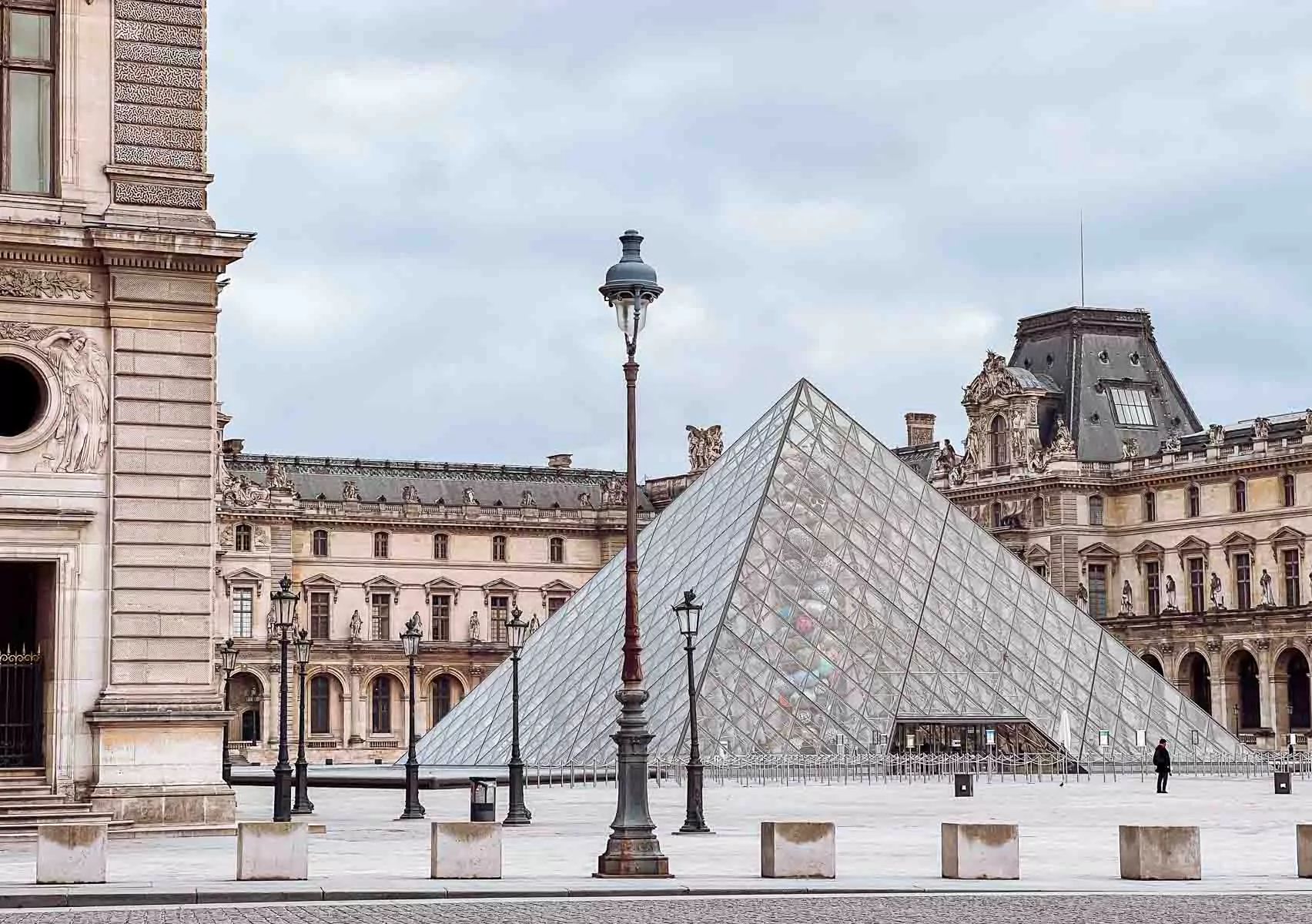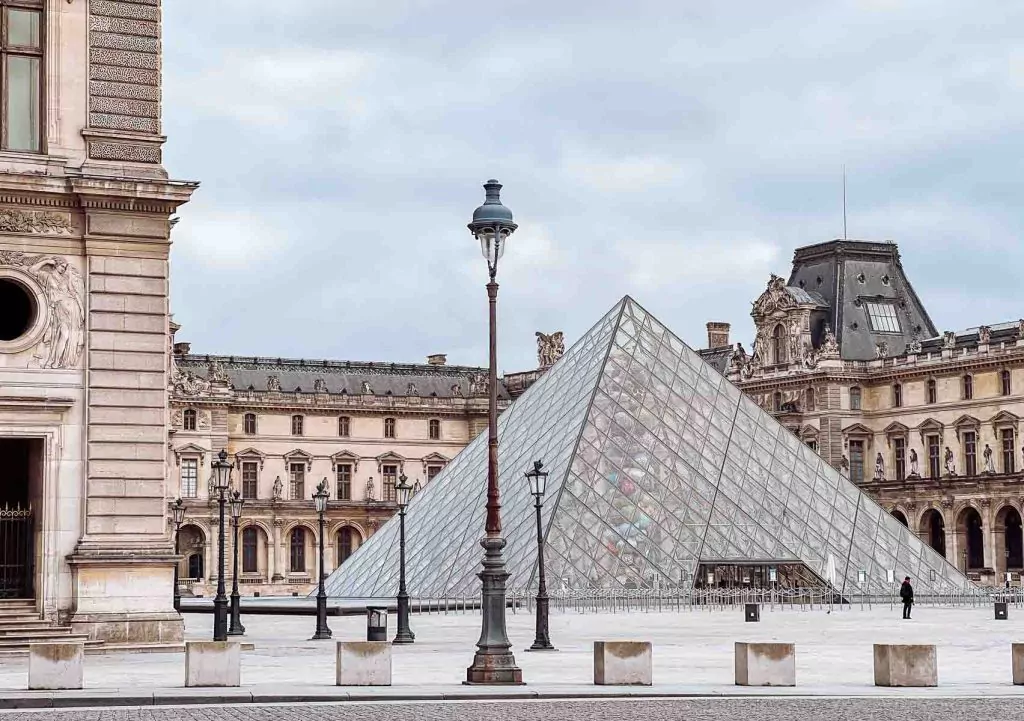 ---
Two month Europe itinerary summary
Europe train itinerary map
I've tried to colour code the destinations in rainbow colours so you can get an idea of the order you'd be travelling in.
Europe train itinerary summary
Again, the days listed here are recommended minimum length of stay. This itinerary is currently 49-61 days long based on the recommended minimum stays so you've got a bit of leeway to add on a day in a few extra spots, or to add a new stop altogether.
London (4 days)
Paris (4 days)
Barcelona (3 days)
Lyon (2 days)
Zermatt (2-3 days)
St Moritz (1-2 days)
Tirano (1 day)
Milan (2-3 days)
Cinque Terre (1-2 days)
Florence via Pisa (2-3 days)
Rome (4 days)
Bologna (1 day)
Venice (3-4 days)
The Dolomites (3-4 days)
Salzburg/Innsbruck (2 days)
Vienna (2-3 days)
Bratislava (1 day)
Budapest (2-3 days)
Prague (2-3 days)
Berlin (3 days)
Amsterdam (3-4 days)
Bruges (1-2 days)
---
The ultimate 2 month Europe itinerary by train
London
How to get to London
If you're starting your two month Europe trip in London, you can fly into one of a number of airports.
Heathrow is the main long-haul airport for most full service major airlines, and to get from Heathrow to Central London it's an easy Tube trip on the Piccadilly Line or the Elizabeth Line.
Gatwick is the second-busiest airport and is a common arrival point for budget airlines and also some short-haul Europe flights of full service airlines, and is connected to London city by train that runs consistently throughout the day.
There's also London City Airport (used mostly for short-haul Europe flights from full service airlines), London Stansted (budget airlines like RyanAir and Easyjet) and London (also budget airlines).
How long to stay: As long as you can. Stay for four days at a minimum, but you could stay for weeks and still only see a fraction of what the city has to offer.
About London
London is one of those iconic cities that you probably already know loads about from TV shows and movies, but once you're there in person you'll see that there's much more to the city than Big Ben, Platform 9 3/4 and William's house from Notting Hill.
I lived in London for two years on a working holiday visa a few years ago and I count it as my second home, so believe me when I say that London is truly whatever you want it to be.
If you want to do the classic tourist route you can visit palaces, museums and skyscrapers by day, and finish the evening with a West End show.
If you prefer seeing a city by exploring their cuisine, London's full of foodie experiences to keep you satisfied, from world-class markets (Borough is my fave) to Michelin-starred restaurants to budget-friendly cheap eats if you don't mind getting off the beaten track.
And if you're up for something a bit different, there are loads of unique things to do in London to surprise and delight you and your travel buddies. Spend a night hopping between funky cocktail bars and speakeasys, roam around some of the city's expansive parks, get amongst some of the city's incredible events or see the skyline from a jetboat tour along the Thames.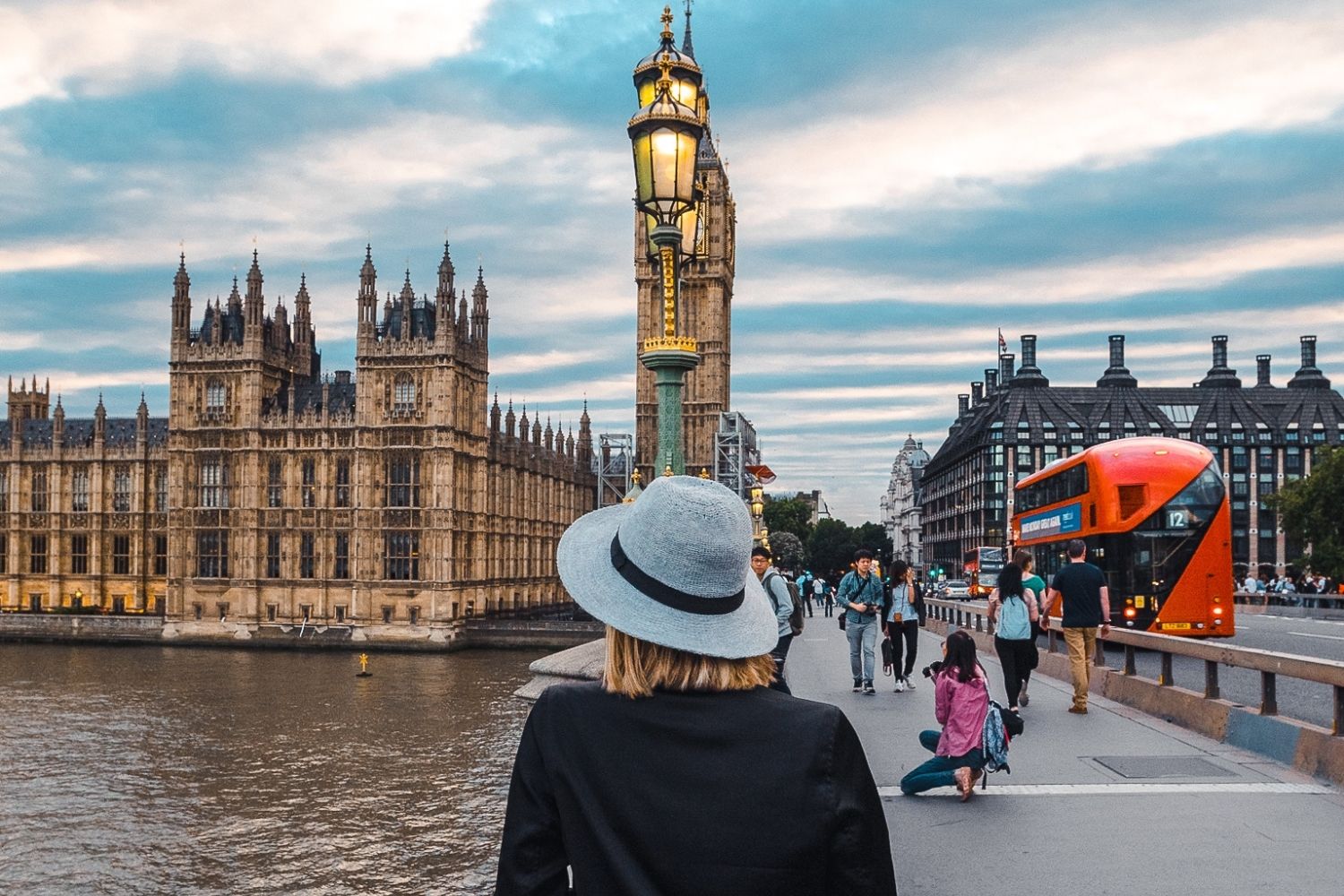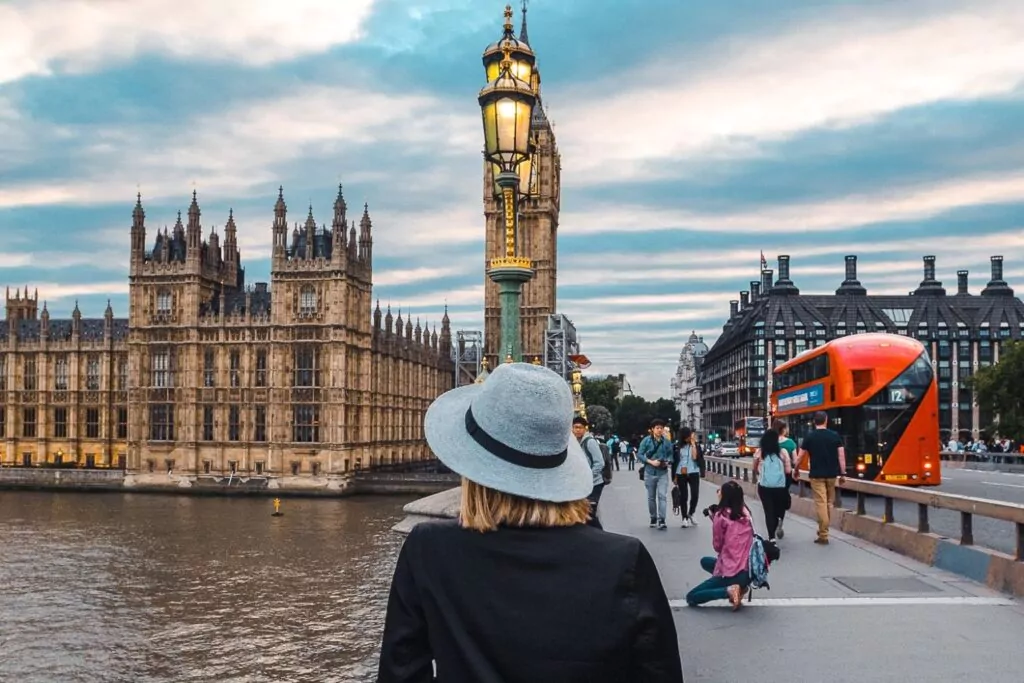 Things to do in London
See the obvious attractions, like Big Ben, Buckingham Palace, the Natural History Museum, Trafalgar Square, the Tower of London, the London Eye and St Paul's Cathedral. All attractions are easily reached by public transport but if you'd prefer a simple door-to-door bus then consider the hop-on hop-off bus, or look at the Go City London Pass which gives you discounted entry to major attractions as well as the hop-on hop-off bus.
Eat your way around Borough Market, don't miss divine apple crumble from Humble Crumble
Shop for vintage goodies at Portobello Market, Old Spitalfields Market or Brick Lane Market
See a show on the West End (I love & Juliet, Hamilton, the Book of Mormon, Wicked, and the Lion King)
See a darker side of London with this highly-rated Jack the Ripper walking tour
Taste the best food around London with a food tour! Try this cheese walking tour, this Secret London Food Tour or this East End food tour
Take a day trip from London. You could spend a day at Warner Bros. Studios (a.k.a. Harry Potter world!), see a bunch of Downton Abbey filming locations, or tick off Stonehenge, Bath and Windsor in a single tour
See the best view of the city from up the Shard, without having to pay for a ticket. You can simply book a table at Aqua or Hutong's if you want a meal, or try popping up for just a drink or two in the middle of the day. Don't miss the bathrooms, now that's a true loo with a view!
Another great view is up the Skygarden, it's free entry but you need to book in advance. You can book tickets here.
Treat yourself to a fancy afternoon tea. Head to the Savoy for a quintessential London high tea experience, go to Sketch for the most Instagrammable high tea in town, or tick off a city tour and afternoon tea in one with Brigit's Bakery Afternoon Tea bus tour.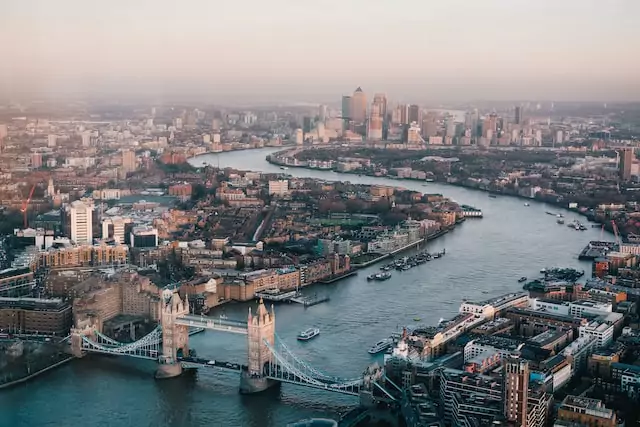 Where to stay in London
Budget | London's not known for being an affordable city but there are some hostels that can keep your accommodation prices down. Check out Urbany Hostel, Wombat's Hostel, Selina Camden or Hostel One are all good options, or Kip Hotel is great if all you want a private room but don't need much space.
Mid-range | To get the best bang for your buck in London you'll need to stay slightly out of the city, but public transport is super well connected so with these options you'll find it easy to get to the major tourist sights. The Fox & Goose Hotel in Ealing, Spread Eagle in Wandsworth, Rose & Crown Hotel in Wimbledon and Half Moon in Southwark are all brilliantly-rated mid-range options, or the Z Hotels in Holborn, Trafalgar and The Strand are all well-rated too.
Luxury | There are loads of luxury hotels in London for a fancy stay, but some of the best-rated ones are Hotel 41, Pan Pacific London, Claridge's, Ham Yard and the Ritz.
Self-contained | My go-to for a self-contained stay in London is Room2 Chiswick Hometel, a gorgeous boutique aparthotel that offers funky studios with kitchenettes as well as access to a gym, laundry facilities and a café/cocktail bar with plenty of work-friendly spaces. They're also the world's first fully net zero hotel which is super cool!
A quick note about airport hotels
If you've left planning your Europe trip a bit late and aren't able to find a seat on the Eurostar to Paris, you might need to fly instead. In London you'll find that many of the cheaper flights depart before 9am, meaning you might need to leave your hotel at a horrendous hour to reach whichever airport you're flying out of. To save the early morning stress I often opt for an airport hotel, choosing a cheap early morning fare with an airport hotel booking often ends up cheaper than flying out on an expensive midday flight anyway!
I love BLOC Gatwick if you're flying from LGW, they have good value cosy rooms with comfy beds literally right next to the departure gate. And if you're flying from Heathrow, my top pick is the newly-refurbished Hilton Heathrow Terminal 4, which has super spacious rooms, a brilliant buffet breakfast and a short six-minute walk down a covered walkway to get to Terminal 4.
---
Paris
How to get from London to Paris: Take the Eurostar from London St Pancras to Paris Gare de Lyon, super quick and easy.
Train prices: If you book a few months in advance or during a sale you can find tickets from €45 one way, but there are only a select number of tickets available at that price before it rises. Last minute tickets or tickets for peak times can be as expensive as €150-€175.
Seat reservations with rail passes: A Eurail Pass is great for the Eurostar because you only pay for the seat reservation which is €32 for a Standard seat (with a 2nd class Eurail Pass) or €40 for a Standard Premier seat (with a 1st class Eurail Pass).
How long to stay: 4 days
Paris is one of Europe's most hotly-debated tourist destinations, it seems as though you either absolutely love it or totally hate it! I'm in the 'love' camp, and I'll always tack a quick Paris visit onto any European adventure.
I think the issue with Paris is that people have these dreamy, romantic expectations of the city after seeing it in movies and TV shows, and then the reality of hectic crowds, abrupt locals, smelly metro corridors and scammy tourist traps ruin these expectations leaving a bit of a sour taste in the their mouths. But, just like any main city, the best Paris has to offer is beyond the iconic tourist sights.
Paris boasts one of the world's best café cultures, where pastries are freshly-baked, coffee is piping hot and people-watching is a daily event. And if sitting at a sidewalk table isn't your thing, there are plenty of inner city parks to take your fresh croissant or baguette and cheese to for a DIY picnic.
Throw in a bunch of renowned museums and galleries, Instagrammable photo spots all over the city, easy day trips to palaces, castles and gardens, an alluring cabaret scene and stunning architecture everywhere you look, and you might just join me in the Paris fan club!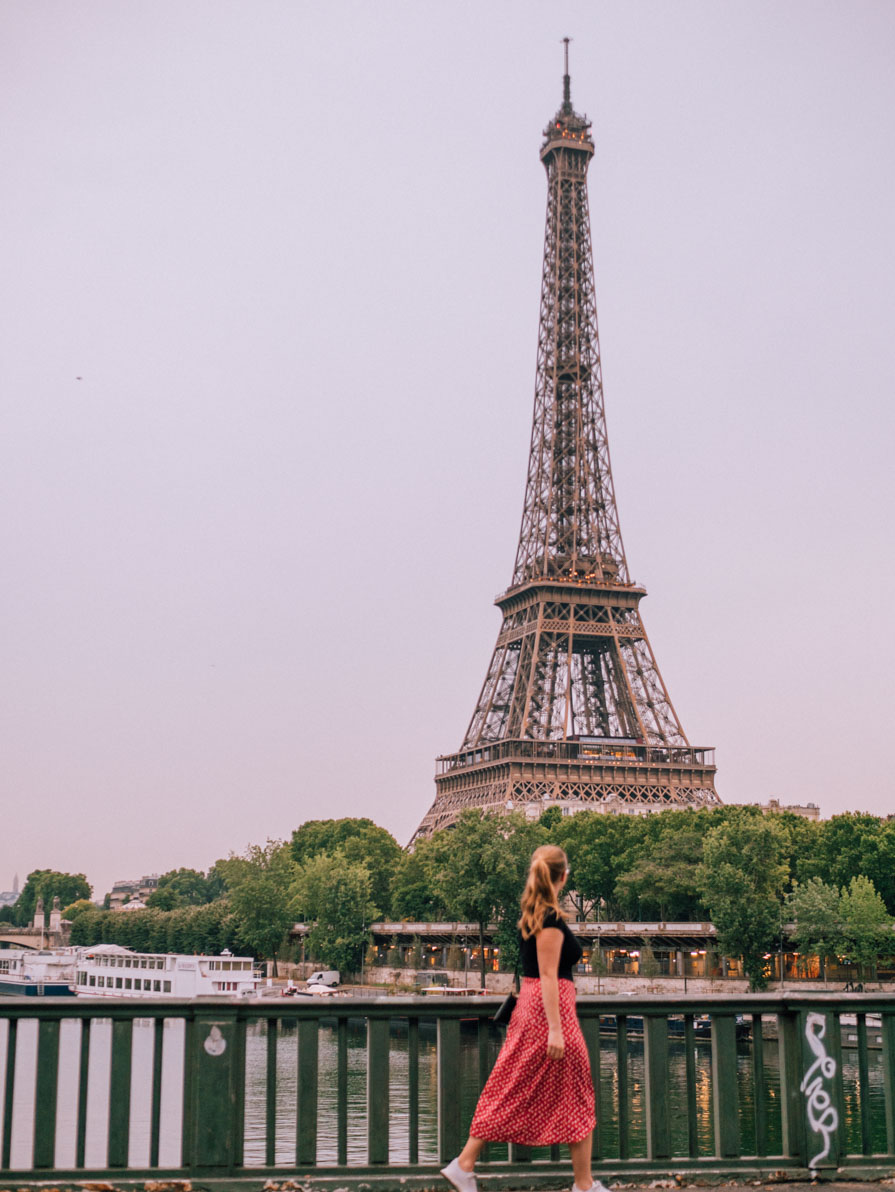 Things to do in Paris
Practice your French! It's true that the locals aren't super friendly when you speak English to them and expect them to respond, but can you blame them? A little 'bonjour', 's'il vous plaît', 'parlez vous anglais?' and 'merci' will go a long way. (That's 'hello', 'please', 'do you speak English?' and 'thank you', by the way!)
See a cabaret show, Paris is home to loads of incredible cabaret performances, ranging from risqué and raunchy through to quirky and even family-friendly. I recently saw Paradis Latin which blew me away, the dialogue and songs were part-French, part-English, the costumes were stunning and the atmosphere was so vibrant and fun.
Grab a baguette and some cheese and have a picnic under the Eiffel Tower, in the Jardin des Tuileries or at Places des Vosges
Visit the Galeries Lafayette department store to see the famous stained-glass dome
Learn about some of the most famous artworks in the world at the city's museums. There's the Louvre, Musée Picasso, Musée d'Orsay, Musée Rodin and many, many more.
Indulge in some sugary treats, like macarons from Pierre Hermé, the famous hot chocolate (more like chocolate soup!) from Angelina's or a pain au chocolat from Du Pain et des Idées
Try your hand at making your own French dessert with a macaron cooking class, there's a good value 1.5 hour option at Galeries Lafayette, or a more intensive 2.5 hour option at a cooking school
See a side to the city many don't even know exists with a tour through the Catacombs, an underground network of tunnels that hold the remains of six million people after being moved from overflowing cemeteries in the 18th century
Enjoy the panoramic view of the city from the steps of the Sacré-Cœur
Wander through the narrow cobbled streets of the Latin Quarter, and stick around in the evening if you're keen to experience the neighbourhood's buzzing nightlife
Explore the charming Marais district, my favourite part of Paris. Incredible design stores, trendy clothing shops and the city's best Middle Eastern eatery, l'as du fallafel
Take a day trip out of the city to the opulent Palace of Versailles, the castles of the Loire Valley, the gardens of Giverny or the rollercoasters of Disneyland Paris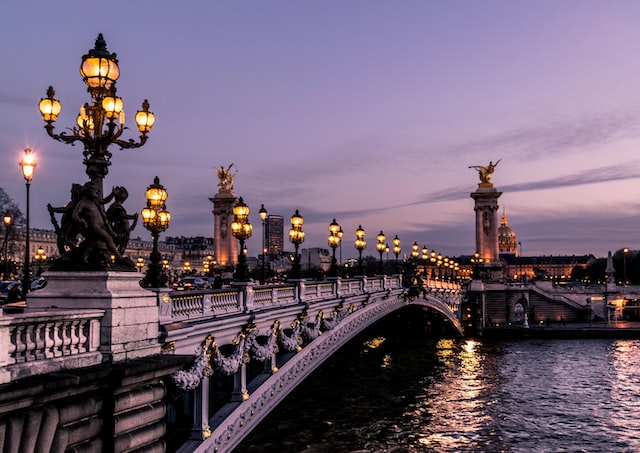 Where to stay in Paris
Budget | I've stayed at a few hostels around Paris, most recently People Nation which has brilliant pod-style rooms right next to a metro station, but unfortunately doesn't have a kitchen or even a fridge (not ideal for travellers on a budget as eating out in Paris isn't exactly cheap). Generator Paris is another well-rated hostel but also doesn't allow any outside food to be brought in, and budget-friendly Enjoy Hostel does have a kitchen but is lacking in other areas like comfort and space. One hostel on my list for next time is JO&JOE Paris Nation, which has a fridge and microwave as well as pod-style dorm rooms and spacious private rooms.
Mid-range | I love Laz' Hotel Spa for a top quality mid-range stay, and some other good options are Hôtel de Roubaix, Hôtel Moderniste, B Montmartre and Babel Belleville.
Luxury | Treat yourself to a luxury stay in Paris at Manolita Paris, Maison Villeroy, La Réserve Paris Hotel & Spa, Bulgari Hotel Paris or Cheval Blanc Paris.
Self-contained | If you want somewhere with kitchen facilities then consider Goralska Résidences Hôtel, Les Jardins Du Luxembourg Hotel, CADET Residence or PEPPER & PAPER Apartments.
Bonus: Where to stay at Paris Disneyland
Budget | Eklo Hotels is an awesome option for Disneyland visitors on a budget, with rooms ranging from single to double to family to group dorm rooms. There's also a fridge and microwave for guests to use, as well as a restaurant and bar serving up diner-style food and drinks.
Luxury | Hotel L'Elysée Val D'Europe is my top pick for a luxurious, comfortable stay near Disney. They've got huge rooms complete with giant beds, desks and bath tubs, and the hotel provides a free shuttle to and from Disney throughout the day.
---
Barcelona
How to get to Barcelona from Paris: There's a direct train that runs twice a day (three times in summer) and takes 6h 31m.
Seat reservations for rail pass holders: The seat reservation for this high speed train is expensive, I paid €48 for a 1st class seat and the 2nd class reservation was €36.
Train prices: But the train ticket would've cost me €228 without a Eurail Pass when I booked a week before the trip (€188 for 2nd class) so the pass saved me loads of money. Looking at prices now for 2.5 months ahead of time the prices are between €119 and €144 for 2nd class, so this is an expensive route to buy outright.
How long to stay: 3 days
Barcelona is a fabulously vibrant city that offers beaches, nightlife, gastronomy, culture and history all within easy access to each other, which is ideal if you're only here for a short visit.
By day you could catch some sun rays from a deckchair in the sand, marvel at Gaudi's masterpieces or try some local delicacies from Mercado de La Boqueria. By night you could sip sangria while taste testing tapas (or trying some of the city's best paella), enjoy some late night shopping down Las Ramblas or hit the cocktail bars or nightclubs.
Things to do in Barcelona
Visit the still-incomplete jewel in Barcelona's tourism crown, La Sagrada Familia, which is one of the city's Gaudí masterpieces, currently in its 141st year since construction began in 1882. The basilica is certainly a showstopper even from afar, unlike any other church in the world, but you've got to go inside and see the stained-glass windows and unique ceiling design. Avoid long queues by booking your ticket and visit time in advance, or skip the line entirely with this guided tour and entry ticket combo.
Another iconic Gaudí stamp on the city is Park Güell, an enchanting park sitting above Barcelona with incredible views, fairytale-esque gardens and a house where Gaudí himself lived with his family, which is now a museum dedicated to him
And a third Gaudí tourist hot spot is Casa Batlló, a.k.a. the 'House of Bones' thanks to its skeletal look. You can enjoy the unique façade from the street for free, or you can buy an entry ticket to learn more about Gaudí and his creative process.
Shop til you drop down La Rambla, a tree-lined pedestrian boulevard boasting flagship stores, quirky street performers and vibey cafes and restaurants
While you're wandering down La Rambla, don't miss the entrance to the famous La Boqueria market, where you'll find a wide range of food from fresh juices to sweet pastries to cured meats and ocean-to-market seafood
Catch some sun, hit the surf and feel the sand between your toes along the city's 4.5km coastline
Experience Spanish culture through cuisine by having a daily tapas session. I loved Ciutat Comtal and some other top-rated eateries are Tapeo, Sensi Bistro and Cerveseria Catalana
Walk through the beautiful Ciutadella Park
Where to stay in Barcelona
Budget | Yeah Barcelona, Hostel One Ramblas, Born Barcelona and Fabrizzios Terrace Hostel are all top-rated budget-friendly options
Mid-range | For something mid-range check out Forget Me Not, Musik Boutique Hotel, Occidental Barcelona 1929 and Hotel Jazz (which has a rooftop pool!)
Luxury | ME Barcelona, Hotel El Palace, Hotel Boutique Mirlo, Monument Hotel and The One Barcelona GL are some of the best-rated luxury hotels in Barcelona
Self-contained | If you want self-catering facilities, some good options are Deco Apartments, El Alma de las Ramblas, Eco Boutique Hotel and Suites Avenue
---
Lyon
How to get to Lyon from Barcelona: A 5h 17m train journey with one change in Montpellier with mandatory reservations on both trains, €36/€50 for the first train (2nd class/1st class) and €12 for the second train (both classes the same price).
Train prices: This route typically costs between €70-€120 for a ticket so check the price for your travel dates to see if a Eurail Pass would be worth it. There's also a direct coach from Barcelona to Lyon with FlixBus for €28.99 but this takes nine hours.
How long to stay: 2 days
A lesser-known city compared to many on this two month Europe itinerary, Lyon takes the culinary crown as France's best foodie city. With 19 Michelin-starred restaurants, gastronomic events throughout the year, flagship restaurants from world-famous chefs and easy access to some of France's best produce and meat, it's an absolute must-visit for any food-minded traveller.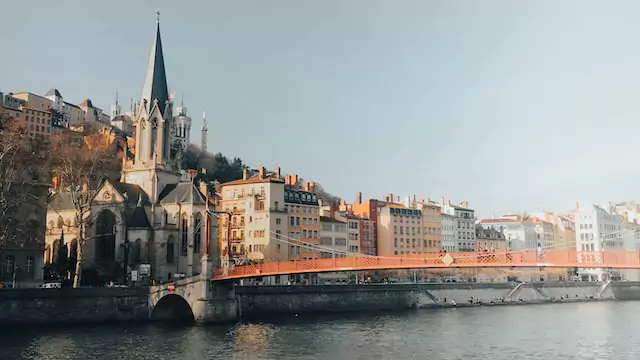 Things to do in Lyon
My absolute top recommendation for Lyon (and for any foodie city) is to do a food tour, it's hands down the best way to learn about the city's culinary history and taste a bunch of local specialties while you're at it. Some highly-rated ones are this 4 hour Vieux Lyon food tour, this Secret Food Tour and this Vegan Croix-Rousse food tour if you're plant-based.
Snag a table at a Michelin-starred restaurant. Restaurant Paul Bocuse is perhaps the most famous, named after Lyon-based gastronomic legend Paul Bocuse and boasting two Michelin stars. You can see all the Michelin-starred Lyon restaurants here, book in advance if you're visiting on a weekend or during summer.
Wander through the cobbled alleyways and 'traboules' (secret passageways) of Vieux Lyon, the city's old quarters
See the city efficiently (time-wise and energy-wise!) with a Pedicab tour, a Segway tour or an electric bike tour
Take a walk through the indoor and outdoor gardens at Parc de la Tête d'Or
Catch the funicular (or walk if you don't mind breaking a sweat) up to Fourvière Hill to see the Basilica of Notre-Dame de Fourvière, the Théatre Gallo-Romain and incredible views of the city
Where to stay in Lyon
Budget | Centre Jean Bosco, Félix Dort, MEININGER Lyon and Hotel Elysée offer brilliant value for money
Mid-range | Hôtel de l'Abbaye, Hotel De Verdun 1882, Hôtel Edmond W and Le Phénix Hôtel
Luxury | InterContinental Lyon, Villa Maïa, Boscolo Lyon Hotel & Spa or Hotel & Spa Le Pavillon if you'd like somewhere luxurious slightly out of the city
Self-contained | Le Cocon on Dine, Urban Cocoon Gite and MOHOM all offer kitchen facilities
Don't stay at | I stayed at ResidHotel in a tiny studio apartment, but I wouldn't recommend it. It was far too expensive for the size and quality of the place, and it was disgustingly dirty, with food remains stuck on 'clean' dishes, dust everywhere, sticky stuff on the kitchen bench and desk. Avoid!
---
Zermatt
How to get to Zermatt from Lyon: A few different options, but the easiest/cheapest is a three train journey that takes between 5h 36m and 6h 36m depending on the connections, with no seat reservations needed (which means it's totally free if you use a Eurail pass). Most journeys will have a regional train from Lyon to Geneva (1h 57m), a switch in Geneva, then a train to either Visp (2h 13m) or to Brig (2h 1m), then a switch to your final train to Zermatt (1h 10m from Visp, 1h 22m from Brig).
Train prices: Prices seem to sit at around €80-100 for outright tickets even when booking a couple of months in advance
How long to stay: 2-3 days
Have you ever wondered what mountain you see on the Toberlone packet? It's the Matterhorn, an iconic peak in the Swiss canton of Valais, and the charming ski town of Zermatt provides a front row ticket to it.
Zermatt is best-known as a winter hub for active adventurers who want to hit the slopes of world-class ski resorts, but it's still well worth a visit in the warmer months too, with hikes, alpine train rides, paragliding, scenic flights and more on offer.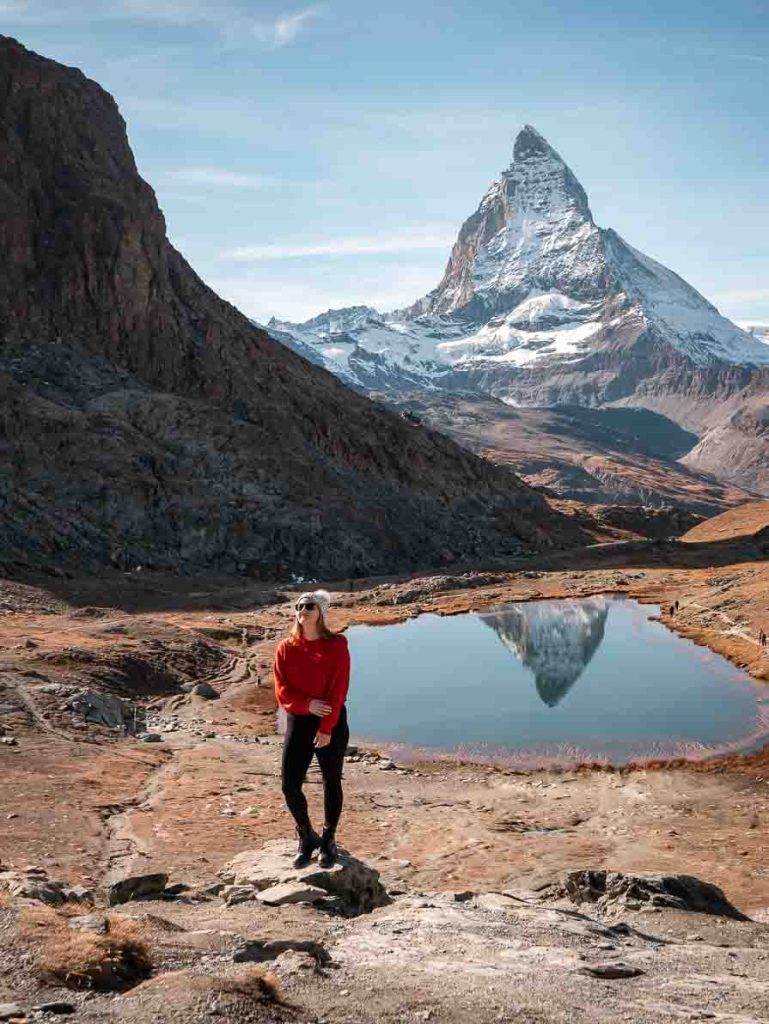 Things to do in Zermatt
Ski or snowboard if you're visiting during winter, then get amongst the epic apres-ski scene afterwards
Take the Gornergrat Bahn mountain railway to the top of Gornergrat for the best view of the Matterhorn
Do a walk when you're up at Gornergrat. I got off at the top station and walked the 2km to Riffelsee Lake, a lake with an incredible reflection of the Matterhorn, before heading slightly up hill (short but very steep 5 min walk) to Rotenboden station to catch the train down.
You could also continue 2.3km to the next station, Riffelberg, or skip the first walk, get off at Rotenboden and just do the second. During winter these trails are snowy so the first walk (Gornergrat to Rotenboden) is accessible to snow-shoers only, but the second walk (Rotenboden to Riffelberg) is accessible to both snow-shoers and normal winter hikers.
Float amongst the peaks with a paragliding flight
Take the world's highest cable car, the Matterhorn Glacier Paradise to Europe's highest mountain station at 3,883m above sea level, where you'll be able to spot 38 mountain peaks in Switzerland, France and Italy
Try some fondue, a quintessential Swiss alpine culinary experience. My hotel (the stunning Hotel ZERMAMA) had in-room fondue sets where guests could order the ingredients from the restaurant and then DIY their own fondue dinner in the comfort of their room or from their balcony, So dreamy!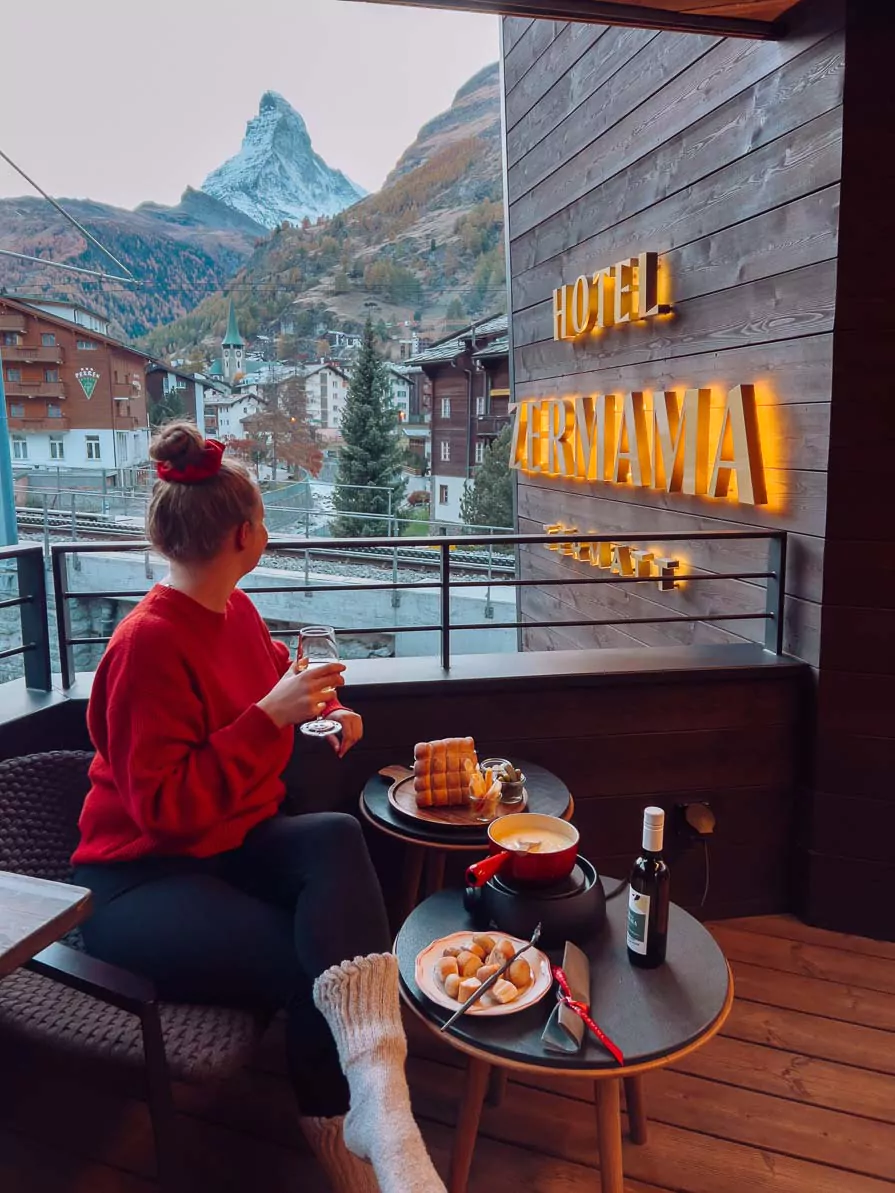 Where to stay in Zermatt
Budget | Zermatt Youth Hostel is the cheapest place in town and has great reviews, or ALPINA Budget Rooms, Hotel Alphubel and Le Petit Charme-Inn are also rated over 8/10 on booking.com
Mid-range | Chesa Valese, SchlossHotel Zermatt, Unique Hotel Post and Schallers Tannenhof offer great value for the mid-range budget
Luxury | I am obsessed with where I stayed and cannot recommend it highly enough, it's called Hotel ZERMAMA and it's one of the best places I've ever stayed for sure. It's a 4* luxury design and lifestyle hotel with stunning interiors, lots of thoughtful extras (yoga mat, resistance bands, big faux-fur winter coat for cold nights on the balcony) and little details that take your stay to the next level. I stayed in a suite which was absolutely divine but they also offer single rooms for solo travellers which I love (no need to pay for extra space you don't need), as well as a range of other rooms to suit different budgets.
Self-contained | Studio MIA, Alpenblick Superior and Piccolo Fiamma all have options with a kitchen/kitchenette
---
St Moritz
How to get to St Moritz from Zermatt: By catching one of the most scenic train journeys in Europe (and the world!), the Glacier Express, which is an 8 hour direct train with panoramic windows and some of the best views I've ever seen in my life. You can save 152CHF (2nd class) or 268CHF (1st class) on your Glacier Express journey using a Eurail, Interrail or Swiss Travel Pass, you can find out how in my Glacier Express travel guide.
Seat reservations: 39CHF during low season (mid-Dec to mid-May), 49CHF during high season (mid-May to mid-Oct)
You can also replicate the same journey by using regional trains which don't require seat reservations, so they're free with a rail pass or still relatively cheap compared to the Glacier Express if you're buying outright. You'll need to take five trains in total but all the changes are simple and at small stations: Zermatt to Visp, Visp to Andermatt, Andermatt to Disentis/Muster, Disentis/Muster to Reichenau-Tamins, and Reichenau-Tamins to St Moritz.
How long to stay: 1-2 days
St Moritz is the birthplace of winter tourism in Europe, with luxury hotels, fancy ski resorts and gourmet restaurants playing host to the rich and famous since 1864. It also serves as the stopover between the Glacier Express train and another Switzerland panoramic train, the Bernina Express.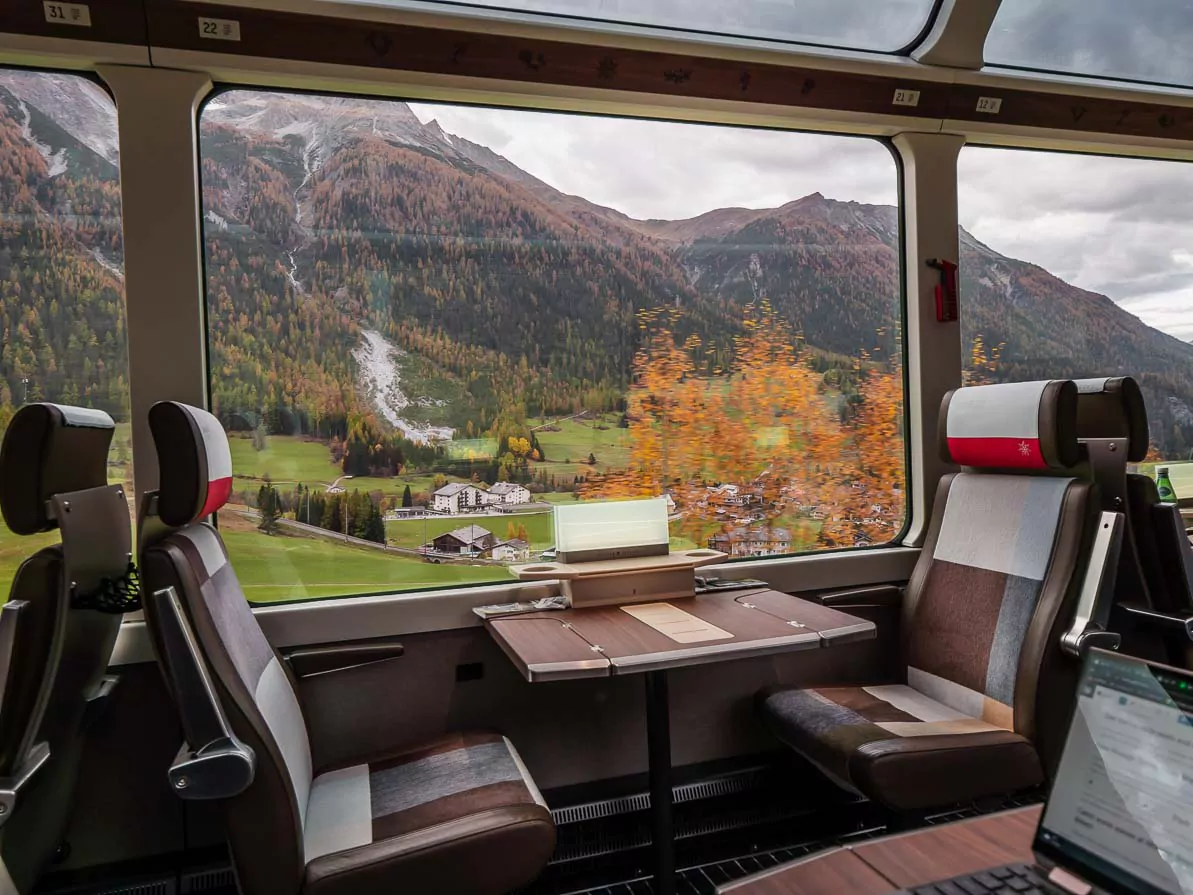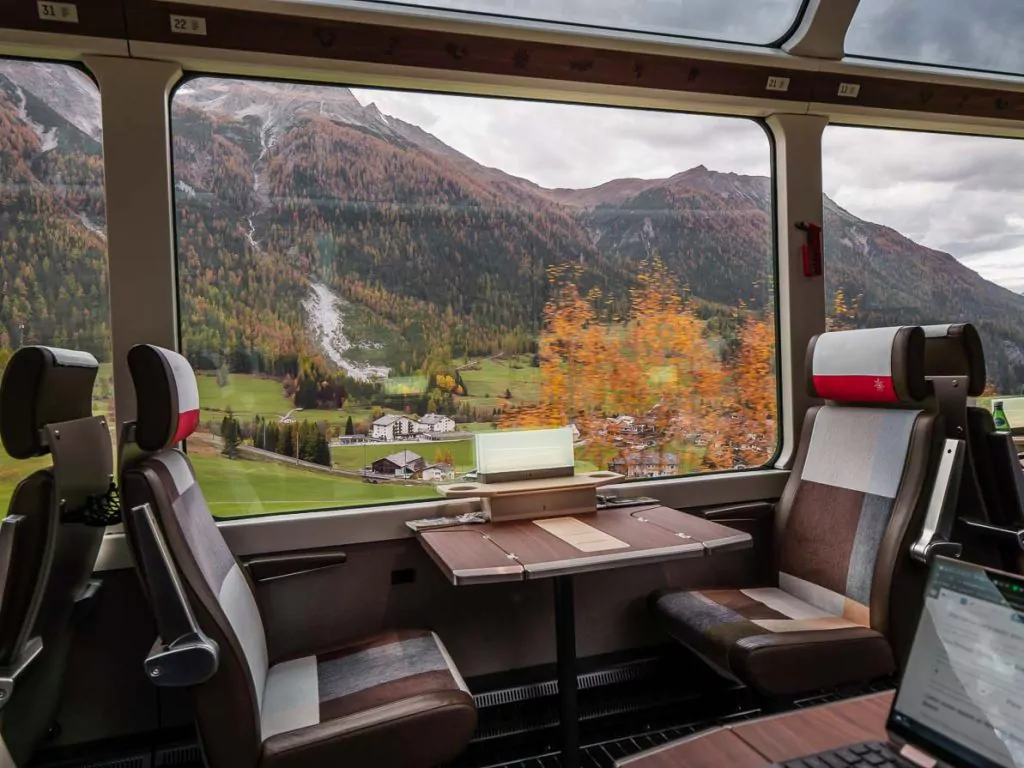 Things to do in St Moritz
Walk around Lake St Moritz, an easy 4.4km walk past lakefront hotels and restaurants, through some short forest sections and with stunning views the whole way round
Catch the funicular up to Corviglia (2486m) for hiking in summer and skiing in winter, or go slightly higher with the cable car up to Piz Nair at 3,057m
There are plenty of other hikes on offer in and around the area, from easy family-friendly trails to more challenging alpine treks and even seasonal wildflower tracks
Channel Cool Runnings and get your heart racing with a bobsled run down the Olympia Bob Run, the oldest run in the world. It's not cheap, at 269CHF per person, but you'll never forget the thrill of speeding down a natural ice track at up to 135km/h, feeling forces of 4G and coming to a halt after 75 seconds of adrenaline.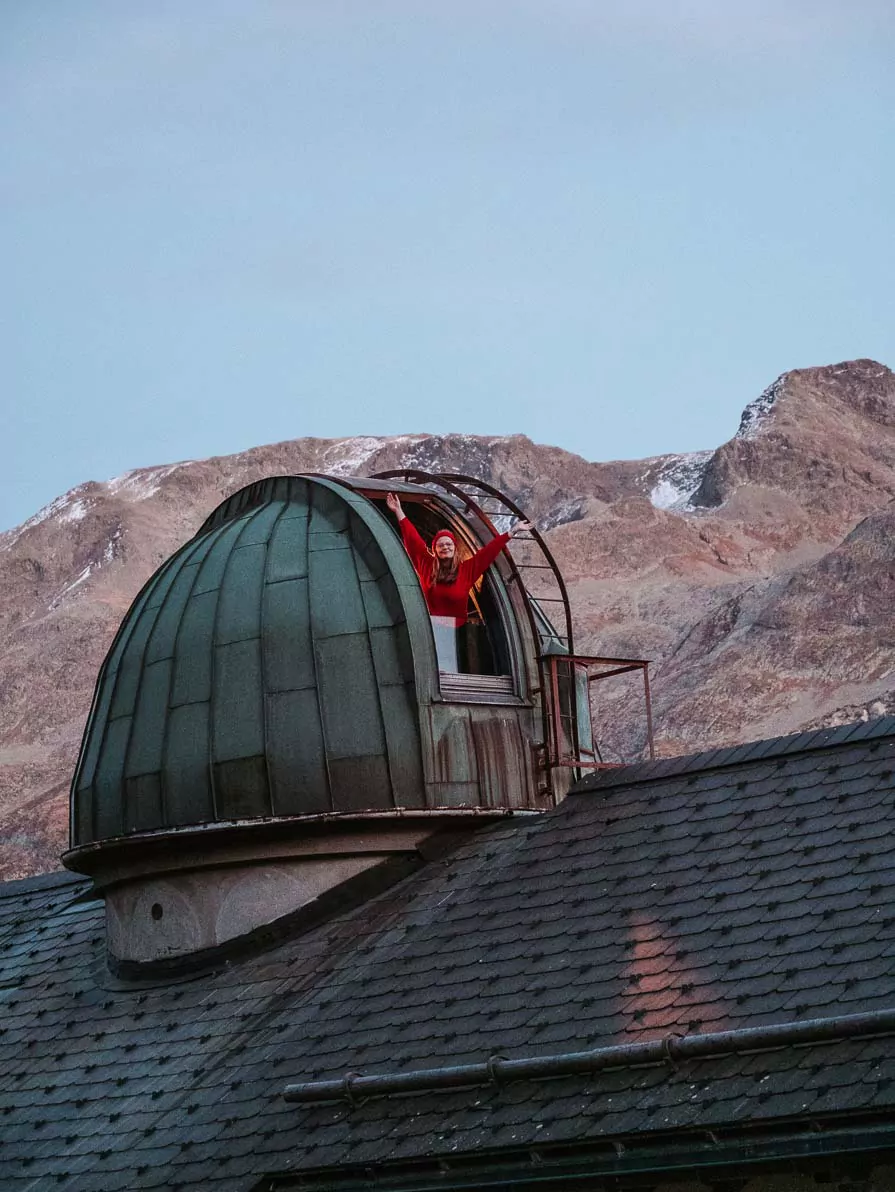 Where to stay in St Moritz
Unique | I spent two nights at one of the most unique accommodation spots in the world, a historic observatory with mountain views, a turning mechanism and a cog-wheel window for stargazing. The observatory is located at Randolin's Berghotel and also gives you access to the hotel's beautiful spa and wellness area. One for the bucket list for sure, a true once-in-a-lifetime experience!
Budget | St Moritz Youth Hostel or Hostel by Randolin's are the cheapest accommodation options with decent reviews
Mid-range | Aside from the epic observatory, Randolin's Berghotel also has mid-budget hotel rooms that offer a comfortable stay, great facilities and incredible views for an affordable price. You could also look at Hotel Piz, Chesa Languard or Boutique Hotel Cervus.
Luxury | Suvretta House is an iconic St Moritz luxury hotel, Kulm Hotel has incredible reviews, and Carlton Hotel is one of the Leading Hotels of the World
---
Optional stop: Tirano
How to get to Tirano from St Moritz: By catching the Bernina Express, another panoramic train with huge windows and insane views. A Eurail pass makes this one much more affordable too!
Seat reservations: From 20CHF to 26CHF depending on time of year
Train prices: 32CHF 2nd class or 56CHF 1st class, not including the seat reservation fee
How long to stay: Overnight
Tirano is a sleepy alpine village located in Northern Italy just across the Swiss border, and it's the end point of the Bernina Express train.
I've noted it an an optional stop in this two month Europe itinerary because there isn't a huge amount to do there as a tourist, however it's a charming Italian town that's much more calm and low key than the next few stops on this trip, so if you want a bit of a break then it's a great spot to spend a night or two.
If you have extra time and you enjoy skiing in winter or cycling in summer then you might want to stay longer, it's a great area for outdoor adventures!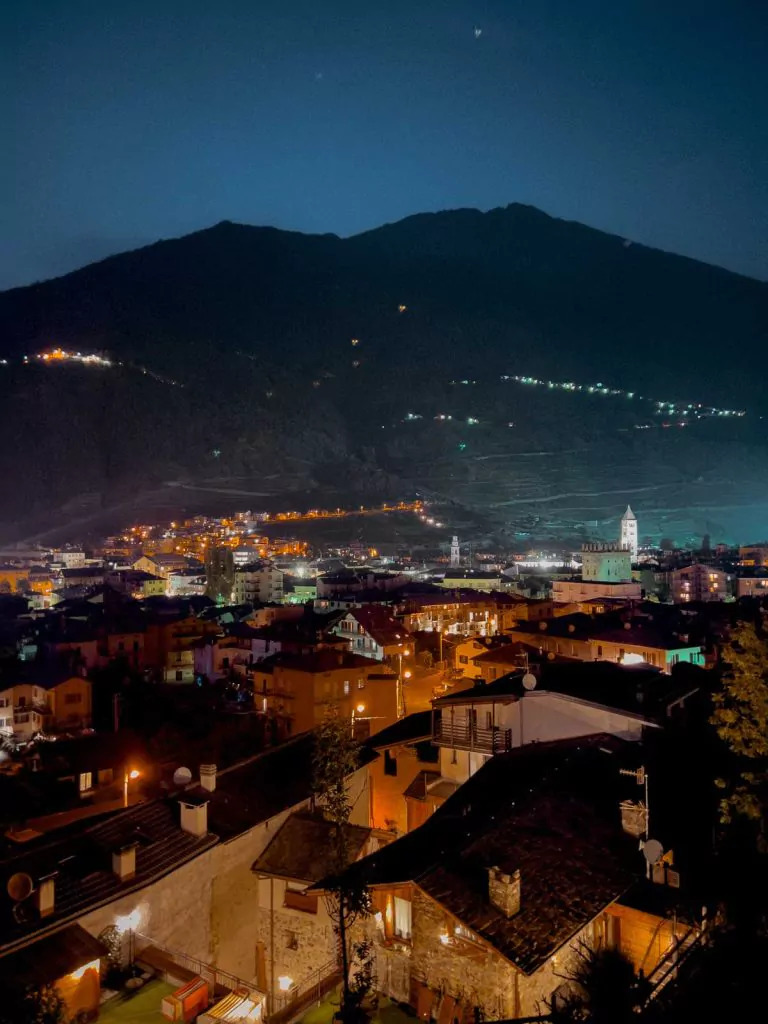 Things to do in Tirano
See the Basilica of the Madonna di Tirano, a 16th century Renaissance-inspired church dedicated to Mary after she appeared to a local man asking for a shrine in 1504 (as local legend goes)
Enjoy some Valtellinese cuisine, I loved Parravicini Restaurant but some other top-rated ones are Posteria Del Rosso and Merizzi
For a classic pizza dinner, head to L'Hostaria Ristorante
Try some local wines at the wineries on the hills surrounding Tirano
Ski in winter or explore by e-bike in summer
Where to stay in Tirano
Budget | Hotel La Rotonda, Albergo Gusmeroli and B&B Antica Residenza Centro Storico are all cheap and well-rated
Mid-range | I stayed at Ostello del Castello, a great value guesthouse just a short walk from town and one of my favourite places I stayed in Europe. Basic but spacious and comfortable rooms, superb hospitality, and a rooftop terrace ideal for catching some rays while overlooking the town on a sunny day.
Self-contained | Casa Dolce Casa, Old Town Apartments and Holiday House Viola all have kitchen facilities
---
Milan
How to get to Milan from Tirano: An easy 2h 28m direct train
Train price: Tickets are just €12 so not worth using a travel day on a rail pass (but if you have an unlimited travel pass this train is included and doesn't require seat reservations)
How long to stay: 2-3 days
Milan isn't as popular on the Italy tourist route as Florence, Rome and Venice, but if you can fit a couple of days in Milan into your Europe itinerary you will find plenty to see, do and eat. It also serves as an easy hub for rail travel, with connections to cities in Switzerland, Germany, France, Austria and more.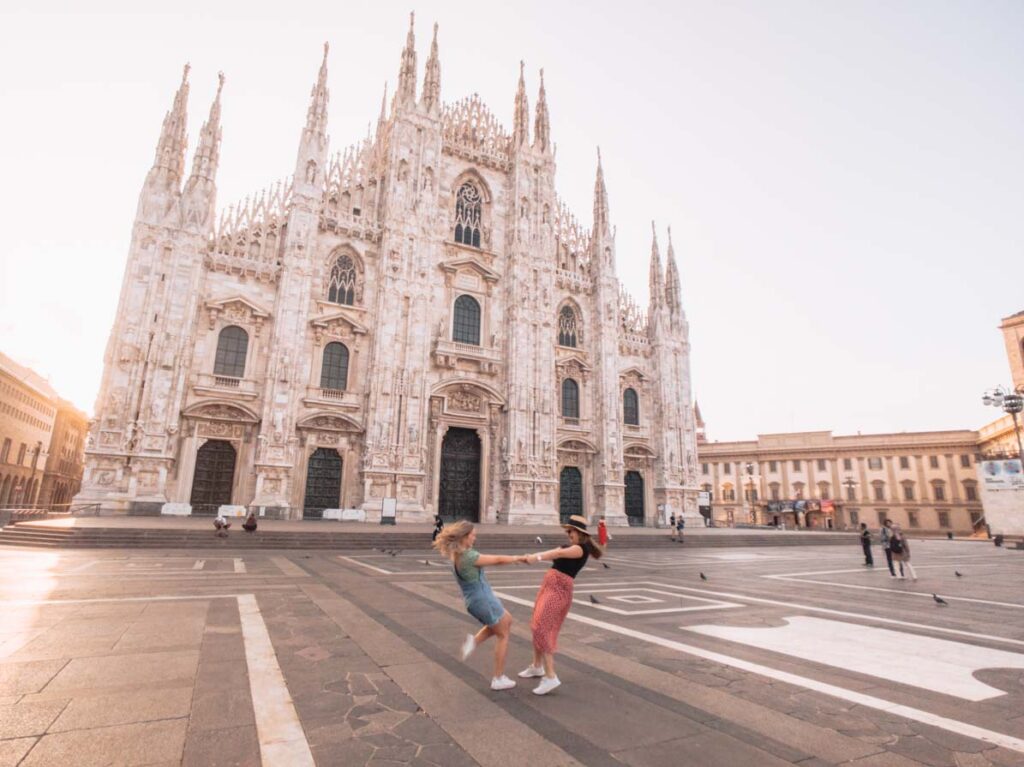 Things to do in Milan
See the Duomo di Milano, one of the largest cathedrals in the world and the most iconic landmark of the city. Book a skip-the-line ticket to save time, you can choose a cathedral and rooftop ticket (optional audio guide add on) or you can get a cheaper ticket to the rooftop terraces only (no church).
Right next to the Duomo you'll find Galleria Vittorio Emanuele II, a glass-covered arcade packed with luxury clothing stores. Go for sunrise to see it quiet, it fills up by around 9am and will be busy the entire day.
Take a guided tour of the Teatro alla Scala and learn all about the theatre's history and past performers
Visit Santa Maria delle Grazie, a church that hosts da Vinci's Last Supper. Tickets book up well in advance through the official website, so if you miss out then you'll need to book a skip-the-line ticket with a guided tour.
Architecture nerds won't want to miss the Basilica of Sant'Ambrogio
And football fans might want to visit the museum at San Siro Stadium, or better yet, do a guided tour
Enjoy an evening of aperitivo in the vibrant Navigli district
This one sounds strange but hear me out, you have to visit the Starbucks Reserve Roastery near the Duomo! It's the fanciest Starbucks I've ever seen, complete with an authentic Italian menu, cocktails like espresso martinis and Aperol Spritz', and for digital nomads it's one of the only cafes in the city that offers unlimited free WiFi
For more things to do in Milan, check out my two day Milan itinerary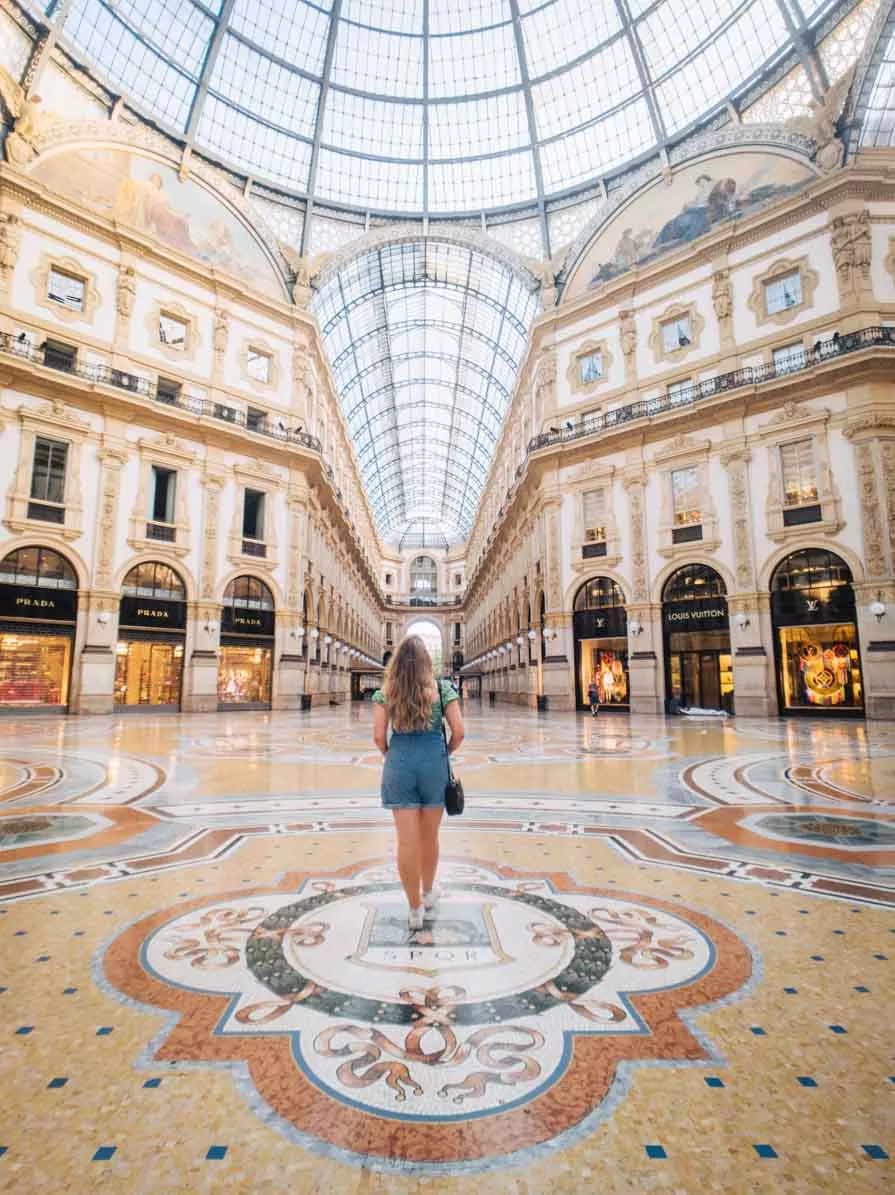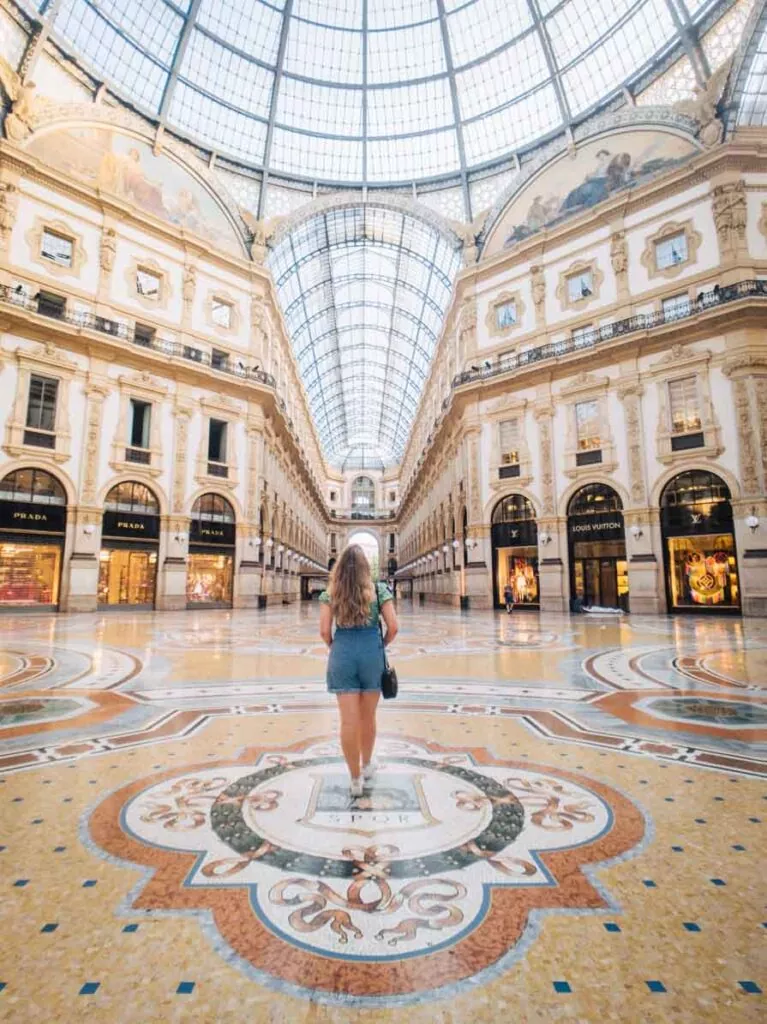 Where to stay in Milan
Budget | I stayed at Ostello Bello Grande, part of an Italian hostel chain with top-rated hostels in a bunch of major cities. The hostel is a one minute walk from Milano Centrale which is ideal for rail travellers, it has a beautiful rooftop with great views across the city, and there are loads of events to make friends.
Mid-range | Rosso Segnale Milano, Milano Dreams and B&B La Terrazza di Barbara are my top mid-range picks, all rated above 9.5/10 on booking.com
Luxury | INTOMilan Aparthotel is a brilliant option for affordable luxury, ODSweet Duomo Milano is a brand new ultra-Instagrammable hotel, or Hotel Indigo Milan is a classic
For a view of the Duomo | For the classic balcony/window shot of the beautiful cathedral, check out Duomo Cathedral View (aptly named!) or Unique Duomo Luxury Property
---
Cinque Terre
How to get to Cinque Terre from Milan: Direct train from Milan to La Spezia (3h 10m-3h 30m), then short trains to the villages.
Train price: The train to La Spezia is pretty cheap (€10-€25 depending on how far in advance you book), then you can take trains between the five villages with a €7.50 train card between March 24 and November 6. If you visit outside of these dates then that's the off season and trains between the villages are free.
Seat reservations: Depends on the route, some don't require reservations, some require €5 reservations and some require €12 reservations
How long to stay: 1-2 days
The Cinque Terre was one of the first truly 'Instagram-famous' destinations when social media really started taking off, and the colourful seaside villages have been appearing on our feeds all through European summers ever since.
If you only have a day for the Cinque Terre then you'll be able to see all the villages by using the train, but if you'd like to explore each village more in-depth, try some of the hikes between the villages or add on a boat trip along the coast then two or three days would be better.
Keep in mind that the Cinque Terre gets extremely busy from May through to September/October (July/August are slightly less busy because of the summer heat), and chances are you'll be jostling for photo spots, waiting for restaurants and dealing with loads of people on the hiking trails. This isn't to put you off visiting, it's just to ensure you know what to expect so you aren't disappointed!
Things to do in the Cinque Terre
Visit each of the five villages: Riomaggiore, Manarola, Corniglia, Vernazza and Monterosso
Take a dip at Monterosso al Mare, the only sandy beach in the Cinque Terre, and home to those famous orange and green striped umbrellas
Explore the coast by foot with one of the many hikes between the villages. The Blue Trail is the most popular track, it used to connect all five villages but was damaged by a landslide in 2012 and the route is now limited to the Monterosso – Vernazza – Corniglia sections which are 7.6km long in total. The famous Via dell'Amore (the Path of Love) from Riomaggiore to Manarola is closed until at least May 2024.
See the coast from the water, particularly amazing in the afternoon as the sun starts to set and the colourful houses seem even more vibrant than usual. You could do this 1.5 hour kayak tour, a 3 hour kayak + snorkel tour or a full day boat tour.
Eat lunch at Nessun Dorma, the Cinque Terre's most well-known restaurant with stunning views overlooking Manarola. The line is always long but you can skip it by downloading the Nessun Dorma app and saving your spot while making your way there.
Try Pesto Genovese, one of Liguria's best-known culinary specialties
Where to stay in the Cinque Terre
Staying in the villages themselves can be quite pricey (understandably) but gives you better access to the area outside of peak day tripper hours, but for more affordable accommodation I'd recommend staying in La Spezia and then travelling to the villages during the day.
Budget | Ostello Tramonti, La Cesarina or Casa Macaia in La Spezia, or La Rosa dei Venti in Monterosso if you want to be amongst the villages
Mid-range | La Casa dei Treni Affittacamere in La Spezia, A cà da Alba Rooms in Monterosso or AMARE IL MARE Affittacamere in Corniglia
Luxury | Grand Hotel Portovenere or La Spezia by the FIrst
Day trips to Cinque Terre
If you don't have time to spend a night in the Cinque Terre, you can join organised tours from both Milan and Florence.
---
Florence via Pisa
How to get to Florence from Cinque Terre: There are regional trains running constantly throughout the day to get from La Spezia to Florence, most of which have a short change in Pisa and the total travel time ranges from 1h 32m to 2h 36m.
Train prices: Tickets are cheap, typically between €14.40 and €18.80 so it wouldn't be worth using a travel day on your rail pass.
It's super easy to stop in Pisa to see the Leaning Tower on your way from the Cinque Terre to Florence, there's luggage storage available at the station (most European stations have this option, usually €5-10 per large locker for a half day) so you can pay to store your suitcases and then walk 20 minutes from the station to the tower.
How long to stay: 2-3 days
With Renaissance architecture to marvel at around every corner, fresco-filled churches to visit, and a seemingly endless list of sculptures, paintings and other masterpieces to admire, Florence has enough to satisfy even the most cultured travellers.
If the idea of gallery after gallery bores you then don't stress, the city also boasts some of the country's best restaurants, a fantastic shopping scene and easy access to the Tuscan countryside.
Things to do in Florence
See the most iconic of all of Florence's beautiful buildings, the Duomo Santa Maria del Fiore. Lines are always long but you can buy skip-the-line tickets with a guided tour, or this Duomo complex ticket includes access to climb the dome itself
Say hello to perhaps the most famous statue in all of Europe, Michelangelo's David, at the Accademia Gallery
Visit the Uffizi Gallery, home to one of the most impressive collections of Renaissance artwork, including masterpieces from da Vinci, Botticelli, Michelangelo and Raphael, to name a few
Try a sandwich from the original All'Antico Vinaio, the most-reviewed sandwich shop in the world with a 4.6/5 rating from more than 31,000 reviews. It's worth the wait in line, I promise!
See the city through Leonardo da Vinci's eyes with a da Vinci-themed walking tour
Window shop at the jewelry stores along the Ponte Vecchio
Buy a genuine leather belt or bag from the artisan leather workshops in and around Piazza Santa Croce
Visit the Basilica of the Santa Maria Novella and see art from Giotto, Masaccio, Filippo Brunelleschi and more
Try your hand at making your own Italian dishes with a cooking class, I did this top-rated cooking class and central market tour on my last visit to Florence and now I'm obsessed with making pasta from scratch
Watch the sunset from Piazzale Michelangelo or Basilica di San Miniato
Where to stay in Florence
Budget | I stayed at YellowSquare Florence, a fantastic social hostel with brilliant facilities including a full kitchen, a rooftop bar with swimming pool, co-working areas and even a recording studio! I had a private room which had a desk (ideal as I was slammed with work) but the dorm rooms look super nice too.
Mid-range | For a mid-range budget consider Morandi alla Crocetta, 3110 ArtHotel, Room Mate Luca, Solo Experience Hotel and Residence Leopoldo
Luxury | For a fancy stay check out Villa Cora, Relais Santa Croce, Four Seasons Firenze or The Place Firenze
Self-contained | Some top-rated options with kitchens/kitchenettes are Urban Retreat, Oro Nero Florence, Geppi's Apartment and Donati Luxury Tower Suites
---
Rome
How to get to Rome from Florence: High-speed direct trains take around 1h 30m
Train prices: These trains range from €14.90 to €50 depending on how far in advance you book
Seat reservations: High speed trains require seat reservations (€12). There are slower regional trains that don't require reservations, these take around 3h 30m.
How long to stay: 4 days
Ahhh Roma, the Eternal City that's packed to the brim with rich culture, fascinating history, mouthwatering cuisine and a thriving nightlife and entertainment scene. Rome is one of those places where you'll discover something new and interesting around every corner, so set aside a decent chunk of time to explore if you can.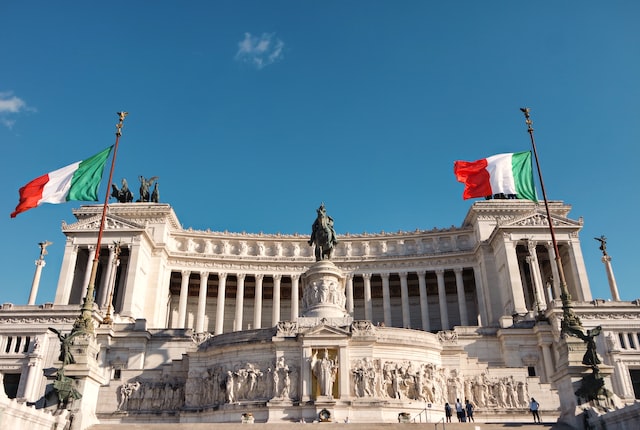 Things to do in Rome
Say ciao to the Pope with a visit to the Vatican, its museums, and the breathtaking Sistine Chapel. Once again, the lines will be long so a skip-the-line ticket is the best idea if you want to make the most of your time.
See the Colosseum. Controversial opinion perhaps but I don't think going inside the Colosseum is a must-do, I personally have only seen it from the outside on my three visits to Rome and I'm not enough of a history buff to be willing to brave the crowds. If you do want to go inside, get a skip-the-line ticket or book a guided tour to get the full experience.
Marvel at the view from Altare della Patria. This is my all-time favourite 'hidden gem' of Rome and something that flies under the radar, it's a rooftop terrace with the most incredible views across the city and its landmarks. You can catch the elevator to the terrace for only €7 (no need to book online through a travel agent or experience provider, these tickets are basically exactly the same but cost three or four times the price!), or if you're on a tight budget you can access the terrace for free via stairs inside the monument.
Eat and drink in the trendy Trastevere neighbourhood, which is full of cheap and cheerful trattorias, a bustling nightlife scene and funky shops. My go-to Trastevere meal is always Donkey Punch, a quirky rock'n'roll-themed sandwich bar with craft beers on offer too.
Throw a coin into the Trevi Fountain for good luck
Live out your Lizzie McGuire Movie dreams with a Vespa tour
Find the Aventine Keyhole and see the perfectly-framed view of St Peter's dome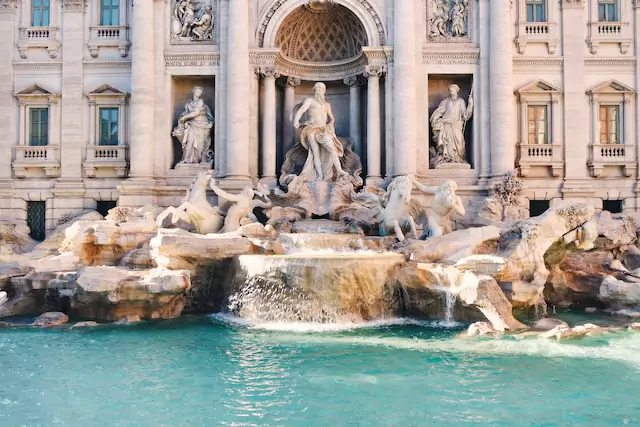 Where to stay in Rome
Budget | YellowSquare Rome, the RomeHello and Ostello Bello Roma Colosseo are all top-rated budget options
Mid-range | The Point Suites, Relais Roma Vaticano, Hotel Balilla, Hotel Margherita and At Forty-One
Luxury | Maalot Roma, Umlita 36, Fendi Private Suites, Baglioni Hotel Regina, Hotel Vilòn and the St Regis
Self-contained | Residenza Roma Imperiale, Trastavere 2.0, My Bed Vatican Museum and Colosseo Accommodation Room Guest House
---
Optional: Bologna
How to get to Bologna from Rome: Bologna is an easy stop between Rome and Venice, it's just over two hours from Rome (€12 seat reservation) and then it's between 1h 20m and 2h 10m to get from Bologna to Venice (€12 seat reservation for the high speed train, no reservation needed for the slower regional trains). You can store your bags in secure lockers at Bologna train station while you're exploring the city.
How long to stay: A day trip is sufficient
I've put Bologna as 'optional' because many first-time Europe travellers may not have even heard of it, but if you enjoy Italian food it is absolutely a must-do. Bologna is the gastronomic capital of Italy, which is saying something in a country that is renowned for its cuisine!
Bologna has many, many eateries serving up local specialties, from cured meats and cheeses to traditional pasta to creamy gelato. I'd looove to stay for a week and just try a new dish every meal, but if you are pressed for time then a day trip with a food tour is how I'd recommend seeing Bologna during this two month Europe itinerary.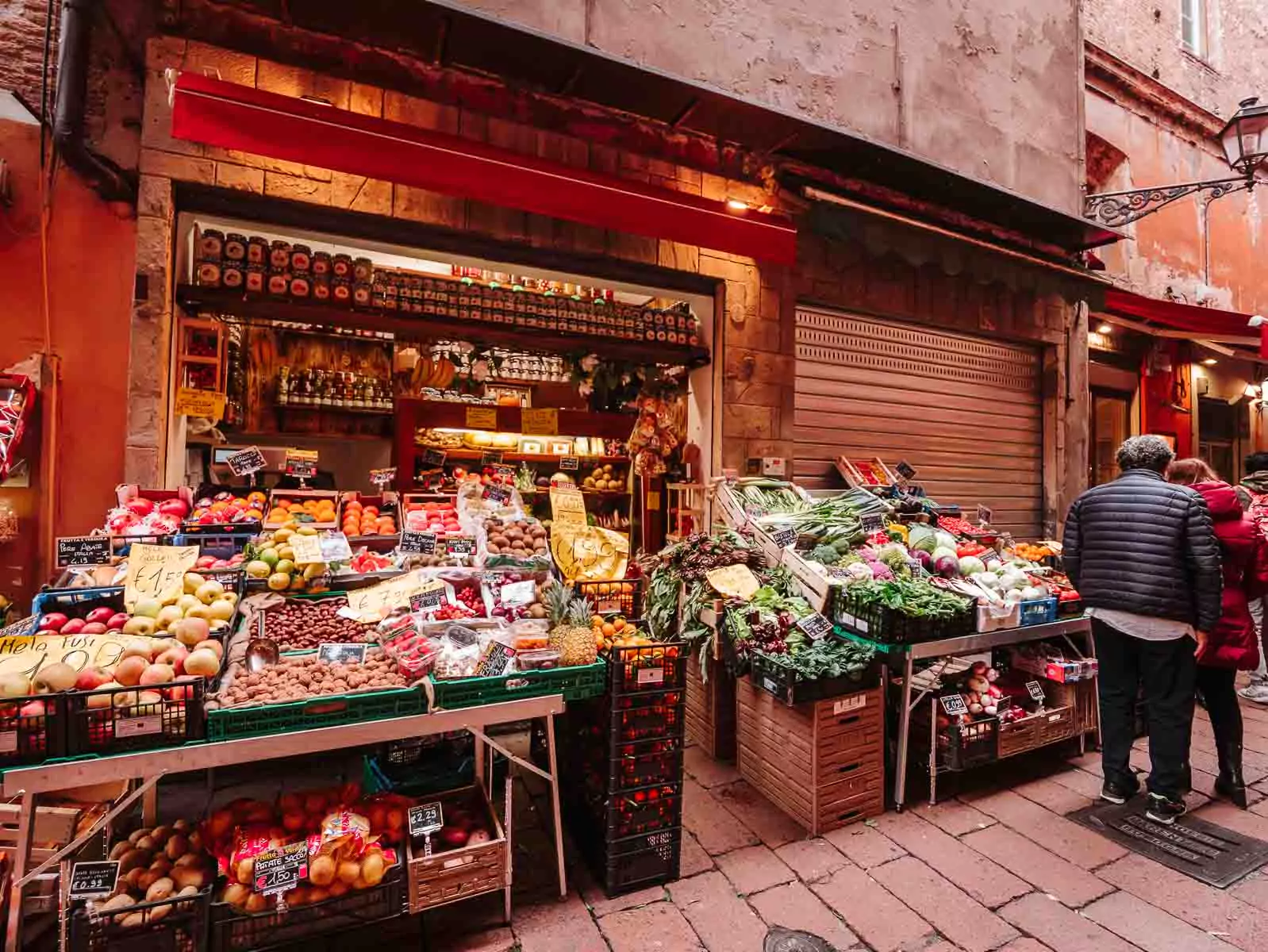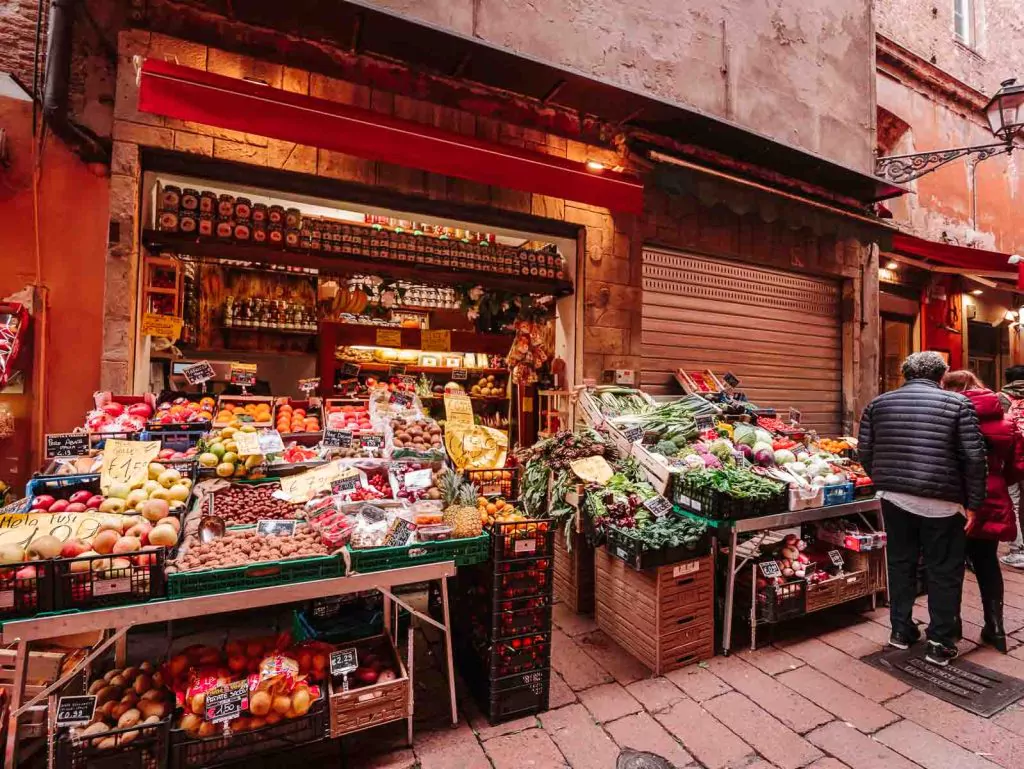 Things to do in Bologna
A food tour is by far the best way to experience Bologna, especially if you're limited to a day trip. I went on a food tour with Mattia from Delicious Bologna, his tours have a perfect 5/5 rating on Google from more than 220 reviews. The tour was one of the best food tours I've ever been on, it had the perfect mix of food, history and culture, each dish was divine, and I came away knowing so much more about Italian cuisine and produce which then helped me try new foods during the rest of my time in Italy. I genuinely can't rave about this tour enough, it was a highlight of my two months in Europe.
Stand under the leaning towers of Bologna, one of them even leans more than Pisa!
If you're visiting in summer, Bologna holds a cool summer festival that has free outdoor movies playing at Piazza Maggiore
See the bizarre two-tone façade of the San Petronio church, which isn't an unusual design but actually stands unfinished since 1479
---
Venice
How to get to Venice from Bologna: A short, cheap train ride, 1h 20m for high speed trains or around 2h for regional trains
How long to stay: 3-4 days
Venice is another love-hate destination, and it is perhaps the European city that has been most affected by overtourism in the past few decades. The floating city has no way to grow, so the ever-increasing number of tourists end up pushing locals out of their homes to make way more hotels and B&Bs, cruise passengers and day trippers try to cram the entire island into a six hour itinerary, and we all end up with massive lines, unhappy Venetians and frustrated travellers.
And while it may seem counterintuitive, one of the ways to combat overtourism is to stay longer in a destination. This means you aren't under as much time pressure to see and do everything in a day, you can avoid peak times at the major tourist sights, and you can get a much more authentic experience enjoying slow walks and long meals compared to a hectic day trip.
I recommend at least three or four days in Venice to give yourself time to truly enjoy the city, keeping in mind that from 10am to 4pm you might want to avoid the major landmarks as they'll be packed with fellow tourists.
Things to do in Venice
Take a gondola ride on the Grand Canal. Gondola rides have a standardised price of €80 during the day or €100 after 7pm for a 30 minute tour, and boats can fit up to six people. If you're travelling solo and don't want to splurge on a private gondola tour then you can book a shared gondola ride online for around €30, or you could ask around at your hotel/hostel to see if there are any other solo travellers who might want to share the cost.
Walk over the iconic Rialto Bridge
See the magnificent paintings that adorn the walls and ceiling of Doge's Palace, as well as the 12th/13th century gold mosaics inside St Mark's Basilica
Have a go at creating your own glass souvenir with a private lesson from a master artisan, this experience is only €60 which is incredibly cheap for such an authentic local experience
Catch a vaporetto (water bus) to Burano, famous for its colourful houses, and Murano, famous for its glass workshops and galleries
Experience the city's gastronomy with this food tour which includes 15 food tastings!
Visit Acqua Altadi Venezia, the floating bookshop for a cool photo spot
Where to stay in Venice
Budget | Unfortunately my go-to Venice hostel (Wombats Cenice Mestre) shut down due to Covid, but Generator Venice (7.9/10) and Ostello S. Fosca (8.4/10) are the top-rated hostels on booking.com, otherwise there's cheap private rooms at Hotel dalla Mora, Locanda Silva and Hotel La Residenza
Mid-range | Check out Scalon del Doge, CàPatron, La Veneziana Boutique and Relais Venezia
Luxury | Hotel Metropole Venezia, Ca'di Dio, Palazzo Nani Venice and the absolutely incredible Gritti Palace for something super special
Self-contained | Cà Sant'Angelo, Hotel Rialto and Ai Patrizi di Venezia have options with kitchen facilities
---
The Dolomites
How to get to the Dolomites from Venice: An easy train journey with one change in Verona, the trip takes anywhere from 2h 45m to 3h 45m depending on the transfer time.
Seat reservations: Some journeys are with regional trains that don't require reservations for rail pass holders, some have just the initial Venice to Verona train as requiring €12 reservations, some require reservations on both trains so €24 total.
How long to stay: 3-4 days
The Dolomites are a mountain range in Northern Italy, and they're home to some of the most picturesque landscapes you'll find in the whole of Europe.
In the warmer months the Dolomites are a hub for hikers, bikers and climbers, with plenty of trails for adventurers of all ages and fitness levels. In winter the Dolomites Superski region boasts 15 ski resorts, more than 1200km of slopes and plenty of bars and restaurants to continue the fun after a day on the mountains.
In the Dolomites it's easiest to explore by car as the public transport isn't super well connected, and wait times can cut into your short stay. Car rental can be quite cheap, there were deals for €25 per day when I was there in October, but in peak season it would be best to book ahead if you can.
Keep in mind that non-European drivers need an international drivers license in Italy, your own country license won't cut it. Rental companies might let you hire a car without one but if you're involved in any accidents (not unlikely in Italy!) you won't be covered by insurance without an international license, and if you're pulled over for any reason then chances are you'll get stung with a hefty fine.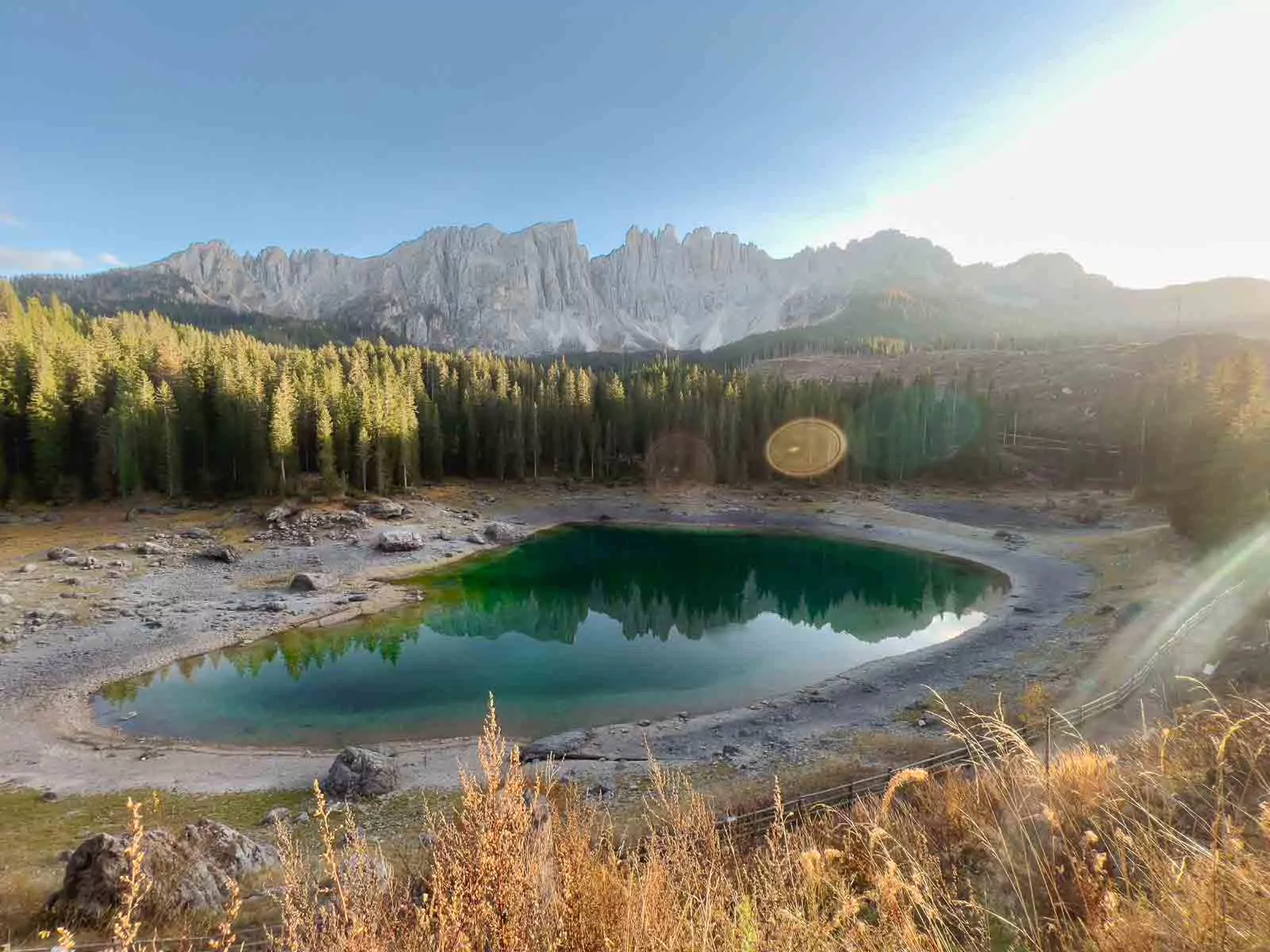 Things to do in the Dolomites
Go to Lago di Braies for sunrise, pure magic (though chances are you'll be there with many photographers)
Head to Lago di Carezza for picture-perfect reflections of the mountains, I'm sure this place is busy during peak season but I visited at sunset at the end of October and had the whole place to myself
Spend a day at Alpe di Siusi, the largest alpine plateau in Europe. You can take the Mont Seuc cable car from Ortisei, then walk two hours to the other side and take the Seiser Alm cable car back to the the Valley Station, where you can catch a short bus back to Ortisei.
Experience the unique South Tyrolean cuisine, which incorporates Italian, German and Austrian ingredients and cooking techniques
Try some of the best pasta in the world at Pastalab in Bolzano, their menu changes daily with seasonal specialties and honestly my mouth is watering while typing this. Don't miss it.
Explore the hiking trails of Tre Cime di Lavaredo, some notable options are the Cadini di Misurina viewpoint and the Rifugio Auronzo loop
Another must-do hike is the Seceda ridgeline, if you can hack a super early wake up then arriving here for sunrise will be well worth it
If you're up for a physical and mental challenge, consider a via ferrata, a climbing track that has iron rungs attached to the rock as well as a steel cable that climbers connect to with carabiners. My first via ferrata was the Wildwire waterfall climb in Wanaka, New Zealand and I absolutely loved it, so a Dolomites via ferrata is very high on my list for my next visit.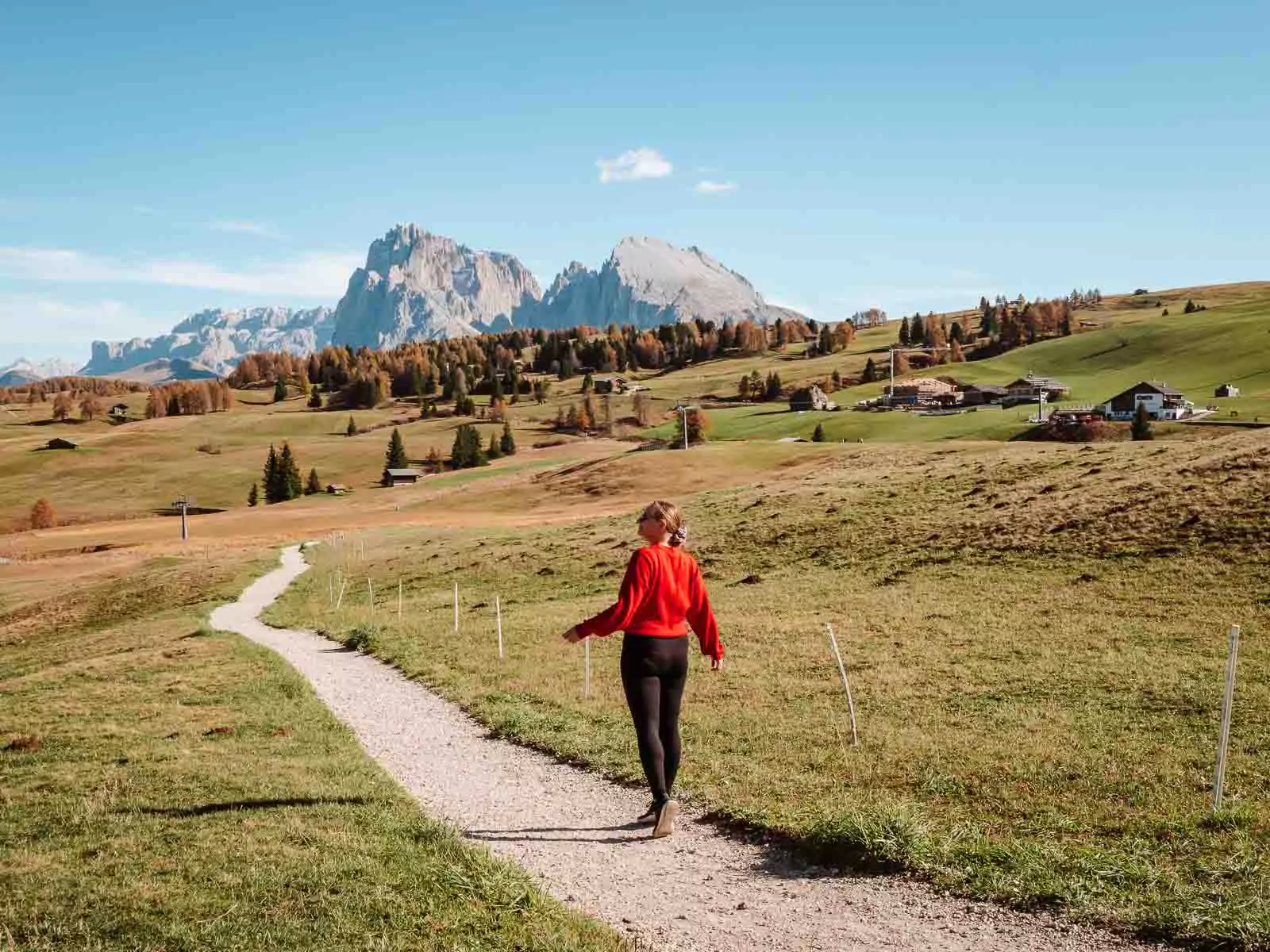 Where to stay in the Dolomites
There are so many different villages in the Dolomites and it would take hours to give you recommendations for different budgets for each village so I won't do that.
Bolzano is the capital city of South Tyrol and is the gateway to the Dolomites, you can stay here and do day trips by bus or car, or you could arrive here by train and then catch local transport to one of the villages in the Dolomites, like Ortisei in Val Gardena, Colfosco or Corvara in Alta Badia, or Villabassa or Braies in Upper Puster Valley.
Where I stayed | I stayed at the LOOM Hotel in Bolzano which was super unique, it's actually a living showroom for an interior design company who wanted to showcase what they could offer hotels around the world, and their rooms double as accommodation for travellers. Such an incredible idea for sustainable tourism and the rooms are truly something else!
---
Salzburg or Innsbruck
How to get from the Dolomites to Salzburg: Either a direct train or a journey with one or two stops, reservations dependent on the journey you choose
How long to stay: 2 days (accounting for a day trip at the one you aren't staying in)
Though Salzburg's main drawcard are its connections to music (as in 'The Sound of', as well as Mozart), it's also well worth a visit to get into a more relaxed pace of tourism after the chaos of Italy. Explore the historic old town, get the best view from Festung Hohensalzburg, see the sheer opulence of grand palaces and search for the city's most delicious schnitzel and strudel.
Innsbruck has a more modern vibe, not in the architecture but in the energy of the city, the gastronomy, and particularly in the apres-ski scene.
For your two month Europe itinerary you could choose one to stay the night in and one to stop at for a day trip on your way between the Dolomites and the next stop of Vienna.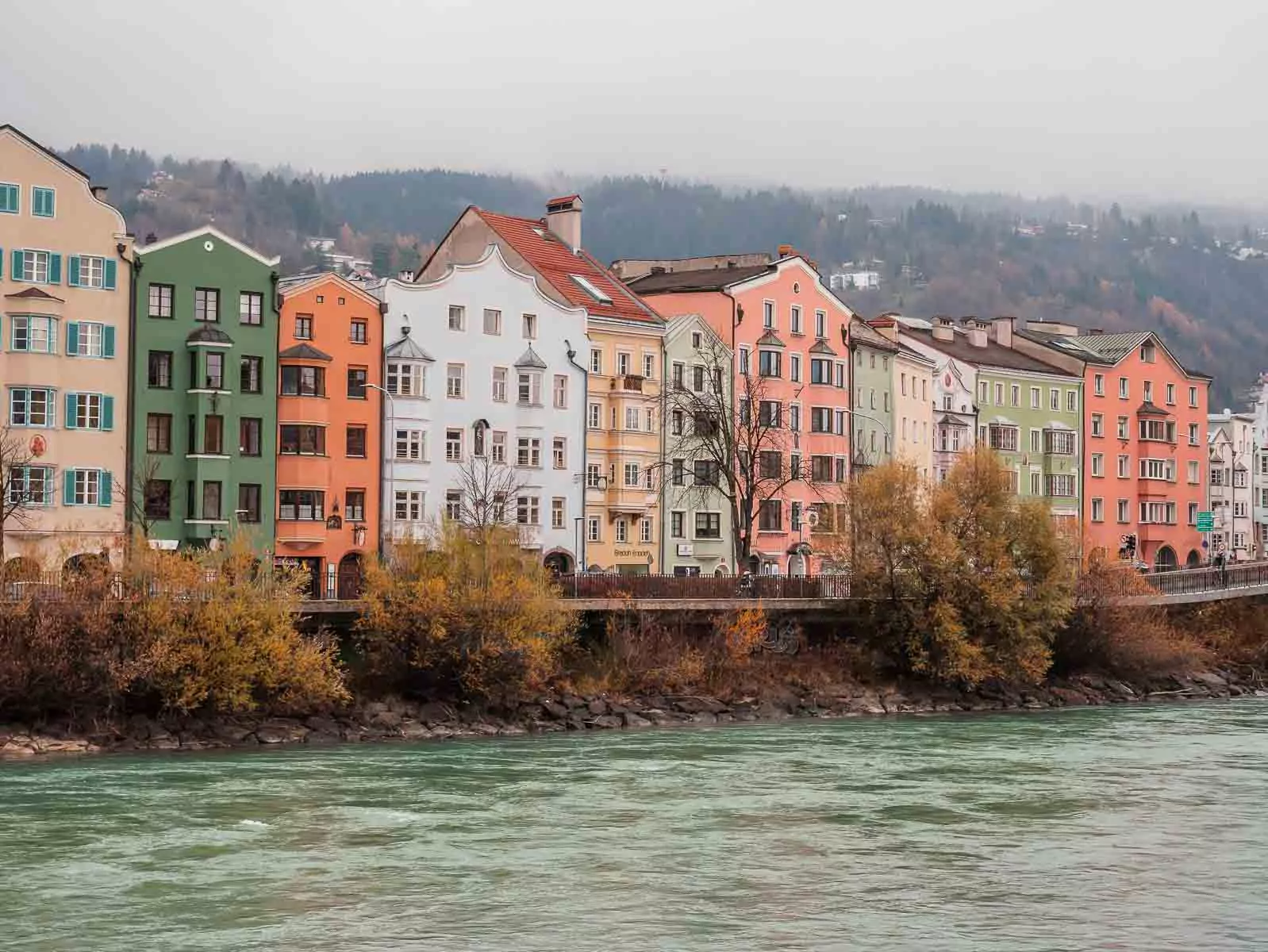 Things to do in Salzburg
Book a Sound of Music tour to see the city from Maria's eyes
Catch the funicular up to Fortress Hohensalzburg for the best view of the city, then walk down the path to get back to the Old Town
If you're interested in medieval history, you can buy a ticket to the exhibits at the Fortress and learn more about the building's past
Walk through the magnificent halls and gardens of Schloss Mirabell, a 1606 palace, or see the fairytale-esque summer palace, Schloss Hellbrunn where you can find the iconic Sound of Music gazebo
Enjoy the symphonies of Mozart with a variety of Mozart-related activities, from visiting Mozart's birthplace (now a museum), to watching a Mozart concert at Mirabell Palace, to a Life of Mozart walking tour around the city
Take a day trip to the Eagle's Nest, Hitler's vacation home in the Bavarian Alps, one of the few Third Reich buildings that remains in its original state today, complete with a marble fireplace gifted to Hitler by Mussolini. If dark tourism isn't your thing, it's worth going just for the sweeping views of the valley below.
Watch the daily organ performance at the spectacular Salzburg Cathedral
Things to do in Innsbruck
Stroll through the winding streets of the Altstadt (Old Town), where you can see vibrant facades, ornate doorways and classic Tyrolese architecture
Climb up the City Tower if you're visiting on a clear day, you can see right over the Old Town colourful buildings and out to the mountains that surround the city
Spot the grandiose Golden Roof, a Gothic viewing box built in 1496 with gilded copper tiles giving it a metallic shine
Catch the Hungerburgbahn funicular up to Nordkette, the closest mountain to Innsbruck that offers scenic viewpoints and restaurants
Find the city's best schnitzel, I rate Altstadt-Schmankerl as a top contender!
Where to stay in Salzburg
Budget | I stayed at MEININGER Salzburg, a hotel/hostel hybrid with dorm rooms, private rooms, guest kitchen, laundry facilities, hotel bar and bikes for rent. Slightly out of the city but right next to a bus stop, a great budget option. Other cheap options are YoHo Youth Hostel, Stadtalm Naturfreundehaus and The Keep Eco Rooms.
Mid-range | Gästehaus im Priesterseminar Salzburg, Hotel Max 70, B&B Villa Verde and Boutiquehotel am Dom
Luxury | Hotel Bristol, Goldgasse, Hotel Goldener Hirsch and Hotel Sacher Salzburg
Self-contained | Villa Leopoldskron, Villa Maxglen, Mozart's Garden Villa and Villa Salzburg
Where to stay in Innsbruck
Budget | Montagu Hostel, MEININGER Innsbruck Zentrum and Pension Stoi
Mid-range | Hotel Neue Post, Hotel Mondschein, Nala Individuellhotel and Faktorei
Luxury | Hotel Maximilian, the PENZ Hotel, aDLERS Hotel Innsbruck and Altstadthotel Weißes Kreuz
Self-contained | Kaiser Max Design Apartments, Apartment Mischa, Quartier 99 and Prada Elf Apartment
---
Vienna
How to get to Vienna from Salzburg or Innsbruck: Direct train from Salzburg (2h 25m-2h 55m depending on the train) or direct train from Innsbruck (4h 20m-4h 50m) with an optional stop in Salzburg for a day trip.
Seat reservations: Seat reservations generally aren't required in Austria but Austrian inter-city tickets are typically quite cheap so check the ticket price before using a Eurail travel day to make sure it's worth it.
How long to stay: 2-3 days
Vienna is brimming with culture, from extravagant coffee houses (with equally extravagant desserts), to countless museums and galleries, to architecture that is mostly Baroque but also spans the Gothic, Renaissance and Rococo styles.
Vienna is what you make of it, my favourite kind of city. Foodies can fill their time with food tours, sweet treats and traditional fare, travellers with an interest in history are spoilt for choice with heritage buildings and world-class museums dotted all over the city, and photographers will love the opportunities provided by Vienna's unique architecture and fascinating interiors.
Things to do in Vienna
See the city with a free walking tour, by far the best way to get your bearings
Relax with a coffee and a sweet treat at one of the famous coffee houses, Café Central and Café Landtmann are two of the most famous ones, but there are many, many more to discover
Take a 2.5 hour food tour through the bustling Naschmarkt to learn about Vienna's culinary specialties, or try a longer four hour food tour through the city which includes a coffee house, the market, a bakery and a chocolate shop. Yum!
Learn about one of the first famous solo female travellers, Empress Sisi. She was the Empress of Austria and Queen of Hungary but hated the rules and regulations that came with her royal titles, so she fled her responsibilities and travelled solo whenever she got the chance.
Ride the rollercoasters at Prater themepark
Visit the breathtaking State Hall at Austria's National Library
Try a käsekrainer from a würstelstand, one of the best cheap eats in the city
Have a schnitzel dinner, you'll find it on pretty much every restaurant menu but the best-rated ones in the city are Figlmüller, Gasthaus Kopp, Schnitzelwirt or Restaurant Pürstner
Head up St Stephen's Cathedral for sunset from the rooftop
I've got a detailed Vienna travel guide if you want more info on things to do in Vienna
Where to stay in Vienna
Budget | Vienna is home to one of the best hostels in Europe, JO&JOE Vienna. This place truly has everything you could wish for in a hostel; guest kitchens, onsite restaurant, laundry facilities, a rooftop with epic views, funky dorms with privacy blinds, spacious private rooms, loads of fun events, a big screen for movies and sports games, work-friendly spaces and more. Phew!
Mid-range | Boutiquehotel Das Tyrol, Rioca Vienna Posto 2, Superbude Prater and ARTIST Boutique Hotel
Luxury | Rosewood Vienna, The Leo Grand, Hotel Sans Souci and Hotel Sacher
Self-contained | Karl und Anton Boutique Apartments, Oliver Apartments and URBM Rise
---
Day trip to Bratislava
How to get to Bratislava from Vienna: RegioJet and FlixBus have buses from as low as €4 which take between 40m and 1h 20m depending on the time of day, or if you're totally set on train travel you can get a direct train from €10 which takes an hour
How long to stay: A day trip is sufficient
Slovakia's capital city is an easy day trip option from Vienna, with a vibrant old town that you can explore with 5-6 hours on the ground. If you've got a day to spare during your time in Vienna then a Bratislava trip lets you see a new country and experience a city with fascinating history.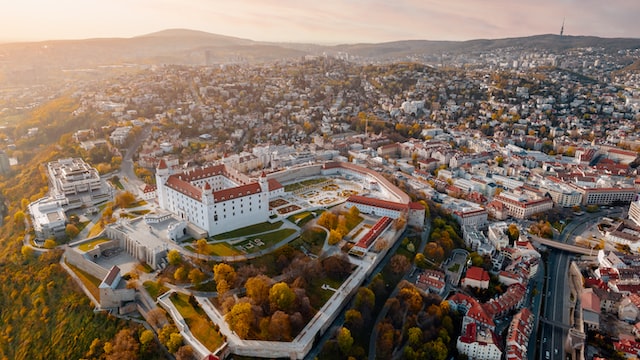 Things to do in Bratislava
Take a short but steep walk up to Bratislava Castle for the best view in town
See the Blue Church (actual name St Elizabeth's Church), an Art Noveau church that looks like it's straight out of The Smurfs. Its opening hours are random and changeable, currently it's open from 6.30-7.30am Monday to Saturday, 7.30am-12pm Sunday (for services I presume), and 5.30-7pm seven days a week. It's worth going inside if your timing is right, the interior is a mix of baby blue and yellow with intricate details if you look closely.
Enjoy prices being a little cheaper than the other parts of Europe you've seen so far!
Get a cheap lunch at Funki Punki Pancakes, my go-to eatery in Bratislava. They've got a brilliant menu of crepes (both sweet and savoury) with prices sitting between €2.20 and €3.50 each.
Wander through the Old Town past bright buildings, medieval streets, quirky statues and trendy boutiques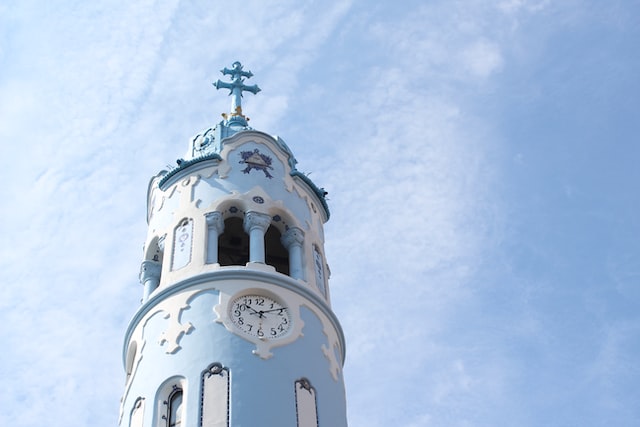 ---
Budapest
How to get to Budapest from Vienna: There are a few trains that run direct from Bratislava to Budapest but most of them go via Vienna anyway, so I'd recommend heading back to Vienna to pick up your luggage and going to Budapest from there.
Vienna to Budapest is an easy direct train that takes around 2h 41m, no rail pass reservations needed for most routes but tickets can be as cheap as €9 if you book in advance, check the price to buy outright before using a travel day on your rail pass.
How long to stay: 2-3 days
Budapest is a fascinating city with a magnetic energy that attracts party-goers, history buffs, budget travellers and culture vultures alike, with things to fill the itineraries of every type of tourist.
You can see the major sights with two to three full days but if you have extra time and want to stay longer, you certainly won't get bored.
One thing to note is that while Budapest has always been known as one of the best value destinations in Europe, Hungary is currently dealing with a cost of living crisis with inflation sitting at 22.5% in November according to WorldData, and the inflation rate for food in particular was 47.1% compared to the previous year. It was noticeably more expensive during my visit in December 2022 compared to my previous trip in 2019, so don't be shocked if things don't turn out to be as cheap as you initially expected.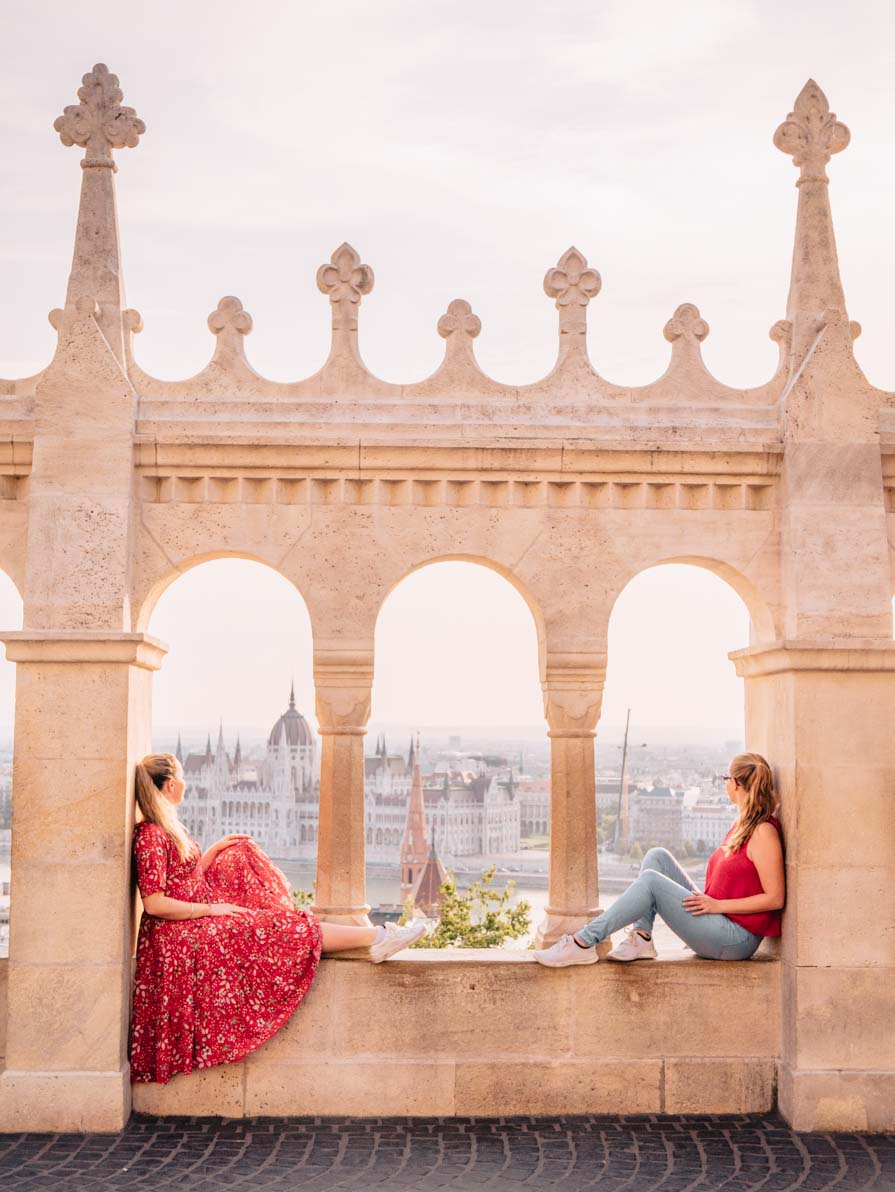 Things to do in Budapest
Watch the sunrise from Fisherman's Bastion, where you'll find the most incredible view of the city and the Danube
While you're up there, explore Buda Castle and the museums and galleries inside it
See the city from the river with a Danube cruise
Head to the Great Market Hall to buy some local meats, cheeses and produce
Have a drink (or five) at Budapest's iconic ruin bars
Grab some street food from Karavan, a permanent food stall market near the ruin bars
Relax and rejuvenate at the thermal baths, Széchenyi Baths and Gellért Baths are the most popular ones
Learn about the city's tumultuous past with a walking tour through the Jewish Quarter
Visit my favourite bakery in the city, Aran, and try their famous cinnamon bun
Where to stay in Budapest
Budget | I recently stayed at Flow Spaces which offers light and bright private rooms and dorm rooms, kitchen facilities and a dedicated workspace, the perfect option for digital nomads. I had a private room and loved it, I'd happily stay here for an extended period of time. I've also stayed at the quirky Das Nest Hostel which was ideal for a trip with friends, and other top-rated options are Hive Party Hostel and Hostel One.
Mid-range | Dob Twenty Rooms, LILIOM Apartment and OktoHome Suite are all great value apartment options, or for a mid-range hotel look at Global Suites Budapest or B&B Hotel Budapest City.
Luxury | For something sophisticated, consider staying at Alice Hotel, Hotel Memories Old Town or Hotel Moments Budapest.
Ultra luxury | If you're celebrating something special in Budapest or just feel like treating yourself, you can't go past the opulent Párisi Udvar Hotel Budapest or Matild Palace.
---
Prague
How to get to Prague from Budapest: Direct or one stop trains (stop in Vienna or Brno usually) that take between 7-8 hours.
Seat reservations: Some routes don't require seat reservations, some require them at a cost of €6 so quite cheap.
Train prices: Outright tickets can cost as little as €18 for early or late trains when booking in advance, but could be as expensive as €110 for last minute bookings or popular times, so check prices before you decide to use a Eurail travel day.
How long to stay: 2-3 days
Prague is another one of Europe's top value cities with rich history, vibrant culture and striking architecture to offer.
While Prague didn't totally evade bombings during WWII, it was significantly less affected than many other European cities so its historical monuments are mostly undamaged and sit in close proximity to one another, making it easy to explore on foot.
It's also got an absolutely pumping nightlife scene, thanks to great beer, multi-storey nightclubs, and cheap flights from London making it a top choice for British lad stag dos.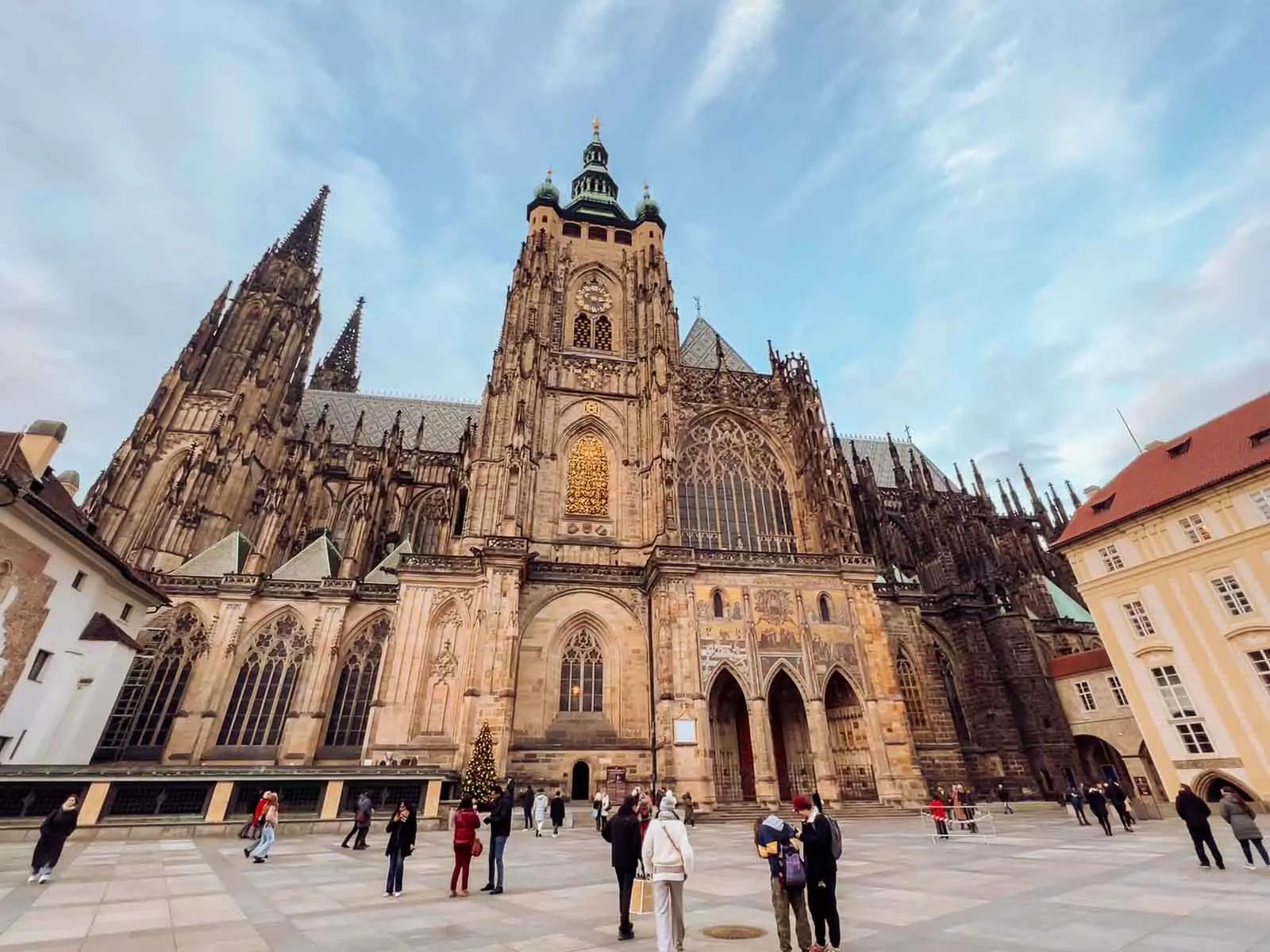 Things to do in Prague
Visit the Old Town Square, one of the most impressive in all of Europe. It dates back to the 12th century and is home to the Astronomical Clock, the Old Town Hall and the Church of Mother of God before Týn
Stand below the Astronomical Clock on the hour between 9am and 9pm to see the procession of the 12 Apostles appear in the windows
Climb the Old Town Hall tower to the observation deck to see Old Town Square from above
Learn about the city's political history with this top-rated communism and bunker tour
Visit Prague Castle, one of the largest castle complexes in the world, occupying more than 70,000sqm. You could stroll through the Royal Garden, see the treasures inside St Vitus Cathedral, walk past colourful buildings down the charming Golden Lane and enjoy great views of the city before heading back to Old Town via Charles Bridge.
Walking over Charles Bridge is a quintessential Prague experience in itself, the cobblestoned pedestrian bridge provides a great view of the castle on the hill as well as being able to see Baroque, Renaissance and Gothic architecture on the other side of the river
Do a day tour to the Sedlec Ossuary, a.k.a. the Bone Church
For something a little unique, walk down the river to reach the Dancing House, designed by Czech architect Vlado Milunić and the legendary Frank Gehry
Try local brews with a historic pub tour
Get amongst the buzzing nightlife with the legendary pub crawl
Where to stay in Prague
Budget | I stayed at Brix Hostel which was a social hotel, great for meeting people but not so great for digital nomads who need a quiet place to work. Other top-rated cheap accommodation options are Hostel Little Quarter, Sophie's Hostel, Giotto Apartments, Hostel One Miru and Prague Dream Hostel.
Mid-range | Revelton Studios Prague, Hotel Residence Agnes, Hotel CUBE Prague, Allure Hotel Prague and Unitas Hotel
Luxury | The Julius, Four Seasons, The Grand Mark, Alchymist Grand Hotel and Hotel Republika
Self-contained | Mooo by the Castle, Hotel Diana and Malostranska Residence have options with kitchens/kitchenettes
---
Berlin
How to get to Berlin from Prague: Direct trains run multiple times a day and take around 4h 15m
Seat reservations: No reservations required but you might want to book one (€8) during busy periods to ensure you get a seat
Train prices: They range drastically depending on the route, from €18.90 booking in advance to €90.60 for last minute tickets
How long to stay: 3 days
Berlin is an essential destination for any Europe itinerary, it's one of the best cities to learn about the atrocities that Europe suffered during WWII, the rise of communism in Eastern Europe and the subsequent reunification of Germany after many years of Berlin being split in two.
You've got the obvious landmarks, from museums to memorials to historical buildings that have been rebuilt and restored since bombs rained down on the city in WWII, but Berlin is also a unique melting pot of cultures, with a captivating arts and entertainment scene, superb culinary experiences and nightlife that rivals anywhere else in Europe.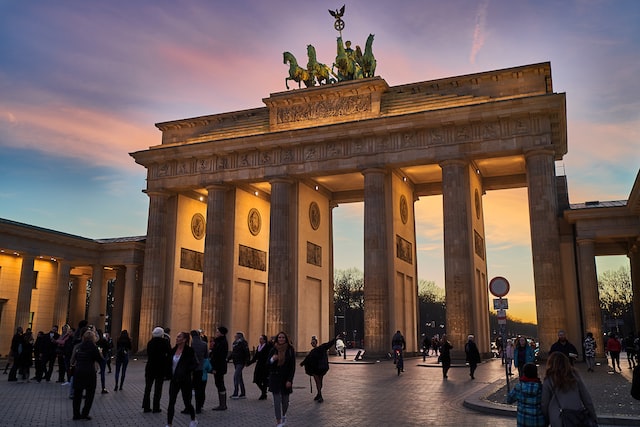 Things to do in Berlin
Any visit to Berlin would be incomplete without a city tour of some kind, to understand Berlin's history throughout the 20th century. Some top-rated ones are this small group Third Reich & Cold War walking tour, this 75 minute Trabi safari, and this Hidden Backyards walking tour.
Iconic landmarks to see include Brandenburg Gate, the Reichstag Building, Checkpoint Charlie, the Holocaust Memorial, Berlin Cathedral and the Berlin Wall Memorial
Stroll along the East Side Gallery, the longest surviving section of the Berlin Wall which is now an open-air gallery with politically-charged street art
Take a hop-on hop-off bus around the city to tick off the big sights quickly and easily
Head up to TV Tower for the best view of the city
Visit the museums, there are plenty to choose from!
Delve into Berlin's gastronomic delights with a top-rated secret food tour
Experience the legendary clubbing scene with a night out on the town
Where to stay in Berlin
Budget | Pfefferbett Hostel, BIG MAMA Berlin, Kiez Hostel, New Hostel and ArtHotel Connection (a hetero-friendly LGBT+ hotel)
Mid-range | Wil7 Boutique Hotel, Casa Camper, Hotel Indigo, Wilmina Hotel and Hotel Q!
Luxury | Hotel Zoo Berlin, Hotel Adlon Kempinski, Hotel Luc and Regent Berlin
Self-contained | The Weinert Suites, Gorki Apartments and Wilde Aparthotels
---
Amsterdam
How to get to Amsterdam from Berlin: Direct trains available a few times a day taking around 6h 15m-6h 30m, or one stop options with a short transfer in Hannover taking a similar amount of time.
Seat reservations: Seat reservations aren't required for rail pass holders but busy routes recommend reservations (€8) to guarantee a seat
Train prices: From €37.90 if you book in advance to €161 for some routes last minute
How long to stay: 3-4 days
Amsterdam is easily one of Europe's most picturesque cities, with narrow houses reflecting in the canals, markets overflowing with vibrant flowers, and stylish locals peddling around town making for brilliant street photography opportunities.
Like Venice, Amsterdam also suffers massively from overtourism and you'll find that the city's landmarks can get extremely busy, particularly during summer and on weekends. With three or four full days you'll have time to see many of the major sights without needing to be rushed off your feet, but I'd recommend purchasing skip-the-line tickets where possible just to avoid queues that eat into your adventure time.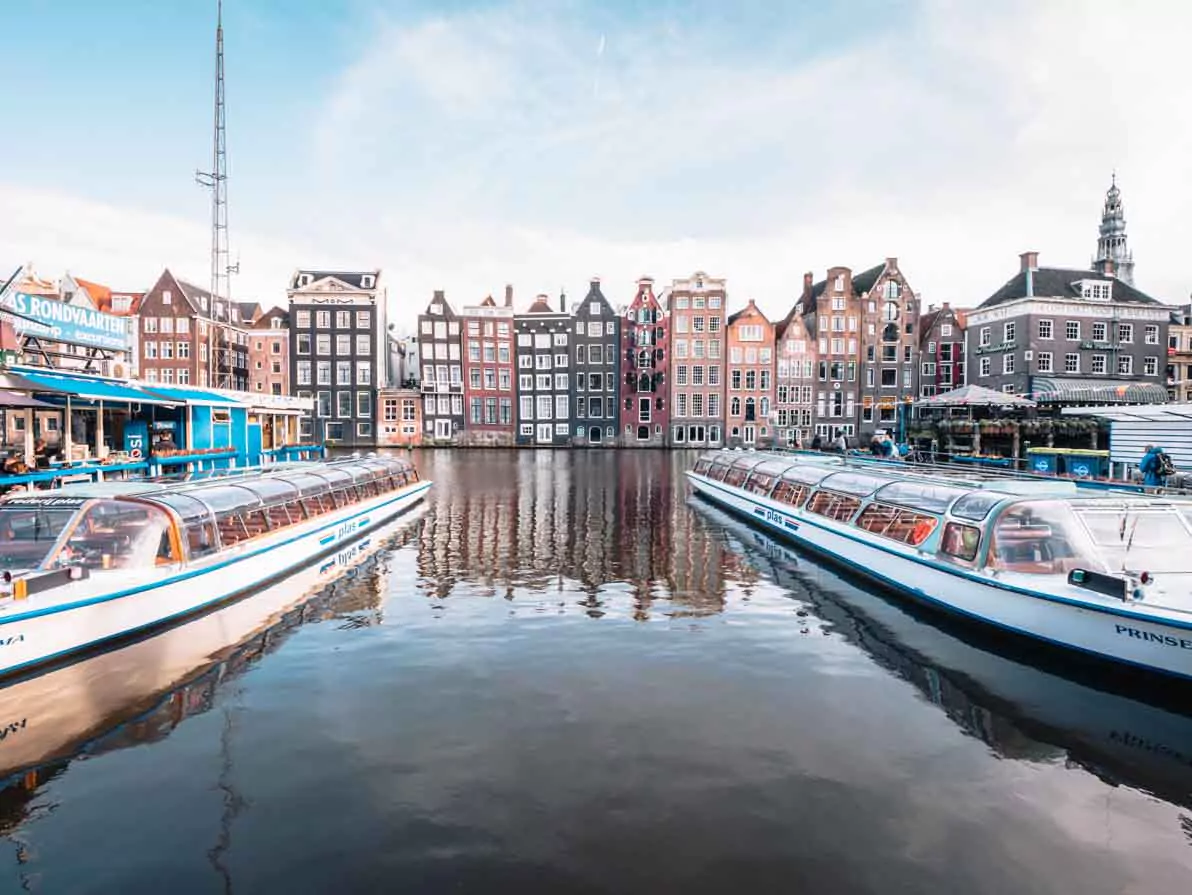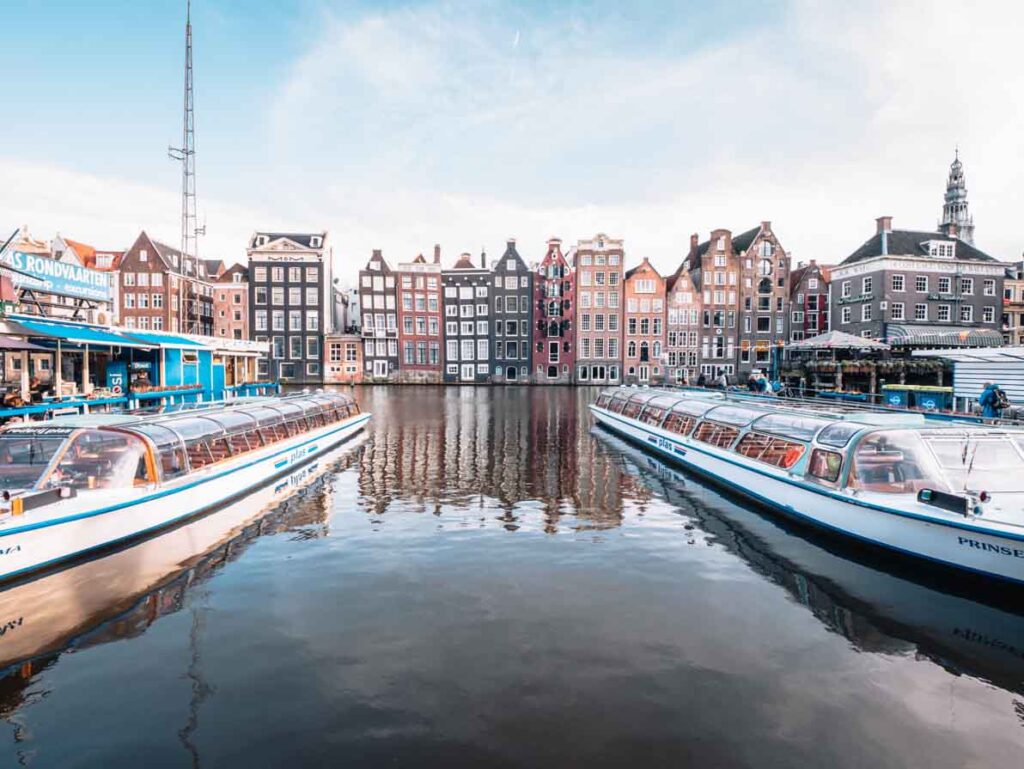 Things to do in Amsterdam
Rent a bike and explore like a local, just be aware of all the rules so you don't become a hazard
Shop til you drop for vintage clothes, quirky souvenirs and stylish homewares. Amsterdam's home and design stores in particular are beyond impressive and it hurts my soul to walk past them without being able to buy things. One day in the far future when I buy a house I'll be coming straight to Amsterdam to stock up on knick-knacks to decorate my home.
Hit the museums, some noteworthy ones are the Rijksmuseum for a deep dive into Dutch history and art, the Van Gogh Museum for Van Gogh masterpieces as well as works from his contemporaries, and the Moco Museum for more modern (read: Instagrammable) art
If you're a beer drinker, head to the Heineken Experience, an interactive self-guided tour through the beer behemoth's former factory
Visit Anne Frank's house, now a biographical museum about Anne and her family
Take a boat ride down the canal, there are plenty of cruise options ranging from budget-friendly tours to booze cruises to fancy dinner cruises
Explore the Red Light District and get amongst Amsterdam's infamous nightlife
Experience Amsterdam's growing brunch scene, I recommend Little Collins, Box Sociaal and the Lobby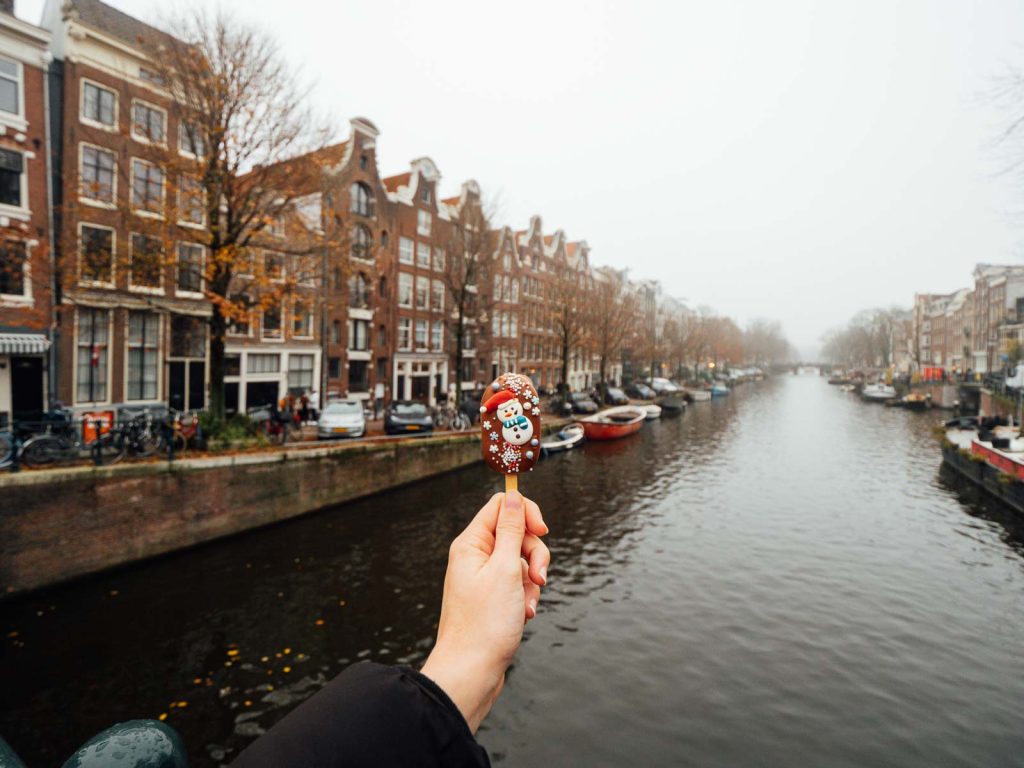 Where to stay in Amsterdam
Budget | On my most recent trip I stayed at MEININGER Amstel which was ideal, a hotel/hostel hybrid with comfy rooms, a full kitchen and a great location next to Amstel train station, ideal for rail travellers. Another great budget option is Hostelle, a ladies-only hostel which is perfect for first-time solo female travellers.
Mid-range | Outside Inn, Met Hotel, Villa Yburg,and XO Hotels Couture
Luxury | Waldorf Astoria, Hotel TwentySeven, the Dylan, Conservatorium and De L'Europe
Self-contained | Treehouse Inn, Cityden BoLo, Social Hub and Hotel2Stay
---
Bruges
How to get from Amsterdam to Bruges: A two-train journey with a change in Brussels (could stop for a day trip if you want)
Seat reservations: Seat reservations are usually required on the first train at a cost of €22, but there are some no-reservation options a few times a day that take closer to four hours
Train prices: From around €65 to €120 depending on when you book
How long to stay: 1-2 days
The final stop in this epic 2 month Europe itinerary is Bruges, a fairytale town that's photogenic from all angles.
It's small and compact, easily explored by bike, by foot or by canal cruise, so it's the ideal way to wrap up a very busy couple of months.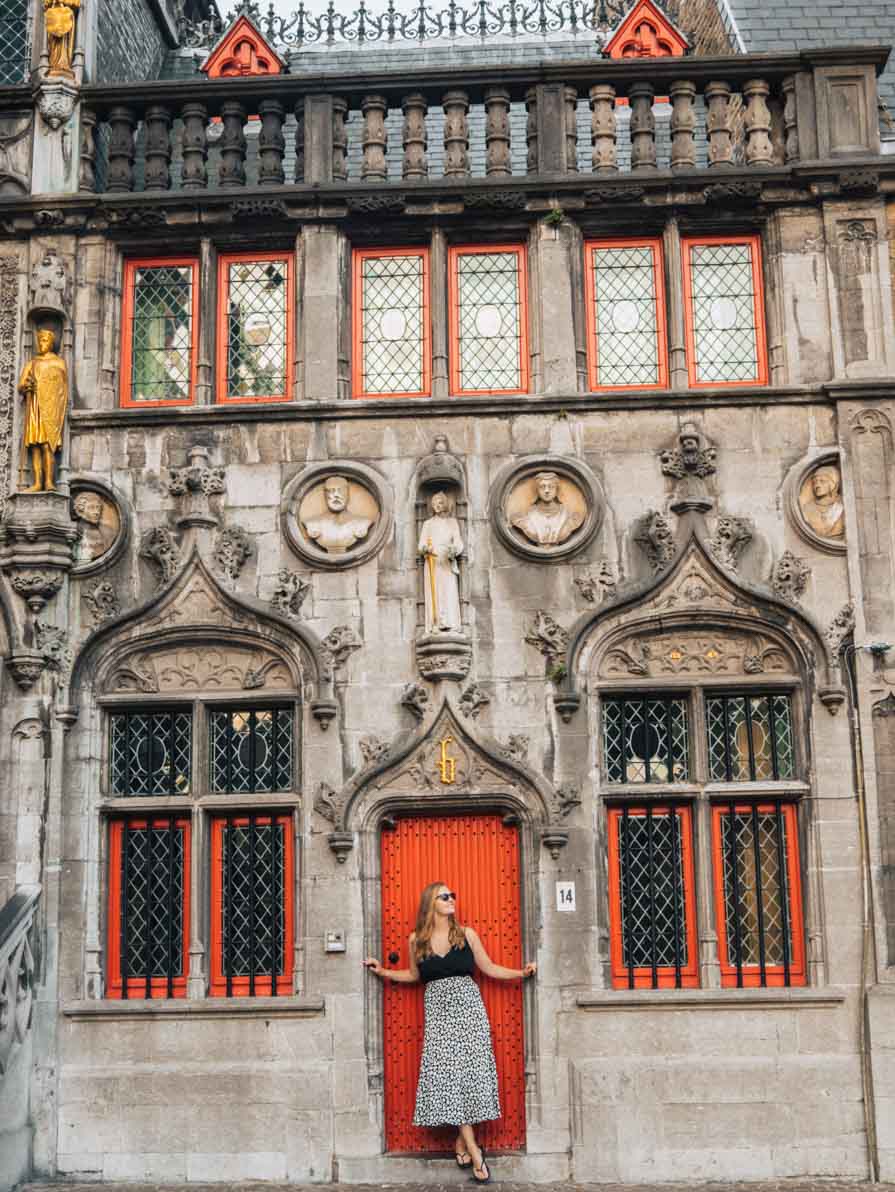 Things to do in Bruges
Wake up early to enjoy the sleepy town as its quietest. Even cafes typically don't open until 9am! Use this time to wander around and visit the best photo spots without the crowds.
Walk more than 350 steps to the top of the Belfry to see the view
Take a canal cruise
Visit the Choco-Story Chocolate museum, do a chocolate walking tour or try your hand at making your own Belgian chocolate
Visit the Basilica of the Holy Blood, a 12th century Romanesque church which houses a vial containing cloth stained by the actual blood of Christ (allegedly)
Head to Sanseveria Bagelsalon, my favourite eatery in Bruges! They serve up amazing fully loaded bagels with fillings like peanut butter/banana/Speculoos, melted brie/bacon/walnuts/apple (my go-to) and raclette cheese/fried onions/gherkins
Grab an outdoor table at one of the restaurants in the Market Square (Markt) to enjoy some moules frites with a view of the beautiful buildings that line the square
Where to stay in Bruges
Budget | There aren't many well-rated hostels in Bruges but some good options are Snuffel Youth Hostel, Hostel Lybeer and St Christopher's Bauhaus
Mid-range | B&B Valant, La Clé Brugge, Guesthouse Mirabel and Maison Amodio
Luxury | Dukes' Palace, Relais & Châteaux Hotel Heritage and Dukes' Arches
Self-contained | Maison Fred Luxury Suites, Old Bruges B&B, Aragon Apartments and Apartments Ridderspoor
---
Back to London
To get from Bruges to London you can catch the train to Brussels (1h) and then change to the Eurostar (around 2h).
I'd recommend spending a few hours in Brussels to see the main sights on the way, there's plenty of luggage storage at Brussels station so you can explore without your suitcases.
Wander around the Grand Place, see the Royal Palace of Brussels, or visit one/some of the museums if you have time. And if you're hungry, I'd highly, highly recommend heading to Tonton Garby near the Grand Place, an incredible sandwich shop with 4.8/5 on Google from more than 1600 reviews. There's no menu, they'll ask you questions about what flavours you like and they'll make a bespoke sandwich perfectly suited to your tastes. Worth the wait!
If you're flying into London rather than taking the train and you land late, consider spending a night at the airport to have a good night's sleep and then start your London trip feeling fresh the next day. If you're flying into Gatwick I highly recommend Bloc Hotel, they have brilliantly cosy rooms available just a minute's walk from the arrivals section, or for Heathrow I love love love the Hilton Heathrow T4, it has a covered walkway to Terminal 4 plus shuttles to other terminals, incredible eco-friendly design and a fantastic sustainability-focused restaurant.
---
Alternative cities/routes you could add or switch out
Add Christmas markets if you're travelling in November/December
Europe's Christmas markets start popping up from around mid-November, so if you're braving the chilly weather and wanting to see some festive events then you'll want to plan your itinerary around these. I'll be putting together a Christmas market rail itinerary shortly, but in the meantime some additional places worth adding to your list are:
Strasbourg and Colmar in France
Dusseldorf and Cologne in western Germany
Frankfurt in central(ish?) Germany
Rothenburg ob der Tauber and Nuremberg in southern(ish?) Germany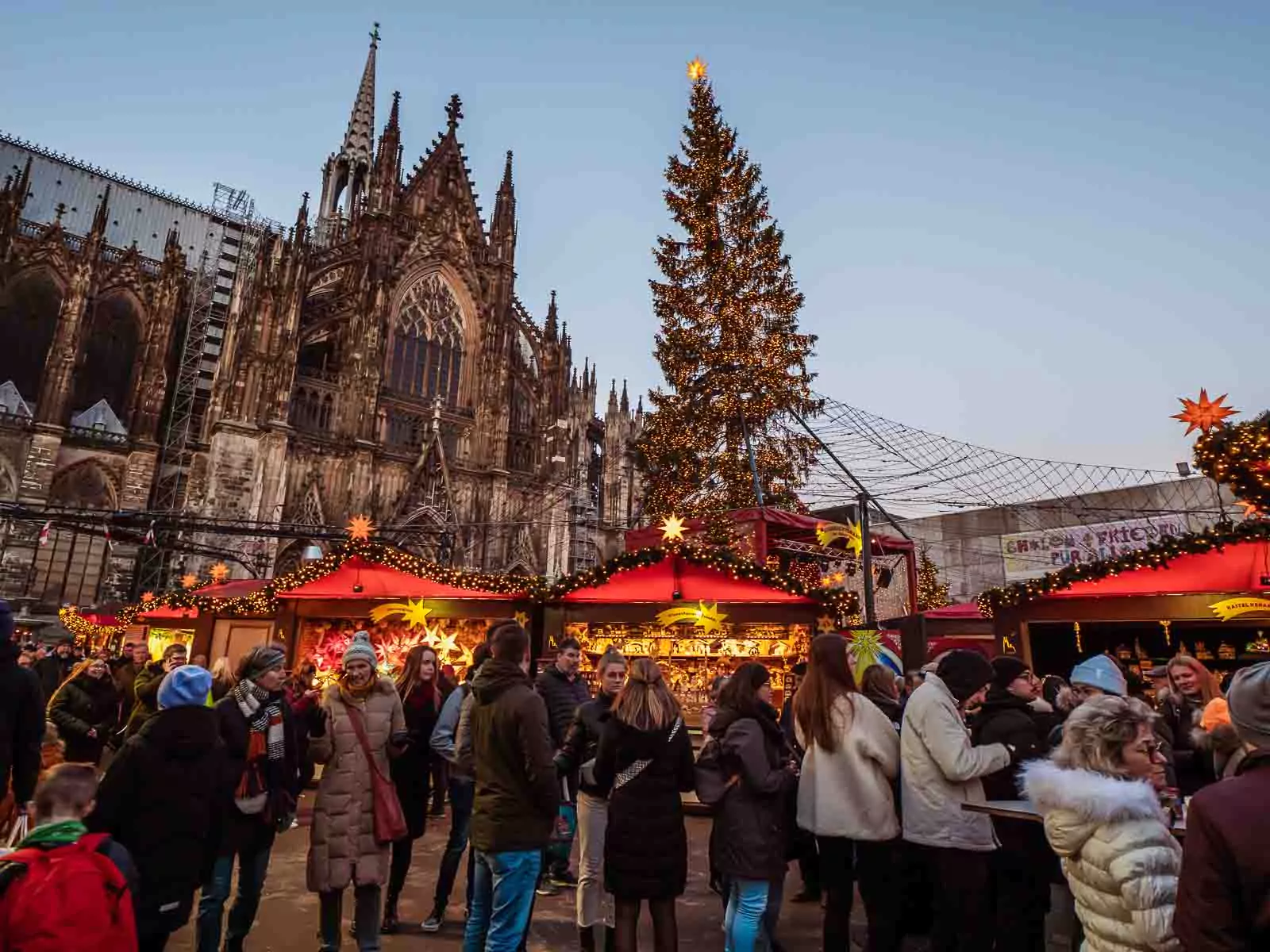 Skip some of Italy
This itinerary has a lot of Italy because a) it's probably my favourite country in Europe and b) it's really well connected by train so easy to tick off a bunch of places without spending too long on transport.
If you're not super keen to spend two weeks in Italy then you could limit the Italian portion of this trip to just Rome and Venice for example, and have more time for other destinations.
Skip Barcelona
Barcelona is a bit out of the way on this itinerary, with a long trip from Paris (6h 30m) and fairly trip to Lyon (5h 20m), both of which have expensive seat reservations if you're travelling with a rail pass.
You could save yourself some travel time by skipping Barcelona and just going from Paris to Lyon direct, which is only two hours on a high speed train and reservations are only €12, so you'd save a significant chunk of money too,
Skip Switzerland to keep it cheap
Switzerland is definitely the most expensive country on this itinerary, so if you're on a really tight budget then you could consider skipping it to have extra time in places like Prague, Budapest or add on Warsaw or Krakow in Poland instead.
If you're travelling with a rail pass then I'd highly recommend doing at least the Bernina Express in Switzerland because you get a huge discount on the usual price. You could even just spend some time in Tirano and do the Bernina Express return trip, so you can see the scenery without needing to splurge on Switzerland accommodation.
Add on more of Germany plus Copenhagen
If you were reducing your time in other countries, there might be space for you to add on some other German cities like Munich and Hamburg, and Copenhagen is an easy 4h 45m direct journey from Hamburg. From Copenhagen you could easily do a quick trip across the Swedish border to Malmö, just 24 minutes by public transport.
Add on some of Poland
A cheaper add on option (if you didn't mind long travel days) would be Poland, you could visit both Krakow and Warsaw with direct bus routes running from Budapest, Vienna, Prague and Berlin.
Poland is super cheap so if you're wanting the best bang for your buck this could be a great place to visit.
Add on more of Spain and Portugal
The reason I haven't included much of Spain and Portugal is because if you're using a rail pass, seat reservations must be made at the ticket offices in the country once you're there, or with Deutsche Bahn (Germany's railway company) at an office or over the phone. This type of admin is quite tricky for first time rail pass travellers so if you're really keen to see this part of Europe, I'd recommend doing a lot of research on the Eurail community forum to make sure you know what you're doing.
In Spain you could go from Barcelona to Valencia, Alicante, Granada, Seville and then Madrid, before scooting over to Portugal and heading down the coast from Porto to Lisbon to Faro.
Add on some islands
Did you know that Eurail passes also give you discounts on some ferries from Italy to Greece and through the Greek Islands? If you're keen to enjoy paradise islands then you could travel by train to Bari in Italy, then catch the ferry to Corfu, Igoumenitsa or Patras and continue your Greece island hopping from there.
---
2 month Europe train itinerary FAQs
Should I train or fly in Europe?
While Europe does have loads of low cost airlines with crazy cheap flights, flying comes with additional costs like transfers to the airport, wasted time in security lines and of course the impact on the environment, not to mention huge prices for add ons like a check in suitcase or seat selection.
Trains are much more straightforward, often leave from the central city or nearby, you get to enjoy the scenery, and it's easier to stretch your legs if you've got a long journey.
If you need to get from one side of Europe to the other then consider flying, or if you need to get between small cities without great train connections then a flight might be easier, but for simple journeys between two major European city hubs then a train is by far the easier option.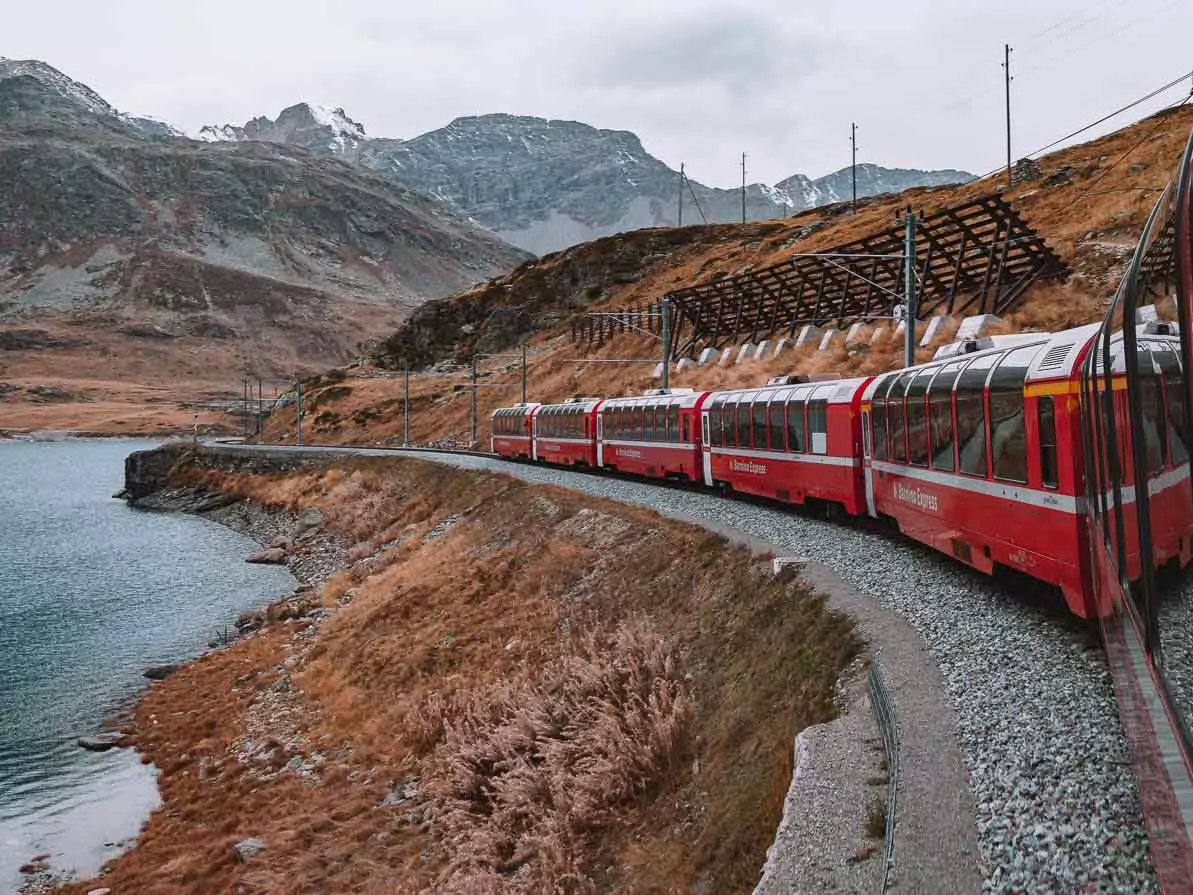 Is a Eurail pass worth it?
It really depends. A Eurail Pass is worth it if the cost of the pass + seat reservations is less than the cost of the train tickets if you bought them outright.
I answer this question in much more detail in my Eurail budget breakdown but here's a quick summary.
If you already have a good idea of your itinerary (or if you want to follow this one) then I'd recommend typing up all the journeys you want to take and searching them on Rail Europe to see what the price would be if you booked them outright. Then check on the Eurail website for the same journeys to find out the seat reservation cost, add this to the price of the pass you'd need, and you'll figure out which one is better value.
If you're spending time in Switzerland and want to take the Glacier Express, Bernina Express or any other scenic trains then the Eurail Pass is definitely worth it, you'll save loads on these trains alone.
If you don't know your itinerary yet (and you're travelling soon), or if you want to keep flexible and be able to decide on your route only a few days in advance then a Eurail Pass is almost certainly worth it, it lets you avoid expensive last minute tickets.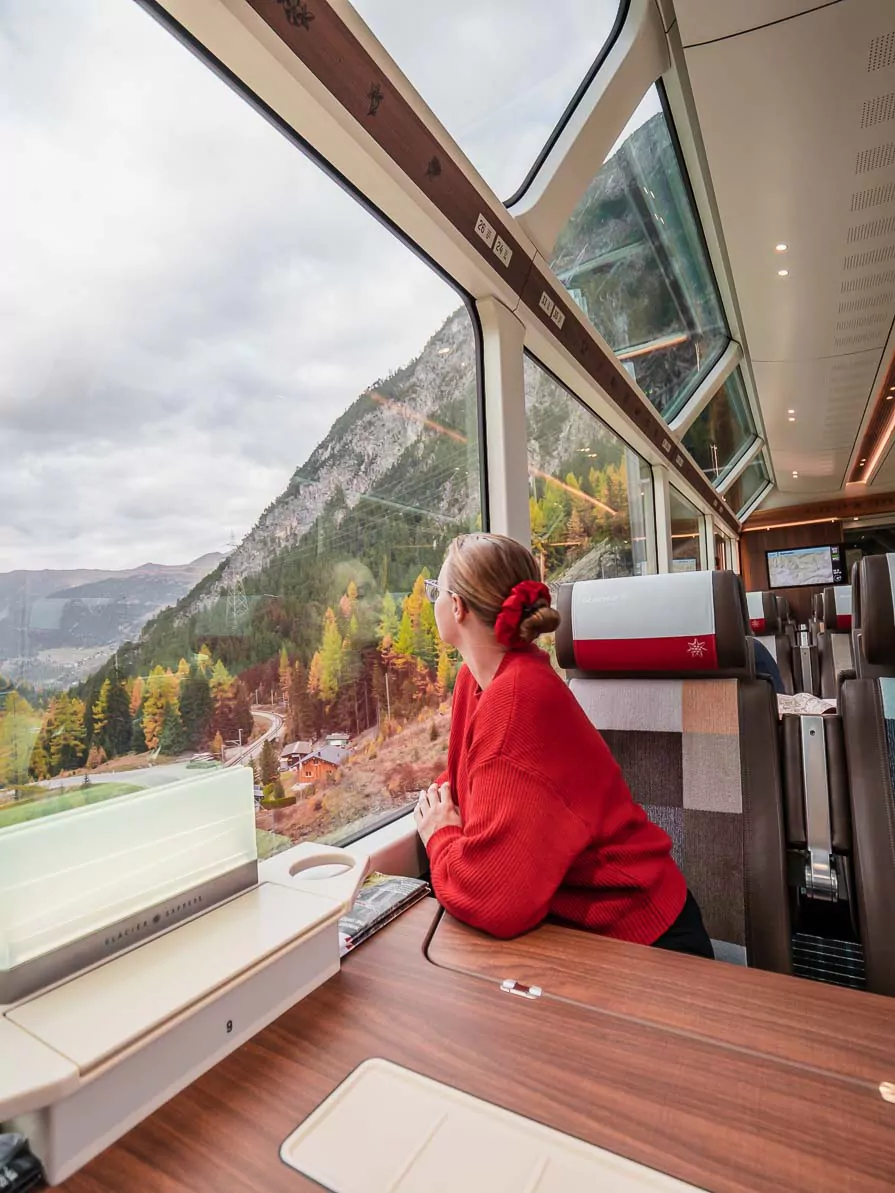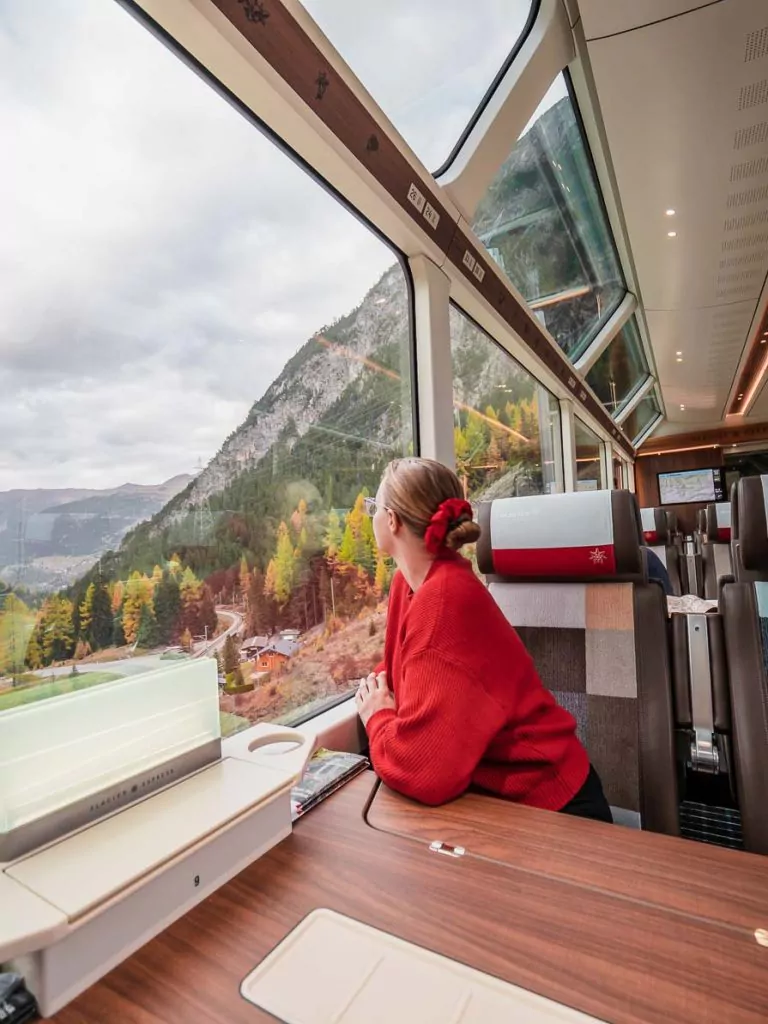 Is Europe safe for solo female travellers?
Specific safety tips will depend on the country but yes, overall Europe is absolutely safe for solo female travellers and I've never felt unsafe on all my solo travels in Europe.
Things to be aware of as a solo female traveller (or as any traveller!) are:
Wear crossbody bags with your wallet in a zipped pocket
Use a luggage cable to lock your suitcases to the luggage racks on trains
Always have comprehensive travel insurance with both medical and luggage cover, I use Cover-More New Zealand travel insurance
If you're having a night out, always keep an eye on your drink and avoid getting too drunk as it can make you an easy target
Stay in female-only dorms and night-train cabins
Get a European SIM card that gives you data so you're always able to access the internet, maps and transport/taxi apps
---
And that wraps up this huuuuge 2 month Europe itinerary! I hope this has helped you map out your own two month Europe itinerary, or at least has given you some useful destinations tips for your Europe train itinerary no matter how long you'll be travelling.
If you have any questions or need any help with your Europe train itinerary then please let me know in the comments or flick me a message on Instagram.
And if you'd like to read more about Europe and planning a Eurail itinerary, these posts might help: