Planning a two month Europe train trip? I finished my 2022 travels with a two month Eurail itinerary that took me through 25 cities in 11 countries, one of my all-time favourite travel experiences. Here's a summary of my exact itinerary, including train costs, where I stayed, things I did and other travel tips for each destination.
Exploring Europe by train has been on my bucket list for a long time, and with a few months at the end of 2022 pencilled in for Europe adventures on my calendar, it seemed like the perfect time to give rail travel a go. And what can I say, now I'm hooked.
I spent the first half of my trip soaking up the gorgeous autumn weather in the mountains, before ticking some of Europe's best Christmas markets off my bucket list as we moved into the festive season. I took more than 40 trains throughout the itinerary, I learnt how to say 'thank you' in nine different languages, and I saved almost €1500 on train tickets thanks to my Eurail pass. Yes, for real!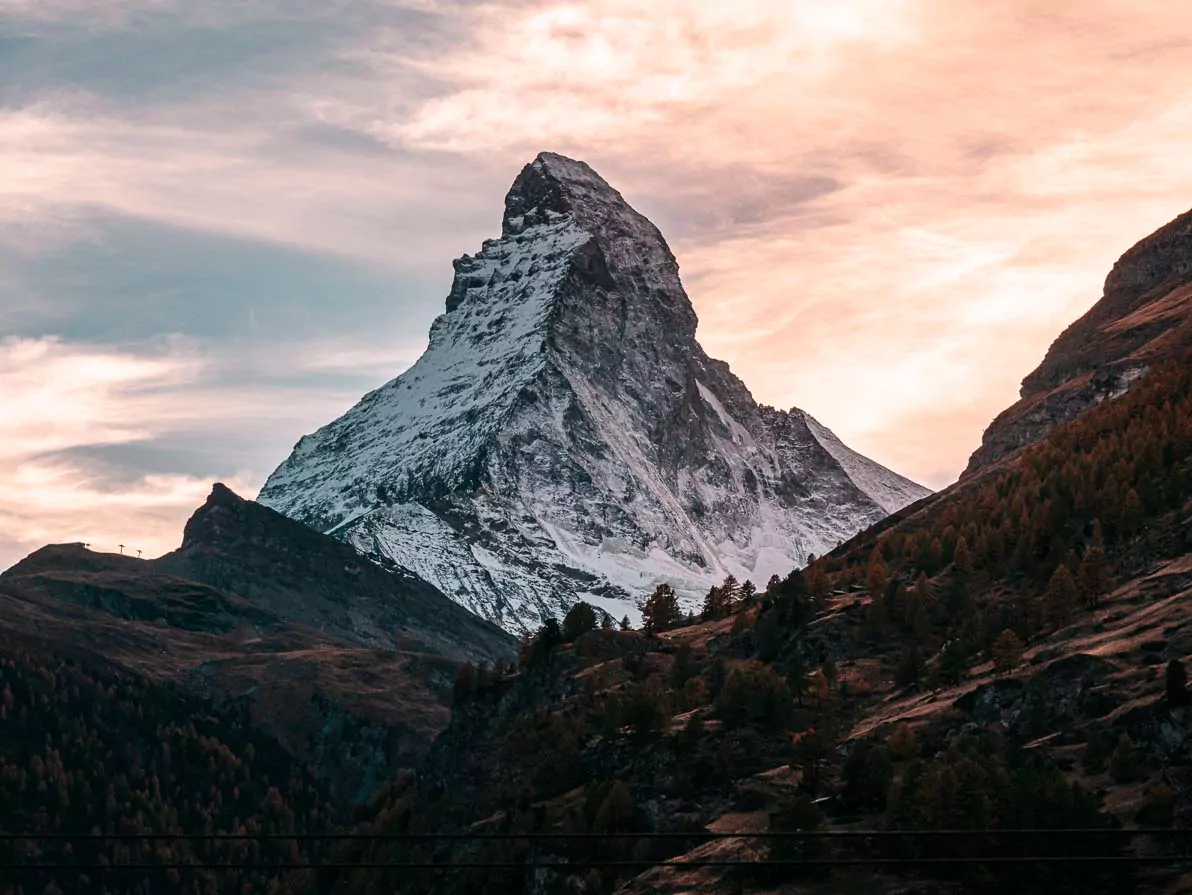 My exact Eurail itinerary wouldn't make sense for most people, I doubled back on myself a number of times to fit in various collaborations and meet ups with friends, but I got a tonne of questions on Instagram about my route so I wanted to post a detailed blog post with all the info on my train journeys, seat reservation costs, accommodation, places to eat and more.
I hope this write up of my itinerary is helpful for you, if you have any questions then please pop them in the comments or flick me a message over on Instagram @findingalexx 🥰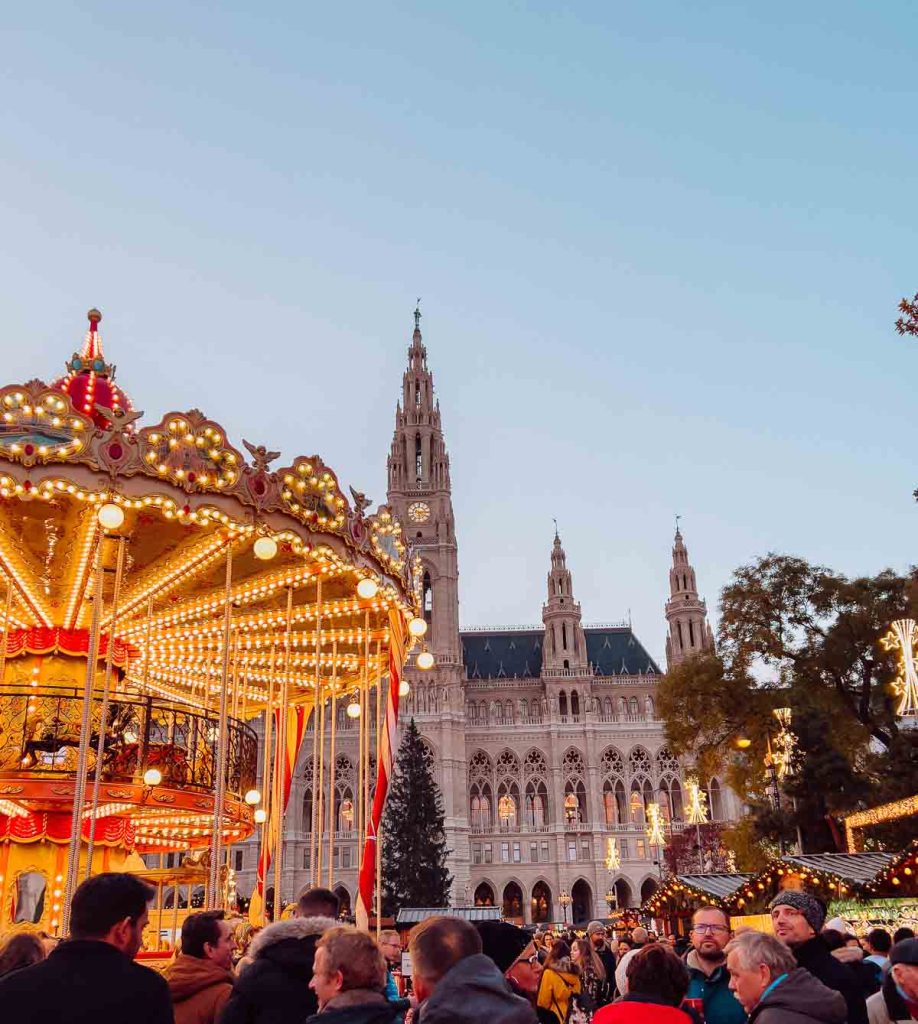 ---
Itinerary FAQs
What's a Eurail pass?
A Eurail Pass is a rail pass that covers your ticket cost on trains and some ferries across 33 countries in Europe.
If you travel with a Eurail Pass you don't have to pay the ticket cost for the trains you take, but you may still have to pay a seat reservation fee.
Many trains in Europe don't require seat reservations so you can just take them for free, but most high-speed trains, all overnight sleeper trains, the Eurostar and many trains in Italy, France and Spain require seat reservations. Reservations usually range from about €6-€12, but for sleeper trains, the Eurostar and long, international high-speed trips they might cost €25-€35.
Note: Eurail Passes are only able to be used by non-European residents, but if you live in Europe then you can get an Interrail Pass which is basically the same thing (just check the rules for departing and returning to your home country).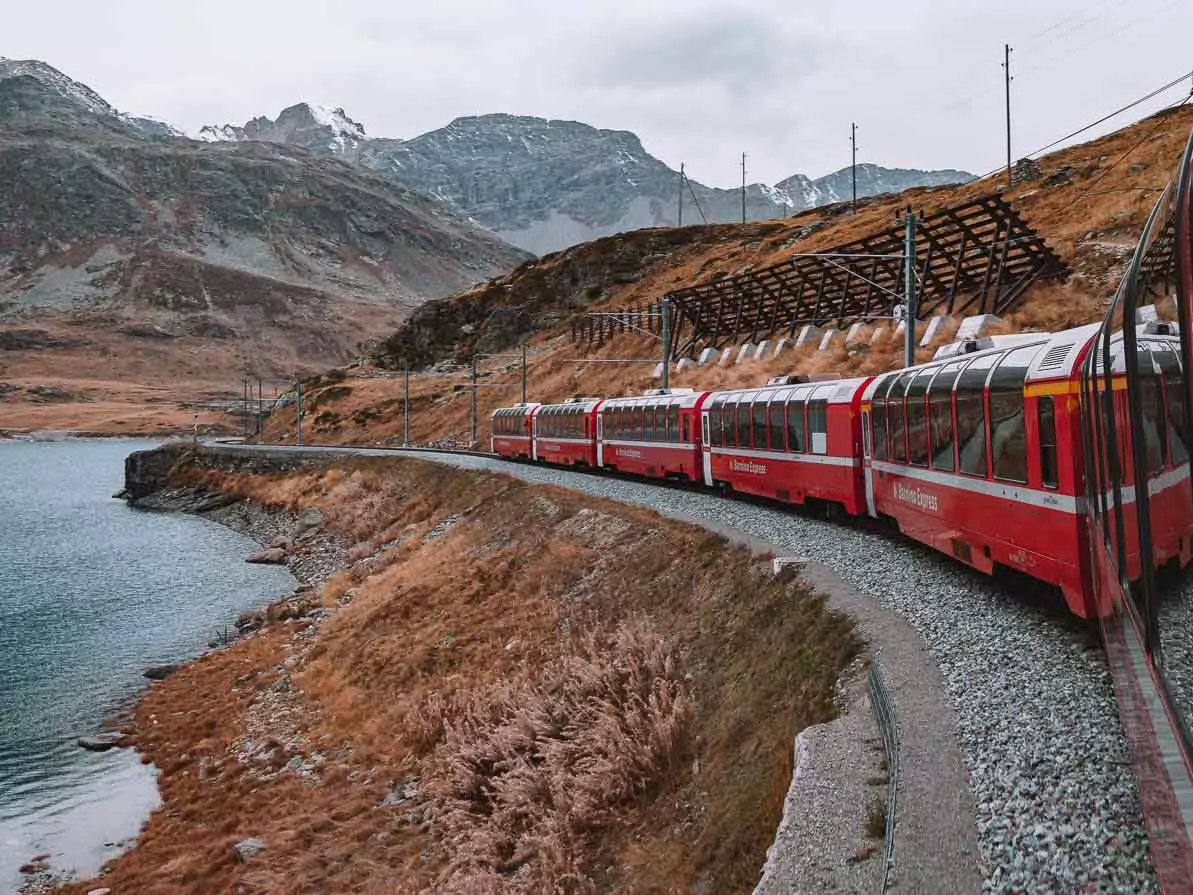 Which Eurail pass did I use?
After researching my top priority destinations and getting an idea for how many travel days I needed, I opted for a 1st class '15 days in two months' Eurail Global Pass, which covers the ticket costs for trains on 15 travel days within a two month period.
The Eurail Global Pass gives you access to trains across all 33 Eurail countries (you can see the full list here), and you can choose from 4, 5 or 7 travel days within one month, 10 or 15 travel days within two months, or a 15, 22 or 30 day consecutive pass.
The reason I chose a first class pass was because I knew I had to work on most of my train journeys, and first class cabins have more space which is more comfortable with a laptop. First class cabins usually have two seats on one side of the aisle and a single seat on the other, and as a solo traveller this meant I could take a single seat and not have to sit next to anyone else.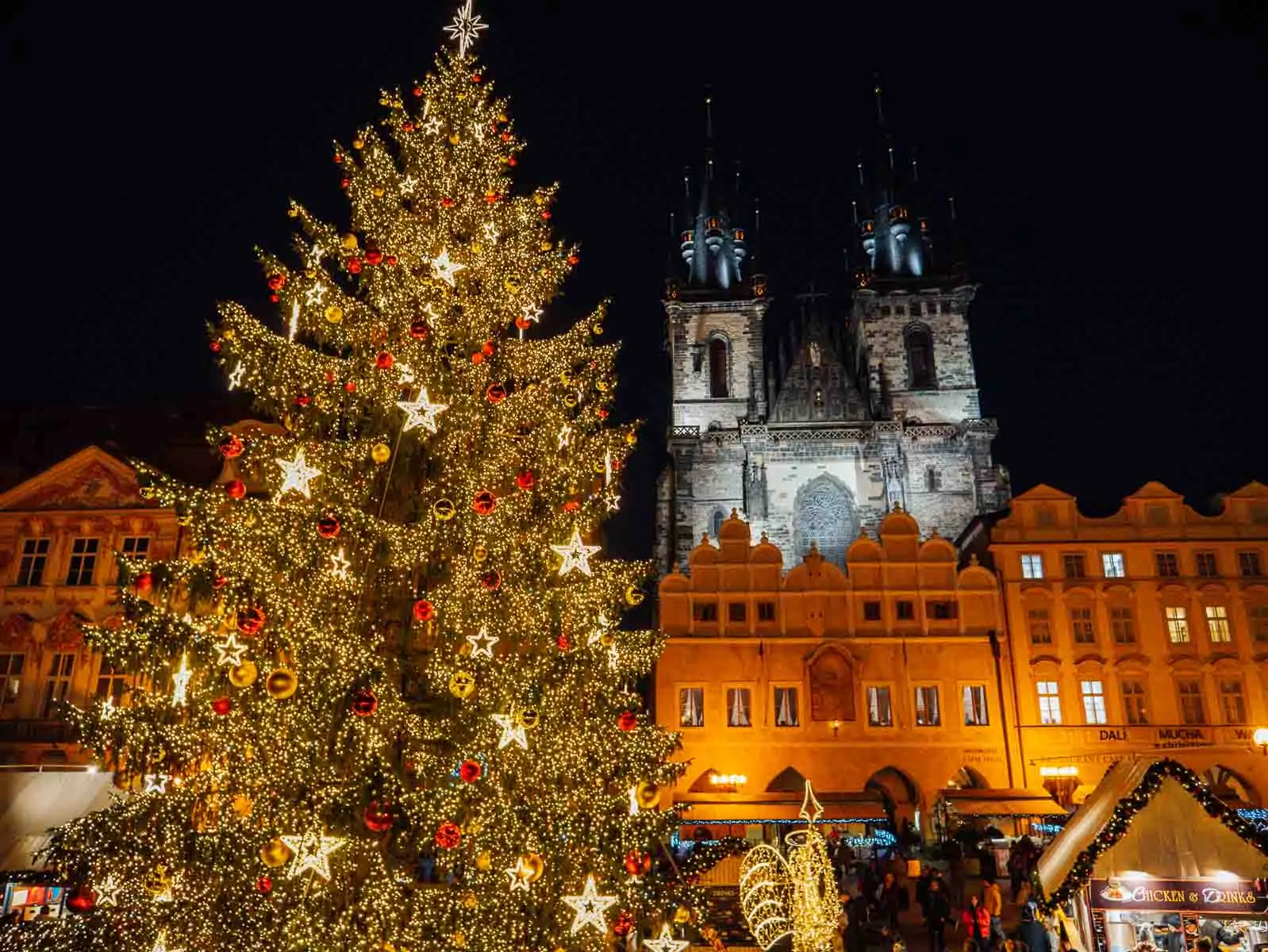 Is a Eurail pass worth it?
The short answer is: it totally depends on the trip. Now here's a slightly longer answer.
A Eurail Pass is worth it if the pass cost + seat reservation costs are lower than what you would pay for buying the train tickets outright.
For my trip, the pass I used was worth €671 at the time I got it, and my seat reservations for my 15 travel days came to €380.45, so I spent a total of €1051.45 on my Eurail pass and reservations. I also spent €138.95 on four point-to-point train tickets as I didn't have enough Eurail days to cover my whole trip, bringing my total to €1190.40 for a Eurail Pass, seat reservations and extra point-to-point tickets,
If I had paid for all of these travel days by buying train tickets outright*, the tickets would've cost €2646.24 in total. That means I saved a whopping €1455.84 by using a Eurail pass!
*These prices are from the day I booked the reservation, which was between 2-14 days ahead of the trip. You could get much cheaper tickets if you book further in advance, but one of the benefits of the Eurail Pass is that you can be much more flexible with your time and don't need to worry about tickets getting more expensive closer to departure.
Remember that I travelled in first class, so my pass cost was more expensive than a 2nd class pass and the train ticket costs that I noted down were also more expensive. Seat reservations for 2nd class are usually the same but might be slightly (as in €3-10 more expensive) for the Eurostar and some other high speed trains.
I did the same calculations for my route if I had a second class pass and the pass cost + reservations would've cost €843.90 in total, and the tickets would've cost €1786.16, meaning you'd save €942.26 on this exact Eurail itinerary with a 2nd class Eurail pass.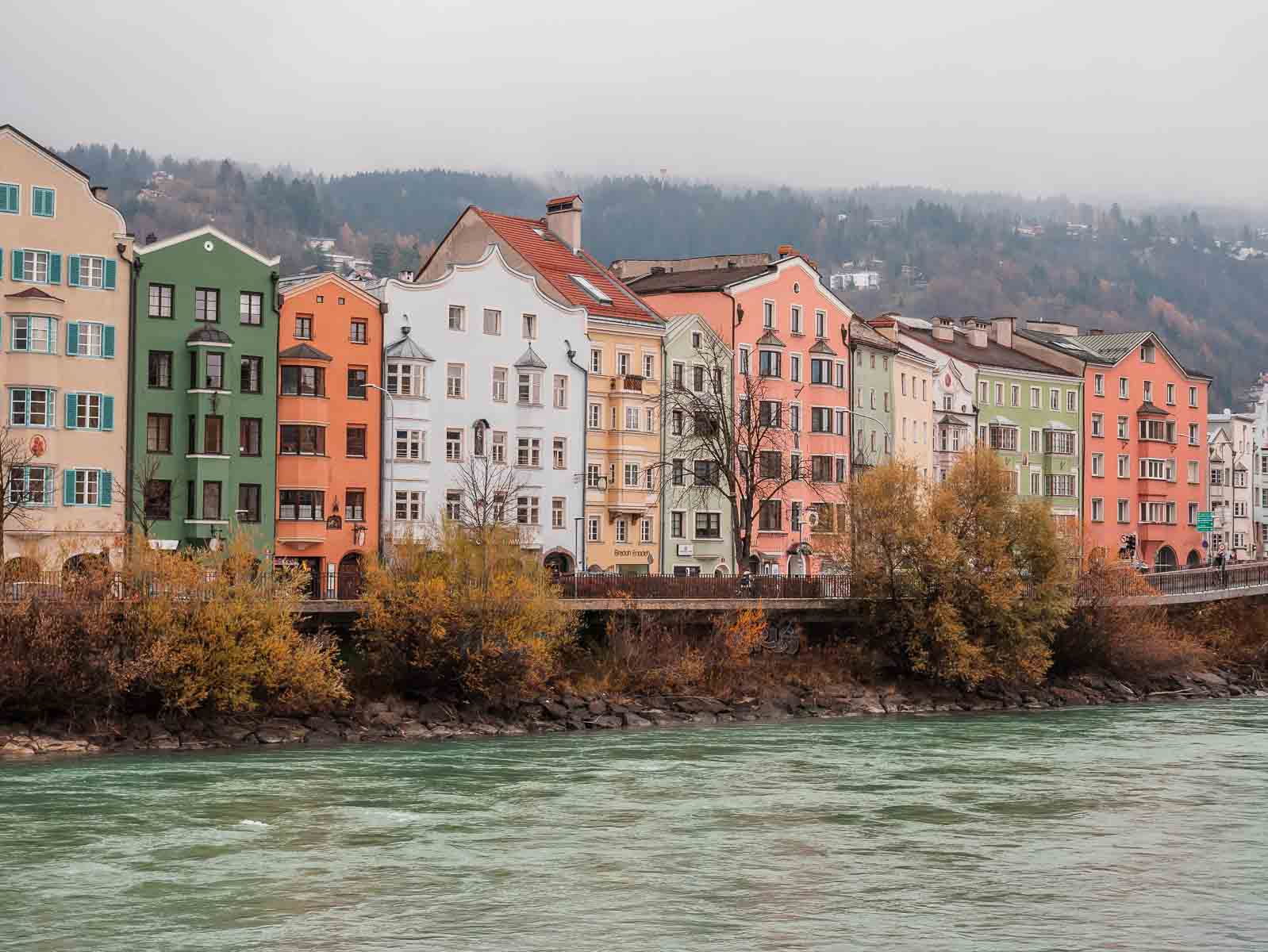 Why is your route so weird?
As you can see from the map above, my Eurail itinerary wasn't exactly straightforward!
Just like any big trip, this adventure came with some misadventures too.
There were a couple of train strikes that resulted in last minute route changes, I had to fit in a London conference right in the middle of the rail pass, and I had to rejig the entire final month of my Eurail itinerary after the Eurostar website provided incorrect dates for Christmas markets 🙃
Luckily a Eurail pass is perfect for these exact circumstances, and I never had to worry about getting stung with huge last minute train prices.
So without further ado, here's a rundown of my exact Eurail itinerary!
---
My exact two month Eurail itinerary
My Eurail itinerary map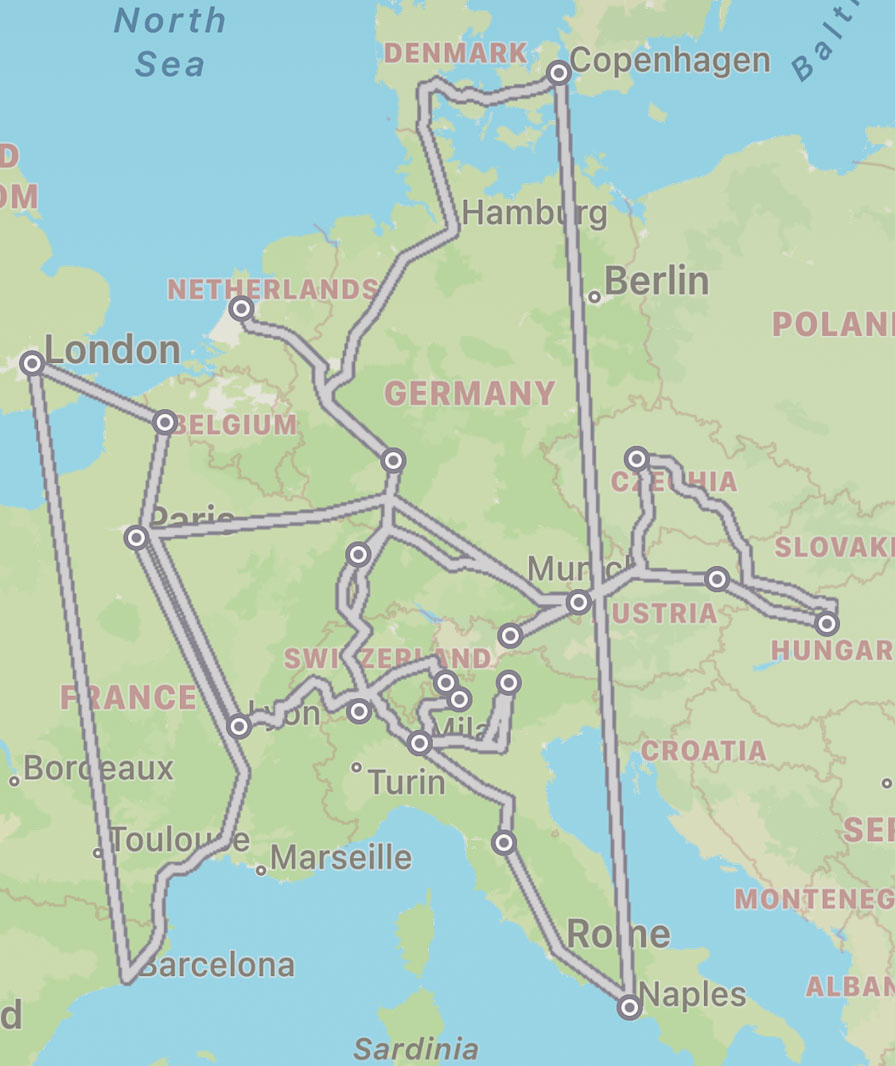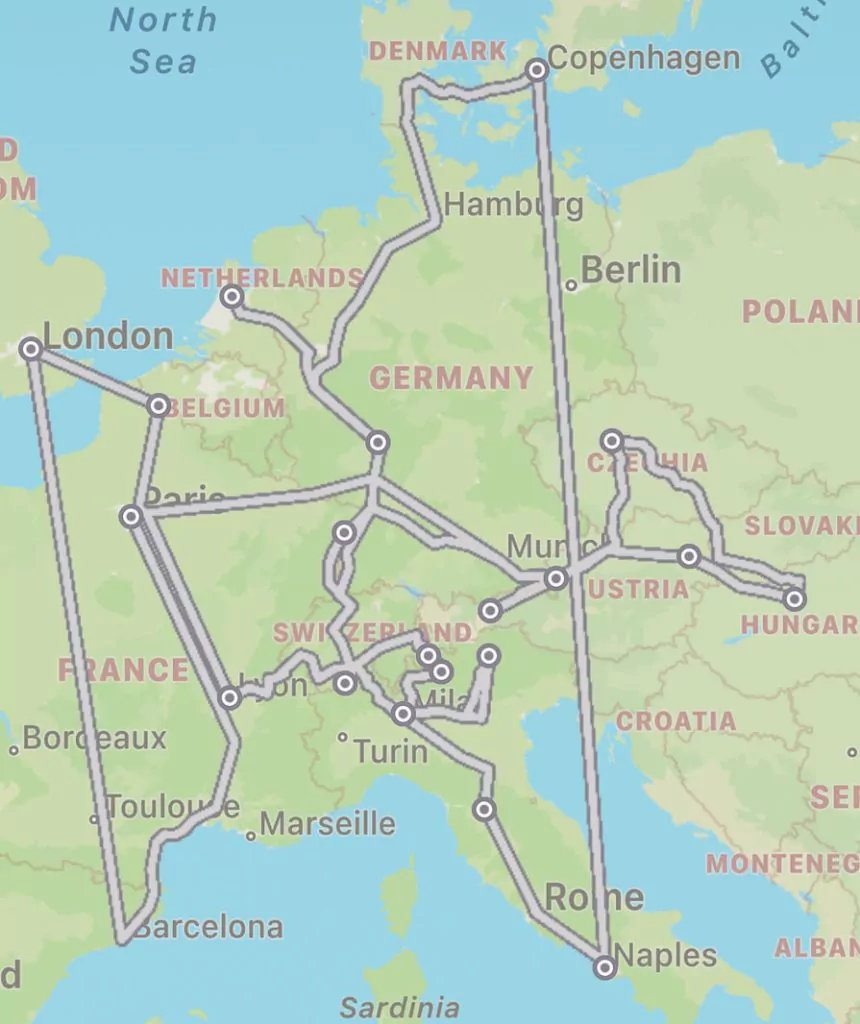 A quick note
Just wanted to pop in a reminder that this was my *actual* itinerary as a travel blogger on a work trip, and is not what I would suggest a leisure traveller should follow.
Many of these cities were places I'd already been before so I didn't have to see and do all the usual tourist experiences, my time in each place was dependent on hotel collaborations and brand partnerships, and I was working (in the form of shooting, writing, researching or pitching) for the vast majority of the time.
This blog post runs you through all the details of my trip, where I went, how I got there, where I stayed, what I did and more.
But if you just want some inspiration for your own Eurail route, I've published the ultimate two month Europe itinerary which has a much more sensible route.
---
Stop #1: Naples
Why Naples?
My Europe trip actually started with three days in West Iceland, and the cheapest place to fly to in mainland Europe from Iceland was none other than the home of pizza, Naples in Italy! My flight cost €63.66, and this included 20kg checked luggage and seat selection.
I have to be honest, Naples wasn't my favourite place. I love Italy so much, I've been six times now and it's up there in my top five countries for sure, but Naples didn't have the same charm that I've found in other Italian cities.
In saying that though, the food in Naples is absolutely next level, and because there are less tourists than in other Italy hubs like Rome, Milan and Venice, I found it much easier to find authentic eateries that served up world-class food without having to wait in a line that stretched around the block. If you want to taste the best of the city's culinary treats, I highly recommend this Naples food tour. I ate so much that I still felt full when I woke up the next morning!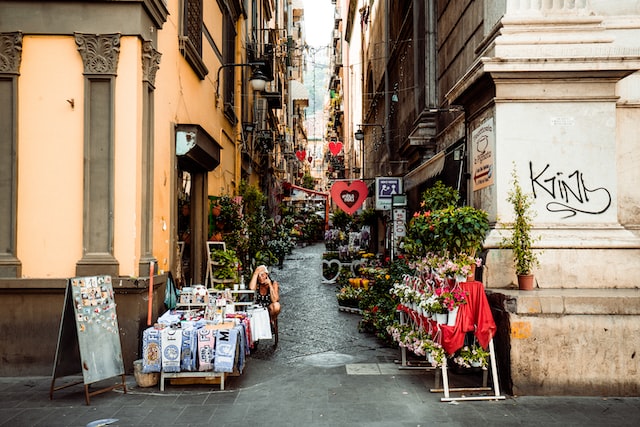 Where I stayed in Naples
I booked my Naples trip very last minute and unfortunately it coincided with two big football games so lots of places were fully booked, which meant I had to stay in three different accommodations over four nights.
Two nights at Holiday House Totò, a spacious self-contained one bedroom apartment rated 9.2/10 on booking.com. It was €50 per night which was cheeeap for a private apartment with a kitchen. Not super fancy but was great value, I would've stayed here longer if it was available.
One night at B&B La Gemma in a private room with a shared kitchenette and bathroom, €50 for a Friday night which seemed expensive for what it was but that's due to the football games. Small room with minimal natural light, not good for working but that's my fault for booking late!
One night at Hostel Mancini in a six bed female dorm for €54, ouchhh. Saturday night pricing during a busy weekend! I stayed here because I had an early train the next morning and it was a five minute walk from the train station but it's not a nice area, I wouldn't recommend staying around here unless you need access to the station. The hostel was a very basic backpacker hostel, it was comfortable and clean enough but nothing special, especially for that price for a dorm room!
Where I ate in Naples
Antico Borgo Ai Vergini pizzeria in Centro Storico (the historical centre), absolutely divine pizza
Fried pizza from Isabella De Cham Pizza Fritta, my mouth is watering just typing this
Osteria da Carmela
Re Lazzarone
Trattoria Da Pasqualino Di Cappella Salvatore
Things I did in Naples
Take a day trip to Pompeii, I had actually already been to Pompeii on a Contiki tour back in 2016 so I didn't need to go again but it's a must-do if you have any interest in ancient history
Taste test the city's food offerings with this incredible food tour
Visited Castel Nuovo and Ovo Castel
Wandered through the Galleria Umberto I, nowhere near as famous as Milan's Galleria Vittorio Emanuele II, but I think it's still pretty incredible and you're much more likely to be able to get photos without thousands of people in it!
If you have more time…
If you've got time, Naples is a great jumping off point to explore the stunning Amalfi Coast. There are some day trips from Naples available, but I'd highly recommend spending at least a night or two on the coast to lap up the sun. You can catch the train to Sorrento or Salerno and then get local buses to various towns along the coast from there.
---
Stop #2: Zermatt
Naples to Zermatt train details + tips
Naples to Milan (5h 5m), 30m wait in Milan
Milan to Brig (1h 54m), 12m wait in Brig
Brig to Visp (6m), 9m wait in Visp
Visp to Zermatt (1h 10m)
The first two trains cost €25 in total for seat reservations, the other two trains in Switzerland didn't require reservations.
The Milan to Brig portion of this train is a part of the Eurocity 34 (EC34) intercity train from Milan to Geneva and it is a very busy route, so it's a good idea to book this in advance if you can, especially if you're visiting during summer. My train also didn't have any WiFi available, I'm not sure if that's always the case for the EC34 route or if I was unlucky, but I'd recommend downloading some shows to watch before your trip if you're taking this train.
The short changes in Switzerland (Brig and Visp) were pretty daunting to me on my first travel day, but if you use the SBB app (the official Swiss railway app) you can see the platforms in advance so you know where you're going, and worst case scenario if you miss one of those trains you can just get on the next one which will come shortly after.
Seat reservation only cost: €25.00
Full ticket cost: €182.90
I saved: €157.90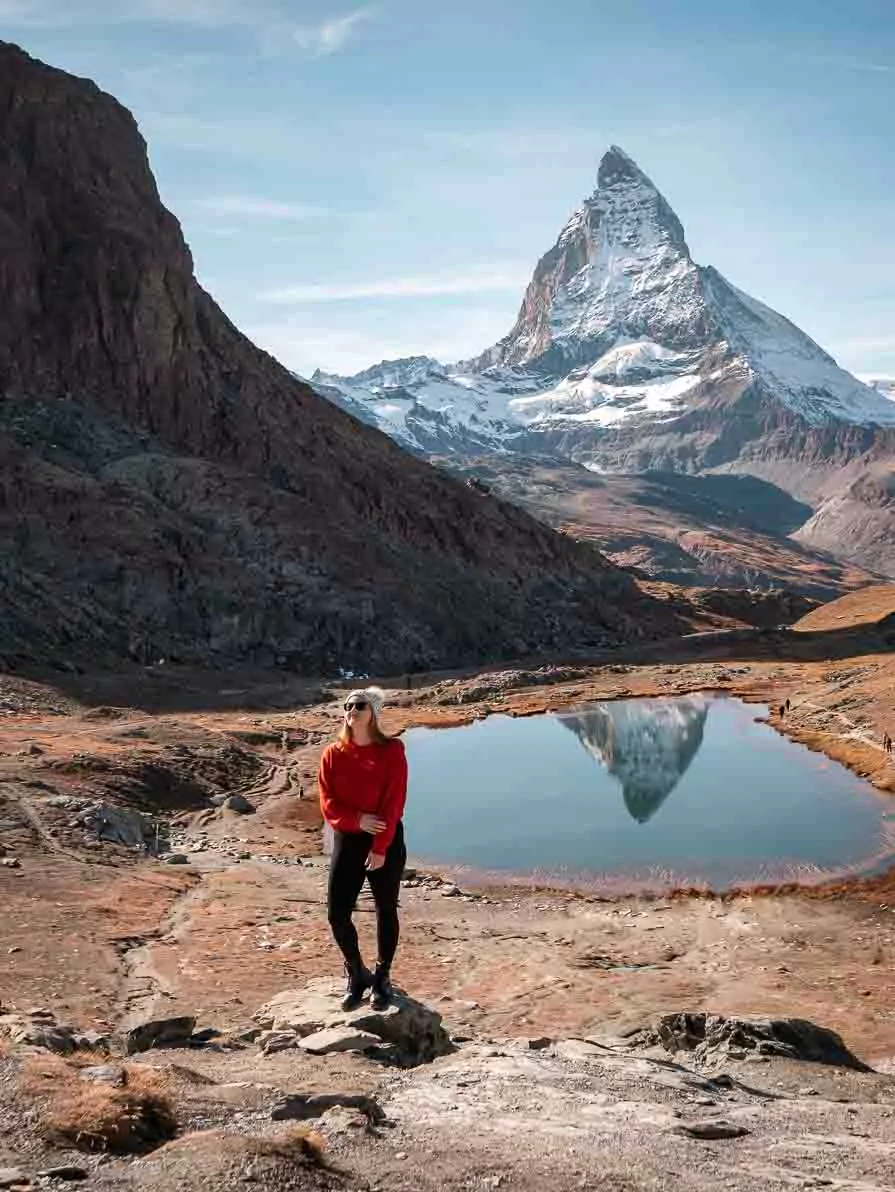 Why Zermatt?
To see the mountain from the Toberlone packet, of course! Just kidding, but this was a nice bonus.
I actually included Zermatt in my Europe rail itinerary because I wanted to do the Glacier Express train trip which goes from Zermatt to St Moritz, so I decided to have a couple of days in Zermatt first.
It's a gorgeous resort town perfect as a base for hiking in summer and skiing in winter, with some fantastic restaurants, an impressive nightlife scene for a mountain town and one of my all-time favourite hotels. And on that note…
Where I stayed in Zermatt
I spent two nights at a stunning boutique design hotel called Hotel ZERMAMA, and I totally fell in love with it.
I stayed in a one bedroom suite with Matterhorn views from the bed, the bathtub, the sofa and the balcony! The hotel also has a bunch of thoughtful extras like ultra-warm faux fur jackets, in-room fitness gear like a yoga mat and resistance bands, and even a fondue set where you can purchase ingredients from the kitchen and do a DIY fondue dinner from the comfort of your hotel room.
The hotel restaurant serves up a great range of breakfast dishes, from lighter options through to hearty breakfasts prepping you for a day of adventure, as well as a delicious and varied lunch and dinner menu. Leave room for dessert, the Chocolate Melt is a basically made for Instagram and Mama's Strudel is exactly what you'll feel like after a day in the mountains.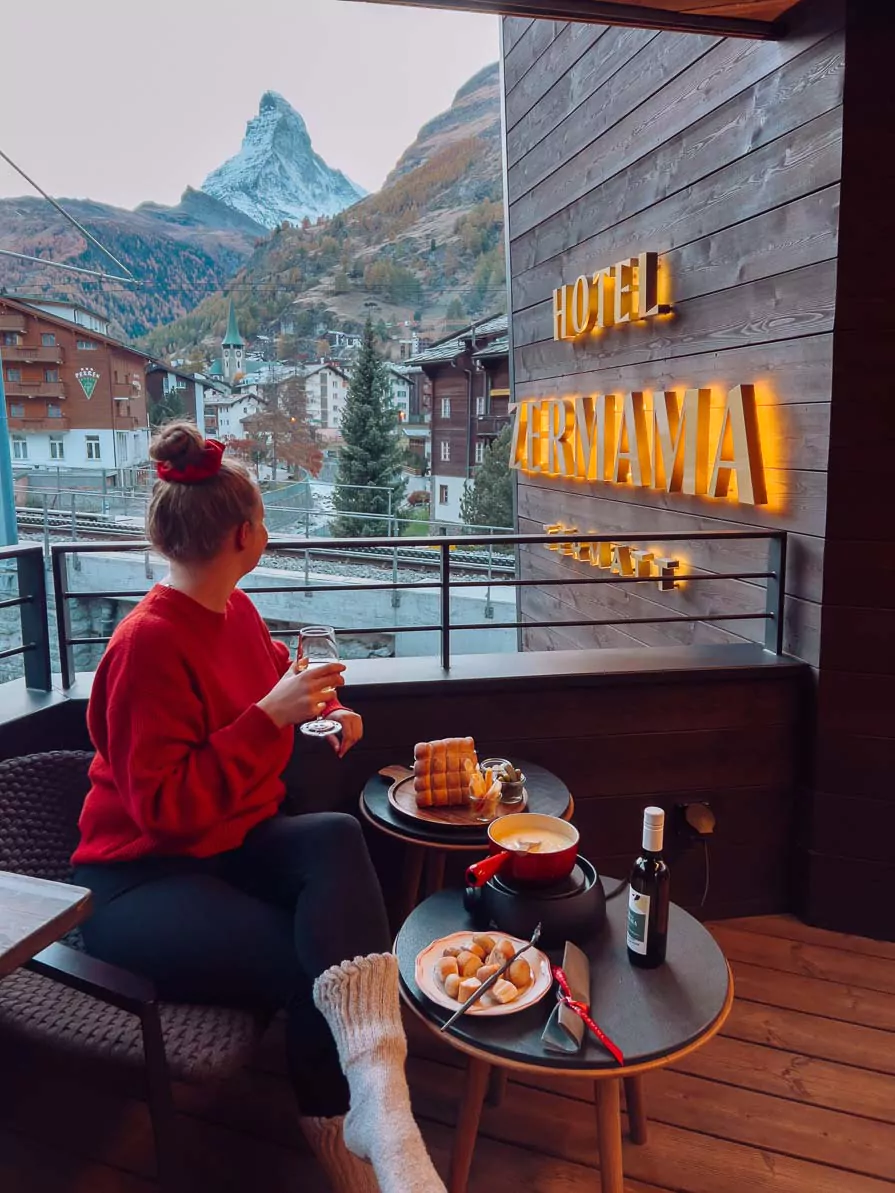 Things I did in Zermatt
Stared at the Matterhorn endlessly
Wandered around the town, it's small and car-free so it's easy to walk around. If you need a ride somewhere there are electric taxis to get you around, and many hotels have their own electric mini-car to get you to and from the train station.
Took the Gornergrat Bahn mountain railway up to the top of Gornergrat for the most incredible views of the Matterhorn! Ticket prices change depending on the time of the year but I got my return ticket for about 78CHF in the shoulder season (mid-October). Sit on the right side of the train on the way up for the best views (you can pay 10CHF extra for priority entry if the train is busy which means you're guaranteed to get the good seats), then get off at the top, walk 20 minutes down to Riffelsee Lake (where you can see the famous Matterhorn reflection) and you can catch the return train from Rotenboden station which is just a short walk from the lake.
If you have more time…
There's plenty more to do in and around Zermatt if you have more time than I did. You could get the best view possible of the mountains from a paragliding flight, cross a glacier in a cable car, or take a day or overnight trip to Interlaken (2h 20m by train).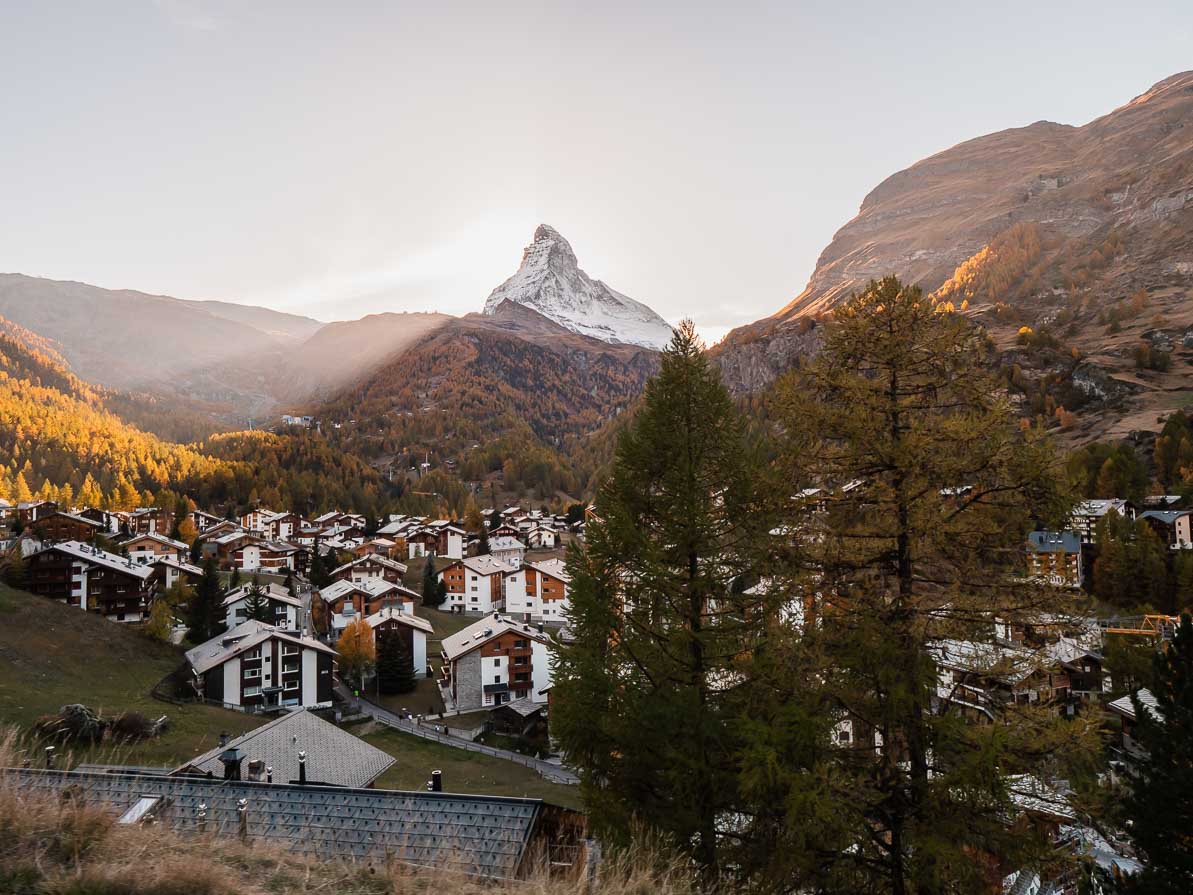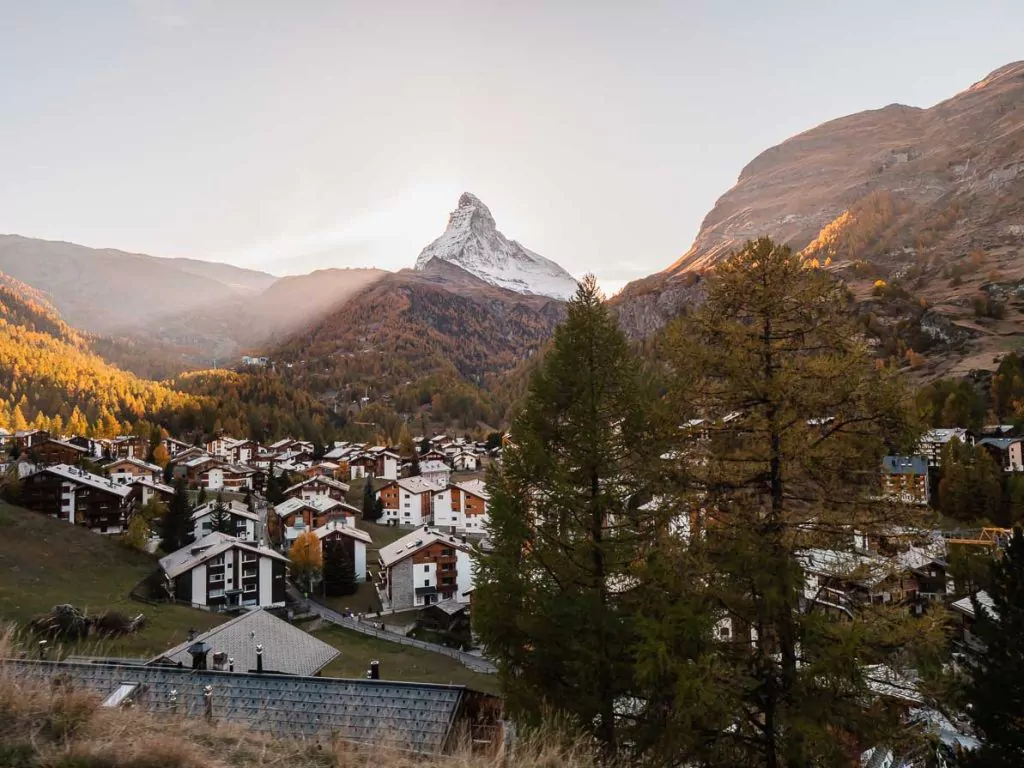 ---
Stop #3: St Moritz
Zermatt to St Moritz train details + tips
I took the Glacier Express from Zermatt to St Moritz direct, which was 7h 45m in total.
This is one of the most famous train trips in Europe and the seat reservations book out in advance, especially during summer! Reservations are available three months ahead of the travel date so book your spot as early as possible to avoid disappointment. The Glacier Express also has a short shutdown period from late October to mid-December so don't plan your trip for November (like I initially did 🙃 the first mistake of many during this trip haha).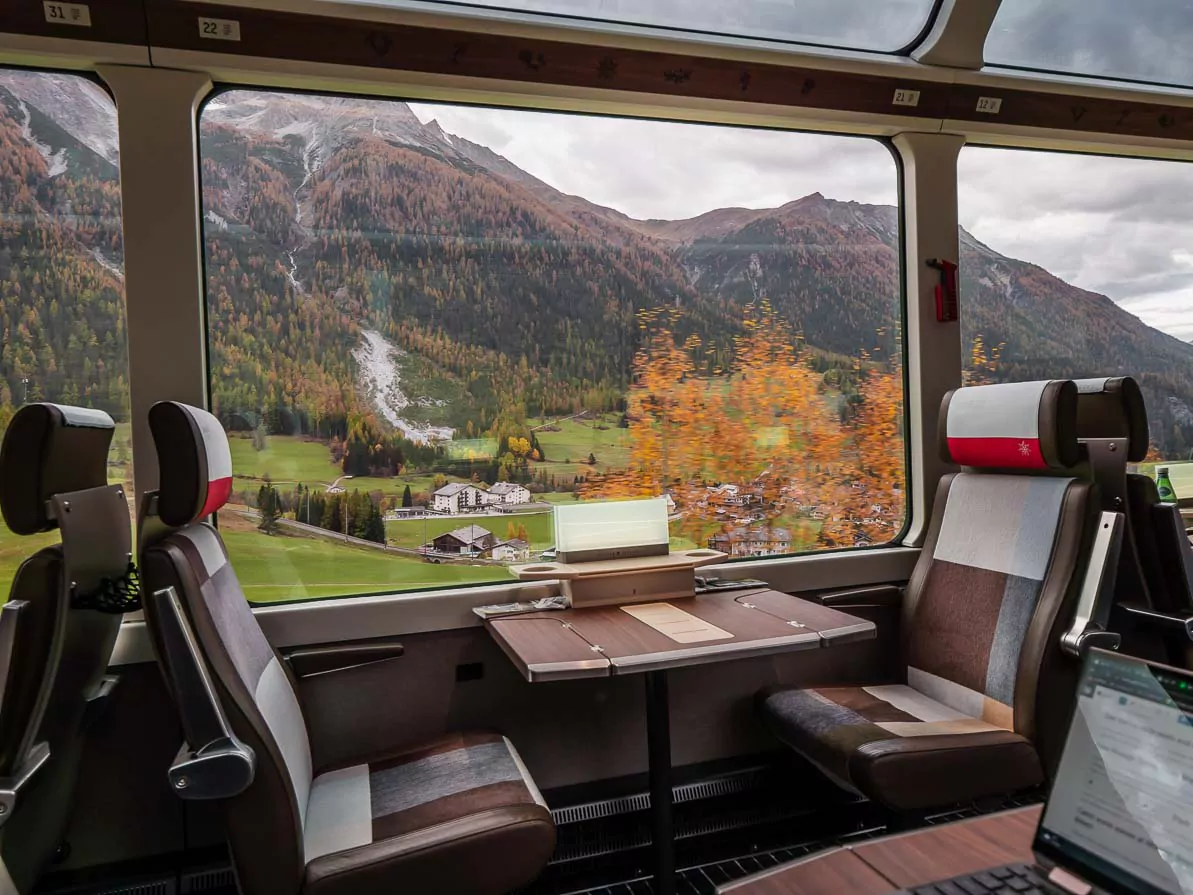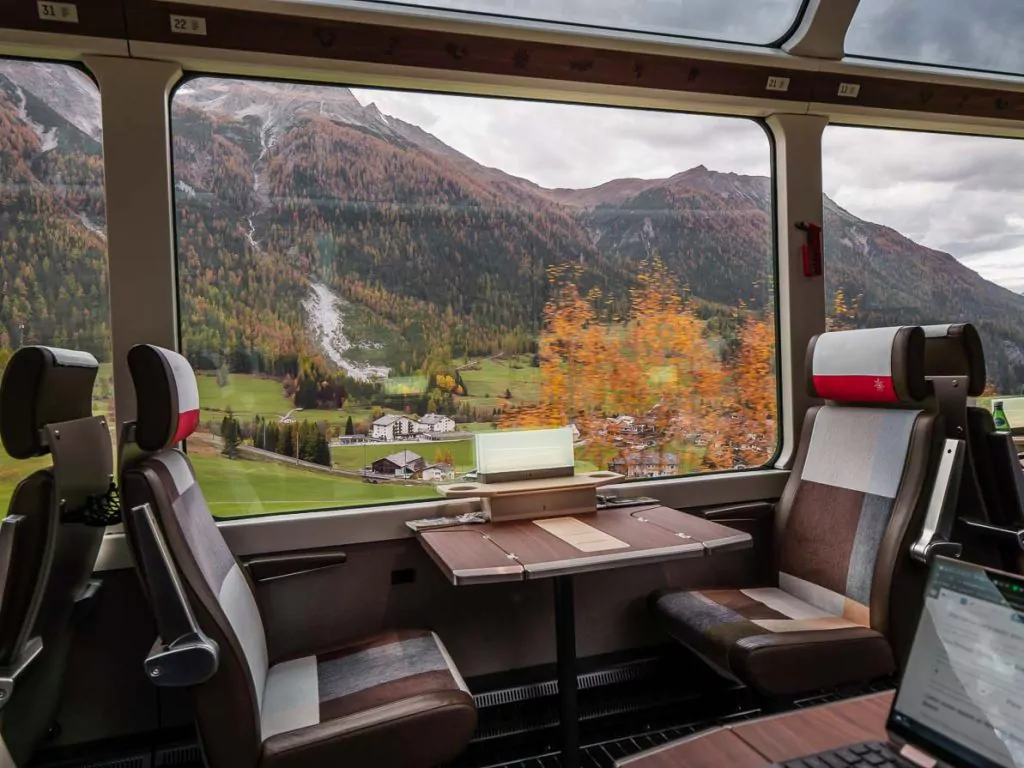 You can save loads by using a rail pass on this trip too. A normal ticket costs 152CHF in 2nd class and 268 in 1st class, then there's a seat reservation fee on top (for all customers, Eurail or not) which is 39CHF in winter and 49CHF in summer. With a Eurail Pass, an Interrail Pass or a Swiss Travel Pass you only pay the seat reservation fee and don't need to pay the ticket cost. That's a massive saving!
Note: At the time of writing (end of Dec 2022) the Swiss Franc (CHF) was fairly on par with the Euro, about 1.01EUR to 1CHF. The Euro has been quite unstable recently for obvious reasons though so it may have changed by the time you read this, I'd recommend checking the current exchange rate on Google to get a better idea of what these train tickets will cost you in Euro or in your own currency.
I have many more tips in my Glacier Express guide, including where to sit for the best views, how to purchase tickets, photo tips and more.
Seat reservation cost: €49.45 (keeping these summaries in Euros so I can add them up clearly at the end!)
Full ticket cost: €322.27
I saved: €272.49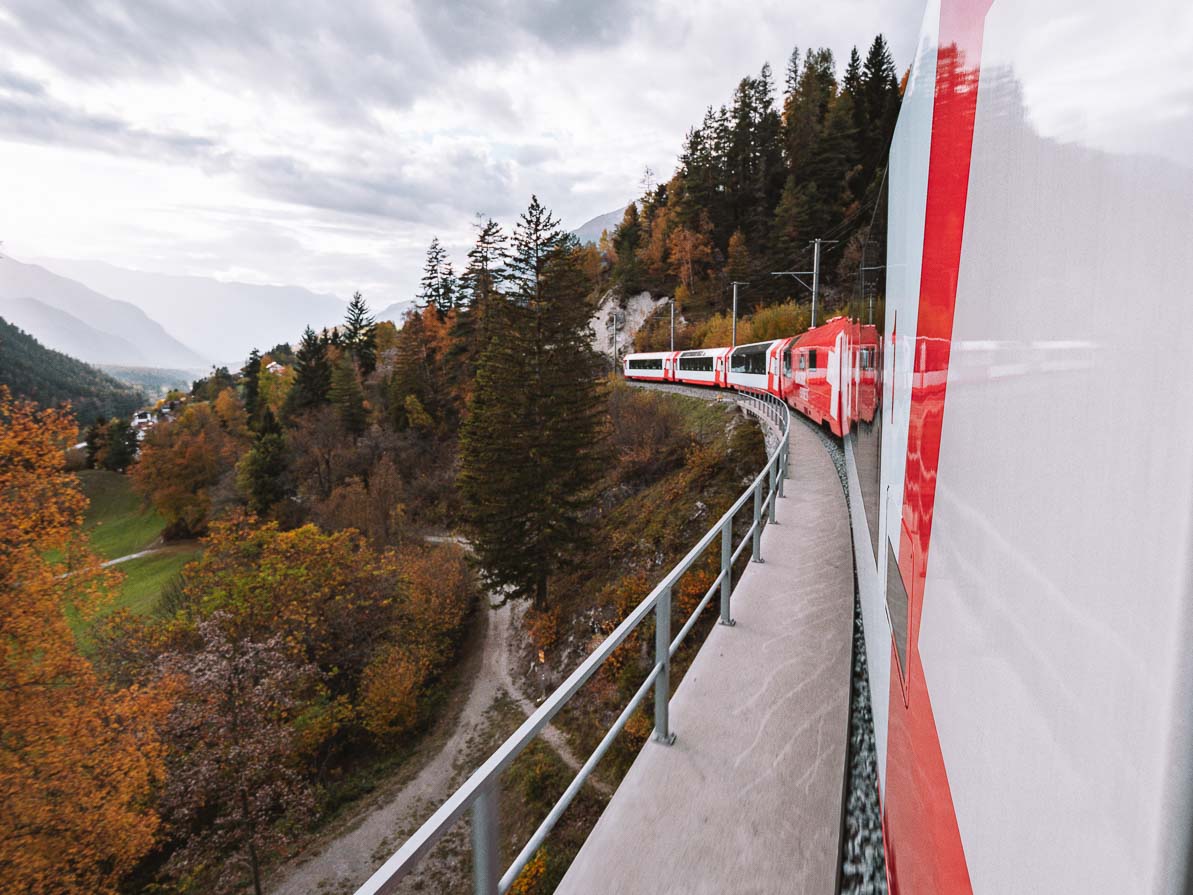 Why St Moritz?
St Moritz is a lakeside resort town that's known as the birthplace of winter tourism in Switzerland, and it's a hot spot for tourists looking for a luxurious alpine stay.
In winter it's one of the busiest ski hubs in Europe, with three major ski areas easily accessible from the town, and in summer it's a stunning, peaceful location to tick off some mountain walks, cable car adventures and fancy fondue dinners.
I had St Moritz in my Europe rail itinerary because it's a good overnight (or multi-night) stop between two of Switzerland's best trains, the aforementioned Glacier Express, and the shorter but just as stunning Bernina Express.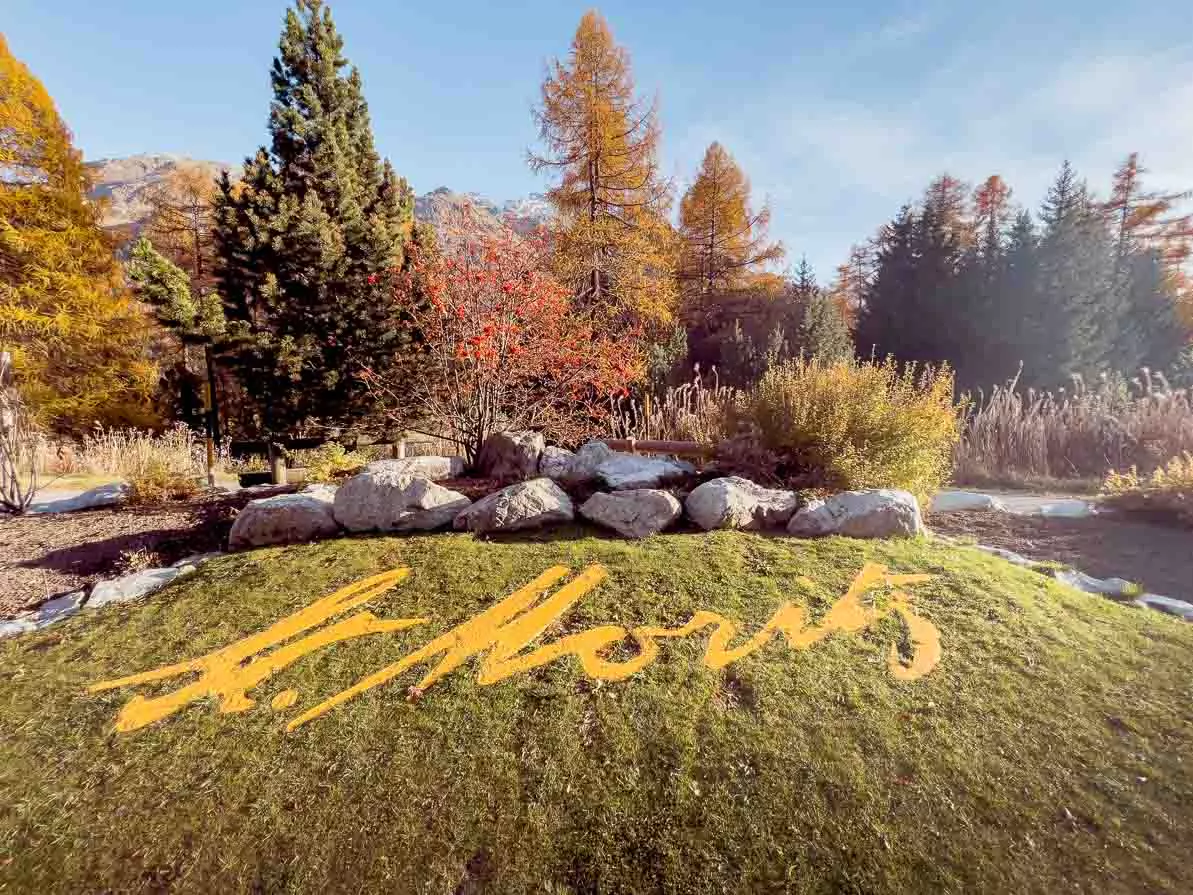 Where I stayed in St Moritz
In St Moritz I was lucky enough to have a once-in-a-lifetime accommodation experience for my two night stay, I slept in a historic observatory at Randolin's Berghotel!
The observatory dates back to 1924, and it still has a functioning turning mechanism as well as a roller window which makes it absolutely incredible for stargazing at night as well as enjoying mountain views in the daytime.
The room is cosy with a double bed, a huge heater to keep you toasty during winter, and then you've got a minifridge, kettle and private bathroom downstairs below the dome.
You also have access to the hotel's dreamy wellness area, complete with both indoor and outdoor pools, saunas, steam rooms and loungers overlooking the lake and mountains.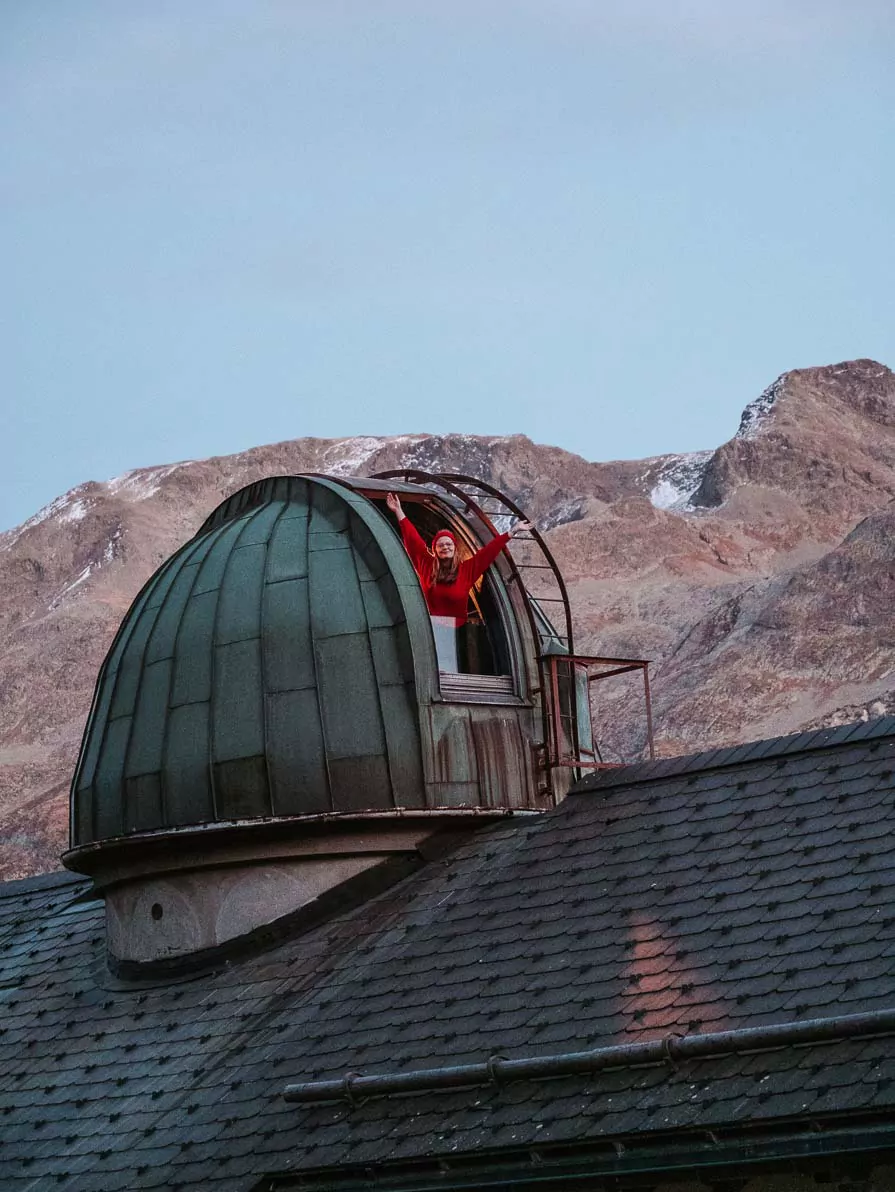 Things I did in St Moritz
Not much unfortunately as I only had one full day between my train arrival and departure, and I spent most of it shooting at the observatory rather than exploring!
I did walk down to the lake from the hotel which took about half an hour and was a gorgeous walk, then wandered around the lake for an hour or so just soaking up the views. The hotel provides a free shuttle throughout the day so I took the shuttle back home to avoid having to walk up the hill 🙃
If you have more time…
If you're visiting in summer there are a bunch of alpine hiking trails depending on your fitness level, ranging from short and easy waterfall and lake walks right through to more intense and longer treks through the mountain terrain.
I didn't manage to squeeze any in but the Poschiavo Val da Camp walk is on my list for next time!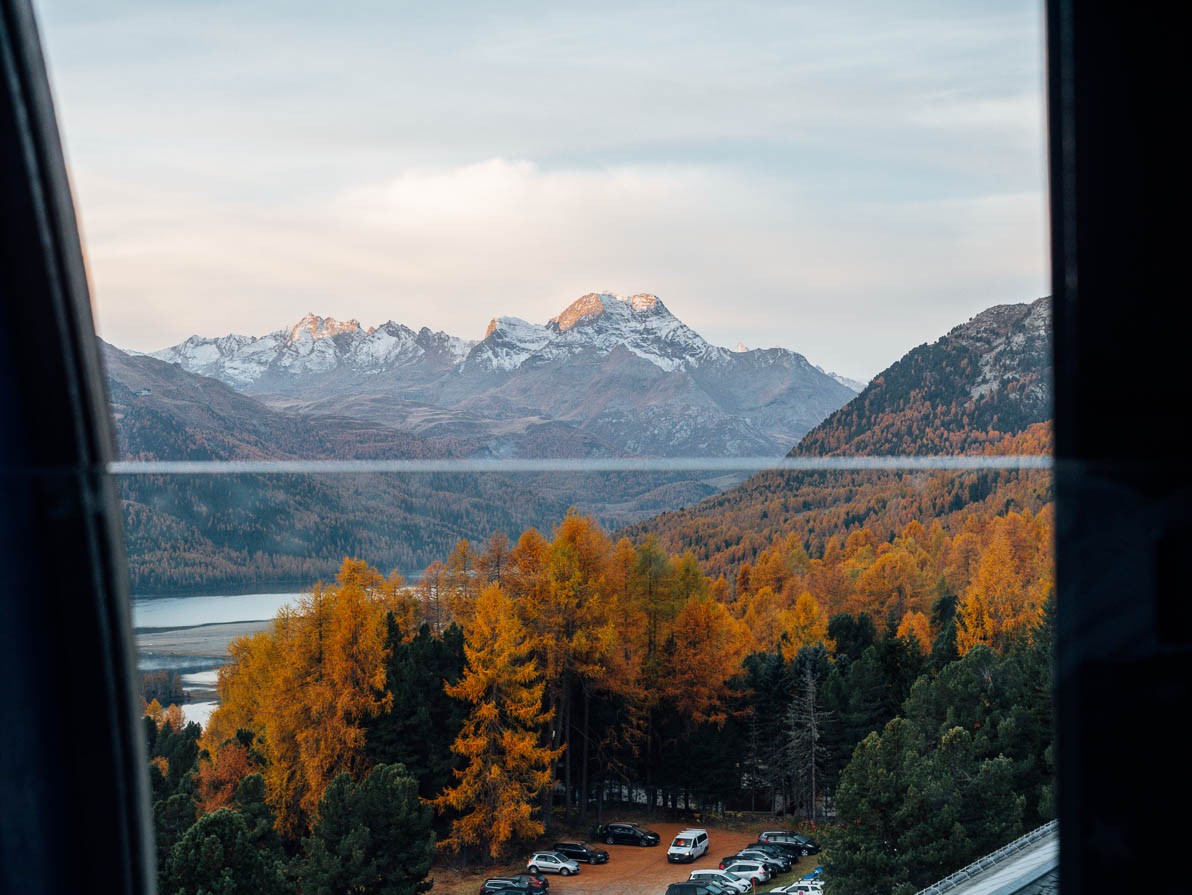 ---
Stop #4: Tirano
St Moritz to Tirano train details + tips
The Bernina Express is another bucket list scenic train journey, with a route from St Moritz to Tirano in Italy through tunnels, over viaducts and past glaciers.
The original Bernina Express actually starts in Chur and ends in Tirano (bypassing St Moritz) with a total journey time of 4h 13m, but the St Moritz to Tirano route is shorter at 2h 25m.
The Glacier Express train that I took from Zermatt to St Moritz also stops in Chur, so if you want to take the Glacier Express and then the Bernina Express, you could choose to do your overnight stop in either Chur or in St Moritz. I chose St Moritz because of the observatory, but Chur looks like a beautiful town too!
The Bernina Express pricing is more confusing than the Glacier Express, with different seat reservation costs depending on the month you travel as well as some cheaper options for regional train coaches that run the exact same route, but here's the details on what I paid.
The ticket price for the Bernina Express from St Moritz to Tirano is 56CHF for first class or 32CHF for second class, and the seat reservation fee (for all customers) for when I travelled in mid-October was 24CHF. With my first class Eurail pass all I had to pay was 24CHF, and I could reserve a seat in the first class cabin, saving me 56CHF.
If you want to know more about this train I've got a full Bernina Express 2023 guide for you coming soon!
Seat reservation cost: €24.20
Full ticket cost: €81.32
I saved: €57.12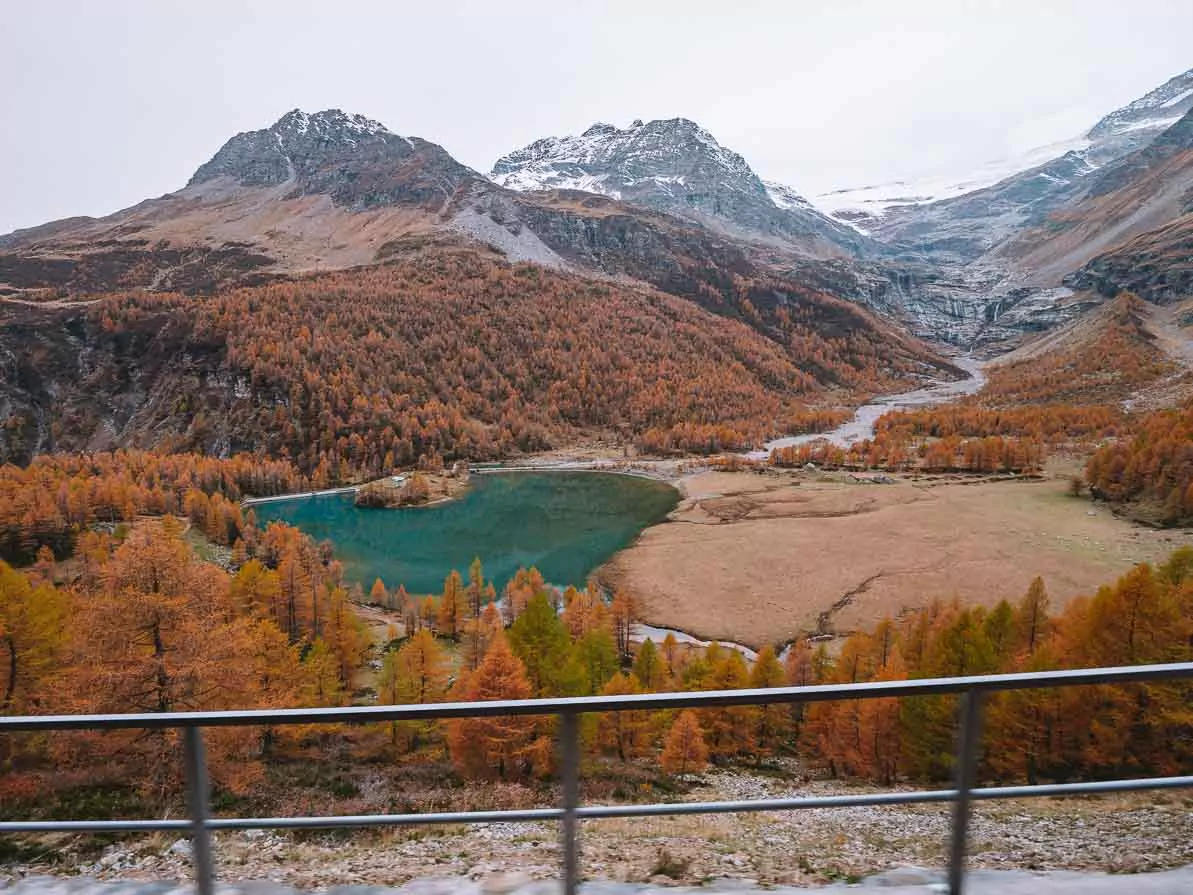 Why Tirano?
The Bernina Express ends in Tirano so you can either choose to switch trains to Milan (2h 30m), catch a connecting bus to Lugano or opt to spend a night or two in Tirano itself.
I reckon Tirano is totally worth at least an overnight stop. It's a quiet town surrounded by mountains with an interesting mix of both Swiss and Italian heritage, a stunning basilica (Santuario della Madonna di Tirano) and some budget-friendly accommodation and food if you need to give your wallet a rest after Switzerland.
Where I stayed in Tirano
I spent two nights in Tirano at a charming B&B called Ostello del Castello, where local tourism legend Andrea has restored his grandmother's house after it was abandoned for more than 50 years.
Now it's a well-equipped, comfortable B&B with spacious rooms, a rooftop terrace and just a short walk from some amazing wine bars and restaurants.
It's rated 9.6/10 on booking.com from more than 500 reviews so you know it's good!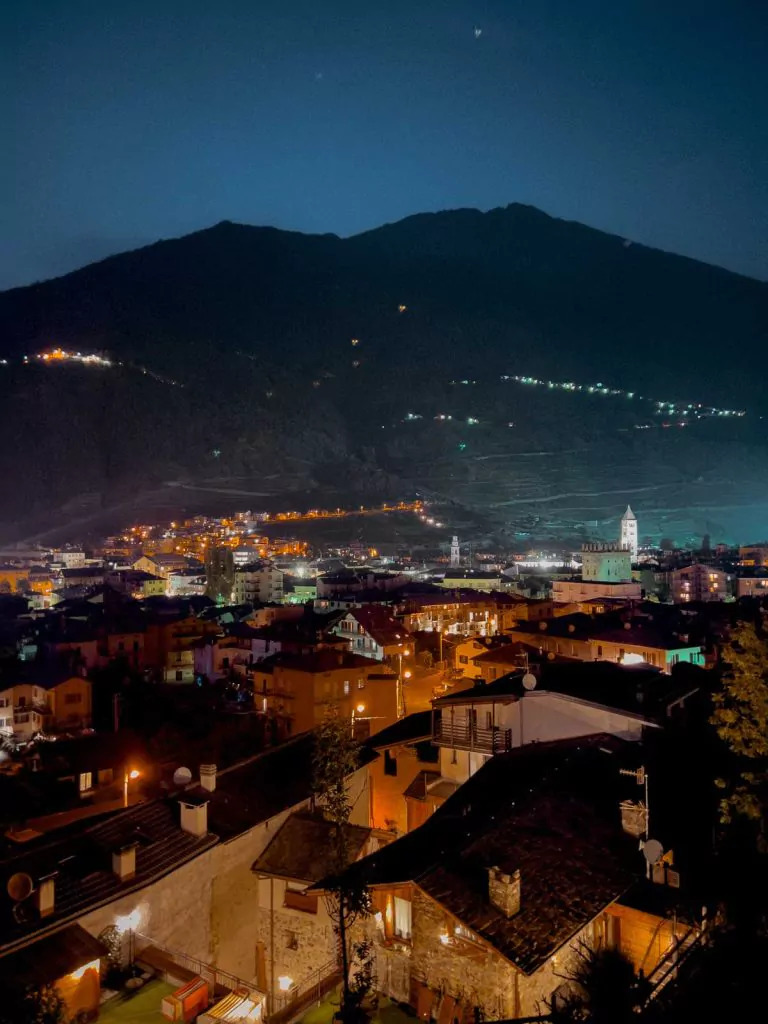 Things I did in Tirano
Ate good food! I had an incredible pizza at L'Hostaria Ristorante and some authentic pasta from the Valtellina region at Parravicini Restaurant
Walked from the B&B to the Basilica of the Madonna, a 16th century Renaissance-style church which is well worth a visit. It's free to enter but, as always with any religious building, keep quiet, dress appropriately and be respectful.
If you have more time…
Tirano offers easy access to a variety of great hiking and biking trails if you're keen to get outside, and there are some wineries tucked into the hills above the town which you can reach by foot or by car.
---
Stop #5: Milan
Tirano to Milan train details + tips
Direct train from Tirano to Milan took just under 2.5 hours and it was only €18 for first class or €12 for second class.
It wasn't worth me using a Eurail travel day for this (I only had 15 travel days on my pass so had to save them for expensive train tickets instead) so I just booked the ticket directly through the Trenitalia app.
Total cost: €18
Didn't use my Eurail pass
Why Milan?
Milan is one of the main transport hubs in Europe, with direct high speed trains running to destinations like Paris, Vienna, Zurich and Frankfurt as well as 1/2-stop trains to get to most other main European cities.
I've visited Milan a few times before (you can read my 2 day Milan itinerary for info from my previous trips) so this was more of a logistical stop to give me some time to work and update my existing Milan content.
Where I stayed in Milan
I spent three nights at Ostello Bello Grande, a brilliant hostel (rated 9/10 on booking.com from 4000+ reviews!) located just two minutes' walk from Milano Centrale train station.
There were no private rooms available by the time I booked so I stayed in a five bed female dorm, which was just a classic dorm room, but the hostel facilities are what really impressed me. They have a huge kitchen with free fruit (how cute!), super cheap breakfast, a rooftop terrace, work-friendly spaces and loads of fun events like pub crawls, karaoke and even speed dating.
Ostello Bello is an Italian chain with a bunch of other hostels around the country and they are consistently highly-rated, so if you're looking for a cheap and cheerful hostel to meet other travellers, this is a great option.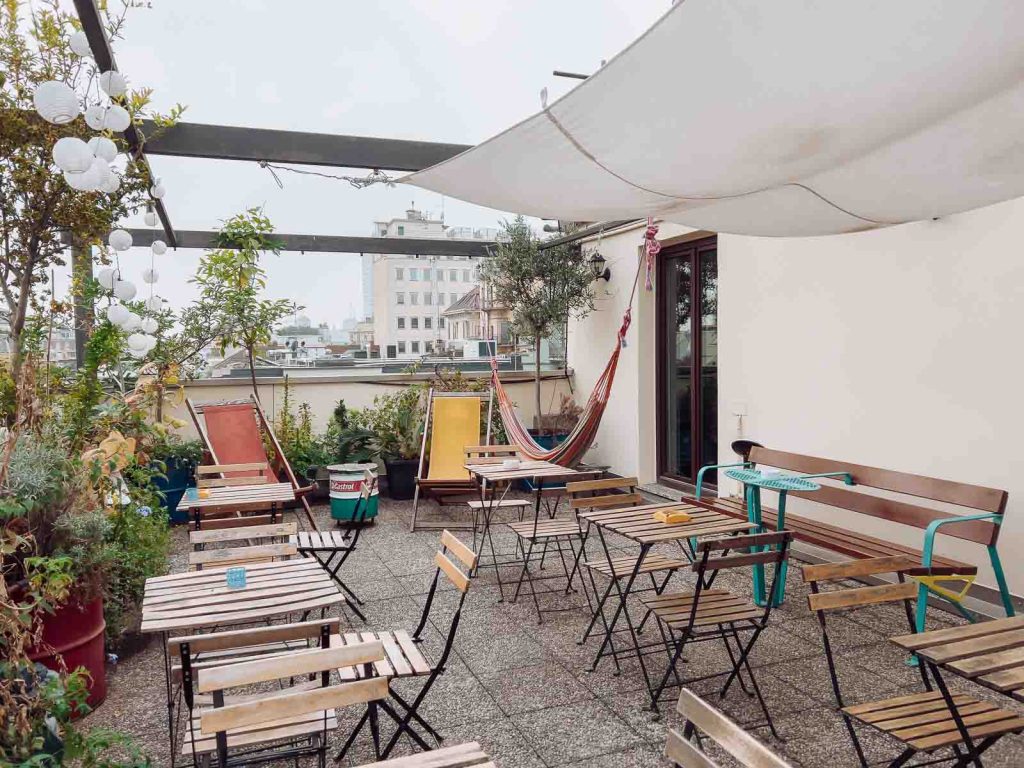 Things I did in Milan
Honestly, all I did in Milan was work! Unfortunately Italy doesn't have the same 'work from cafe' culture that some cities have, and many cafes have signs up saying that you aren't allowed to have your laptop at the table if there are other customers waiting.
Luckily I found the one place that does allow it, Starbucks Reserve Roastery near the Duomo! And I know what you're thinking, "Alexx, you can't seriously spend all day at a Starbucks in Italy!" and I'm telling you, yes I absolutely can.
The Starbucks Reserve Roastery is one of the fanciest Starbucks locations in the entire world, from the intricate façade (it's housed in an old post office building) to heated marble counters to wood-fired pizza, aperitivo and even coffee cocktails on the menu. And best of all, they have free WiFi and accessible plugs, so it's not surprising that it plays home to the city's digital nomads for hours on end.
I parked up in a cosy corner, ordered a drink every couple of hours and got a tonne of work done!
But if you're an actual tourist rather than a workaholic (like meee 🤓) then you can get a bunch of Milan ideas from my Milan itinerary.
If you have more time…
If you've got additional days to spare, Lake Como is a fantastic option for an add-on to Milan and it's only an hour to reach Como train station. Regional trains are super cheap on this route so it's not worth using a Eurail travel day (unless you have an unlimited pass of course).
---
Stop #6: Bolzano (the Dolomites)
Milan to Bolzano train details + tips
Milan to Verona (1h 23m), 22m wait, then Verona to Bolzano (1h 40m)
The Milan to Verona train was a fancy SBB (Swiss) Eurocity train with WiFi and it cost €12 for the seat reservation, the Verona to Bolzano leg was a regional train with no first class, no WiFi, no air con and no seat reservation fee.
Seat reservation cost: €12
Full ticket cost: €44.60
I saved: €32.60
Note: This probably wasn't worth using a Eurail travel day because it only saved me €32.60, I had more expensive journeys later in the trip that I had to pay for outright because I had run out of travel days. This is the difficulty of planning your route as you go, you can't really be sure which journeys will end up being the best ones to use your pass on! As a guideline you could divide your Eurail pass price by the number of days to get the 'cost' of each travel day and then make sure that the journeys you're using it for are at least as expensive, e.g. my Eurail pass was €671 for 15 days, meaning each travel day is worth €44.70. If using a travel day doesn't save me at least that much, then it's probably not a worthwhile use of the travel day.
Why Bolzano?
Bolzano is a gateway to the Dolomites, one of the best places to visit in Italy!
The Dolomites are hands down best explored by car so I'd highly recommend getting a rental if you can, but if you can't then Bolzano is a good hub to explore the region using local public transport.
Where I stayed in Bolzano
I spent three nights at a super interesting design hotel called Loom Hotel, whose name to the fact that it's a 'living showroom'. The hotel has been designed by a local architecture and interior design firm who use the rooms as examples of what they could create for other hotels around the world, and then uses those rooms as accommodation for visitors to Bolzano. Such a cool example of sustainable, efficient tourism!
It's a small boutique hotel with only 20 rooms but each room is totally different, using different colour schemes, building materials, textiles, layout and furniture. My room was super vibrant which I loved, but I also got to peek into a few other rooms which ranged from light and natural, to dark and romantic, to edgy and opulent.
One thing to note is that the hotel is out near the airport, not in the centre of town near other hotels. If you've got a rental car it's a great place because you won't have to deal with town traffic, Loom Hotel has parking on-site for €10 a day. If you're not driving then it's a 15 minute walk to the Bolzano Sud train station (lit by street lights at night but through an industrial area, not around any shops or hotels), or a 3 minute bike (the hotel has free bikes to use).
Things I did in Bolzano
Ate some of the best pasta of my entire life at Pastalab
Took bus #180 from Bolzano Station to the picture perfect Lago di Carezza (Karersee), it's a 45 minute bus and costs €4, or a 30 min drive if you have your own car. Sit on the right side for the best views!
And did another day trip by bus too, this time to Alpe di Siusi, an alpine area with a network of walking trails. I took bus #170 to the bottom of the Seiser Alm cable car, then got a €13.50 one way ticket to the top, walked 2 hours to the Ortisei cable car and paid €11.50 one way to go down the cable car, then caught the bus #350 from Ortisei back to Bolzano. Too easy! The walk up to Ortisei cable car at the end of the trip is quite steep for about 15 minutes and is totally unshaded, so if you aren't a keen walker you could do it the other way round which is more downhill than uphill.
If you have more time…
I've been to the Dolomites before so I didn't make the effort to go back to places I've already been, but some other must-dos for your Dolomites itinerary are visiting Lago di Braies, and trying some of the hikes at Tre Cime di Lavaredo and Seceda.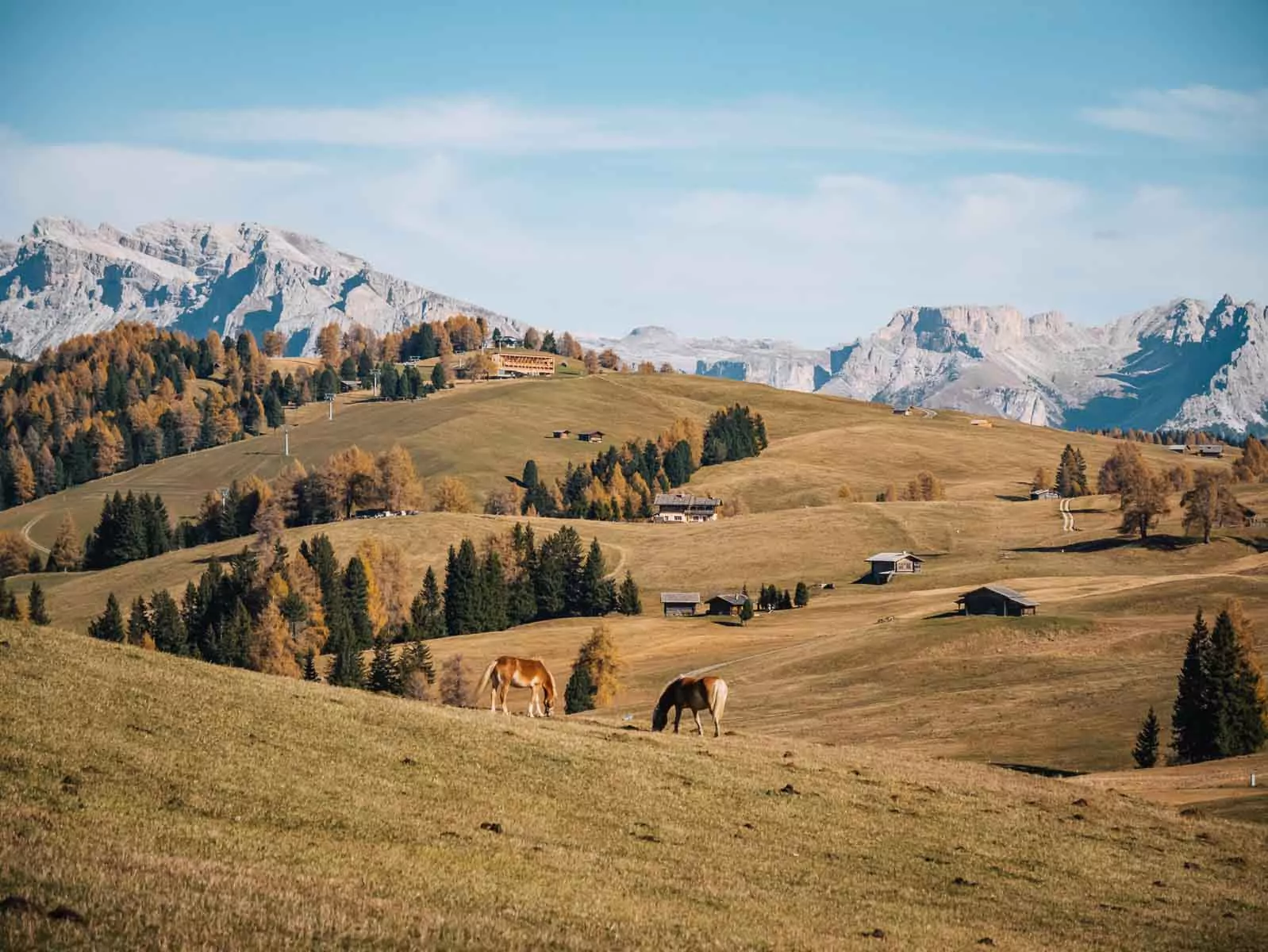 ---
Stop #7: Colognola ai Colli (near Verona)
Bolzano to Colognola ai Colli train details + tips
Bolzano to Verona (1h 28m), 24 min wait in Verona, Verona to Caldiero (16m), then I booked a transfer for them 10 min drive from Caldiero station to my villa in Colognola ai Colli.
These were short regional trains and the ticket was only €20.75 so it wasn't worth using a Eurail day.
Total cost: €20.75
Didn't use my Eurail pass
Why Caldiero?
This was another misadventure on my trip! I had planned to go to Florence for these few days but a collaboration fell through and by that stage the city was pretty much booked up and crazy expensive. A bed in an 8-bed mixed dorm was like €90 per night, that is insaaaane! I decided to move my Florence trip to December instead and find somewhere cheaper to replace it for these few days, somewhere I could cook my own food and get some work done.
I wanted to stay in Italy because I had to get to Lyon next, which was easiest from Milan, so I just used booking.com to search for self-contained accommodation in Italy under €75 per night, and it came up with a gorgeous villa near Caldiero station.
Where I stayed in Caldiero
My villa was called Villa Nichesola and they had a last minute discount available, so I booked three nights for only €72 per night (about 15-20% cheaper than their usual rate from what I can see).
It was the perfect spot for me to spend a few days catching up on work and planning the second half of my trip. I had a huge bedroom with the biggest bathroom I've ever seen, and I had access to a full kitchen as well as breakfast provided each morning. The village was very quiet and peaceful, there was a supermarket and some restaurants about 25 minutes' walk or a very short bus, but the bus system in villages like these is quite inconsistent as I found out.
In summer this place would be an absolute dream, with a huge pool, stunning gardens and events throughout the week. I would love to come back next summer with a group of friends and experience Villa Nichesola at its best!
If you have more time…
There's not a huge amount to do in this area except to enjoy the Italian countryside, but both Verona and Venice are easily accessible by train from Caldiero.
---
Stop #8: Lyon
Colognola ai Colli to Lyon train details + tips
This was a big travel day and I messed up the booking too which cost extra 🙃
Caldiero to Verona (32m), 6m wait
Verona to Milano Centrale (1h 13m), 1h 35m wait
Milano Centrale to Brig (1h 56m), 10m wait
Brig to Geneva (2h 24m), 22m wait
Geneva to Annemasse (21m), 32m wait
Annemasse to Bellegarde (37m), 19m wait
Bellegarde to Lyon (1h 21m)
PHEW. Seven trains in total! Lyon was actually an absolute fail for a number of reasons (more on that soon) but it was silly of me to try and fit it into this part of the itinerary as it was such a nightmare to get to. It would've made much more sense to include it around the time I was in Paris or Strasbourg instead.
Seat reservations should've cost €26 but I messed up and booked the seat reservation from Milan to Brig leg twice which cost an extra €13. Seat reservations made on Eurail.com are non-refundable, whereas if you reserve a seat directly with the train operator you may be able to get a refund for an unused reservation if you go to a ticket office. It was at this stage in the trip that I stopped using Eurail.com to make seat reservations and started using local operators where possible instead.
Seat reservation cost: €26
F*ck ups cost: €13
Full ticket cost: €210.80
I saved: €183.80
Why Lyon?
Lyon had been on my list for a long time because it's one of the best foodie cities in Europe, and I'm all about food when I travel! But unfortunately my plans were foiled once I had already booked my accomm and trains and then realised that I was there over a Catholic public holiday where literally everything was either closed or fully booked, so I couldn't do the food tours I had wanted to do and couldn't try any of the restaurants either.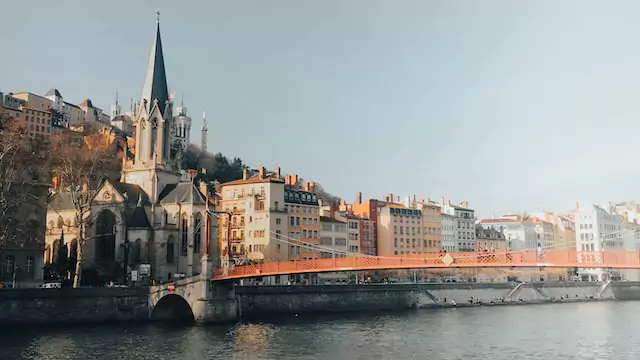 Where I stayed in Lyon
I stayed in in a tiny studio apartment at ResidHotel. The only positive about this place was that it was a short ten minute walk from the train station, but I wouldn't recommend it for any other reason. It was so dirty that if I had any other hotel options I would've asked for a refund and gone somewhere else, but that wasn't an option so I just had to deal with it.
I paid €85 a night which was a total rip off but that's my fault for accidentally visiting over a public holiday!
If you visit when it's not a public holiday…
Do a food tour! These are the three that were on my list: Vieux Lyon food tour, 3.5 hour local food tour, Secret Food Tour
Visit the Basilique Notre Dame de Fourviere
Wander around the Parc de la Tete d'Or
Explore the Vieux Lyon, Lyon's Old Town
Eat at some of France's best restaurants, some of the ones I had wanted to visit were Agastache, La Mere Brazier, Flair and Restaurant Opaline
---
Stop #9: London
Lyon to London train details + tips
Lyon to Lille on a high speed train (3h), 2h 10m wait (need to go through passport check for the Eurostar)
Lille to London on the Eurostar (1h 22m)
The Eurostar is another train where the Eurail pass is totally worth it. The Eurostar does offer some pretty cheap fares if you book weeks in advance, around €60 one way from Lille to London in 2nd class (maybe cheaper if there's a sale), but if you are booking within a week or two of departure the tickets could be as much as €170 more than that!
For this trip I paid for a high speed train reservation from Lyon to Lille for €22 (they're quite expensive in France) and then €40 for my seat reservation in 'Standard Premier' class on the Eurostar.
Seat reservation cost: €62
Full ticket cost: €260.00
I saved: €198.00
Why London?
I had a conference in London (World Travel Market, highly recommend it for other travel bloggers and creators!) and also had a bunch of friends to see that I haven't seen since I moved out of London three years ago.
Where I stayed in London
With friends for a few nights and then at a hotel near our conference, Premier Inn Canning Town. The room was fine for a short conference stay but it's nothing special, the free WiFI was terrible and you had to pay extra for 'high speed' WiFi which was almost as bad as the free one. I wouldn't stay here again.
Things I did in London
Visited Borough Market to try out the famous apple crumble at Humble Crumble, YUM
Played mini golf (a.k.a. crazy golf in the UK) at Putt Shack
Saw some of the Christmas lights that were up in the second week of November
Had my favourite dishes at Dishoom, an Indian restaurant with a cult following
Drank A LOT of cocktails at Mr Foggs Society of Exploration and Cahoots
Went up the Shard to get a drink at Hutong and enjoy the best view of London
---
Stop #10: Barcelona
London to Barcelona details
I flew from London to Barcelona as I was going for a work trip with my friend Dana a.k.a. Wandering Donut on Instagram.
Why Barcelona?
Dana and I needed somewhere to stay for five days to debrief from the travel conference the week before, as well as do some business planning for 2023 for The Wander Workshops, an Instagram coaching business that Dana runs and that I'm a coach for.
We wanted sun, sangria and cheap cocktails and Barcelona was the best option to fly to from London!
Where I stayed in Barcelona
We stayed at an Airbnb on Carrer Provença that had an epic view of La Sagrada Familia from its balcony, but the Airbnb isn't showing in the search anymore so I don't think it's available anymore.
Things I did in Barcelona
Had a fun cocktail night at Orient Express, where your cocktails arrive by train (literally!)
Ate tapas! I loved Ciutat Comtal and Restaurant Zed, and Sophie Gastrobar was also on my tapas hit list but I didn't have time for it
Visited Park Güell and Casa Batlló
Got some treats from La Boqueria market, got a delicious cinnamon bun from Demasie and walked to Parc de la Ciutadella for a lil picnic
If you have more time…
There's much more to do in Barcelona but I had been before so I didn't need to redo all the touristy bits. The obvious one is to visit the Sagrada Familia, you can't visit Barcelona without going inside! Barcelona also has some incredible beaches and long summers, a buzzing shopping district around Las Ramblas, and endless cafes, restaurants and bars to discover.
You could also look at doing a day trip to Montserrat, Sitges, Andorra or PortAventura World, Spain's biggest theme park.
---
Stop #11: Paris
Barcelona to Paris train details + tips
Barcelona to Paris direct on a high speed TGV train
Seat reservation cost: €48 (the most expensive seat reservation of the trip, a 2nd class seat would've cost €36)
Full ticket cost: €228.60
I saved: €180.60
Why Paris?
Because I'm obsessed with Paris and I always make the effort to visit when I'm in Europe.
I know that's a bit of a controversial opinion and that lots of people think Paris is overrated, but I totally disagree! If you're only doing the main touristy things like visiting the Eiffel Tower, seeing the Mona Lisa and maybe wandering through a few museums then sure, I can see how you'd get sick of the crowds and the scammers that hang around hoping to catch a traveller unaware.
But if you make an effort to explore more local neighbourhoods like the trendy Marais or the buzzing Latin Quarter, buy your bread and cheese from an authentic boulangerie and fromagerie rather than the touristic ones closest to the Eiffel Tower, and head to Jardin du Luxembourg or Jardin des Tuileries for a picnic, I can guarantee you'll have a better time.
Where I stayed in Paris
I spent four nights at People Nation, a hostel just across the road from Nation metro stop.
People is a French hostel chain with a focus on boutique, pod-style hostels in great locations. They've got four Paris hostels as well as one in Strasbourg where I also stayed, and four others around the country.
The hostel vibe was super cool, the staff were friendly and the pods were pretty perfect, with a curtain, plugs, a light, a shelf inside to put your phone etc. and a lockable storage cupboard under the bed (BYO lock or buy one from reception).
Unfortunately the hostel is missing an absolute hostel necessity in my eyes… There's no kitchen! Normally when I search on booking.com I check specifically to make sure there is a kitchen available but in this case I obviously missed this step so I was disappointed when I checked in and was told there's a restaurant and bar that serves breakfast and other food, but no kitchen. My own fault for not reading the details properly before booking.
I feel like a kitchen, or at least access to a fridge and a microwave, is an essential hostel facility. People who stay at hostels are on a budget already, and generally can't afford to eat out three meals a day in a city like Paris. I know they do it to increase their revenue at their own cafe and bar but to be honest it just feels a bit scammy to me and leaves a bad taste in my mouth. They also charge for luggage storage which is another eye roll for me.
10/10 for the hostel, 0/10 for the facilities. Would be totally fine if you were planning a short trip and wanted to eat out for all your meals anyway, but for someone like me who travels full-time and prefers to prepare my own food 50-70% of the time to save money and stick to a healthy routine, it's not a good option.
Things I did in Paris
I had just rejoined WeWork so I tested out four different co-working spaces around the city. My favourites are Le Marais and their Champs-Élysées location. (P.S. Click here to get one month free for WeWork All Access!)
Enjoyed a fun night out at the cabaret, I went to Paradis Latin this time and loved it! The pre-show was incredible with a mix of both French and English modern songs, then the show was totally in French but the singing, dancing, costumes and set design were mind-blowing.
Had a delicious brunch at Holybelly, my favourite brunch spot in Paris
Went to Galeries Lafayette for a spot of window shopping and to see the famous Christmas tree (it was put up in mid-November)
Tried the TikTok-famous croque monsieur from Faste, divine (and you can get a half-size if you're not so hungry or if you want to try two different flavours)
Visited La Grande Epicerie for the first time, a department store with a focus on gastronomy. They sell a huge range of culinary treats as well as having some sit-in counters, I grabbed a table at the Truffle Counter and had a mouth-watering truffle pasta dish for €21.
Saw some huge Christmas light displays down the Champs-Élysées
Ate a hot raclette sandwich from the Christmas market at Jardin des Tuileries
If you have more time…
If you have more time in Paris I have a huge Paris travel guide that lists alllll the best things to see and do from my previous trips.
A potential add on: Disneyland Paris
Disneyland Paris is easily accessible by train from Paris, and you could either do it as a day trip (if you don't mind an early wake up) or spend a night or two near Disney.
To get to Disneyland Paris you take the RER A to Marne-la-Vallée-Chessy. The RER A goes through five major Paris stations: Charles de Gaulle Etoile, Auber, Chatelet Les Halles, Gare de Lyon and Nation. These trains are counted as city public transport so they can't be used with your Eurail ticket, but the ticket price is only €5 each way anyway.
As a fast-moving solo traveller who used the single rider lines (of which there are many in Disneyland Paris!) I was able to see the whole park in just a day, but if you're a huge Disney fan, travelling with a group or a family and would prefer to slow down, a two day pass might suit best.
Where I stayed at Disneyland Paris
I tried out two different hotels near Disneyland which were both amazing for different reasons.
My first night was at Eklo Hotel, an affordable hotel that offers simple but comfy rooms and some great facilities (like a shared kitchen, some work-friendly spaces and arcade games) for an unbeatable price.
They have solo rooms for solo travellers so you aren't having to pay full price for a big room that you don't need, and they also have cool family rooms with bunks or private dorm rooms if you're with a group.
My second night was at the Hotel l'Elysee Val d'Europe, an ultra-stylish 4* hotel in the heart of Val d'Europe. They provide a free Disney shuttle for guests and they're just around the corner from the train station so it's a super easy option with minimal fuss.
The rooms are spacious and elegant, each room has a bathtub (perfect for relaxing after a hectic day at Disney) and they've got restaurants onsite which serve up a brilliant buffet breakfast, light café dishes, top-rated steak dishes and cocktails.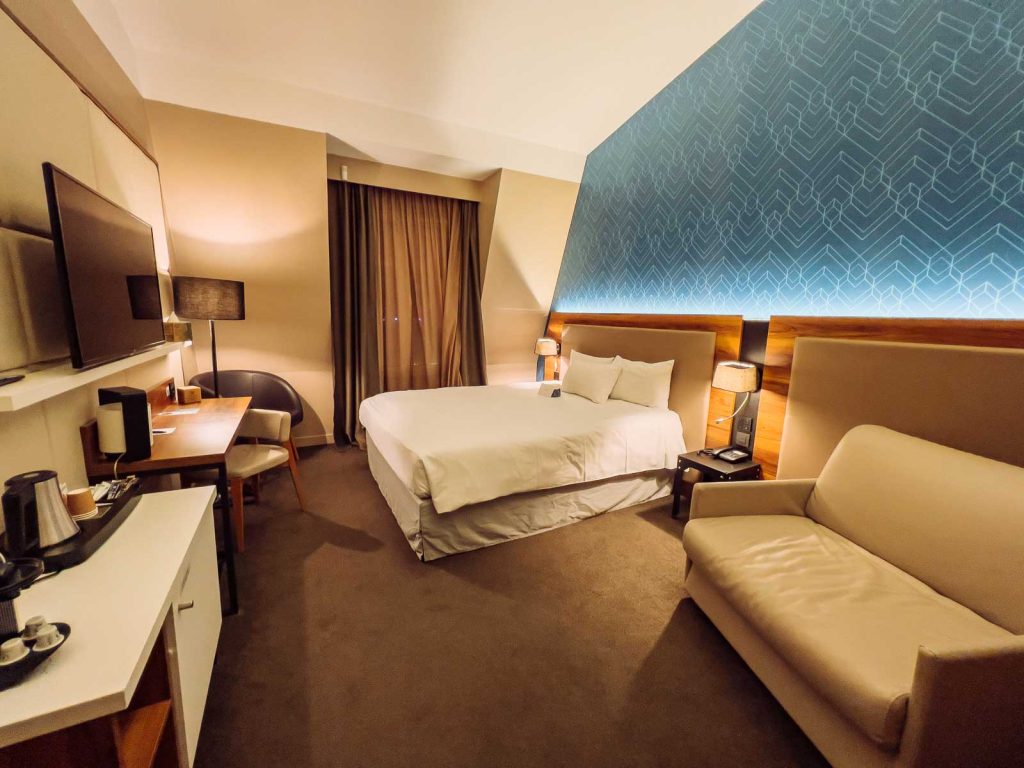 ---
Stop #12: Vienna
Paris to Vienna train details + tips
I couldn't do a two month Europe rail trip without trying out a sleeper train, so my Paris to Vienna route was the perfect opportunity. This sleeper train was the NightJet 469 and it had a few different options: a normal seat, a bed in a 6-bed cabin, a bed in a 4-bed cabin or a private sleeper (single or double available).
I booked a bed in a six-bed female-only sleeper cabin with a reservation fee of €41. The female-only cabin wasn't coming up as an option for me on the Eurail seat reservations tool and also wasn't an option when trying to book at a train station in Paris, but the option was available on the OBB website (Austria's national rail company) so I booked through there.
The train left Paris Est at 6.58pm and arrived in Vienna at 10.12am, so a total of 15h 14m on the train. Our six-bed cabin ended up only having four of us in it which was ideal and gave us extra storage space for bags. With six people (and suitcases!) it would've been absolutely rammed, so I'd recommend booking the four-bed cabin for a more comfortable ride if you don't want to splurge on the private room.
This train also included a breakfast with two bread rolls, condiments and a water bottle.
Seat reservation cost: €41
Full ticket cost: €134.00
I saved: €93.00
Prices of the other options: A normal seat ticket would've cost €94.90 (reservation only would be €16), a 4-bed full cost was €144 (reservation only €51), and a private cabin full cost was €239 (reservation only was €126).
Why Vienna?
Originally my plan after Paris was to start my Christmas markets rail itinerary with Strasbourg and do a bit of a circle from there through Austria, Hungary, Czechia and Germany, but one of the websites I was using to plan the trip (cough Eurostar cough) had published the incorrect dates for Strasbourg and the markets weren't starting until the day after I was meant to leave.
This meant that I had to fully reorganise the trip only a few days beforehand, and this is why this part of the trip is particularly messy!
Vienna is renowned for its incredible Christmas markets so I knew I had to visit and see them for myself.
Where I stayed in Vienna
My Vienna hostel is one of the best hostels I've ever stayed in, I can't recommend it highly enough.
It's called JO&JOE Vienna, part of the JO&JOE chain that also has two locations in Paris, one in Hossegor on France's southwest coast, one in Rio de Janeiro and one in Medellin, Colombia.
Their Vienna hostel is pretty much my dream hostel. I stayed in a private room which was comfy and super spacious, but their dorm rooms also look great, with privacy curtains on each bed, a little net for holding your phone and plugs/USB ports for easy charging.
They have a buffet breakfast as well as a diner-style cafe serving food throughout the day, and guests also have access to communal kitchen facilities. There's plenty of spaces to chill out, meet other travellers or get work done, and their events roster is filled with fun activities like sports games on the big screen, salsa dance class, karaoke and more.
I really loved the vibe here, it felt homely and comfortable, the staff were always kind and chatty, it never felt too hectic or too quiet, and the location is ideal for exploring everything Vienna has to offer.
I'll be back for sure, and I can't wait to try out other JO&JOE locations!
Things I did in Vienna
Christmas markets baby! I spent a every day wandering around the different markets, trying different foods and drinking a lottttt of gluhwein.
If you have more time…
This was my second time visiting Vienna but I've got a full things to do in Vienna blog post to give you ideas for your trip.
---
Stop #13: Budapest
Vienna to Budapest train details + tips
Easy direct train from Vienna to Budapest, 2h 25m and no seat reservation needed.
Seat reservation cost: €0
Full ticket cost: €79.90
I saved: €79.90
Why Budapest?
Budapest was recommended on a few different blog posts as one of the most affordable Christmas markets in Europe, but unfortunately I found that to be totally untrue this year.
Inflation is crazy in Hungary at the moment (22.5% YOY in November 2022) with food inflation sitting at a whopping 47% according to World Data, so I'd say the entire country is dealing with rising costs and therefore increased prices.
It's super important to remember that being a tourist is an extremely privileged position to be in, we can travel for fun and leave a country if it doesn't meet our expectations, so this is not a complaint at all and I have so much sympathy for the Hungarians who are dealing with this in their own country. But I wanted to share my experience here, and let you know that prices were much higher than I expected and were on par if not more expensive than other markets in Austria, Germany and France, so that you have an idea of what to expect if you're planning a Budapest trip.
Where I stayed in Budapest
My hostel in Budapest was my favourite part about this trip, it was so peaceful and relaxing! It was called Flow Spaces, it's a short walk from the Great Market Hall and has easy access to the trams and metro.
The hostel is light, bright and airy with both dorm rooms and private rooms, full kitchens, a dedicated quiet workspace for digital nomads and hang out space to get to know other travellers, as well as events throughout the week.
I stayed in a private room with an en suite and honestly could have stayed there for weeks, very comfortable with air con/heating, a big window for natural light and fresh air, and super fast WiFi (Budapest is one of the best cities in Europe for internet speed FYI). The dorm beds have curtains on the beds too if you're looking for a cheap stay but still want a good night's sleep.
Things I did in Budapest
Gasped at the prices of Christmas market food. Mulled wine was €3.50-€5, Kürtőskalács (chimney cakes) were €5 to €9 depending on the stall, and a full plate of food with sausages and veggies was around €12-15. These prices are significantly higher than my previous trip to Hungary in 2019, and I'm not sure if that's solely because of inflation or also because Christmas markets are just expensive. Either way, I found many other markets (Prague, Strasbourg and Cologne in particular) to be cheaper.
Visited Széchenyi Spa for the first time, I didn't manage to tick this off on my last trip! It was colddddd when I visited, sitting just a bit above zero degrees, so it was the perfect day for the hot pools. I will say huge hot pools are less fun solo, you can't really bring your phone or Kindle into the pool to keep you occupied (this is what I generally do at smaller hot pools or hotel pools haha) so I just spent a couple of hours resting my muscles and testing out the different pools before leaving.
Popped into the farmers market at Szimpla Kert ruin bar, the market runs every Sunday from 9am til 2pm and has a bunch of local suppliers selling everything from meats and cheeses through to candles and crystals
Had some amazing street food at Karavan, an outdoor food court with a bunch of food trucks serving up cuisine from all over the world
Got my favourite cinnamon bun *in the world* from arán bakery. Seriously, you HAVE to go there.
If you have more time…
Check out my suggestions for how to spend two days in Budapest to help you plan your full Budapest itinerary.
---
Stop #14: Prague
Budapest to Prague train details + tips
Direct train from Budapest to Prague, 7h 2m.
Seat reservation cost: €6
Full ticket cost: €144.60
I saved: €138.60
Why Prague?
To see another affordable Christmas market, and this time I was impressed!
Where I stayed in Prague
I stayed at a hostel called Brix Hostel in Prague for two nights, it was only €30 per night for a private room.
The hostel was quite a social hostel so would be best suited to social travellers rather than anyone looking for a quiet place to stay and work, they had some awesome events on and a bar that was absolutely buzzing. Unluckily for me my room was above the bar, so could hear karaoke night at almost full volume from the comfort of my bed 😂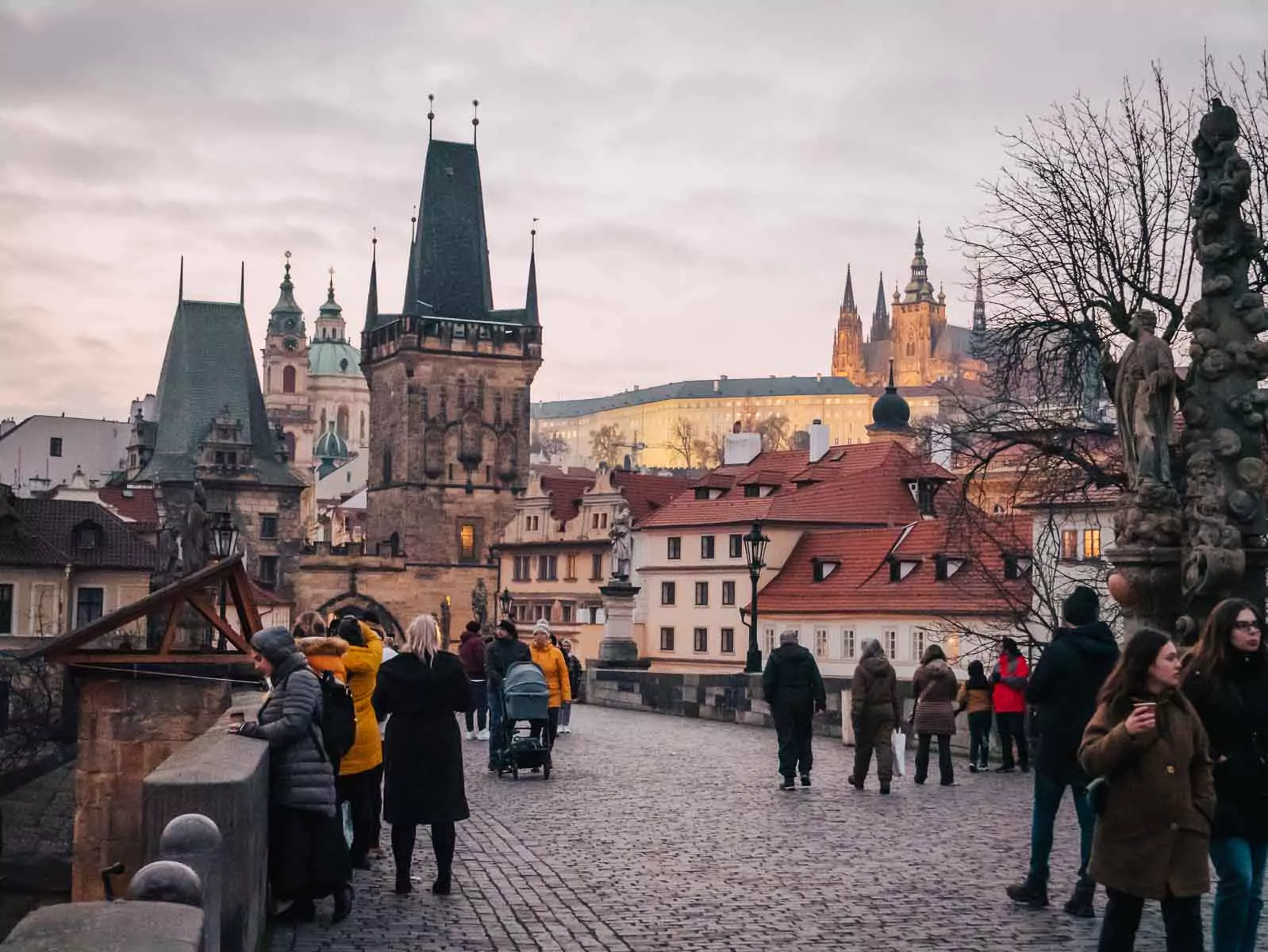 Things I did in Prague
Caught an Uber (so cheap in Prague!) to Prague Castle and wandered around the Christmas market stalls that were dotted around
Walked from the castle down to Charles Bridge and over to the Old Town
Saw the incredible Christmas tree and lights at the main market in Old Town Square, then walked to the markets in Wenceslas Square and Republic Square (Náměstí Republiky)
Enjoyed cheap food at the markets! The mulled wine was around €3-€3.50 so not super cheap, but I found the food was significantly cheaper than in Budapest.
I also had a brilliant pasta dinner at Gambero Rossi near Old Town Square, €10 for a big plate of pasta and an iced tea
Found a cool arts and crafts market down Havelska
---
Stop #15: Salzburg
Prague to Salzburg train details + tips
Prague to Linz (4h 2m), 21m wait in Linz, Linz to Salzburg (1h 11m)
This ticket was €47.80 in first class and if I'd used a travel day on my Eurail Pass it would've only saved me €44.80 (seat reservation would've been €3), I was running low on travel days (only 5 left out of 15) at this stage with some expensive trips coming up so I decided to just buy the ticket outright instead of using a travel day.
I could've got it cheaper in 2nd class, only €24.90 for a ticket, but I was being so productive on trains with 1st class tickets sitting in a solo aisle with no one beside me and I didn't want to risk a four hour train journey not having enough space to work!
Total cost: €47.80
Why Salzburg?
I'm becoming a broken record here but Christmas markets, obviously.
Where I stayed in Salzburg
I spent three nights at MEININGER Salzburg, a hybrid hotel/hostel chain with locations throughout Europe. I paid €31 per night for a bed in a 6-bed dorm, private rooms were too expensive!
What I love about MEININGER is that they're consistent across all locations so you know what to expect. They always have good transport links (Salzburg was right next to a bus stop or a 5 min drive from the main train station), they've got kitchens and washing facilities for guests to use, and they always have comfy beds and quiet rooms to ensure a good night's sleep.
Things I did in Salzburg
Markets, markets, markets!
Caught the funicular up to Hohensalzburg Fortress, €3.30 one way (I walked down). There were some cute Christmas markets up there and amazing views of the city.
Braved the crowds and spent the evening at the main Christmas market on a Saturday. Extremely busy, I'd recommend getting food early (before 5pm) or late (in the last half an hour) if you don't want to be standing in cramped lines for an hour.
Experienced a Krampus Run! Krampus is like an anti-Santa, he's a folklore legend who comes out at Christmas and scares children who have misbehaved. In some Austrian, German and other central European countries they have Krampus runs, where locals get dressed up in scary Krampus costumes and run through the main street hitting kids and adults alike with dried branches.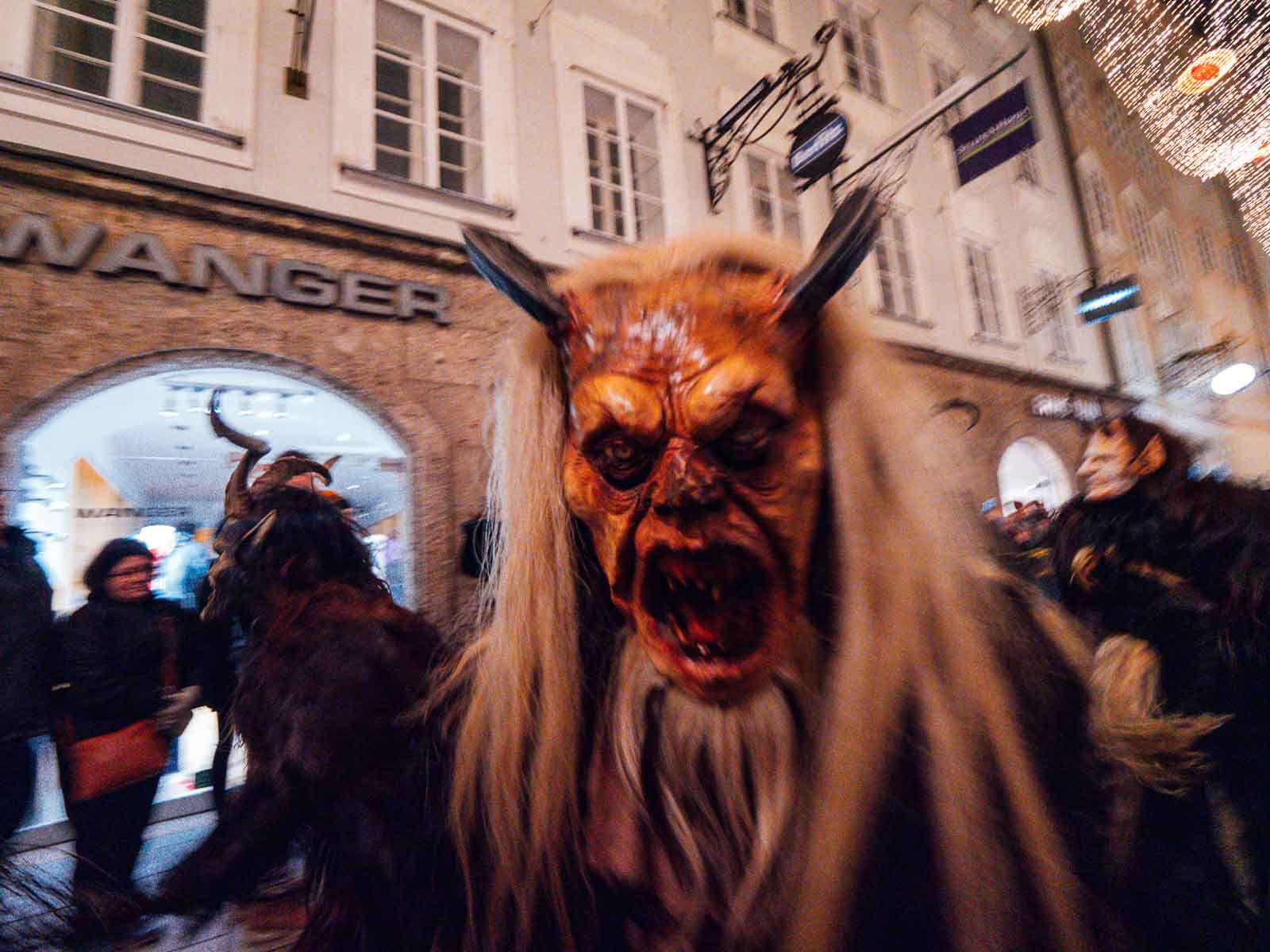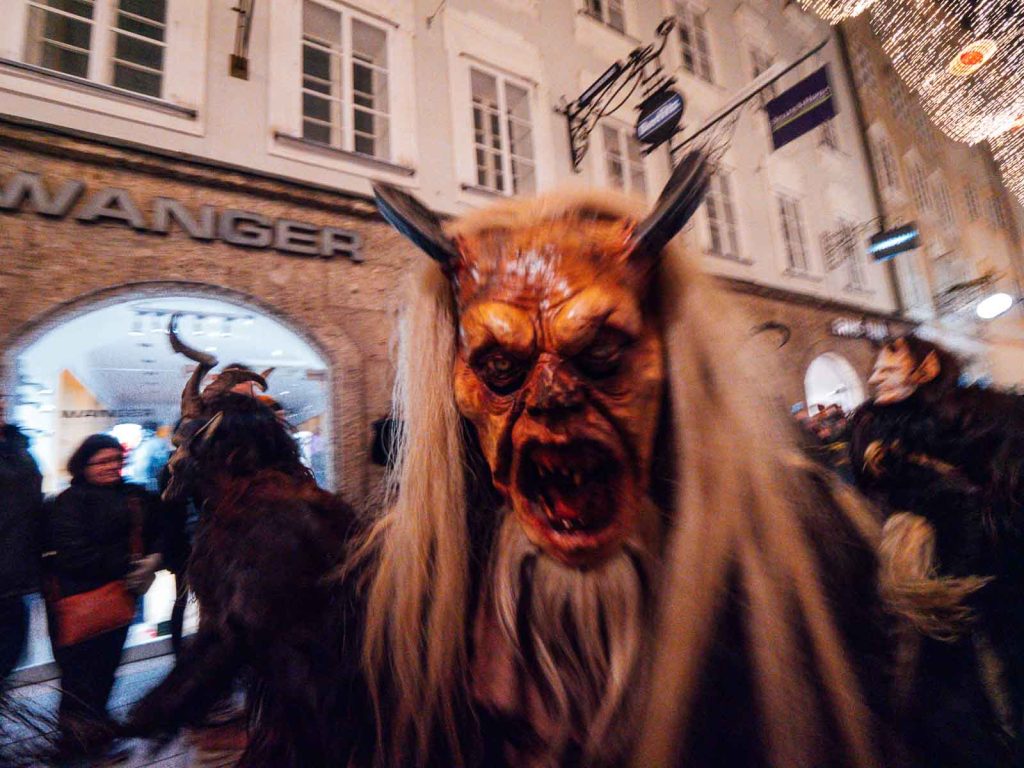 If you have more time…
There's lots to do in Salzburg that I didn't have time for, like visiting Schloss Hellbrunn, doing a Sound of Music tour, seeing the stunning gardens of Mirabell Palace, and visiting a bunch of Mozart-related spots.
Add on option: Innsbruck day trip
For one of my Salzburg days I actually took a day trip to Innsbruck which was 1h 45m by train. I used a Eurail travel day for this so here are those price details:
Seat reservation: €0
Full ticket cost: €146.40 return
I saved: €146.40
Because these trains had no seat reservation that meant I could jump on any train at any time of the day which was ideal as I wasn't sure what time I'd want to leave.
Innsbruck markets are absolutely gorgeous, I preferred them to Salzburg. They were still busy but they felt more spread out and more charming, Salzburg was still cool but it's such a commercial operation there where the same supplier might have five stalls dotted around the main market selling the same thing. Innsbruck felt like there was more of a variety and more authentic suppliers.
In Innsbruck I also went up the city tower which gives you an incredible view of the big Christmas tree in the main square, it's €4.50 and is a short walk up a windy staircase. And if you get peckish and want a sit down meal rather than some stall food, I highly recommend Alstadt Schmankerl for schnitzel!
---
Stop #16: Strasbourg
Salzburg to Strasbourg train details + tips
Salzburg to Stuttgart (3h 59m), 54m wait in Stuttgart, Stuttgart to Strasbourg (1h 20m)
This train journey had high seat reservation fees (€18) and it would've only saved me €40, so I decided to buy the ticket outright and save the travel day for a more expensive trip. I ended up booking a 2nd class ticket for €52.40, the 1st class seats were only in compartments which don't have tables and meant I wouldn't be able to work on my laptop comfortably anyway.
The 2nd class cabin was absolutely packed and there was barely any space for my big suitcase, I had to leave it sitting in the aisle with a cable connecting it to the rail so no one could run away with it! This experience proved to me that a 1st class pass was totally worth the extra comfort and space if you can afford it.
Ticket cost: €52.40
Didn't use a travel day
Why Strasbourg?
Because Strasbourg is the capital of Christmas 🎄
Every year almost two million people come here to visit the Christmas markets!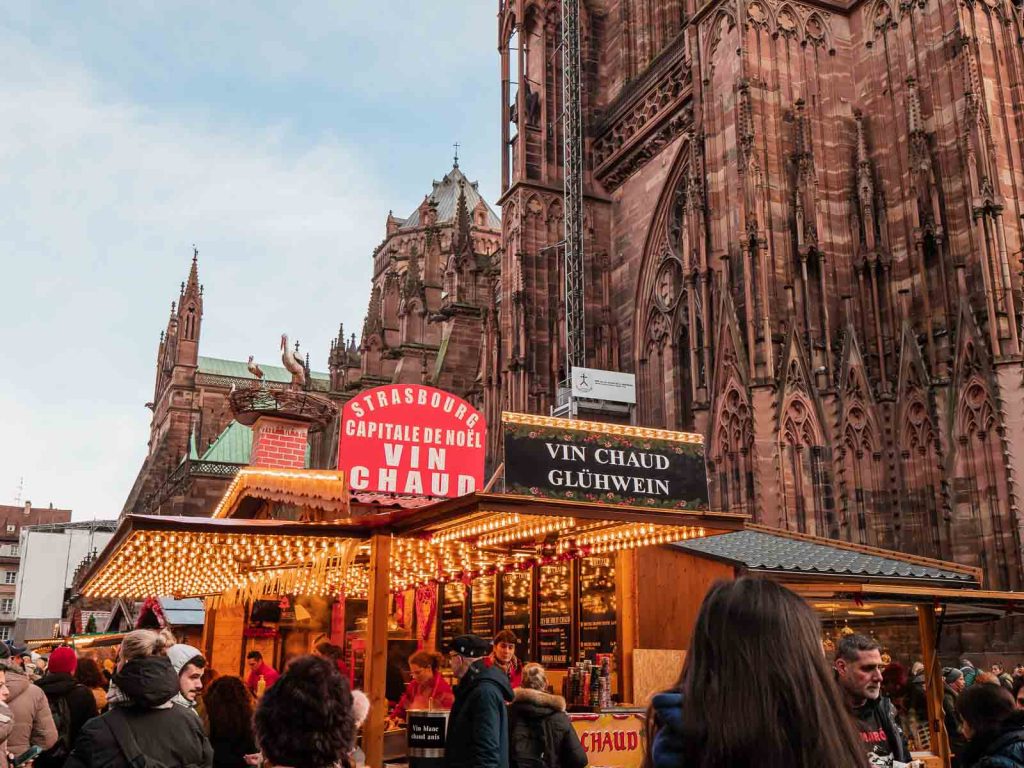 Where I stayed in Strasbourg
I spent two nights in Strasbourg at People Hostel, the same chain that I stayed with in Paris. Their Strasbourg hostel is equally as cool, with pod-style dorm rooms and a big downstairs area to chill out, eat and drink, but still no kitchen or laundry facilities.
I paid €42 per night for a bed in a six-bed female dorm, which was literally the cheapest option in the whole of Strasbourg. Hotels during the Christmas market season skyrocket in price, a private room at a very average hotel would've been €170+.
Things I did in Strasbourg
Tried tarte flambée, an Alsace specialty dish that's like a flatbread pizza. I was recommended to go to Binchstub by a local and it did not disappoint.
Wandered all around the Grande Île, an island where you'll find all the best Christmas markets as well as the beautiful Strasbourg architecture you've probably seen on postcards
Did an evening walk around the Christmas lights, different neighbourhoods/main streets on the Grande Île have different light displays
Add on option: Colmar day trip
On my second day in Strasbourg I took a day trip to Colmar, another Christmas market hot spot. Tickets were €14.10 each way and the train took 30 minutes.
The markets are about a 10 minute walk from the station and there are signs showing you where to go.
These were some of my favourite Christmas markets of the whole trip, and they were pretty cheap! €2.50-€3 for mulled wine, €2.50 for a sugar crepe or €3.50 for a crepe with toppings, €6 for a giant hot dog and there was even a gourmet food section of the markets that had a truffle risotto for only €11 (!!!) as well as other very fancy dishes for less than €14.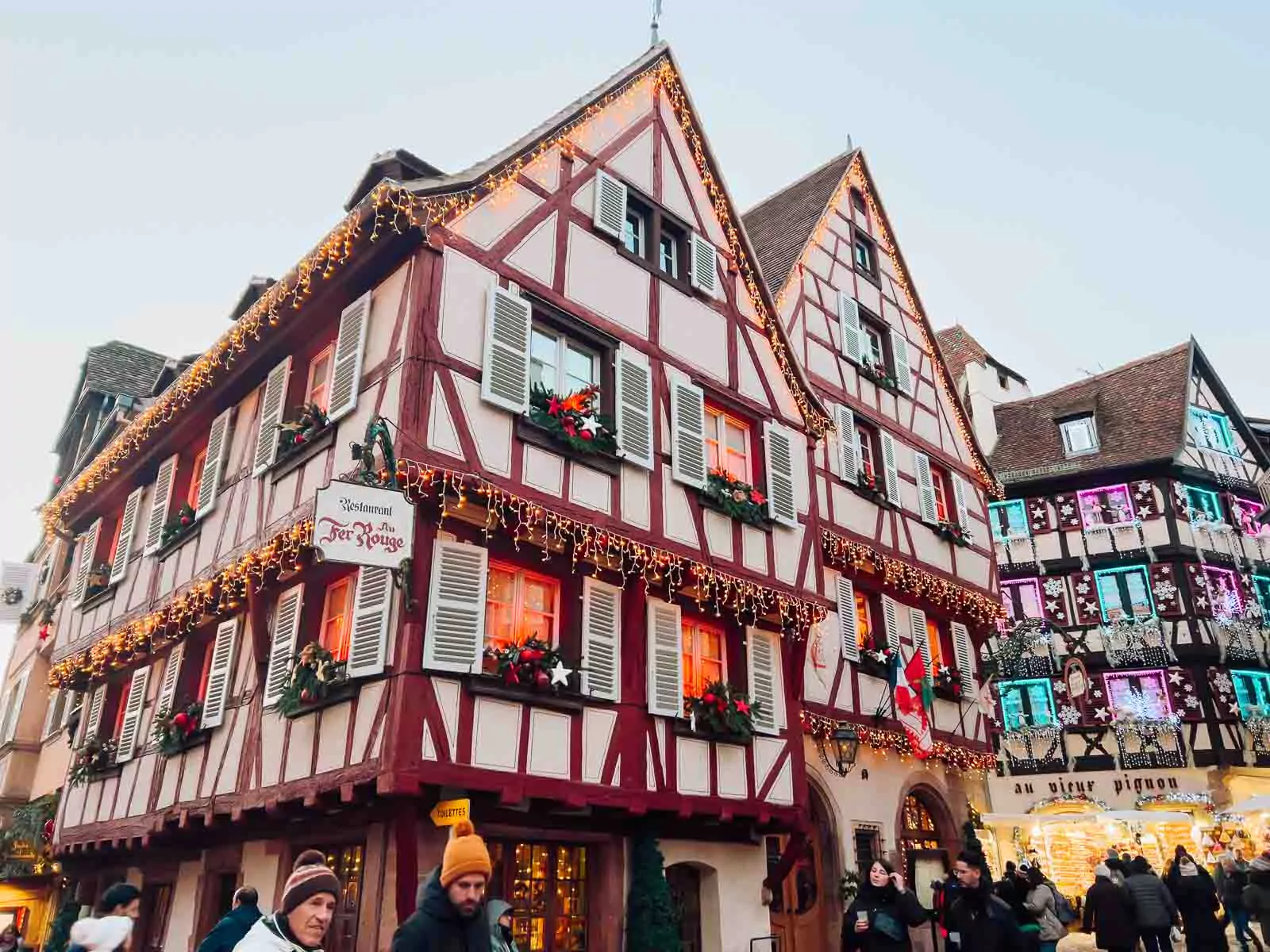 ---
Stop #17: Florence
Strasbourg to Florence train details + tips
Strasbourg to Basel (1h 17m), 20m wait, Basel to Milan (4h 12m), 30m wait, Milan to Florence (1h 54m)
Seat reservation cost: €27
Full ticket cost: €210.40
I saved: €183.40
Why Florence?
This was part of my initial itinerary muck up, where I had planned Florence for earlier in the trip but accommodation was all booked up. I ended up postponing it to the end of the trip where it really didn't fit the itinerary at all, but I had some things I reeeeally wanted to do (or more accurately, things I wanted to eat) so I had to make it work!
Where I stayed in Florence
I spent a few nights at a fantastic hostel called YellowSquare, a small Italian hostel brand with locations in Florence, Milan and Rome. This place would be SO cool to stay at during summer, they have a rooftop bar and pool!
I stayed in a private room with an en suite, it had loads of space and a desk which was ideal for catching up on work. The hostel has some awesome events like free pasta night, walking tours, beer pong competitions, movie nights and even an onsite cooking class, and there's also a guest kitchen and dedicated working spaces.
Things I did in Florence
Waited in line for a sandwich from All' Antico Vinaio Florence, the best sandwich shop in Italy
Visited the Christmas market but it was tiny compared to the all the others I'd been to previously, they aren't such a big thing in most of Italy (except for Bolzano in the Dolomites which is apparently very impressive!)
Got a delicious truffle pasta at Trattoria dall'Oste
Saw the stunning Florence Duomo
Took an Italian cooking class, which was so fun! We made two different types of pasta and tiramisu for dessert, and also got a mid-class snack of freshly baked bread with local meats and cheese.
If you have more time…
There is plenty to do in Florence to fill your itinerary but I had already been there so I didn't need to do the classic tourist attractions again. Some must-dos are seeing the Ponte Vecchio, going inside the Duomo, visiting the Uffizi Gallery, enjoying the view from Piazzale Michelangelo and seeing the real David statue in the Galleria dell'Accademia.
Add on option: Bologna day trip
I highly, highly recommend that you add a day trip to Bologna to your itinerary if you're visiting Florence, particularly if you consider yourself a foodie! It's just 38 minutes from Florence by high speed train (or 1h 25m on cheaper, slower regional trains) and it's known as one of the best cities in the world.
The best way to experience Bologna is a food tour with Mattia from Delicious Bologna (who has a perfect 5/5 rating on Google from 220+ reviews so it's not just me raving about it). Mattia is a passionate local who is extremely knowledgeable about the food of the Emilia-Romagna region, and shows you the best of the region's specialties over a 4-5 hour tour either during the day or in the evening.
I did the day tour which included an Italian breakfast, a visit to a traditional pasta making workshop, local meats and cheeses, a variety of pasta dishes for lunch, a taste of some craaazy expensive balsamic vinegar and topped it off with gelato.
I've done food tours all over the globe and this is by far one of the best, Mattia has chosen brilliant locations for the tour that aren't at all tourist traps, there was a lotttt of food but it was spaced out well so I never felt horrendously ill from overeating, and I learnt loads about the whole region and now understand much more about cured meats, IGP vs. DOP and Italian eating and drinking traditions. You can book a tour with Mattia at Delicious Bologna's website!
After the tour I just explored Bologna for a couple of hours, the city's architecture is super interesting with miles and miles of covered porticoes throughout the city, there are some great art and design shops (Fabrica Features was my favourite if you're looking for present ideas for anyone!), and there are leaning towers that lean significantly more than Pisa.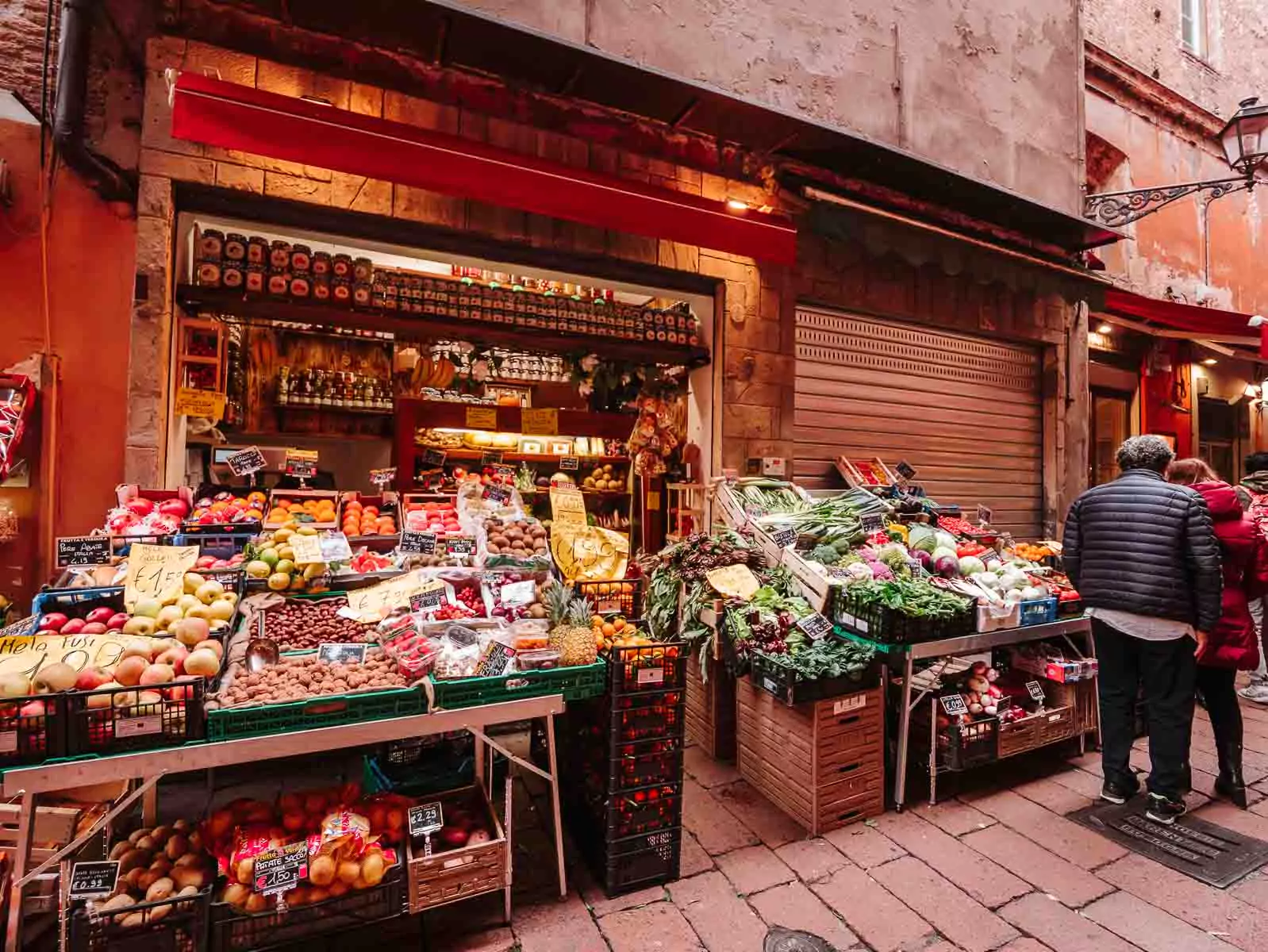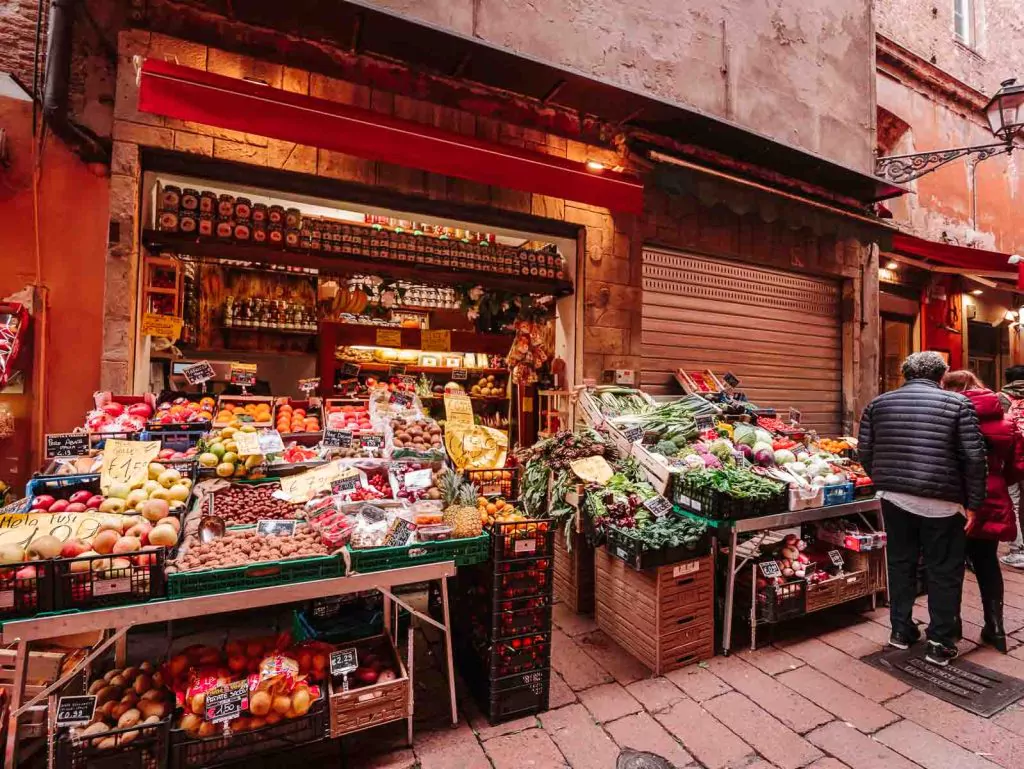 ---
Stop #18: Amsterdam
Florence to Amsterdam train details + tips
Another long day!
Florence to Milan (1h 55m), 30m wait, Milan to Frankfurt (7h 24m), 44m wait, Frankfurt to Utrecht (3h 31m), 24m wait, Utrecht to Amsterdam Amstel (20m)
The train from Frankfurt does actually go right to Amsterdam Central but I was staying at a hotel near Amsterdam Amstel station so it was easier for me to switch at Utrecht rather than go to the central station and then get to my hotel from there.
Seat reservation cost: €35
Full ticket cost: €228.70
I saved: €193.70
Why Amsterdam?
Honestly I don't really know, Amsterdam isn't particularly known for their Christmas markets (they only run for a few weekends and they weren't on when I was there in the second week of December) but I love Amsterdam's food scene and felt like a bit of a break from festive celebrations so it seemed like a good option I guess 😂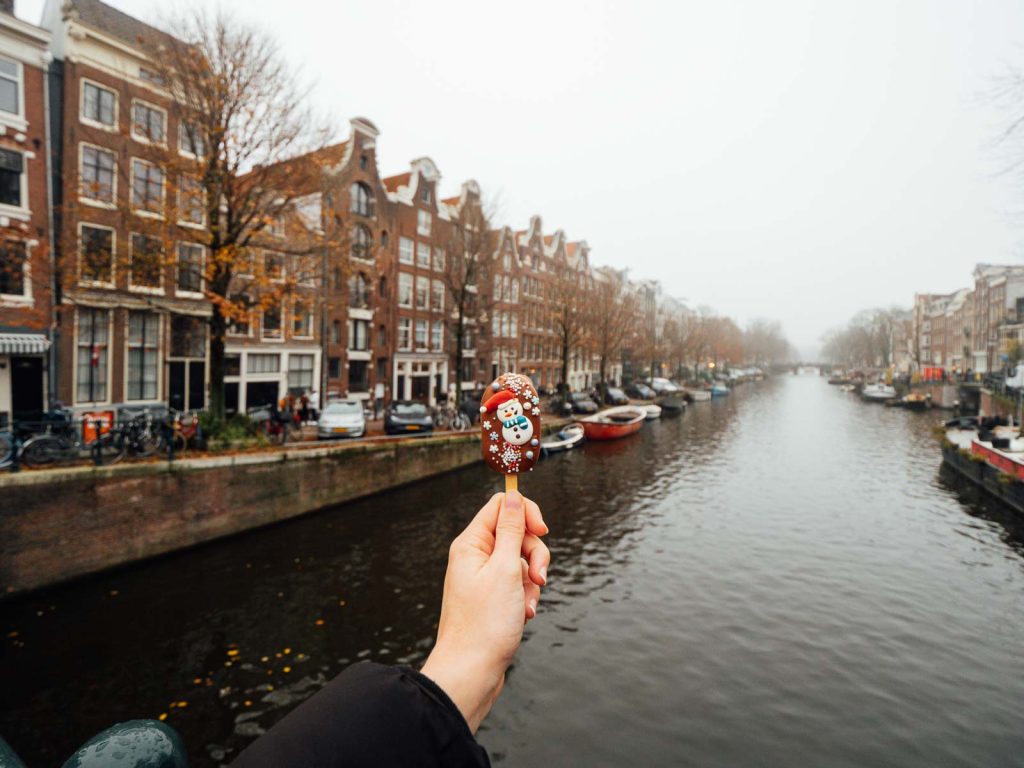 Where I stayed in Amsterdam
I spent three nights at another MEININGER (the same chain as my Salzburg accommodation), this time right next to Amsterdam Amstel station.
I booked a private room but when I checked in I actually had a family room all to myself, with a double bed and two bunk beds! This would be ideal for a family or for a group travelling together, for me it just meant I could spread my stuff out everywhere 🙃
The hotel had a huge common area downstairs with chill out space, a pool table, a bar, guest kitchen, pinball machine and dining tables, plenty of space to relax or get some work done. MEININGER hotels feel a bit home-away-from-home for me now which is a great feeling when you travel full-time and don't have much routine in your life!
Things I did in Amsterdam
Ate a tonne of good food! Brunch at Lobby one day and then Little Collins the next, an Instagram-famous cake pop from Polaberry, dinner at Box Sociaal to name a few worthwhile options
Window shopped for hours, I looooove the homewares and design stores in Amsterdam and it hurts my soul to visit them without having a home to buy things for! I'll come back when I finally buy a house (which will be in 2040 at this rate)
Visited the ice rink in front of Rijksmuseum but there were too many children so I left haha
Saw some lights from the Amsterdam Light Festival which happens annually in December/January, but I wasn't that impressed. You can buy the walking map from the official website for €7.50, I stumbled across some of the installations while walking home from a WeWork and I kind of followed the canal to see more. The best way to see the lights is supposedly by boat cruise but tickets were €26.50 and they didn't have great reviews so I decided to pass.
If you have more time…
This was my third visit to Amsterdam so I didn't need to do any of the touristy stuff but I'll be working on my Amsterdam city guide in the coming weeks and will link it here once I'm done!
---
Stop #19: Frankfurt (via Cologne)
Amsterdam to Frankfurt train details + tips
Amsterdam Amstel to Utrecht (19m), 13m wait, Utrecht to Cologne (2h 17m)
Got off in Cologne, stored my luggage at the train station and spent a few hours wandering around the Christmas markets, then Cologne to Frankfurt (59m)
Seat reservation cost: €5.90
Full ticket cost: €123.90
I saved: €118.00
Why Frankfurt?
There were a few different German Christmas markets I wanted to go to but accommodation was limited in the smaller cities/towns, so I decided to base myself in Frankfurt instead.
This plan fell through a bit because my visits to Nuremberg and Rothenburg were impacted by train strikes and cancellations so I wasn't able to see them in the end, but I still managed to tick off Cologne and Frankfurt.
Where I stayed in Frankfurt
Another MEININGER, this time near the Frankfurt Airport. The hotel includes a free airport shuttle (there's a train station at the airport too which is where I arrived to from Amsterdam) or you can catch the metro just one stop and walk five minutes to reach the hotel.
I had another private room at this MEININGER, this time a corner room that overlooked a park which was covered in snow when I woke up in the morning! Winter wonderland.
The common areas at this hotel were smaller than the other MEININGERs I've stayed at but they still had a breakfast room, guest kitchen, laundry facilities, a bar and some work-friendly areas.
Things I did in Cologne
Stored my luggage when I arrived at the train station. It cost €6 for a locker and I needed two lockers to fit my suitcase, hard-case carry on and backpack.
Spent about four hours walking between the markets in Cologne, they were incredible!
Had a drink of gluhwein with a flaming cone of rum-covered cinnamon sugar over the top, so it melts and drips into the drink. Delicious.
Ate a bunch of market food, I particularly loved the 'handbrot' I had, which is a bread filled with melted cheese and ham
Listened to some live Christmas music under the giant Christmas tree and web of lights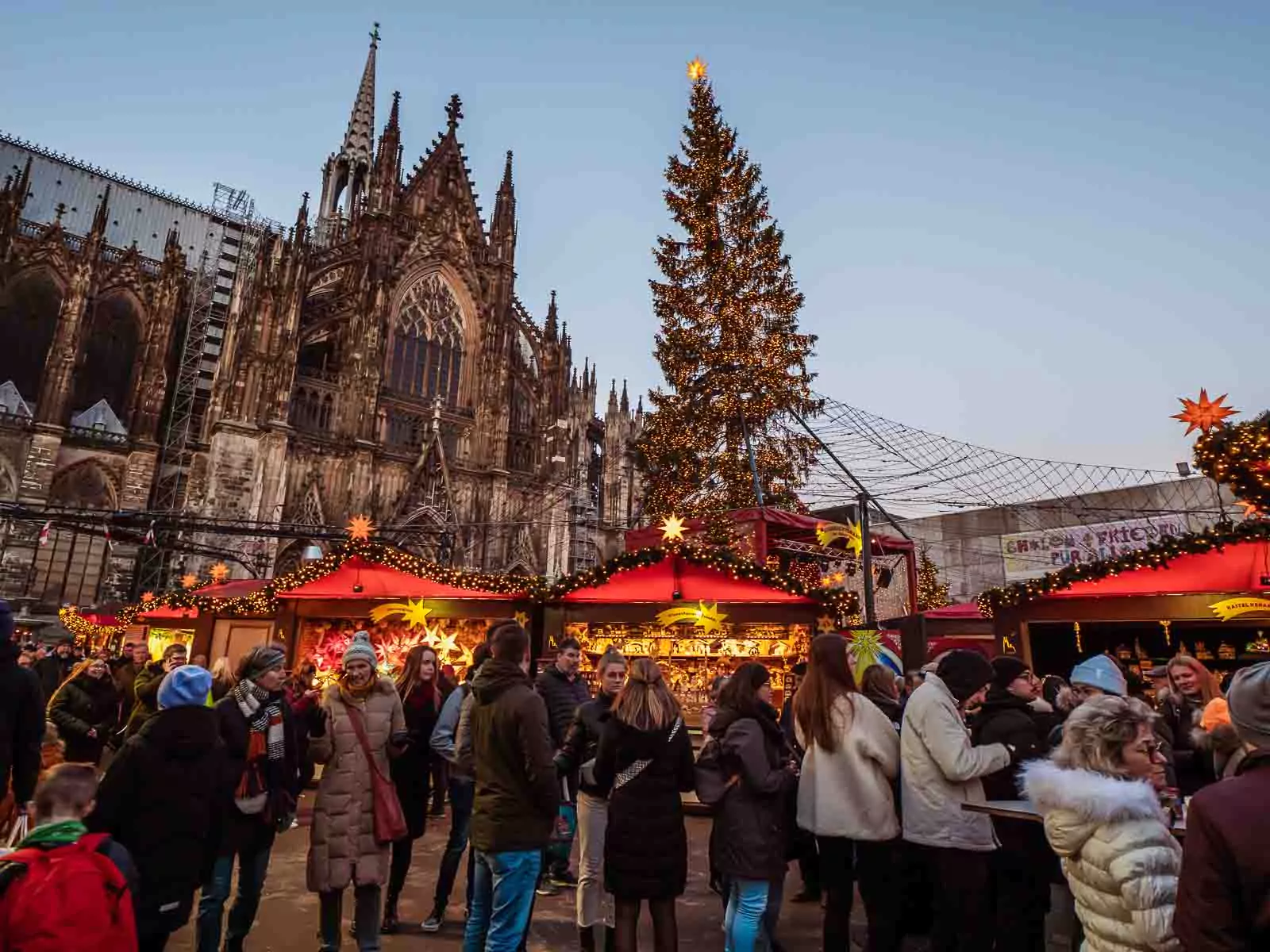 Things I did in Frankfurt
Worked a lot, there was a brilliant WeWork office in Frankfurt and I had deadlines to meet so I had three great workdays
Enjoyed the first proper snow of my Christmas market trip
Wandered through the Christmas markets during my lunch and dinner breaks. The Frankfurt markets are really big and much more multi-cultural than others I've been to, I saw a Peruvian food stall, Spanish paella, bao buns and even Moroccan tagines. Not the 'authentic' German-style markets but I loved the variety!
If you have more time…
Frankfurt is more of a commercial city than a tourist hub but there are still plenty of things to see and do to keep you busy. There are some beautiful botanical gardens (Palm Gardens), Alte Oper is an impressive 19th century concert hall, Städel Museum is home to one of Germany's most impressive art collections, and Kleinmarkthalle is an indoor food market with local meats, cheeses, spices and more.
---
Stop #20: Copenhagen
Frankfurt to Copenhagen train details + tips
Frankfurt to Hamburg (5h), 40m wait, Hamburg to Copenhagen (4h 40m)
Seat reservation cost: €5.90
Full ticket cost: €91.90
I saved: €86.00
Why Copenhagen?
Copenhagen was the perfect end to my two month Europe adventure! A friend of mine from London was heading to Copenhagen for a concert and asked me if I wanted to meet her there, and it perfectly coincided with the final day of my two month Eurail pass so it seemed like the best way to wrap up the trip.
Where I stayed in Copenhagen
We stayed at an EPIC hostel called Next House, another one that's made it onto my list of the best hostels I've ever stayed in.
My friend and I booked two beds in a 4-bed female dorm with a (very small) en suite, the beds are comfy pod-style bunks with plugs/lights/a little storage hub for your stuff while you sleep, but unfortunately they don't have curtains. The top bunk is only open at one end though (compared to the bottom bunk which is open along one side) so the top bunk would be darker/quieter. The dorm room and was definitely a tight fit for four girls with big suitcases, but where this hostel truly shines is its facilities.
Aside from a pool (not so necessary in Copenhagen anyway!), Next House has the best selection of facilities out of any hostel I've ever been to. They have everything you'd expect from a hostel, hang out areas, a kitchen (kitchen access is an add-on and it costs 20DKK/around €2.70 for the whole stay), laundry facilities (20DKK per wash or dry), multiple bars and a breakfast buffet that includes a DIY toastie station.
Throw in a rooftop garden, board games, arcade games, an eight-player beer pong table, a dedicated solo traveller meet-up area, an indoor sports arena (!) for dodgeball or a mini football game complete with a spectator area, a well-equipped gym (20DKK extra), a daily pizza buffet that gives you two hours of all-you-can-eat pizza for only 99DKK (€13.33), a yoga room (20DKK per hour-long class), a cinema that fits 30 people and bikes for rent (125DKK/€16.80 per day) and you've got the makings of one of the most impressive hostels in Europe.
When I was first looking at the hostel I was a bit put off by all the extra costs associated with the facilities but to be honest after being there it totally makes sense. Copenhagen is an expensive place and if every traveller wanted access to all facilities they'd need to put nightly prices up, however by having them as optional extras they can keep their room costs quite low for budget-minded travellers and then you can essentially DIY your own accommodation package that includes the facilities you want to use. I'm all for it!
Things I did in Copenhagen
A cocktail crawl! We started at Deco (classic jazzy vibes), moved onto Móshùexperience which had magical concoctions including martinis topped with a bubble full of smoke and a drink that was literally on fire and came with mini marshmallows to toast, then ended at 1656, a speakeasy in the Meatpacking District.
Saw a panoramic view of the city from the observation deck at the top of the Round Tower, 40DKK entry
Indulged my inner child with a trip to Tivoli, one of my all-time favourite theme parks. The variety of rides for a 'small' theme park is seriously impressive, and it's pretty cheap too! If you aren't huge on rides or only want to go on a couple then you can buy the entry-only ticket (155DKK M-F, 165DKK S-S, 240DKK for a two day pass) and then pay for rides separately, or you can get an unlimited Ride Pass for 259DKK on top of your entry.
Enjoyed some Christmas markets, but they were expensive! There are some beautiful markets dotted around the city, including some super cute stalls at Tivoli. Glühwein (mulled wine) is called gløgg in Denmark, and you can expect it to cost anywhere from 50-90DKK (€6.70-€12.10, ouch).
Watched the Changing of the Guard ceremony at Amalienborg Palace
Found one of the city's best cheap eats, pizza from Madbaren Marmorkirken (75DKK/€10 for a big pizza which is cheap for CPH!)
Visited Copenhagen's most iconic neighbourhood, Nyhavn
Grabbed a delicious lunch from TorvehallerneKBH indoor market, my friend swears by the dahl from GRØD and I loved the empanadas from La Boca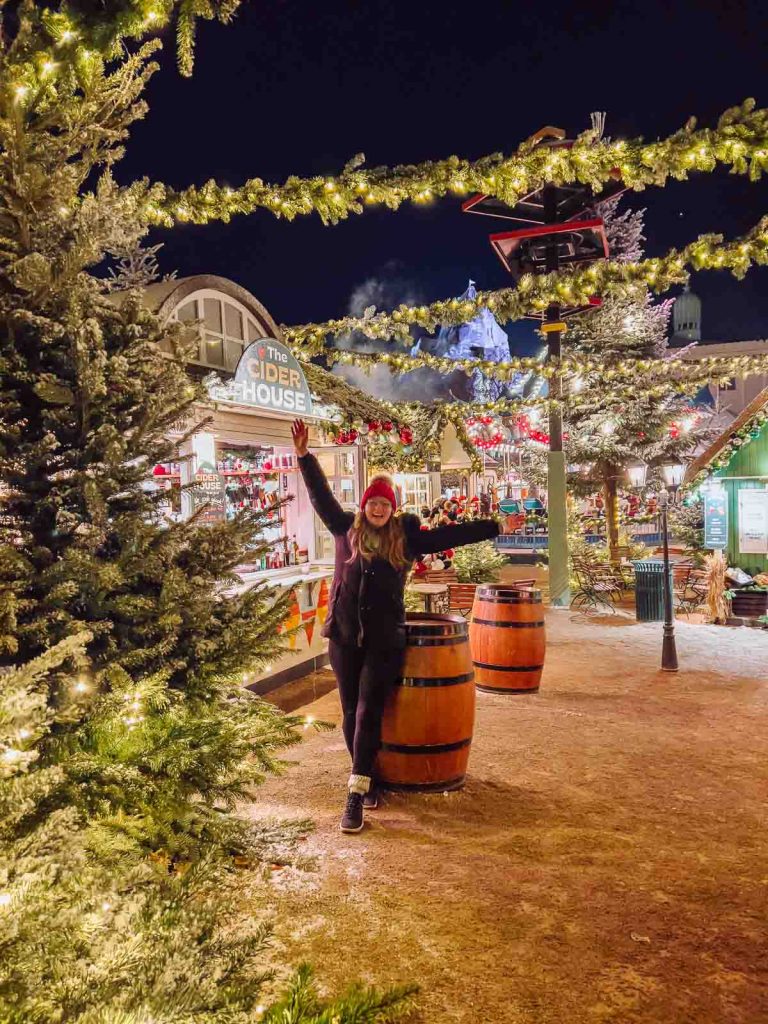 If you have more time…
I had already been to Copenhagen and seen the main tourist attractions, including Rosenborg Castle, Christiansborg Palace, Frederiksborg Castle, the Little Mermaid statue (overrated tbh), and Christiania. Cultured travellers might also like Ny Carlsberg Glyptotek, the National Museum of Denmark, SMK and the Louisiana Museum of Modern Art.
Next stop…
After Copenhagen I flew back to London, the official end of my two month Eurail itinerary!
---
Stop #21: London (again)
Copenhagen to London flight details
I booked my Copenhagen to London flight about six weeks in advance, I was flying on the Sunday before the week of Christmas so I knew prices would only go up. I paid £62.26 for a one way flight on Norwegian Airlines, then paid another £30 for seat selection and a 23kg checked bag.
Why London?
I spent a month in London over Christmas and New Year, I have a bunch of friends there (I used to live in London) and was housesitting for my cousin while she was in New Zealand for the holidays.
I had grand plans to do a whole heap of work during this time, making the most of having an apartment to myself, but unfortunately I got struck down with a nasty winter bug and instead spent most of those weeks feeling sorry for myself trying every medication known to mankind to try and fix my poor, rundown body. At least I was sick in the one place where I actually had enough time to slow down and recuperate!
By the time I recovered I only had a week or so left in London so I went a bit crazy with restaurants, bars and cafes, oops 🙃
Things I did in London
Saw & Juliet, an incredible West End show with a banging soundtrack
Drank my way through the cocktail menu at the Alchemist
Lined up for an hour to get a seat at Ave Mario to try their iconic truffle mafaldine, totally worth it
Had a few delicious brunches at Fallow, Granger & Co, and Megan's
Tried the TikTok-famous silk handkerchief pasta at Bancone
Visited the Christmas lights before they got taken down, I loved Oxford Street, Regent Street, Bond Street, Harrod's in Knightsbridge, Carnaby Street and Annabel's
Where I stayed in London
BLOC Gatwick
When I flew in from Copenhagen to London, I landed at Gatwick late on a Sunday night and wasn't keen on making a two hour trek to where I was staying, so I decided to book a room at my favourite Gatwick hotel, BLOC.
BLOC Gatwick is a top-rated airport hotel with super efficient, great value rooms literally thirty seconds from the departure gate. They're an absolute lifesaver for early morning departures or late arrivals!
The rooms are small but they offer all you need for an airport stay, with a really comfortable bed, storage under the bed, speedy WiFi, blinds and temperature controlled by the app, and they're pretty much silent which is impressive for a hotel literally next to runways.
BLOC is my go-to for flying in and out of Gatwick, they're the best value and most convenient option for sure.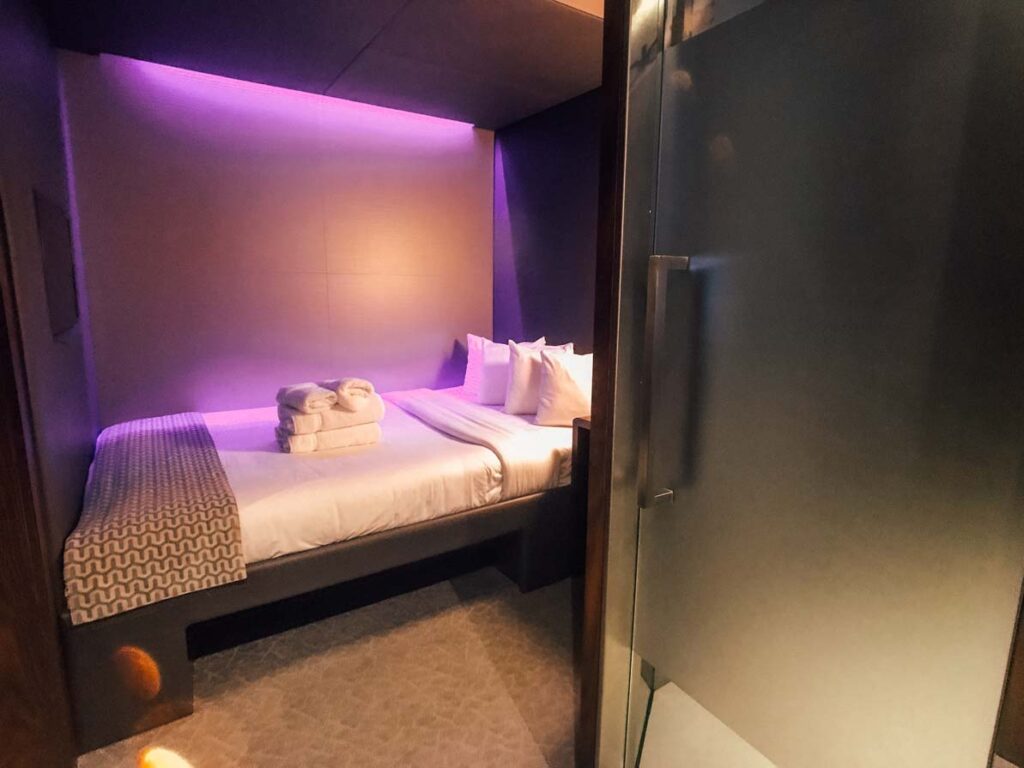 Room2 Chiswick
I spent most of my time housesitting in Dalston but I did manage to spend a couple of nights at an incredible new 'hometel' called Room2 in Chiswick, not far from my old stomping ground of Shepherd's Bush.
Room2 has 89 studio apartments ranging in size, offering the perfect mix of home comforts and hotel facilities. Each room has a kitchenette, gorgeous interior design filled with pieces from local craftspeople, and access to the hotel gym, laundry facilities and café/cocktail bar complete with plenty of work-friendly table space.
But what is most amazing about Room2 is that it's one of the (if not the) most sustainable hotels in the world, the first hotel ever to be 'whole life net zero', which means all carbon emissions from when the hotel was being designed right through to the end of its life will be reduced to the absolute minimum possible, then offset. The hotel uses 89% less energy than a typical UK hotel, and better yet, they share loads of info about their sustainability practices so that other accommodation providers can take inspiration from their roadmap.
All of the hotel power comes from renewable sources, lighting and heating is occupancy-based so automatically switches off when you aren't there, there's a zero waste policy at the hotel and 3-in-1 bins to dispose of your own recycling and rubbish responsibly, the roof is home to 75,000 bees and a bug hotel (too cute!) which promotes biodiversity in the area, and all of the loose furniture you see in the hotel is manufactured within 10 miles using sustainably-sourced wood.
Hilton Heathrow Terminal 4
When I was departing this time I flew out of Heathrow at 8.30am, and the journey from Dalston to Heathrow at 5am would not have been fun, so I spent a lovely night at the newly-refurbished Hilton Heathrow Terminal 4, just a six-minute walk under a covered walkway to get to the terminal.
The room was huge, with a super-king bed, lots of desk space and a spacious bathroom. I can't even explain how comfortable the bed was, when my alarm went off at 5am I wanted to cry, I could've slept another six hours in there.
Hilton Heathrow T4 had a major renovation during the time that Terminal 4 was closed due to Covid, and their refurbishment involved using natural materials, installing sustainable energy systems and implementing systems that reduce water usage and waste. The hotel offers golf buggy rides to the airport for those who can't or don't want to walk, they are replacing their individual toiletries with bulk-sized refillable containers, and the restaurants serve up delicious meals that use locally-produced ingredients from nearby suppliers or their own Chef's Garden and beehives.
Speaking of the food, make sure you book a table at their stunning OXBO Kitchen restaurant! Their food is so delicious, my mouth is watering just thinking about the baked camembert I ordered. The cocktails from OXBO Bar are great too, just make sure you set your early morning alarm before indulging too much so you don't sleep through your flight.
---
And there you have it, 14,000+ words detailing my entire Europe rail itinerary! If you've made it all the way to the end of this post then well done 👏🏼
As you can see, my itinerary was a bit all over the place and certainly wasn't planned very well from the start. But I make travel mistakes so you don't have to, and I'm going to be putting together the ideal two month Eurail itinerary that I wish I did instead. Keep an eye out on the blog over the next few weeks to see this when it gets published!
And as always, if you have any questions about my trip please feel free to pop them in the comments below or head over to @findingalexx on Instagram and send me a DM.