From exquisite churches to vast palaces to old European glamour, there's no doubt that there are plenty of classic things to do in Vienna. But for a solo traveller with a limited budget and equally limited interest in the usual European art and history museums, I've got to be honest and say that I wasn't overly excited about visiting Austria's capital for week five of my 52 in 52 year-long solo trip.
BUT as the age old saying goes… don't judge a city by its postcards? It turns out there's plenty more to Vienna than royal houses and Mozart concerts (although you should probably do those too).
I had a brilliant week in Vienna on my first trip, ticking off the classic tourist bucket list with city tours, food tours and activities, and then I returned for Christmas markets in 2022 and fell even more in love.
Here are some of the best and most unique things to do in Vienna.
YOU MIGHT ALSO LIKE: All the FAQs about my 52 in 52 adventure
---
Where to stay in Vienna
Budget | On my most recent trip to Vienna I stayed at JO&JOE Vienna, which has firmly secured a spot as one of the best hostels in Europe according to my (somewhat expert) opinion. I stayed in a private room (which was massive and would be very comfortable for an extended stay) but there are great dorm rooms with privacy curtains and shared bathrooms. The common areas were fantastic, ranging from a huge projector for sports games and movies to pool tables to bean bag hang out zones and more.
They also had kitchenettes on each floor (with fridges, a microwave and a kettle) as well as work-friendly spaces if you're a digital nomad travelling Europe. It was social but not hectic, was totally fine for work but also would be great to meet people with loads of events going on throughout the week. The best of both worlds!
JO&JOE also has locations in France as well as South America and hopefully I'll be able to check out their other hostels in the near future, but if you're heading to Vienna on a budget, I honestly can't recommend them enough.
Mid-range | ARTIST Boutique Hotel, Superbude and Magdas Hotel are all brilliant mid-range options with great reviews, and Hotel Josefine is a perfect hotel for solo travellers with good value single rooms
Luxury | Vienna has some absolutely stunning luxury hotels, including Rosewood Hotel, Park Hyatt, the Leo Grand, Hotel Sans Souci Wien and the iconic Hotel Sacher Wien
Self-catering | WELTWIEN Luxury Art Apartments, Rioca Vienna Posto 2, Citadines South Vienna and Nadland Apartments B61 are good options with self-catering facilities
---
1. See the sights with a Vienna city walking tour
A free walking tour is the best way to see any European city when you first arrive. You'll tick off the main sights, get your bearings and will get to hear all about the city from (usually) a super passionate local. And because the guides work for tips, they're always at the top of their game!
The best free walking tours in Vienna are run by the legends at Prime Tours, and they happen daily at 11am, 3pm and 6pm, plus a special night tour at 6pm from Wednesday to Sunday. These tours take you to see 20 different spots in Vienna, so you'll tick off a decent chunk of the tourist hot spots as well as some hidden gems. I normally tip €10 for a Europe walking tour, maybe a bit more if I was really impressed (and if I have extra cash!).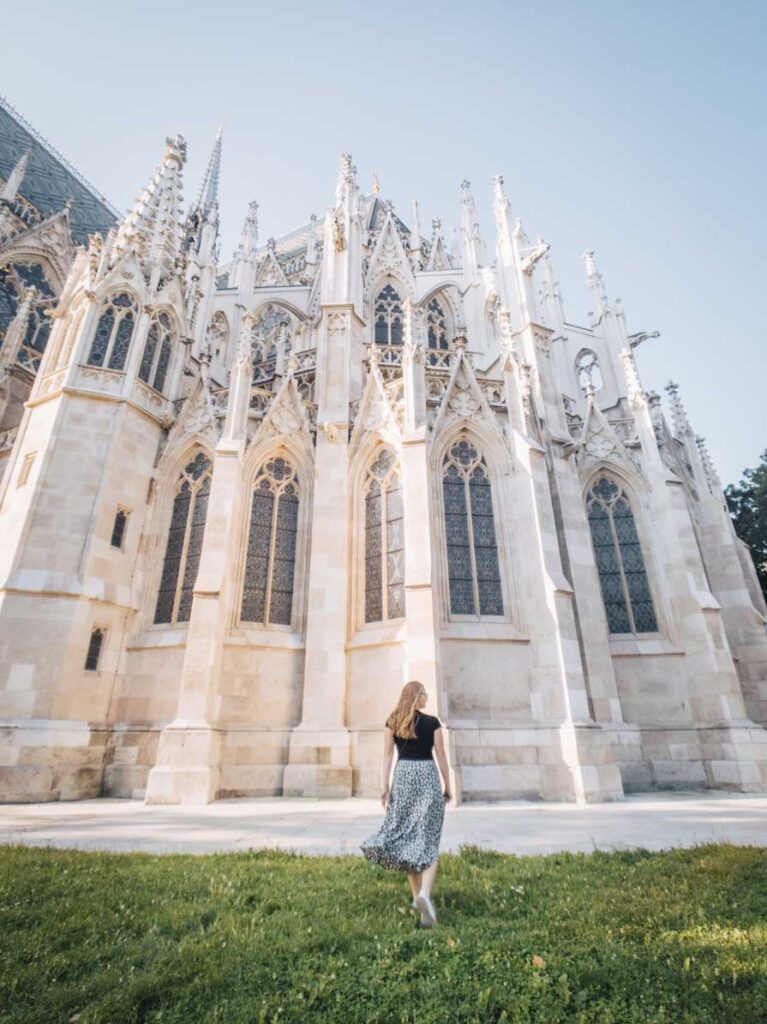 2. Search for the city's best Sachertorte
Sachertorte, a rich chocolate cake with a bit of apricot jam in the middle, is a Viennese classic that you'll find at coffeehouses all through the city.
The home to the original Sachertorte is Café Sacher, who create the famous cake exactly as the original recipe from 1832 says. Café Sacher's cake is delicious, but expect a long queue for a table and higher prices than other parts of the city.
The good news is that there are plenty of incredible Sachertorte cakes to try at various Viennese cafés. I recommend checking out Café Diglas, Café Central and Café Landtmann.
3. Taste the local cuisine with a food tour
And on that note, what's the second best way to explore a new destination? A food tour!
Food tours are one of my favourite things to do when I travel for a number of reasons. A) Food, obviously. B) You'll learn so much about the culture and history of the place you're visiting, and you'll see exactly how the cuisine ties into that. C) You discover all the best local secrets of where to eat and what to order, which you can then return to for the rest of your trip!
I was kindly hosted by Prime Tours to try one of their Culinary Kickbike tours, where you ride through the city taste-testing a couple of local specialties. We tried cheese, bread, the most delicious sausages, sachertorte, Viennese coffee and more, all while getting in a bit of exercise to keep us from going into a food coma. It's a win win!
They also offer a walking tour through the bustling Naschmarkt if you prefer your food tours with less physical movement (no judgement, I don't blame you!).
YOU MIGHT ALSO LIKE: My ultimate Paris travel guide
4. Learn about one of the original solo female travellers, Empress Sisi
Elisabeth of Austria was the wife of Emperor Franz Joseph I, which made her Empress of Austria and Queen of Hungary. She wasn't a fan of the rigid rules and regulations that came with royal life, so she escaped her responsibilities by travelling solo. Legend!
Her life story is fascinating and is best discovered with this Sisi Walking Tour which includes entry to the Sisi Museum in Hofburg Palace.
5. Keep an eye out for unique traffic lights
Vienna was home to the Eurovision song contest back in 2015, and to celebrate the city being a place of openness, tolerance and diversity, hundreds of pedestrian walking lights were swapped out to represent gay and lesbian couples. See if you can spot some while you're wandering around the city!
6. Ride the rollercoasters at Prater
With a first mention in an old document from 1162, and then being gifted to the public in 1766 by Josef the II, Prater is the oldest amusement park in the world.
It boasts a giant ferris wheel from 1897, the world's highest flying swing at 117 metres, and loads of other rides for visitors of all ages. Prater is free to enter so you just pay for the individual rides you want to go on, which will be anywhere from €4 to €12.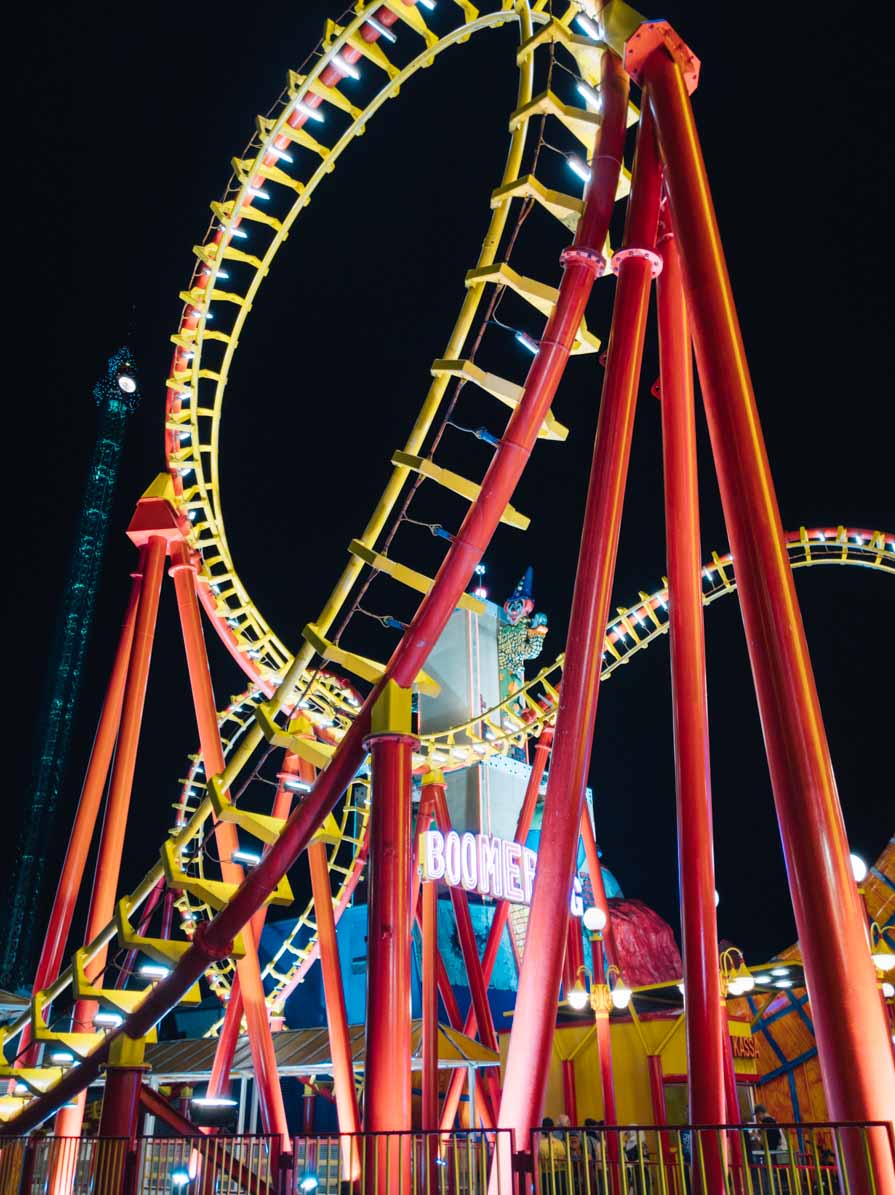 7. See the exquisite State Hall at Austria's National Library
While my budget doesn't often allow me to go to the main paid attractions in each city I visit, the State Hall at the National Library was absolutely worth it for €8.
It's a huge room lined with floor-to-ceiling bookshelves, along with some ancient works of writing, marble statues and stunning frescoes painted in the dome between the two wings.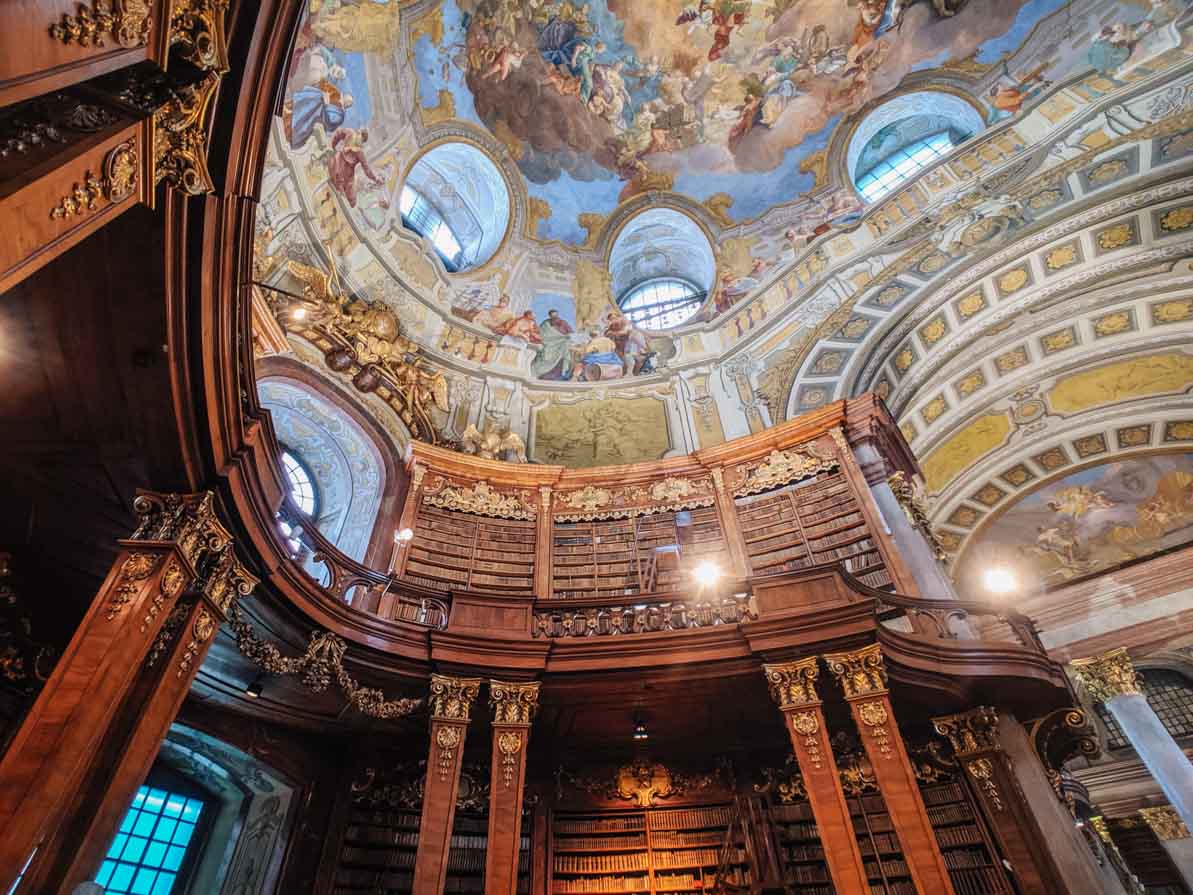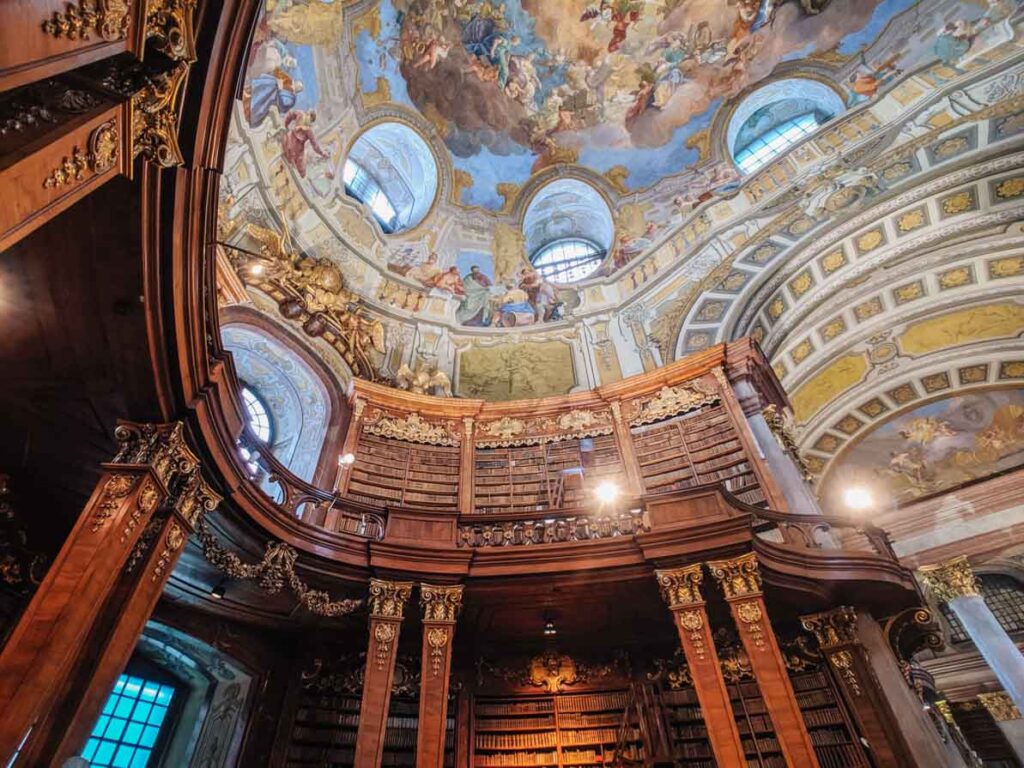 YOU MIGHT ALSO LIKE: Checking in to Vienna's best hostel
8. Learn to waltz at 11.11am on 11 November
If you happen to be in the capital on 11 November, head to Graben Boulevard in the city centre to witness the official opening of the Carnival season with a public waltz kicking off at 11.11am on the dot. Got two left feet? Don't worry, there'll be a couple of the city's best dance teachers there to show you how it's done!
---
TRAVEL TIP:
I find all my flights using Skyscanner! You'll get the best deal if you're flexible on where to go. Just put in your origin, your departure date (or month) and type 'everywhere' into the destination bar to see the cheapest locations to fly to on your next holiday.
---
9. Go behind the scenes at a brewery
Ottakringer, one of Vienna's most loved beers, offers tours at its brewery right in the city. Learn about the history of Ottakringer, see exactly how the beer is made, and finish up with a beer tasting.
10. Get a cheap lunch from a würstelstand
You'll see würstelstands on almost every corner in the city centre, and they're a budget traveller's best friend. Würstelstands are street food stalls with super cheap sausages and drinks! I'm a huge fan of the käsekrainer, a sausage with cheese inside it, grilled to perfection. You can thank me later.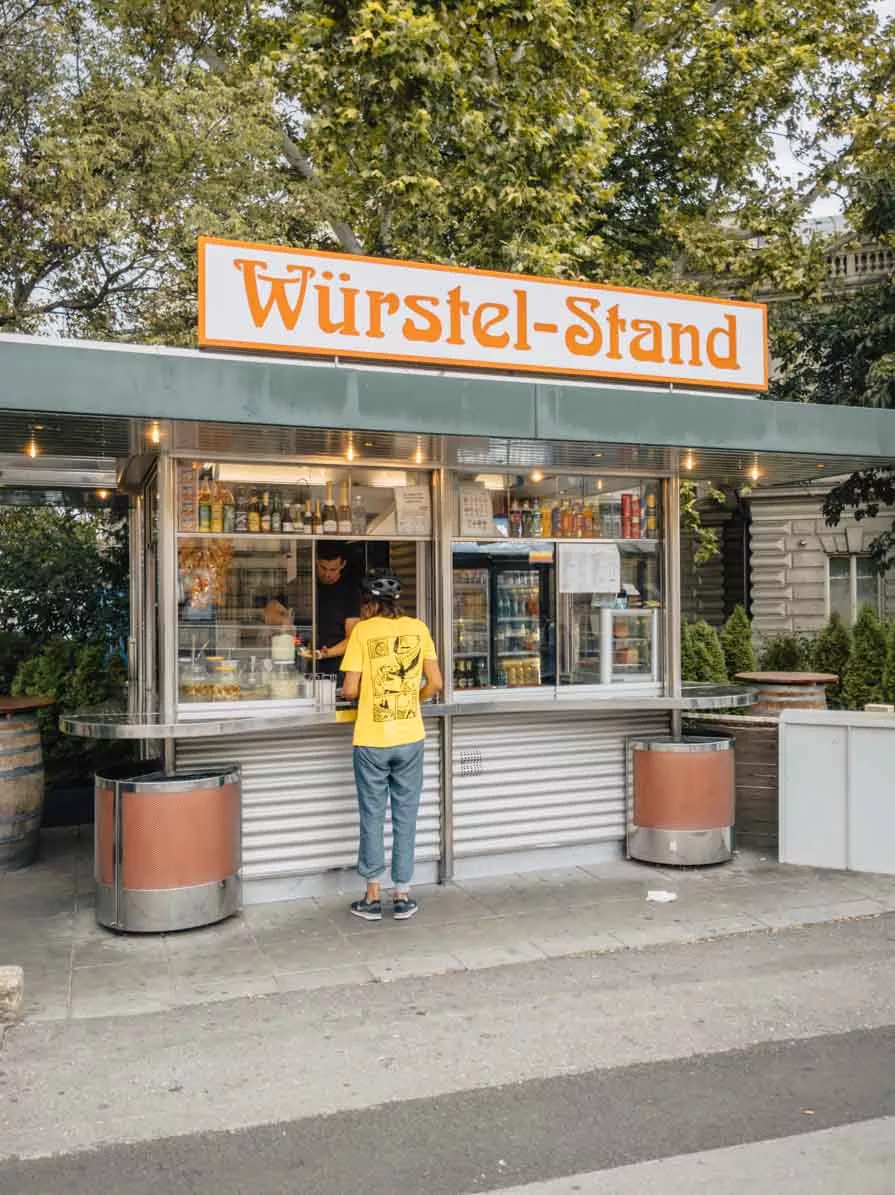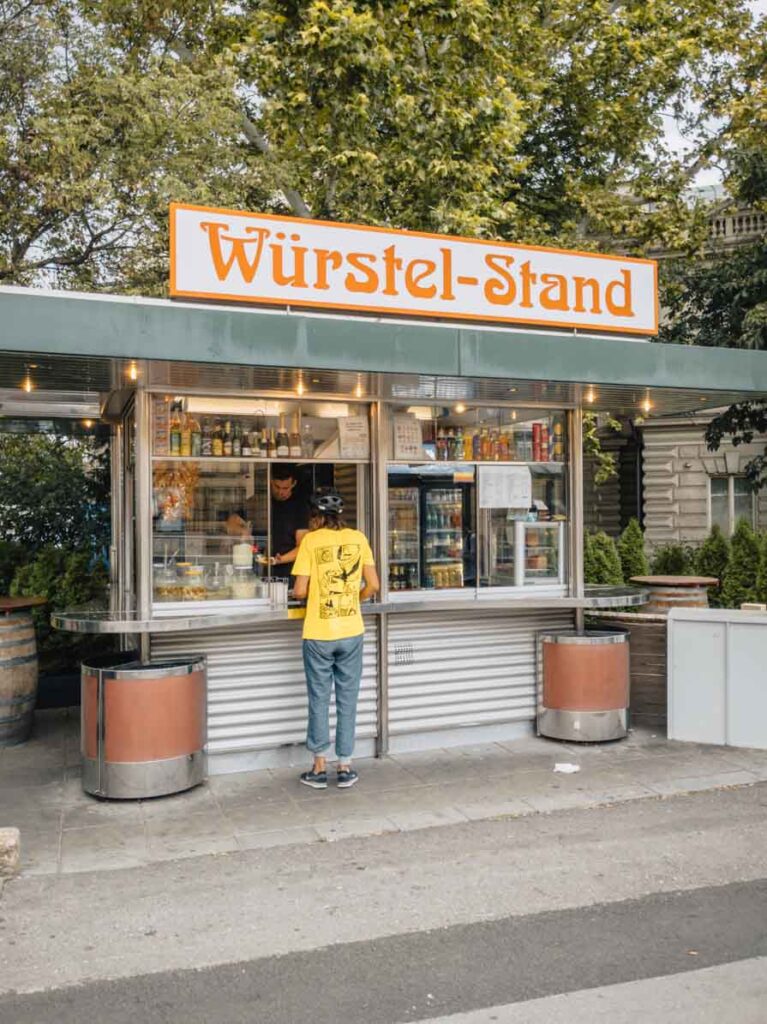 11. See another side of the city with the Hitler's Vienna walking tour
The 2.5 hour Hitler's Vienna walking tour will teach you all about Hitler's upbringing, his escalation into being the most evil man on the planet, and the horrific impact that WWII had on Vienna and its Jewish community.
You'll see war memorials, Heroes' Square, the only Synagogue that survived the Nazi regime, and loads more. This is definitely one for the history buffs.
12. Eat a giant piece of schnitzel
Wiener schnitzel with potato salad is one of Vienna's most popular dishes, so you can't come here without trying a hearty piece of meat cooked in golden breadcrumbs.
Schnitzel is on the menu at every restaurant that serves Austrian cuisine, so it's not hard to find. I had a wiener schnitzel at the famous Figlmüller, where they serve over 200,000 schnitzels a year, and each one is bigger than the plate it's being served on!
If you're not keen to wait in the Figlmüller line then you could try Gasthaus Kopp, Schnitzelwirt or Restaurant Pürstner.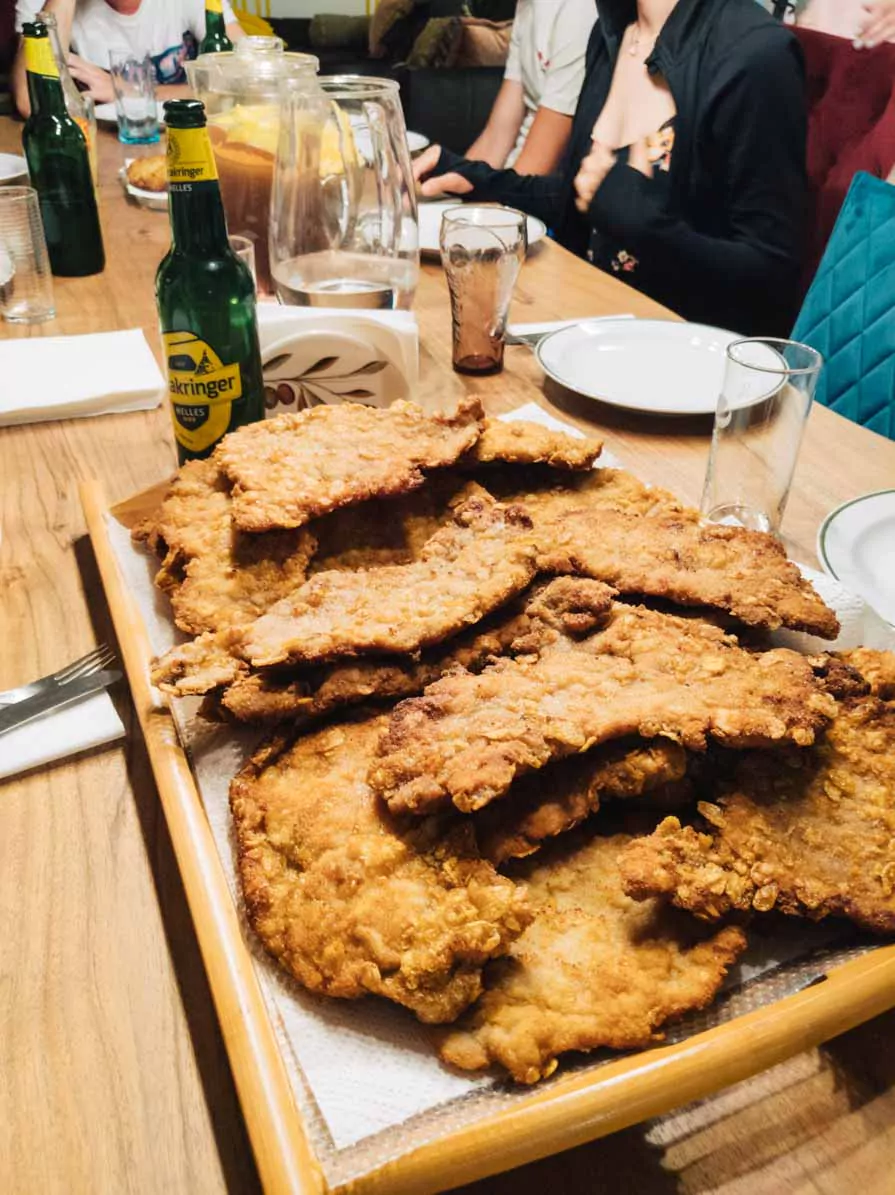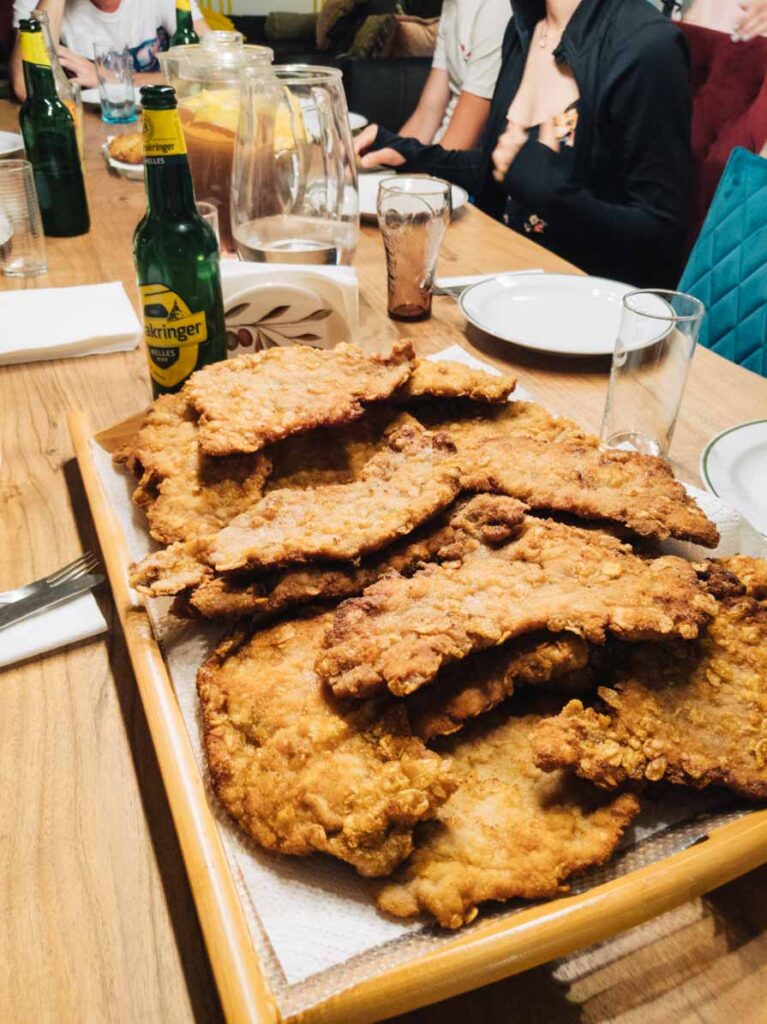 13. See the sunset from the tower at St Stephen's Cathedral
After a month of European cities I was pretty church-ed out, but St Stephen's is super unique and well worth a visit.
The inside is incredibly impressive but unfortunately (like most of Vienna it turns out!) it was covered in scaffolding, so I headed straight up the tower for €5.50, just in time to catch a stunning sunset.
You get a brilliant view of Vienna's Old Town from the tower, and at 8pm on a late summer's evening I was able to catch the sky turn from blue to purple to orange, reflecting off the mind-blowing tile work on the cathedral's roof. Really beautiful, something I'd absolutely recommend adding to your Vienna must-dos.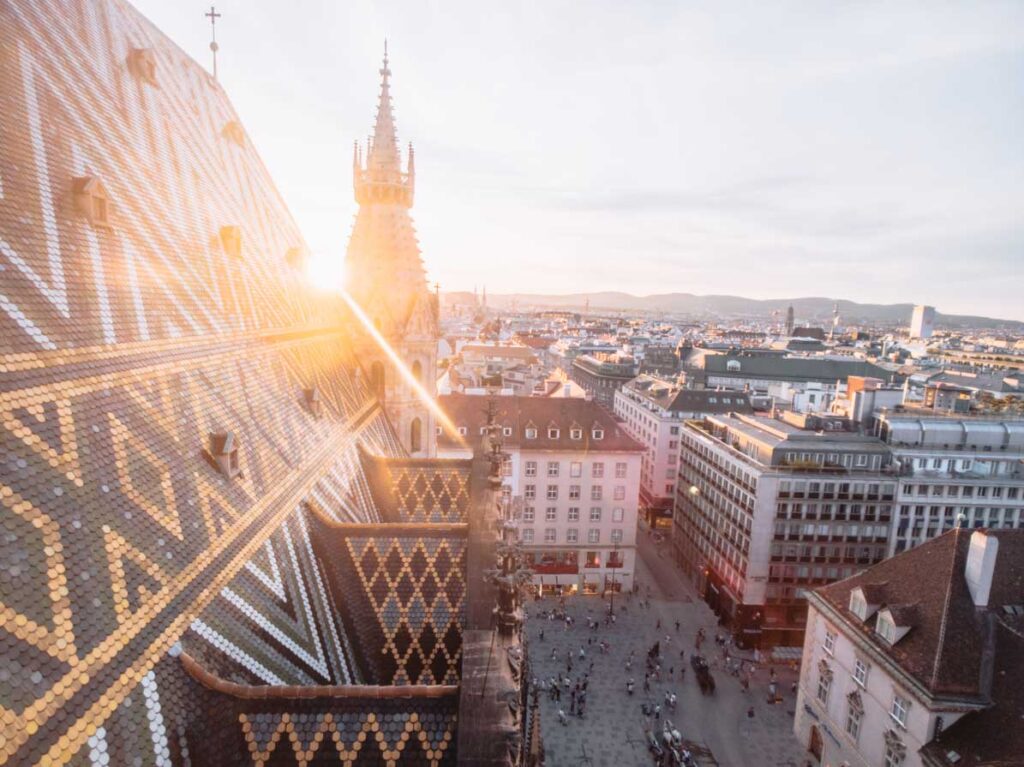 14. Explore more of Austria
If you've got a bit of extra time, or you need a break from the big city, you can easily jump on a day tour from Vienna to see another part of Austria.
Go on a Sound of Music tour in Salzburg, see the postcard-perfect views in stunning Hallstatt, cruise along the river in the Danube Valley or see a darker side of the country with a visit to a nearby concentration camp.
Book any Vienna day trips or activities on Klook, they have a price guarantee!
15. Go further afield
Vienna's central location makes it possible to see a number of other European gems in a day if you're willing to get up early and return home late. I did a Bratislava day trip, but you could also see Budapest, Prague, and even Ljubljana and Lake Bled in Slovenia.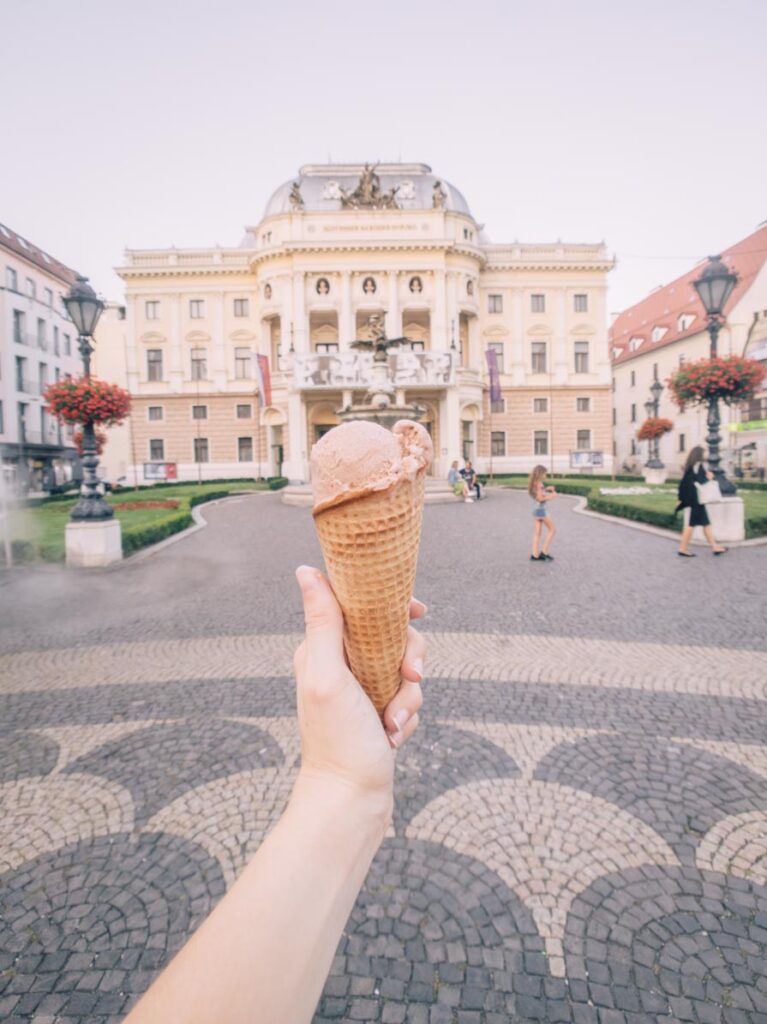 ---
Looking for a hotel or apartment? See all the Vienna accommodation options right here.
Have I missed any super cool things to do in Vienna? Let me know in the comments and I'll add them to the list!
Read more about my 52 in 52 adventure here, see all of my blog posts from the trip here, or check out my Instagram @findingalexx to see all of my travel photos.
---
All the basic details from my big 52 in 52 trip:
How do you find your flights? Skyscanner! I use the Everywhere tool to find the cheapest place to fly to each Tuesday
Do you fly every week? Not every week no, once I have the destination I check trains and buses to see if there's any other transport options aside from flying. If so, I usually book these using the Trainline app.
How do you book your accommodation? I book all my hotels, hostels and apartments on either booking.com or Hostelworld.
Do you have travel insurance? YES, I always travel with travel insurance and you should too. I'm insured for an annual policy with Worldcare NZ.
Do you offset your carbon credits? I sure do! I always offset when I book if the airline gives me the option (Ryanair does), and I also offset all my flights using Co2nsensus.com.
What luggage do you travel with? I travel with a 75cm Samsonite Cosmolite suitcase, a matching Samsonite Cosmolite 55cm cabin luggage hardcase, and a cheap laptop backpack.
What camera do you use? You can see the full list of what's in my camera bag right here.
What laptop do you use? I have a super portable HP Spectre x360 13.3″ laptop, which is an absolute dream to travel with.
For more FAQs about my 52 in 52 trip, see this post.
---
Huge thanks to Prime Rooms 2.0 Hostel for providing me with five nights' accommodation on this trip, and to Prime Tours for hosting me on a culinary kickbike tour. As always, all opinions are my own and are based on my personal experience.