Please note this blog contains affiliate links that give me a small commission from any purchase, at no extra cost to you. I would never advertise anything I wouldn't use myself, and this commission helps Finding Alexx reach more travellers. Thank you for supporting me!
Week five of my 52 in 52 adventure brought me to Vienna, a city that had been on my list to visit while I was in London but I never got around to booking a trip. I split my time in Vienna between a super social hostel in the suburbs, Prime Rooms 2.0, and a private apartment in the city, to get the best of both worlds. Here's a full review of the brilliant Prime Rooms Hostel, plus a bonus review of my Prime Tours food tour!
YOU MIGHT ALSO LIKE: The best things to see and do in Warsaw
What's Prime Rooms 2.0 like?
Prime Rooms 2.0 is a newly-opened permanent location for what was originally a pop up hostel in Vienna back in 2017. They opened their doors in the summer of 2019.
The hostel is in Ottakring, a residential suburb that's 20-25 minutes from Central Vienna by public transport. It's in a huge house with a downstairs area (for staff), a living floor with a kitchen, dining area, two lounge areas and a deck, and an upstairs with four rooms (a mix of dorm and private rooms).
The owners are young travellers themselves, one from Hungary and one local to Austria, and they've essentially created their idea of the perfect hostel from their own travels. It's a proper home away from home, exactly what I needed a month into my big trip!
How was the room?
I stayed in a six bed dorm, with three sets of bunks. The mattresses were super comfy, one of the best hostel beds I've had! There were privacy curtains but only on the side and not the end, so it didn't totally block out light.
There was storage space under the bunks for bags, and each bed had a little basket on the wall for storage of bits and pieces. There was no air con but there were fans in the room.
Our dorm room, and the private room next door, also had a cute little balcony overlooking the back lawn.
There's one bathroom for the dorm room and one private room to share, which did mean that there was quite often a wait at peak wake up/before bed times.
How about the private rooms?
I didn't stay in a private room but wanted to mention them because they are SO CUTE. The interior decor is gorgeous, and it feels just like a bedroom at your own home.
There's one private room with a double bed and its own bathroom, and another with an epic loft bed and fold out couch that shares a bathroom with the dorm.
Where is Prime Rooms 2.0?
If you're looking for somewhere in the centre of Vienna, this is not the place. If, however, you're looking for somewhere easy on the wallet, with homely vibes and the chance to meet other travellers, Prime Rooms 2.0 is perfect.
The hostel is in a residential suburb called Ottakring, with good transport links to the city. Ottakring is on the U3 metro line, about 14 minutes from Stephansplatz, and then it's a 20 minute walk or a 10 minute bus to the hostel.
The immediate area surrounding the hostel is quiet and doesn't have much going on, but towards Ottakring there's beer gardens, cheap bratwurst stalls, and the famous Ottakring brewery is a short walk from the station.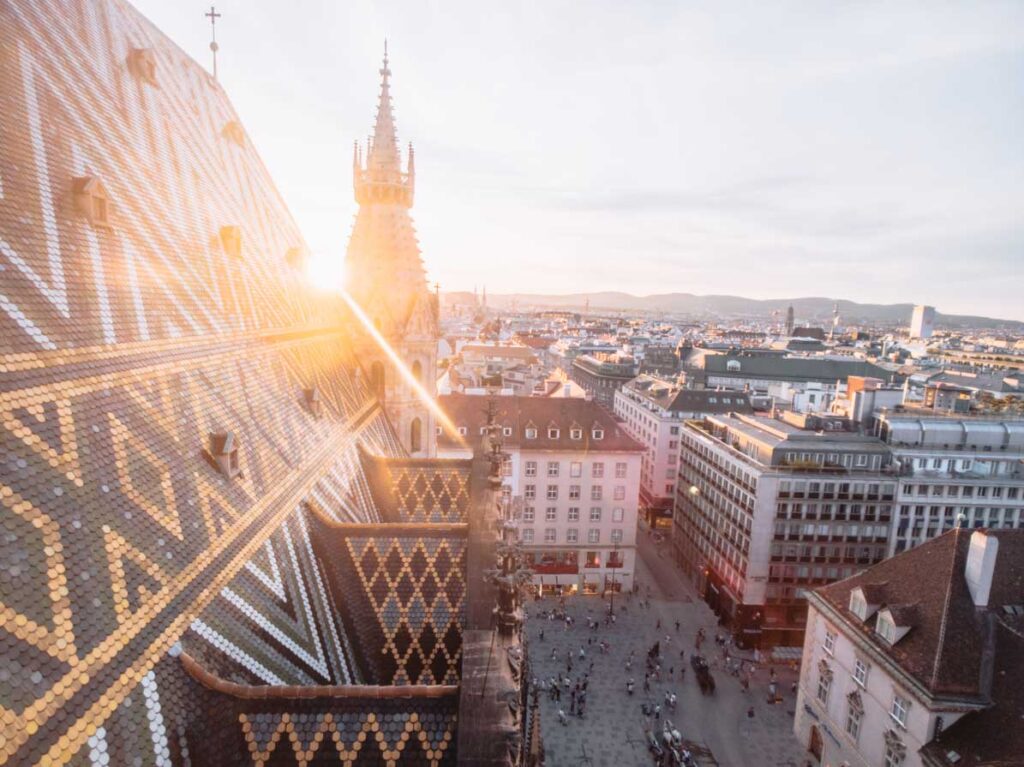 Does Prime Rooms serve food and drink?
Breakfast is available at Prime Rooms for an extra charge, starting at €6 for the basics and more if you want eggs, pancakes etc.
They also cook dinner each night, with prices ranging from €8-€12 depending on the meal. I had dinner at the hostel on one evening and we had delicious schnitzel and potato salad for €12.
There's a kitchen at Prime Rooms but because they cook breakfast and dinner, it's only available for guest use for a few hours in the middle of the day.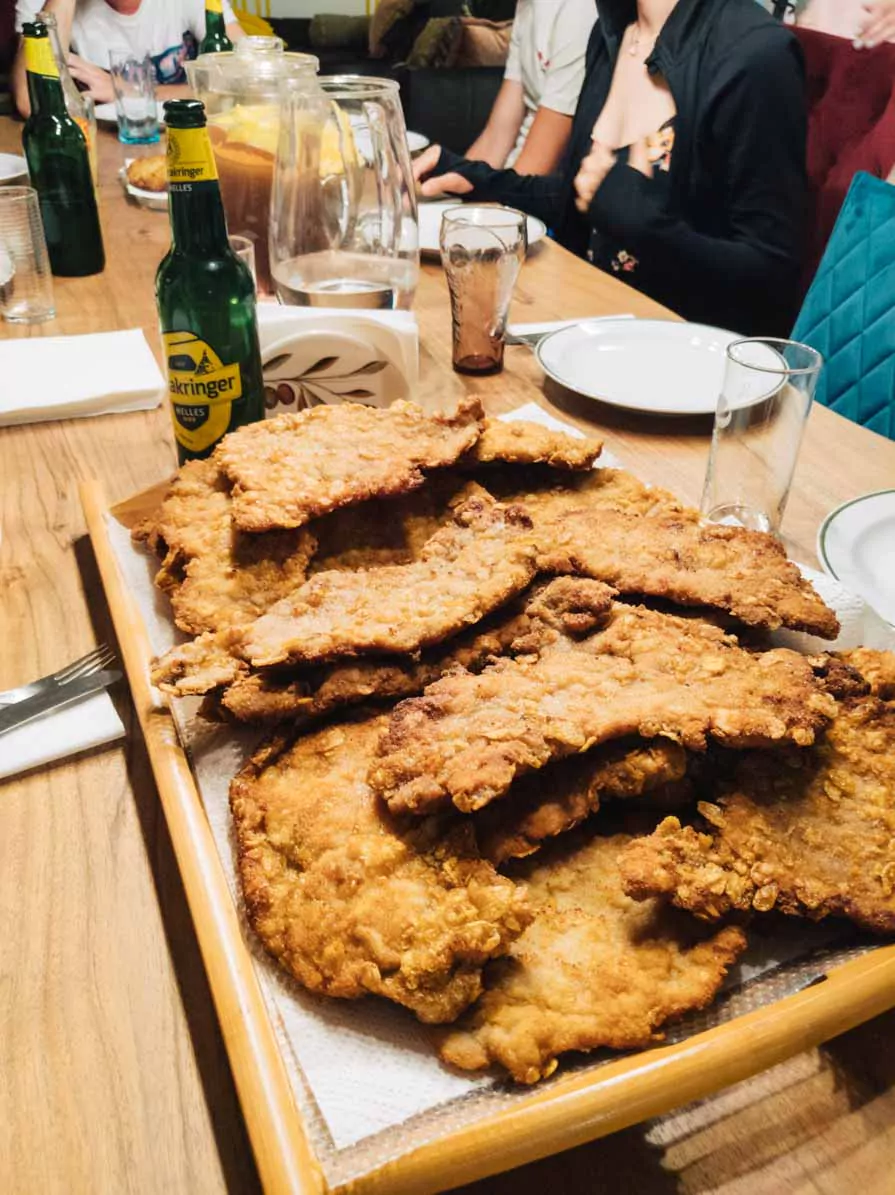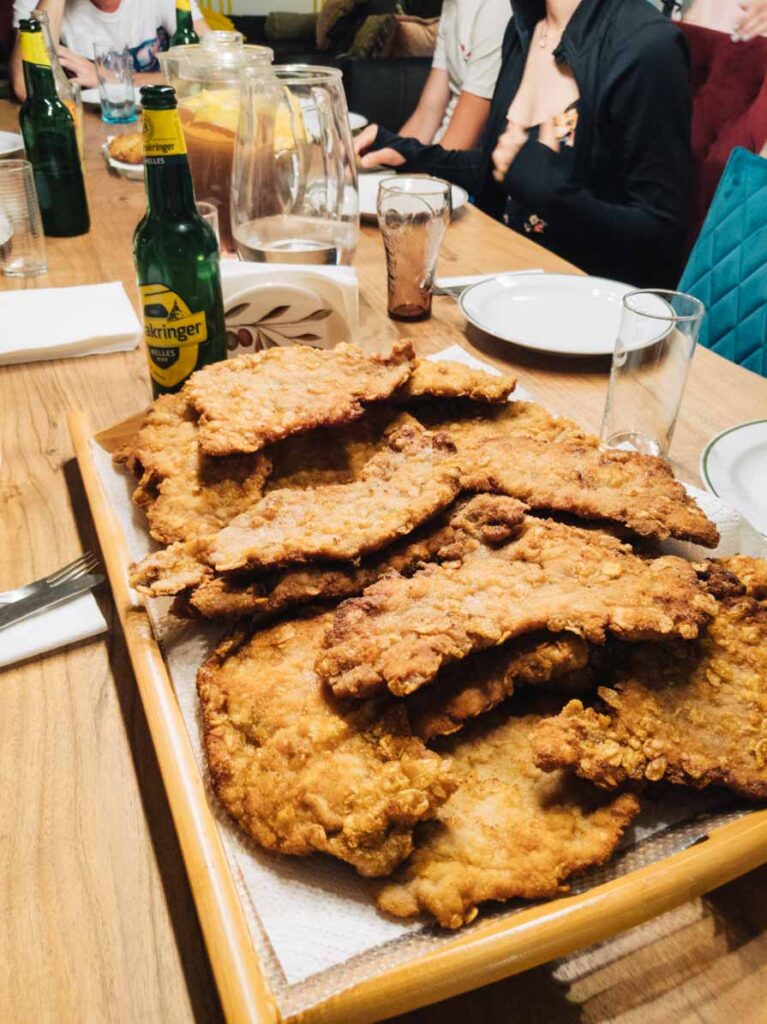 What's this about Prime Tours?
Prime Tours is a sister company to Prime Rooms, and they run the most successful free walking tour in Vienna, as well as food tours, bike tours and scooter tours. I was lucky enough to join one of the kickbike food tours, which was such a cool way to see the city!
The tour started at Prime Tours' headquarters in the Reindorf area, where the group of five of us plus our tour guide all met. We hung out in the back garden for our first taste tester, some local bread, cheese, deli meats and dips.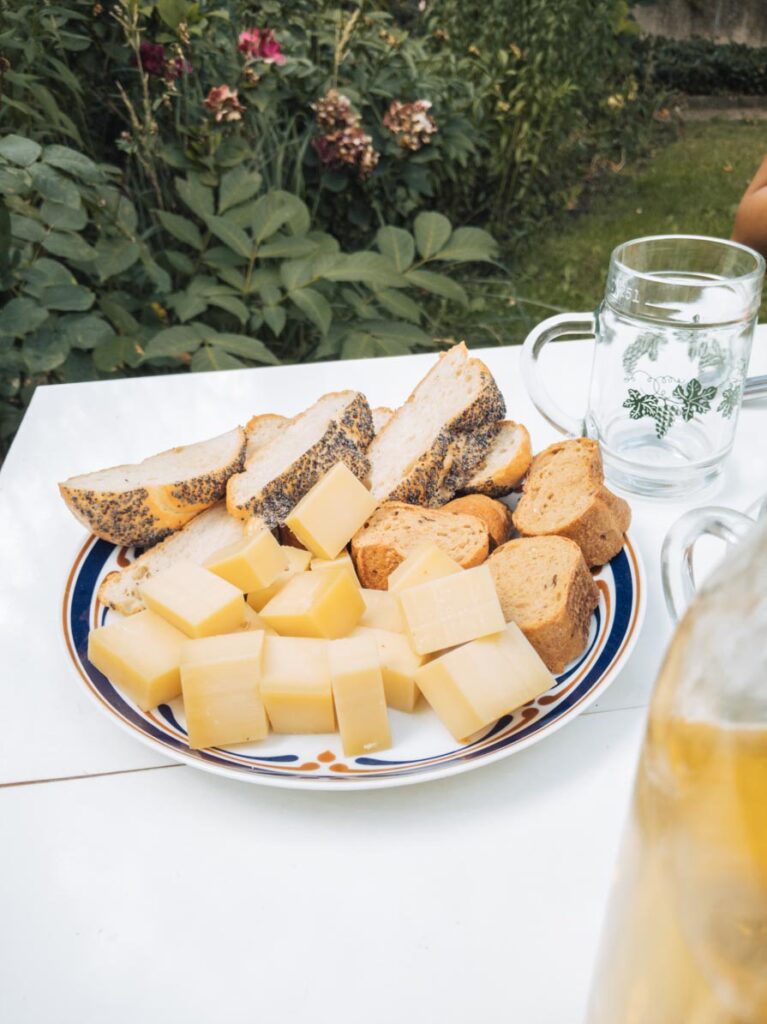 Then we each grabbed a kickbike, and headed towards stop number two, a classic bratwurst street stall. This is where I discovered my love for käsekrainer, a grilled sausage with emmental inside. Divine.
Along the rest of the tour we visited the MuseumsQuartier, got caught in a torrential downpour, tried some local coffee from a classic teahouse, stumbled across some incredible street art, and, after it being sold out at two places we went to, found the coveted Sachertorte chocolate cake that Vienna is famous for.
Food tours are one of the best ways to see a city in my opinion, and with this one we had the added bonus of working off the sugar we were eating!
As well as the free walking tour and the kickbike food tour, Prime Rooms also runs a Naschmarkt food tour, a street art river cruise, a pub crawl and more. You can see all their epic tours here.
The verdict
Prime Rooms 2.0 was one of the most social hostels I've stayed in so far, and it's one of the best hostels in Vienna for sure. Everyone was super friendly, there was a hostel doggo (although he doesn't like being touched, so admire him from afar haha), the hostel family dinners were fantastic for trying some local dishes and meeting new people, and the rooms were comfortable.
It's a small hostel with a maximum of 10 guests, and it's not in the city centre, but if you're looking for a homely, fun, relaxed and super chill hostel in Vienna, Prime Rooms 2.0 is perfect.
Looking to stay at Prime Rooms 2.0 hostel in Vienna? Check your travel dates right here.
Like this blog? Pin it!
Read more about my 52 in 52 adventure here, see all of my blog posts from the trip here, or check out my Instagram @findingalexx to see all of my travel photos.
All the basic details from my big 52 in 52 trip:
How do you find your flights? Skyscanner! I use the Everywhere tool to find the cheapest place to fly to each Tuesday
Do you fly every week? Not every week no, once I have the destination I check trains and buses to see if there's any other transport options aside from flying. If so, I usually book these using the Trainline app.
How do you book your accommodation? I book all my hotels, hostels and apartments on either booking.com or Hostelworld.
Do you have travel insurance? YES, I always travel with travel insurance and you should too. I'm insured for an annual policy with Worldcare NZ.
Do you offset your carbon credits? I sure do! I always offset when I book if the airline gives me the option (Ryanair does), and I also offset all my flights using Co2nsensus.com.
What luggage do you travel with? I travel with a 75cm Samsonite Cosmolite suitcase, a matching Samsonite Cosmolite 55cm cabin luggage hardcase, and a cheap laptop backpack.
What camera do you use? You can see the full list of what's in my camera bag right here.
What laptop do you use? I have a super portable HP Spectre x360 13.3″ laptop, which is an absolute dream to travel with.
For more FAQs about my 52 in 52 trip, see this post.
Huge thanks to Prime Rooms 2.0 for hosting me for five nights, and to Prime Tours for letting me join a kickbike culinary tour. As always, all opinions are my own and are based on my experience.