Planning a Switzerland trip and want to know is the Glacier Express worth it? Here's an honest review of my experience on the Glacier Express train, as well as some helpful Glacier Express tips and lots of photos from the trip to get you inspired.
Known as one of Europe's most beautiful train journeys, Switzerland's Glacier Express from Zermatt to St Moritz (or vice versa) tops bucket lists of travellers (and train nerds!) the world over. So when I decided to travel Europe by train for a few months during my solo round the world trip, I knew I had to include it in my itinerary.
The train trip offers some of the best and most varied scenery you'll be able to get on a single train journey, including snowcapped mountains, glacial streams, charming alpine villages and more. But, like most things in Switzerland, it doesn't come cheap! There is a way to get tickets for a significantly discounted rate though, I share all my secrets in this blog post so keep reading.
If you're considering adding the Glacier Express train onto your Europe rail itinerary but keep asking yourself "is the Glacier Express worth it?", you've come to the right place.
Here's my detailed, honest review of the Glacier Express train, including all you need to know about booking your tickets, how to get a discount on the Glacier Express, where to sit, 1st class vs. 2nd class, and my final verdict on if the Glacier Express is worth it.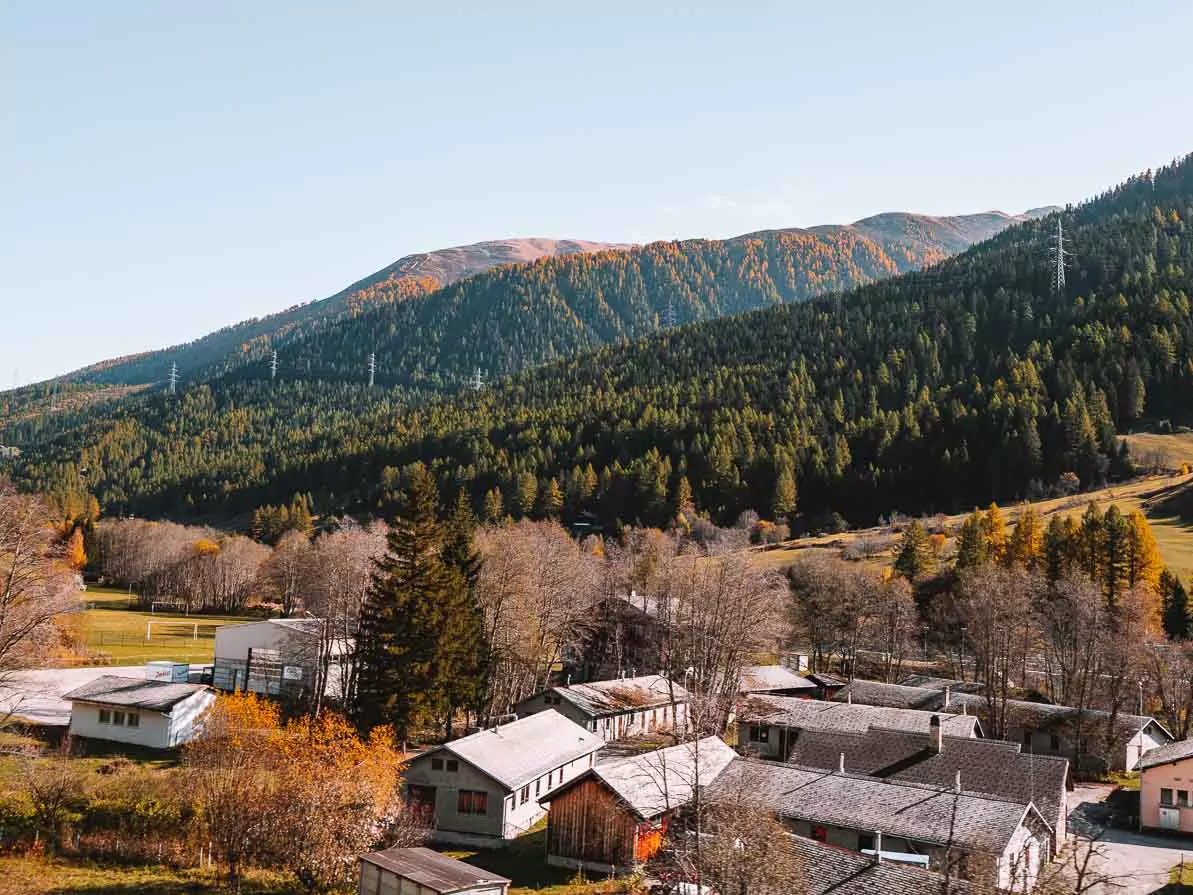 ---
A summary: Is the Glacier Express worth it?
If you're just here for the answer to that question, my answer is *probably yes*.
If you are a lover of mountain landscapes, if you're a train enthusiast, if you have a day to spare in your itinerary to enjoy a slow journey, and/or if you have a Eurail, Interrail or Swiss Rail Pass giving you a massive discount, then the Glacier Express is likely going to be worth it for you.
If you're the type of traveller who prefers active adventures rather than slow scenery, if you're on a very tight budget, if you would need to travel out of your way to get there, or if you are running short on time, then the Glacier Express journey probably isn't worth it for you.
I hope that gives you the answer to your question, but please read on for a more detailed explanation!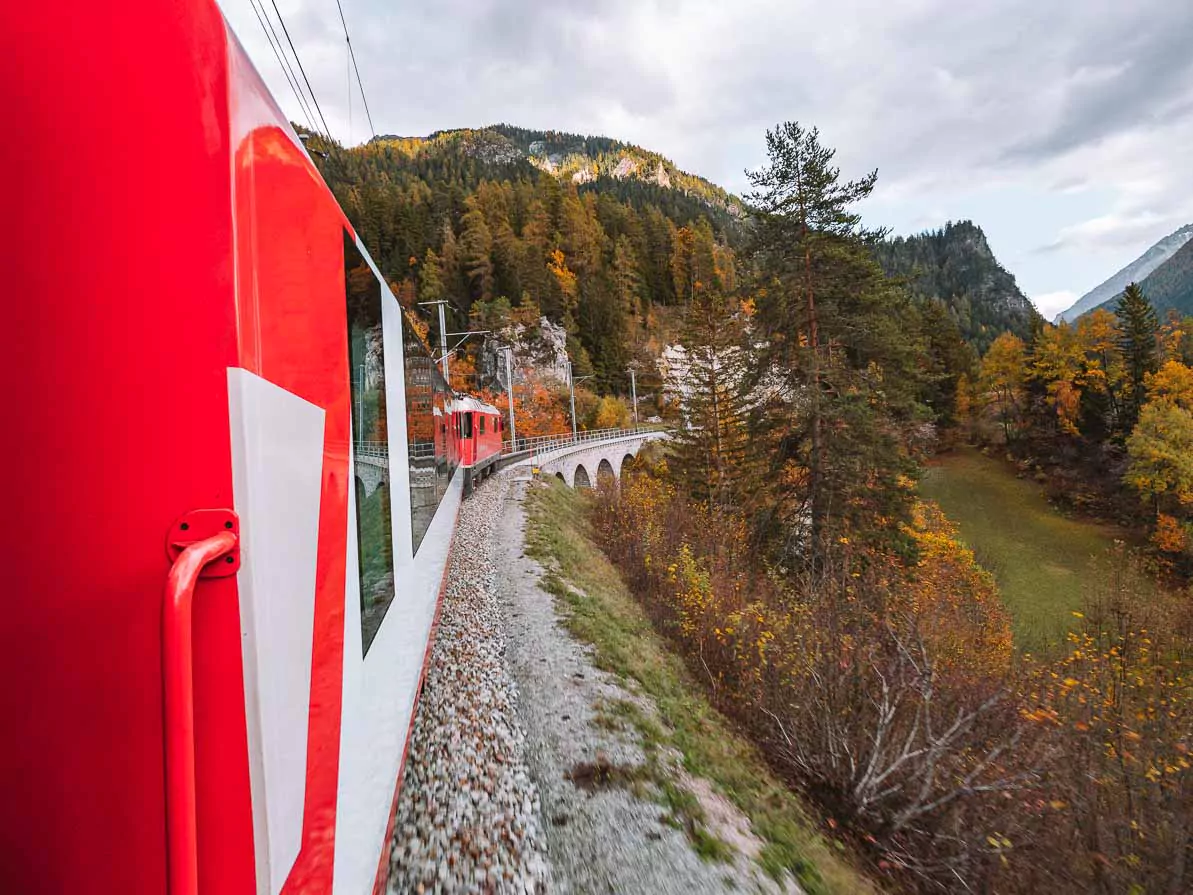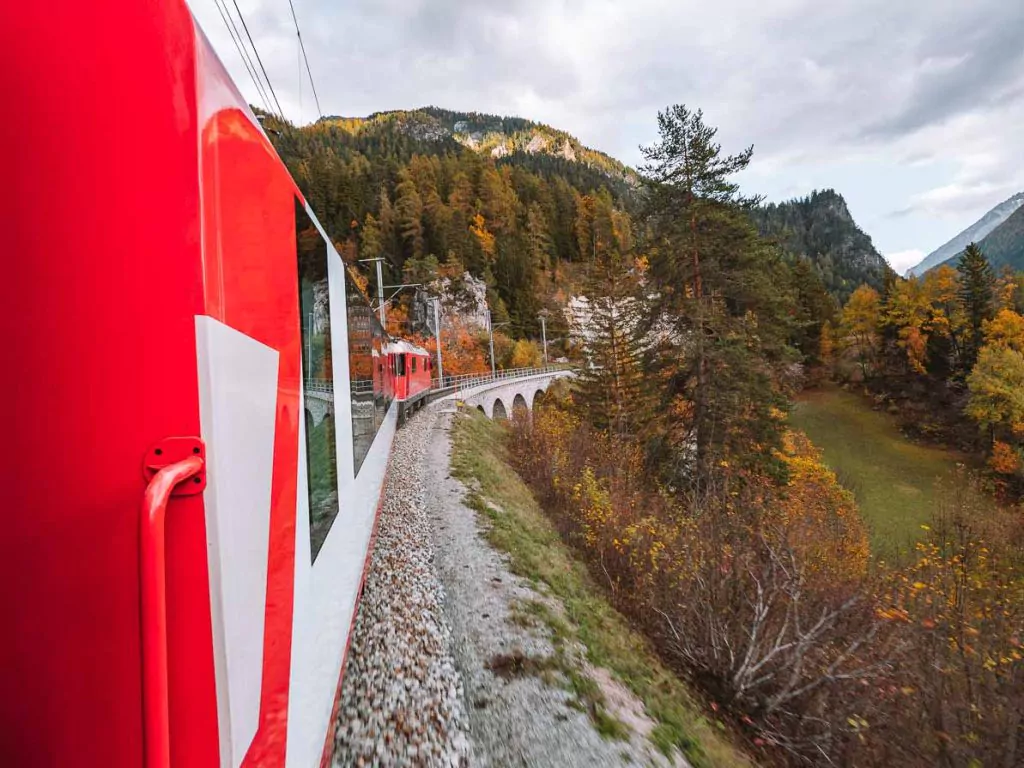 ---
Glacier Express quick links
---
What is the Glacier Express?
The Glacier Express is an eight hour train journey around mountains and through gorges in the Swiss Alps. The trip takes you over 291 bridges and through 91 tunnels, allowing travellers to soak up the views through panoramic windows while relaxing on the luxurious train.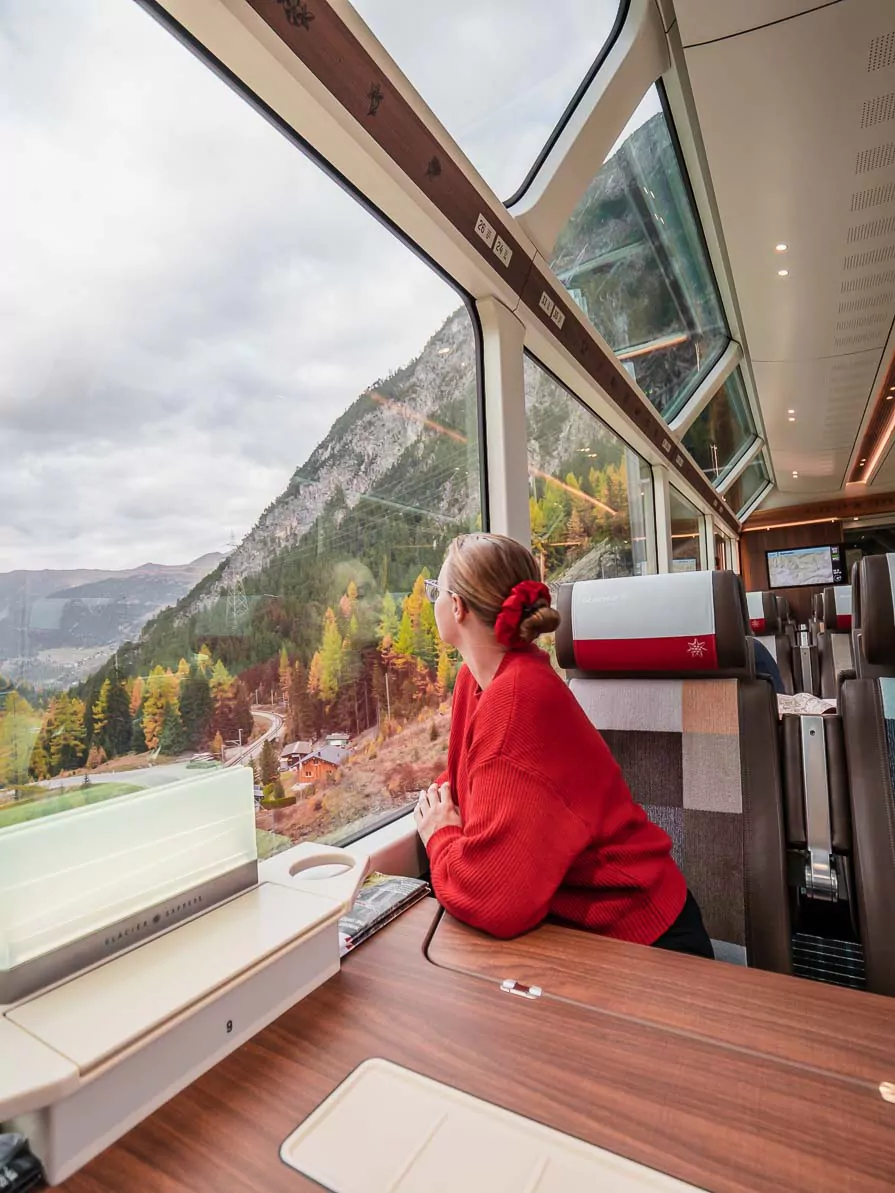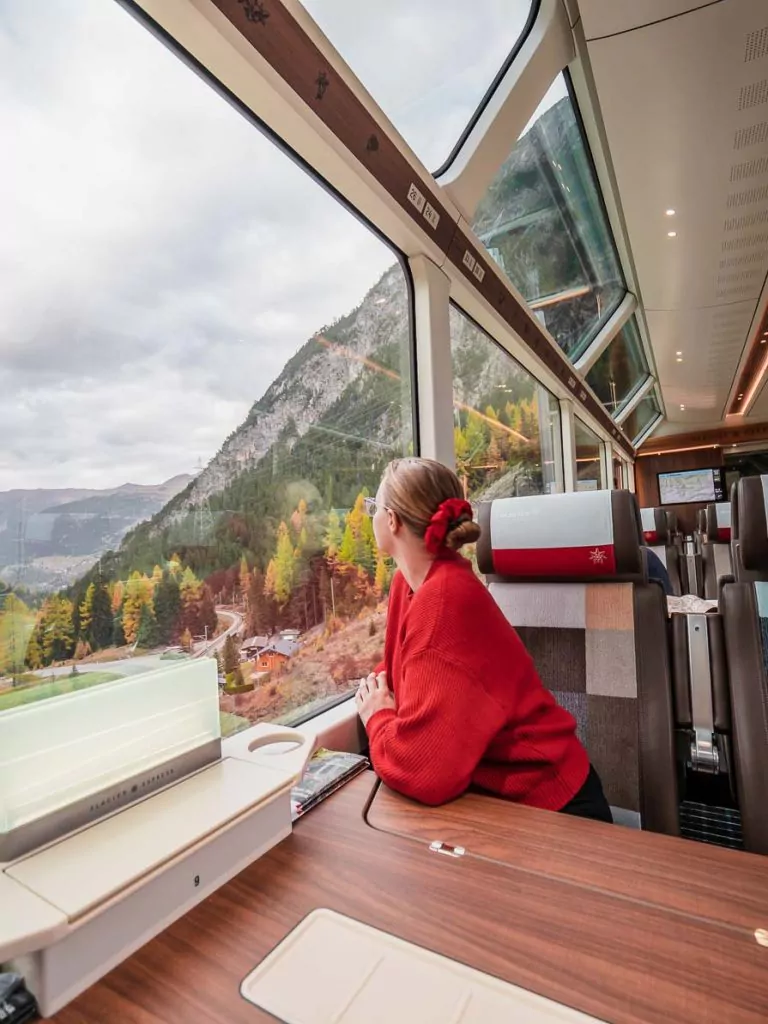 ---
Where does the Glacier Express start and finish?
The full Glacier Express journey starts in Zermatt and ends in St Moritz, or vice versa. There are other stations in between where you can start or end your journey if you prefer.
Chur is a popular stop because that's one of the starting points for another panorama train, the Bernina Express which runs to Tirano. The Bernina Express also has a train that runs from St Moritz to Tirano, so you could either spend a night at Chur or a night in St Moritz as your connect between the Glacier Express and Bernina Express.
Want to know more about the Bernina Express? I've got a detailed blog to let you know if the Bernina Express is worth it.
I'd recommend spending some time either side of the train journey if you are able to.
Zermatt travel tips
Where to stay | I stayed at Hotel ZERMAMA, a brilliant boutique hotel which has firmly secured its spot as one of the coolest places I've ever stayed. Their interior design is just beautiful, with tones and materials that connect it to the mountains while also feeling stylish and modern, and some of the rooms have Matterhorn views.
They had a bunch of fun extras (like a yoga mat and foam roller in your room. fitness classes on the TV, faux fur winter coats to wear outside in the cold, and a giant wine and cheese cellar downstairs, but my favourite part of the hotel was that they had in-room fondue sets for guests to use! You could get fondue ingredients to DIY your own pot, the kitchen would bring fresh, warm bread and you can dip away at your heart's content on your balcony with views of the Matterhorn. Living the dream.
What to do | Zermatt is an adventurer's paradise, with endless hiking opportunities in summer and skiing spots in winter. I visited in October which wasn't cold enough for snow yet so I took the Gornergrat Bahn up to the Gornergrat station and walked down two stations soaking up views of the Matterhorn.
This is where the famous Matterhorn reflection can be found, in Riffelsee lake, near the Rotenboden station along the Gornergrat route.
You can buy Gornergrat Bahn tickets here >>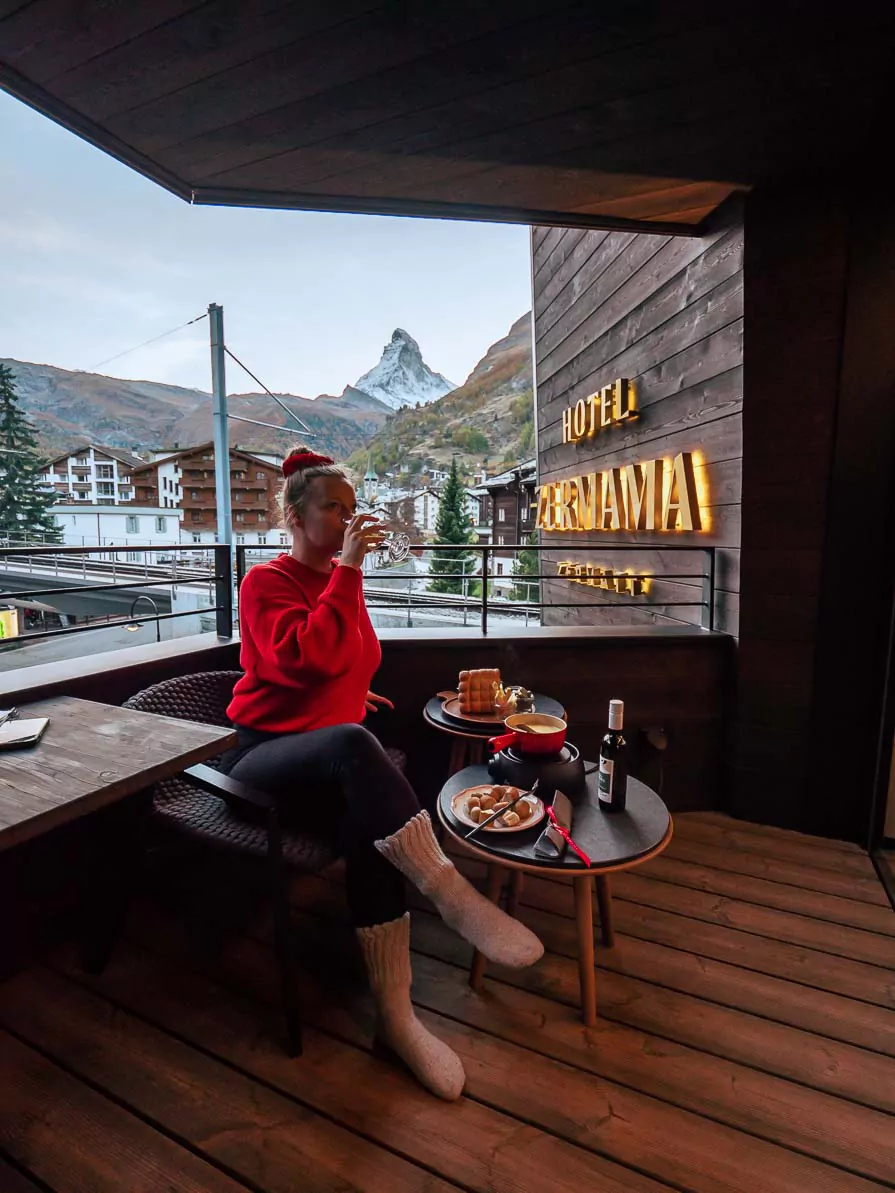 St Moritz travel tips
Where to stay | I stayed at Randolin's Berghotel, which is a fantastic value family-friendly hotel with mountain and lake views. But that's not all, I actually stayed in their historic observatory, complete with a turning mechanism and a window that opens for stargazing!
This observatory is SO COOL, one of the most unique places to stay in Europe. You have to climb up a ladder to get up to the dome, where you'll find a cosy double bed, some bench space for sitting or storage, and a big heater keeping you warm all night long. The room has a private bathroom downstairs as well as a minifridge and kettle before climbing up the ladder.
The hotel's facilities are great too, with a decent buffet breakfast, a shuttle bus into town (it's a 30 minute walk otherwise) and an awesome wellness area with saunas, steam rooms and both an indoor and outdoor pool.
What to do | St Moritz is one of Europe's most luxurious ski resorts in winter, with world-class runs, Michelin-starred restaurants and designer shops. In summer there are a range of cable car options to get you to epic viewpoints and hiking trails through the mountains.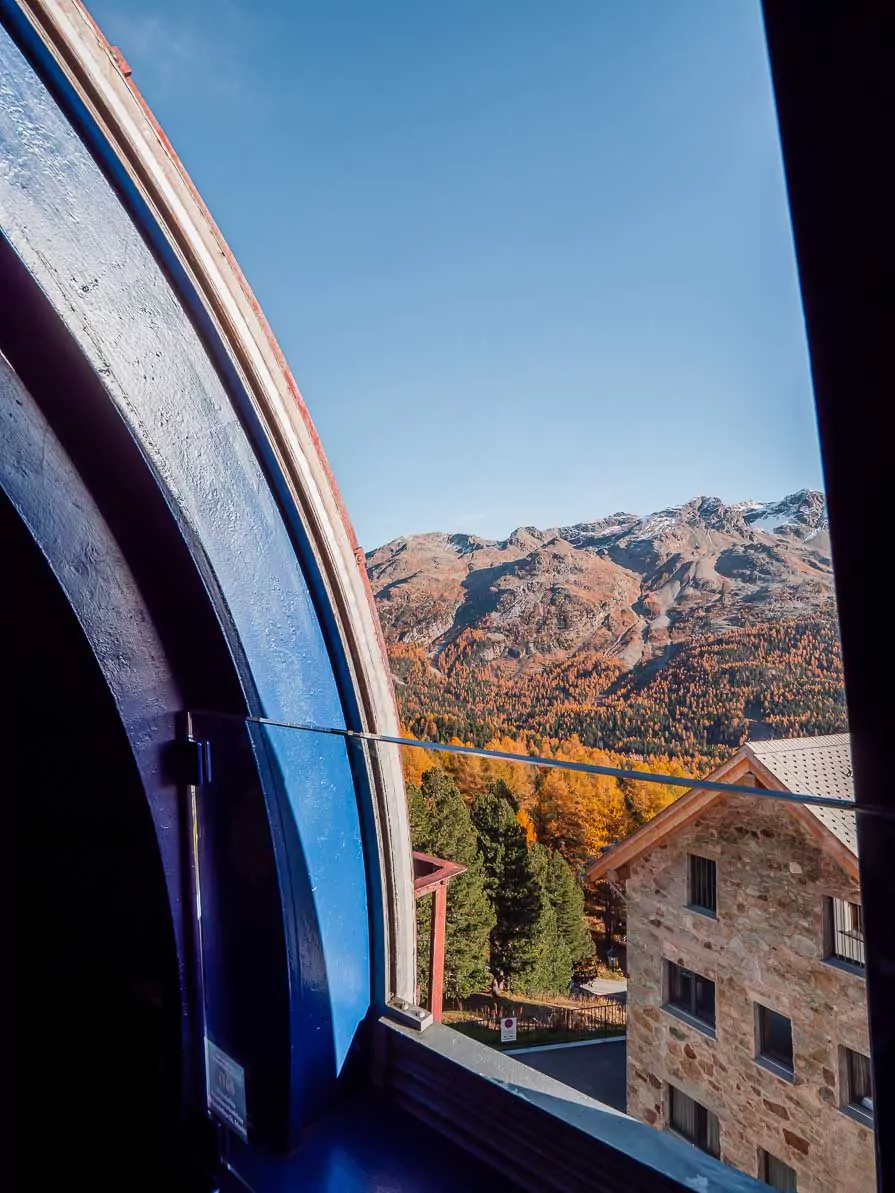 ---
Glacier Express price: What do Glacier Express tickets cost?
Glacier Express tickets are made up of two separate payments, one for your ticket and one for your seat reservation.
The ticket price for the full journey from St Moritz to Zermatt (or the other way round) is 152CHF for 2nd class and 268CHF for 1st class, and ticket prices are the same regardless of the time of year you're travelling.
In addition to this, there is a mandatory seat reservation fee, which does change depending on season. For the low season between 12 December 2022 and 12 May 2023, the seat reservation is 39CHF. For the high season from 13 May 2023 to 15 Oct 2023, the seat reservation is 49CHF. (As of 17 July 2023 they still haven't updated their website with 2023/2024 travel dates).
This means the full price you can expect to pay is as follows:
2nd class low season: 191CHF (about €197.70*)
2nd class high season: 201CHF (€208.10)
1st class low season: 307CHF (€317.80)
1st class high season: 317CHF (€328.20)
*Currency exchange to Euros is based on the rate as of 17 July 2023
If you aren't taking the full journey and want to get off or hop on at one of the stations in between Zermatt and St Moritz, you can get slightly cheaper tickets and seat reservations.
See the full pricing info for the Glacier Express >>
Please note: While double checking prices for this blog, I saw that a Zermatt to St Moritz train on the same day was actually more expensive than the same train going the other way (it was showing as 180CHF in 2nd class and 316CHF in 1st class). I emailed Glacier Express customer service to check if this was correct and they've confirmed to me that it's a pricing error, and the prices should be the same as listed on the website pricing page, which are 152CHF/268CHF respectively. If you're getting the incorrect price showing up on your travel dates just pop them an email and they can ensure you're paying the correct amount.
---
Can you get a Glacier Express discount?
I know those prices are pretty crazy but don't click away yet! There's a super easy way to get a HUGE discount on your Glacier Express tickets.
If you are planning on taking more than one train during your Switzerland or Europe adventures, you should look into getting a rail pass.
What is a rail pass?
A rail pass generally covers the cost of train tickets for a specific period of time, either for a specific country or for multiple countries.
I travelled with a Eurail Global Pass, which covers the cost of train tickets in 33 countries across Europe. Eurail passes are only valid for non-European citizens, if you live in Europe then you'll need to get an Interrail pass which provides all the same benefits as Eurail.
If you're travelling in Switzerland only, you can choose from a Swiss Travel Pass which covers the ticket cost, or the cheaper Swiss Half Fare Card which gives you a 50% discount on the ticket price.
If you use a rail pass to cover or discount your ticket, you still need to pay for the mandatory seat reservation.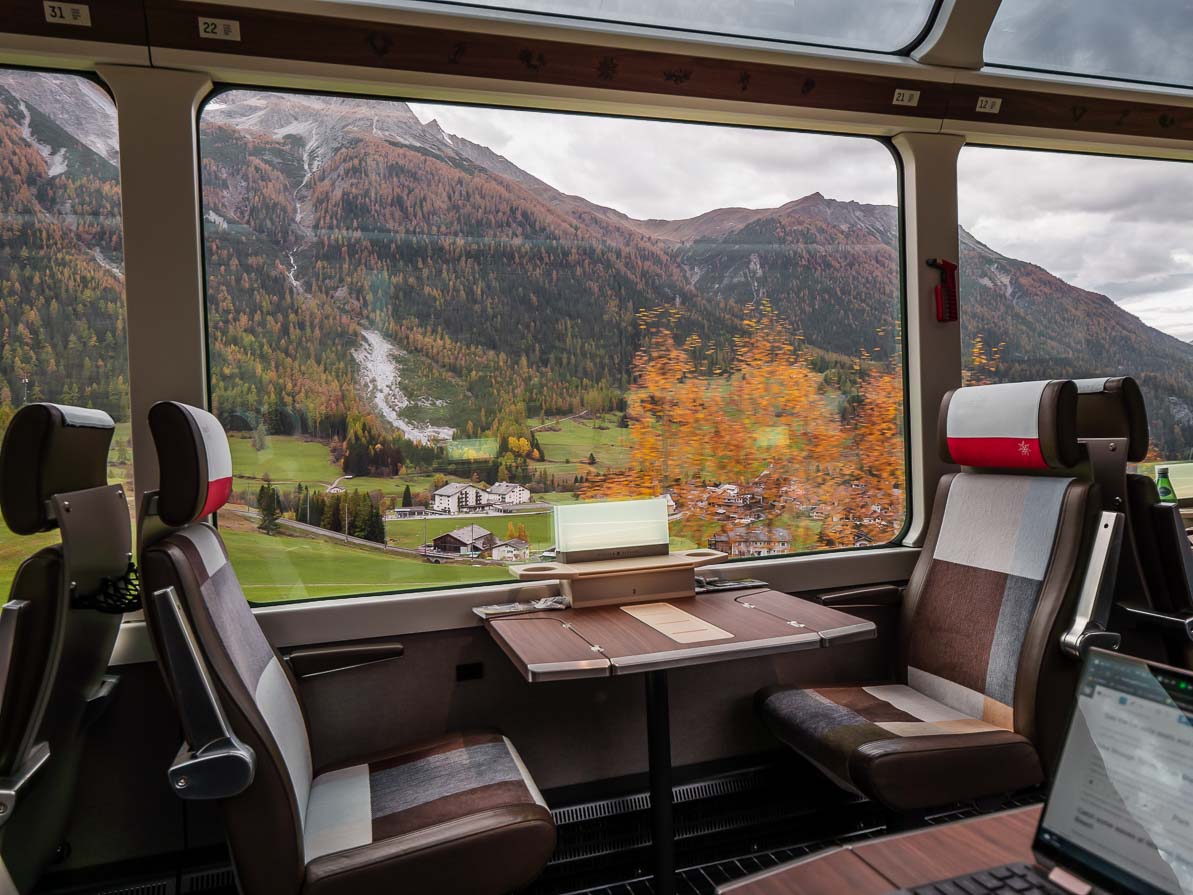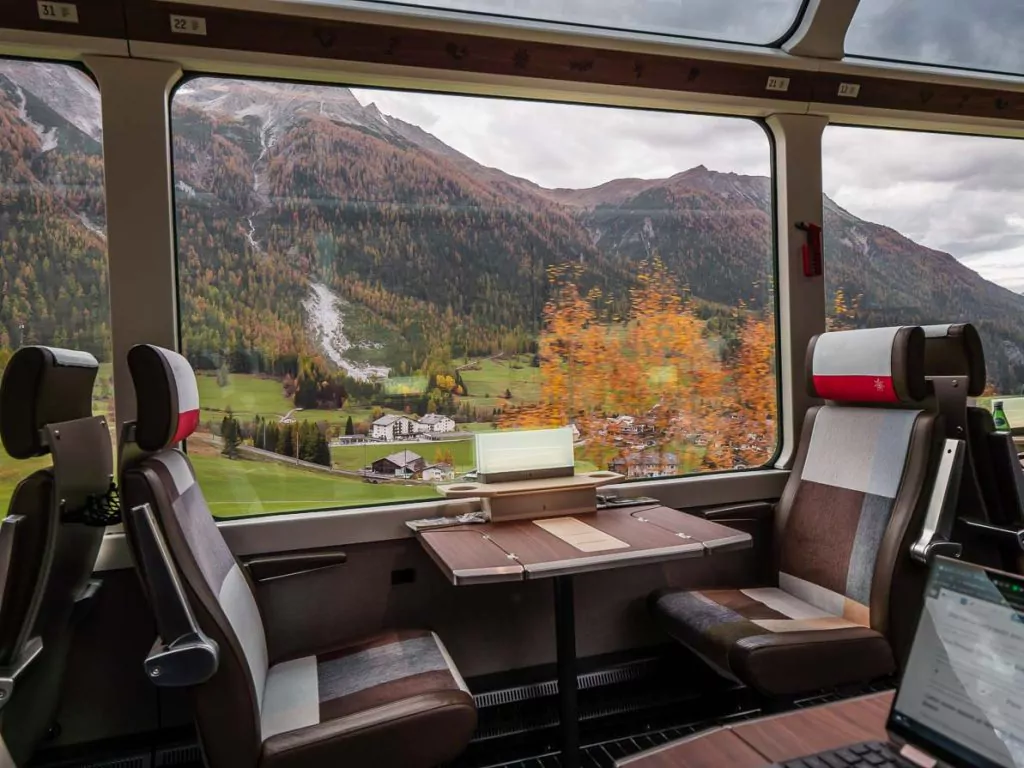 How much is the Glacier Express with a Eurail pass?
I'm glad you asked!
With a Eurail pass (or any other pass that covers the ticket cost), you'll only need to pay for the seat reservation, which is 39CHF in low season or 49CHF in high season. That's a discount of 152CHF in 2nd class or 268CHF in 1st class.
Rail passes of course have their own cost, and the most simple way to calculate if they're worth it is to divide the pass cost by the number of travel days it gives you to give you a 'daily cost'. As a quick example, my '15 travel days in two months' Eurail Global Pass in 1st class was worth €617. This means each of those travel days essentially 'cost' €41.33.
If I use one of my travel days for the Glacier Express at a 'cost' of €41.33, then have to pay for the seat reservation of 49CHF (€49.84), my total 'cost' for the Glacier Express is €91.17, instead of paying the full price of €322.20 for a 1st class ticket in high season. That's still a huge saving of €231.03 when you take into account the price of the Eurail pass!
Eurail has a range of passes, from Global passes to single countries, flexible travel days to consecutive passes, 2nd class or 1st class, as well as cheaper passes for youths (27 & under) and seniors (60+), and the Eurail world can be a bit confusing if you're new to it. I'll be making a detailed Eurail information hub on my blog after my trip finishes in December so if you have any specific questions please let me know in the comments of this post so I can ensure they're answered in detail!
I got my Eurail pass from Rail Europe and they've been excellent to deal with, a very helpful team and quick to respond to my questions when I was first getting the hang of the pass.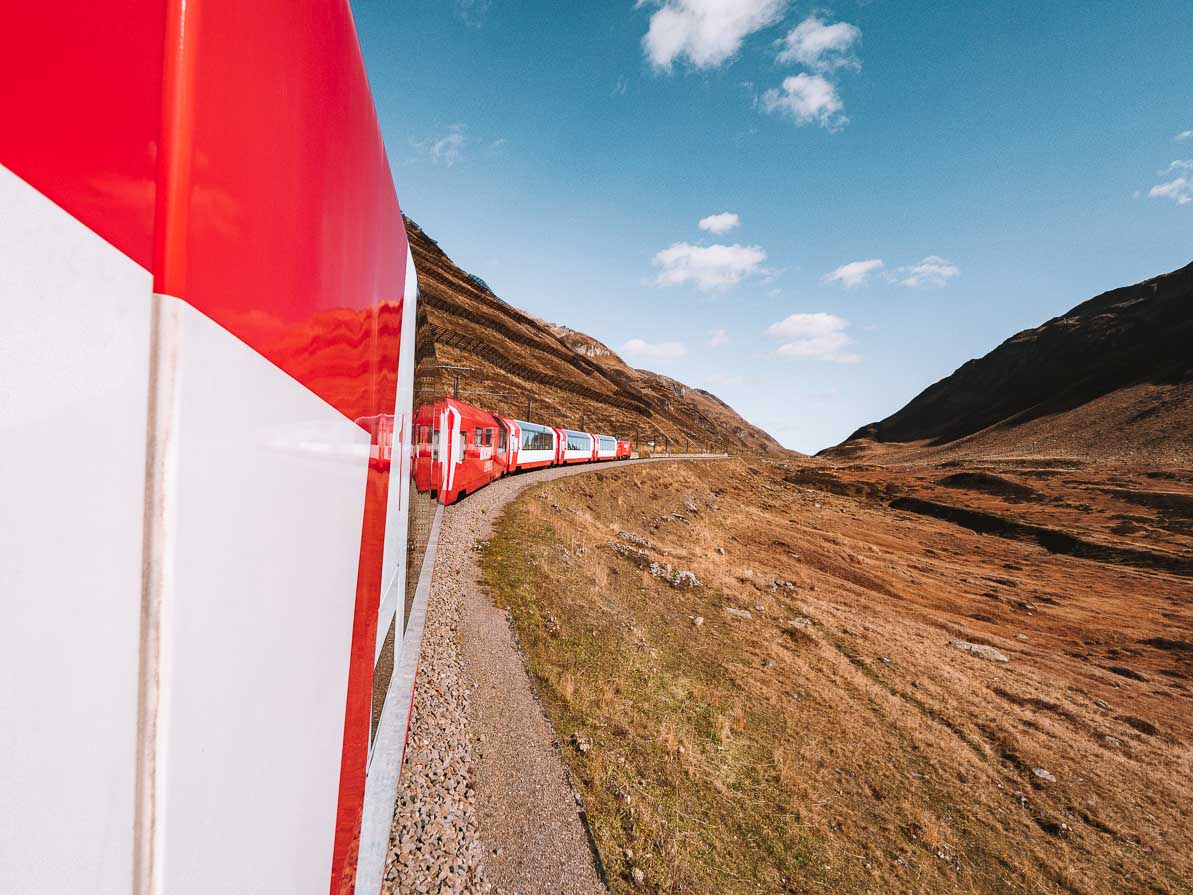 ---
How do you buy Glacier Express tickets?
To purchase Glacier Express tickets or seat reservations, you need to buy them on the Glacier Express website.
Tickets are only available for purchase 60 days before travel, but you can pay for your seat reservation (and lock in your seat) three months in advance. Super weird, don't ask me why, I don't make the rules. Seat reservations do get booked up in advance, particularly in summer when the July/August period can sell out the day they are released, so set a reminder for three months ahead of your departure date to check for reservations.
Put your departure/origin, travel date and chosen class into the search bar, then click 'next'. It'll take you to the availability calendar where it'll show you how many seats are available on the trains that day and three days either side.
Once you click on a date, it'll bring up the train layout and show you the available seats for you to choose one (I'll let you know where to sit in the next section of this blog). At this stage it'll show the full price (ticket included) but if you have a rail pass you'll be able to add that in the next step.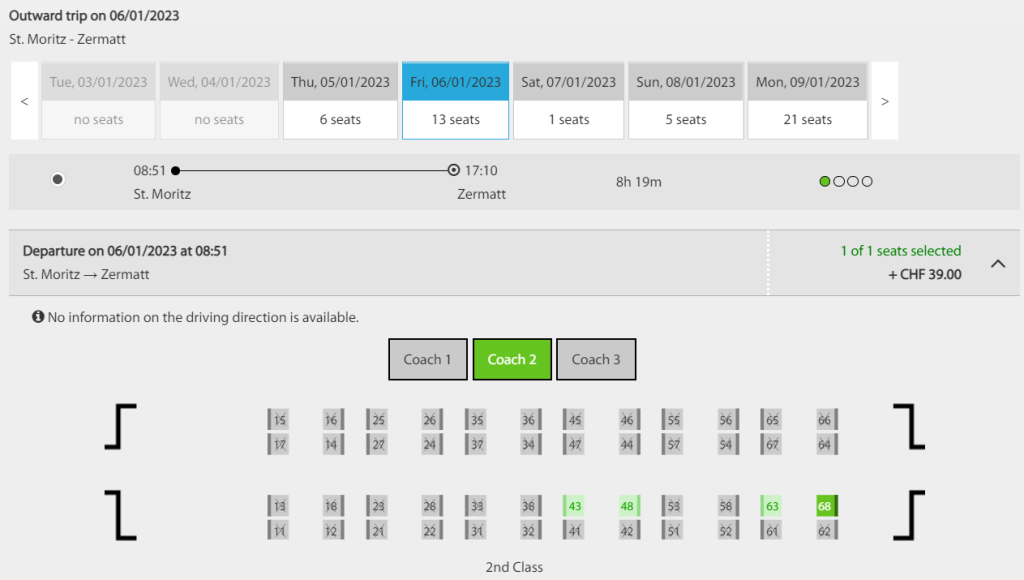 Add all your information into the traveller info section, then in the 'Reduction' dropdown you'll be able to choose Eurail/Interrail Pass, Swiss Travel Pass or Swiss Half Fare Pass which will discount the price.
On the next page it'll ask you if you want to add a meal, you can do this now if you know you want food but they also have a menu you can order from on the train itself so no need to pre-book if you aren't sure.
---
Which side of the Glacier Express should you sit on?
The seat layout image does say 'no information on the driving direction is available' and they say this for two reasons.
Firstly, the train actually enters Chur going one way and then starts driving in the other direction, so you'll switch sides after that station. Secondly, the train company says that the train compartments might change for different trips so they can't guarantee that the 'top' or 'bottom' seats on the image will definitely be on a particular side.
In saying that though, from chatting to a few Glacier Express frequent riders, it seems as though the seats you want are generally the ones on the same side as the single column of seats in first class, which are at the 'bottom' of the image in the booking system at the time of writing (July 2023)*. These seats are typically on the right side for most of the trip (until Chur) when going from Zermatt to St Moritz, and the left side for most of the trip (after Chur) from St Moritz to Zermatt.
*You can check if the single column of seats is still being shown as the 'bottom' seats on the booking system by just clicking through the coaches and finding the first class coach.
Sitting in these 'bottom' seats gives you the best views of almost all the best scenery, except for one notable sight on the other side, the Landwasser Viaduct. If this is an absolute must-see for you then I'd recommend choosing a seat from the 'top' row of the image, otherwise just make sure you're standing by the window at the end of the carriage to get photos of the viaduct. Which brings me to…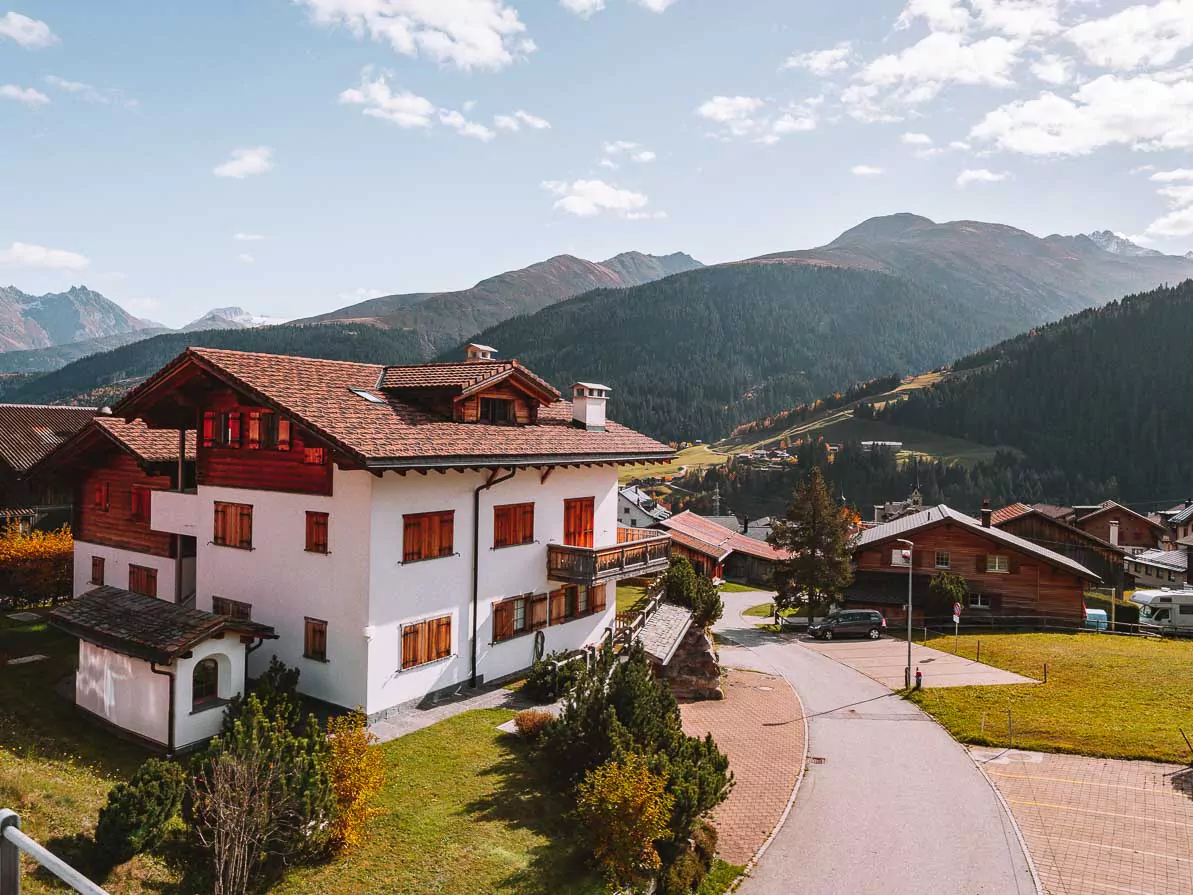 ---
How can you take the best photos on the Glacier Express?
I hate to be the bearer of bad news, but the Glacier Express is less than ideal for photography due to huge un-open-able windows and terrible reflections. Photos hardly do the views any justice!
The best way to capture photos from the Glacier Express is to open the windows of the doors at the end of each cabin, these will give you a glass-free viewpoint with no reflections. Just be very careful for obvious reasons and don't lean out too far, the train gets super close to trees/posts/tunnel walls and you don't want to lose your phone, camera or a limb.
If you're determined to shoot from your seat, here are a few simple tips to help you get the best photos:
Use a polarising filter on your camera
Use a lens hood and get as close to the glass as possible
Wear dark clothing, bright clothes will be more obvious in reflections
Have a dark scarf with you to wrap around your phone/lens
Shoot from the less sunny side of the train
Use a high shutter speed as the train will be moving at about 38km/h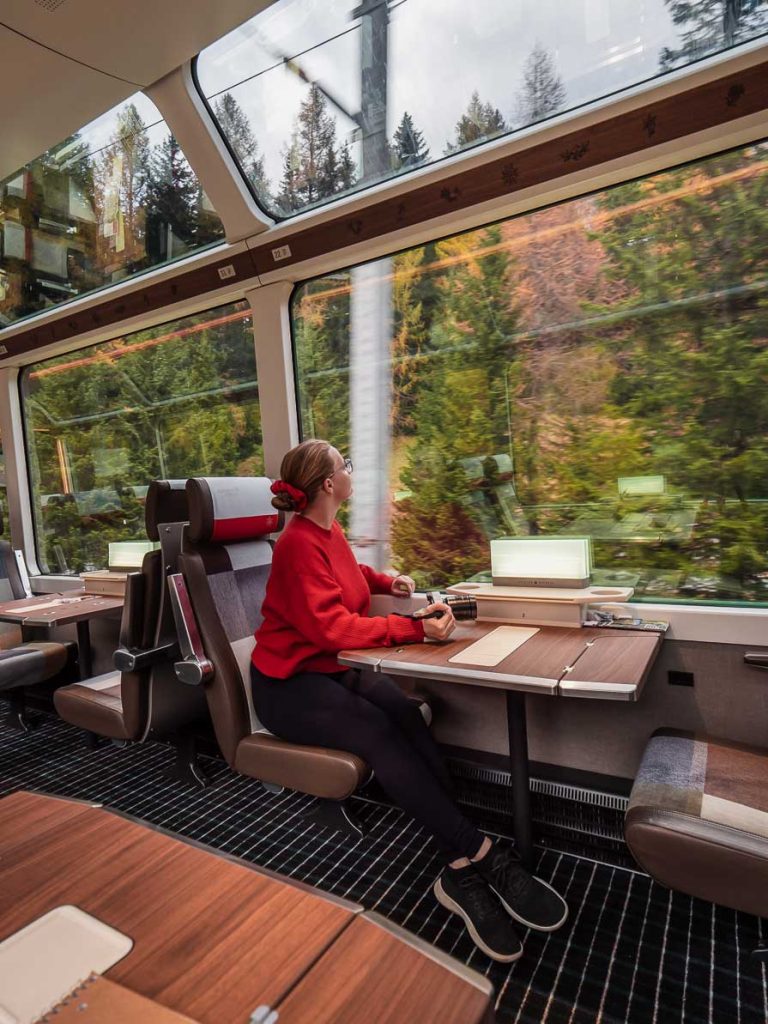 ---
Glacier Express 1st Class vs. 2nd Class
I had a 1st class Eurail pass so I booked a 1st class seat, but I had a wander into the 2nd class cabin to check it out too.
The main benefit of a 1st class ticket is that there's additional space.
The seat layout is 2-2 on one side and 1-1 on the other side (vs. 2-2 and 2-2 in 2nd class) which means slightly bigger seats and a bigger aisle. Having 1-1 seats is also ideal for a couple/duo or solo travellers, because you can have your own spot without having to scoot past someone else to get out of your seat.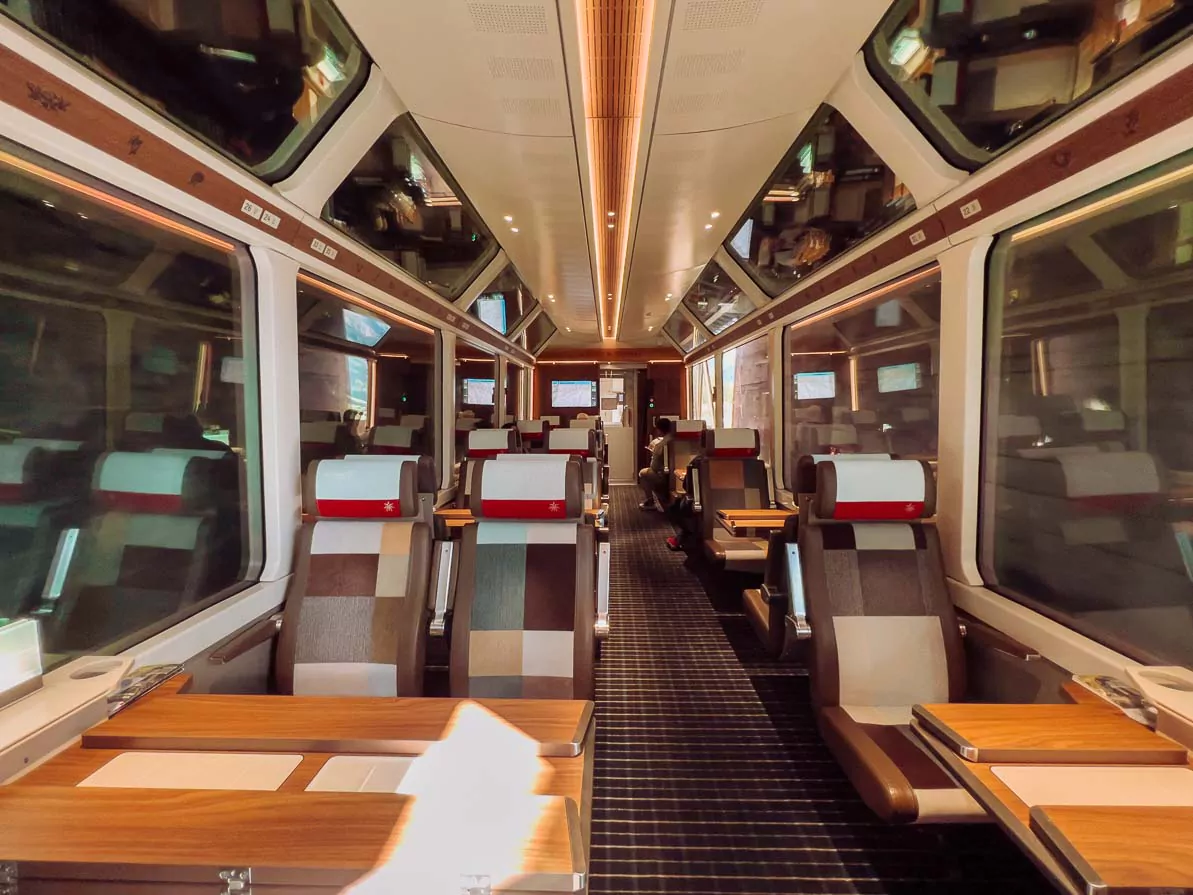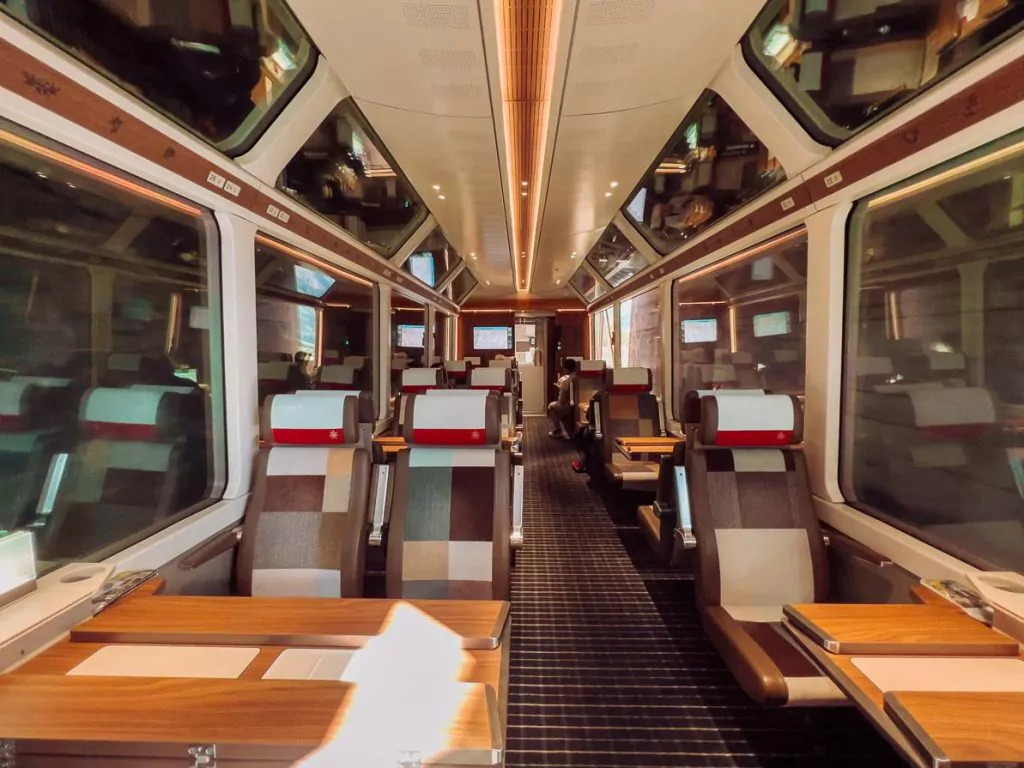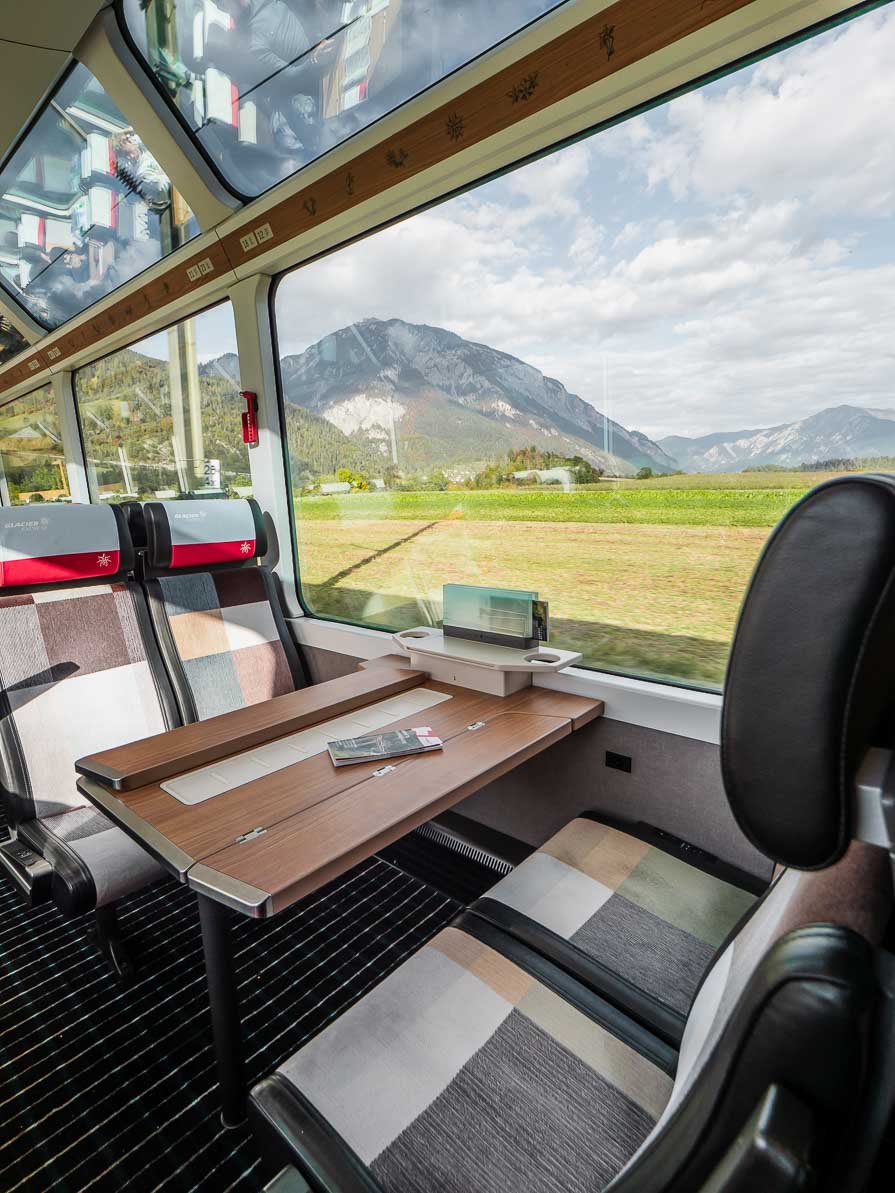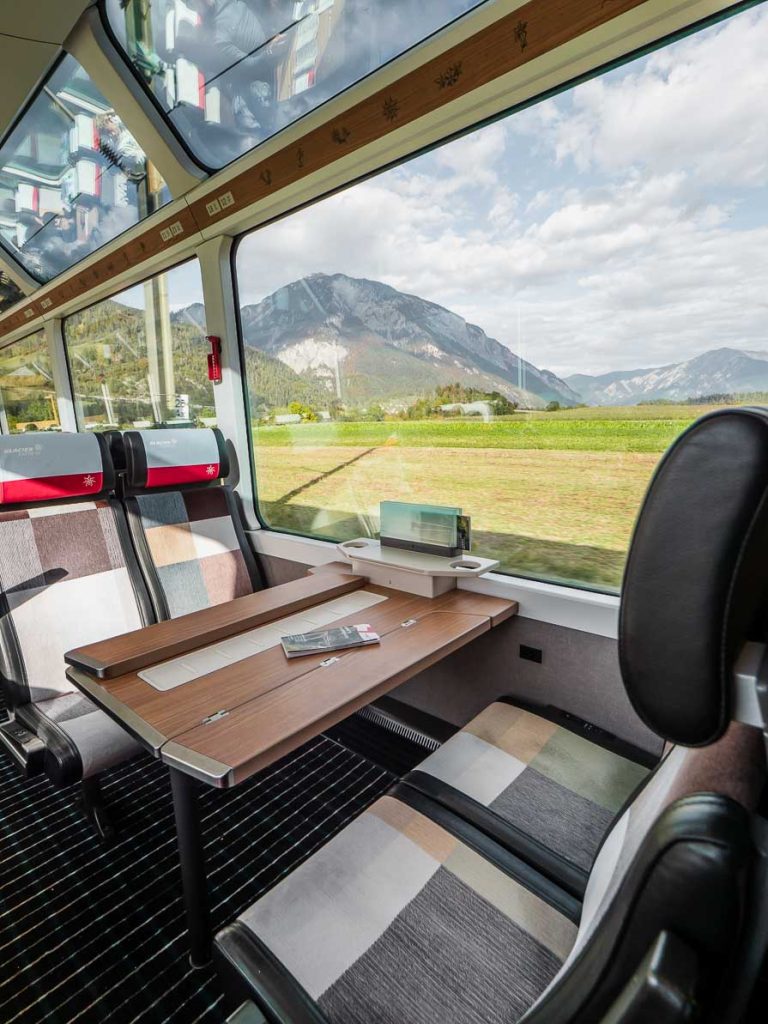 Apart from that, basically everything else is the same. The panoramic windows are the same, the menu is the same, both 1st class and 2nd class have speedy WiFi, and the views are obviously the same. I usually go for the first class upgrade on trains because more space means it's easier to work on my laptop, but for the Glacier Express I was too busy enjoying the scenery to do any laptop work anyway!
If you're paying for your ticket outright I'm not sure it's worth an additional 116CHF (ouch) to upgrade to first class, unless you specifically want to take advantage of the 1-1 seating configuration.
But if you are tossing up between a Eurail 1st class vs 2nd class pass, I'm a firm believer that 1st class is worth it if you are planning on doing at least a couple of long-haul journeys. The extra space makes trips significantly more comfortable and it's a must if you plan on working while on trains.
---
What about Glacier Express Excellence Class?
If you're celebrating something special, or if you just feel the need to splurge on a once in a lifetime experience, Glacier Express has an ultra-luxurious Excellence Class option at a cool 470CHF for the seat reservation on top of a 1st class ticket.
For the full St Moritz to Zermatt journey that's 470+268, so 738CHF, which is equivalent to about €750. Yikes!
Excellence Class is certainly something to write home about though. It has a 1-1 and 1-1 seat configuration so you've got a guaranteed (and comfortable) window seat, concierges who help with luggage and anything else you need, access to an exclusive bar onboard and top quality catering and drinks.
Your Excellence Class reservation includes a six course meal using regional ingredients, accompanying wines, coffee, juice, champagne, afternoon tea, soft drinks and snacks throughout the trip.
Is Glacier Express Excellence Class worth the 738CHF cost? I'm leaning towards a no, but I guess if you had the money to spare and were celebrating something like a honeymoon or a special birthday then perhaps you could justify it!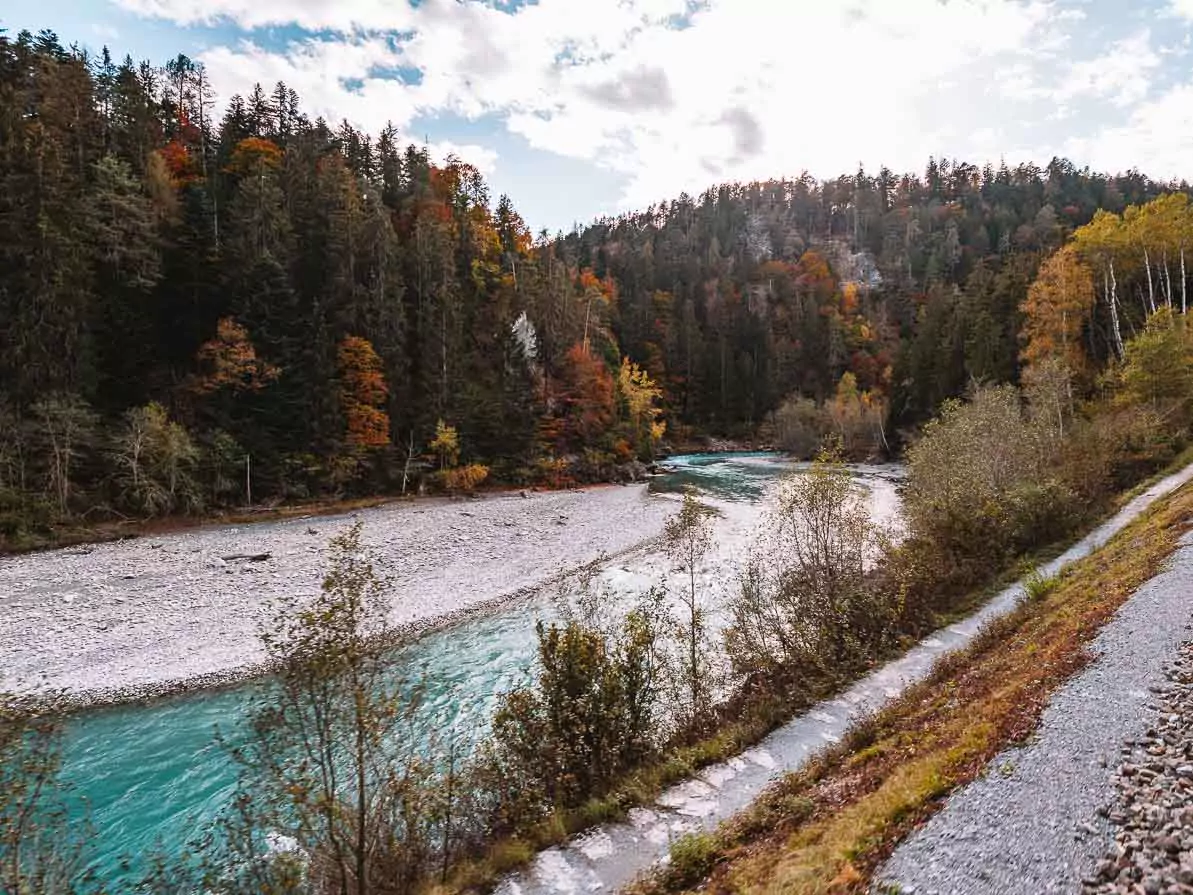 ---
Does the Glacier Express run year-round?
No, the Glacier Express does not run year-round, it has a break from late October to mid-December. In 2022 that break is from 24 October 2022 until 12 December 2022, and in 2023 it looks like the summer season will end a bit earlier on 15 October. At the time of updating this blog post, 17 July 2023, they hadn't announced their 2023/2024 winter season yet.
This almost caught me out because the actual Glacier Express contradicts this and says that it's been running all year since 1982, so I planned out my itinerary to include the train trip in early November. When I went to book I realised that there was in fact a shutdown period from 24 October, and had to completely rejig my trip to fit it in a few days before it closed for the season. Phew!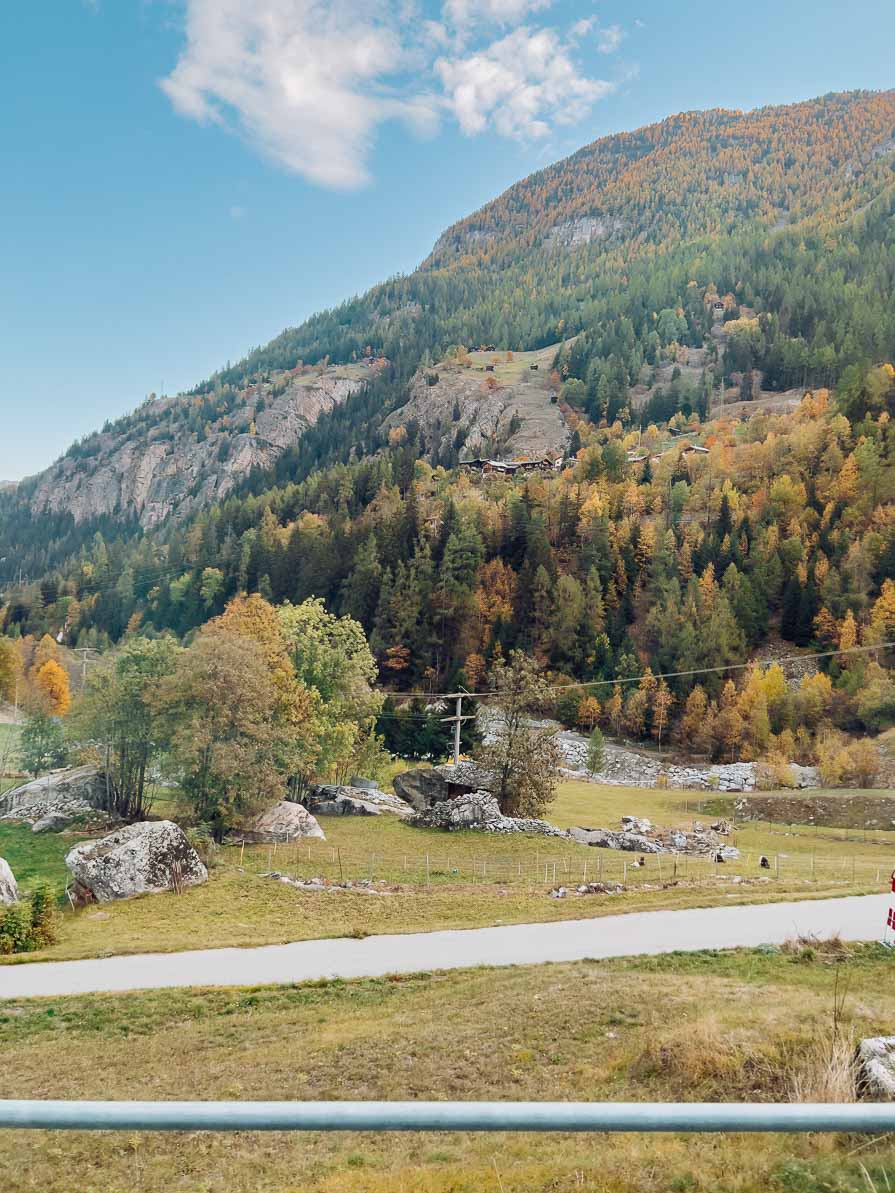 ---
Can you take luggage on the Glacier Express?
Of course you can! There are dedicated storage racks at the end of each cabin for big suitcases, and you can keep smaller bags under your seat or in between seats if there is room.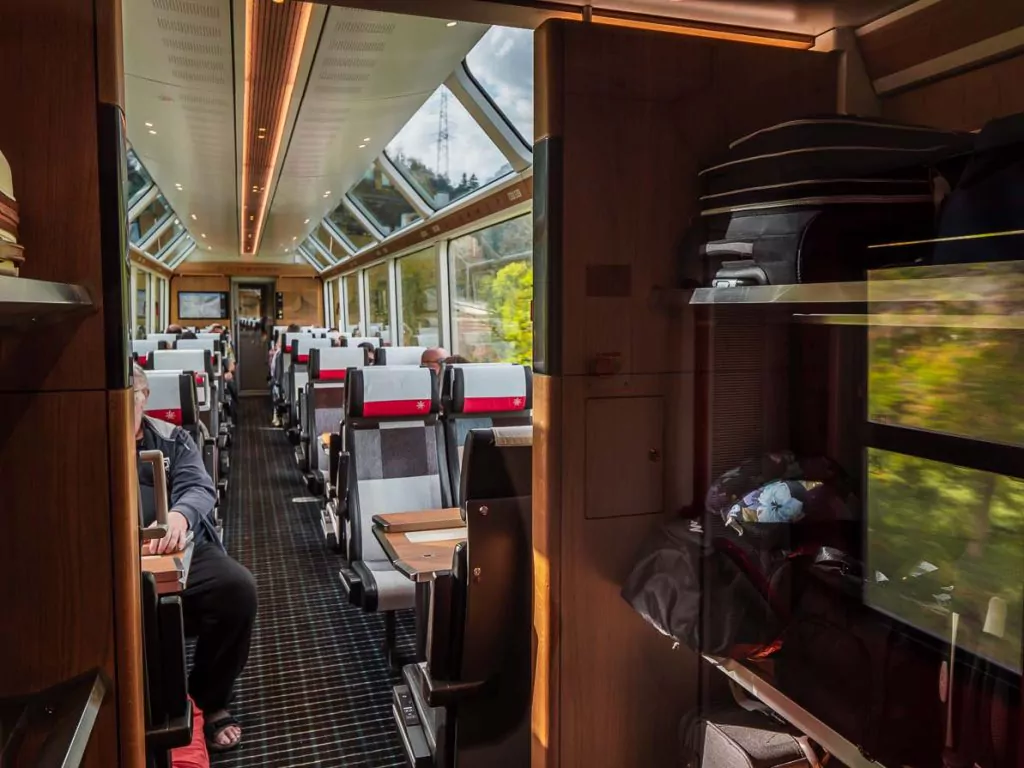 ---
Can you do the Glacier Express route on local trains?
If your travel dates are already full for the Glacier Express, or if you just want to keep it cheap and cheerful, the good news is that you can travel the same route as the Glacier Express by local trains, but the trip does include four train changes.
If you're travelling with a Swiss Travel Pass or a Eurail pass, these local non-express trains are included in your pass with no seat reservations needed, so it'll be totally free.
I haven't done this on the local trains myself, but to find the correct local trains you can go to the SBB website (the national railway company), put 'Zermatt' as your origin, 'St. Moritz' as your destination, and add 'Disentis/Mustér' in the optional 'Via' box, then click 'search for connection'.

The local train option takes 8h 23m with four changes in Visp, Andermatt, Disentis/Mustér and Reichenau-Tamins. Two of the connections are quite short (5 mins and 8 mins) but with a rail pass you can just jump on any local Swiss train, so if you are running too tight for the next train you can take it easy and wait for the next one instead.
These local trains don't have the same panoramic windows as the official Glacier Express, but from my experience all Swiss trains are clean and comfortable so you'll still enjoy the journey.
---
The verdict: Is the Glacier Express worth it?
I absolutely loved my trip on the Glacier Express, and for me it was definitely worth it.
If you have a Eurail Pass or any other rail pass, the Glacier Express is basically a no-brainer because it's such a huge discount, you're getting incredible value for money when you only have to pay the seat reservation fee.
If you don't have a rail pass and are planning on buying your ticket outright, then the Glacier Express will be worth it for you if you're really passionate about landscape scenery, if it's been on your bucket list for a long time, or if you're able to spend the money and time without too much worry.
And if you're on a really tight budge but don't mind the hassle of switching trains, consider taking the local train route instead.
---
I hope this blog has helped you answer the question "is the Glacier Express worth it?"! If you have any other Glacier Express questions, or general Europe rail questions for that matter, let me know in the comments and I'll do my best to get back to you.
For more photos and videos of my Glacier Express trip you can head over to my Instagram and scroll through my highlights to find the 'Switzerland' highlight, which has details all about my trip day by day.