Planning an upcoming Switzerland adventure and considering the Bernina Express panorama train? If you're wondering "is the Bernina Express worth it?" then look no further, here's a detailed review of my trip on the Bernina Express from St Moritz to Tirano, as well as some handy tips to ensure you have the best time possible.
After recently spending two months in Europe travelling by train, I'm a total convert for rail travel, especially in countries with landscapes as magical as Switzerland. Minimal effort, comfortable seating and some of the most mind-blowing views you could ever experience while travelling from A to B.
The Bernina Express was high on my train travel bucket list, and I was able to slot it into my itinerary right after completing another Swiss panorama train, the Glacier Express.
If you're currently planning your Europe rail adventure you might be thinking "is the Bernina Express worth it?". It's not cheap, even with a Eurail Pass you have mandatory seat reservations that set you back between 20-26CHF depending on the time of year, and if you're like the then you want to make sure every travel dollar (or Swiss Franc in this case) is put to good use.
No need to go scouring the internet through hundreds of reviews of the Bernina Express to make your decision, this blog post has literally all you need to know about the train journey to help you decide if the Bernina Express is worth it for you. In this post I explain the Bernina Express routes, the current timetable, pricing, options to get a discount or take the same route for cheaper, tips for taking photos and more.
Here's a deep dive into the Bernina Express to help you decide if the Bernina Express is worth it.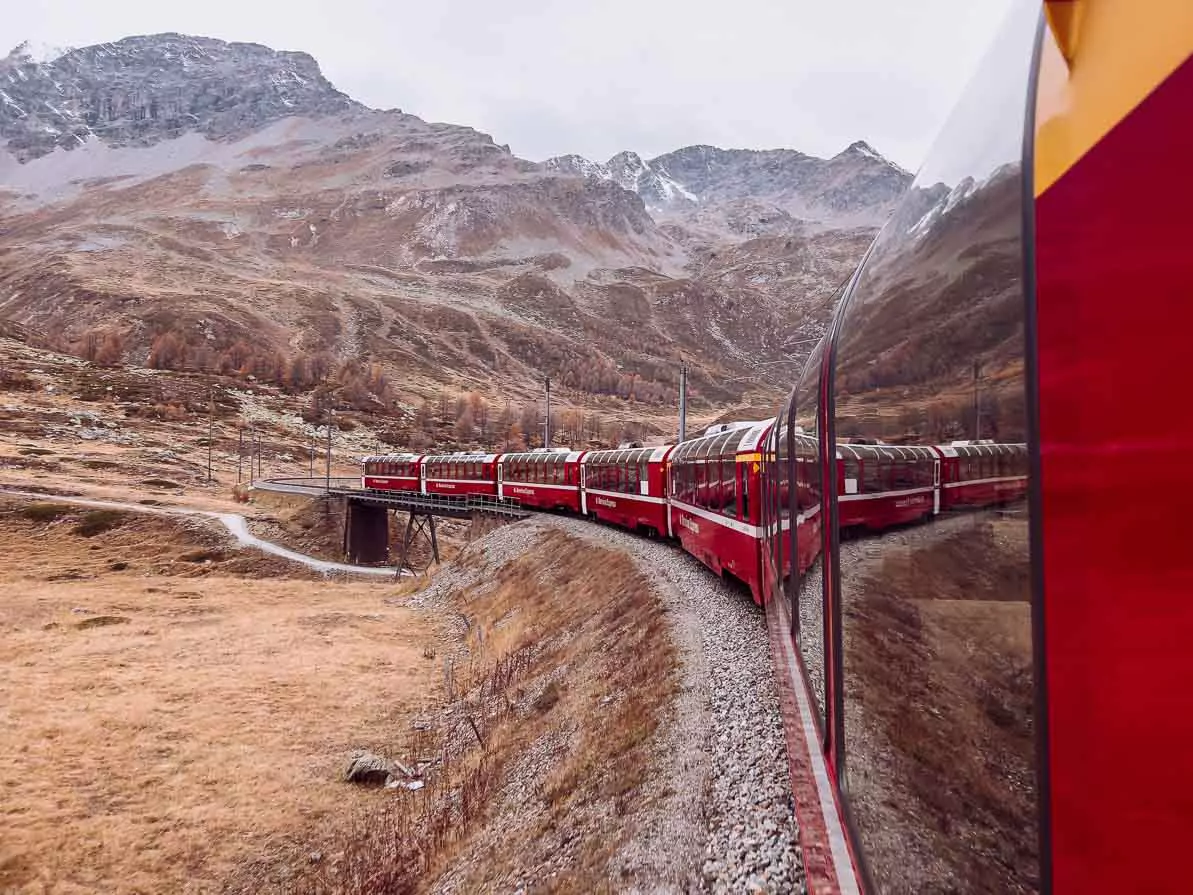 ---
A summary: Is the Bernina Express worth it?
The answer will depend on your exact circumstances of course, but for me the Bernina Express was totally worth it.
If you're wanting to witness some of the best landscapes in the world, if you're travelling with a Eurail, Interrail, Swiss Travel Pass (and therefore are entitled to a discount), if you're simply a keen train traveller, or if you prefer easy, simple journeys and don't mind paying a bit of a premium for convenience, then the Bernina Express is probably worth it.
But on the other hand if you struggle to sit still for half a day, if you're on a super tight budget and would rather save money by taking a cheaper but less scenic route, or if you've only got a couple of days to spend in Switzerland, then the Bernina Express might not be worth it for you.
But please read on for a more detailed explanation on if the Bernina Express is worth it (or not!).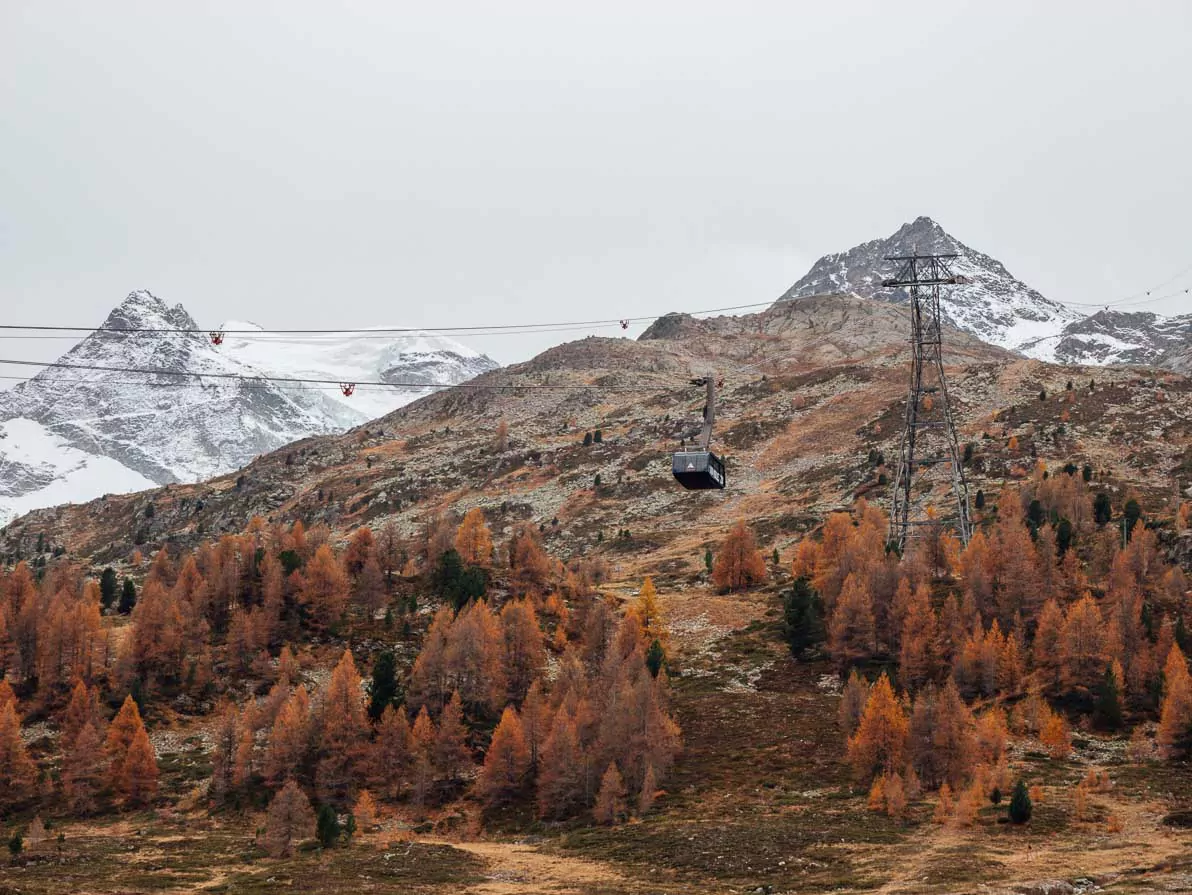 ---
Bernina Express quick links
---
What is the Bernina Express?
The Bernina Express is a UNESCO World Heritage-listed train journey in Switzerland (and a bit in Italy) that takes you past vibrant alpine lakes, charming mountain villages and endless snow-capped peaks over a four hour, 144km journey. You'll go through 55 tunnels and over 196 bridges, experience an incline of up to 7%, and probably take hundreds of photos!
The railway is made up of two lines, the Albula Railway which was completed in 1904, and the Bernina-Bahngesellschaft which was opened in 1910. Those two railways were taken over by Rhaetian Railway (RhB) in 1943, and RhB have been marketing the train journey to tourists as a scenic route since the 1980s.
These days the Bernina Express (along with the Glacier Express and the Gotthard Panorama Express) is known as a 'panorama trip', a term used for tourist-focused scenic train routes through Switzerland that boast panoramic windows for the ultimate sightseeing experience.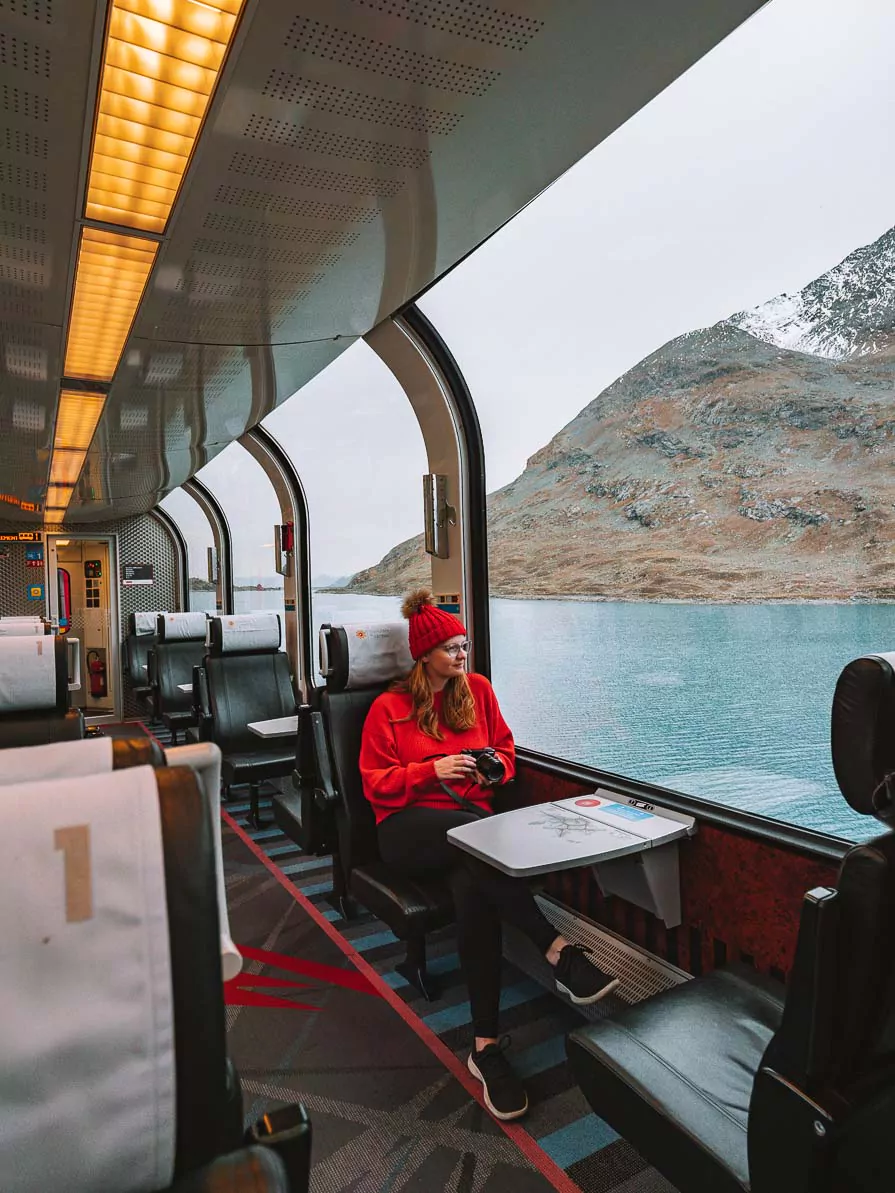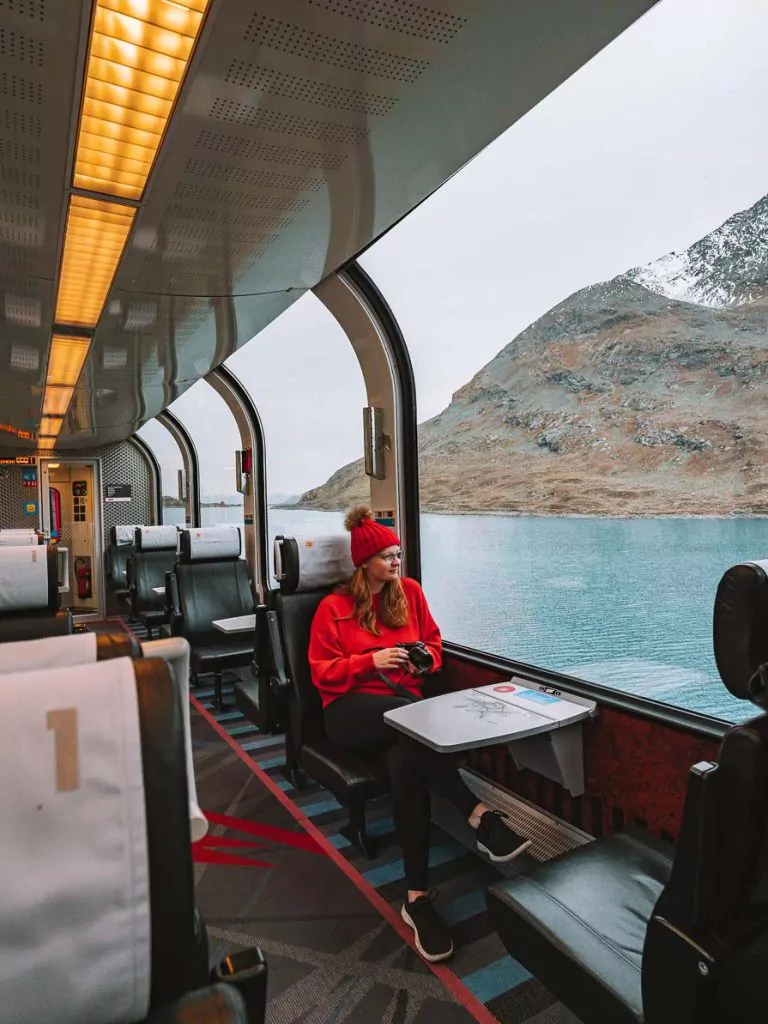 ---
Is the Bernina Express worth it for the views?
The views are simply stunning *chef's kiss*. I'll give you an idea of what views you can expect.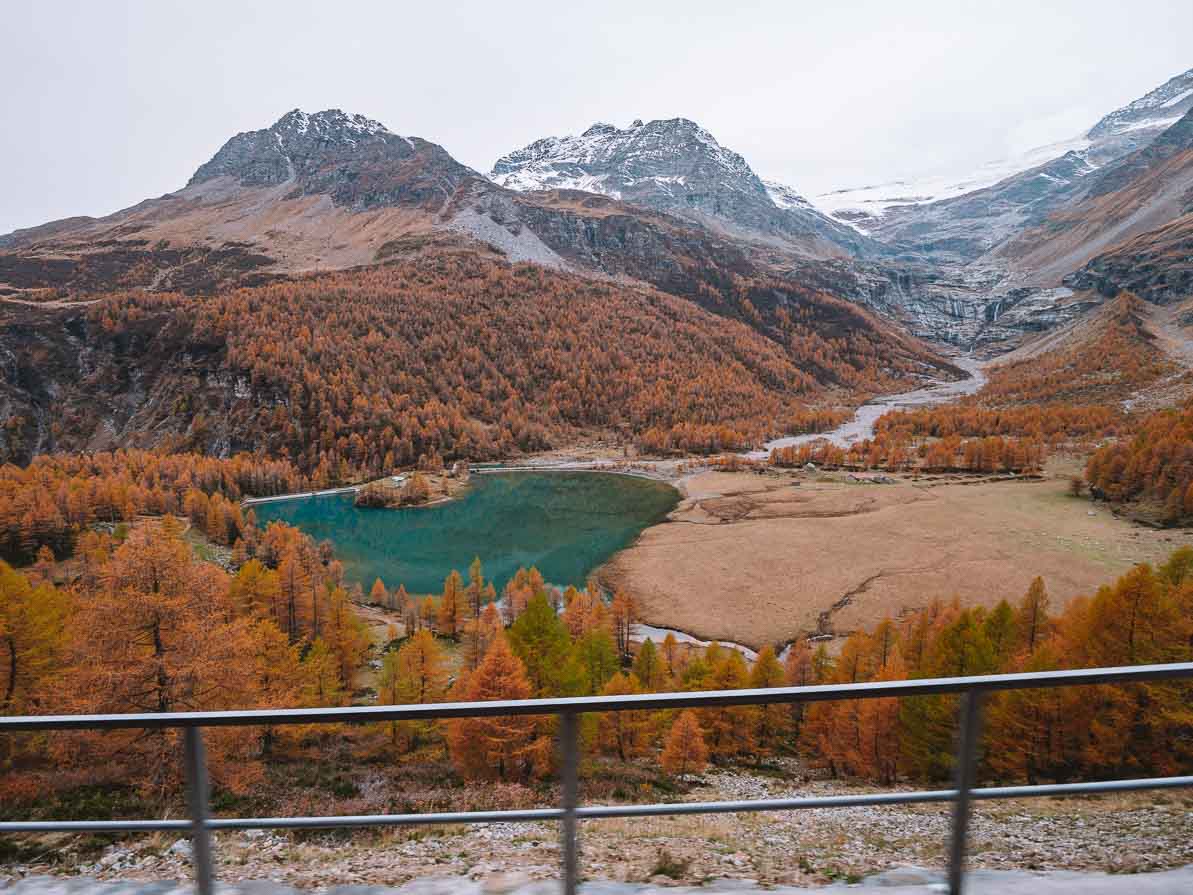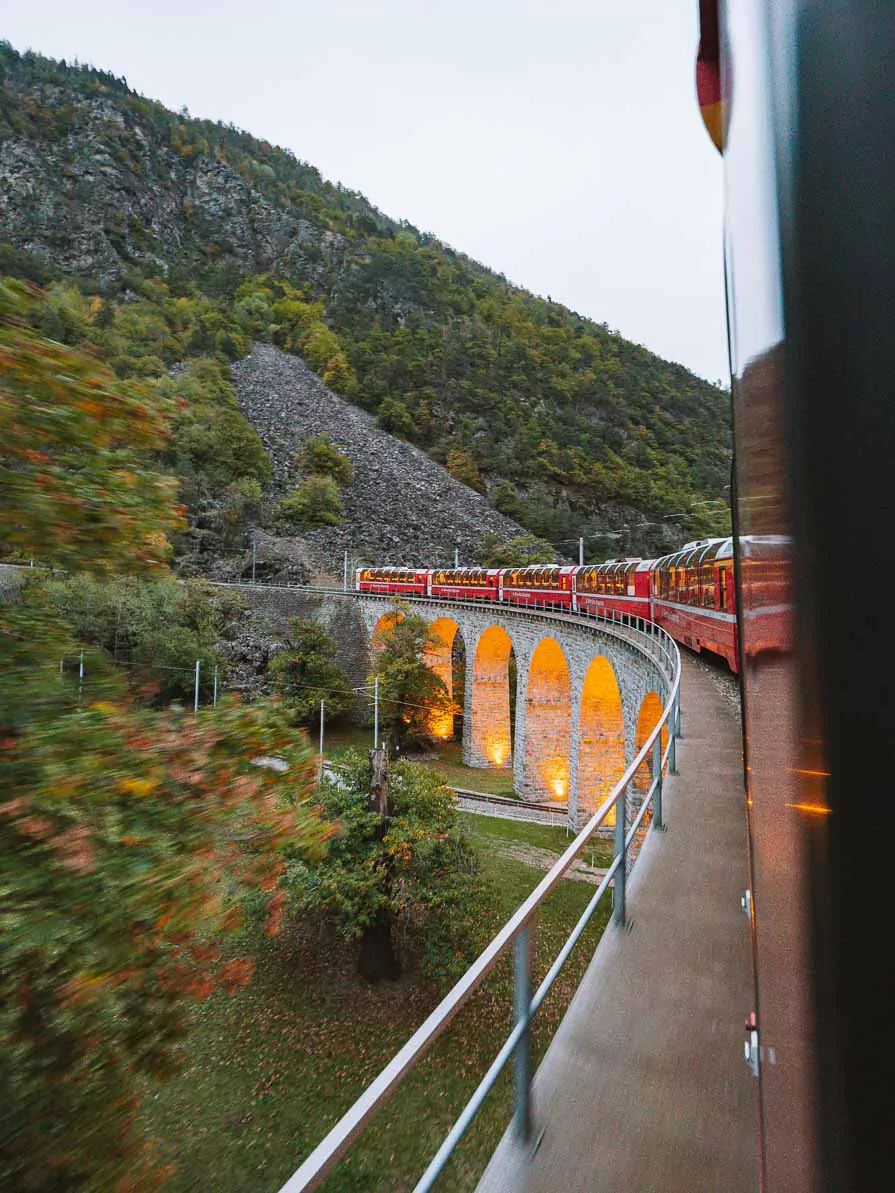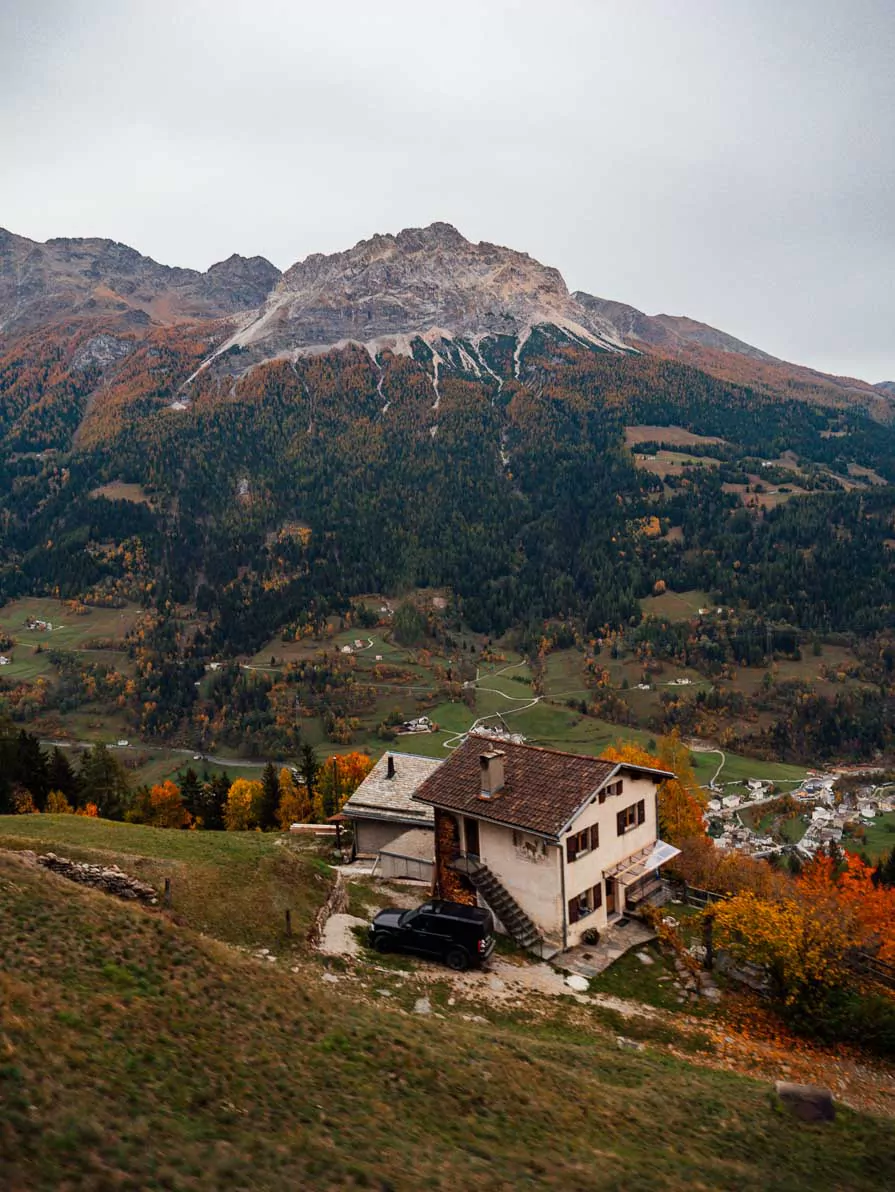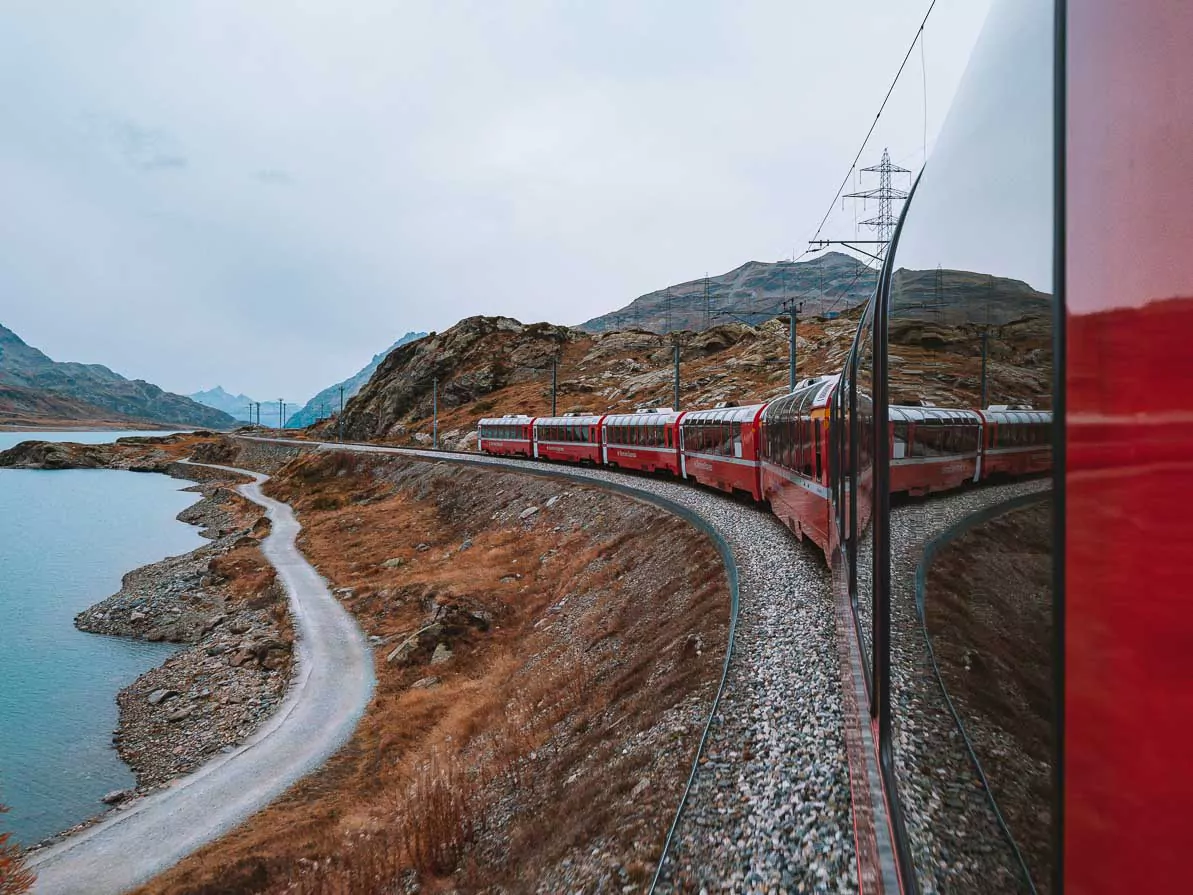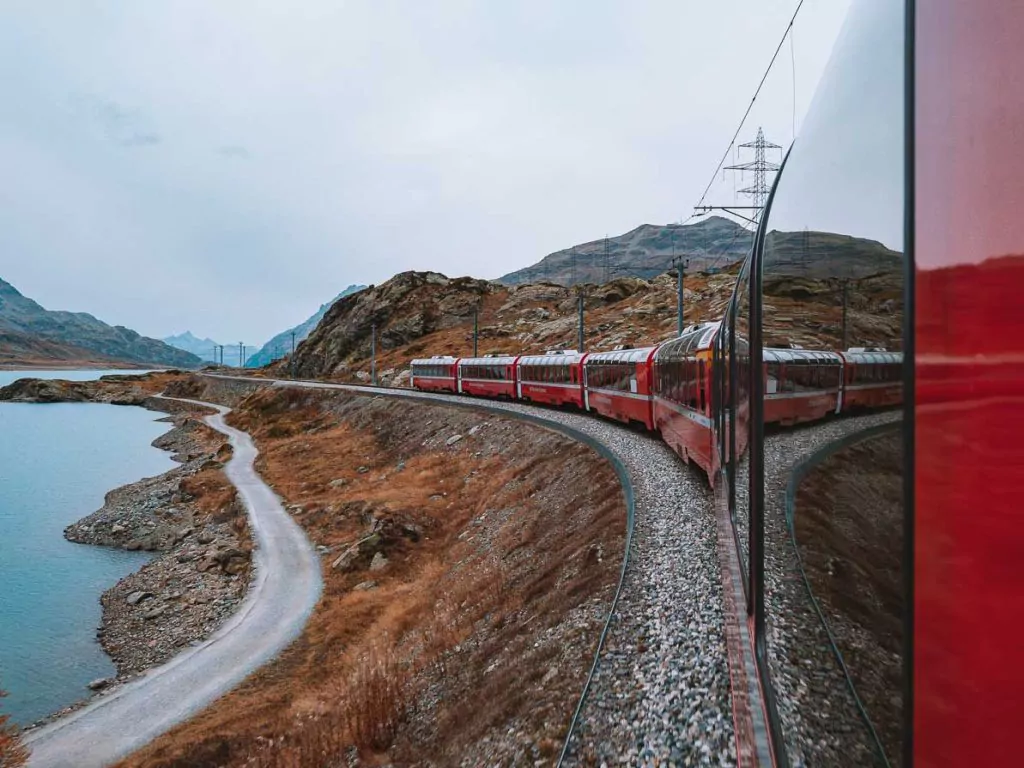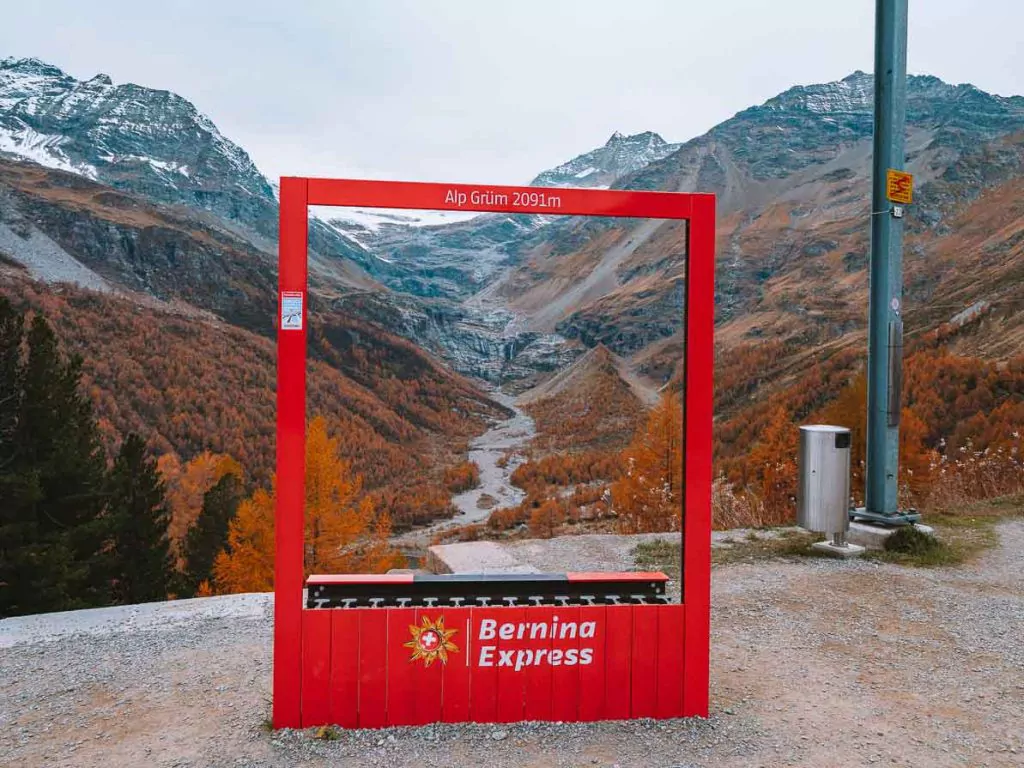 ---
Where does the Bernina Express start and finish?
This question caused immediate confusion for me when I was doing my research, so to avoid that here's all you need to know about the Bernina Express route.
The full 144km journey runs from Tirano in Italy to Chur in Switzerland, and vice versa. This trip takes about four hours from start to finish, and runs year-round.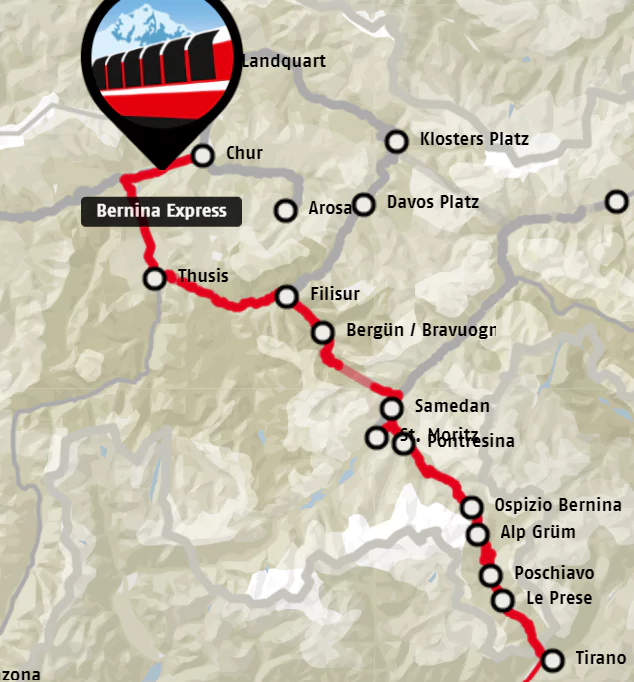 What confused me is that many of the reviews I read mentioned staying in St Moritz. The Chur-Tirano route bypasses St Moritz completely, however there is another Bernina Express route that runs from Tirano to St Moritz, a shorter journey of about 2.5 hours. This route only runs from 7 April to 22 October in 2023 (and randomly for three days between 7-9 December).
If you're travelling in winter and want to stay in St Moritz rather than do the full route to or from Chur, you can catch the Bernina Express to Pontresina and then catch a short 10 minute train to St Moritz (or vide versa).
In this close up map you can see that the Chur-Tirano line runs straight from Samedan through to Pontresina, bypassing St Moritz. If you start your journey in St Moritz then you join the main line at Pontresina.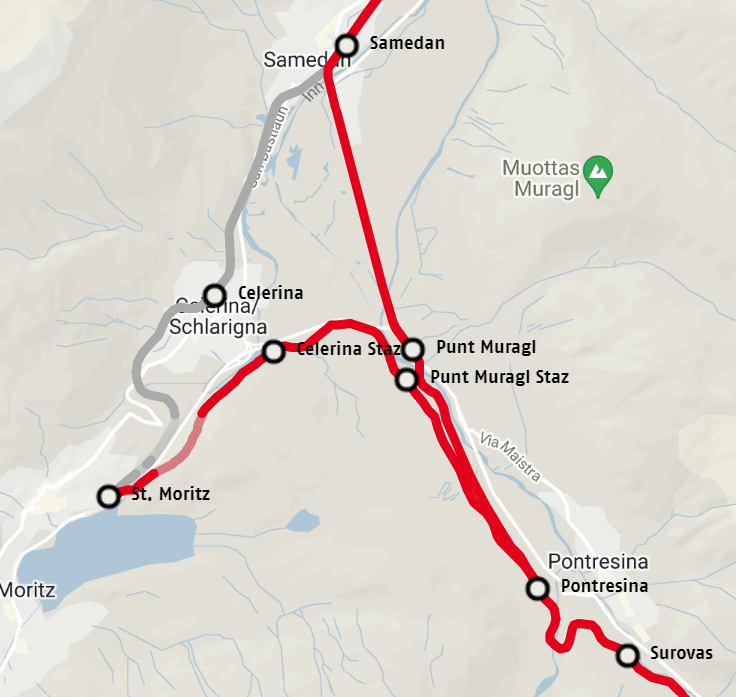 If you're traveling from Tirano and are planning to stay in overnight St Moritz, or want to stop off for a short visit before taking the trip back to Tirano on the same day in summer, then you need to ensure you book and board the St Moritz train and not the Chur train, as the Chur train will not stop at St Moritz.
It's worth keeping in mind that the Glacier Express, another panoramic train, runs between Zermatt and St Moritz, but makes a stop in Chur. If you'd like to combine the two train journeys and go all the way from Tirano in Italy to Zermatt in Switzerland then you could either spend a night in St Moritz or a night in Chur, as both the Glacier Express and Bernina Express service both of those stations.
There is also a Bernina Express Bus add on available for some of the year which connects you from Tirano to Lugano or vice versa with a three hour journey. From 16 February to 26 March, and from 26 October to 26 November, it runs once a day from Thursday to Sunday. From 30 March to 22 October it runs once daily every day of the week.
---
How often does the Bernina Express run?
It depends on the time of year and the route you're taking, here are the train times (last updated 21 February 2023).
Note: The Bernina Express summer season runs from 13 May to 22 October 2023, and the rest of the year (until 12 May 2023 and from 23 October 2023) is referred to as the winter season.
Chur >> Tirano
One train in winter, two trains in summer.
Departs Chur 8.28am, arrives Tirano 12.49pm (year-round)
Departs Chur 1.34pm, arrives Tirano 5.59pm (summer only)
Tirano >> Chur
One train in winter, two trains in summer.
Departs Tirano 8.06am, arrives Chur 12.22pm (summer only)
Departs Tirano 2.24pm, arrives Chur 6.22pm (year-round)
St Moritz >> Tirano
The winter timetable is very weird this year, I don't know if that's due to track upgrades or if they purposefully cut services when St Moritz is already slammed with winter tourists. There are no trains in winter until 7 April, then one train daily from 7 April til 12 May, then three trains daily throughout summer until 22 October. No trains after 22 October except for three days between 7-9 December, when there is one train per day.
Departs St Moritz 9.17am, arrives Tirano 11.32am (summer only)
Departs St Moritz 1.17pm, arrives Tirano 3.31pm (summer only)
Departs St Moritz 4.14pm, arrives Tirano 6.39pm (from 7 April until 22 October, also 7-9 December)
Tirano >> St Moritz
Same dates as the opposite direction mentioned above.
Departs Tirano 10.06am, arrives St Moritz 12.35pm (from 7 April until 22 October 2023, also 7-9 December)
Departs Tirano 1.17pm, arrives St Moritz 3.45pm (summer only)
Departs Tirano 4.06pm, arrives St Moritz 6.25pm (summer only)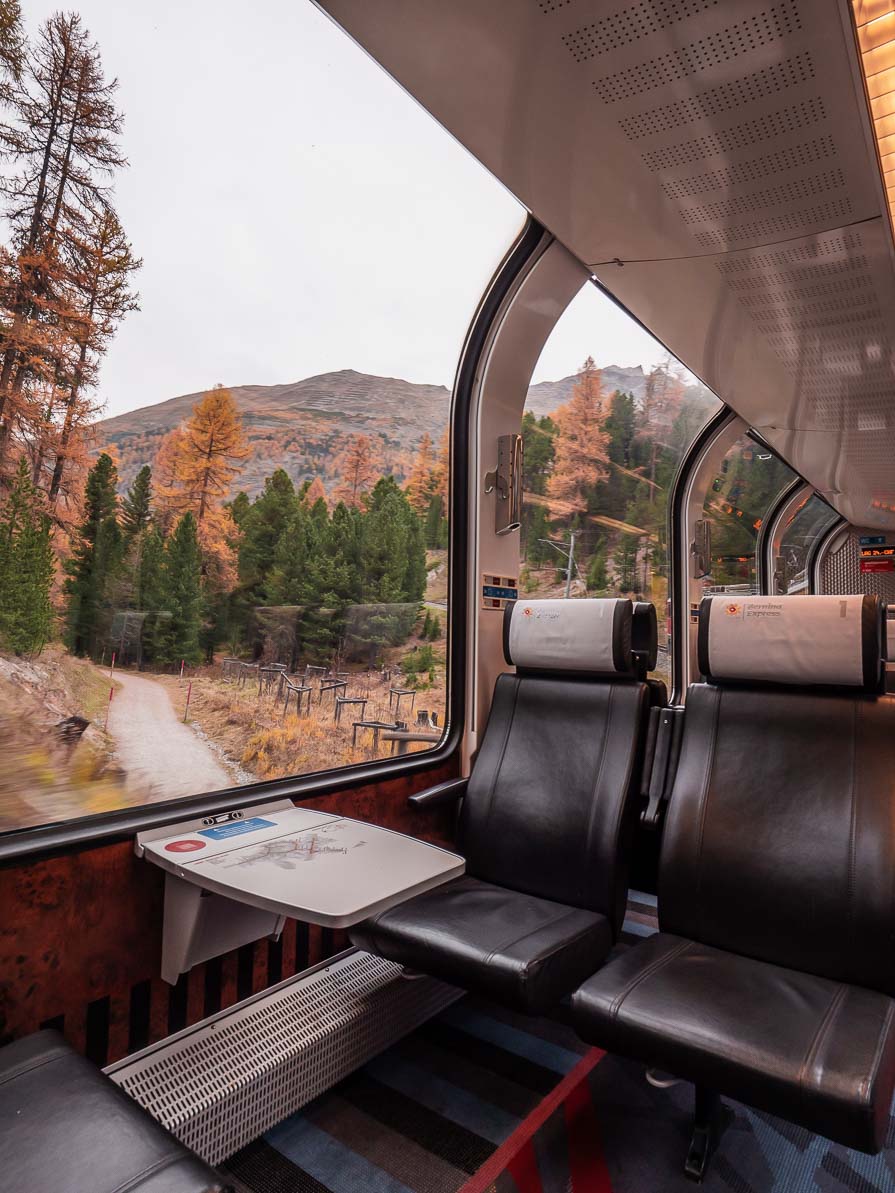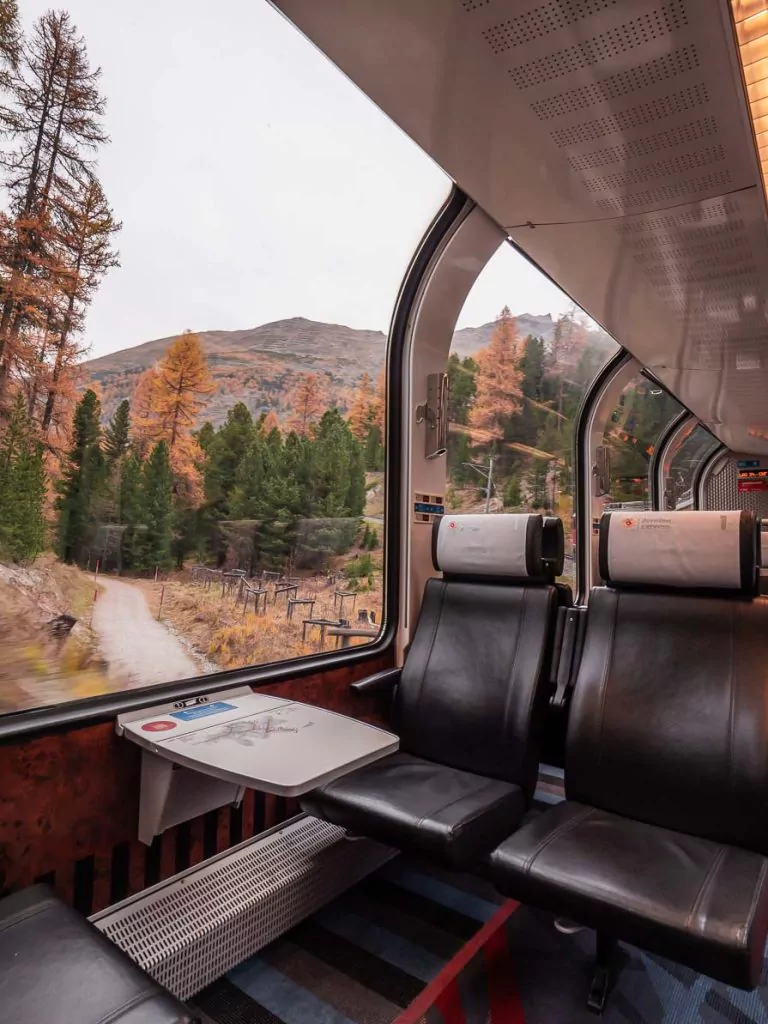 ---
How to check the Bernina Express timetable
I found the RhB website pretty confusing to see the timetable because they include regional trains in the search results, and it's not clear anywhere that these are regional trains (not the panorama trains) except for the fact that the seat reservation is only 5CHF rather than the usual 24CHF+.
For an easier way to check the current timetable for the Bernina Express panorama trains (not the regional trains that run on the same route) you can go to https://www.sbb.ch/en, put in your origin and destination, click 'advanced search' and then untick all train types except for PE. This will show you the train journeys that are serviced by the Bernina Express panorama train carriages.



---
Can you do a Bernina Express day trip?
You sure can! Unlike the full day Glacier Express journey between St Moritz and Zermatt, the shorter Bernina Express offers the option to spend a day travelling to and from the same point with a return trip. The day trip options depend on the route and the time of year.
You can choose to do the return trip in either direction, stopping in Tirano, St Moritz or Chur for lunch or a quick explore around town.
Here are the possible timings for a Bernina Express day trip.
Chur-Tirano day trip (available year-round)
Depart Chur at 8.28am, arrive in Tirano at 12.49pm
Depart Tirano at 2.24pm, arrive in Chur at 6.22pm
St Moritz-Tirano day trip (only available in summer)
Depart St Moritz at 9.17am, arrive in Tirano at 11.32am
If you want a quick turnaround then depart Tirano at 1.17pm and arrive in St Moritz at 3.45pm, OR for a longer stay then depart Tirano at 4.06pm and arrive in St Moritz at 6.25pm
Tirano-Chur day trip (only available in summer)
Depart Tirano at 8.06am, arrive in Chur at 12.22pm
Depart Chur at 1.34pm, arrive in Tirano at 5.59pm
Tirano-St Moritz day trip (available from April 7-22 October 2023)
Depart Tirano at 10.06am, arrive in St Moritz at 12.35pm
If you want a quick turnaround then depart St Moritz at 1.17pm and arrive in Tirano at 3.31pm (only available from 13 May) OR for a longer stay then depart St Moritz at 4.14pm, arrive in Tirano at 6.39pm (available from 7 April)
And if you're spending a few days in Milan and want to tick the Bernina Express off your bucket list, there are some highly-rated organised Bernina Express day tours that take you to Lake Como, St Moritz, the Bernina Express through to Tirano and then back to Milan.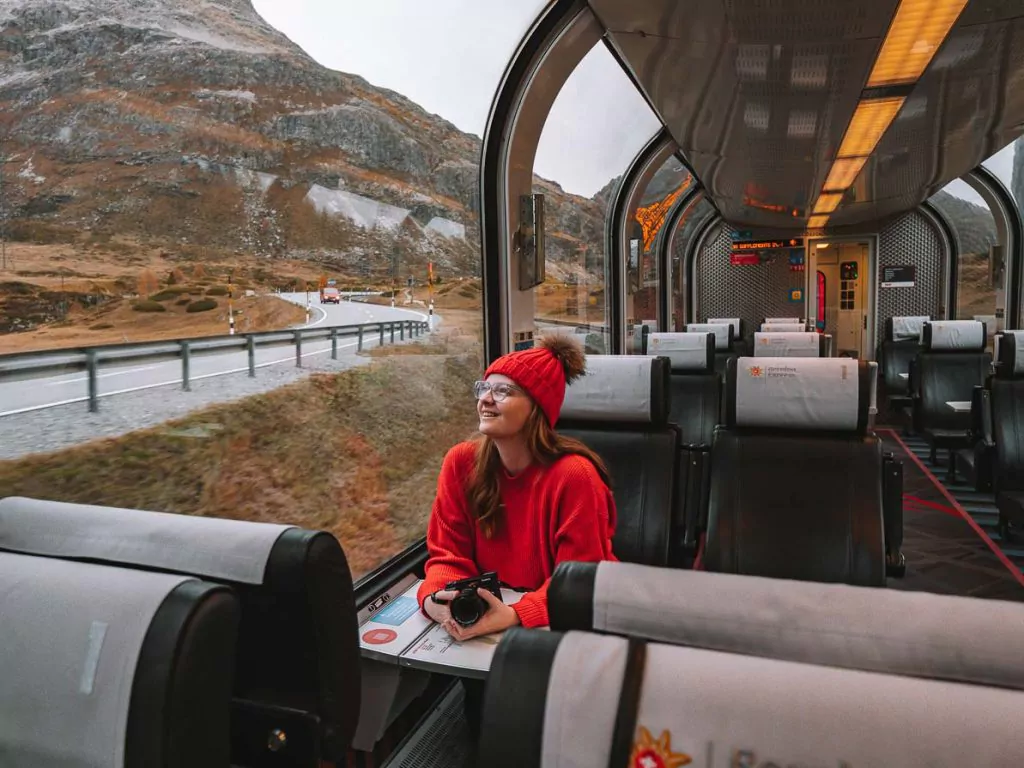 ---
What's the price of Bernina Express tickets?
Bernina Express tickets are made up of two separate payments, one for your ticket and one for your seat reservation.
The ticket price for the full journey between Chur and Tirano is 63CHF in 2nd class and 111CHF in 1st class. For the shorter journey between St Moritz and Tirano, 2nd class tickets are 32CHF and 1st class tickets are 56CHF. Prices are the same year-round.
On top of the ticket price, to use the panoramic carriages there is a mandatory seat reservation fee which changes depending on the season. The reservation fee is 20CHF in January/February, 24CHF from March to May, 26CHF from June to September, 24CHF for October and 20CHF for November/December. I don't know why they need to make it so complicated 🙃
If you're paying full price you can expect to pay between 83-89CHF for 2nd class or 131-137CHF 1st class between Chur and Tirano, or 52-58CHF 2nd class or 76-82CHF for 1st class between St Moritz and Tirano.
If you have a Eurail Pass (or an Interrail Pass or Swiss Travel Pass), you do not need to pay the ticket fee. Your rail pass covers your ticket, you only need to pay for the seat reservation. For more info on Eurail Passes you can read my super detailed guide on how to use a Eurail Pass.
If you're doing a return trip, obviously you'll need to pay for a ticket and a seat reservation each way (or just seat reservation each way if you've got a Eurail Pass).
And if you'd like to avoid paying the seat reservation fee at all then you can skip the panoramic carriages and sit in the unreserved seats of the Allegra unit, the 'normal' train carriage which pulls the Bernina Express for the whole journey. These windows actually open (unlike the panoramic carriage windows) which actually makes for better photos without annoying reflections. These Allegra seats are first-come first-served so I'd avoid relying on this during busy periods or you might not end up with a window seat.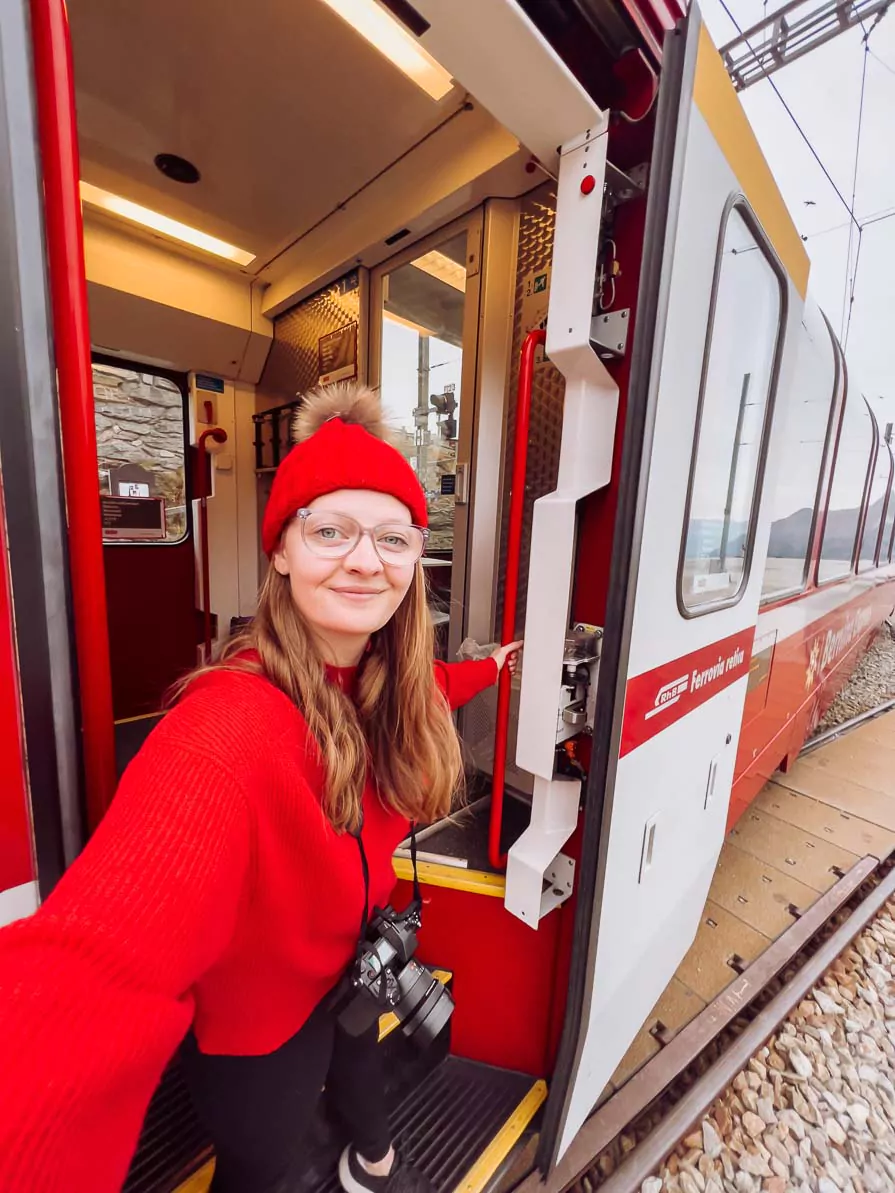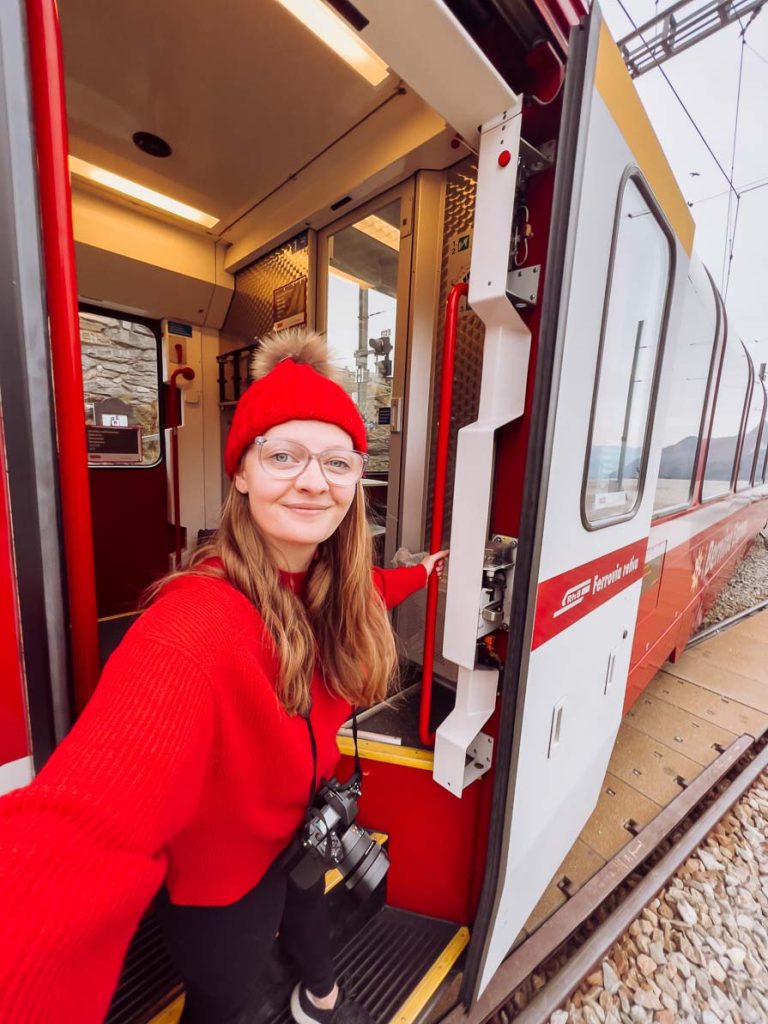 ---
How do you buy Bernina Express tickets?
You can purchase your Bernina Express tickets and seat reservations on the RhB website.
Tickets can only be booked 60 days before travel but you can lock in your seat reservations many months ahead. Reservations do get booked up for the summer season, especially during school holidays and on weekends, so if you're travelling in Europe summer I'd recommend locking in your seats as soon as possible.
If you want to sit in the panorama carriages then you can use the Bernina Express booking tool which will let you reserve your seat at the same time.
Put in your origin, destination and travel date, then click 'next' to go through to the availability calendar.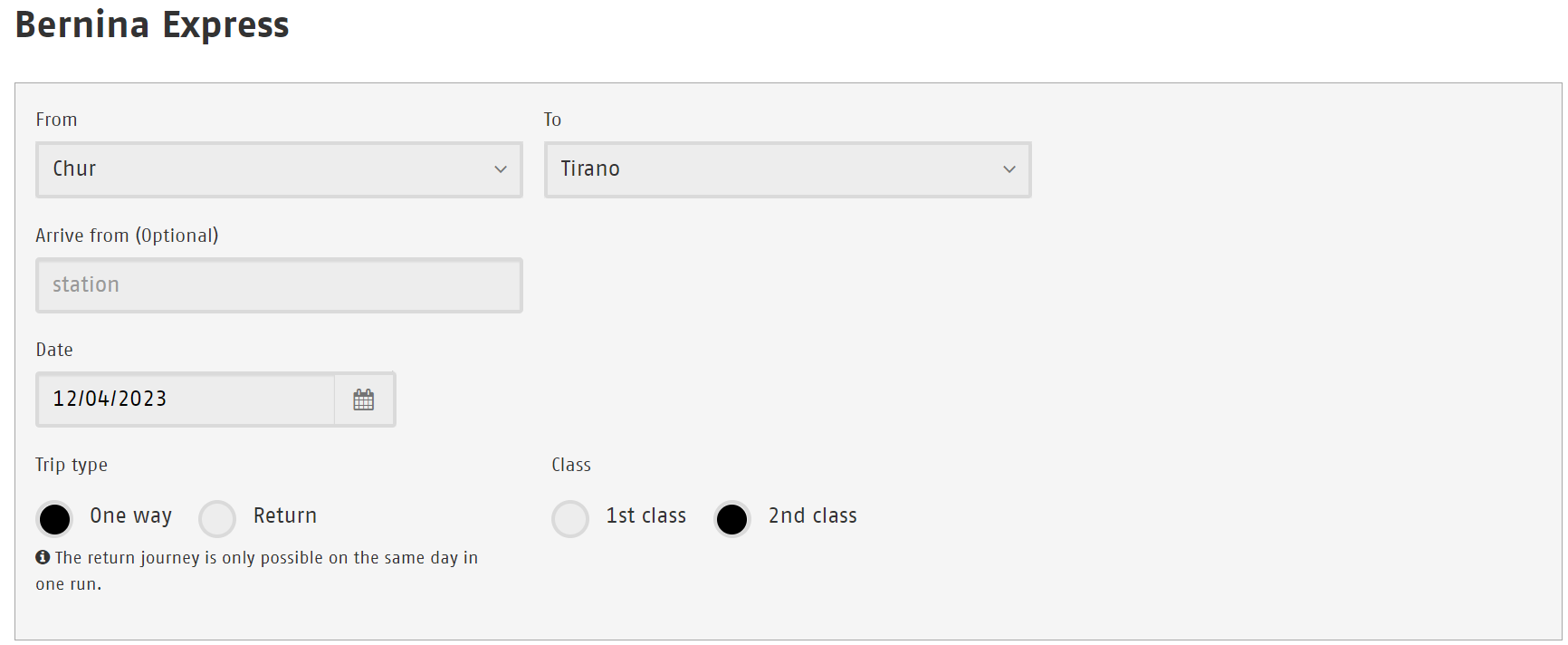 Select the train time that suits you best and it'll show you the seats that are available on that train.


Select your seat, then click 'next' to add in your details. If you have a rail pass of any sort then in the 'reduction' dropdown you can select Eurail, Interrail or the Swiss Travel Pass, then your ticket will show as 0.00CHF and you'll only pay the reservation fee.

Buying a ticket for the Allegra carriage
If you want to avoid the seat reservation and and want to sit in the Allegra carriage, and you don't have a Eurail Pass, then you can just book a ticket for the route on the normal RhB booking system. Select your origin, destination and travel date and it should show you the route that matches the Bernina Express route with the same ticket price, just without a reservation added on. When you board the Bernina Express Allegra unit you can show this ticket to the train staff.
If you have a rail pass then no need to buy a ticket at all, you can simply add the train to the 'My Trip' section in the Rail Planner app to use a travel day, then show your ticket on the app to the train staff.
If you have a Eurail Pass and are currently planning your trip but have no idea what I'm talking about with 'My Trip' and 'Rail Planner app', then you can read all you need to know about Eurail in my ultimate Eurail Pass guide for 2023.
---
Which side of the Bernina Express should you sit on?
The best views are on the right side of the train if travelling south from Switzerland to Italy, and the left-hand side views of the train if travelling north from Italy into Switzerland.
Unfortunately when you're booking your seat in the booking system, you can't be certain which side of the train carriage your seats are on. The seat selection page says 'no information on the driving direction is available', the carriage layout/direction can change so they can't definitively say that the bottom seats (when looking at the seat layout online) are on the right side or whatever.
However, I heard from previous Bernina Express travellers that the single column seats in 1st class are typically on the right side of the train when travelling south and the left side of the train when travelling north, i.e. the side you want to sit on. I can't be certain that this is always the case, but I booked a single column seat in 1st class (I'm a solo traveller so always go for the single seats anyway) and it worked for me. No guarantees of course, but you can give it a go.
If you're travelling in 2nd class then just click the different coaches at the top of the seat selection tool to find the single seats to see if they're up the top or at the bottom, then go back to the 2nd class coach and choose a seat on the same side.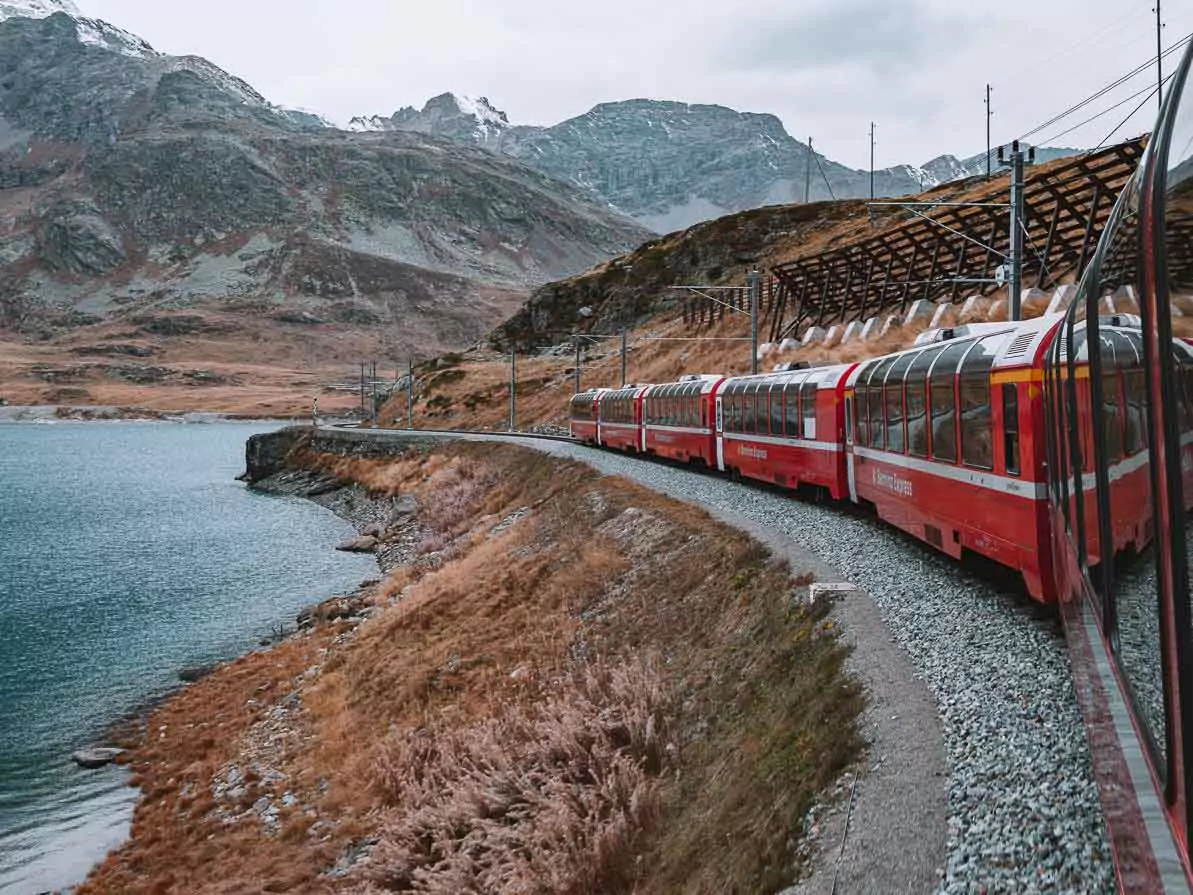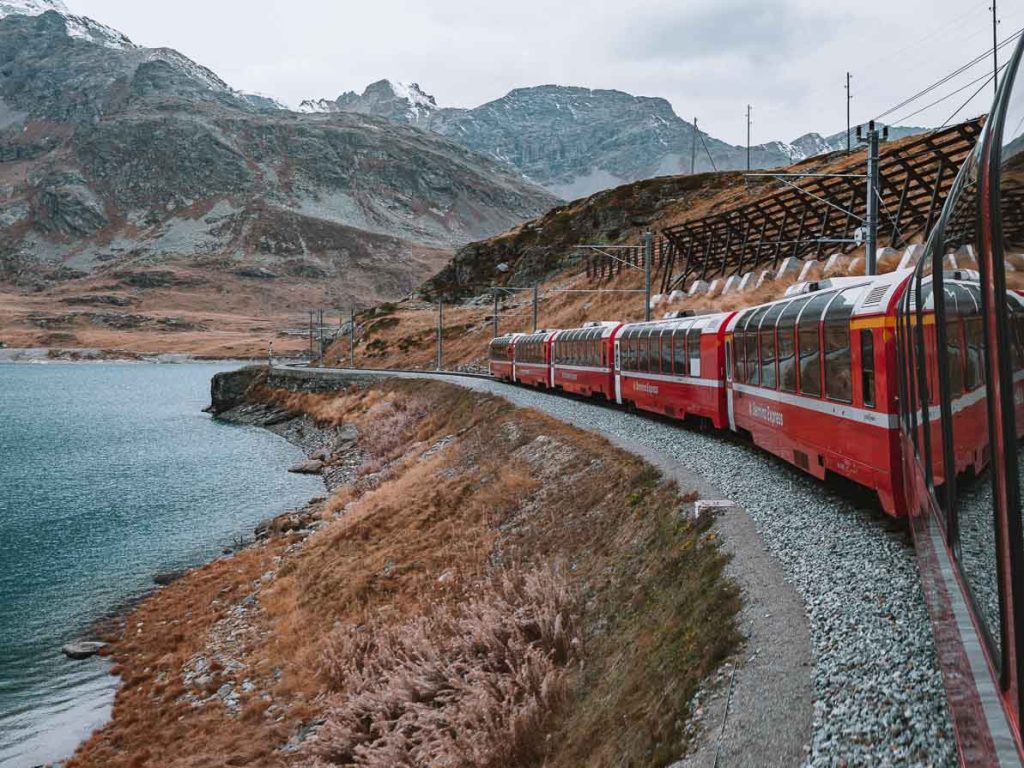 ---
Bernina Express 1st Class vs. 2nd Class
If you're travelling with a Eurail Pass then you've probably already made your choice between a 1st class or 2nd class pass, and you need to book your reservation for the class that you have a pass for.
If you're not travelling with a rail pass then you can choose from 1st class or 2nd class on the Bernina Express.
The main benefit of 1st class, as on all trains, is that there is more space. 2nd class cabins have two columns of two seats next to each other, whereas 1st class has one two-seat column and a single seat column. 1st class is ideal for solo travellers or a couple/two friends because you can have your own window seat with aisle access, rather than having to choose between the two.
During the peak summer months you'll find that the Bernina Express is probably quite busy, so even in 1st class it might be full, but a full carriage in 1st has maybe 28-34 people compared to 44-50 people in 2nd.
When I travelled on the Bernina Express in mid-October I actually had the entire 1st class carriage completely to myself, what a dream!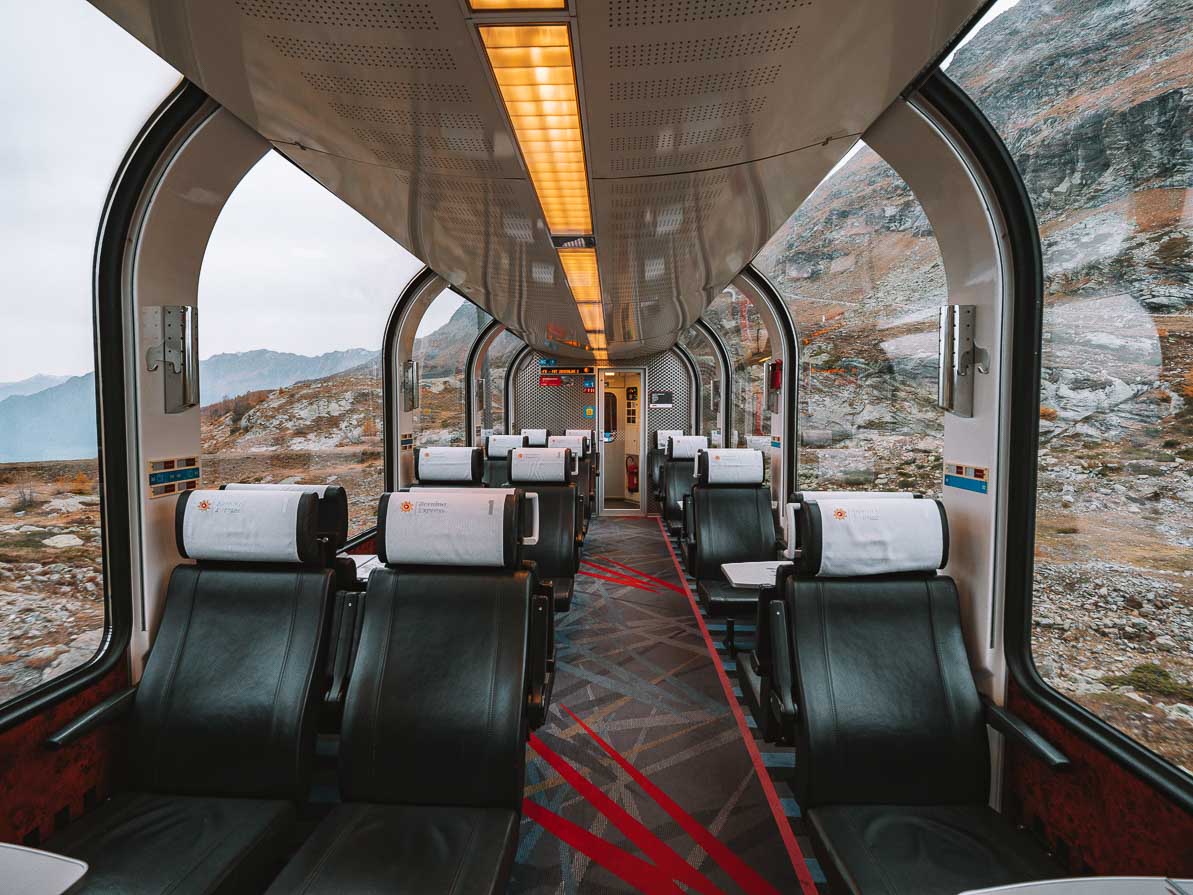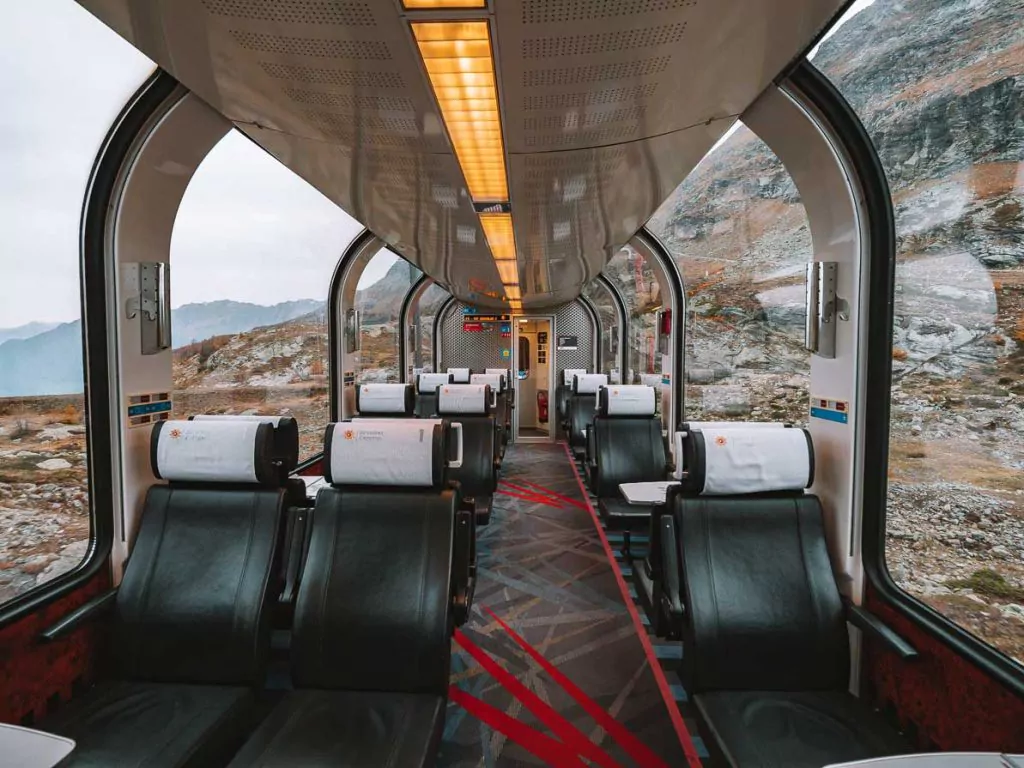 ---
What is the Bernina Express train like?
The train itself isn't as fancy as the Glacier Express, but it's comfortable enough for a four hour (or less) journey. The trip is also packed with stunning, diverse views so the time absolutely flies by, I was up out of my seat taking photos for most of the trip!
There's no restaurant on-board but there is a mini cart that serves refreshments to you directly in your seat, like coffee, tea, soft drinks, traditional dried sausage and cheese, and some sweet treats. In 1st class we also got a little tin of chocolates (a great souvenir!) and a herbal tea but I'm not sure if 2nd class passengers get the same.
There is WiFi on the train but in my experience this didn't work very well so don't rely on it. There also aren't proper tables in front of the seats in either 1st or 2nd class, not much room for a laptop so don't expect to be able to get any work done during the journey.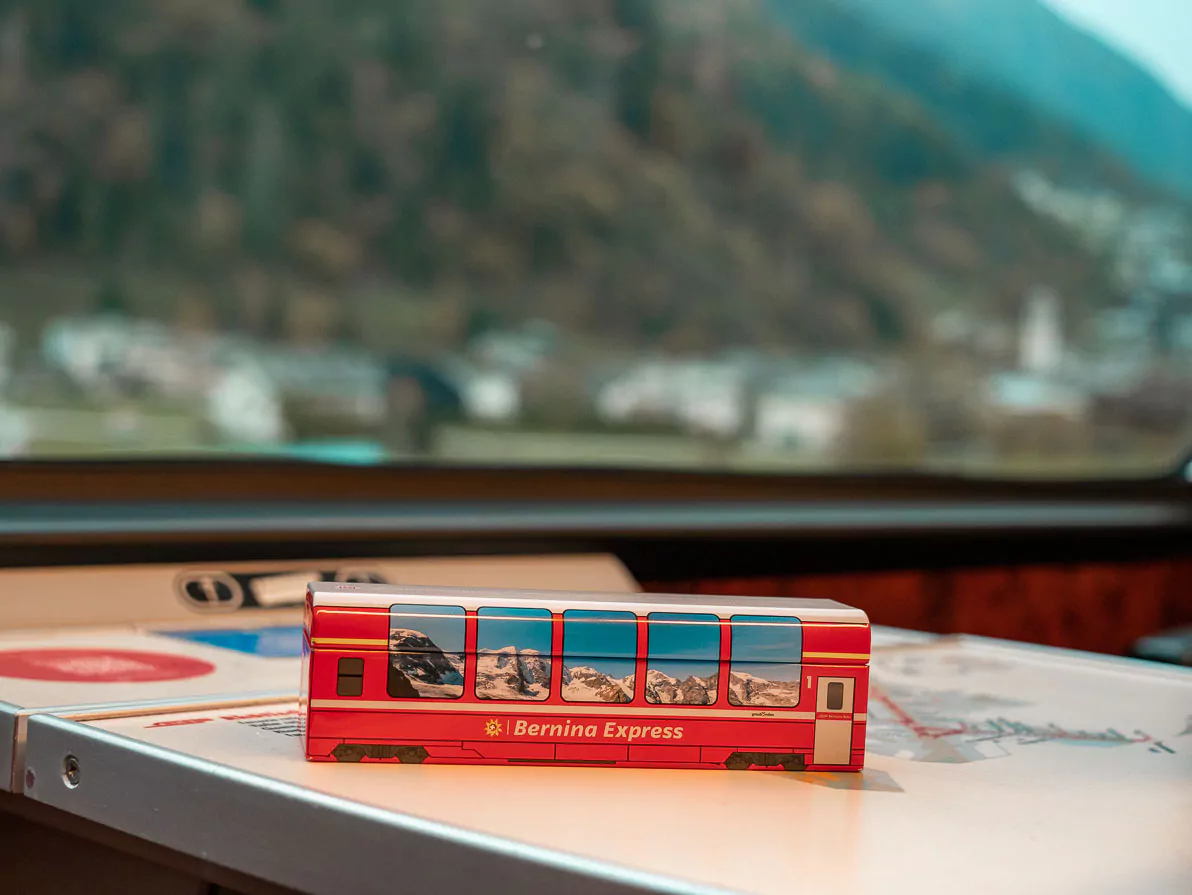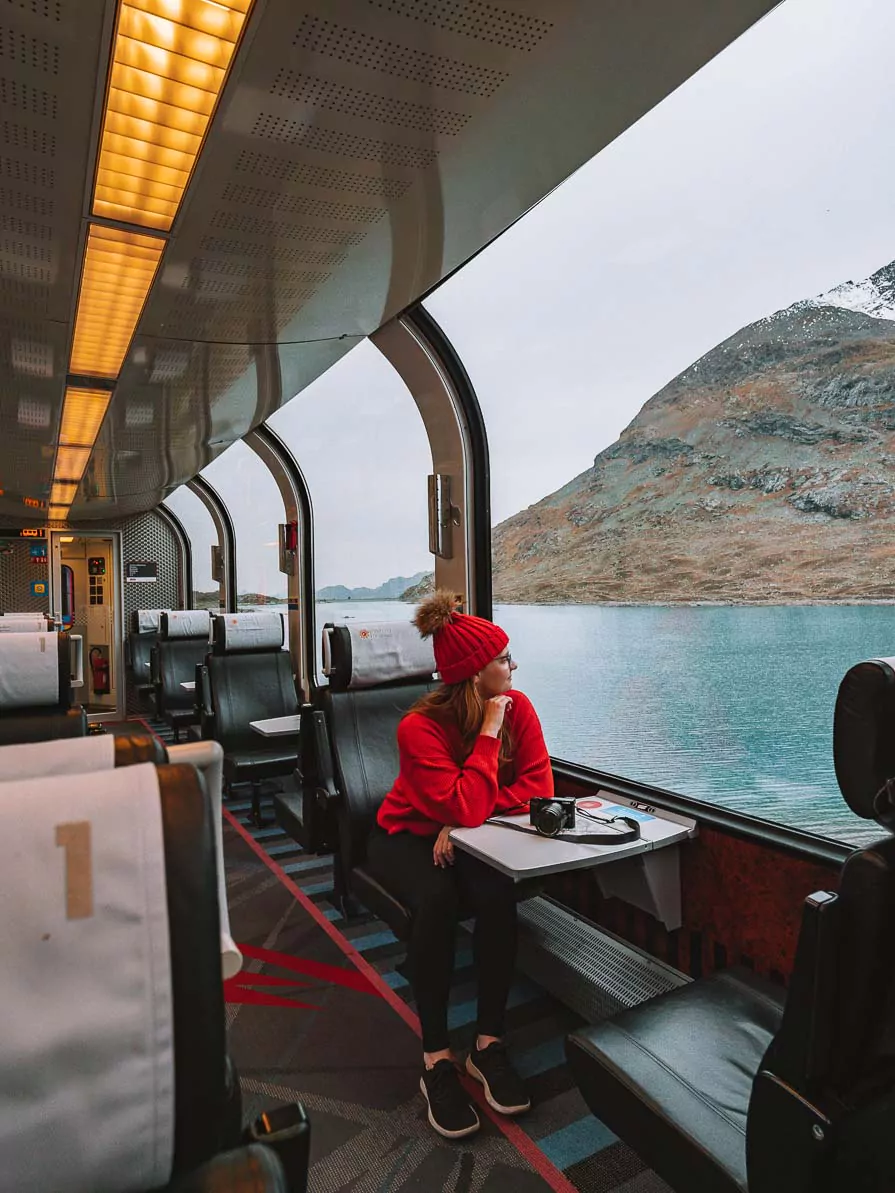 ---
Other tips for the Bernina Express
How to take good photos in the Bernina Express
While the panoramic windows are superb for soaking up the scenery, they aren't ideal for photography thanks to reflections. The Bernina Express staff are fantastic at making sure the windows are clean before each journey so dirt or streaks shouldn't be an issue, but having a reflection ruin a stunning photo is something all photographers have experienced.
This is why many photographers choose to sit in the unreserved seats of the Allegra unit, they have opening windows.
To maximise your chance of getting the best photos on the Bernina Express, here are some tips:
Some of the carriage connectors (like the end of the carriage that connects with the next carriage, do these have an actual name? If so please tell me in the comments haha) have windows that partly open, these are where I got my best photos
Use a polarising filter to reduce reflections
Wear dark clothing, bright clothes show up more in reflections
Have a dark scarf with you to wrap about your phone or lens which also helps remove reflections
Shoot away from the sun if possible
Use a high shutter speed to get the landscape in focus
Some of the best photo spots along the Bernina Express running from north to south on the full Chur-Tirano route are:
Charming villages and endless mountains between Chur and Filisur, particularly incredible in autumn when the trees are all shades of orange
The Landwasser Viaduct
The Morteratsch Glacier
Lago Bianco
Alp Grüm and Lago Palü (there's a 15 minute photo stop at the station here, 2091m above sea level)
Lago Poschiavo
The Brusio Spiral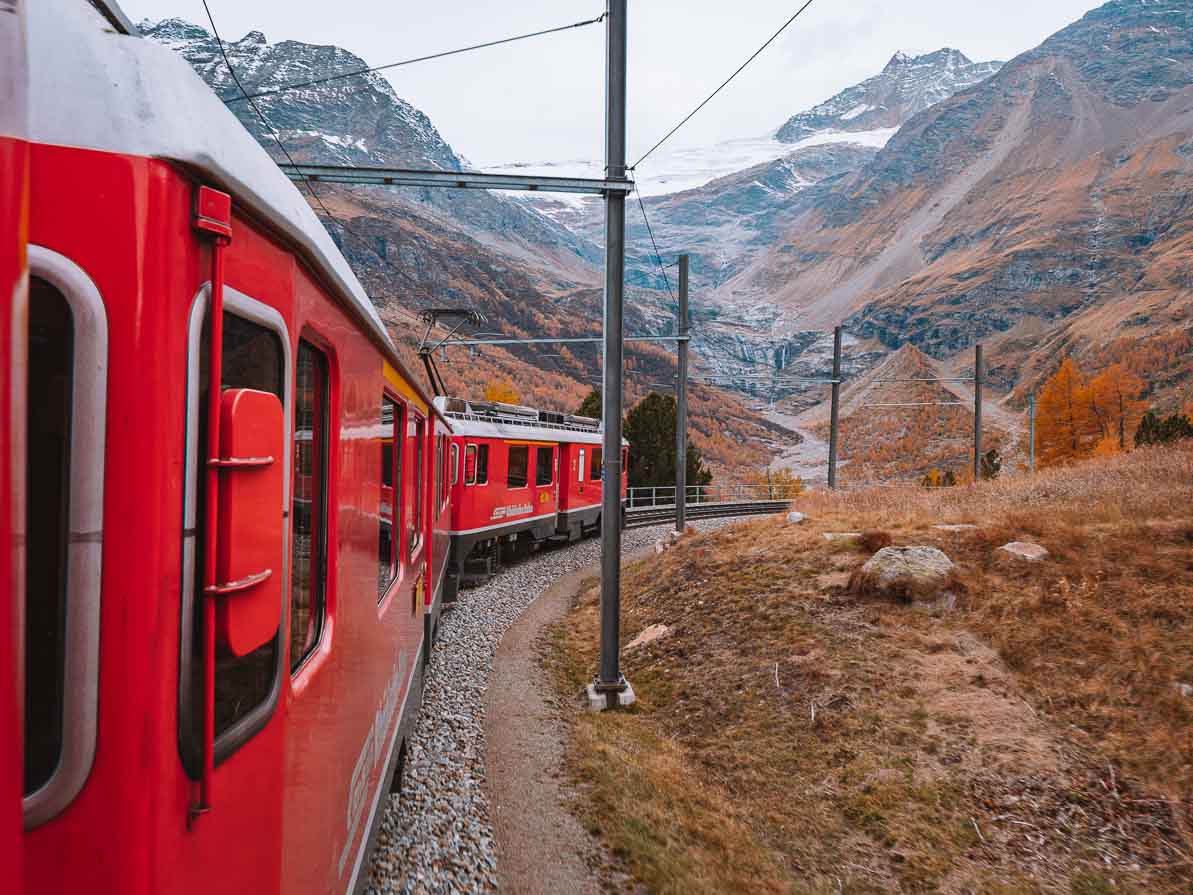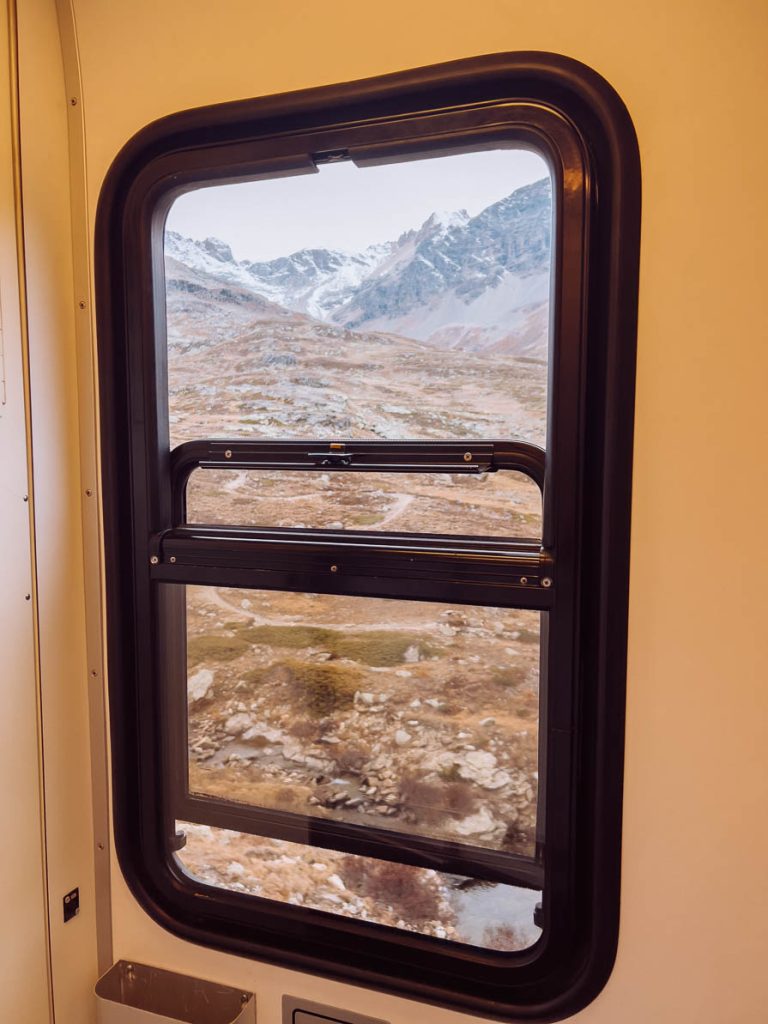 Pack your own food
The food options on the Bernina Express are minimal (and expensive for what you get) so I'd recommend taking some food and drink with you to avoid getting hangry while on one of the best train journeys in the world.
Spend time before and/or after the journey
I'd recommend spending a couple of days before and after your Bernina Express journey if you can, many travellers opt to do the St Moritz route in summer as there is more to do in St Moritz than in Chur.
Tirano travel tips
Tirano is a sleepy mountain village near the Italy-Switzerland border, best known as the gateway to the Bernina Express. Many travellers choose to travel here from Milan (2.5 hours by train) and don't spend any time in Tirano except for when they're waiting on the train platform, but I'd encourage you to spend a night or two here if you can find the time in your itinerary.
The town has an intriguing combination of both Swiss and Italian heritage, the cuisine is Italian with an alpine twist and some unique dishes not found elsewhere in Italy, and there are hikes, bike trails and wineries to keep you busy.
Tirano also boasts a majestic basilica, the Santuario della Madonna, dating back to the 1500s. Be sure to go inside (when it's open) to see the exquisitely carved 17th century organ and ornate decorations on the walls and ceiling.
What to eat in Tirano | For food in Tirano I highly recommend trying local Valtellinese cuisine at Parravicini Restaurant, and I also loved the pizza at L'Hostaria Ristorante.
Where to stay in Tirano | I stayed at an amazing guesthouse called Ostello del Castello, perched on the hills above Tirano with expansive views across the valley. The guesthouse boasts a 9.6/10 rating on booking.com from more than 500 reviews, so you know it's good!
The rooms are spacious and comfortable with all you'd need for a short stay, there's common areas to relax in and chat to other travellers or the hosts if you wish, and it's a short walk to the restaurants and shops in town. Highly recommend!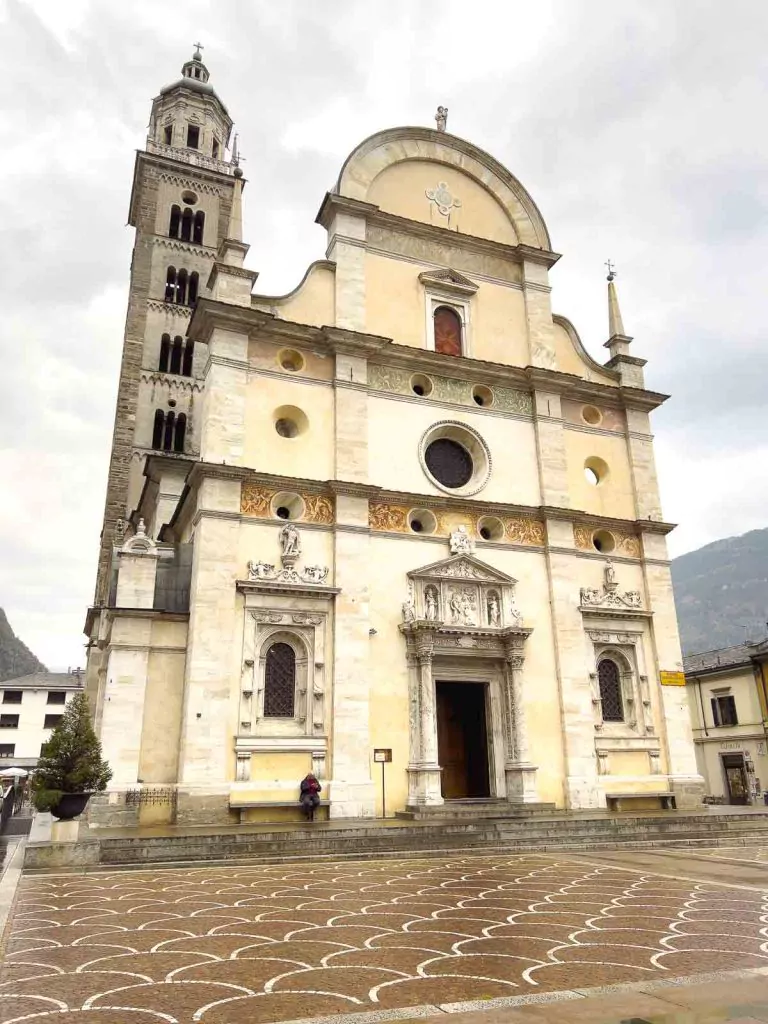 St Moritz travel tips
St Moritz is an iconic Switzerland resort town, it was actually the birthplace of alpine tourism in 1864 and now plays host to travellers from Europe and around the globe throughout the year.
There's plenty to do and see in St Moritz, particularly for outdoorsy adventurers. In winter the ski opportunities are unmatched, the St Moritz train doesn't run for most of winter but you can catch the Tirano to Chur route and just book a ticket for up until Pontresina, then switch trains to a short 10 minute regional train to St Moritz. In summer there's an endless selection of walking tracks, technical climbs, cable cars to viewpoints and more.
There's also a world-class food scene to cater to the rich and famous guests that visit, so if you'd like to splurge on a luxurious evening, St Moritz might just be the place to do it.
Where to stay in St Moritz | I stayed at Randolin's Berghotel, a great value hotel with fantastic facilities, including a hearty buffet breakfast, restaurant serving up traditional meals with mountain and lake views, a dreamy wellness and spa area, and playgrounds for kiddos.
But my Randolin's experience was taken to the next level, literally, because I actually slept in their historic observatory, which boasts an actual turning mechanism and a hand-wound window for stargazing. One of the most unique places I've ever stayed and one that I will remember forever, this is a true once-in-a-lifetime accommodation experience and I can't recommend it highly enough!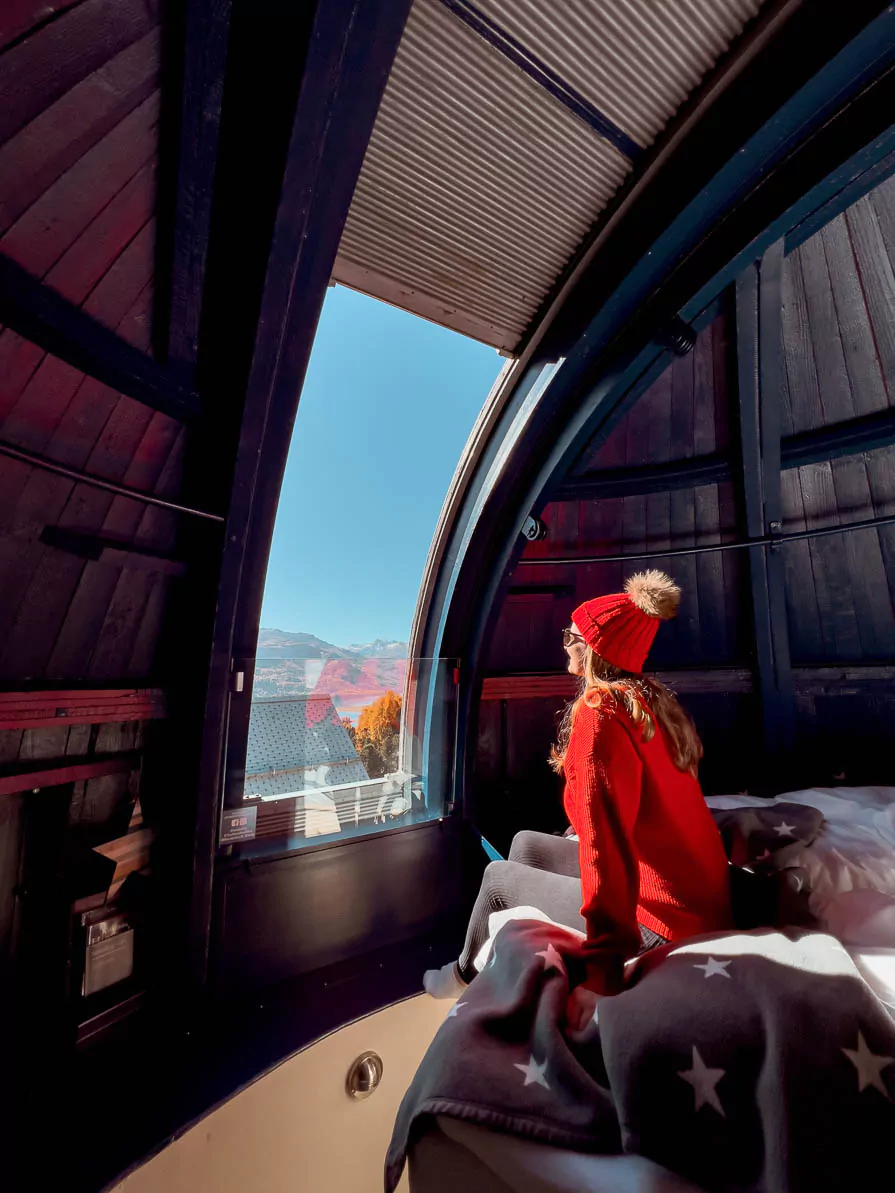 ---
Alternative options to the Bernina Express
If you have come this far and have decided you don't want to spend the money on the Bernina Express, there are ways to experience the same journey without having to fork out for the ticket price and seat reservation.
If you have a Eurail Pass (or other rail pass) or just want to save on the reservation, your best bet is to try and get a seat in the unreserved Allegra cabin on the Bernina Express. With a rail pass you'll need to use a travel day for this (unless you have a consecutive pass) but you won't need to pay a seat reservation fee. Keep in mind that these cabins can get very busy in summer so get to the platform early to guarantee your seat.
If you don't have a rail pass, or if you have a rail pass but don't want to use a travel day, you can do the exact same route as the Chur-Tirano Bernina Express on regional trains which will end up being around 50CHF if you book in advance, saving 13CHF on the ticket price and not requiring any seat reservation.
For this route you'll need to change either once (likely in St Moritz) or twice (Samedan and Pontresina) depending on the day you travel.
To find the regional train options, go to the SBB website, put from Chur and to Tirano (or vice versa) and add via Thusis to make sure you take the Albula Line past the Landwasser viaduct. If you don't add the 'via' bit then it'll probably show you a faster route via Davos Platz which misses the viaduct and isn't as scenic.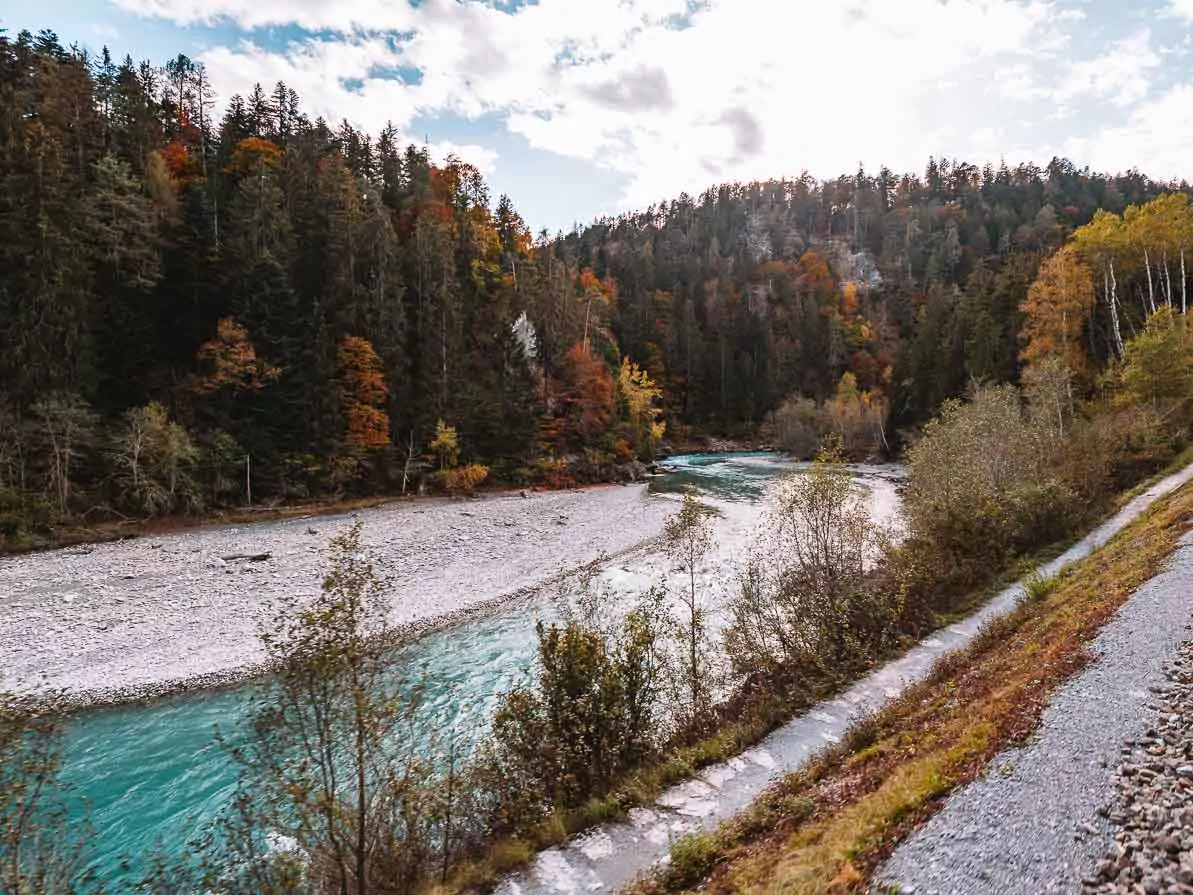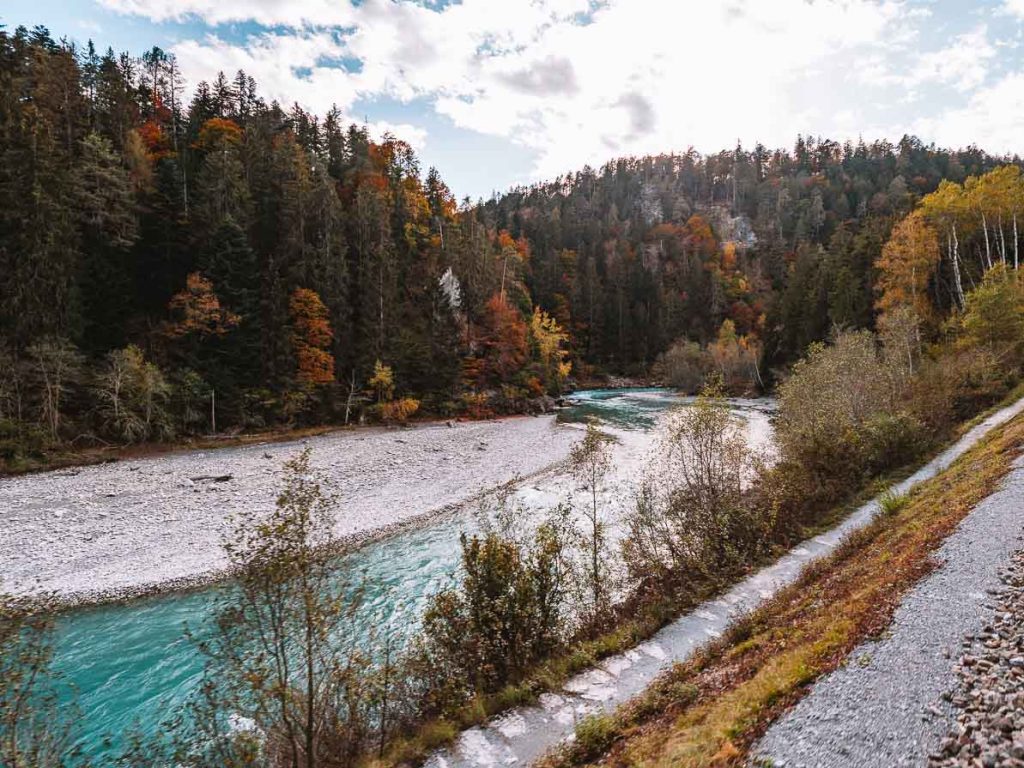 ---
I hope this blog has helped you decide if the Bernina Express is worth it for your upcoming Switzerland trip. If you have any other Bernina Express questions please let me know in the comments and I'll get back to you as soon as I can.