Keen for some time on the slopes in Switzerland but not so keen for the sky-high prices that come with a Swiss Alps adventure? I've found the cheapest place to ski in Switzerland, and I want to share all the details with you!
Let's be honest, it's not often you hear 'budget-friendly' and 'Switzerland' in the same sentence (unless you're saying that Switzerland is not budget-friendly). And skiing isn't the most affordable of sports either, typically requiring expensive ski passes, gear hire, transport, pricey accommodation and more. So you might think I'm crazy when I tell you that I found an option for truly affordable skiing in Switzerland, and even better, it's ideal for solo travellers and digital nomads!
Ski Hostel in Liddes is a brilliant option to experience Switzerland's ski slopes without breaking the bank, with the option to book a full ski holiday package which gives you the best bang for your buck.
You'll get accommodation, transport, breakfast and dinner each day, access to affordable ski gear, access to local mountains with super cheap passes, and the chance to meet other skiers and snowboarders too.
Here's a detailed run-down on Ski Hostel, why it's the cheapest place to ski in Switzerland, why you should visit, and some top tips before your budget Switzerland ski trip.
Disclosure: I was hosted by Ski Hostel Liddes to try out their ski package, but as always all opinions are my own and are based on my personal experience. I genuinely loved my time there and am already planning on going back!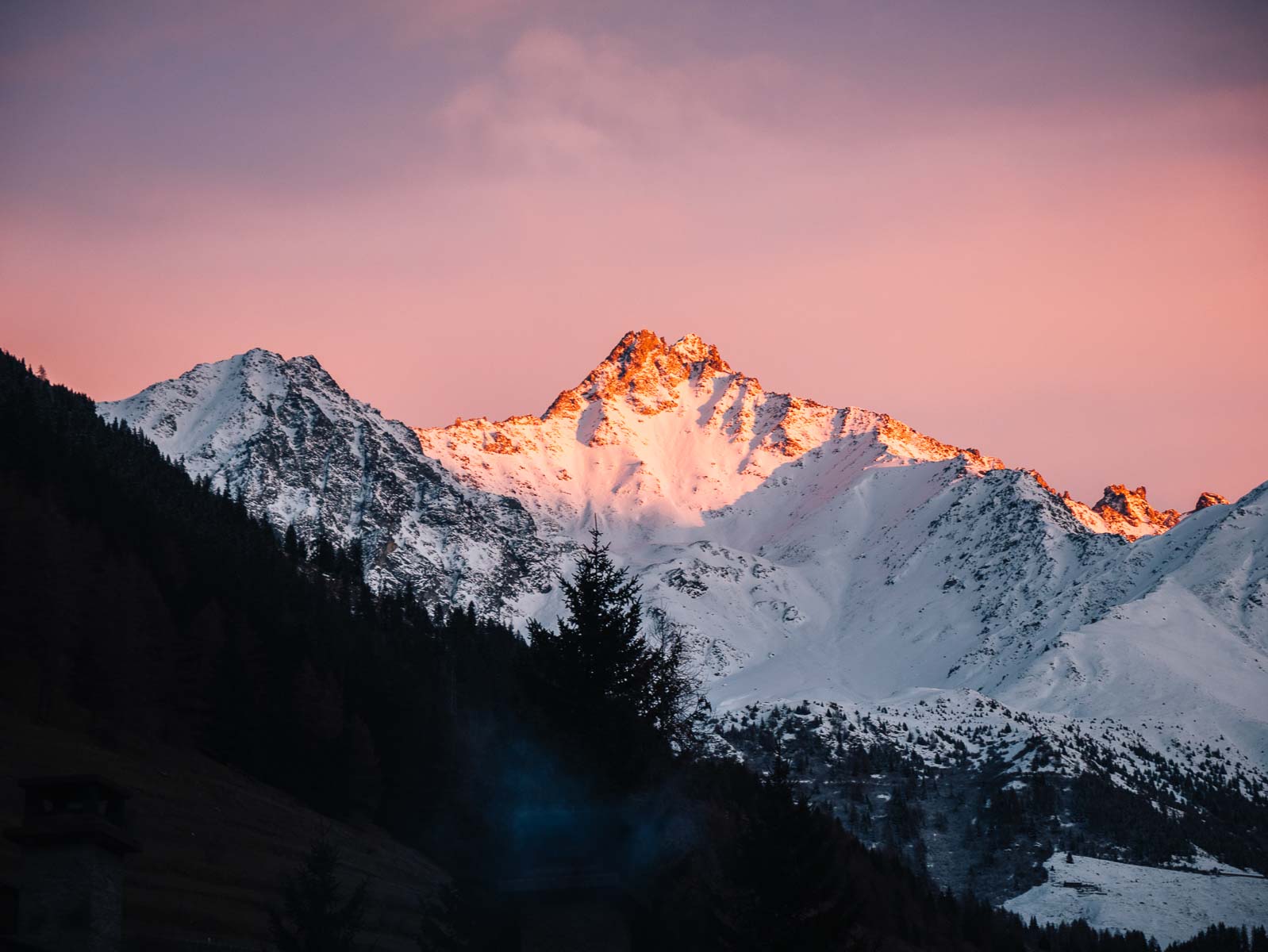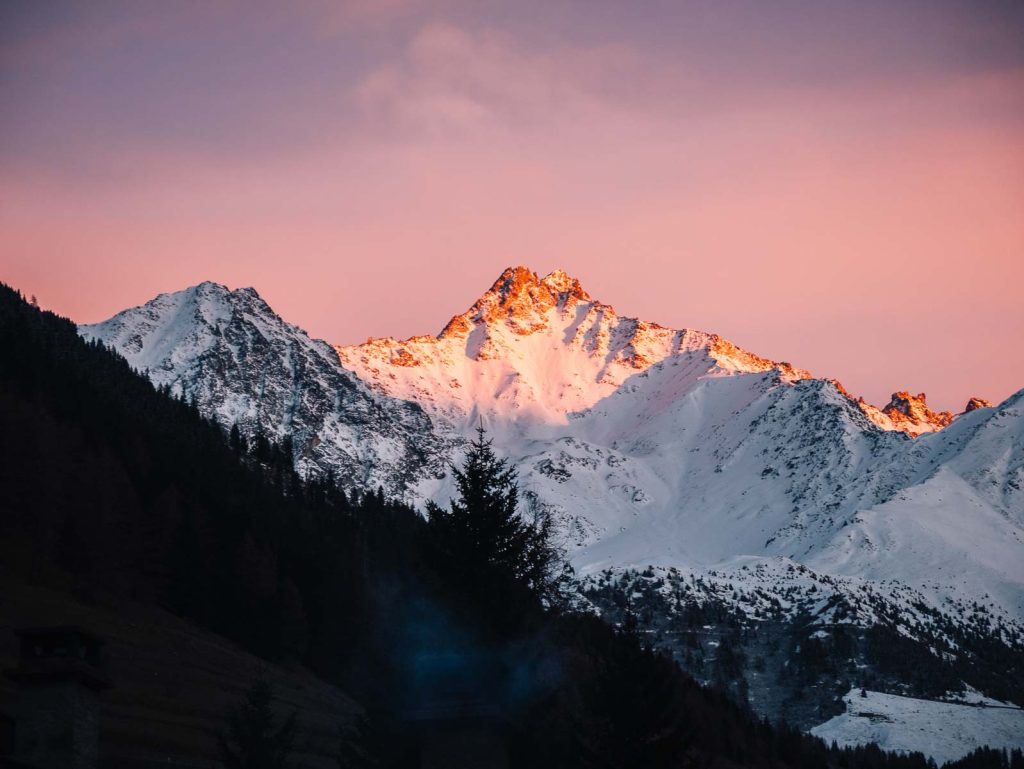 ---
What is Ski Hostel?
Ski Hostel is a small travel business in Switzerland that is aiming to bring winter sports back to the average person. They want to share the beauty of Switzerland's mountains with all travellers, and they provide insane value with their cheap ski packages which give you an epic chalet experience for a fraction of the price you'd pay at most ski resorts.
They offer a range of different packages depending on what you're looking for, and you can go as a solo traveller or even book a full room (or multiple rooms) as a group of friends.
---
Where is the Ski Hostel in Switzerland?
Relais de Dranse
Ski Hostel has a few different hostels in Switzerland to choose from, but I stayed at Ski Hostel's Relais de Dranse chalet in Liddes for a whirlwind 4-day ski trip.
Liddes is a sleepy mountain village in the St Bernard region of the canton of Valais, sitting at about 1380m above sea level.
You can reach Liddes easily from Geneva, it's just less than two hours by car or it's a simple train-train-train-bus combo that'll take around 2.5 hours. I know that sounds confusing, but the journey includes super easy train switches with clear platform instructions and many other travellers will be going to the same place.
From the hostel in Liddes there are three local ski fields that are part of the Pays du St-Bernard network, Liddes-Vichères is just five minutes away from the hostel, La Fouly is a 30 minute drive, and Champex-Lax is a 15-20 minute drive.
If you'd like to explore further and tick off some iconic Switzerland bucket list locations, the world-class ski resort of Verbier is only half an hour away by car, and you can reach the buzzing alpine town of Zermatt in 1h 45m.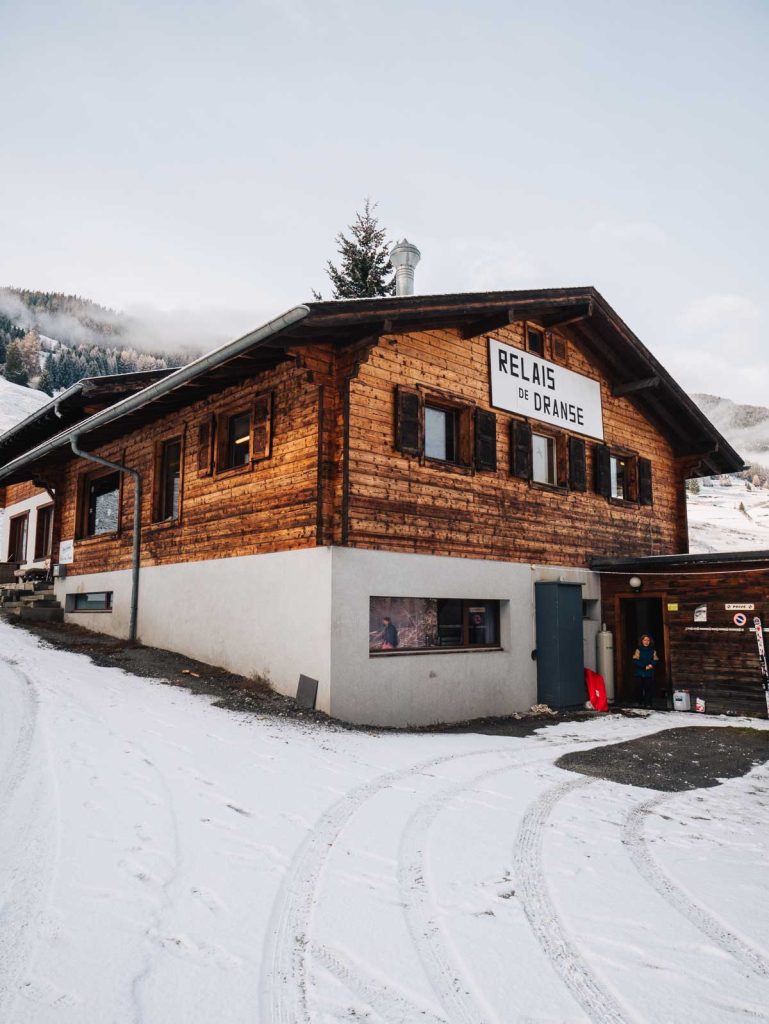 Other Ski Hostel locations
Ski Hostel has another location near Liddes called Petit Vélan in the village of Bourg St. Pierre, it's a short five minute drive from Relais de Dranse. The common area in the hostel is a lot smaller but it would be ideal for a group trip with a bunch of friends if you rented the whole thing, and they also run coliving retreats there for digital nomads to work.
They also have Les Louerettes in Siviez (1h 5m from Liddes) in the heart of the 4 Vallées ski area, Laudinella in St Moritz (easy to reach from Milan if you're spending time in Italy), and Adrenalin Backpackers Hotel in Braunwald (1h 25m from Lucerne and 1h 5m from Zurich).
---
What does the cheap Ski Hostel Switzerland package include?
Exact package inclusions vary depending on the package you want and the location you're visiting, but as an example the 7 night package at Relais de Dranse includes the following:
Accommodation in 4- or 6-bed dorms (comfy bunks and toasty warm rooms)
Half board with breakfast (buffet-style with cereals, bread, yoghurt, eggs and bacon) and dinner (hearty meals with plenty of protein and fresh veggies)
Access to the kitchen to make your own lunch if you don't want to eat at the mountain restaurants
Return airport transfer from Geneva (this may not be available for shorter stays)
Shuttle to and from the ski slopes
Night skiing when available
2 x 2-hour ski lessons for beginners
Ski pass for three local resorts (including public transport and other activities)
Access to common room with billiard table, ping-pong table, foosball table & hang out areas as well as a sauna and outdoor campfire
High speed WiFi
Affordable ski gear rental (price depends on what gear you need)
---
What is the Ski Hostel in Liddes like?
The Relais de Dranse chalet is absolutely perfect for a budget-friendly ski holiday in Switzerland.
It's three storeys, with the main common areas on the middle floor. There's a huge commercial kitchen for bulk food prep and cooking, a bar with tea and coffee facilities too, chalet-style bench dining tables, couches and chairs for relaxing and a bunch of games like ping-pong, foosball and more.
On the bottom floor there are some bedrooms as well as the ski gear dry room and a sauna, and upstairs there's more bedrooms.
Outside there's a decent amount of space for running around, as well as a campfire for chilly nights.
There's no separate dedicated workspace if you're a digital nomad, but I just set up my laptop at one of the back dining tables and packed it away when we were about to eat. The internet was great and there were plenty of power plugs so it's an easy place to get some work done if you need to.
---
How much does it cost to ski in Switzerland?
If you choose Ski Hostel then it's cheeeeap, but if you follow the tourist path and choose a popular ski resort like Zermatt or St Moritz then it's gonna hurt your wallet for sure.
For one week of skiing in Zermatt in late March (booking two months ahead) you'd be looking at €478 for the 7-day ski pass and €1408 for dorm accommodation in a backpacker hostel on a half-board basis. That's €1886 for accommodation, two meals a day and ski passes for one person, not including transport to and from Zermatt, gondola transport to the hostel on the mountain or ski gear rental. Yikes, you can understand why people don't think cheap skiing in Switzerland even exists!
Ski Hostel's winter packages however offer incredible value, their prices are what I'd expect for skiing in the cheaper Eastern Europe resorts rather than in the stunning Swiss Alps.
Their Liddes Ski Hostel Week package is only €800 per person total for your ski pass, accommodation, two meals a day, airport transfer, shuttle to the mountain and four hours of lessons. That is honestly mind-blowingly cheap for Switzerland, less than half the price of what you'd pay for only accommodation and ski pass for a week in Zermatt if you booked it yourself.
Even at their St Moritz location, Laundinella, they offer prices significantly cheaper than what you'd get from any other ski packages I've seen. They have two dates for luxury ski weeks available in January 2024 for only €2500 per person, including a ski pass, half board, a single/double room in a 4* hotel, airport transfer from Zurich and evening activities.
---
Reasons to visit Ski Hostel for a cheap skiing trip in Switzerland
It's super affordable
If that last paragraph didn't convince you then I'm not sure what else I can say.
If you're looking for cheap skiing in Switzerland, Ski Hostel is 100% the answer.
The community vibes
I loved the community vibes at Ski Hostel, I visited in a quiet period (between Xmas and NYE and Europe was dealing with a heatwave so the snow wasn't great unfortunately) but it was still really cool to meet other international travellers who were all keen for an affordable Switzerland winter experience.
Dedicated 'workations' for digital nomads
Ski Hostel's sister company Coliving Frilingue runs dedicated workations at the Liddes ski hostel, with a two week programme including time for work, time for skiing and time for fun.
The prices of the workation vary depending on the accommodation type you want (shared or private room available), the meal plan you'd like (cheaper if you help cook/clean compared to half board) and any extras you'd like to add on, like a night out in Verbier or a trip to Aosta across the Italian border.
I am super keen to try out one of these workations at some stage in 2023, they run them in both summer and winter! The next winter workation is March 5-19 2023, then there's a summer workation with hiking opportunities, city breaks and high ropes adventures from 27 August to 10 September.
If your dates don't align with the workations but you're still keen to try out an extended bout of coliving in Switzerland then get in touch with the legends at Coliving Frilingue.
Communal cooking to keep food costs down
One of the most expensive aspects of any Switzerland vacation is food, eating out at restaurants will often set you back anywhere from 25-50CHF and this can cut into your budget big time when you're staying at a hotel without a kitchen and need to eat out for three meals a day.
With Ski Hostel you get two meals each day included in your ski package, buffet-style to ensure everyone gets the sustenance they need for a busy week on the mountains. You'll likely be on the slopes each day so you can choose to eat at the restaurants there (pricey but good food), or you could prepare yourself a packed lunch in the morning if you prefer.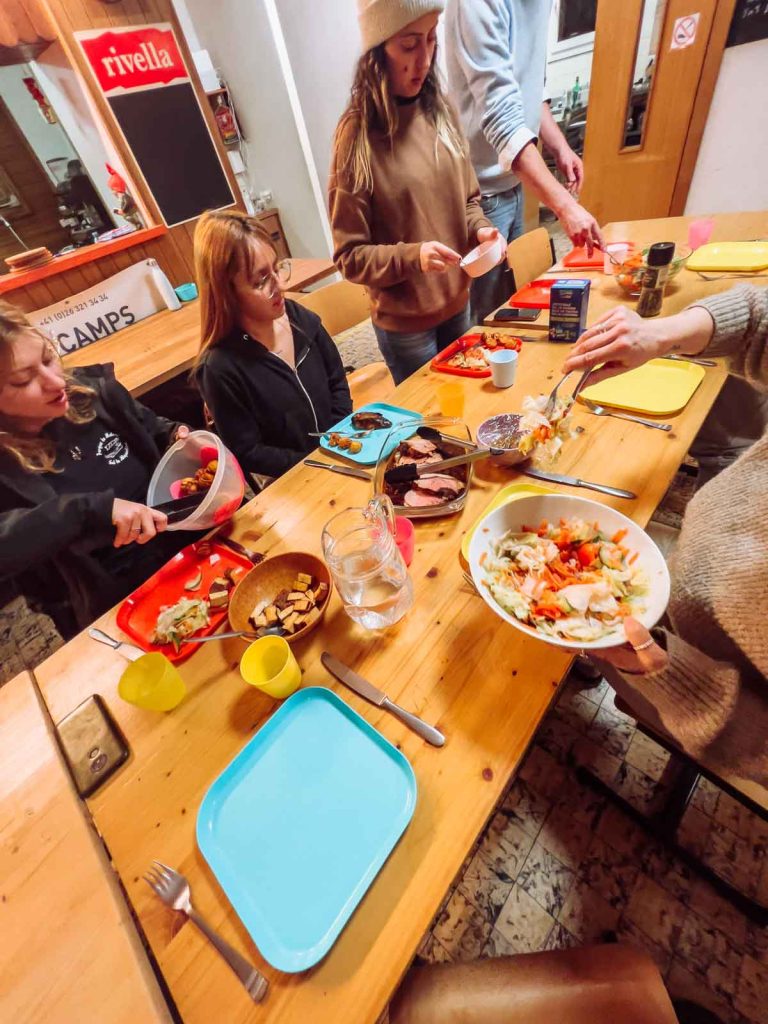 Access from other cities in Europe
If you're flying into Switzerland then Geneva is your best option for reaching the Liddes Ski Hostel. Airport transfers are included in week-long packages, if you're staying for a shorter time then you can check with the Ski Hostel team what a transfer would cost, or you can book train/bus tickets for around 60CHF each way for flexible tickets on the 2.5 hour journey.
If you know the exact time of the train/bus you want to take you can save about 10CHF by booking specific route, but I'd recommend getting a point-to-point ticket which is valid on that route at any time that day, which gives you the chance to stop somewhere like Lausanne or Montreux on your way there or back (both stations have luggage storage).
If you're already in Europe and want to catch a train connection then you could also take a half day journey to get to Liddes from Lyon, Zurich or Milan.
Access to local ski fields
One of the best things about the Liddes Ski Hostel is the easy access to not just one but three ski resorts. These ski resorts aren't as fancy and upmarket as the famous ones like Verbier, but they offer brilliant value and diverse runs that are great for skiers of all experience levels.
Access to bigger resorts
And if you nail all the local mountains and want to take your skis further afield, it's only half an hour to Verbier by car where you'll be able to choose from 34 lifts and more than 195km of ski runs.
You might even be able to find other Ski Hostel guests who want to join you and split the cost of the transfer too.
Verbier ski passes are a lot more expensive than local mountains, prices start from around 77CHF, but the experience is definitely worth it for at least a day if you can fit it into your Switzerland ski budget.
---
Is Switzerland good for solo travel?
I am a huge fan of Switzerland for solo travel, it's one of my all-time favourite countries.
It's super safe, the infrastructure is fantastic and it's easy to find your way around without too much stress.
The only negative of solo travel in Switzerland is that it's expensive when you don't have travel buddies to share accommodation, transport and food costs with, but if you choose to visit Ski Hostel then this obviously isn't an issue as the package has no additional costs for solo travellers. Ideal!
---
Other tips for cheap skiing in Switzerland
Swiss Travel Pass
If you're spending more than just the week in Switzerland, a Swiss Travel Pass to use before or after your trip might save you a significant amount of money on trains and other transport,
A Swiss Travel Pass gives you unlimited bus, train and boat travel around Switzerland's public transport network, as well as travel on panoramic trains (seat reservations required), some mountain excursions and a 50% discount on many other mountain excursions.
You can choose from a 3, 4, 6, 8 or 15 consecutive day pass so there's no need to get one during your time at Ski Hostel (as you won't be using public transport much if at all), but if you'd like to explore more of Switzerland before or after your ski trip then it is worth looking into for sure.
Another cheaper option is the one month Swiss Half Fare Card, which gives you a 50% discount on public transport and most mountain excursions. This won't be worth it if you're just needing it for transport in and out of Liddes as the card costs more than what you'd save, but if you're spending more time in Switzerland it could save a chunk of travel cash.
Stay longer
This might seem counterintuitive, but if you'd like to get better value for your budget Switzerland ski trip, stay longer and bring down the cost per day.
With Ski Hostel your ski pass to the local mountains is a season ticket, meaning you have unlimited access to those three ski fields for the entirety winter, so if you stay longer you can ski as much as you want.
And if you choose to do a package at Ski Hostel, thanks to the communal meals you just stock up on groceries to make your own lunches and keep your daily food costs super low.
Travel with carry on only
Travelling with carry on luggage only can save loads of money in Europe, so if you're on a really tight budget for your Switzerland trip then consider taking just a small wheeled bag or even just a small backpack that fits under the seat in front of you.
You'll want warm clothes but you can wear those on the plane if necessary, hire your ski gear once you get there, take a small GoPro for photos if you want to, but you don't need much else for a trip like this!
Add it onto a bigger Europe trip
The most expensive part of my budget Switzerland ski trip was actually getting to Geneva, we only booked a couple of months in advance and it was between Christmas and New Year so our flights were pretty pricey.
If you're already exploring Europe in winter (maybe you're doing a two month Europe trip by train like I recently did!) then a Switzerland ski trip is an easy add on, especially if you have a Eurail Pass because Switzerland's trains typically don't require any seat reservations so you'll have no transport costs in the country!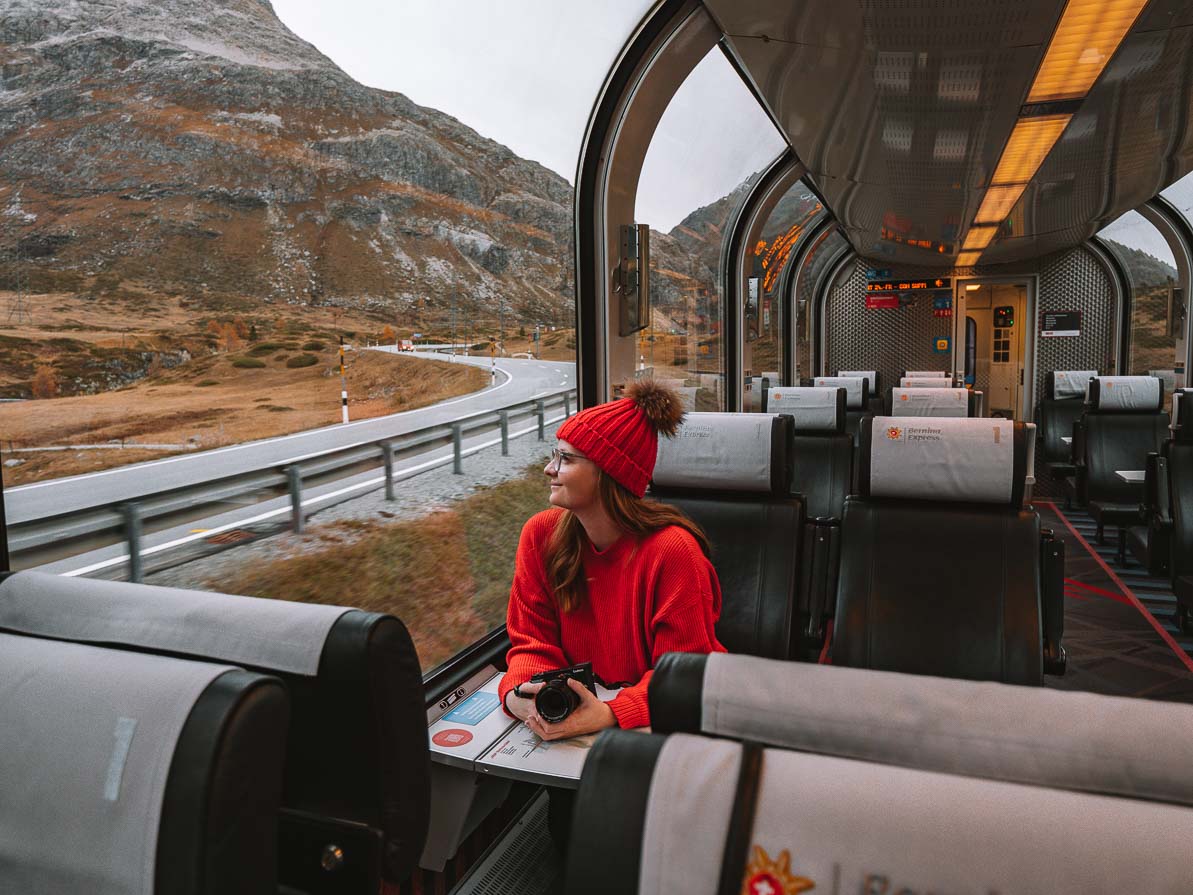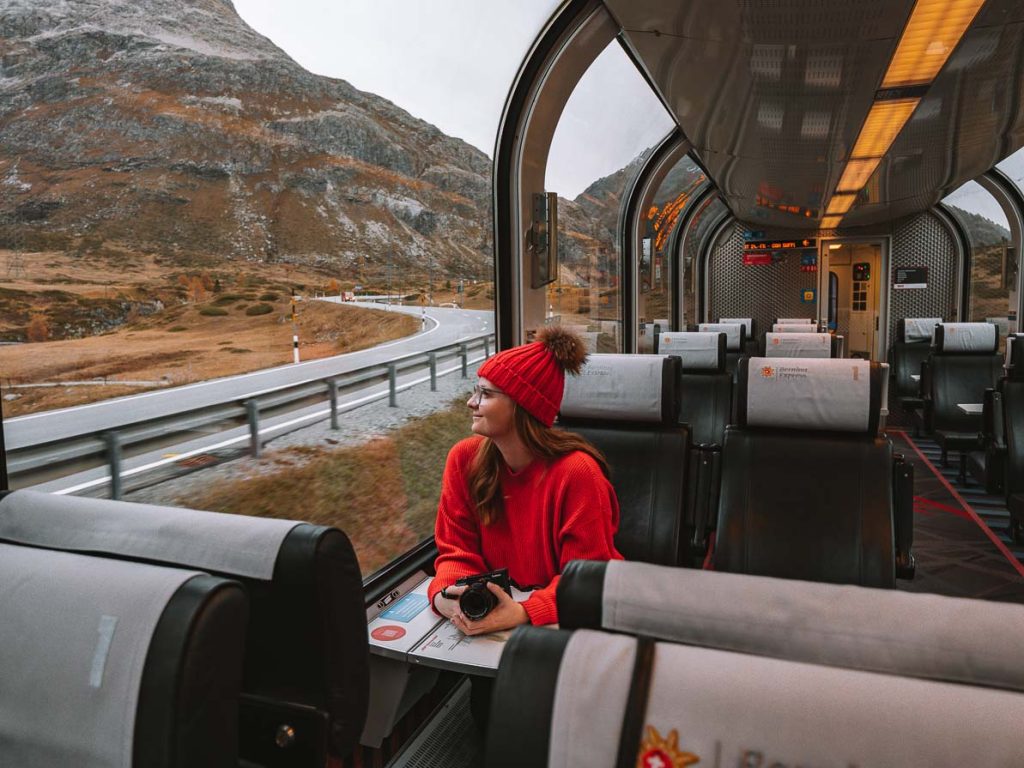 ---
The final verdict on the cheapest place to ski in Switzerland
I'm so happy I've found a cheap place to ski in Switzerland, I didn't ski at all during my time living in London because I thought Switzerland, France and Austria were all too expensive!
Ski Hostel is absolutely smashing their goal of making winter sports in Switzerland more accessible to normal travellers, and I'm already excited for my next trip with them. Maybe I'll see you there!
---
I hope this blog has helped you discover a new budget-friendly Switzerland skiing option! I loved my short visit to Ski Hostel in Liddes and I'm already planning another trip for next winter.
If you have any questions about Ski Hostel in Liddes, or if you have a suggestion for a potential competitor for the cheapest place to ski in Switzerland, please let me know in the comments 🙂
Other Europe blogs you might like: