Are you planning an upcoming Europe trip but you don't know where to start? Here are ten Europe holiday ideas to give you some travel inspiration for your European adventure.
Europe is one of those destinations where it can be what you want it to be. My favourite kind of place!
Food-lovers and wine drinkers can eat and sip their way around the continent, party animals can revel night and day in island paradises or buzzing city nightclubs, history buffs have ancient ruins and renowned museums to visit, while art enthusiasts have a never-ending list of masterpieces to see in person. The scenery is varied but equally striking whether you're in the Dolomites mountains, on a Portuguese beach or visiting Scandinavian fjords, the melting pot of cultures and languages gives a brilliant opportunity to open your mind to new ways of thinking and living, and there are adventures for all ages and skill levels.
Add all that to border-free travel through much of the continent, decent rail infrastructure in many countries and cost-effective public transport in most places without rail, and you have the makings of a fantastic holiday.
Yes, I'm a Europe fangirl. Can you tell?
As a full-time traveller I try to squeeze in 3/4 months in Europe each year, often with a mix of exploring new places as well as returning to old favourites. I could give you a hundred different ideas of epic things to do in Europe (in fact that blog is on my to do list!) but for the moment, to make your initial travel inspo a little less daunting, I wanted to share ten easy themes for your upcoming Europe trip.
Here are 27 Europe holiday ideas to help you get started on planning your Europe adventure.
---
Foodie adventure
Europe is a culinary paradise, with brilliantly diverse gastronomic experiences on offer from east to west and north to south. There are so many incredible foodie cities in Europe that the topic really deserves a blog post of its own, but here are three delicious destinations to consider if your main focus is getting amongst the local food scene.
All over Italy
Pizza, pasta, pesto, prosciutto, Parmesan, Italy literally invented all of my favourite foods! Spend anywhere from a weekend through to three months in Italy and you're guaranteed to have some of the best food of your life.
Learn about pizza's history in Naples, make your own pasta at a cooking class in Florence, eat your way through Rome's buzzing Trastevere neighbourhood, sip limoncello in Sorrento or enjoy aperitivo in Milan.
But if you had to choose a single city for an Italian foodie holiday, you can't go past Bologna, the capital of the food-focused Emilia-Romagna region which is known for its pasta sauces, cured meats, balsamic vinegar and Parmigiano cheese. Bologna is best explored with a food tour so you can experience both the highlights and the hidden gems, and local legend Mattia's Delicious Bologna tours are the best-rated in town (including a five star review from yours truly).
San Sebastian, Spain
Always coming in high on the list of the most Michelin stars per capita (currently third behind Luxembourg and Kyoto), San Sebastian is the ideal destination for the fine diners among us. Be sure to book your dream restaurant well in advance, particularly during August when many Europeans flock to the city and September when the San Sebastian Film Festival is held.
If you're visiting San Sebastian on a budget don't stress, you can still experience the city's incredible gastronomic scene without breaking the bank. Pintxos are bite-sized snacks similar to tapas, typically eaten in bars in the Basque country (where San Sebastian is located) and offer fantastic value for money.
Berlin, Germany
While many travellers head to Berlin for its significance to Europe's recent history, and many more visit to take part in one of Europe's best clubbing scenes, it's also well worth a visit just for the variety of cuisine it offers.
Berlin is a cosmopolitan city where cultures collide and the food represents this beautifully. Street food vendors serve up cheap dishes from all over the globe, pop-up restaurants offer innovative and immersive dining experiences, and exquisite fine dining restaurants sit next to understated currywurst stalls.
---
Cheap and cheerful city break
While the prices in places like London, Paris and Amsterdam might be slightly off-putting, Europe truly doesn't have to break the bank. Thanks to low cost airlines, cheap train journeys and favourable exchange rates, there are plenty of affordable cities in Europe to visit on a budget. Head east to find the best value for money.
Quick note: 2022 and 2023 have brought severe cost of living increases and higher inflation for many countries around the world, especially those in eastern Europe. Prices will still be much cheaper than what you're probably used to at home but may be higher than what you expect. Please keep in mind that travel is a privilege and that if you're feeling the pinch of Budapest, Prague or Sofia's price increases when you're being paid in euros, pounds or dollars, imagine how badly the locals are impacted.
Budapest, Hungary
Budget travellers could easily keep their Budapest budget to less than €35 per day including dorm accommodation, two meals at home and one meal at a cafe, a beer, and entrance to a museum. If you can extend that to €60 per day per person and are travelling with a partner or friend you'd be able to include a decent hotel room and perhaps a visit to the Budapest Baths in that price. Be sure to visit Fisherman's Bastion (free unless you want to access the towers), do a city cruise (cheap), do a free walking tour (tips expected) and visit the ruin bars (super cheap).
Even if you only spend two days in Budapest you'll still have a fantastic little getaway.
Budget travel tip: Flow Spaces is my favourite hostel in Budapest, perfect for digital nomads! They have a dedicated workspace, loads of natural light, great common areas to meet other travellers without it being too rowdy. I stayed in a comfortable, minimalist private room but their dorm rooms look great too.
Poland in general
Poland has a number of cities easily connected to London and other European travel hubs thanks to budget airlines, so it's not uncommon to see flight deals for €15-€20 return. Crazy! Krakow offers a medieval old town, UNESCO-listed landmarks and charming cafes, Warsaw is more cosmopolitan with a busy arts and entertainment calendar and a buzzing digital nomad scene, or Gdansk is a lesser-known coastal city with colourful buildings lining the waterfront.
Sofia, Bulgaria
An absolutely underrated hidden gem, Sofia impressed me enough to firmly secure its spot as one of my personal go-tos for a cheap Europe getaway. The city has a fascinating and tumultuous history which you can learn about on a free walking tour (tips expected), the food scene is absolutely on fire and offers incredible bang for your buck, and the Vitosha Mountains are just outside the city with stunning scenery and free hiking trails.
---
Europe train trip
If you've got a week or more to spend exploring, a Europe train trip is the perfect way to enjoy incredible views, use your time efficiently, avoid stress and minimise your environmental impact. Europe's train network is very well connected, particularly in western and central Europe, and for most itineraries you'll end up saving loads of time and money compared to flying every few days.
I recently spent three months travelling through Europe by train, ticking off more than 20 cities in 11 different countries. You can see my actual Eurail itinerary but it was very messy due to some work commitments I had to fit in, so for actual itinerary inspiration check out my ultimate two month Europe itinerary instead.
Eurail/Interrail adventure
A Eurail/Interrail Pass is a rail pass which covers the cost of your train tickets, meaning you can save money and stay flexible while travelling. I have a detailed blog post on how to use a Eurail Pass as well as a budget breakdown to answer the question 'is a Eurail Pass worth it?'.
Eurail Passes range from short in-depth passes in one country through to three month passes all over Europe (called Global Passes), so there's a pass that will fit any sort of itinerary.
You could get a Eurail Italy Pass for a two week adventure through Italy's hot spots, a short Global Pass to tick off icons like London, Paris, Amsterdam and Berlin, or an extended Global Pass for a 60 day jaunt throughout many of Europe's must-visit cities.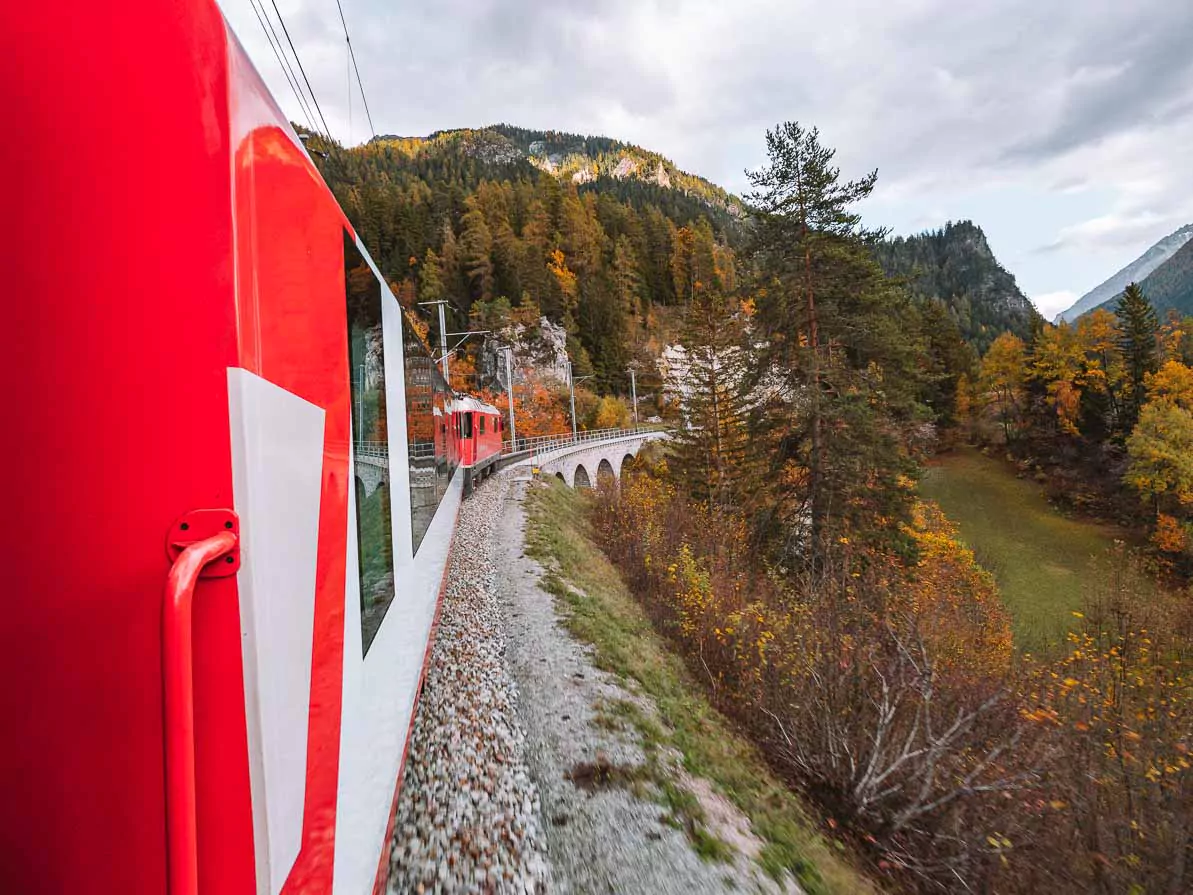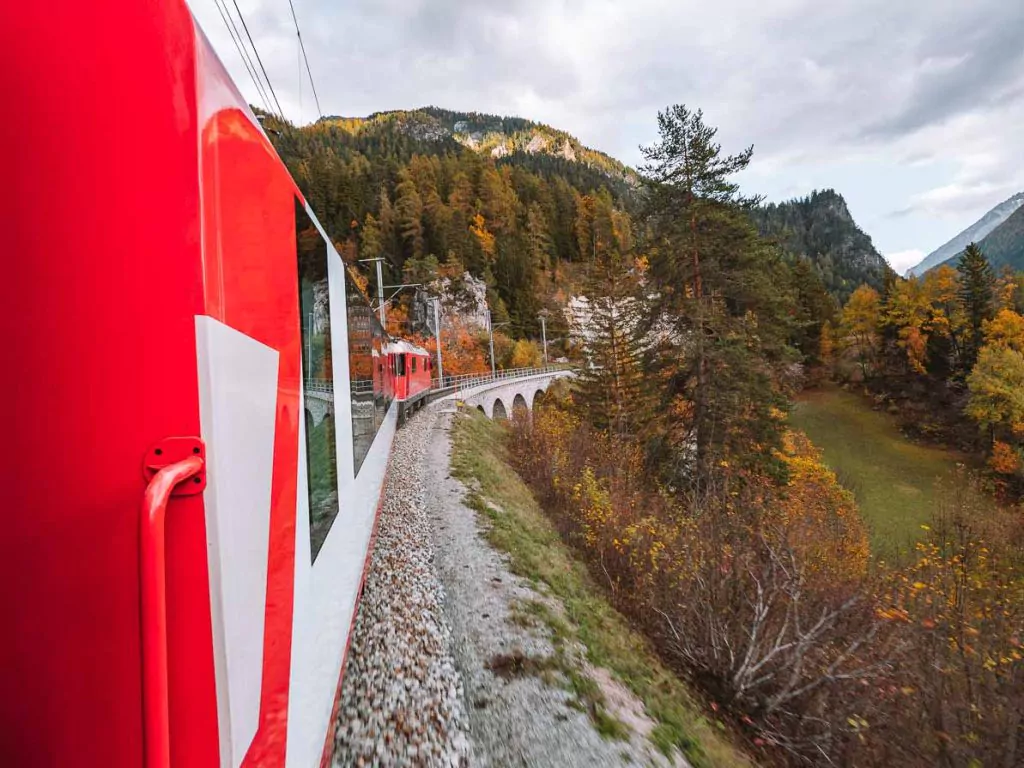 Switzerland panorama trains
If you're keen to experience Europe's train system but don't have that much time, I'd recommend looking into the Swiss panorama trains using a Swiss Rail Pass or a Eurail Pass.
Switzerland boasts some of Europe's most breathtaking natural scenery, so almost every train trip in the country is impressive in terms of views. But the panorama trains are a specific collection of train journeys focused on offering tourists the ultimate Swiss scenic experience, with panoramic windows to maximise sightseeing.
The GoldenPass Express runs from Montreux to Lucerne, the Gotthard Panorama Express runs from Lucerne to Lugano, you can catch a bus connection to Tirano (Italy) where the Bernina Express departs from to get to Chur or St Moritz (Switzerland), then the Glacier Express runs from Chur or St Moritz to Zermatt. Four stunning train journeys which will make this one of the most beautiful holidays you'll ever have.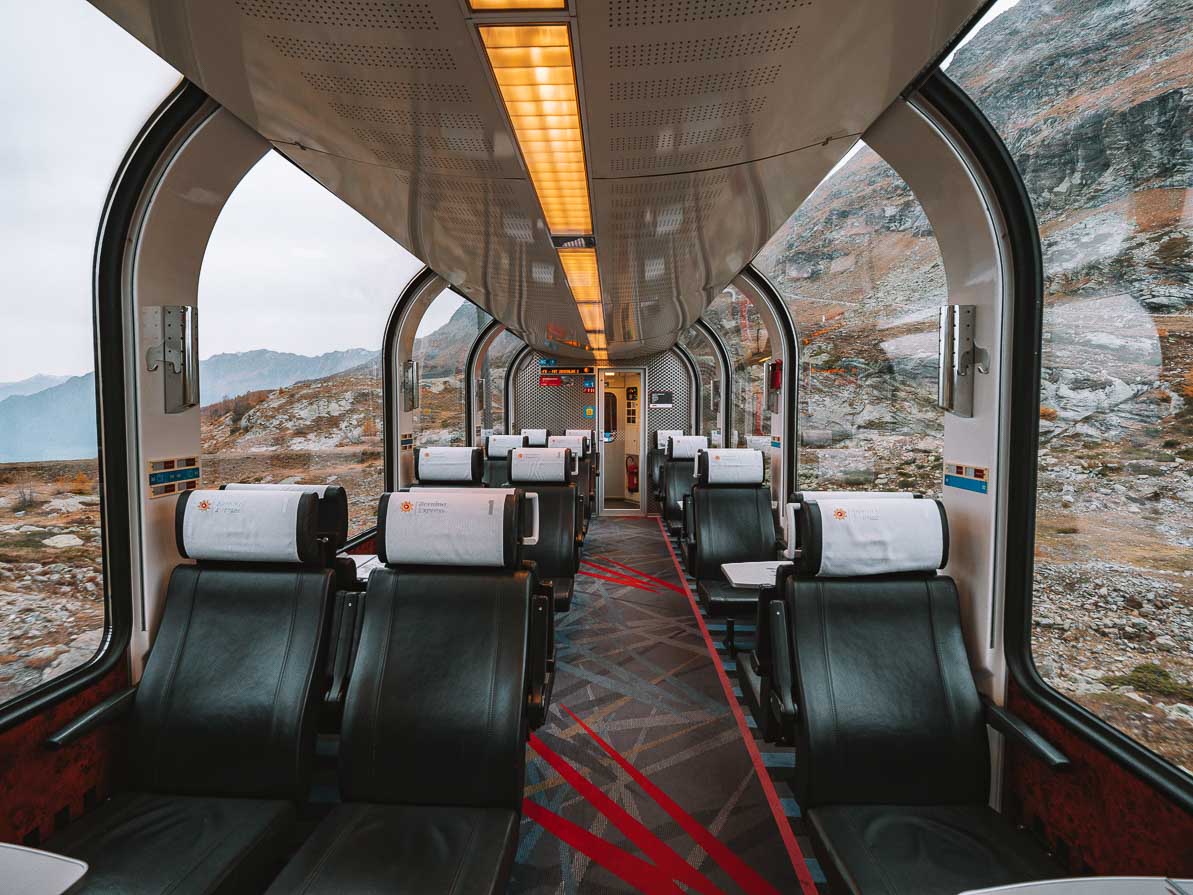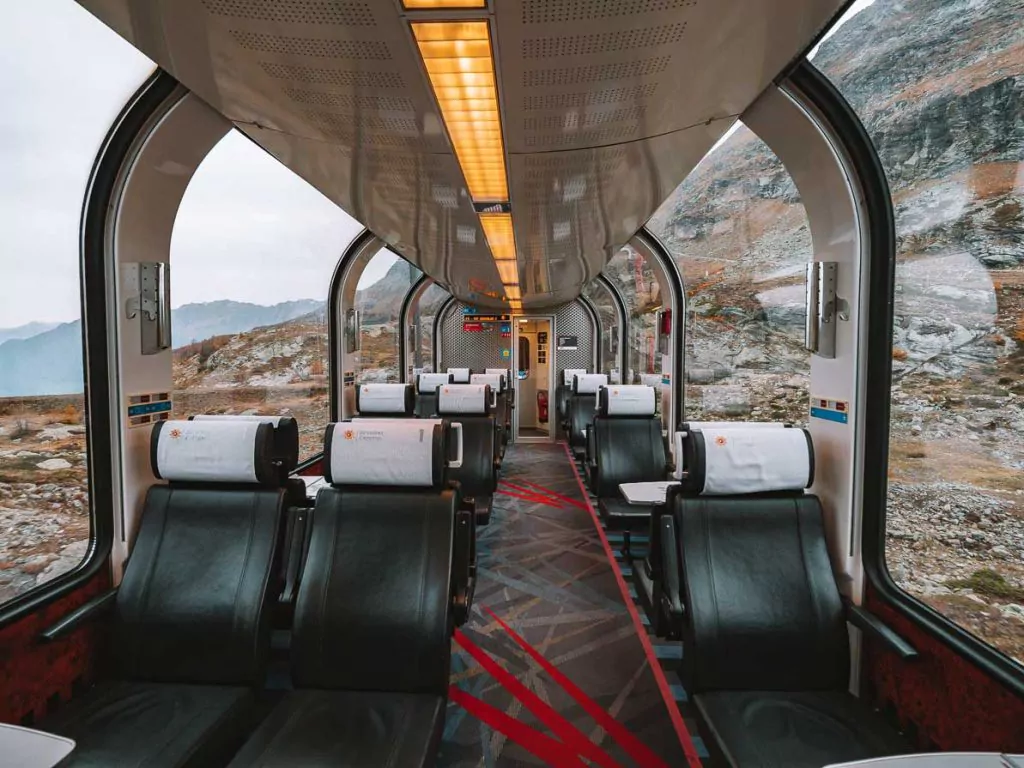 ---
Hit the road
Europe is home to some of the most scenic roads in the world, from captivating coastal drives to windy mountain roads and everything in between. Hiring a car or campervan gives you the ultimate flexibility to see, do and explore at your own pace, with the option to switch up your plans as you go.
Portugal road trip
Beach bums, this one's for you. Rent a zippy little car and do a one way trip from Faro in southern Portugal through to Porto in the north, past the Algarve beaches, colourful fishing villages, grand palace complexes and buzzing cities.
This five day Portugal road trip gives you a whirlwind taste of the Algarve, Lisbon, Pena and Porto, but you could easily spend weeks exploring Portugal's cities and countryside and still wouldn't get bored.
Southern Italy road trip
Italy may not be the easiest country to drive in, but if you can handle Southern Italy's narrow roads, lack of rules and *ahem* animated fellow road-users, then you'll be treated to superb views, charming villages and some of the best food Europe has on offer.
Pick up a car in Naples and hit the Amalfi Coast, Bari, Lecce, Matera, Tropea and Maratea to see some of Southern Italy's highlights, and consider extending your trip to allow you to spend a week or more exploring Sicily.
Iceland road trip
Iceland's public transport network is minimal and irregular, so aside from splurging on pricey tours, a road trip is by far the best way to see the country.
This 4 day South Iceland itinerary is ideal for a short visit, or if you're hanging around longer and want to get a bit off the tourist trail then you could add on this three day West Iceland itinerary.
---
Sun and sand
Whether your idea of a summer holiday is a luxe all-inclusive retreat with a private beach, island hopping between quaint fishing villages and hidden coves, or combining culture, relaxation and food all into one, Europe's got a summer destination to keep you happy.
Mediterranean sailing
Not a destination as such but more a mode of transport, a Mediterranean sailing trip is hands down the most incredible way to experience Europe during the summer. If you've got a big enough group you can charter your own self-drive boat (if you have the skills) or book one with a skipper, or for a more affordable option there are many companies that offer small group island hopping tours.
I spent a week sailing through Croatia with Medsailors in 2019, and I loved it so much that I immediately booked Greece for the following year. Obviously a little something starting with 'c' and ending with 'ovid' ruined that, but I've rebooked for summer 2023 and am now counting down the days till I'm back on a catamaran sipping breakfast mojitos while floating on an inflatable unicorn. Total bliss.
Greek Islands
If you'd prefer to stay in one place, or maybe tick two islands off the list, Greece is guaranteed to impress. Beach all day and party all night in Mykonos, sip local wine while watching the sunset in Santorini, explore enchanting fishing villages in Naxos or road trip around some of the world's best beaches in Crete.
Sicily
For the perfect mix of history, culture, food and scenery, Sicily takes the proverbial cake. Get lost in the maze of alleyways in the island's old towns, learn about ancient ruins at Agrigento, take a dip in the sparkling waters of Spiaggia dei Conigli, or experience Sicilian cuisine with a food tour.
---
Outdoor adventures
While Europe's history, culture and landscapes tend to dominate as the main reasons to visit the continent, it would be remiss to not mention that Europe actually offers a range of outdoor adventures to challenge even the most active explorers.
Dolomites, Italy
Northern Italy's Dolomites are a mecca for hikers, climbers, skiers and bikers, with countless trails and tracks to choose from depending on the level of adventure you're looking for.
From short walks circling alpine lakes to day hikes to multi-day treks from mountain hut to mountain hut, you'll want to bring comfy walking shoes or hiking boots to experience the Dolomites by foot.
If you're keen for a more daring way to see the mountains then consider trying a via ferrata or "iron path", a cable climb where iron rungs are attached to rock and you connect to a safety cable as you ascend. There are beginner via ferrata which aren't too daunting or taxing on the body, right through to expert via ferrata which require serious strength and technical skills. Book a guided via ferrata tour and tick this epic experience off your Italy bucket list.
Travel tip: The Dolomites are best explored by car, so I'd recommend booking one place to stay as a base and then get a rental car to take day trips from there. I stayed in Bolzano and stayed at a gorgeous boutique hotel called Loom Hotel, which has some of the most unique interior design I've ever seen. If you end up in Bolzano I also highly recommend visiting PastaLab, some of the best pasta I've ever had in my life!
West Highland Way, Scotland
If a long-distance hike is what you're looking for, the 154km trail from Milngavie to Fort William in Scotland's Southern and Western Highlands is one of Europe's most popular treks, and for good reason. On this 6-8 day adventure you'll traverse rocky terrain to reach epic viewpoints, spot waterfalls flowing into fast-flowing rivers, and enjoy panoramic views of ancient glacial lakes from hill summits.
Malta
Europe's scuba diving scene isn't as renowned as other parts of the world like Southeast Asia, Australia or the Caribbean, but if underwater adventures are your thing, Malta is your best bet for an epic scuba diving holiday in Europe.
With almost 200km of Mediterranean coastline and typically fantastic visibility, the dive sites in Malta are worth a visit for PADI-certified divers or for those wanting to get their certification. Underwater life isn't as impressive as other parts of the world but there are some incredible shipwrecks/plane wrecks to explore, the famous Blue Hole of Gozo (a 15m deep underwater sinkhole) and even underwater statues to see.
---
Treat yourself
Reckon you deserve something special on your next trip? Whether you're celebrating a certain milestone or achievement, or you simply enjoy the finer things in life, there's no shortage of luxurious holiday locations in Europe.
Paris, France
The luxury getaway of choice for high flyers from decades past, Paris truly puts on a show for those who can afford to experience the luxurious side of the city. Book yourself a five star hotel, see a cabaret show (I loved Paradis Latin), cruise down the River Seine, shop till you drop down Rue Faubourg Saint-Honoré, or reserve a coveted table at one of the city's many Michelin-starred eateries.
Zermatt, Switzerland
This dreamy resort town in the Swiss Alps is the ideal spot for a lush winter retreat, thanks to cosy eateries, stylish hotels and loads to see and do in both winter and summer. It's car-free which adds to the peacefulness, easy to reach by train. I'd recommend arriving or departing by the Glacier Express, a world-class panoramic train route which connects Zermatt with another fancy resort, St Moritz.
My top pick for where to stay in Zermatt is a boutique hotel called Hotel ZERMAMA, which boasts incredibly comfortable rooms, gorgeous interior design, an in-room fondue set for the ultimate Swiss experience, and some rooms have Matterhorn views, even from the bed and bathtub!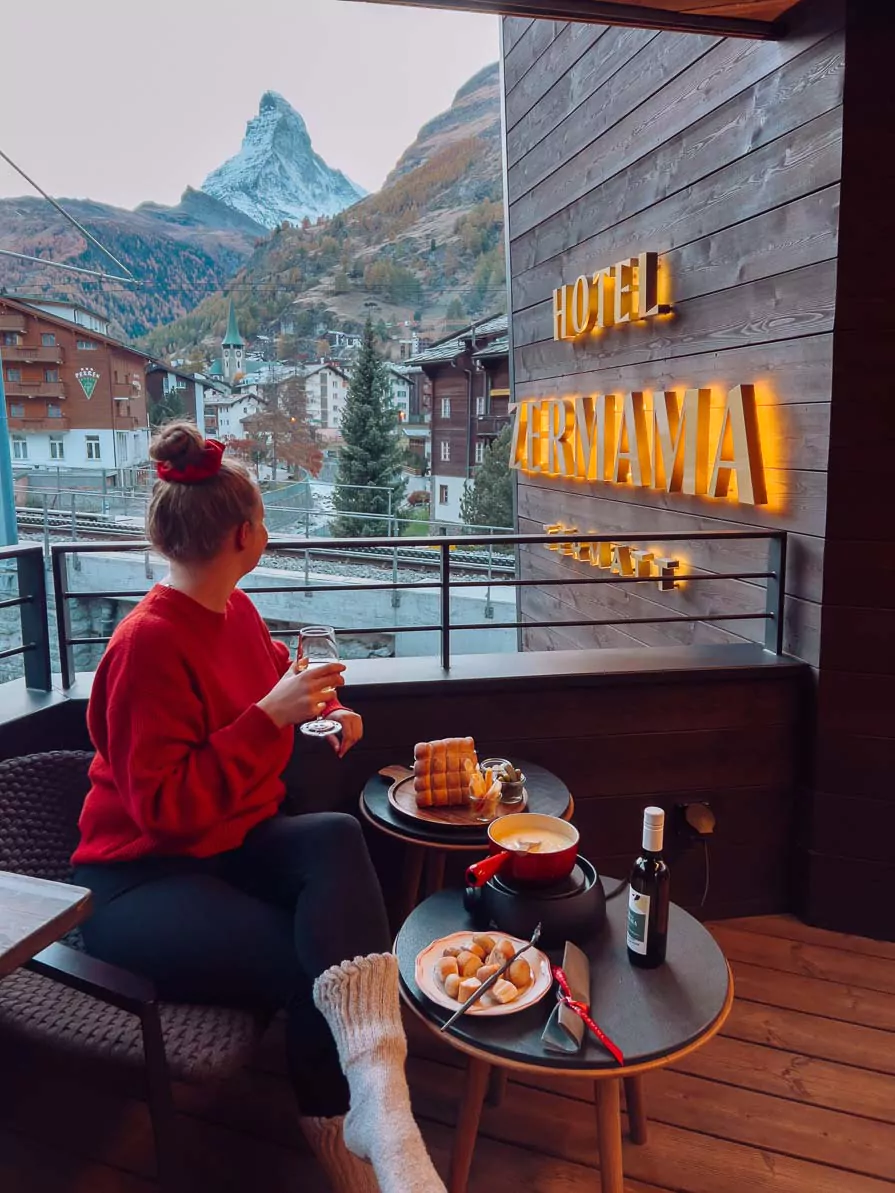 Istanbul, Turkey
Offering better value than many other destinations in Europe, Istanbul provides a unique blend of east and west while ensuring your tourist dollars (or lira) go far. The city's best hotels are certainly not cheap, but the brand names like Ritz-Carlton, Four Seasons, Raffles and JW Marriott tend to be 30-50% cheaper than the same chains in other cities like Dubai, Paris, Singapore and San Francisco. You can also find independent, locally-owned luxury hotels for significantly cheaper.
Relax and rejuvenate with a visit to an authentic Turkish spa, learn about the city's history and culture with visits to Topkapi Palace, the Blue Mosque and Hagia Sophia, and soak up expansive views over the city and Bosphorus Strait with breakfast, lunch or dinner at a rooftop restaurant.
---
Channel your inner child
If you need Europe holiday ideas for the young or young-at-heart, there are a bunch of highly-rated theme parks and attractions located around the continent, from thrilling adventure parks through to interactive movie studios.
Disneyland Paris
Whether you're travelling with kiddos, you love thrill rides or you just love everything Disney, Disneyland Paris is an obvious must-visit for any Europe amusement park holiday.
Unsurprisingly, Disneyland Paris is less American-ised than the Orlando and California Disney parks. The food quality is better in my opinion, with healthier choices and smaller portion sizes which is ideal for a solo traveller. The park isn't impossibly big either, which means that it's possible to do the whole thing in just a day (if you visit on a weekday) or two if it's during busy times with longer lines.
Even if you do just choose to spend a day at Disneyland Paris, I'd recommend staying either the night before or night after in the area to avoid an early morning and/or late night trip back to the city. I love Eklo Hotel for a budget-friendly stay near Disney, they have single rooms for solo travellers or family rooms if you're travelling with a group. Or for a more luxurious stay, consider booking in at the dreamy Hotel L'Elysée Val D'Europe, my go-to for a comfortable, safe, lush hotel after a long day of walking and waiting in lines.
Tivoli, Copenhagen
Did you know that Copenhagen's Tivoli Gardens theme park was actually visited by Walt Disney when he was planning Disneyland? He took notes on everything from the gardens to the park layout to the type of rides, then used these for inspiration before opening Disneyland in California four years later.
Tivoli is the world's second-oldest theme park, it opened in 1843 and has been surprising and delighting millions of visitors since. It's totally different to Disneyland, you pay a small fee for entry and then pay per ride or purchase an unlimited ride pass. The rides are actually super impressive, much far shorter lines and less wait time than you'd ever find at a Disney park!
The park is open from mid-April to mid-September for its summer season, then it reopens in October for Halloween and mid-November through December for Christmas. It's a worthwhile addition to any Copenhagen itinerary, and if you're particularly interested in Christmas lights and festive vibes then it's worth considering as a standalone trip during the Christmas period.
TRAVEL TIP: If you're visiting Copenhagen on a budget, you have to check out Next House hostel! This is one of the best hostels in Europe for sure, it has pod-style dorm rooms and affordable private rooms, a shared kitchen, a sun-soaked rooftop, an indoor sports arena, loads of game tables and board games, and even a well-equipped gym!
Harry Potter Warner Bros. Studio Tour + filming locations, UK
HP fans, I haven't forgotten about you! Step into the wizarding world with your trip to the UK, where you can go behind the scenes with a studio tour, try to find your way to Hogwarts through Platform 9 3/4 at King's Cross, or search for harder-to-find filming locations like certain alleyways, churches and markets across London, Oxford, the Scottish Highlands and more.
---
Winter getaway
Finally, to wrap up this list of Europe holiday ideas, here are some suggestions for epic winter getaways to make the most of Europe in the cooler months.
Skiing
Europe basically invented alpine tourism in the 19th century, throwing a curve ball into upper society's social calendar which used to be solely focused on summer events, using winter as somewhat of a hibernation period.
Switzerland's St Moritz was the first ski resort to really take off, with many more opening up in the following decades across the rest of the Swiss Alps as well as in France, northern Italy, Austria, Germany and more. These days you can also find more affordable ski locations in eastern Europe, like Bansko in Bulgaria, Gudauri in Georgia and Jasna in Slovakia.
TRAVEL TIP: I recently found one of the cheapest places to ski in Switzerland, it's called Ski Hostel in Liddes. You can get ski packages that include accommodation, two meals a day, airport transfer, mountain transport and your ski pass for less than €115 per day, which is almost unheard of in Switzerland. Highly recommend!
Christmas Markets
There's no winter experience more magical than sipping Glühwein (mulled wine) out of Santa boot cups, marvelling at the dazzling light installations and getting amongst the festive vibes at one of the traditional Christmas markets.
Some of the most authentic and impressive markets are Strasbourg and Colmar in France, Innsbruck and Salzburg in Austria, and Cologne and Nuremberg in Germany.
For a more affordable Christmas market experience consider heading to Prague, or if you don't mind a splurge and just want the ultimate in festive feelings then Tivoli in Copenhagen is absolutely enchanting.
And if you want to see all the best markets at once, check out my Europe Christmas market itinerary by train.
TRAVEL TIP: During my Christmas Market Europe itinerary I stayed in MEININGER hotels a few times (in Salzburg, Amsterdam and Frankfurt) and loved them, they offer budget-friendly dorm rooms and affordable private rooms with access to shared kitchens, laundry facilities, buffet breakfasts and work-friendly spaces. Ideal for a whirlwind trip where I wanted to save money on food and needed to get a bunch of work done!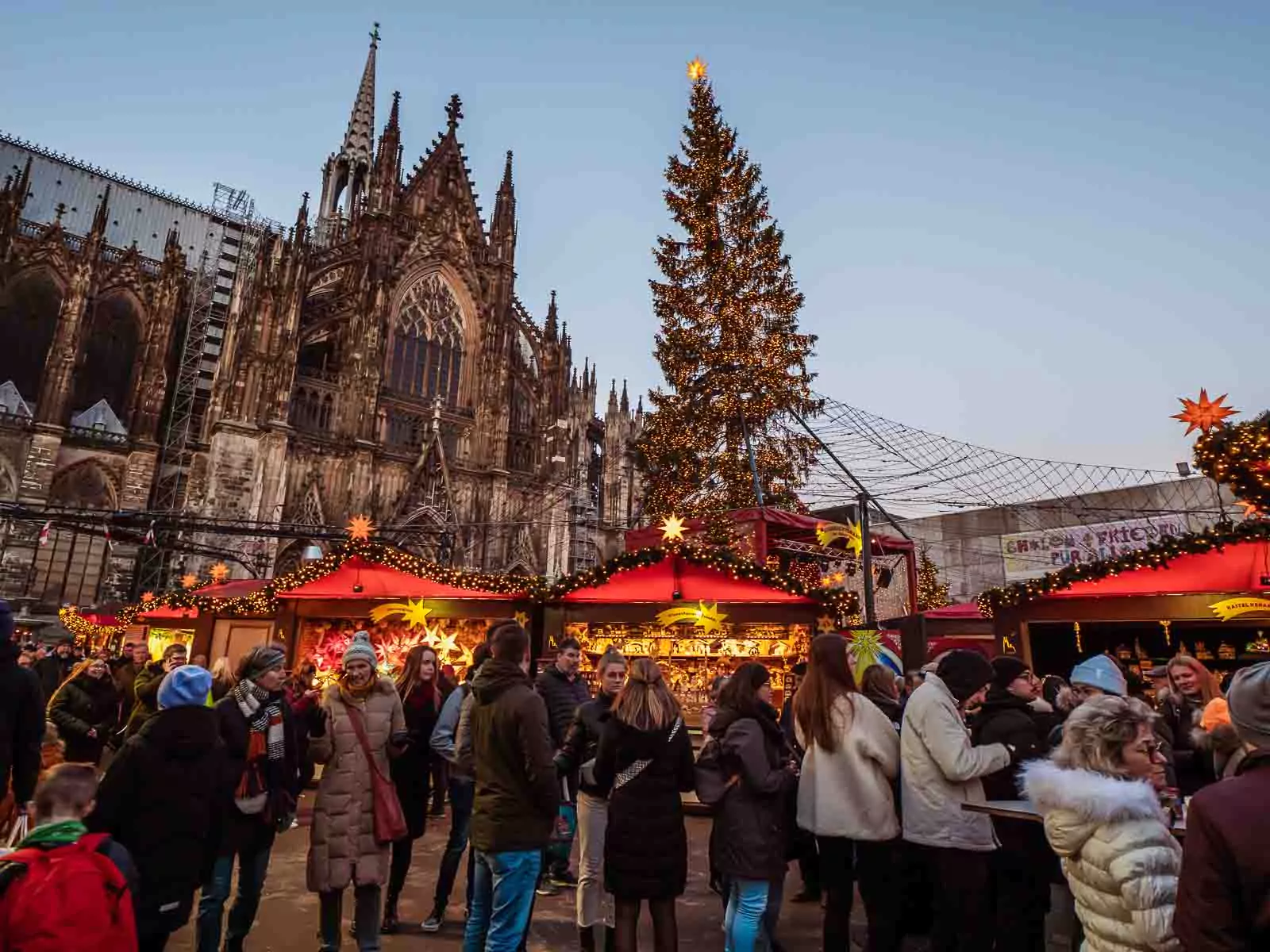 Northern Lights
Alright I take that last bit back, maybe this is more magical! The Northern Lights (a.k.a. the aurora borealis) are a natural phenomenon where solar storm activity causes electrically-charged particles to enter Earth's atmosphere at high speed, which results in swirling rays of green and purple light dancing across our night sky. They're best viewed on dark, clear nights in destinations close to the North Pole.
I've seen the Northern Lights in Iceland and Norway, but you can also see them in Sweden, Finland and even northern Scotland if you're lucky.
---
These suggestions for Europe holiday ideas are by no means an exhaustive list, there's an endless choice of destinations to choose from when planning your European adventure! But hopefully the trips I've recommended here give you some trip ideas for Europe and make your planning just a little bit easier.
MORE EUROPE BLOGS: