Are you super keen to visit Disneyland but can't seem to make a solid plan with friends or family to join you? Going to Disneyland alone can be daunting but I 100% recommend it! Here's why you should visit Disneyland solo and some helpful tips on how to make the most of a solo Disneyland trip.
After visiting 42 countries as a solo traveller (and 57 countries overall) I consider myself somewhat of an expert on solo travel. I eat out at restaurants alone, I've joined group trips where I'm the only one without a friend, and I've even gone to concerts and gigs by myself. Exploring new places and trying new things are my bread and butter, and I'm pretty confident doing it all while riding solo.
But I'll be honest and say that one of the hardest parts of solo travel is when you visit places where you're surrounded by groups of friends and families who are having a fantastic time together. And one place where there are thousands of people having fun together is, of course, theme parks.
Depending on your comfort level of solo travel, going to Disneyland alone might be slightly intimidating or it might be completely terrifying to you. But don't stress, after multiple solo theme park trips and a recent super successful solo day at Disneyland, I have some suggestions on how to ensure you have the most magical solo day at the happiest place on earth.
In this solo Disneyland guide I'm going to explain to you why visiting Disneyland alone is worth it, and then share a bunch of helpful Disneyland solo travel tips to make the most of your time, energy and money during your time at Disneyland and California Adventure.
Let's get into it!
This blog post is sponsored by Klook, my long-time activity partners and my go-to for booking Disneyland and other theme park tickets around the globe. You can book your Disneyland tickets here.
---
Why going to Disneyland alone is a good idea
I mean let's be honest, going to Disneyland is always a good idea! But I also understand that going to Disneyland alone (or any theme park for that matter) can be quite anxiety-inducing if you're not used to solo travel or visiting crowded places by yourself.
To help quieten your fears and calm your worries, here are some of the top reasons why visiting Disneyland solo actually gives you a better experience than if you had to wait for travel buddies to join you.
Less wait time
An obvious benefit but also an extremely important benefit, especially if you only have one day at Disneyland to see and experience the park! Riding solo means you can take advantage of solo rider lines, which can end up saving you literal hours by the end of the day.
There's more info on the exact rides with solo rider lines further down the blog to help you plan out your perfect solo day at Disney.
Freedom of what rides you do and don't want to go on
When you're spending between $100 and $250 on a ticket for a single day at Disneyland, the last thing you want to do is waste time waiting in lines for rides that you aren't even interested in. And while you might love your best friend, her insistence to spend an hour and a half waiting for a boring, overrated ride can get pretty annoying when you've splurged on a ticket and want to make the most of your time.
When you visit Disneyland solo you can plan out your Disney itinerary to include all of your top priority rides and not have to compromise any of your time to spend helping someone else tick off their ride bucket list.
Freedom to eat when, where and what you want
Disneyland's food options are a whoooole thing, to the point that there are entire websites all about Disney treats. When you travel with friends or family, you've likely got different tastes, different eating routines, maybe even different budgets, and while one person may want to save by bringing a DIY picnic to the park, the other might be happy to throw cash at every Mickey-themed thing available or might require an hourly slushy drink to keep cool during the mid-summer heat (yes, this was me).
One of my favourite things about solo travel overall is the freedom to eat what I want, and that's certainly the case at Disneyland. So do some research on the best Disney food, plot out the eateries you want to visit on your park map, and plan your one day Disneyland itinerary to suit your tastes and preferences.
Live out your childhood dreams with no worry about the people around you
In an ideal world your friends and family would totally accept you living out your childhood dreams at Disneyland anyway, but the reality is that sometimes when you travel with other people you might tone down your Disney nerdiness, your obsession with Marvel or your desire to be a real-life princess.
But when you take a solo trip to Disneyland, you are surrounded by other Disney-lovers doing the exact same thing so I guarantee no one will even notice if you shed a tear while meeting your favourite character.
Doing a solo Disney trip means you can really channel and embrace your younger self and not have to worry about people from your adult life thinking any differently of you.
(Although if you've got people in your life who would judge you for this I highly suggest dropping them anyway. Life's too short to be hanging out with buzzkills!)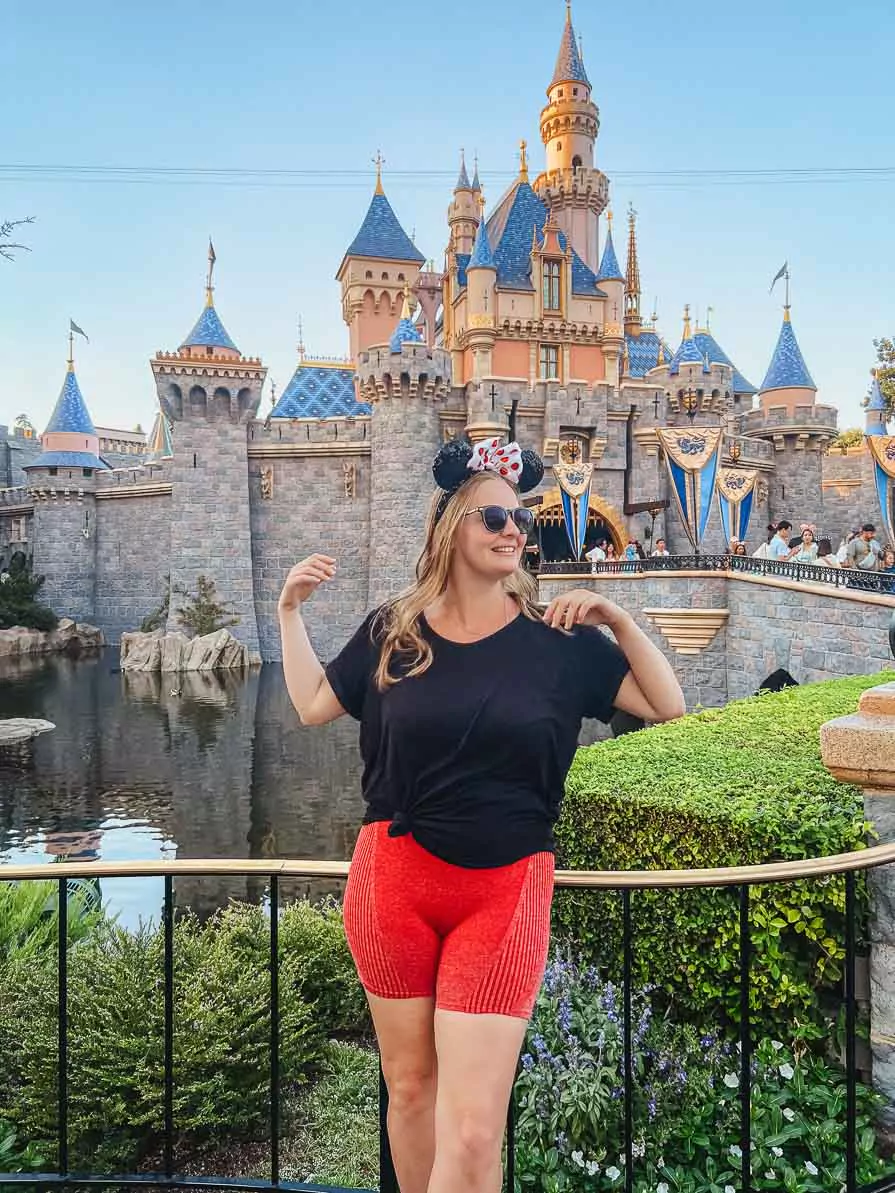 ---
Travel tips for going to Disneyland alone
Book in advance
Disneyland tickets are priced different for different days, with public holidays and celebrations like Valentines Day or Halloween coming out as the most expensive, and mid-week shoulder season tickets coming out a bit cheaper.
And if you are planning on visiting during a busy period, you need to book your park reservation in advance to ensure your Disney solo day goes ahead as planned.
If you're booking your Disneyland ticket directly on the Disneyland website the park reservation is a part of the process, and you'll be directed to a page where you choose the date of your entry as well as the park you're wanting to visit first (if you've bought a Park Hopper ticket).
If you book with a third party like Klook you'll need to book your reservation as an additional step after purchasing the ticket, all the info will come in the confirmation email or you can find the ticket reservation details here.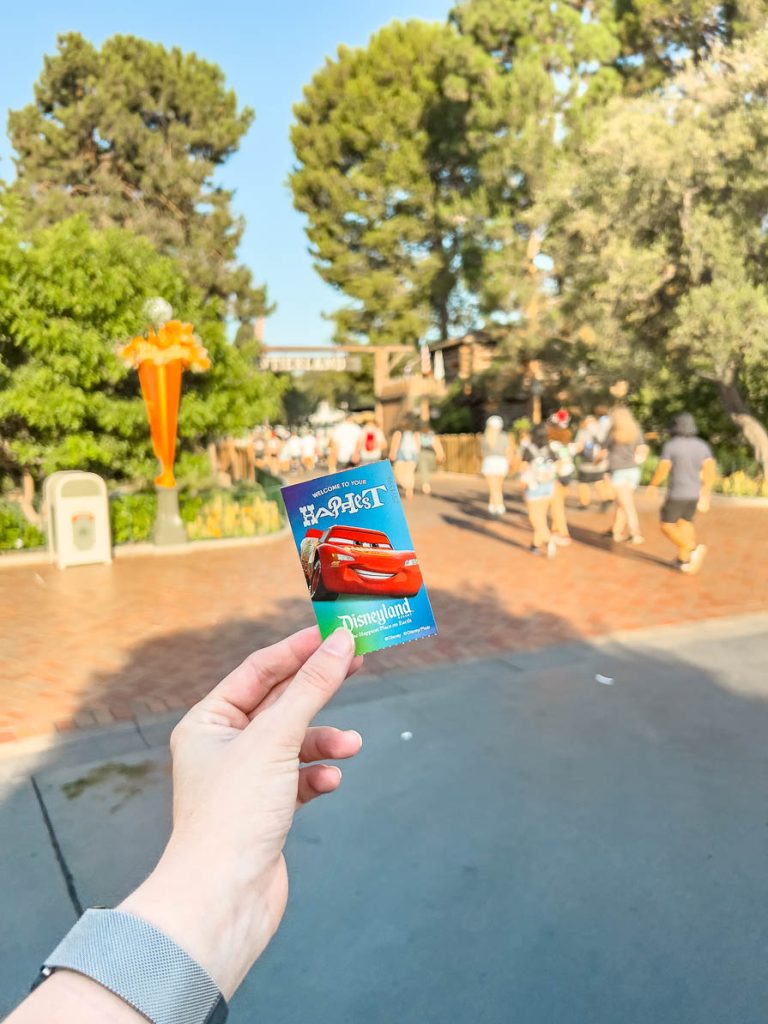 Stay in Anaheim if you can
This is an example of do as I say, not as I do, because I made the mistake of staying in Downtown Los Angeles and travelling to Anaheim just for the day with extremely expensive Ubers to get there and back home in a timely fashion. 0/10 would not recommend.
If you stay in Anaheim at least the night before, you'll be able to get to Disneyland for 'rope drop' (the Disney term for the park opening time) with only a short trip from your hotel. If you stay two nights you'll also be able to zombie your way home after your huge Disney day without having to spend ages waiting for public transport or splurge on a cab home.
Some of the best-rated Anaheim accommodation options are:
Budget | Bposhtels for a budget-friendly hostel, or Harbor Motel or Pacific Inn for cheap private rooms
Mid-range | Ayres Suites Yorba Linda, Hotel Pepper Tree Boutique Studios or Hotel 414
Luxury | The Westin Anaheim, JW Marriott Anaheim or The Viv Hotel
If you aren't staying in Anaheim and stay in LA instead, you can either Uber/Lyft to and from Disneyland (I paid $42 USD to get there from DTLA, and $49 to get home), or you can take a 40 minute train from Union Station in LA to Anaheim Station and then a 30 minute bus (or a shorter Uber) from the station to Disneyland.
Take a phone charger
As a solo traveller especially, it's essential that you have enough phone battery to last you the full day so that you can get home safely and avoid being left without a device in case of any emergencies. And if you're anything like me, you'll run through looooads of battery juice with constant Googling of Disneyland food options, using the app to book rides and find your way around, and taking a bunch of photos and videos.
Even my less-than-year-old iPhone 13 (which generally has fantastic battery life) got totally run down by the mid-afternoon, so I'd highly recommend taking a charger with you to recharge at some stage during the day,
There are some outlets dotted around the park, due to Disneyland's ever-changing layout there's no reliable or official list of charging points but you can see a fairly-often-updated list here. If you forget a charger you can also buy a portable charger from kiosks around the park, but these aren't cheap at $30 USD + tax.
Don't take too much stuff
One of the most annoying things about solo travel is that there's no one to share the load with, literally, so keep your bag as light as possible and don't take too much heavy stuff that will weigh you down.
For me, my solo trip to Disneyland was for content purposes so I had to take my tripod (I use this reasonably lightweight travel-friendly one) and phone mount, but apart from that the only things in my bag were my phone charger, a hat, sunblock, some snacks and a drink bottle.
Most of the rides at Disney allow you to take bags on (including the rollercoasters which go upside-down which surprised me!) so you can just sit your backpack at your feet, or there are lockers available from $7-$12 per day if you'd prefer to explore without carrying all your stuff.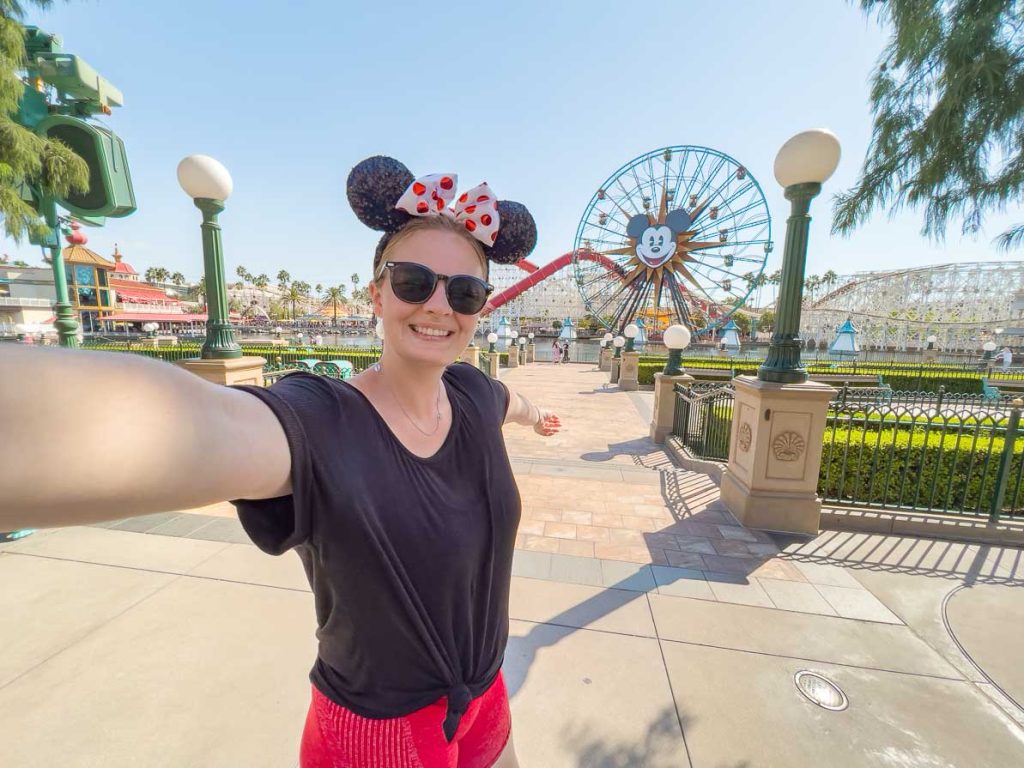 Wear comfy shoes
You will be walking a lot, and I mean a lot. According to my Fitbit I walked 35.567 steps during my one day at Disneyland!
Wear comfy, lightweight shoes that you've already worn in so you don't get blisters, and take them off before you go on the Grizzly River Run to avoid getting your shoes soaked and being damp for the rest of the day.
Get there early
When you've spent this much on a ticket for your solo trip to Disneyland, you want to make sure you're making the most of every minute the park is open and that means being there for rope drop.
Disneyland opens at 8am on most days of the year and closes between 10pm and 12am, with Disneyland California Adventure often closing an hour or two before the main park.
I arrived bang on 8am (after my pricey Uber from LA) when the crowds were slowly making their way through the turnstiles, but by the time I got to the Rise of the Resistance ride at Galaxy's Edge (near the back of the park) there was already a 45 minute line! If you're only there for the one day then I'd recommend trying to get there between 30 and 60 mins before the park opens to get through the gates as soon as they open and avoid the wait on at least one of the major rides.
Plan out your day
Disneyland is huge and if you've booked a Park Hopper ticket like me, you're going to be very overwhelmed with all the choices on offer. It's a good idea to plan out the must-sees, must-rides and must-eats at the start of the day so you can figure out a bit of an itinerary.
The Disneyland app is fantastic for this, you can search rides by name or by thrill level, see their locations and wait times, find the food and drink options too, and get a bit of an idea of what order you should do things in. The app also has a Disneyland Genie (not to be confused with Genie+ which I explain below) where you answer questions around your ride priorities and the app will create an itinerary based on your preferences.
Do the Disneyland Genie questionnaire to get ideas from the app, then I'd say the best way to tackle a Disneyland itinerary is to note down your absolute top priority rides and then roughly plan out when you'll do them, and you can squeeze in less-important rides and food stops during the times in between.
Pay for skip-the-line access (Genie+ and Lightning Lane) to make the most of your time
Many of the rides at Disneyland Park and California Adventure have Lightning Lanes which skip the line and take you straight to the front. There are two ways to use these Lightning Lanes: with the $25 Genie+ service, or with individual Lightning Lane passes (prices vary).
Individual Lightning Lane passes
There are a few different rides that require individual Lightning Lane passes, and these rides/prices can change. You can book up to two individual LL passes a day on the Disneyland app, and only one per ride. When you book an LL pass it'll give you a one hour time block when you can come back to the ride and skip the line, so you need to factor this into your plan and make sure you're in the right part of the park.
At the time I visited the individual Lightning Lane options were Rise of the Resistance ($25 for the LL pass) and Radiator Springs Racers (I paid $15 for the LL pass on Labor Day but prices vary depending on demand at the park).
If you're riding solo (I imagine you are if you're reading this blog post) do not buy the LL pass for Radiator Springs, there's a single rider line that lets you skip the whole thing anyway! I bought the LL pass before realising this so it was a total waste for me. The Rise of the Resistance LL pass on the other hand was well worth it, the wait was 45 minutes by 8.15am and later in the day the wait was up to two and a half hours long before they shut the line off at around 8pm.
Genie+
Genie+ is a $25-a-day service that gives you Lightning Lane access to 18 attractions around Disneyland Park and California Adventure. This works in a similar way to the individual LL passes, you use the Disneyland app to book your Genie+ pass, then the app lets you book your Lightning Lane timeslot for Genie+ rides to secure your ride time.
With Genie+ you can really only have one ride booked at a time and then you can't book another one until you've completed that booked ride, with one exception.
If you book a Genie+ time slot for a ride and the slot is more than two hours away, two hours after booking you'll be able to book another Genie+ ride slot. For example, if it's 10am and you book a Space Mountain Genie+ slot for the next available time at 12.30pm, by 12pm you'll be able to book another Genie+ ride rather than having to wait for your Space Mountain trip at 12.30pm. Does that make sense? I hope so!
Some of the most popular Genie+ rides are Space Mountain, Splash Mountain, Haunted Mansion, It's a Small World and Indiana Jones at Disneyland, and Guardians of the Galaxy: Mission BREAKOUT!, Goofy's Sky School, the Incredicoaster and Grizzly River Run at California Adventure.
And they can sell out, so prioritise your Genie+ plans based on the rides you definitely don't want to miss out on! Unfortunately I accidentally visited on Labor Day (rookie mistake, I know 🙃) and at 4pm I tried to book Mission BREAKOUT (the Guardians ride over at DCA) and all the slots were booked for the day. At the ride itself it was a 2.5 hour wait which would've cut out so much of my day, so I had to miss out.
But don't plan out your Genie+ rides just yet, because first you should…
Check the single rider line options
YAY for visiting Disneyland alone, because you're going to save a tonne of time by using single rider lines!
Some single rider lines are available at rides that also have Genie+ access, but the single rider lines don't require any pre-booking so they are much easier than using up a coveted spot on your Genie+ plan.
If you're visiting on a quiet day (mid-week, off-season, no holiday celebrations) you might even be able to tick off everything that you want to do by saving times with single rider lines and not need to spend extra money on the Genie+ access.
As of November 2022, the rides that have single rider lines are:
Disneyland
Matterhorn Bobsleds
Millennium Falcon: Smugglers Run
Splash Mountain
California Adventure
Radiator Springs Racers (use the single rider line instead of paying for the individual Lightning Lane)
Goofy's Sky School
Grizzly River Run
The Incredicoaster
WEB SLINGERS: A Spider-Man Adventure
Make friends if you want to
If you're feeling like you need a bit of social interaction during your solo Disney day, the good news is that you will likely be able to make friends reasonably easily!
Whether you strike up a conversation in line for a ride, notice a fellow solo traveller trying to take photos and offer them a hand for a better shot, or head to Oga's Cantina in Galaxy's Edge which has shared tables perfect for meeting people, your Disneyland solo experience doesn't need to mean you're fully alone the entire time.
Set aside time to eat, drink and relax
Probably the most important travel tip for going to Disneyland alone, when you're by yourself you really need to be conscious about setting aside time to rest and recharge.
When you don't have a travel buddy reminding you to eat and drink it can be easy to just be solely focused on ticking off rides and totally forget to top up with water or a snack to keep your energy levels up. And no one wants to end up dizzy and dehydrated after one too many rollercoasters because you forgot to keep sipping your drink bottle or stop for lunch.
There are plenty of places to grab food around the park depending on what you're into, from easy finger foods to sit down meals or from frozen slushy drinks to fancy cocktails. Just keep your water bottle topped up (there's water bottle refill stations and drinking fountains throughout the parks), make sure you eat something every couple of hours, and be especially cautious of your energy levels and hydration on hot days.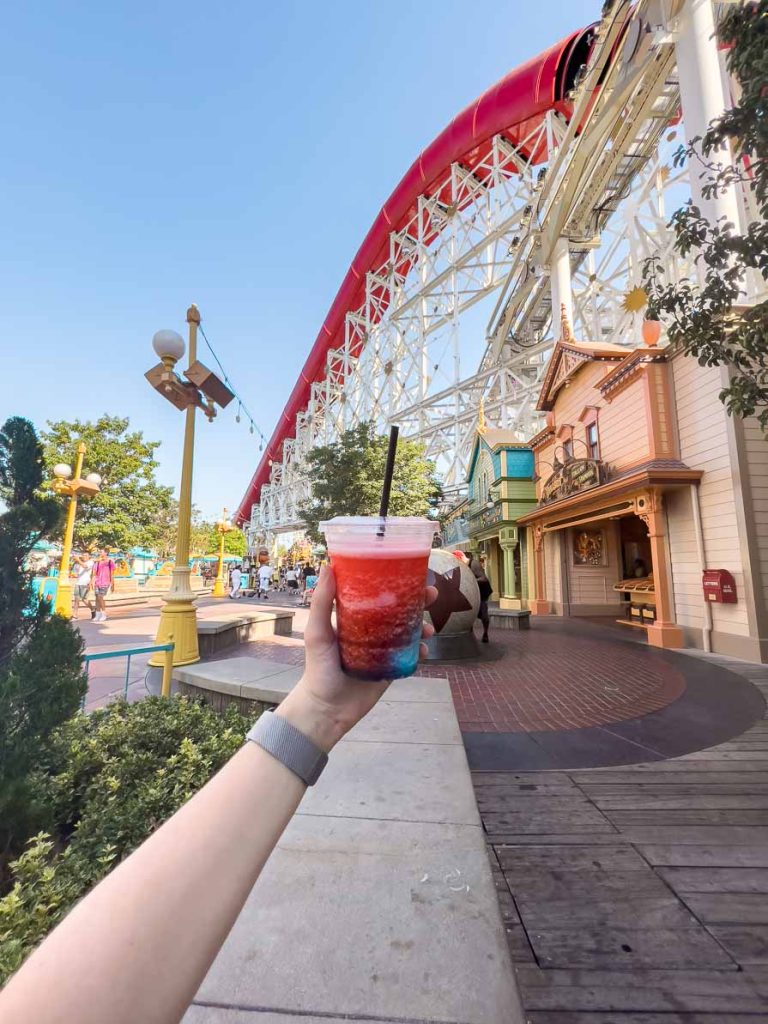 ---
I hope this guide to going to Disneyland alone has helped you plan out the perfect Disneyland solo itinerary! I absolutely loved my solo day at Disney and I don't want any other solo travellers to decide against ticking Disney off their bucket list because they're worried about going alone.
If you have any other questions about visiting Disneyland solo please let me know in the comments and I'll get back to you ASAP 🙂