Need some help planning your South Iceland 4 day itinerary? My four days in Iceland was one of my all-time favourite trips, and this itinerary is the perfect way to maximise your short time. Here's the perfect itinerary for 4 days in Iceland, plus where to stay, where to stop and some helpful travel tips. for visiting the South Coast of Iceland.
Iceland is the perfect destination for a short adventure, with countless mind-blowing natural wonders and adventure activities within just a few hours of the airport and biggest city, You can pack a lot of fun into a 4 day Iceland itinerary, but it can be overwhelming to figure out what stops are worth your time. Don't stress, that's what I'm here for.
From the classic tourist must-dos to the hidden gems and local loves, I've written up the perfect South Iceland four day itinerary to ensure you have the time of your life exploring this otherworldly country.
And to help you explore the South Coast of Iceland with minimal time spent on travel planning, I've listed a bunch of recommended accommodation spots (including the incredible places I stayed at), driving distances, some worthwhile food stops and helpful travel tips for a safe Iceland road trip.
If you have any questions that this Iceland South Coast itinerary doesn't answer then feel free to leave a comment and I'll get back to you, or head over to my Instagram and flick me a message 🙂 happy travels!
This blog post includes affiliate links that give me a small commission if you make a purchase, at no additional cost to you. These links allow me to continue creating detailed blog posts like this one, thank you for supporting me!
---
Is four days in Iceland enough?
I would say four days is the minimum amount of time you need to comfortably see Iceland's absolute top highlights along the South Coast if you're planning to self-drive. The country is small and many of the highlights are close-ish to each other so you can see a lot with a couple of days on the road, but you want to give yourself some leeway in case of bad weather, so four days is a good start.
If you're coming to Iceland from the US East Coast or from London or another Europe transport hub for an extended weekend then try to fly on a Thursday evening and come home on Monday night or Tuesday morning to maximise your adventure time.
If you're able to set aside even more days then you can take your time with the itinerary below, or you could add on my Iceland West Coast itinerary for a 7-8 day road trip, or with 10+ days (in summer as you'd need the long daylight, probably more like two weeks in winter) you could drive the whole of the Ring Road.
If you're running on a shorter timeframe then head to the bottom of this blog post to see my suggestions on how to explore the South Coast of Iceland in only 2-3 days.
---
How to get around Iceland
Driving around Iceland
The best way to get around Iceland is undoubtedly with a rental car, this way you'll have the most freedom to explore at your own pace and see where the wind takes you (quite literally!).
Driving in Iceland might be intimidating but if you have the right vehicle, respect the weather conditions and take it easy then you'll be totally fine.
If you're planning on driving normal roads (not F-roads, more on them soon), then you will be able to choose from 2WD or 4WD cars year-round. While most South Iceland's main roads are paved, if you go beyond Jökulsárlón or head up to West Iceland then some of the public rural roads are dirt/gravel roads that are pretty muddy and bumpy. As long as they aren't F-roads they are still okay for 2WDs (unless signs say otherwise), just make sure you have full insurance to cover any potential damage.
They'll be much more comfortable with a 4WD if you don't mind spending the extra $$$, but if you're on a budget then a 2WD will do.
If you're travelling in winter, Icelandic law requires that all rental vehicles have winter studded tyres from 1 November to 15 April so a 2WD will also be okay even in winter. Always be aware of weather warnings (the Icelandic Met Office is the best place to check) and if they say to avoid driving on certain days or in certain areas, listen to them.
I would say the trickiest time to drive in Iceland is just before and after the official 'studded tyres' requirement kicks in, as the roads can get icy from mid-late September and stay icy into early May. If you're travelling during this time then I'd recommend getting a 4WD for peace of mind.
For my most recent Iceland trip (October 2022) I left my rental booking too late and could only get a 2WD Toyota Corolla, I didn't have any issues in the end but the temperatures hovered between -2° C and 4°C so I was ultra-aware that roads may be slippery and just took it very easy.
What about the F-roads?
If you plan on getting off the beaten track during your four days in Iceland, chances are your trip might take you onto some 'F-roads', which are 4WD tracks with uneven surfaces and some river crossings.
The F-roads are only open in the warmer months before the snow and ice sets in, and you'll need a 4WD rental car with high clearance and correct insurance in order to drive on them.
Other ways to get around Iceland
Iceland's public transport system is very limited outside of Reykjavik, so your best bet to explore Iceland without a car is to use organised tours.
There are some fantastic, highly-rated day tours that will show you almost all the highlights I've mentioned in this itinerary, with many options leaving from Reykjavik and a few that leave from Vik.
Day tours can help you tick off things like the Blue Lagoon, Sky Lagoon, the Golden Circle, West Iceland, glaciers, lava tubes and more, with hotel pick up and drop off so you don't need to worry about getting a car, paying for gas or driving in tricky conditions.
Here are some day tours that you could add to your Iceland itinerary:
If you're keen to go further than just day trip distances then you could look at booking a multi-night tour.
Contiki has a 5 night/6 day Iceland tour for 18-35 year olds or for something a little more adventure-focused G Adventures has a bunch of Iceland tours on offer, or there are some cheaper and shorter overnight tours like this 2-day South Iceland tour which does pretty much all of the day two, day three and day four stops on this itinerary. A great option to maximise your time!
---
When is the best time to visit Iceland?
Iceland truly is a year-round destination and it offers very different experiences depending on when you visit!
Iceland in summer
If you're visiting in summer (June to August) you'll benefit from mild weather and very long days. In the middle of summer there's no proper nighttime at all, twilight keeps the sky light even while the sun sets behind the horizon for a couple of hours.
Summer is however peak season, and the crowds are at their highest, so expect busy waterfalls, booked out tours and expensive accommodation.
Iceland in winter
Iceland in winter is magical for one main (and obvious!) reason: the Northern Lights. The aurora borealis is able to be viewed from mid-September to mid-March, but your chances are higher in the middle of those months as it's darker for longer which makes light-viewing significantly easier.
The harsh conditions of Iceland's winter does mean there are less people so therefore lower prices, but it also makes driving a bit trickier and you have limited daylight to enjoy your Iceland itinerary. If you're visiting in winter just be aware that there might be only a few hours of sunlight in the middle of the day so plan your drives accordingly.
Iceland in the shoulder season
I'm a huge fan of shoulder season travel, you can generally avoid the worst of the crowds, enjoy milder weather and benefit from discounted prices. In Iceland, travelling between March and May or September and October is just brilliant!
March to May (spring) is when the snow starts to melt and Iceland's lush landscapes come back to life, and mid-April is when the puffins start arriving. Unfortunately the Northern Lights are unlikely to be visible after March but if that's not a priority then the warming temperatures and quieter tourist spots are definitely reasons to visit Iceland during spring.
September and October are similar in terms of less people and lower prices, but with the added chance of catching an early display of the Northern Lights. Your likelihood of seeing them will totally depend on aurora activity as well as weather conditions but I saw them at my accommodation Afternoon Cottages during my four day Iceland road trip in early October!
---
South Iceland 4 day itinerary summary
Please note that this South Iceland itinerary is based on four full travel days, so essentially you'll fly in on Day Zero and fly out on Day Five.
If you fly in very early on Day One (my flight from Boston landed at 4.30am) and/or fly out late on Day Four then you could make it work, but I recommend trying to spend a night in Reykjavik on one or both sides to reduce time pressure.
If you are visiting Iceland for a shorter time then no stress, scroll to the bottom of the blog for tips on what to do in Southern Iceland with only a few days!
Day one: Reykjavik to Hella via the Golden Circle
Day two: Hella to Jökulsárlón Glacier Lagoon
Day three: Jökulsárlón to Vik
Day four: Vik to Reykjavik
And my top recommended accommodation for each stop:
Day one: Afternoon Cottages near Hella
Day two: Ekra Glacier Lagoon near Jökulsárlón
Day three: Black Beach Suites (luxury) or Mid Hvoll Cottages (mid-range) near Vik
Day four: Center Hotels Laugavegur in Reykjavik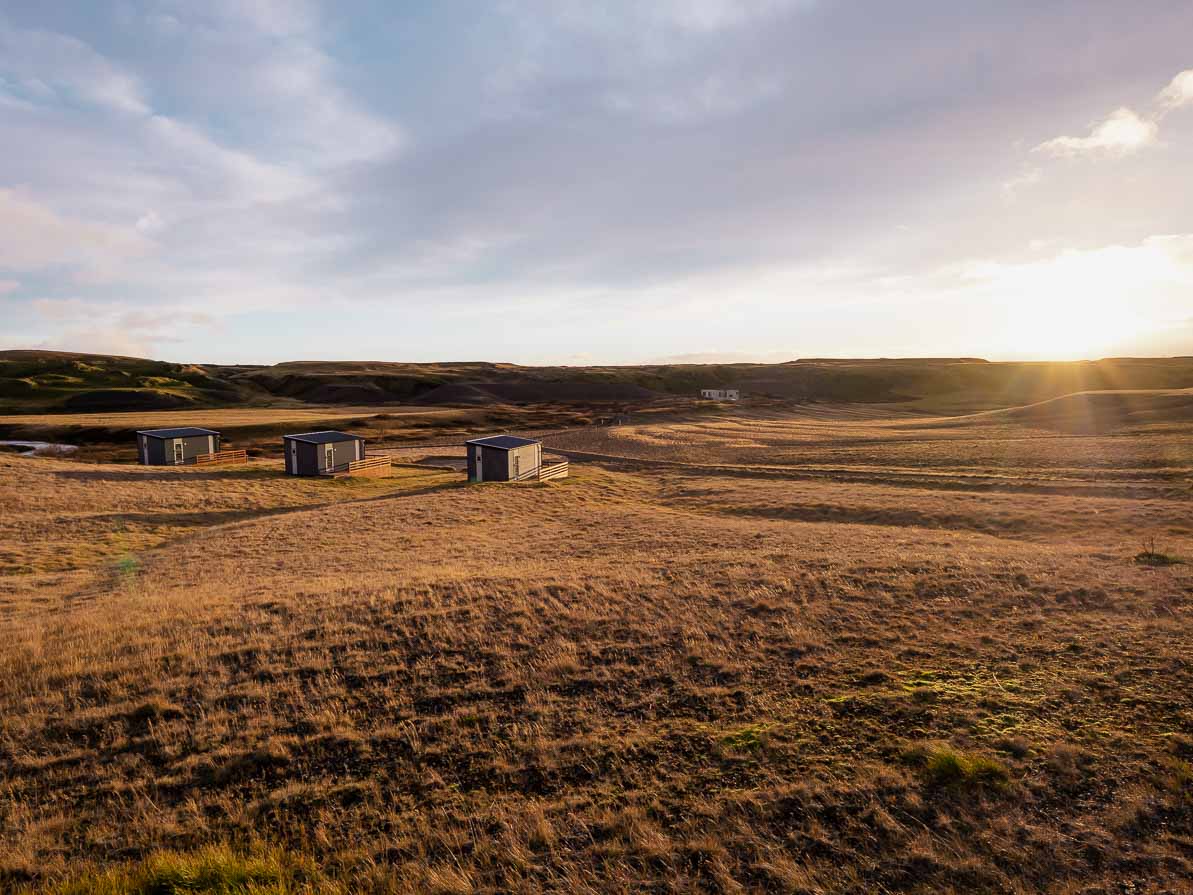 ---
South Iceland 4 day itinerary
South Iceland road trip map
---
A quick note on the Blue Lagoon
If you're wanting to visit the Blue Lagoon during your four days in Iceland, I'd highly recommend adding it to your Iceland itinerary to coincide with when you arrive or when you fly out. The reason for this is that the Blue Lagoon is only 20 minutes away from the airport, so it's easiest to squeeze it in when you're already out that way!
If you've got a rental car then you can pop in to the Blue Lagoon straight after you land, there's no better way to relax your muscles after a flight than with a geothermal soak. Or if that timing doesn't work, consider prepping your body for an airplane seat by hitting the hot pools before you fly out.
If you're not driving then you can book transfers to or from Reykjavik via the Blue Lagoon, and just leave your bags on the bus while you're enjoying the pools. You can book through this link and you just need to book each leg separately, like the airport to the Blue Lagoon first and then book another one way from the Blue Lagoon to Reykjavik.
If your flight times don't quite work with the Blue Lagoon opening hours then you can fit the Blue Lagoon into Day Four of this itinerary if you don't mind adding some extra miles onto the drive.
---
Day one: Reykjavik to Hella via the Golden Circle
For your first day of your full four days in South Iceland you're going to be hitting the iconic tourist trail, the Golden Circle. I can almost guarantee you've seen photos from a number of these stops on social media!
Drive time from Reykjavik to Hella via the Golden Circle
2h 55m, 199km
Where to stop along the Golden Circle
Thingvellir National Park
Geology lovers, this one is for you.
Thingvellir (or Þingvellir in Icelandic) is the only place in the world where you can literally see the continental divide between the North American tectonic plate and the Eurasian tectonic plate. The plates move about 2.5cm each year which has a knock on effect for the geology throughout the national park, so it's a pretty fascinating place to visit! There are craggy ravines, unusual rock formations, moss-covered lava fields and more.
And if you want a truly once-in-a-lifetime bucket list experience, you can snorkel or even dive between the tectonic plates. I haven't managed to do this yet (best during summer for obvious reasons!) but it's on my itinerary for my next trip for sure.
Thingvellir also holds significant political importance (and has UNESCO World Heritage status because of it), it was the meeting place for the annual parliament meeting from 930 to 1798, and there's loads to learn about the cultural importance of the area to Icelandic culture if that's your kind of thing.
Laugarvatn Fontana Geothermal Baths
This is one of many hot pools options in Iceland, so you can just pick and choose which ones float your boat.
The Laugarvatn Fontana hot pools have a range of experiences on offer, including a steam room, tiled pools, a more natural rocky pool, plus a chance to see bread being baked in geothermally heated sand. They do have limited space available so you'll want to book in advance, entry costs 4500ISK and the geothermal bakery tour is 2500ISK.
Efstidalur Farm
Regardless of the temperature, please do yourself a favour and stop off at this working farm's café for an ice cream. Yes, an ice cream in Iceland. I can vouch for the salted caramel.
Haukadalur Valley, Strokkur and Geysir
More geothermal activity awaits at Haukadalur Valley, home to the world-famous but fairly inactive Geysir (which all other 'geysers' are named after) as well as the very active Strokkur geyser.
Geysir (also known as the Great Geysir) used to erupt at heights of up to 170m back in the 1800s and earlier, but these days it can go years if not decades between eruptions.
Strokkur on the other hand erupts to 15-20 metres every 5-10 minutes so you're certain to see it even during a quick stop.
Gullfoss Falls
Iceland has a huge amount of waterfalls to see as you drive around the island but Gullfoss truly is something special. It's a two-tier waterfall, with the second tier sending water pummeling down into a canyon which results in a somewhat refreshing spray hitting the tourists lining the barriers for photos, as well as a great opportunity to capture rainbows in your photos.
Gullfoss is probably the most commercial of all of Iceland's waterfalls, there's a giftshop and café up the top and it gets thousands of tour group tourists each day so be prepared for big crowds no matter the time of year you visit.
Friðheimar Restaurant
Iceland isn't exactly famous for its cuisine, but that's not to say that there are some worthwhile gastronomic experiences to add to your travel plans during your time here. And fridheimar.is/en is one of those experiences.
Tomato is the hero ingredient at this greenhouse restaurant, with dishes like tomato soup, tortillas, ravioli, mussels (in a tomato seafood sauce) and even tomato-based desserts on offer. The restaurant is open from 12pm to 4pm daily so it's a handy late lunch stop option.
The Secret Lagoon
The Secret Lagoon (known in Iceland as Gamla Laugin) is the oldest natural swimming pool in Iceland, with locals soaking in its geothermal waters since 1891. The pool is 38-40 degrees Celsius year-round which is absolutely dreamy, and you can even wander around the area to spot small but active bubbling pools and a geyser.
Tickets are 3000ISK, cheaper than most other hot pools that require paid entry.
Kerið Crater (add on 30 minutes)
Located on private land with a small 400ISK entry fee, this 55m deep and 170m wide volcanic crater is a pretty stunning natural wonder to finish up day one of your Iceland itinerary.
Where to stay near Hella
Where I stayed: Afternoon Cottages
These super cute cabins are straight out of my Iceland dreams! Just a 25 minute drive from Hella, away from light pollution (hello Northern Lights 👀) you'll find six gorgeous cottages dotted amongst the rural landscape.
The Afternoon Cottages have a studio set up with a comfy bed, full kitchen, dining table for two and a deck to enjoy the views. There's plenty of space but it's also well-insulated so you'll be cosy inside even in the middle of winter. If you're staying between September and March then be sure to keep popping your head outside to check the sky, I was lucky enough to see an AMAZING aurora show while I stayed out here!
Grab some groceries from Kjarval Hella on your way to the cottages to cook yourself dinner and make breakfast before you hit the road for day two.
Other accommodation options near Hella & Hvolsvöllur
Budget | Guesthouse Hateigi (9.5/10 on booking.com), Julia's Guesthouse (9.7/10) and Lindartún Guesthouse (9.1/10) are all highly-rated budget-friendly guesthouses, or Midgard Base Camp (9.2/10) is a super cool hostel with dorms as well as private rooms
Mid-range | Check out Hótel Lækur (9/10) for a cosy hotel room or Hekla Cabins (9.6/10) for a good value self-contained cabin
Luxury | The insta-famous Panorama Glass Lodge is in this area but these book up months in advance, especially over the Northern Lights season, and they'll set you back at least €590 a night so they are a bit out of reach for most travellers. Afternoon Cottages (where I stayed) is just down the road, they don't have the glass walls or ceiling but they do have a deck for easy Northern Lights viewing and they are significantly more affordable!
Other luxury options are 360 Hotel & Thermal Baths and Hotel Rangá.
Check out all accommodation options around Hella on booking.com
---
Day two: Hella to Jökulsárlón
Iceland's South Coast is wild and rugged, with dramatic black sand beaches, crazy rock formations, vast Mars-like landscapes and even more thundering waterfalls, and this day ends at a magical glacier lagoon and a beach covered in diamonds. Well, not literally.
You'll actually double back on this route on your way back to Reykjavik, so all of the sights I mention in the next few days are completely interchangeable and flexible based on weather + crowds + what you'd like to see.
Day two is the longest drive day so if you're visiting Iceland in winter with limited daylight then I'd recommend just seeing a few of the spots like I've mentioned below and keeping the rest for the following days, this way you can avoid it getting too dark and the roads getting too icy as you're driving in the evening.
Drive time
3h 45m, 288km
Where to stop between Hella and Jökulsárlón
Seljalandsfoss
Another waterfall that's gained fame from the 'Gram, Seljalandsfoss is 200m high with a path that goes behind the water and into a small cave. You'll get wet for sure, depending on the wind it could be a bit of waterfall mist or it could be huge gushes of water, so be prepared for either scenario.
The path is closed during the colder months as it would get too icy from the waterfall spray.
Gljúfrabúi
A bit of a hidden gem along Iceland's South Coast, this waterfall is actually just a short walk from Seljalandsfoss but is far less busy. You can get right up close to it too, but you'll need waterproof shoes!
You can wade through a shallow river (easier in winter when there's less water but be careful of ice) and walk into the canyon that the waterfall falls into.
Skógafoss
It's hard to choose a favourite waterfall in a country famous for its waterfalls but I think this one would be mine. It's visible from the road so your mind is already blown as you drive up to it, and the fact that you can walk up the rocky riverbank to get close to the water makes for great photos (and a nice refreshment in summer).
It's also well worth walking up the stairs on the right side to get to the viewpoint at the top, the landscape from up high is beyond stunning. There are about 400 steps and they're pretty steep so it'll get your heart pumping, but nothing a bit of waterfall spray won't fix!
If you're visiting in the warmer months and want to see more there's a hiking trail at the top which takes you to more waterfalls off the beaten track.
Sólheimajökull
Sólheimajökull is an 8km-long, 2km-wide glacier that's easily accessible from the main road, making it a super popular destination for glacier hikes. You can see the glacier with a short walk from the carpark, but you can't walk on the glacier itself unless you're on a guided tour for safety and environmental reasons.
If you're keen for a proper glacier experience these are some of the best-rated Sólheimajökull glacier activities:
Just keep in mind that these glacier tours will take 3/4 hours and usually they have a morning option (starting around 9.30-10.30am) and an afternoon option (starting around 1-2pm) so you'll need plan your drive accordingly. It's three hours to get from here to Jökulsárlón so it might be best to do the glacier tour on the morning of Day Four after spending the night in nearby Vik instead.
Sólheimasandur plane wreck
I was about to write that the plane wreck probably isn't worth the long walk unless you're a photographer and have the shot on your bucket list, but I was just fact-checking and have discovered there's now an hourly shuttle bus that runs from the carpark! This is an absolute game changer.
The walk from the carpark to the plane and back is about 7km round-trip, with quite boring views (just a black, rocky landscape that's exactly the same the whole way). In summer the conditions are probably quite comfortable for the walk, just take a hat as there's no shade at all, but in winter it can be snowy, wet, windy and freezing cold.
Having the shuttle as an option from the carpark makes this a much more accessible experience, it's 2900ISK which is a bit pricey but if it saves you from a wet, cold walk then it's worth it.
You could also book this epic quad bike adventure along the black sand beaches which includes the plane wreck.
After the plane wreck
From the plane wreck carpark to Jökulsárlón is 2h 45m so if you've visited all these stops then you probably don't have a huge amount of more time for further sightseeing today and you might just want to drive straight to Jökulsárlón for your overnight stop. But as I said earlier, feel free to mix and match the stops in Day Two, Day Three and Day Four to suit the weather forecast and your drive times.
If you make it to Jökulsárlón before the sun goes down then you could head to Jökulsárlón Glacier Lagoon and Diamond Beach this evening for amazing sunset photo opportunities, but if not then it's first up on the itinerary for Day Three so no stress!
Where to stay near Jökulsárlón
Budget | Skyrhúsid Guest House (8.9/10 on booking.com) has good value rooms with shared bathrooms, or Litla-Hof (7.9/10) is a bit more basic and cheaper.
Mid-range | Hali Country Hotel (8.7/10) and Hotel Skaftafell (8.1/10) both have comfortable rooms with a great breakfast included.
Luxury | Ekra Glacier Lagoon (8.7/10) is a beautifully-designed boutique guesthouse with amazing views, or Fosshotel Glacier Lagoon (8.8/10) is a modern 4-star hotel if you prefer a classic hotel experience.
Check out all accommodation options around Jökulsárlón on booking.com
---
Day three: Jökulsárlón to Vik
Today gives you the chance to see the Jökulsárlón Glacier Lagoon in all its glory, as well as Diamond Beach across the road, before heading back towards Vik and seeing the sights you couldn't fit in yesterday.
Drive time
2h 30m, 194km
Where to stop between Jökulsárlón and Vik
Jökulsárlón Glacier Lagoon
Jökulsárlón is an ever-changing lagoon where bright blue icebergs and (usually) calm waters make for a perfectly photogenic landscape, if you're a photography you'll want to spend a bit of time here shooting different angles from different vantage points.
If you visit from June to September you could get right amongst the lagoon with an amphibious boat tour or a kayak tour.
Diamond Beach
Diamond Beach was honestly mind-blowing, it totally took my breath away. Chunks of ice ranging from human-size to, well, ice cube-size were littered across the black sand for hundreds of metres, creating a stunningly contrasting landscape that photographers could usually only dream of.
There's some wildlife spotting opportunities here too, seals are often seen lazing on the sand and if you're really lucky you might even spot orcas from the beach.
Skaftafell
Skaftafell Nature Reserve is located in Vatnajökull National Park, about 50 minutes from Jökulsárlón on your way back east.
The reserve has some excellent short hikes that will show you a variety of landscapes, but the reasonably easy 45 minute walk to Svartifoss is my top recommendation. This unbelievably beautiful spot combines two of Iceland's icons; a waterfall, and some hexagonal basalt columns. So cool! There's also this five hour guided glacier hike if you've got the time.
If you're visiting in winter then you'll also have the chance to see Iceland from a totally different angle, from the inside of a glacier ice cave. These electric blue ice chambers are an example of Iceland's extremely rugged natural landscapes, you can book your tour with local legends Glacier Trips here.
Fjaðrárgljúfur Canyon
Made famous by Justin Bieber's "I'll Show You" music video back in 2015, Fjaðrárgljúfur Canyon is another out-of-this-world landscape to witness, with moss-covered cliffs towering over a winding river. Be sure to obey all of the barriers and signs, stepping beyond the path could damage the fragile ecosystem, not to mention put you at risk of falling as the cliff edges aren't maintained.
Unfortunately it's one of the examples of overtourism having a severely negative impact on the environment, and to allow nature to recover from an insane uptick in visitors since the music video came out, the canyon is sometimes closed for a few months a year (usually March til June).
With Covid obviously reducing visitor numbers the past few years there hasn't been the same level of foot traffic here so they haven't needed to do this in 2022, but if you're visiting in 2023 it's best to check your dates online to ensure you're not wasting a trip.
Reynisfjara Beach & Reynisdrangar
If you've seen Game of Thrones you might recognise Reynisfjara's iconic basalt columns and the Reynisdrangar sea stacks from season 7, but even if you haven't seen the show (neither have I 🤫) it's a must-stop on your Iceland itinerary. There's a classic red-roofed Icelandic church here too that's great for photos.
Be super careful with the waves at this beach, they have 'sneaker' waves that can come from nowhere and there have been many instances of tourists drowning after a wave has swept them off their feet and into the harsh ocean. Stay a safe distance and never turn your back to the water.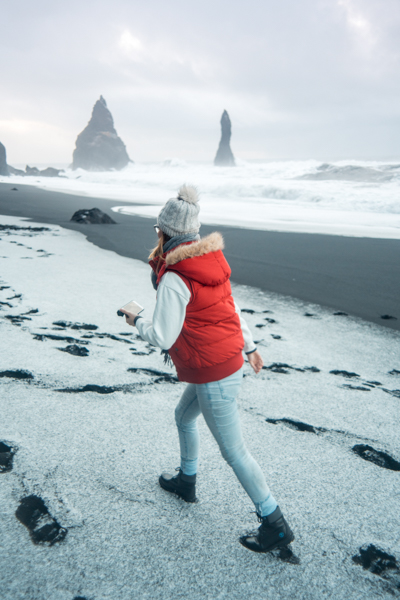 Dyrhólaey
Slightly to the east of Reynisfjara you'll find Dyrhólaey, an elevated panoramic viewpoint that lets you see for miles along the coast, out to sea and even back towards mountains and glaciers inland.
This is one of the best puffin-spotting areas along the South Coast from May to September.
Where to stay near Vik
Where I stayed: Mid Hvoll Cottages (8.6/10 on booking.com)
Mid Hvoll offers back-to-basics but very cosy wooden cabins about 20 minutes from Vik, with a full kitchen and space for four adults (double bed and sofa bed). They're in a rural area away from any light pollution (apart from your neighbouring cabins) so if the Northern Lights are active during your stay, you've got a great chance of seeing them here.
Other accommodation options around Vik
Budget | The Barn is a top-rated hostel (9/10) with cheap dorm beds plus affordable private rooms, or Guesthouse Carina (8.8/10) is a fantastic option for budget-friendly guesthouse accommodation.
Mid-range | Farmhouse Lodge (8.6/10), Puffin Hotel (8.3/10) and Hótel Dyrhólaey (8.3/10) are all good value options for a middle-of-the-road budget. Hotel Vík í Mýrdal (8.7/10) is slightly more expensive than those three but offers very comfortable rooms and top class service.
Luxury | At the top of my Vik accommodation bucket list is the Black Beach Suites (9.4/10), they have gorgeous, well-equipped and beautifully decorated apartments with ocean views. I actually had a night booked here on our first trip to Iceland but I messed up the dates and accidentally booked the night after we were meant to be there. It was non-refundable and we couldn't change our plans, such a rookie mistake! Hopefully next time I hit the South Coast I'll be able to finally tick it off. Another luxurious option is the Vik Apartments (9.2/10), they offer light and bright self-catering apartments.
Check out all accommodation options around Vik on booking.com
---
Day four: Vik to Reykjavik (or to the airport)
The final day of your 4 day Iceland itinerary takes you back to Reykjavik, and you have a few options of what to do on the way.
If you're going to Reykjavik
If you're flying out today
If you're flying out today, it's about three hours to get from Vik to Keflavik Airport. Fly safe 🥰
Things to do in Reykjavik
Where to stay in Reykjavik
Where I stayed: Center Hotels Laugavegur (8.7/10 on booking.com)
Center Hotels is a locally-owned hotel brand with eight stunning locations in Reykjavik. All of their hotels are modern and comfortable with a focus on fantastic hospitality, but the styles range from clean and simple through to stand-out design and textiles.
I stayed at their Laugavegur hotel, on a main street with plenty of eateries, bars and shops within a few minutes' walk. It was divine! I had a corner room which had loads of space, with a desk as well as a comfy chair, a fridge, huge bathroom and wraparound windows to let the light in.
This hotel is right next to one of the pick up spots for tourist buses as well as the airport shuttle so it's particularly ideal if you're visiting Iceland without a car.
Other accommodation options in Reykjavik
Budget | I've previously stayed at both Kex Hostel (8.2/10 on booking.com) and Loft Hostel (8.1/10) and they were both great options that won't break the bank, or Freyja Guesthouse (9.2/10) is a bit of a more upmarket stay that's still cheap.
Mid-range | Center Hotels Laugavegur (8.7/10), Grandi (8.5/10), Thingholt (8.4/10) and Center Hotels Plaza (8.2/10) are all well-rated within the mid-range budget.
Luxury | For a fancy stay you could consider Black Pearl Apartment Hotel (9.3/10), Reykjavik Residence Apartment Hotel (9.2/10) or the Reykjavik Konsulat Hotel (9.1/10).
Check out all accommodation options in Reykjavik on booking.com
---
What to do if you only have two or three days in Iceland?
If you're not able to take four full days to explore Iceland, in order to maximise your time I would absolutely recommend booking onto some organised day tours rather than trying to drive yourself.
This way you'll be able to soak up the views and spend your precious travel time actually exploring rather than wasting time planning your movements, and you also won't need to stress about adverse weather conditions slowing you down.
For two or three days in Iceland here are my suggestions:
---
What to do if you have more than four days in Iceland?
Lucky you! If you aren't limited to just a 4 day Iceland itinerary then you could consider a few different options:
---
I hope this southern Iceland itinerary has helped you figure out your plans for 4 days in Iceland! It's a busy itinerary for sure but it is so worth it, the scenery in this country is just breathtaking no matter what time of year you visit.
If you have any further Iceland questions then leave a comment or head over to watch my Iceland highlight on Instagram, you might find the answer to your question in there.
Have a fantastic trip!
Other blogs you might like: