Are you looking for a West Iceland itinerary to show you how to spend three days in western Iceland? I recently did a three day West Iceland road trip and it was pure magic, here's my detailed itinerary with places to visit, where to stop on the way, accommodation suggestions and helpful travel tips.
While the South Coast of Iceland certainly gets the most attention in terms of tourism, West Iceland has its own hot spots and hidden gems too. It also benefits from less visitors, particularly during the shoulder season, so if you prefer to avoid the crowds and get away from tour buses then West Iceland is perfect for you.
On my most recent trip to Iceland I spent three days in West Iceland before zipping down to South Iceland for a night (to spend at the magical Afternoon Cottages, so worth it!) and then wrapping up the trip with a couple of nights in Reykjavik.
Western Iceland has waterfalls, canyons, iconic churches, coastal viewpoints and some gorgeous accommodation thrown in for good measure, and I found that travelling in early October there were very few tourists around and I had many of the key destinations all to myself. Win!
This West Iceland itinerary lists all my recommended overnight stays (with accommodation suggestions), where to stop on the way from A to B, some worthwhile food stops, tips for driving in West Iceland and more. Read on to hear all about my three day West Iceland itinerary.
This blog post includes affiliate links that give me a small commission if you make a purchase, at no additional cost to you. These links allow me to continue creating detailed blog posts like this one, thank you for supporting me!
---
Who is this itinerary for?
If you're visiting Iceland for the first time and want to visit the most famous waterfalls like Gullfoss and Skogafoss, Jökulsárlón Glacier Lagoon, Reynisfjara Black Sand Beach and the Insta-famous plane wreck, this itinerary isn't for you. Instead, head over to my South Iceland 4 day itinerary and you'll find all you need to know about ticking off southern Iceland's bucket list spots.
But if you've already seen the South Coast and want to see somewhere different, of if you're not fussed on the main attractions and prefer to get off the beaten track, or if you simply can't think of anything worse than being one of 200 people standing below a waterfall, then this West Iceland itinerary will be ideal for your next Iceland trip.
West Iceland (particularly the Snæfellsnes Peninsula) is also home to a number of major photography locations, like Kirkjufell mountain and its waterfall Kirkjufellfoss, Lóndrangar cliffs and the black church Búðakirkja, so if you're a photographer with any of these spots on your photography bucket list then this 3 day Iceland itinerary is a great way to see them.
---
Is three days in West Iceland enough?
This three day West Iceland itinerary is enough time to explore the Silver Circle and the Snæfellsnes Peninsula, as long as you don't mind travelling at a medium-to-fast pace. You won't be rushed off your feet but you also won't have enough time to spend 3-4 hours at each location hiking different trails and exploring beyond the main sight.
If you prefer to take your time then you could enjoy a much slower pace while ticking everything off with five days for this itinerary.
Please note that this itinerary doesn't include the Westfjords of northwest Iceland, these would require at least a few more days as the roads are super windy and can be prone to road closures and detours, particularly during the colder months.
---
How to get around West Iceland
Public transport is extremely limited in Iceland outside of the main cities, so your best two options for exploring West Iceland are getting a rental car or taking organised tours.
Driving in Iceland
Getting a rental car is hands down the best way to explore West Iceland, you get the freedom to travel at your own pace and change your plans depending on weather conditions and travel preferences.
While the main tourist route in southern Iceland is generally fine for both 2WD and 4WD cars year-round, with this West Iceland itinerary I recommend getting a 4WD if there is one available and it fits into your budget.
The reason for this is that some of the main public roads (not just the F-roads which are 4WD-only by law and closed for winter) are dirt/gravel roads for miles and miles! A 2WD will be able to handle them, my Toyota Corolla did fine aside from the fact it was meant to be white and ended up brown 🙃 but these roads will be much more comfortable if you're in a 4WD.
Also make sure you have the highest possible level of insurance. West Iceland is extremely exposed to the elements, so you want to make sure you have cover for any potential sand, dirt, wind damage.
Search your travel dates here to find a rental car in Iceland
Without a car
If you aren't able to rent a car for whatever reason, don't stress, there are still ways for you to see most of the spots on this West Iceland itinerary with organised trips from Reykjavik.
This two-day tour from Reykjavik ticks off the major attractions from this itinerary, with your accommodation included. Meals are extra but they have some suggestions food stops, and the tour price also includes entry to either Vidgelmir Lava Cave or Húsafell Canyon Baths.
If you'd prefer day trips then this Silver Circle day tour takes you to most of the stops on day one of my West Iceland itinerary, and this highly-rated Snæfellsnes Peninsula day tour includes most of the day two stops I've listed below.
Or for something a bit more rugged, this Langjökull Ice Cave + Northern Lights tour takes you out to Iceland's second largest glacier with pick up and drop off in Reykjavik, and offers a unique chance to see the aurora from an actual glacier.
---
When is the best time to visit West Iceland?
Summer is Iceland's high season, so although West Iceland is guaranteed to be quieter than the South Coast, visiting in summer will certainly have more tourists on the road and bigger crowds at the must-sees.
If you're visiting in summer I'd suggest booking your accommodation as early as possible (my suggestions below) and trying to plan your trip so that you see the most popular must-dos first thing in the morning to try to avoid bus groups.
As with almost every destination I visit, I'm a huge fan of shoulder season travel in Iceland. Shoulder season benefits from milder weather with lush green pastures in spring and orange/yellow tones in autumn, fewer crowds, lower prices and more availability for things like rental cars and accommodation.
I visited in early October and it was (mostly) divine. The autumn colours are super vibrant in some places, particularly at Hraunfossar waterfall which was beyond stunning. The sun was out for me until the final day, it was chilly in the wind but not overwhelmingly Arctic like you'll get from November to February/March.
If you're hoping to see the Northern Lights during your three days in Iceland then your best bet is to come from mid-September to mid-March, although November to February offer the best conditions for optimal viewing as there's more hours of darkness. You can check the KP index forecast here.
If you're travelling during this time be aware that short days leave not much time for sightseeing so you'll need to plan your trip accordingly.
I actually saw the Northern Lights during my visit in early October, it's the start of the season but still possible if you get clear skies and high solar activity! But to get the best chance of seeing the lights I always recommend going on an organised tour from Reykjavik, the professionals know how to read the forecasts, where to go to escape light pollution and have vehicles that can handle icy off-road conditions.
---
3 day West Iceland itinerary summary
Day one: Reykjavik to Borgarnes via the Silver Circle
Day two: Borgarnes to Grundarfjörður
Day three: Back to Reykjavik (or continue north to the Westfjords)
---
The perfect 3 day West Iceland itinerary
West Iceland itinerary map
Total distance: 620km, 8h 37m of driving
---
Day one: Reykjavik to Borgarnes via the Silver Circle
I'm sure you've heard of Iceland's famed Golden Circle, the easy tourist trail from Reykjavik that encompasses Thingvellir National Park, Gullfoss Falls and Geysir (plus other worthy stops). But you've probably never heard of its northwest counterpart, the Silver Circle.
This route includes stops at geothermal springs, historical towns, waterfalls and more, the perfect start to your three days in Iceland.
Drive time from Reykjavik
About 2h 40m, 197km
Where to stop along the Silver Circle
Borgarnes
If you need to stock up on food, fuel or anything else for this trip, Borgarnes is the best place to do it.
Deildartunguhver
Deildartunguhver is Europe's most powerful hot spring, with 180 litres of nearly boiling water flowing out every second, providing hot water and energy to homes within a 65km radius of the spring. It's free to visit.
Krauma Natural Geothermal Baths
Is there any better way to start an Iceland road trip than with a relaxing soak in geothermal waters? I don't think so.
Krauma Geothermal Baths are located at Deildartunguhver, with five warm (37-40°C) pools and a cold plunge pool, plus a relaxation room, steam rooms and on-site restaurant serving up local cuisine. The water comes straight from the hot spring, and is cooled with glacier water from Ok, Iceland's smallest glacier.
Entry is 5400ISK and if you're visiting on weekends, holidays or in the summer period I recommend booking in advance.
Reykholt
One for the history buffs! Reykholt is one of the most culturally and historically significant towns in all of Iceland, and in the 13th century it was the home of one of Iceland's most famous writers, Snorri Sturluson.
Sturluson was a historian who wrote about Norse mythology, immortalising stories that had previously only been passed down orally, as well as putting pen to paper about medieval relations across northern European countries, which to this day is used as a trusted account of 9th-13th century history. If you want to learn more about Sturluson you can visit the Snorrastofa cultural centre.
Another worthwhile reason to visit Reykholt is to see the Snorralaug geothermal pool, thought to be Iceland's oldest geothermal pool used for bathing, with records of human use dating back to 1178.
Hraunfossar
Also known as the Lava Falls, I think Hraunfossar gives the South Coast waterfalls a run for their money for most photogenic waterfall in Iceland. Particularly if you visit in October like I did, when the water pours out from between bright orange and yellow autumn foliage. Stunning.
Hraunfossar is super unique in that cold springs of water actually flow beneath the lava field, emerging as a terrace of waterfalls falling into the glacial turquoise river Hvítá í Borgarfirði. Very cool to see!
Barnafoss
Just one minute away from Hraunfossar there's another waterfall for you to see. Barnafoss or "Children's Waterfall" is named after a legend of two local children who were said to have fallen off a natural stone bridge over the rapids, which then collapsed due to an earthquake. Or perhaps, due to a curse put on it by the children's mother… Who knows?
Hraunfossar and Barnafoss are at totally opposite ends of the waterfall spectrum from each other; Hraunfossar as a tranquil, calming natural wonder, compared to the chaotic rapids or rushing water at Barnafoss. It's a great example of Iceland's extreme variety of landscapes!
Húsafell & the Canyon Baths
Húsafell is a charming little town at the furthermost point along the Silver Circle route, with some traditional turf houses and a few fantastic hiking trails if you're visiting in summer.
But the main drawcard (and the ideal way to end your first day in West Iceland) are the Canyon Baths, a stunning duo of geothermal pools tucked away in a canyon, only reached by a guided nature walk that includes another waterfall, two-tiered Langifoss.
The tour and geothermal bath entry isn't cheap, 9900ISK for adults, but it's one of the most exclusive and intimate hot pool experiences you'll find in Iceland with a maximum of 16 guests per tour group. It's worlds apart from the busy waters of the Blue Lagoon or similar!
Where to stay on day one
Where I stayed: Basalt Hotel (mid-range)
Basalt Hotel is a top-rated hotel (9.4/10 on booking.com) with an onsite restaurant in the middle of rural farmland just a short drive from the Silver Circle route. If you're driving from Húsafell back towards Borgarnes you'll turn off about 10 minutes after Deildartunguhver and drive 15 minutes seemingly through the middle of nowhere to reach the hotel. It's about 30 minutes to get to Borgarnes from Basalt.
The rooms are warm and comfortable with plenty of space, and the restaurant offers panoramic views across the countryside. If you're visiting in winter you've got a great chance for Northern Light spotting here as there's no light pollution anywhere near the hotel, so be sure to pop your head outside every now and then when it's dark.
The hotel serves a classic Icelandic breakfast with eggs, meats, fruit, yoghurt, cereal, rye bread and toast, and it also serves lunch and dinner from 12-9pm each day including dishes like grilled cheese, burgers, lamb with veggies and cod in creamy sauce.
I genuinely can't fault a single thing about this hotel, I wish I had stayed longer than just one night. I'll have to go back!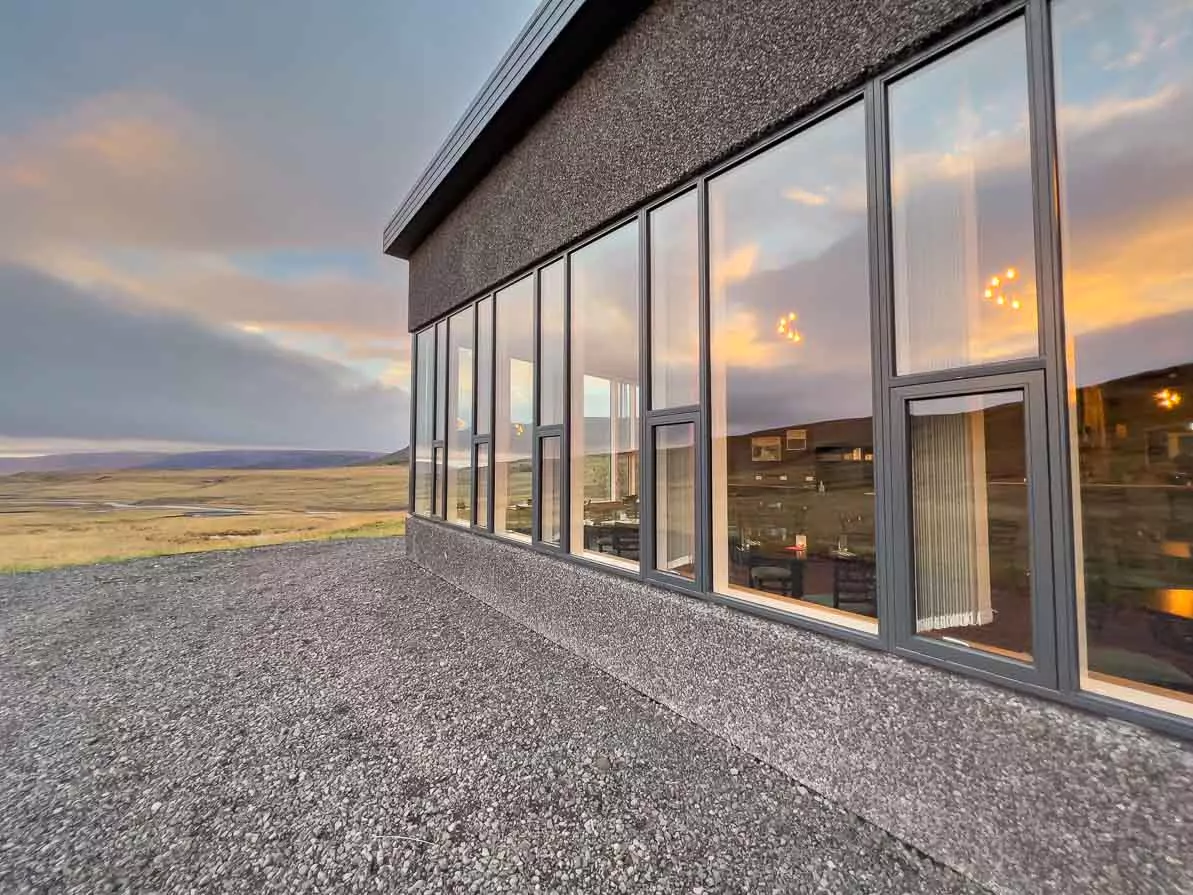 Other accommodation options near Borgarnes
Budget | Blómasetrið Homestay (9.1/10) and Helgugata Guesthouse (9.3/10)
Mid-range | Basalt Hotel is by far the best value option near Borgarnes, but if they are full then some other options are Lundar Farm (8.6/10), B59 Hotel (8.3/10) and Egils Apartment for something self-contained (8.5/10)
Check out all accommodation options near Borgarnes on booking.com
---
Day two: Borgarnes to Grundarfjörður
Time to explore the best of the west! Today you'll visit waterfalls, wander through canyons, see some of Iceland's famous churches, witness the wild coastal weather and finish up with a visit to one of the most famous mountains in the country.
This is another busy drive day with a bunch of cool places to tick off the list, so you'll want to get started early if possible.
Drive time
2h 30m, 188km
Where to stop between Borgarnes and Grundarfjörður
Gerðuberg Cliffs
An easy first stop for day two of your three days in West Iceland, the Gerðuberg Cliffs are symmetrical, hexagonal basalt rocks easily accessed with a short drive off the main road.
Bjarnarfoss
Standing at 80m tall, this two-tier waterfall is easily seen from the main road but is still worth a stop if you're a keen waterfall chaser. There's easy parking and picnic tables, but it can get muddy as you get closer to the waterfall so waterproof shoes are best.
Búðakirkja
While driving around to see different coloured churches might be someone's idea of boring, I really love Iceland's variety of colourful churches that stand out against the evergreen landscape. This little church in Budir is a bit different because it's painted black with white doors and windows, perfect for moody photography.
When I visited Búðakirkja there was actually a couple getting married in the church grounds! It was just them, the celebrant, a photographer and a couple of witnesses so they had obviously eloped. Imagine how amazing their wedding photos would be!
Snæfellsjökull Viewpoint
If you're lucky enough to have clear weather today then the views from this lookout can stretch all the way to Snæfellsjökull, a glacier-capped volcano. It can get super windy here with ice cold chills coming off the glacier so just be careful opening car doors and make sure you're rugged up to stay warm.
Rauðfeldsgjá Gorge
It doesn't look like much from the road but you've probably actually seen this gorge on Instagram without even realising it.
It's a short walk up to the gorge entrance but note that it's gravel and can be very unstable, particularly after rain, so watch where you're walking and be careful of slipping. I visited early October and it was open but I've heard that the gorge path can be closed in winter due to ice, so just be prepared to have to veto this from your itinerary if you're visiting in the colder months.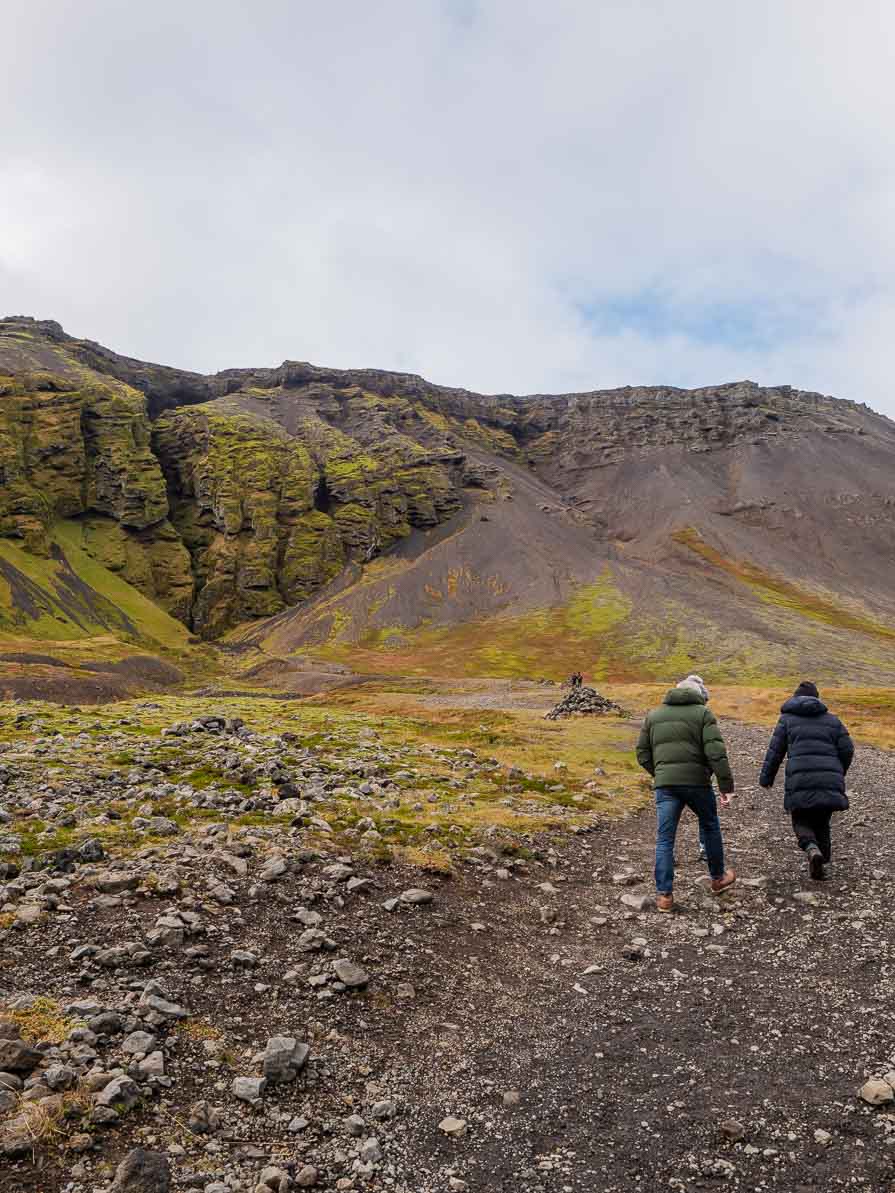 At the gorge opening you've got to step on some rocks in the stream to get around the corner back onto dry land. I did this with non-waterproof shoes which was possible (only got a tiny bit wet) but a bit stupid and not recommended! Wear hiking boots or other waterproof shoes for a less stressful and more stable way of getting into the gorge.
Once you're inside you've got a fab photo opportunity to capture the light streaming in from above, and if you're prepped with proper waterproof gear you can climb further into the gorge to get close to a waterfall.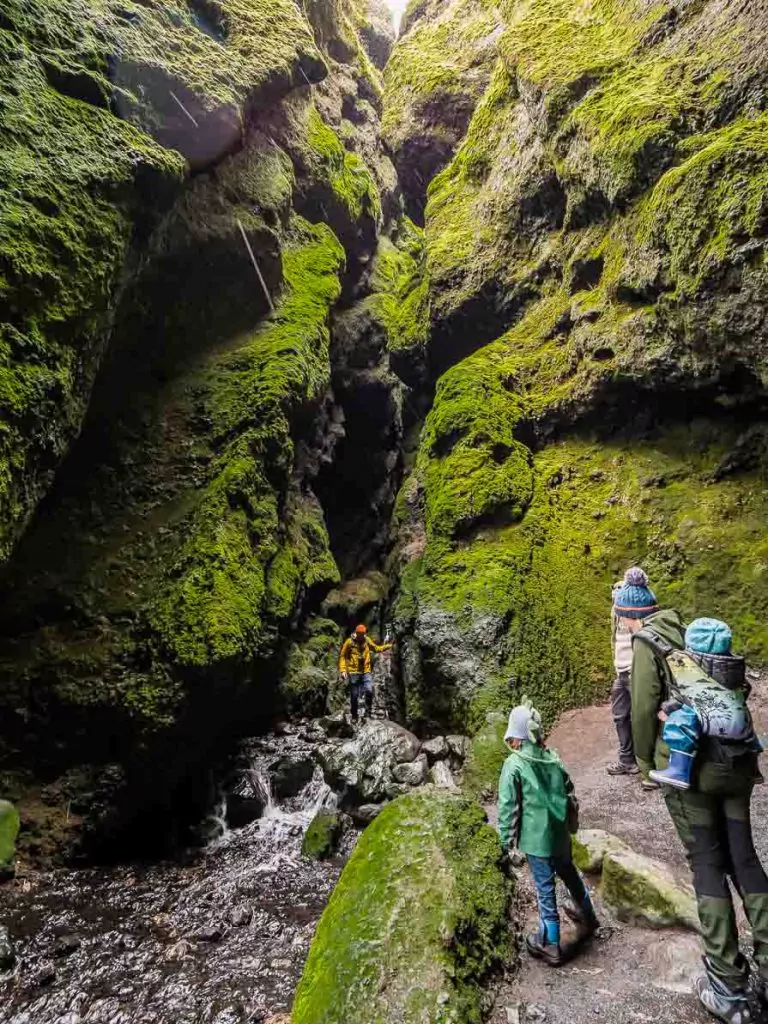 Arnarstapi
Originally a fishing village but now a main tourist hub of the peninsula, Arnarstapi is a great half-way point to relax and refuel after a few hours of sightseeing.
If you're visiting between April and October there's a fantastic food truck open in the warmer months, it was the best meal I had in Iceland! Fresh fish and chips for 2500ISK which is reasonable for Iceland, and it was a huge portion too, I couldn't finish it all. They also have wraps and quesadillas available with chicken or veggies if this is more your thing.
The town also has some sit-down restaurants if you want a hearty meal, and there are souvenir shops with local crafts if you want to get something to remember your West Iceland road trip.
Arnarstapi is also the gateway for organised tours onto Snæfellsjökull Glacier if you're keen for a bit of an adventure. This full day glacier & volcano hike includes a guided walk to the summit of the glacier at 1446m, which sounds intense but according to the company is "not challenging and is suitable for most people".
Or if you prefer to get to the glacier with minimal physical exertion, this Snowcat tour from Arnarstapi might be more up your alley!
If you do choose to spend extra time in Arnarstapi then there are some decent accommodation options, but none are cuter than the Arnarstapi Cottages. These are on my accommodation bucket list for sure!
Hellnar View Point
Another good stopping point for a picnic if you skip past Arnarstapi, Hellnar viewpoint has amazing coastal views plus a cafe that's open during the summer months.
Lóndrangar
This one was my favourite coastal viewpoint in western Iceland, with panoramic views along the wild and rugged coast down to the Lóndrangar sea stacks. There's a short loop walk from the carpark with a few viewing platforms that all offer a slightly different angle for photos.
If you're visiting in summer then this is a great place for spotting seabirds nesting in the rocks.
Vatnshellir Cave
Only accessible by guided tour, Vatnshellir is an 8,000-year-old lava tube with stairs descending into the hollow tube for you to see volcanic minerals of all colours. You can book a caving tour year-round here.
Saxhóll Crater
While I personally think the Kerið in South Iceland is more striking in colour, this crater is easily accessed with steel stairs and a platform up the top so it's a quick, simple stop to see an extinct volcano as well as views right across the Snaefellsnes Peninsula.
Svörtuloft Lighthouse
Found at the end of a very rocky detour off the main road (2WDs will be fine, it's just bumpy!), this bright orange lighthouse is definitely a unique building along Iceland's crazy coastline. Another brilliant spot for bird-watching during summer.
Skarðsvík Beach
While black sand beaches are the norm in Iceland, this is one of the few beaches on the island that actually has golden sand. The contrast is what makes this place interesting, with light coloured sand bordered by dark, jagged, volcanic rocks.
Ingjaldshóll church
Perhaps one of Iceland's most photographed buildings, this white-walled, red-roof church set atop a hill in front of mountains looks like it's straight off a postcard.
Svöðufoss
One of West Iceland's best waterfalls, Svöðufoss is only 10m tall but is still impressive thanks to its scenic location, with Snaefellsjokull Glacier sitting directly behind it. The waterfall itself is framed by the iconic basalt columns too, so with the waterfall, the glacier and the columns all together it's basically Iceland summed up in a single photo.
There's a new path from the carpark and viewing platform at the bottom of the waterfall that's almost completed as of October 2022, and you can also do a short walk up the top for a higher view.
Kerlingarfoss
If you continue past the carpark at Svöðufoss onto the gravel road, in a few hundred metres you'll reach Kerlingarfoss, a cascading multi-tiered waterfall.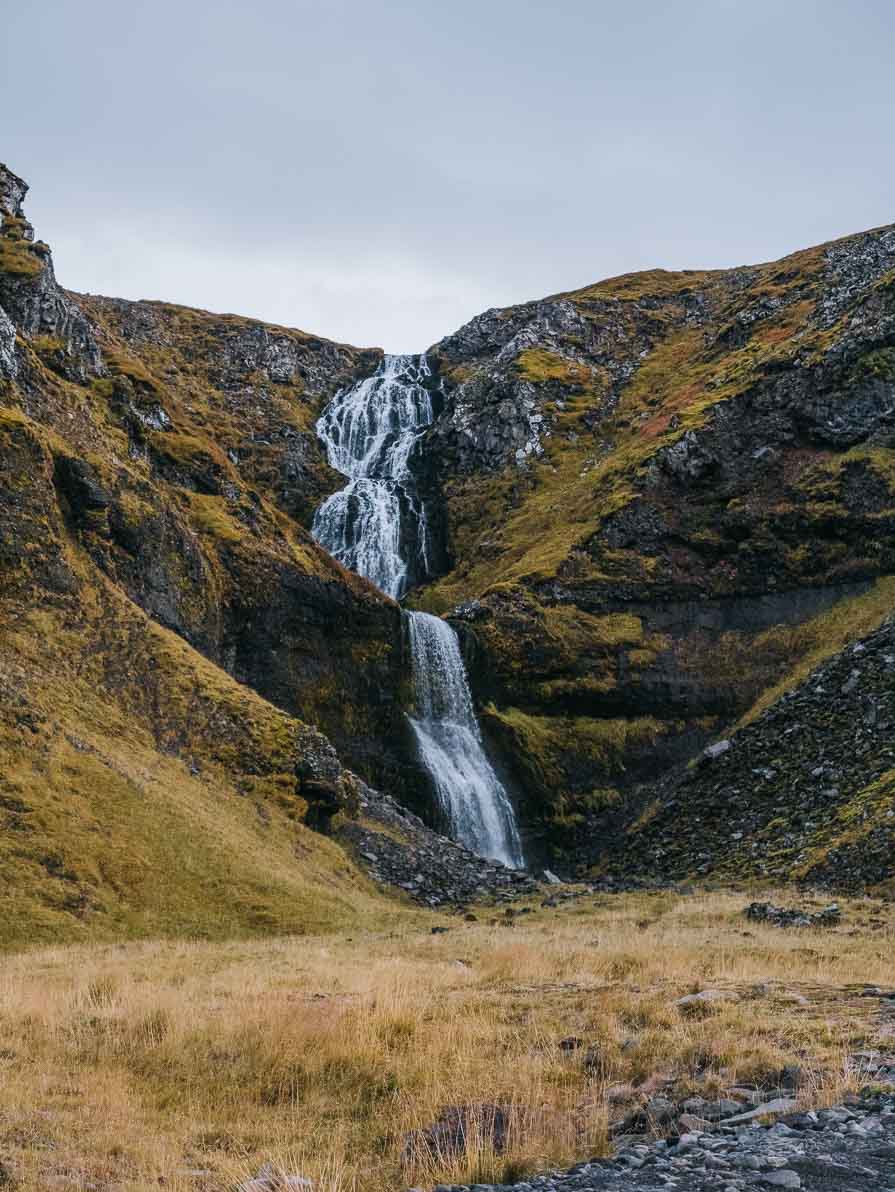 Bæjarfoss
Located just behind the small fishing town of Ólafsvík, Bæjarfoss is definitely a bit of a hidden gem. You can walk up to the base on a rocky path or head up to the top for views over the town.
Kirkjufell & Kirkjufellsfoss
Supposedly Iceland's most photographed mountain (although I'm not sure how they fact-check that?), Kirkjufell and its neighbouring waterfall Kirkjufellfoss are a highlight of this West Iceland itinerary. You might also recognise the uniquely-shaped mountain from Game of Thrones, where it was featured in Season 7 as "Arrowhead Mountain".
If you're fortunate enough to have clear skies during your visit from September to April, this is one of the most popular Northern Lights photography locations, and being able to capture the aurora dancing behind the iconic mountain is on the bucket list of many photographers.
Where to stay on day two
Budget | Grund í Grundarfirdi (9/10 on booking.com), Kirkjufell Guesthouse (9.1/10) and Eiði Farmhouse (9.2/10)
Mid-range | Dis Cottages (9/10) and the Writer's Nest (8.9/10)
Luxury | Hellnafell Apartment (9.4/10) is a four-bedroom apartment with some of the best views West Iceland has to offer
If you're exploring further north or have an extra night | If your road trip extends into the Westfjords, I highly recommend the gorgeous Saudafell Guesthouse (9.4/10) which is about 1.5 hours east from Kirkjufell. It's located on a working farm with the fluffiest sheep I've ever seen, and the rooms are cosy, with shared kitchen facilities and a comfy lounge for meeting fellow travellers.
You could also make Saudafell your day three accommodation if you have a bit more time and wanted to break up day two's adventures into two full days, with one overnight stop in Arnarstapi after exploring the southern locations and another at Saudafell after driving along the northern part of the peninsula. Saudafell to Keflavik Airport is just 2h 20m, plenty of time to get there for a flight out the following day.
---
Day three: Grundarfjörður to Reykjavik
The final day of your West Iceland itinerary is just a return to Reykjavik with a few different options on the way.
Drive time
Kirkjufell to Reykjavik is 2h 20m (174km) or Kirkjufell to Keflavik Airport is 2h 45m (216km)
Where to stop between Grundarfjörður and Reykjavik
Berserkjahraun Lava Fields
Another hidden gem that is left off many West Iceland itineraries, the Berserkjahraun lava fields are an incredible example of Iceland's out-of-this-world ecosystem. The fields were created around 4000 years ago, and these days there's lush, thick moss covering the sharp, unforgiving volcanic rocks. Pretty amazing.
The road is a public road open to all vehicles but it is gravel/dirt, so drive carefully especially if you're in a low-clearance vehicle and/or a 2WD.
Selvallafoss
I didn't actually make it here as I was running short on time but this waterfall is super underrated according to Google reviews!
Reykjavik
And just like that, you're back in Iceland's capital city! If you aren't flying out immediately, some of the best things to do in/near Reykjavik are:
Head to the Blue Lagoon for the quintessential Iceland experience
Or try out the new Sky Lagoon, it's closer to the city and has incredible reviews
Detour a little to hit the top half of the Golden Circle if you haven't seen it before, you could squeeze Thingvellir, Gullfoss and Geysir into a half day road trip
Get amongst the local culinary scene with a top-rated food tour, or taste test local craft brews with this beer tour
See the famous Hallgrimskirkja church in central Reykjavik
Where to stay in Reykjavik
Budget | I've previously stayed at both Kex Hostel (8.2/10 on booking.com) and Loft Hostel (8.1/10) and they were both great options that won't break the bank, or Freyja Guesthouse (9.2/10) is a bit of a more upmarket stay that's still cheap.
Mid-range | I stayed at Center Hotels Laugavegur (8.7/10) and it was fantastic, well-located on one of the main shopping/food streets, with spacious and rooms, a brilliant breakfast and warm, friendly service. Other mid-range options are Grandi (8.5/10), Thingholt (8.4/10) and Center Hotels Plaza (8.2/10).
Luxury | For a fancy stay you could consider Black Pearl Apartment Hotel (9.3/10), Reykjavik Residence Apartment Hotel (9.2/10) or the Reykjavik Konsulat Hotel (9.1/10).
Check out all accommodation options in Reykjavik on booking.com
---
I hope this West Iceland itinerary has helped you plan out your three days in Iceland! If you're sticking around for longer, consider adding on my South Iceland four day itinerary to create a brilliant 7/8 day South + West Iceland itinerary.
If you have any questions about West Iceland or this itinerary please leave a comment below and I'll get back to you ASAP, or head on over to my Instagram and find my Iceland highlight for more details on what I got up to on the trip.
Safe travels!
Other blogs you might like: