Planning an itinerary for 2 days in Milan? This thriving cultural hub is one of the world's fashion capitals, but there's plenty of exquisite architecture, funky neighbourhoods and epic activities for every type of traveller.
From the obvious Milan attractions to lesser-known churches, and from shopping hot spots to football stadiums, here's a huge list of fun things to do in Milan in 2 days, plus the perfect Milan 2 day itinerary!
And to help you plan your Milan trip with minimal fuss, I've included loads of info on how to get to Milan, how to get around, potential places to stay and things to know before you go.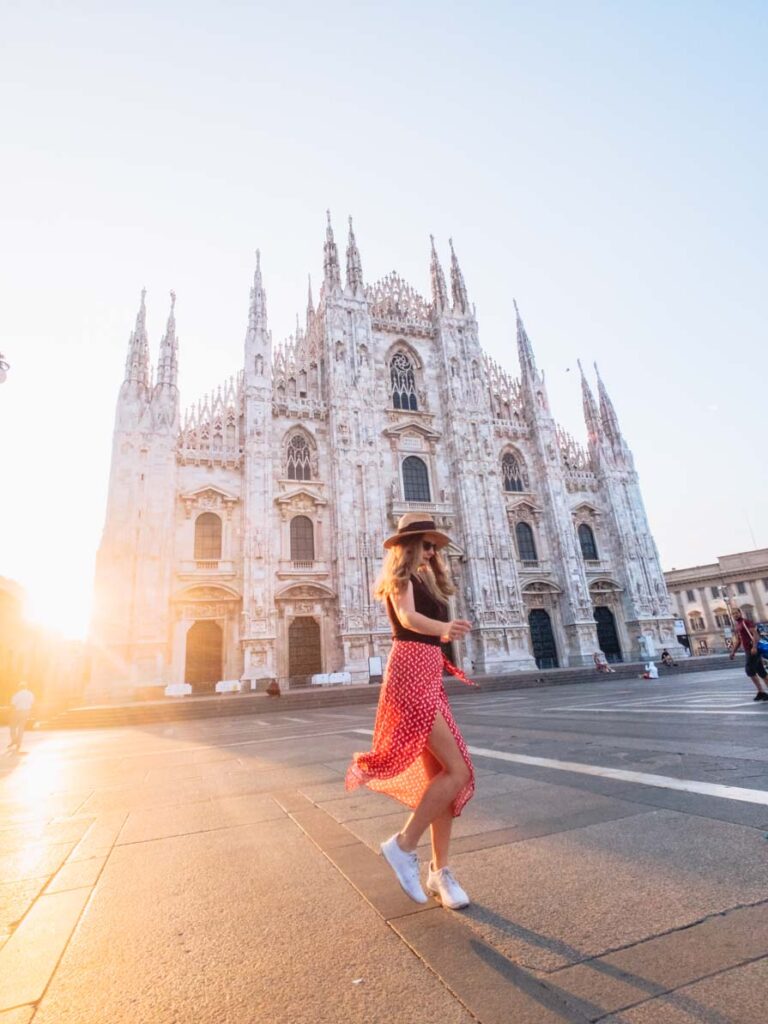 ---
Summary of the perfect Milan 2 day itinerary
Day one
Visit the Duomo di Milano, Galleria Vittorio Emanuele II and Piazza Mercanti in the centre of the city, ideally before all the other tourists get there! Sunrise at the Duomo is stunning.
Head down Corso Vittorio Emanuele II for a spot of fancy (window) shopping, or for more affordable chain stores you can find them all on Via Torino
Grab a sandwich from All'antico Vinaio, my favourite sandwiches in the city
Visit Teatro alla Scala (bonus points if there's a show on!)
See the Last Supper at Santa Maria delle Grazie
Visit the Basilica of Sant'Ambrogio
Day two
Visit San Siro Stadium and its museum
Head to the Isola district to see some brilliant street art, then walk over to the modern Porta Nuova district (or take this 1.5 hour walking tour). Don't miss the Bosco Verticale apartment buildings!
Visit Parco Sempione and Castello Sforzesco
Wander down to the elegant Brera district for a drink at a fancy wine bar or a delicious meal
After dinner, head back to the Piazza del Duomo to see the Duomo all lit up at night
If you're keen to continue your night, the Terrazza Aperol is a worthwhile place to start
Visiting Milan on a budget? If you're planning to see a few different landmarks that require entry tickets (like La Scala and Duomo), consider buying a 48 hour Milan Pass which gives you free entrance to a range of city museums as well as public transport, or upgrade to the full package which includes a hop-on hop-off sightseeing bus.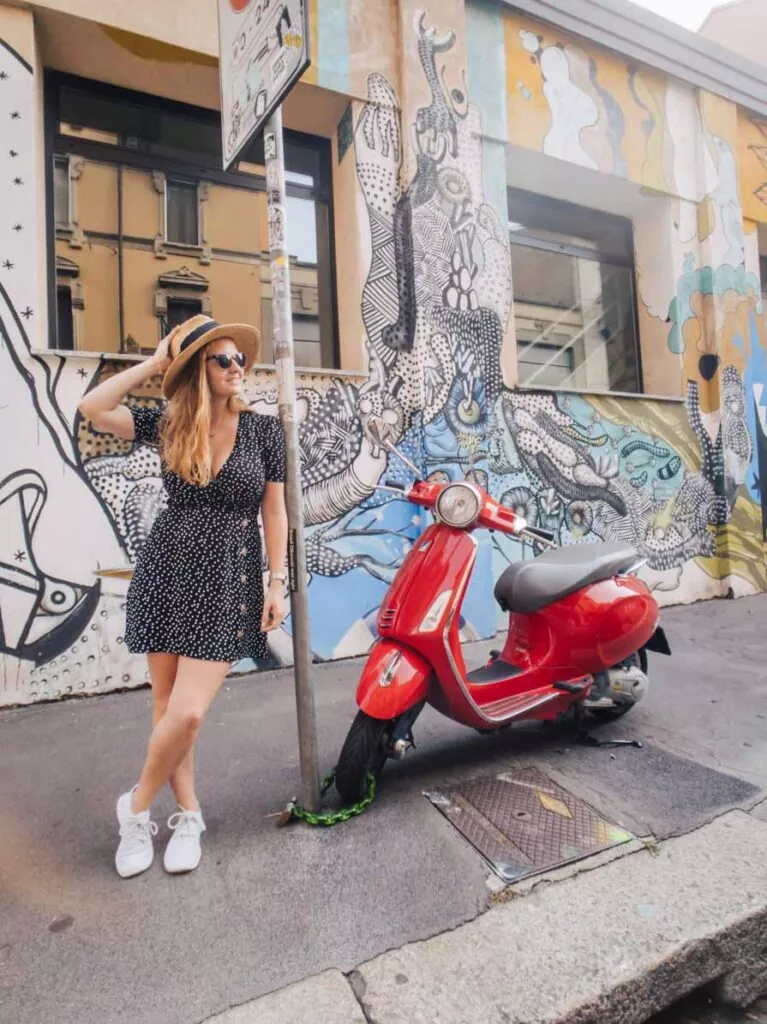 ---
Where to stay during your 2 days in Milan
Budget | On my most recent trip (October 2022) I stayed at Ostello Bello Grande which I absolutely recommend. It's a one-minute walk from the train station so it's ideal if you're travelling Europe by train, they have events on every night to meet other travellers, and their rooftop is a great place to relax away from the Milan chaos. If they're booked up them some other cheap and cheerful options are Atmos Luxe, Combo Milano and Ostelzzz Milano.
Mid-range | Rosso Segnale Milano, Milano Dreams and B&B La Terrazza di Barbara are my top mid-range picks, all rated above 9.5/10 on booking.com
Luxury | INTOMilan Aparthotel is a brilliant option for affordable luxury, ODSweet Duomo Milano is a brand new ultra-Instagrammable hotel, or Hotel Indigo Milan is a classic
For a view of the Duomo | For the classic balcony/window shot of the beautiful cathedral, check out Duomo Cathedral View (aptly named!) or Unique Duomo Luxury Property
---
Things to do in Milan in 2 days
Visit the Duomo di Milano
Up there on my personal list of most exquisite buildings I've ever seen, the Duomo di Milano is absolutely mind-blowing.
With 135 spires, 3,400 statues and a 108m tall marble facade, Milan's cathedral is the largest church in Italy and second-largest in Europe, after St Peter's Basilica in the Vatican City (a sovereign state within Italy's borders). Construction began way back in 1386, and the current building wasn't finished until 1965!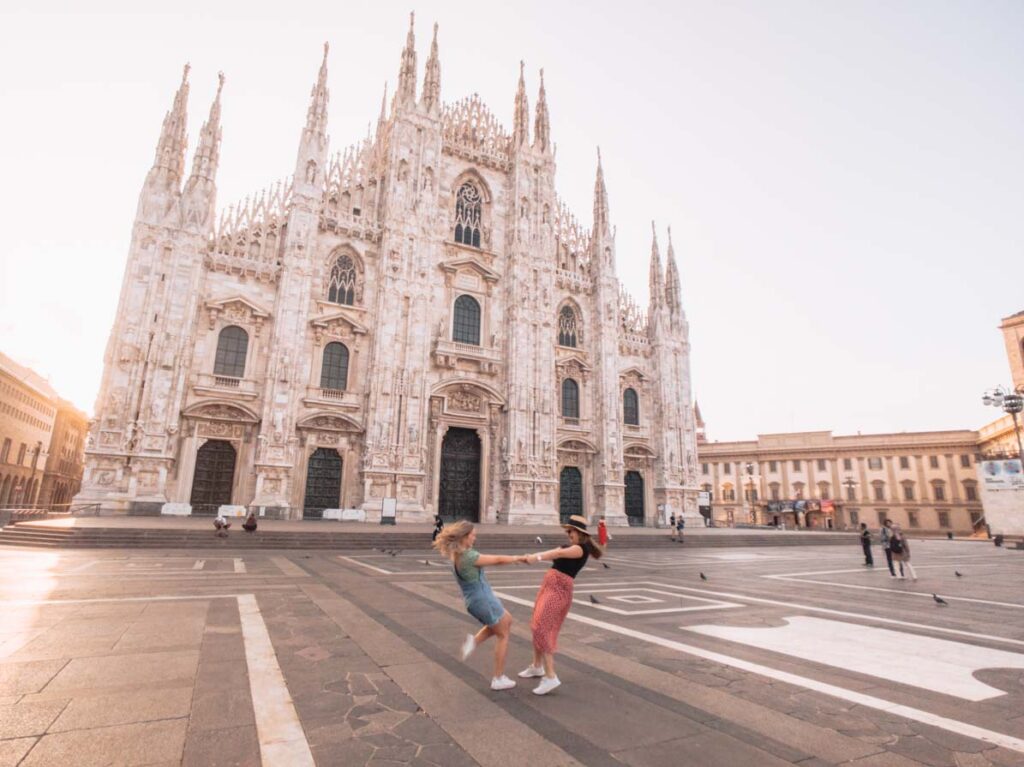 You can head into the cathedral to explore at your own pace for only €3, and a pass up to the rooftop to see the spires up close is €10 by stairs or €14 by lift, but you'll need to get there early or be prepared to spend a decent chunk of your day waiting in line.
To save time you can pre-book a skip-the-line ticket for the cathedral and rooftop here (includes an audio guide), or for skip-the-line access to the rooftop terraces only (no church) you can book here.
If you're keen for the full Duomo experience, including fast-track admission, a guided tour through the cathedral, rooftop access and entry to the Basilica Nuova, a church completed in 355 sitting underneath where the Duomo stands, you can book this highly-rated guided tour on Get Your Guide.
YOU MIGHT ALSO LIKE: My ultimate Paris travel guide
Marvel at the Galleria Vittorio Emanuele II
Window shop 'til you drop in the stunning Galleria Vittorio Emanuele II, home to flagship designer stores, historic bookshops and genuine Italian leather accessory vendors, as well as some high-end restaurants and wine bars.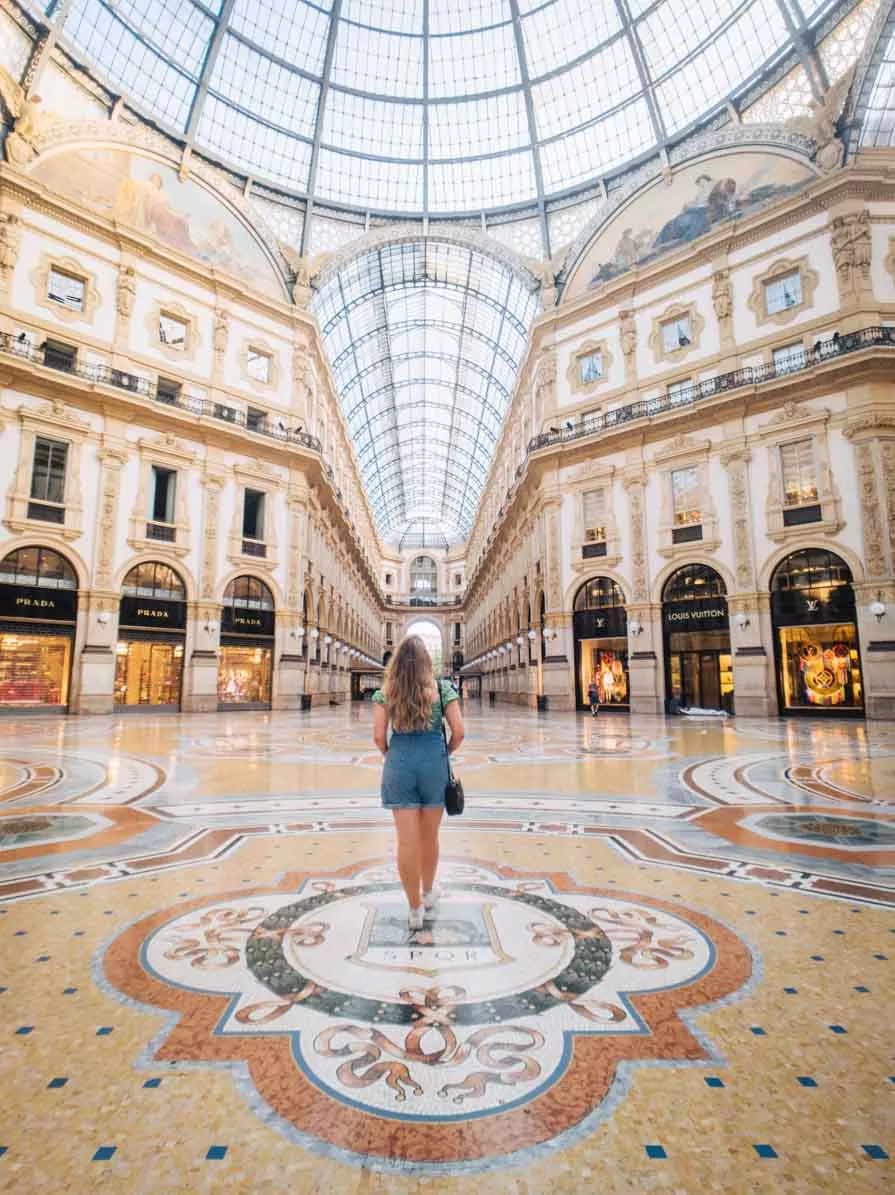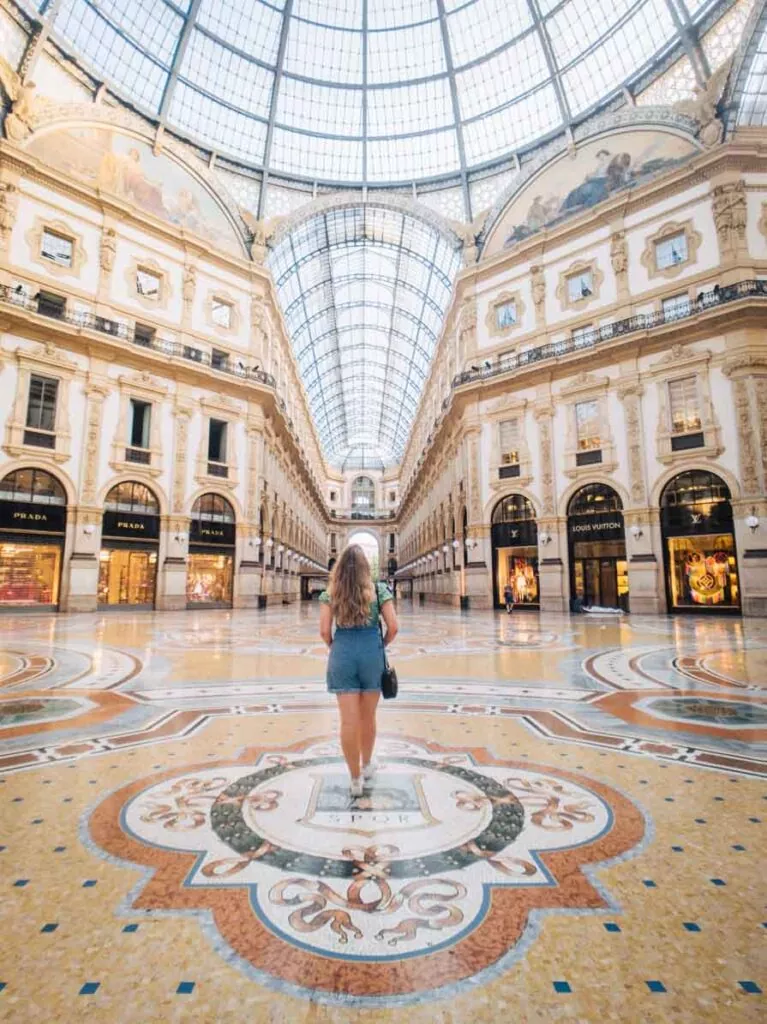 If you can pull your eyes away from the glitzy dresses and lavish handbags in the windows of fashion houses like Prada, Versace and Armani, you'll notice that the building itself is also seriously impressive, with a glass-dome roof that lets sunlight stream in all day.
And if you manage to see the arcade outside of shopping hours, head to the bull mosaic tiles right underneath the middle of the dome, stand on the bull's testicles with your heel, and spin around three times for good luck. Yes, I'm serious!
See the Last Supper at the Santa Maria delle Grazie
One of Leonardo da Vinci's 15th century masterpiece murals, the Last Supper is available for viewing at the Santa Maria delle Grazie dining hall. Art buffs cannot miss this, but you need to book in advance if you've only got 2 days in Milan. Tickets are released two months at a time and about two or three months before the date of visit. You can book tickets through the official website here.
If you miss out on getting a ticket through the official website, you can book a last minute guided tour if you're willing to pay the money.
And for a full Milan experience, consider booking a spot on this popular Best of Milan tour which includes a Last Supper ticket as well as other top highlights in this gorgeous city.
Sip an Aperol Spritz at the Terrazza Aperol
Aperol Spritz is the summer drink of choice for young revellers all over the globe these days, but this spot is guaranteed to be one of the best views for sipping a Spritz anywhere in the world.
Terrazza Aperol isn't known for its service, and the prices aren't cheap, but the bustling atmosphere, great music and incredible vantage point up close to the Duomo make it worth the euros.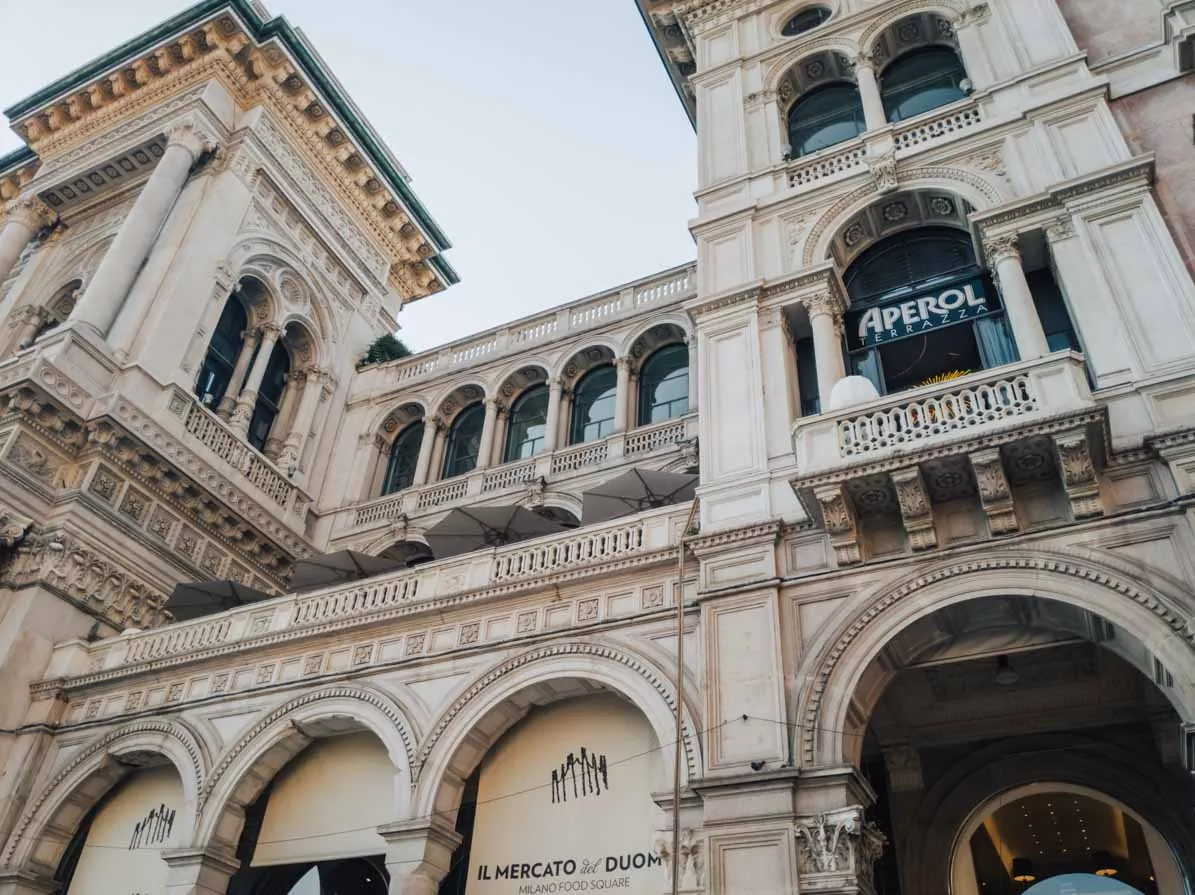 Wander through Parco Sempione
This 38 hectare park inside Milan's historic centre is a brilliant escape from busy shops and chaotic piazzas, just a short walk from the city's main landmarks. Modeled off a typical English garden, the park was created in the 1890s and connects the grand Arco della Pace, or Arch of Peace, with Sforza Castle.
Within the park there's bike paths, pedestrian walkways, picnic areas and cafés, and in summer there's an entertainment programme with fun activities and shows for the whole family. We stumbled across a dancing competition for the elderly, and proceeded to watch sprightly 80 year olds dance their hearts out for an hour!
YOU MIGHT ALSO LIKE: FAQs about my 52 countries in 52 weeks trip
And see the Castello Sforzesco
Although construction in this location first began in the 1300s, the existing castle was built in the 15th century and has been extensively renovated and restored in more recent years.
These days, the castle is home to a number of museums and galleries, boasting statues and paintings from artists and creators like Michelangelo and Leonardo da Vinci, as well as antique furniture and instruments.
Entrance into the castle is free and the museum tickets start from €8, you can book online here.
If you're a true art or history geek and would prefer a tour with a knowledgeable guide, this Sforza Castle GetYourGuide tour has excellent reviews.
Visit Piazza Mercanti
Piazza Mercanti is a Medieval-era merchants' square with well-preserved buildings that were once some of the most important places in Milan. The architecture here is noticeably different to other parts of the city, and you can see the old locations of Milan's courthouses, chamber of commerce and more.
Hands down my favourite part of the city, Navigli's absolutely pumping with good vibes and even better food. The main stretch along the Navigli Grande canal is full of waterfront eateries and hip cocktail bars, and the side streets are home to hidden gems that are absolutely worth exploring.
It's a beautiful suburb to wander around at your own pace, or to learn more about Navigli's history you could try a segway tour or a walking tour.
I'd recommend heading here during the day to take a boat ride down the canal, grab a gelato cone and take advantage of lunch specials at one of the authentic restaurants, but then make sure you're back in the early evening because…
Join in for aperitivo
At 5pm every afternoon, Navigli's quiet paths are filled with locals taking part in their traditional aperitivo routine.
Aperitivo is where order a drink from a bar or restaurant, and you get small plates and antipasto snacks for free! Prices and food quality depend on the place you choose but we paid €8 for a (strong!) cocktail and had our pick of about 20 different small plate options, ranging from cold cuts to pastas to bruschetta.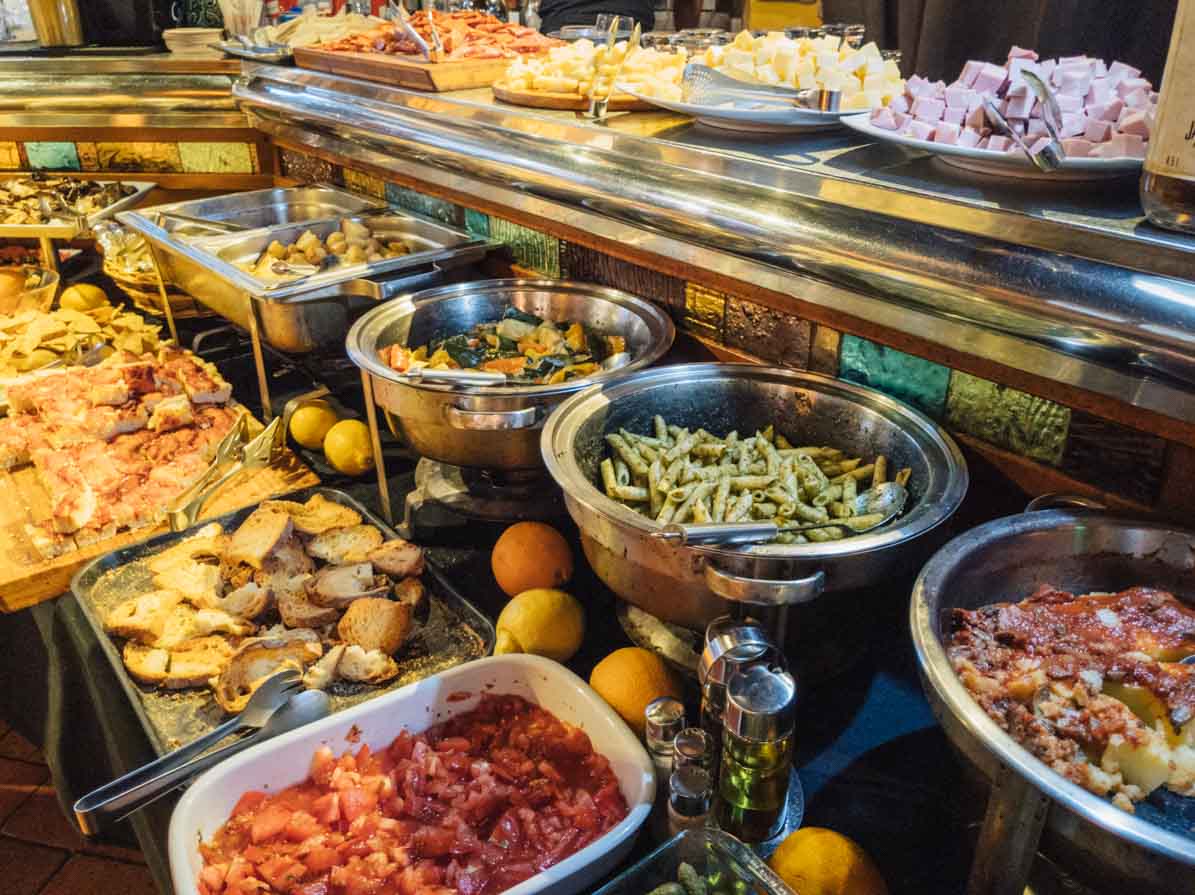 This is a Milanese after-work routine to wind down from a busy day in the office, and it's something I wish every destination implemented! Navigli's sunsets are a stunner too, aim to grab a seat outside to watch the sky turn all shades of pink and purple reflected in the canal.
Keen to take aperitivo to the next level? This private aperitivo tour will show you the best of Navigli's food and drink scene, and includes loads of food plus three drinks.
Watch a show at Teatro alla Scala
Hosting a variety of concerts, operas and ballet shows, Teatro alla Scala is a world-class theatre that first opened in 1778. Their theatre programme consists of classic operas, symphony orchestra concerts, ballet recitals and more, and many renowned musicians, actors, dancers and composers have performed at La Scala. Check the upcoming events in advance as many shows sell out!
For true theatre fans, there's also a museum attached to La Scala, which gives you an insight into the theatre's history, Italian opera culture and memorabilia from past performances. You can buy tickets here or book this highly-rated tour for the full experience.
YOU MIGHT ALSO LIKE: What's in my camera bag for a year of travelling around the world?
Fill your suitcase down Corso Vittorio Emanuele II
Let's be honest, taking home a Prada purse or Armani jacket is unlikely to be within your travel budget, but this city has something for everyone if you're planning on shopping for a day in Milan. Corso Vittorio Emanuele II is one of the city's main high street shopping areas, with global chains like Zara and Mango as well as smaller Italian shops and souvenir stores.
It's easy to reach after visiting the Duomo or La Scala, and it's pedestrian-only so you don't need to avoid mopeds weaving in and out of the crowds. After shopping up a storm, head to a trattoria for an authentic meal or pop to a pumping wine bar for a local tipple.
If you're keen to do some shopping but need to stick to a budget, Via Torino is on the other side of the Duomo to Corso Vittorio Emanuele II and has much more wallet-friendly chain stores.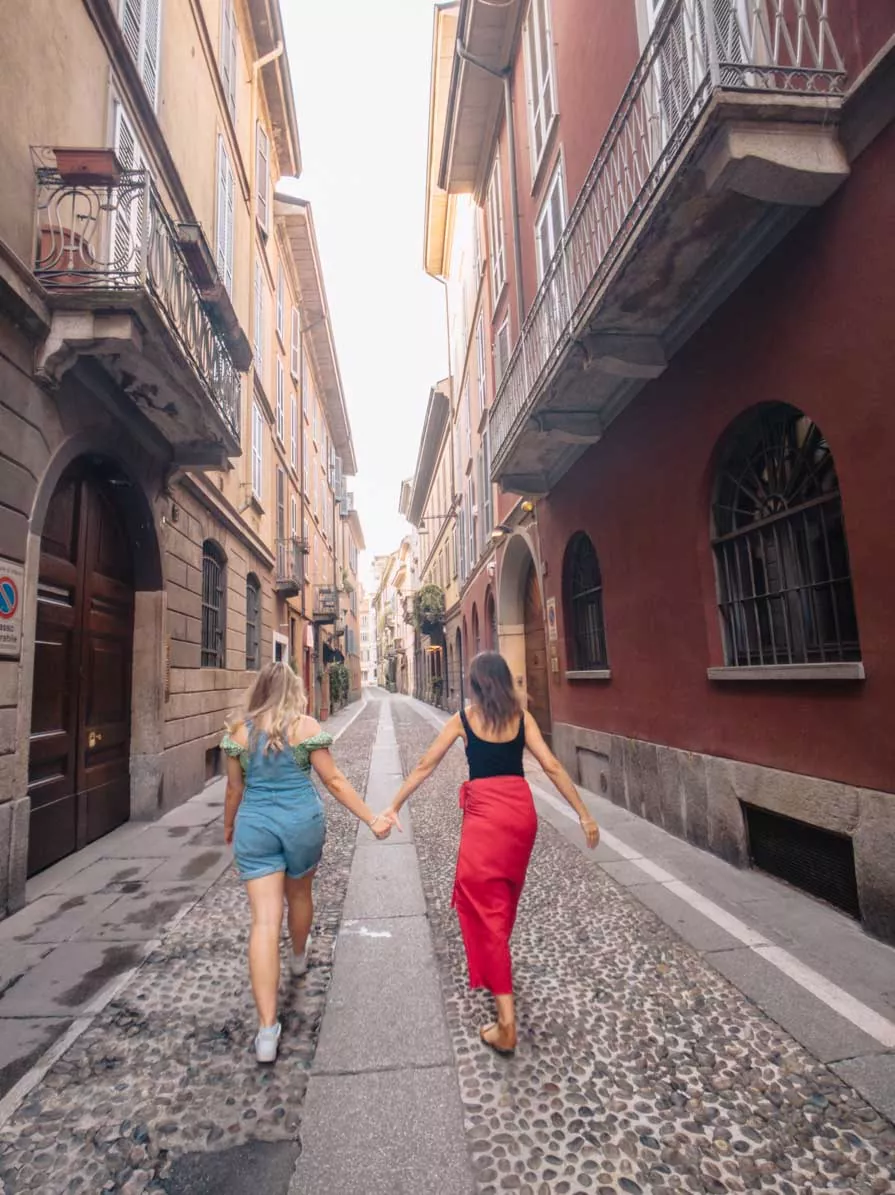 See the Basilica of Sant'Ambrogio
Saint Ambrose, a 4th century Archbishop of Milan, built this ancient church in 387AD, and it was reconstructed in Romanesque style in the 11th century.
The unique church has two huge bell towers of different heights, a vast courtyard, and a crypt containing the remains of Saint Ambrose himself, as well as two other saints. If you're interested in architecture, this is a stand out from most other buildings in the city.
Take a tour through San Siro Stadium
Football fiends, this one's for you. A visit to San Siro Stadium is a must-do for any sports fans visiting Milan, or anyone travelling with soccer-mad kids! Walk through a museum dedicated to AC Milan and Inter Milan, with uniforms and memorabilia of past competitions, visit the locker rooms, and head out to see San Siro's field from where the players enter the stadium.
If you are a serious AC Milan or Inter Milan geek, go for the more in-depth guided tour. You'll get a proper lesson on the stadium's history, football culture in Italy, and both teams that call San Siro Stadium home.
And if you happen to time your visit with a football game at San Siro Stadium, you gotta go! Watching a live game of the national sport in any destination you visit should be on your travel bucket list.
YOU MIGHT ALSO LIKE: The ultimate five day Portugal road trip
Have a classy meal in Brera
Brera is one of the most sophisticated parts of the city, and it's particularly charming for a night time walk and evening meal or drink. Choose the most elegant outfit in your suitcase or your backpack, or buy something fresh and fancy, and head out to find a gorgeous wine bar and treat yourself to a nice red with a huge antipasto platter.
Proper foodies might prefer to explore Brera on this epic food tour, which includes ten tasting plates of various local delicacies and wine matches. Yum!
Get some fresh air in Porta Nuova
This innovative district is Milan's green lung, which is currently being redeveloped with a huge focus on sustainability and healthy living.
It's home to a huge park, uniquely laid out with criss-crossed bike and pedestrian paths and home to more than 135,000 plants. With the open green space right next to towering skyscrapers, you'd be forgiven for thinking you were in Silicon Valley instead of an Italian city!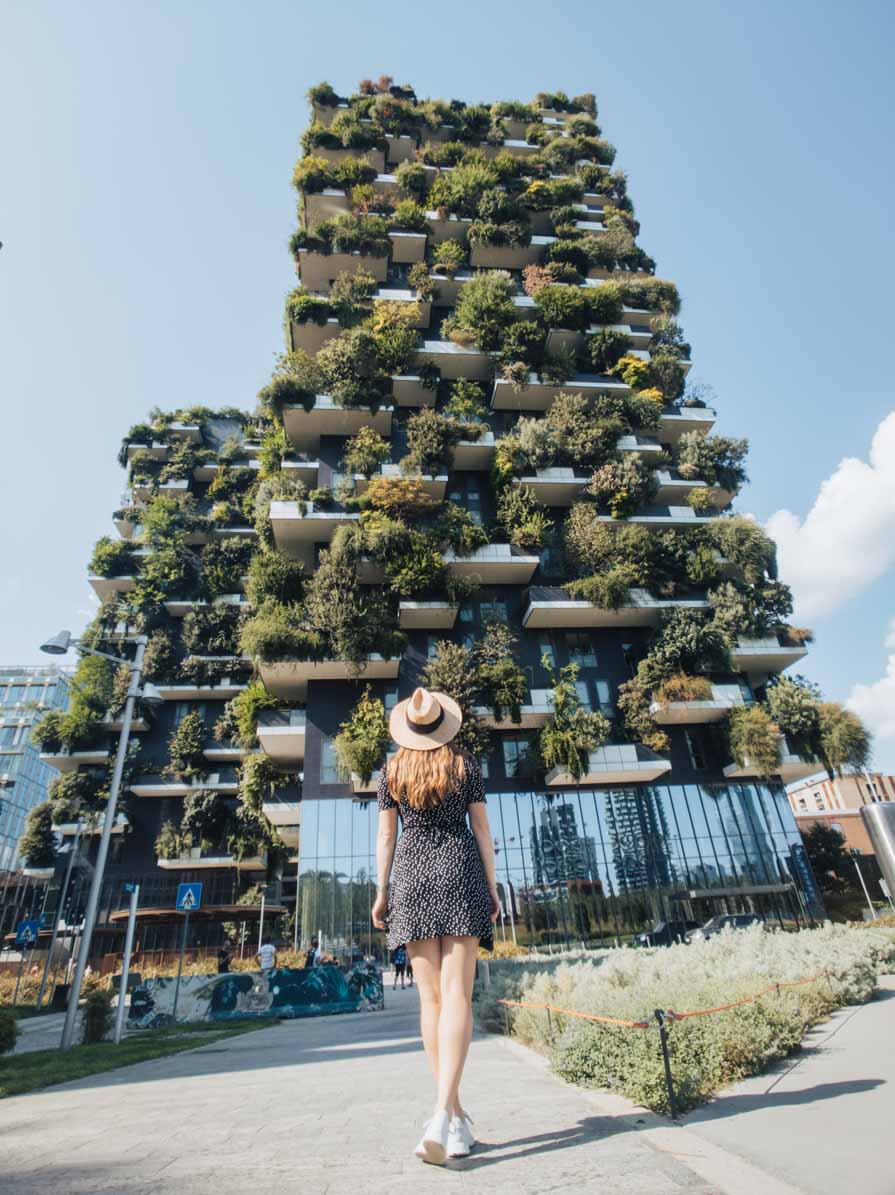 It's impossible to miss, but make sure you take a good look at the Bosco Verticale, a pair of self-sufficient residential apartment buildings with trees planted on the outside of apartment balconies. One of the coolest things to see in Milan!
---
How to get to Milan
Milan has great transport links to other European transport hubs by plane, train, bus or car.
There are three airports in Milan: Malpensa (MXP), Linate (LIN) and Bergamo (BGY). Malpensa is the main airport for major international airlines, but if you're flying on a low cost carrier like RyanAir or EasyJet, you'll probably be arriving at Bergamo. Linate is mostly used for domestic flights. Bergamo and Malpensa are on the opposite sides of the city, but each airport has about a one hour journey into the city, Bergamo by bus and Malpensa by the Malpensa Express train.
If you're travelling through Europe on a rail pass, Milan is easy to reach by train from most nearby cities. It's two hours from Venice, three from Rome, almost four from Zurich and about seven from Munich. And if you're on a tight budget, Flixbus and a number of other bus companies run bus services all through Europe for crazy low prices, with long drives but excellent value if you're not in a rush.
You can search all bus and train tickets to Milan right here on Omio, which shows you all the options available.
If you're lucky enough to have a rental car in Europe, Milan is easy to get to from Switzerland, southern Germany, southeast France, western Austria or other parts of Italy.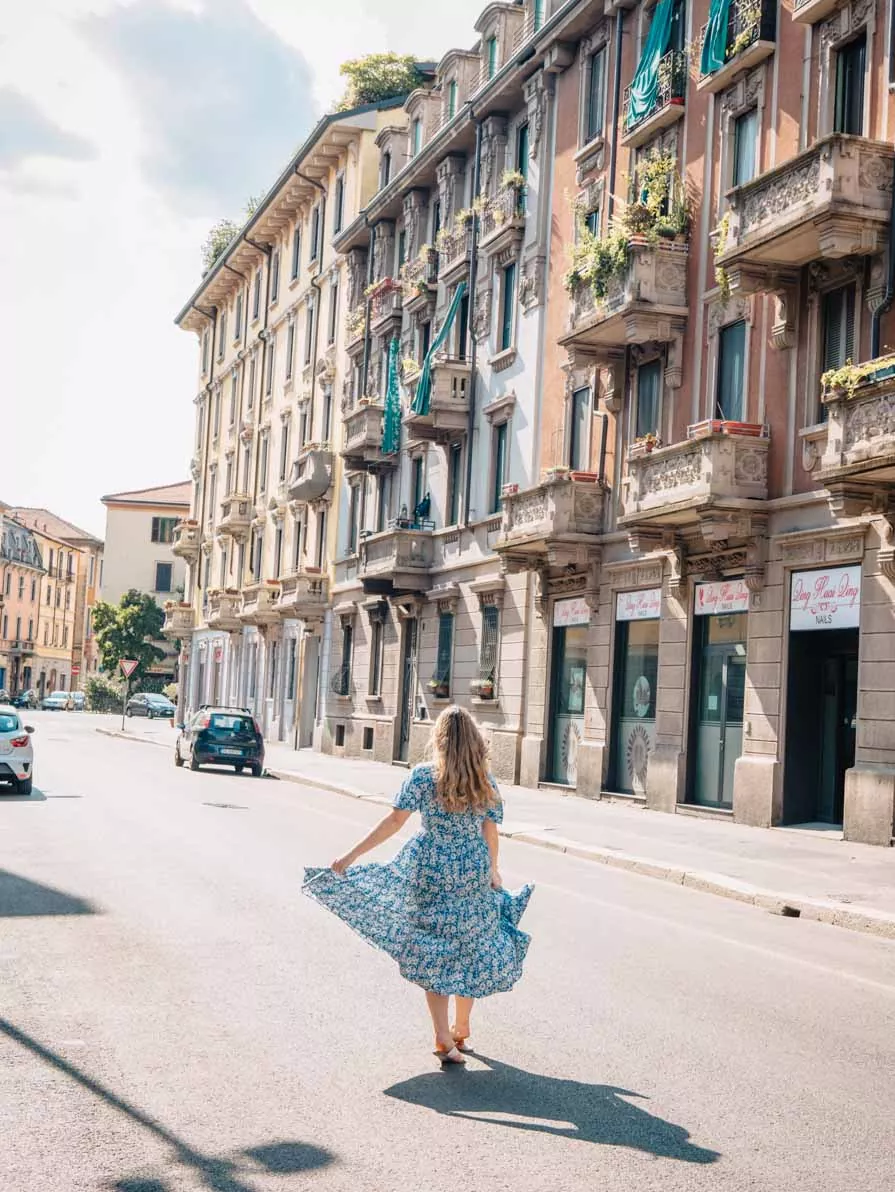 ---
How to get around Milan
Milan's got a well-connected metro system which can get you to and from all the major landmarks. A single ticket costs €2 and is valid for 90 minutes, or you can buy a 10-ticket carnet for €18. If you're just spending 2 days in Milan, you can get a 24 hour ticket for €7 or a 3 day ticket for €12. You can get full details of the Milan metro network here.
Note that in Milan, you're limited on taking luggage on the metro. Similar to flights, you can have a carry-on size suitcase up to 50cm for free, but a larger suitcase will set you back an extra €1.50 for a luggage ticket. For this reason I highly recommend booking accommodation near the main train station, some options are:
Ostello Bello Grande (my top recommended hostel in Milan), they have both dorms and private rooms
B&B Milano Centrale is a good value but budget-friendly hotel
INNSiDE Hotel, NYX Hotel or iQ Hotel are all semi-fancy 4-star options
For somewhere luxurious, Excelsior Hotel is the best-rated 5-star near the train station
If you're keen to explore above ground and hop on and off at various tourist spots, consider getting a Milan hop-on hop-off bus ticket. You can choose from a 24 hour or 48 hour ticket, and you'll be able to easily plan an ideal 2 day Milan itinerary.
For private transport, your best bet of getting around during your two day Milan trip is by taxi, but note that taxis here are quite expensive. Milan taxis don't really stop on the street but there are designated taxi pick up spots around the city, and just make sure the driver is using the meter once your trip has started to avoid being scammed.
There's Uber in Milan but it's only Uber Black so it's super expensive, a 10 minute trip from Milano Centrale to the Duomo is showing up as €37 on my Uber app right now. Ridiculous! You can also book taxis through Uber, the price for a taxi is showing up as €15-€19 for the same trip, but note that these are just estimates and the price can rise significantly if there's traffic or detours.
For more unique ways to get around, there's a tram tour, a few different segway tours and a bunch of bike/e-bike tours too.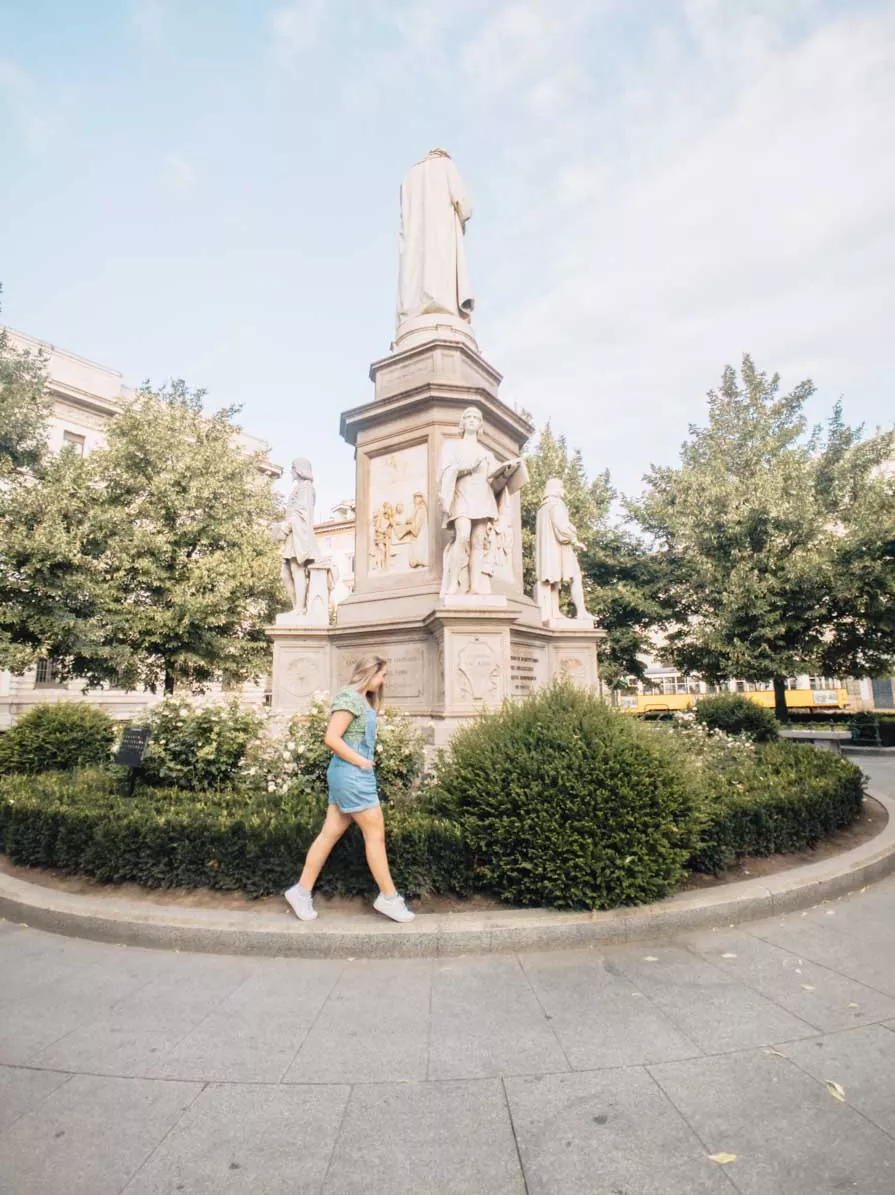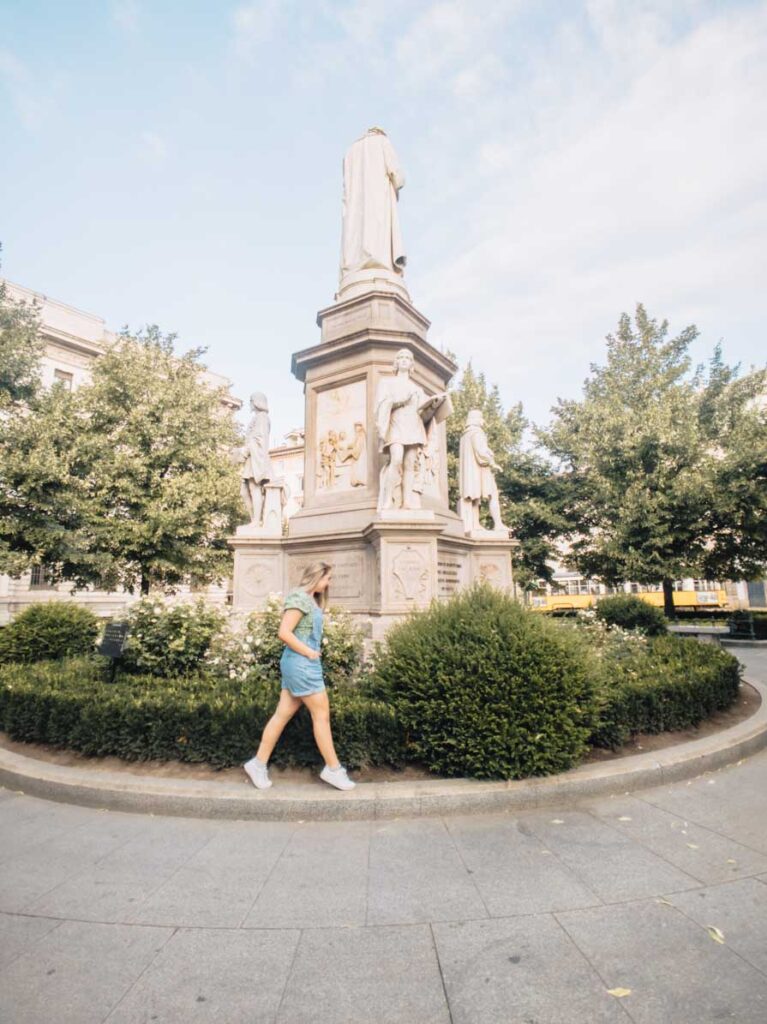 ---
Milan tips for digital nomads
Unlike some other European cities like Lisbon, Berlin, Barcelona and Budapest, Milan is not particularly digital nomad friendly. As I write this I'm sitting in a café (one that was mentioned in digital nomad guides to the city actually) and getting side-eyed by the servers because I have my laptop out!
Many of the cafes here are small, independent coffee shops who are (understandably) more concerned with getting more customers rather than having laptop-dwellers take up tables for hours on end. I see where they're coming from but it's also a shame as I absolutely love sitting, working, people-watching and snacking for a few hours while getting shit done.
My top recommendation for digital nomads in Milan is, and hear me out on this one, the massive Starbucks Reserve Roastery near the Duomo.
If you haven't been to a Starbucks Reserve before this will blow your mind, it's a huge commercial operation with the coffee machines out in the open, a unique menu of locally-inspired drinks, and some great food too. The WiFi was a bit intermittent for me (my Italian SIM card has 150GB of data though so I just used the hot spot) but there is lots of space and they had no issue with me sitting on my laptop for five hours!
---
I hope this list of the best things to do in Milan in 2 days has helped you plan your trip! Milan is ideal for a weekend getaway and there is SO much to see, do and eat to fill any 2 days in Milan itinerary. If I've missed anything important please let me know in the comments!
You can find more things to do in Milan on Get Your Guide, and find the best places to stay in Milan on booking.com or on Hostelworld.
Like this blog? Pin it!
Read more about my 52 in 52 adventure here, see all of my blog posts from the trip here, or check out my Instagram @findingalexx to see all of my travel photos.