Looking for places to stay on a Europe trip but don't want to break the bank? Europe's hostel scene is impressive and there are plenty of affordable accommodation options for budget travellers. Here are the best hostels in Europe that I've stayed in personally.
Let me start this blog off by saying that this list of the best hostels in Europe is totally based off my own personal experience and travel preferences. Keep in mind that I'm a solo female traveller so safety is key, I work while travelling so I'm going to lean more towards a digital nomad hostel than a party hostel, and I am a terrible sleeper so quiet rooms, privacy curtains and comfy beds are a priority.
If you're looking for a list of the 50 most popular hostels in Europe that are frequented by bus tours and young travellers on their first ever trip abroad, this list isn't it. For that I'd recommend heading over to Hostelworld, they've got all of Europe's best hostels for partying, first-time travellers, long-term stays and more.
But if you're like me and you want to get the ultimate bang for your buck, you want a good night's sleep, and you love discovering hostels with funky design or epic facilities, you're in the right place!
I've stayed in more than 100 hostels across Europe since my first solo visit here 7 years ago (crazy I know!) and I've experienced the good, the bad and the ugly. I've racked my brain, and my travel diaries, to come up with this list of the best hostels in Europe that I've stayed in personally and that I would highly recommend you add to your upcoming Europe itinerary. There aren't many on here, because I want to keep this list truly for those hostels that I would be happy to return to time and time again.
I've also noted down some other hostels I've stayed at in these cities and why they haven't made it onto this list. Some of them might have just missed out as they're not quite my vibe, some are just terrible and you should stay away. Many hostels I've stayed at in Europe at have been so unremarkable that I can't even remember their names!
So here goes, the best hostels in Europe, as well as a bit of a rundown on why hostels in Europe are a good option and how you can find the best hostels for your Europe trip.
---
Why hostels in Europe are a good option
First of all, dorm beds hostels are cheap and cheerful, and they offer you wayyy better value for money than a hotel room or apartment. This is because you're basically only paying for a bed and are splitting the cost of other facilities, like bathrooms, kitchens and workspaces, with other travellers.
And if the dorm life isn't your thing, most hostels in Europe also offer affordable private rooms which give you your own space with the benefit of access to shared facilities, the best of both worlds.
Hostels in Europe are usually well-located and easy to get to, often near major train stations, bus stations or transport hubs. This is because budget travellers are more likely to arrive by public transport rather than having a rental car or catching a cab out to the suburbs. Being close to public transport is a gamechanger for budget travellers, you'll save loads of €€€ by catching trams, buses and the metro rather than splurging on Ubers and taxis.
At hostels you can meet fellow travellers, perfect for solo travellers or social butterflies. It's totally normal to strike up a conversation with hostel guests in the kitchen, bar or lobby, or you can take part in hostel events like bar crawls, pub quizzes, beer pong competitions and walking tours.
But my favourite benefit of staying in a hostel in Europe, particularly as a full-time traveller, is having access to a kitchen where you can cook your own food. This is such a lifesaver when you travel non-stop, I would be broke after three months if I had to eat out for breakfast, lunch and dinner every day! Hostel kitchens usually have everything you need, microwaves, fridge space, ovens, food storage, so you can stock up on basics at the supermarket and cook yourself a meal or two each day to avoid wasting your entire travel budget on restaurant meals.
---
How to choose a good hostel in Europe
The most important tip I can give you for choosing a good hostel in Europe is to read the reviews, on Google, Hostelworld and booking.com especially. Reviews from past guests are gospel!
I'm a total hostel snob so I personally look for ratings of above 4.5/5 (or 9/10 on booking.com). If a hostel is meeting or exceeding expectations of 90% of their customers, chances are I'll be impressed with it.
If there are no 4.5 / 90% or above options, I'll drop my standards to 4/5 or 80%, but will read the reviews carefully to see what exactly caused the lower rating. If it's because it's too far from public transport, or because the WiFi didn't work, or because the beds were uncomfortable, it's a no from me. These are dealbreakers for me and I'm not willing to compromise on them. If the lower rating was for something like the fact it's too far from clubs, the events weren't good enough or the lines for the shower* were too long then these are compromises I'm willing to make.
That kind of makes it sound like I don't shower 😂 I definitely do, but I'm just pretty chill which means a 20 minute wait for a shower isn't the end of the world.
If a hostel is rated less than 8/10 or 80%, I'm unlikely to stay there unless I am desperate! Sounds harsh, but my standards are high and I'm not going to lower them.
Here are some things to consider when choosing a hostel in Europe.
Location
A hostel's location is going to influence your experience in more ways than one.
First of all, you want to be somewhere that is nearby the things you want to see and do, or at least is near public transport to get you to the things you want to see and do. There's no point in saving money by staying at a hostel 20 minutes out of the city but then having to pay for a €15 Uber each time you want to get to the main tourist spots. I prefer to stay at hostels that are within a five minute walk of a well-connected public transport line.
And secondly, you want to be somewhere that feels safe and that allows you to sleep well, i.e. not in a building next to a nightclub that is pumping until 5am. Berlin, I'm looking at you.
One thing to note is that often hostels are near train stations, and unfortunately in Europe train stations can be a hub for petty crime like pickpocketing, purely because there's loads of unsuspecting tourists in big crowds which makes them easy targets. If you're considering a hostel near a train station then I'd just recommend reading the reviews carefully and searching 'safe' or 'safety' to see what previous guests have said, because if they felt unsafe, they probably would mention that in their review.
Vibe
There are hostels in Europe for travellers looking for all types of vibes, from buzzing social hostels to digital nomad co-working hostels to even family hostels that welcome kids. (It's a no from me).
The vibe can be hard to gauge on booking sites like booking.com and Hostelworld, so to get a better idea of the hostel's environment it's best to check out their own website and their social media. You'll be able to tell what vibe they're trying to push by what they're posting and promoting, and then you can decide whether that suits what you're looking for.
Kitchen facilities and food
There is a somewhat frustrating trend popping up in Europe hostels where they don't actually offer a kitchen or any self-catering facilities, not even a fridge to put a drink bottle in overnight. This is so weird to me, surely shared cooking facilities are an essential for a hostel?!
This has caught me out a couple of times where I've booked a highly-rated hostel online without properly reading the facilities list or reviews, and I've found out on arrival that I'll be having to eat out for all meals for the following five days. Greeeeat. I've found that this is particularly common in major cities like Paris, Amsterdam and London, which are also some of the most expensive places for restaurant meals!
If needing kitchen facilities is a dealbreaker for you then make sure you check this before you book anything, because in Europe it's just not a given anymore.
Many hostels offer a back-to-basics breakfast with all-you-can-eat pastries, cereal, fruit and coffee, sometimes hot food if you're lucky. Typically breakfast is an extra cost of around €5-€12, but sometimes it'll be included in your booking if you book direct through their website. I personally don't usually take advantage of hostel breakfasts as I prefer making my own when there's a kitchen, but hostel breakfasts can be really cost effective if you make it your main meal of the day!
Workspaces
If you're like me and need to spend a decent chunk of time on your laptop during your trip, you'll want to make sure there are work-friendly desks available in the common areas or in your private room if you're booking one. These often won't be listed on accommodation websites so look through the photos or flick them an email if you need to check.
Curtains, plugs and lockers in dorms
If you're staying in a dorm room, the dorm facilities will be what makes or breaks your trip.
My minimum requirements for a dorm room these days are a privacy curtain over the bunk, a plug inside the bunk area, and a lockable locker for my bags. I'm not a great sleeper, luckily I have found fantastic silicon earplugs and a comfy eye mask that blocks all light, but I sleep much better when I can pull a curtain across and not be disturbed by people walking past in the morning since I sleep in most mornings after working till midnight 🙃
I only ever stay in female-only dorms, I've had experiences in the past where guys have come home drunk and hopped into the wrong bed (next to a sleeping girl in one instance) or have just been smelly and snore-y and gross. Yes, girls snore too and yes, girls can smell bad, but smells and sounds just seem less offensive when coming from women haha.
The smaller the dorm the better for me, and I'm willing to pay more for a four-bed rather than an eight-bed.
But each to their own, these are just my personal priorities when booking a dorm!
Additional costs
European hostels sometimes have additional costs involved for what you might consider essentials, like towels (usually €2-4 to rent), luggage storage once you've checked out (€4-10 per locker), or even access to facilities like the kitchen. Be sure to check these in the details of wherever you're booking so you can budget accordingly.
---
The best hostels in Europe (that I've stayed at personally)
Note: This list is only for Europe hostels I've stayed in personally, and only the ones that have impressed me enough to be able to recommend them to you without any caveats. I've also listed other hostels I've stayed at in each country and mentioned why exactly they haven't made it onto the list of the best hostels in Europe.
Best hostels in Portugal
Selina, Porto
I stayed in a 4-bed mixed dorm and then in a private room in October 2019
Highlights:
Perfect for digital nomads
Comfy pod-style dorm rooms
Great social vibes without being too hectic
This was my first experience with the Selina chain (I also love their hostels in Melbourne, Australia) and I was immediately impressed. Their staff are always friendly and knowledgeable about the area, the dorms are ideal with privacy curtains plus lockable shelves in your bed area, and there's shared spaces ranging from quiet work areas to a well-equipped kitchen to picnic tables next to a food truck.
I was travelling with a guy friend first so we stayed in a mixed dorm, then once he left I moved into a private room which was basic but spacious and comfortable.
Location: Right in the middle of town
Vibe: Super chill, work-friendly, good range of events + ways to meet people
Kitchen: Yes
Workspaces: Lots
Curtains: Yes
Find out more about Selina Porto >>
---
Best hostels in France
People Nation, Paris
I stayed in an 8-bed mixed dorm in November 2022
Highlights:
Great dorm layout
Epic rooftop terrace
Good location two minutes from Nation metro station
This one comes with two BIG caveats: firstly it's expensive, secondly it has no kitchen. I had a fairly last minute trip to Paris due to some train cancellations which messed with my plans, and there weren't many hostels left to book. People Nation was the highest-rated one available so I splurged €48 a night for a bed in an 8-bed mixed dorm 😩 and this is in the off season, it's even more expensive in summer! Private rooms were €200+, well out of my budget, and there were no female dorms or smaller dorms.
Once I arrived there I was told that there wasn't a kitchen, the hotel had breakfast for €7 (not very well-rated) and a restaurant but there wasn't even a fridge or anything. My fault for not checking before I booked, but I just assume (incorrectly) that most hostels have kitchens. Towels also cost extra to hire (€4) and they charge for luggage storage in lockers if you get there early or need to leave your bags when you check out on your last day.
Now that I've let you know the downsides, here's why I loved it. People is in a brilliant location, right next to a metro station, so it's super handy for exploring Paris. The staff were all fellow travellers who loved to strike up a chat, and the rooftop cafe/restaurant/bar was a great spot for a sundowner in the evening.
The dorm rooms were epic, my ideal dorm layout! Lockable lockers under the beds, the beds were really spacious and comfortable, and there was a shelf/storage locker combo inside the bed pod for keeping valuables and charging your phone overnight.
I know paying €45-65 for a hostel dorm bed is painful, but in a city like Paris where things are generally expensive, the hostel does offer a really good experience that's still much cheaper than a hotel room. If you're in the city for a quick trip and don't need kitchen facilities then it's a fab option, but if your focus is saving money and you need to be able to cook your own food then choose somewhere else.
Location: Right next to Nation metro station, ideal for getting around Paris
Vibe: Boutique social hostel, slightly older (maybe classier haha) crowd than party-focused hostel chains like Generator and St Christophers
Kitchen: None, they have their own restaurant with cheap meals (for Paris anyway) but no facilities to make your own. I was staying in winter so I made a Huel shake at night, put it in a tote bag, tied it to the window railing and left it outside overnight to be able to drink it chilled in the morning 😂 desperate times call for desperate measures.
Workspaces: Some tables in the rooftop restaurant with plugs but not dedicated workspaces (and gets loud in the evening)
Curtains: Yes
Find out more about People Nation >>
Other hostels I've stayed at in Paris:
Enjoy Hostel – do not recommend, no lift, lots of spiral stairs which are hard with a suitcase, creaky bunk beds, dirty kitchen
Generator Paris – classic party hostel frequented by Contiki and Topdeck tours (i.e. young first-time travellers), cool rooftop, no kitchen and not allowed to bring food inside, no curtains, recent reviews all mention that it's not very clean
St Christopher's Gare du Nord – another classic party hostel, building and rooms are quite dated, bathrooms aren't cleaned enough, loud bar which can be heard on the lower floors
---
Best hostels in the Netherlands
Hostelle Amsterdam
I stayed in an 8-bed female dorm in November 2019
Highlights:
Staff and guests are female-only, ideal for female travellers who are new to travel or those who just need a safe space to go and be able to relax
Super clean and tidy
Cheaper than staying central but still easy access to the city
Hostelle is the first female-only hostel I've ever stayed in and I thought it was fantastic. I was a confident solo traveller by that stage, five months into my round the world solo trip, but even then it was really nice to be staying somewhere where I could totally relax, and where I could walk from the bathroom to my room in a towel and not awkwardly run into a guy I was talking to in the kitchen 😂
Hostelle was also the cleanest hostel I've ever stayed in, it was spotless! Probably a mix of the Netherlands in general being a very clean country, and the fact that it's only women who stay here.
Location: Close to a metro station that is an 18 min ride to Amsterdam Centraal
Vibe: SAFE! Really homely, social without being rowdy, chilled out
Kitchen: Yes
Workspaces: No dedicated space but lots of tables to work at
Curtains: No
Find out more about Hostelle Amsterdam >>
---
MEININGER Amstel, Amsterdam
I stayed in a private room in December 2022
Highlights:
Consistent with other MEININGER hotels
Really comfortable beds
Fantastic location for Eurail travellers
I'm a big fan of the MEININGER brand, they offer affordable dorm and private rooms in great locations all through Europe. They're always consistent, with kitchens, laundry facilities, a decent breakfast for a hostel, and a bar which serves up drinks as well as snack food and some bar-style grub. I've stayed in five MEININGER locations now and they always meet my expectations.
Their Amstel location in particular really stood out to me though, specifically for its location. Amsterdam's streets aren't very suitcase-friendly – they're cobbled, there are people everywhere, and where there's not people, there are bikes locked to fences, bridges and racks – so I was stoked to arrive at Amstel station and only have to walk thirty seconds to get to the MEININGER hotel!
Location: So ideal if you're travelling by train, only 8 mins to Amsterdam Centraal
Vibe: Quiet and comfortable, not super social, good for travellers who need some downtime, also family-friendly
Kitchen: Small but yes
Workspaces: Lots of tables downstairs, never gets too rowdy
Curtains: No
---
CityHub, Rotterdam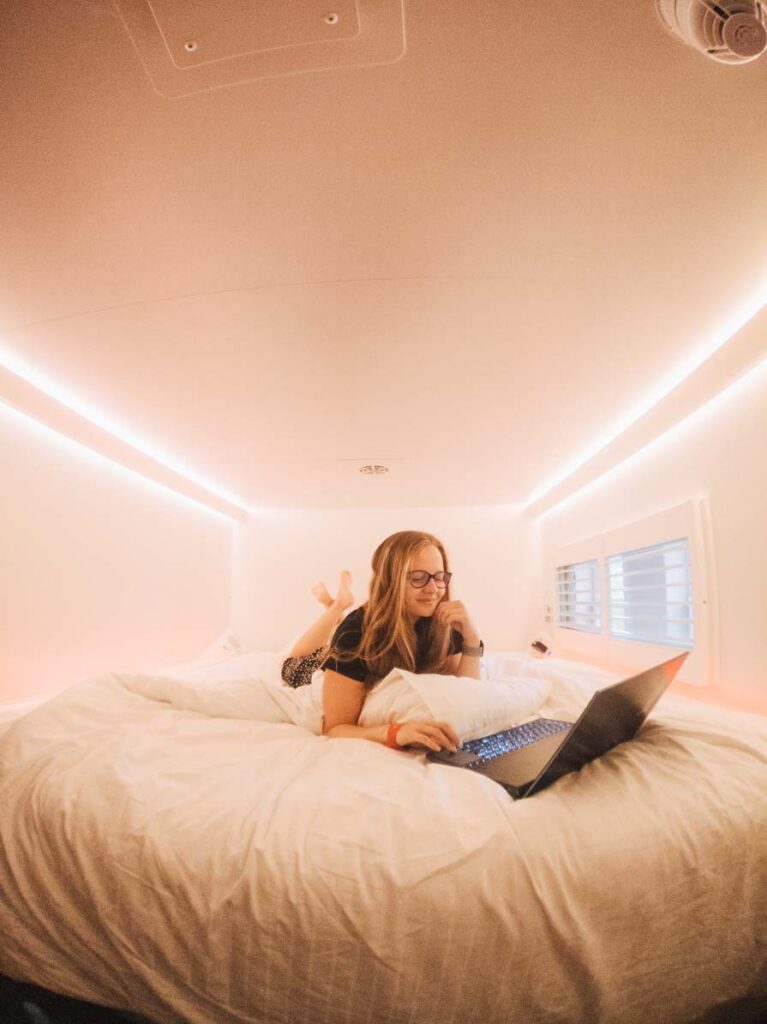 I stayed in a private hub in November 2019
Highlights:
Brilliant use of space
Super comfortable king-size bed
High tech with room controls through an app (lighting, air con, speaker)
Great amenities, decent shampoo + conditioner, even robes!
If you're looking for an affordable private room and don't mind not having much space, CityHub is ideal. I stayed at their Rotterdam location for three nights and absolutely loved it!
The hubs are simple but stylish and comfy, with a king-size bed, space for luggage and hangers. The shared bathrooms are clean and come complete with Rituals toiletries, so fancy! In the Hangout (common area) there's plenty of seating if you need to set up a desk, free luggage storage, a vending machine and even Heineken on tap.
There are also CityHubs in Amsterdam and Copenhagen.
Location: Middle of Rotterdam, lots of eateries and bars around
Vibe: Very digital nomad-y
Kitchen: They have a kitchenette with fridge and microwave, no oven or stovetop though
Workspaces: Lots of seating available for people wanting to work
Curtains: Hubs are fully enclosed and private with a lockable door
Find out more about CityHub Rotterdam >>
Other hostels I've stayed at in the Netherlands:
King Kong Hostel, Rotterdam – highly-rated and would suit someone looking for a cheap and cheerful social hostel. Not really my vibe, dorms were a bit too basic for me (steel bunks, no curtains) and the chill out spaces were more suited to socialising than working. But it had great staff, was in a fab location, and was budget-friendly for sure, and their private rooms look legit!
---
Best hostels in Denmark
Next House, Copenhagen
I stayed in a 4-bed female dorm in December 2022
Highlights:
Best facilities of any hostel I've ever stayed at
Pod-style beds
Kitchen available at additional cost (cheap)
If this was the first hostel you ever stayed in, you'd forever be disappointed. With a facilities list including a rooftop kitchen, rooftop garden, plenty of common areas for chilling out, socialising or working, five different bars, laundry facilities, lots of boardgames and arcades games, a cinema room, a mini sports arena (!), a well-equipped gym (!!) and even a yoga room (!!!), I don't think I'll ever find a hostel that's this impressive on paper. The only thing missing is a pool, and Copenhagen isn't exactly a pool-friendly location for much of the year! Some facilities have an extra cost (kitchen 2.70EUR per person one off fee, gym 2.70EUR per person, yoga 2.70EUR per class) but I don't mind this when it's clear up front, it means you can pick and choose what you'd like to include in your stay and only pay for what you'll use.
I was travelling with a friend on a busy December weekend so we stayed in a 4-bed female room. The dorms are quite small with limited locker space but I just put my valuables in there and kept my suitcases locked in the corner of the room (with AirTags in them to track any movement), and the dorm bathroom was small too. The beds themselves are comfy with a handy little storage pocket, no curtains unfortunately but if you prefer a darker bed then the top bunks are only open at the end (compared to the bottom bunks that open at the side).
Location: Five minute walk from the main train station (and Tivoli Gardens!)
Vibe: Social but classy
Kitchen: Available for a one off fee of 20DKK (around 2.70EUR)
Workspaces: Lots of tables you could use for work
Curtains: No but top bunks are mostly enclosed
Find out more about Next House >>
---
Best hostels in Germany
MEININGER Frankfurt Airport
I stayed in a private room in December 2022
Highlights:
Easy access to the airport and train station
Shared kitchen to save on food costs
Comfortable private rooms
Another MEININGER that makes it onto the list, their Frankfurt Airport location is a really good value option. I haven't stayed in the dorms here but my private room was comfortable with a decent desk for getting work done. It's a three minute walk to the U-Bahn (metro) station and then a single stop to the airport U-Bahn, of if you're heading into the city it's 10-15 minutes on the U-Bahn depending on what stop you're going to.
Location: Close to the airport
Vibe: Quiet, chill
Kitchen: Yes
Workspaces: Work-friendly spaces downstairs
Curtains: No
Find out more about MEININGER Frankfurt >>
---
Best hostels in Switzerland
Balmers, Interlaken
I stayed in a 4-bed mixed dorm in October 2019
Highlights:
Cosy and homely vibes
Super affordable for Switzerland
Great social atmosphere
This hostel has a special place in my heart from a stressful day in Switzerland. I lost my wallet but didn't realise until the very end of the day when I went to pay for my (very expensive) fondue dinner, after doing a full day walk around the lakes. Luckily I could pay with Apple Pay but then my bank cancelled my card so that didn't work anymore, and I cried to the hostel front desk out of pure exhaustion and being pushed to the edge! They gave me a new key without additional fee and even let me have a free cider from their fridge, and sat with me until I calmed down. So cute!
Balmers is by far the best place to stay in Interlaken for anyone on a budget, they've got basic but comfortable dorms and private rooms, a brilliantly social atmosphere, chill out space including indoor and outdoor hammocks, and it's easy to walk into town or out to restaurants and bars.
Location: 10 minute walk to town centre
Vibe: Friendly, social, fun
Kitchen: Yes
Workspaces: Plenty of common areas where you could work
Curtains: No
Find out more about Balmers Interlaken >>
---
Ski Hostel, Liddes
I stayed in a 6-bed female dorm in December 2022
Highlights:
Incredible cheap ski packages with lots of inclusions
Great location within 30 minutes of three local mountains as well as world-class ski resort Verbier
They run digital nomad 'workations' where you can meet other nomads and split your days between working, skiing and exploring
If you're looking for a budget-friendly winter getaway, I reckon Ski Hostel is the cheapest place to ski in Switzerland. Their week-long ski packages start from only €800 and include dorm accommodation, two meals a day, airport transfers, a ski pass to local mountains and mountain transport. That's less than €115 per day which is crazy cheap for Switzerland.
A friend and I took a whirlwind trip to Liddes between Christmas and New Year 2022 and had an epic time. We met travellers from all over the world, enjoyed hearty meals including a traditional pasta from the region as well as typical Swiss fondue, spent a few days up on the mountain and I managed to get work done too.
Ski Hostel also offers co-living for digital nomads in Switzerland which is on my list to try in 2023.
Location: In a small Swiss ski town but with mountain transport included
Vibe: Typical ski chalet but with a social atmosphere
Kitchen: Yes plus packages include breakfast and dinner
Workspaces: Lots of table space for you to work
Curtains: No
Find out more about Ski Hostel >>
---
Best hostels in Austria
JO&JOE Vienna
I stayed in a private room in November 2022
Highlights:
Amazing common areas (including a rooftop terrace) and super cool interior design
Fun events on every day
Excellent facilities and food/drink options
JO&JOE was probably my favourite hostel I stayed in during my recent two month Europe trip. Funky interior design, a variety of common areas depending on the vibe you're looking for (sun-soaked rooftop, chill out bean bags, social hang out space with music), and a great location for exploring Vienna. The hostel is even in the same building as an IKEA, literally take one flight of stairs down and you're at the IKEA restaurant! There are loads of events on, during my short stay I saw drag karaoke, movies on the projector, a salsa class and more.
I stayed in a private room which was huge and had a private bathroom, but the dorms look pretty cool too. According to reviews there are privacy curtains on the bottom bunks but none on the top, so request a bottom bunk if you need darkness to sleep.
JO&JOE also has locations in France (as well as Brazil and Colombia) and their Paris location is apparently top-notch, so hopefully I'll try it out during my next Europe visit.
Location: Right next to a main public transport hub
Vibe: Really social on the main floor (common area), quiet and comfortable on the floors where the rooms are
Kitchen: Kitchette facilities available including microwave, kettle and fridges
Workspaces: Plenty of space downstairs, on each floor and even some meeting rooms you can book
Curtains: Privacy blinds on the bottom bunks
Find out more about JO&JOE Vienna >>
---
Best hostels in Italy
Yellowsquare Florence
I stayed in a private room in December 2022
Highlights:
Social, chill atmosphere
Rooftop bar and pool (!)
Easy access to city centre
Yellowsquare is a fantastic option for anyone looking to meet fellow travellers, they have a really social vibe with great common areas and a bunch of events, including free pasta night, cooking classes, city tours and more. The dorms look simple but comfortable, I stayed in a private room which was huge, had a desk, and even had a private terrace, and there's a rooftop pool (open seasonally) which is one of the coolest hostel facilities I've ever seen!
Location: 2 mins away from a tram station with a short tram trip to the main station and city centre
Vibe: Super social but not too hectic
Kitchen: Yes
Workspaces: Dedicated co-working area
Curtains: No
Find out more about Yellowsquare Florence >>
---
Ostello Bello Grande, Milan
I stayed in a 5-bed female dorm in October 2022
Highlights:
Great party hostel
Excellent location next to Milano Centrale
Decent facilities
Ostello Bello is an Italian hotel chain with locations across the country, and their Grande hostel is a huge hostel just a short walk from Milano Centrale station. Ideal if you're arriving and/or departing by train.
What I loved most about this hostel were its facilities, there was a big kitchen upstairs with free pasta, canned tomatoes, some fresh fruit and sweet treats, a rooftop terrace to relax on a hot day, and a bunch of events which included things like a pub crawl, quiz night, speed dating and more.
I stayed in a dorm and I'd say it was a basic backpackers dorm room, no curtains on the beds and not much space but comfortable enough. Great to meet people and would be ideal for budget/first-time travellers, but when I go back I'll be choosing a private room to get a better night's sleep and have my own space.
Location: Ideal, right next to the main train station
Vibe: Social, bustling
Kitchen: Yes
Workspaces: Yes
Curtains: No
Find out more about Ostello Bello Grande >>
---
Best hostels in Hungary
Flow Spaces
I stayed in a private room in November 2022
Highlights:
Calm and peaceful minimalist design
Dedicated workspace
Super cheap!
Budapest has plenty of hostels to choose from but on my most recent trip I purposefully looked for one that was a bit less party-focused and that allowed for a good night's sleep. I discovered Flow Spaces, a highly-rated hostel that prides itself on its easygoing, relaxing vibes, exactly what I felt like.
There are still plenty of chances to party if you want (you can book for a pub crawl with other guests) but the hostel chill out spaces are clean, light and bright with a shared kitchen and dedicated quiet work area too.
I stayed in a private room which was perfect for me, really comfy mattress, natural light, high-speed WiFi and air con. The hostel was a short walk from Great Market Hall and had easy access to public transport.
Location: Close to public transport to get anywhere you need to go
Vibe: Chilled out
Kitchen: Yes
Workspaces: Yes
Curtains: Yes
Find out more about Flow Spaces >>
Other hostels I've stayed at in Budapest:
Das Nest – funky hostel in the Jewish Quarter that I really loved when I stayed back in 2019, I just don't remember enough about it to write up a full blurb!
---
Best hostels in Bulgaria
Hostel Mostel, Sofia
I stayed in a private room in 2019
Highlights:
Extremely cheap and room rate included breakfast and vegetarian dinner
Very friendly, helpful staff
Great atmosphere to meet other travellers
Hostel Mostel is kind of an old school European backpacker hostel but in the best way possible, offering cheap and cheerful rooms, included meals, and lovely staff who go out of their way to help. If you'd like to explore beyond Sofia you can just chat to the front desk and they'll suggest some travel plans for you, and will likely even be able to connect you with other travellers also looking to head into the mountains or to Rila monastery.
Location: Right next to three tram stops
Vibe: Classic backpacker hostel
Kitchen: Yes
Workspaces: Not dedicated but areas to work
Curtains: No
Find out more about Hostel Mostel >>
---
And there you have it, the best hostels in Europe that I've stayed in so far. I'll be updating this list as I continue my travels so keep checking back to see what epic hostels have been added!
MORE EUROPE BLOGS YOU MIGHT LIKE: