Week #15 of my 52 in 52 project took me to Amsterdam, but to escape the craziness of the ADE dance music festival and to avoid contributing to the city's problem with overtourism, I decided to spend most of my time in nearby Rotterdam instead. When I wasn't exploring the city's best food haunts and street art, I was sleeping and working at the epic CityHub Rotterdam capsule hotel. Read on for my CityHub Rotterdam review!
YOU MIGHT ALSO LIKE: Why you should visit Rotterdam instead of Amsterdam
What's CityHub like?
CityHub is an ultra-modern accommodation option built for Millennials, combining cost-effective comfort and digital tech to build the ideal place to stay for young travellers.
They have capsule hotels in both Amsterdam and Rotterdam, and I seriously hope they expand into more cities in Europe because I love them!
CityHub prides itself on its tech-forward approach, with customers able to contact CityHub hosts (like their concierge) 24/7 in their app as well as control lights, sound and air con in your Hub. The hosts are brilliant, with loads of local tips for the city.
How was the capsule?
The capsule, or Hub as they call it, was HUGE compared to a dorm bed. It's probably queen-size, with a comfy mattress perfect for a decent night's sleep.
The Hub has lights and speakers which you can connect via bluetooth and control with your phone, storage space for clothes, and a window to let some sunlight in. There's also super speedy WiFi, air conditioning and power plugs plus USB plugs for easy charging.
To get into your Hub you've got a wristband that doubles as a room key.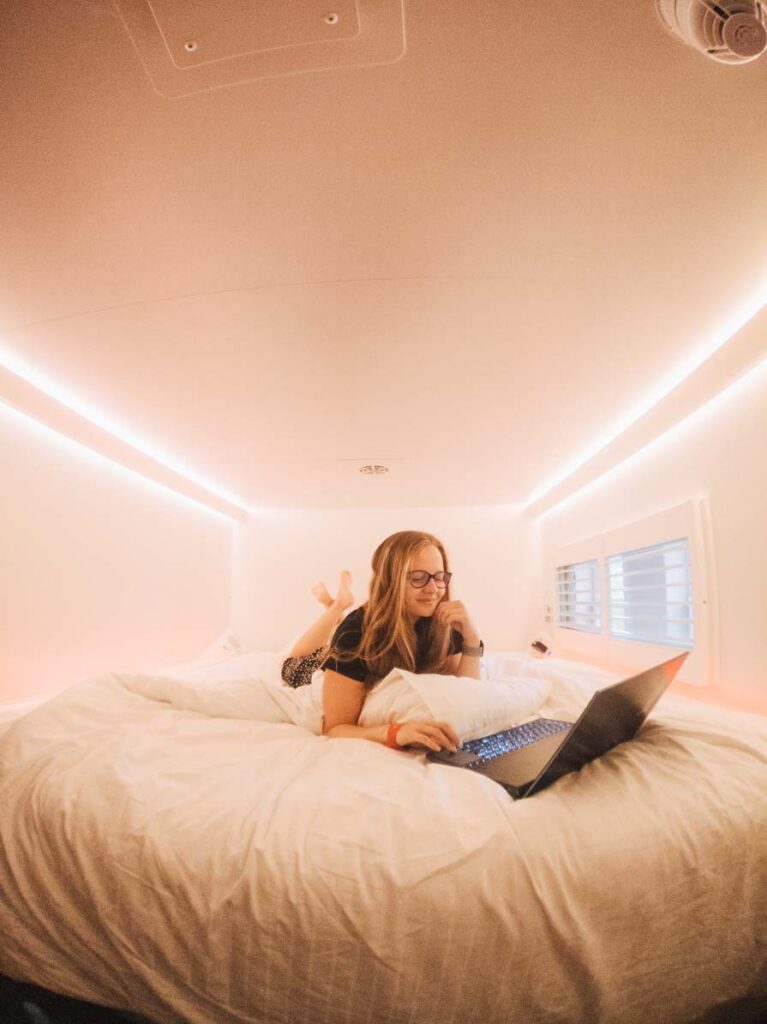 How about the facilities?
CityHub Rotterdam has separate bathrooms for men and women, with decent showers, Rituals toiletries and hair dryers.
Downstairs there's a lobby with seating space for hanging out with travel buddies and working, a vending machine, a coffee machine and a fridge for shared use.
There's also a bar with beer taps, connected to your wristband/room key so you can pay your tab when you check out. Genius!
Where is CityHub Rotterdam?
CityHub Rotterdam is located on Witte de Withstraat, one of Rotterdam's most thriving streets with a pumping entertainment, culinary and bar scene.
It's a short walk to the Coolsingel shopping street, and easy access to a number of tram stops and the Eendrachtsplein and Beurs metro stations.
Does CityHub serve food?
CityHub Rotterdam doesn't serve food but you can order breakfast at the café next foor for €10, or visit one of the many (and I mean many!) other cafés and restaurants in the area.
The verdict
I love the privacy and comfort of hotels but I also love the community aspect and, of course, the price of hostels, but CityHub Rotterdam literally has the best of both worlds.
Absolutely perfect for solo travellers, digital nomads or couples wanting to save money but have a good night's sleep in a fab location amongst all the action. My fingers are crossed that CityHub expand into more European cities in the coming years!
Looking to somewhere to stay in Rotterdam? Search for hotels on your travel dates right here.
Read more about my 52 in 52 adventure here, see all of my blog posts from the trip here, or check out my Instagram @findingalexx to see all of my travel photos.
All the basic details from my big 52 in 52 trip:
How do you find your flights? Skyscanner! I use the Everywhere tool to find the cheapest place to fly to each Tuesday
Do you fly every week? Not every week no, once I have the destination I check trains and buses to see if there's any other transport options aside from flying. If so, I usually book these using the Trainline app.
How do you book your accommodation? I book all my hotels, hostels and apartments on either booking.com or Hostelworld.
Do you have travel insurance? YES, I always travel with travel insurance and you should too. I'm insured for an annual policy with Worldcare NZ.
Do you offset your carbon credits? I sure do! I always offset when I book if the airline gives me the option (Ryanair does), and I also offset all my flights using Co2nsensus.com.
What luggage do you travel with? I travel with a 75cm Samsonite Cosmolite suitcase, a matching Samsonite Cosmolite 55cm cabin luggage hardcase, and a cheap laptop backpack.
What camera do you use? You can see the full list of what's in my camera bag right here.
What laptop do you use? I have a super portable HP Spectre x360 13.3″ laptop, which is an absolute dream to travel with.
For more FAQs about my 52 in 52 trip, see this post.
Huge thanks to CityHub Rotterdam for hosting me for two nights. As always, all opinions are my own and are based on my experience.