Please note this blog contains affiliate links that give me a small commission from any purchase, at no extra cost to you. I would never advertise anything I wouldn't use myself, and this commission helps Finding Alexx reach more travellers. Thank you for supporting me!
Tossing up whether to spend your Netherlands holiday in Rotterdam vs Amsterdam? Here's why I chose to escape the main city and head to Rotterdam instead.
Week #15 of my 52 in 52 trip took me to Amsterdam, one of the most enchanting cities in Europe (and probably the world!). Amsterdam's charms attract over 15 million tourists each year, but while tourism is obviously a key contributor to the capital's economy, the city's bike lanes, narrow streets and coffee shops can't handle the amount of people coming to see them.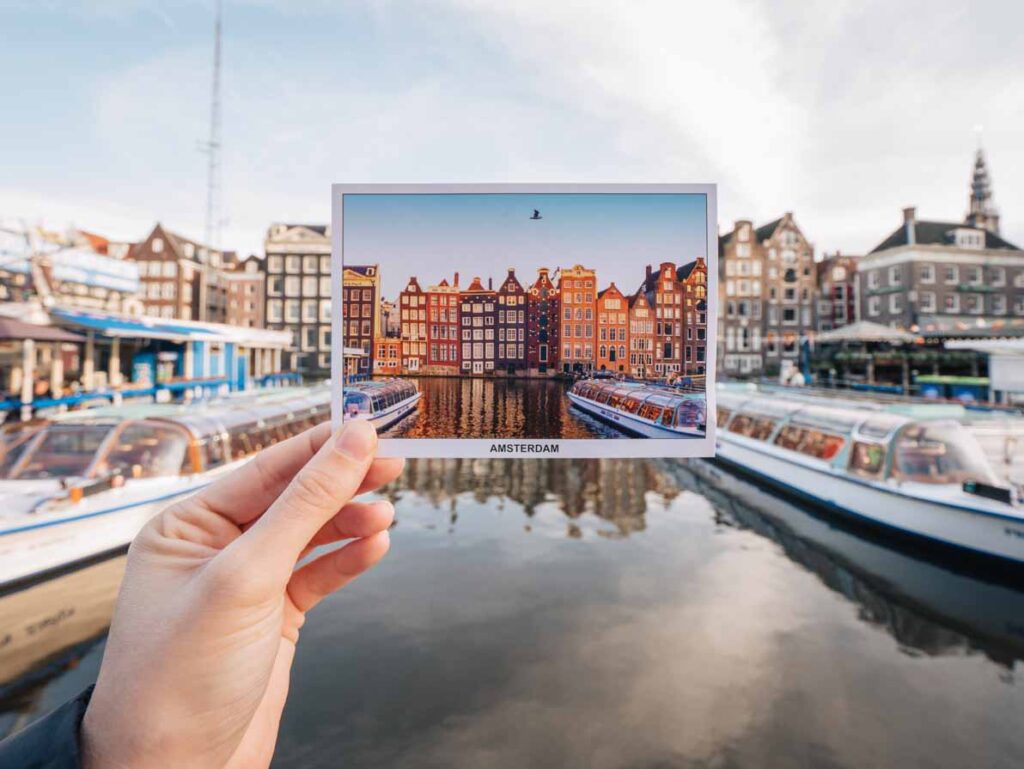 Overtourism in Amsterdam has become so serious that the tourism board has stopped promoting the city at all, instead focusing their time and money on managing tourism rather than encouraging more. To make the craziness even worse, my trip coincided with ADE, a huge dance music festival and conference with more than 1000 events over five days. Yikes!
YOU MIGHT ALSO LIKE: My ultimate Paris travel guide
To avoid adding to the mass tourism problems Amsterdam is facing (and to escape the chaos myself), I decided to look into the best cities in the Netherlands and choose somewhere else instead. After tossing up between cities like the Hague, Utrecht, Delft and Groningen, I locked in five days to experience the Netherlands' second-biggest city, Rotterdam.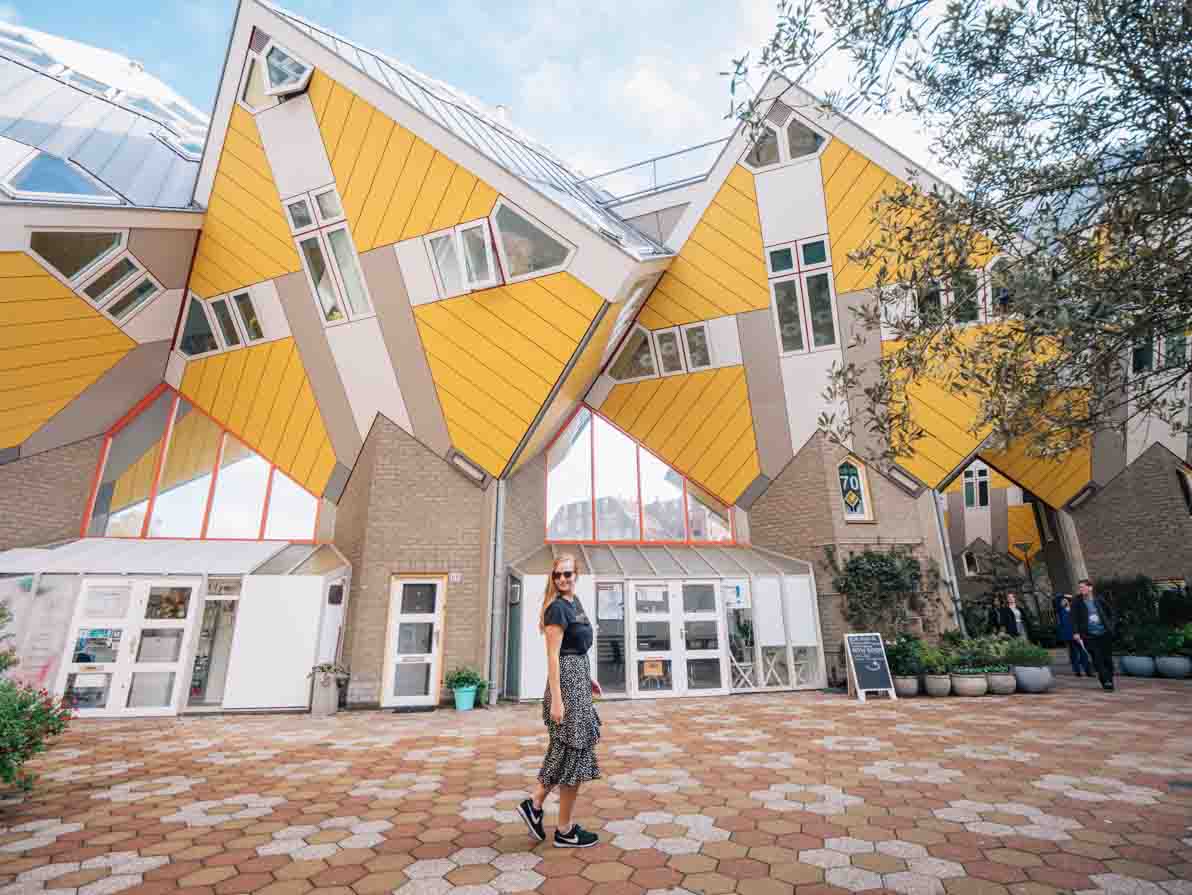 If you're looking for an alternative to Amsterdam, or if you're trying to decide whether to visit Rotterdam or Amsterdam, here are five reasons why you should choose the former, along with the best things to do in Rotterdam, where to stay, and how to get there.
---
TRAVEL TIP:
I find all my flights using Skyscanner! You'll get the best deal if you're flexible on where to go. Just put in your origin, your departure date (or month) and type 'everywhere' into the destination bar to see the cheapest locations to fly to on your next holiday.
---
Or skip straight to:
---
Rotterdam vs Amsterdam? Five reasons to visit Rotterdam
1. The food
My one regret from my week in Rotterdam is that I didn't have enough money to really get amongst the incredible food scene! From wallet-friendly kebab shops and street food stalls to Instagrammable brunches and fine dining with a contemporary twist, Rotterdam is the ideal destination for any foodie.
Head to Poffertjessalon Seth for the best poffertjes in town (like a small fluffy pancake), visit Lilith's on a Sunday morning to eat (and snap) Açaí bowls and stacked pancakes made for the 'Gram, and stop by Panzero for a super cheap panzerotti for lunch, a south Italian deep fried calzone. If you're looking for somewhere with loads of variety, check out Markthal or Fenix Food Factory.
YOU MIGHT ALSO LIKE: FAQs about my 52 countries in 52 weeks trip
Travelling with a group of fellow food fiends? Don't miss Hotel Bazar on the Witte de Withstraat, one of the main streets for eating and drinking. Open til midnight Sunday-Thursday and 1am on Fridays and Saturdays, Hotel Bazar serves up delicious Middle Eastern and North African platters, small plates and main dishes all day and night, perfect for sharing with friends.
2. The architecture
Rotterdam was bombed early on in World War II, and more than 30,000 buildings in the city and surrounding areas were destroyed. The city has since been rebuilt, but it looks totally different to the magical canals and tall, narrow houses you'll find in other cities in the Netherlands.
Expect to see modern, innovative and dynamic architecture all through the city, from the famous yellow Cube Houses to the striking Erasmus Bridge to Centraal Station, which looks like it's straight out of an Avengers movie.
3. The prices
While the Netherlands as a whole is on the more expensive side of the cost of living spectrum for European countries, Rotterdam's got a whole lot of cheap eats for travellers on a budget, plus hotels and hostels are cheaper on average than you'll find in Amsterdam.
YOU MIGHT ALSO LIKE: How I can afford to stay at world-class hotels without blowing my budget
You can explore easily by bike so no need to pay for public transport, some amazing street art and installations, you can get cheap watertaxis to see the city from the water for under €5, and there's loads of live music down Witte de Withstraat on weekends for little to no entry fees.
4. The location
Rotterdam is super easy to get to from Amsterdam, the UK, or other European cities. To get from Amsterdam to Rotterdam you can take the Intercity Direct train for €16.20, which gets you to Rotterdam from Amsterdam Centraal in 41 minutes.
If you're landing at Amsterdam Schiphol airport, you can jump on an Intercity Direct to get you to Rotterdam in about 25 minutes for €15.60.
Looking for how to get to Rotterdam from London? The Eurostar now runs a direct train from London to Amsterdam, and prices start from €40 one way.
---
TRAVEL TIP:
If I need to book a bus or a train in Europe, I use Omio! They show you the cheapest and fastest ways to get from A to B anywhere in Europe.
---
5. The shopping
Okay, the Netherlands as a whole has some gorgeous boutiques and local chain stores that you'll find in Amsterdam too, but in Rotterdam there's less people to jostle with for a spot in the changing rooms!
One of my favourite finds in Rotterdam was Costes, a chain store (I think it's from the Netherlands?) with a huge range of classy but casual clothes, the exact look that the Dutch are famous for. The prices and styles are similar to Zara and Mango, but it was nice to find a shop that I haven't seen in all the other European cities I've visited so far.
Another shop that made me cry about already having a full suitcase was Unc. Wardrobe, which had rails and rails of boutique dresses, coats and accessories. They're also a Dutch company and they have an online store if you want to see their full range.
If you're looking to add some retro looking pieces to your wardrobe check out Very Cherry, sneakerheads need to visit SEVENTYFIVE and WOEI, and for unique souvenirs head to Donner bookshop.
---
Where to stay in Rotterdam
Best budget Rotterdam hotel: CityHub
CityHub Rotterdam is one of the coolest places I've ever stayed. And I've stayed at plenty of different hotels and hostels! You all know how much I love pod hotels (and if you didn't, now you do) and CityHub is the ideal set up for a budget-friendly, private, comfortable pod hotel room. I was hosted by CityHub for one night but I wish I stayed way longer.
Everything about CityHub is efficient and tech-forward, like the computerised check-in and check-out, bracelet room keys that double as the way to pay for your coffee, beer or spirits, and the app which lets you control your room's light colour and brightness, set a wake up alarm, and chat 24/7 with a local concierge if you need any city tips.
The pods themselves are built for two people, with a double bed, plugs on each side, storage space with shelves and a clothes rail, and a full-length mirror. Your pod even has a bluetooth speaker system to stream music to! The mattress is super comfortable, and gave me the best sleep I'd had in weeks.
There's a shared kitchen with a fridge, kettle and microwave, a hangout area with plenty of desk space and seats for relaxing or working, and the shared bathrooms on each floor were perfectly clean, and even had Rituals shampoo, body wash and hand lotion. What a treat!
This place is absolutely perfect for any digital nomads, solo travellers or couples looking for somewhere comfy but easy on the wallet. I would go as far as saying that if CityHub were in more places around the world, I would stay at every single one. I'm a CityHub fangirl now!
Check your travel dates for CityHub Rotterdam here to see current prices and availability.
Best Rotterdam hostel: King Kong Hostel
I spent three nights at the super cool King Kong Hostel in Rotterdam, and would recommend it for anyone on a tight budget looking for a social place to stay. It's located on Witte de Withstraat, one of the main streets for restaurants and bars, and it's got its own café and bar on the ground floor.
I stayed in an 8-bed female dorm with a private bathroom for €25 a night. The rooms are basic, with bunk beds (no curtains unfortunately) and storage lockers. There's a shared kitchen with a microwave, stove top and a fridge, and you can get a buffet breakfast for €7.50 or order off the café menu.
The staff were all really friendly and helpful, with some great tips on places to eat and drink nearby. The rooms are basic but it's got a really good vibe, and it's one of the cheapest places to stay in the city.
Check your travel dates for King Kong Hostel here to see current prices and availability.
Best luxury hotel in Rotterdam: Hotel New York
If you're looking for a fancy place to stay in Rotterdam, you can't go past the ultra-sophisticated Hotel New York. Located in an early 1900s historic building, previously the head office of the Holland America Line, this elegant hotel has a café/bistro as well as the NY Basement cocktail bar/restaurant, plus an outdoor terrace with brilliant views over the river if you're lucky enough to be there on a warm day. Prices start from €110 for a double room.
Check your travel dates for Hotel New York here to see current prices and availability.
Looking for somewhere to stay in Rotterdam? Check out all the hotels and apartments Booking.com, and don't forget to sort by 'review score and price' to see the best value options first.
---
Have you ever considered visiting Rotterdam? Or have you been already and have some other reasons why everyone should put it on their bucket list? Tell me in the comments below!
Like this blog? Pin it!
Read more about my 52 in 52 adventure here, see all of my blog posts from the trip here, or check out my Instagram @findingalexx to see all of my travel photos.
---
All the basic details from my big 52 in 52 trip:
How do you find your flights? Skyscanner! I use the Everywhere tool to find the cheapest place to fly to each Tuesday
Do you fly every week? Not every week no, once I have the destination I check trains and buses to see if there's any other transport options aside from flying. If so, I usually book these using the Trainline app.
How do you book your accommodation? I book all my hotels, hostels and apartments on either booking.com or Hostelworld.
Do you have travel insurance? YES, I always travel with travel insurance and you should too. I'm insured for an annual policy with Worldcare NZ.
Do you offset your carbon credits? I sure do! I always offset when I book if the airline gives me the option (Ryanair does), and I also offset all my flights using Co2nsensus.com.
What luggage do you travel with? I travel with a 75cm Samsonite Cosmolite suitcase, a matching Samsonite Cosmolite 55cm cabin luggage hardcase, and a cheap laptop backpack.
What camera do you use? You can see the full list of what's in my camera bag right here.
What laptop do you use? I have a super portable HP Spectre x360 13.3″ laptop, which is an absolute dream to travel with.
For more FAQs about my 52 in 52 trip, see this post.
Big thanks to CityHub Rotterdam for hosting me for one night. As always, all opinions are my own and are totally based on my personal experience.