Please note this blog contains affiliate links that give me a small commission from any purchase, at no extra cost to you. I would never advertise anything I wouldn't use myself, and this commission helps Finding Alexx reach more travellers. Thank you for supporting me!
In week four of my 52 in 52 adventure, I had a whole week in Poland's fascinating capital city, Warsaw. I spend a whole week in one hostel, which is almost unheard of, and in my opinion it's the best hostel in Warsaw. Here's a full review of DREAM Hostel.
YOU MIGHT ALSO LIKE: The best things to see and do in Warsaw
What's DREAM Hostel like?
DREAM Hostel is one of the highest-rated hostels I've stayed at, with an average rating of 9.4 on Hostelworld from over 2000 reviews. That's a lot of happy guests!
Aside from the fact that it's super easy on the wallet (dorm beds start at only €10 a night), the hostel itself is perfect for any type of budget traveller, whether you're solo or travelling with friends. They've got a full kitchen, an onsite bar with nightly happy hour, washing machines and dryers, dorm rooms and private rooms, and really friendly staff who are always happy to help.
DREAM Hostels is actually a chain with 10 locations in Europe, spread across Poland, Slovakia, Ukraine and the Czech Republic. They pride themselves on providing everything a young traveller needs – WiFi, guest laptops, air conditioning and heating, laundry facilities and more – for a really competitive price. I'm not visiting any of the other three countries on this trip just yet, but if I do I'll 100% be booking to stay at the local DREAM.
How was the room?
I spent five nights in a dorm room and two nights in a private twin room when my buddy Jack came out to see me.
The dorm rooms were fantastic, my favourite type of hostel dorm set up. Each bed had a privacy curtain, a shelf between the bed and the wall for easy storage, your own plug and a light. Underneath the bunks there were lockers for anything you didn't want in your little bed nook. These dorms had shared bathrooms which were always clean and I never had to wait for one to be free.
The private room was equally as nice, and it's always a treat for me to have my own space! The beds were comfy, there was loads of space for me to unpack and completely repack my suitcase, and the bathroom was decent.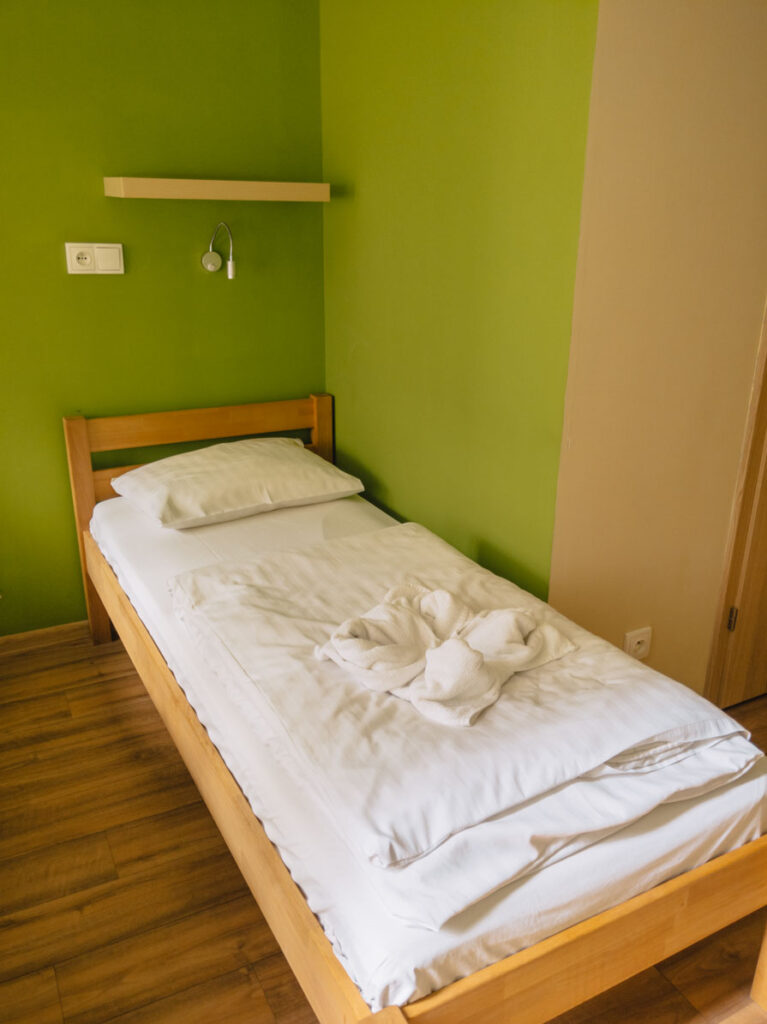 Where is DREAM Hostel?
The location of this place is literally unbeatable. Walk outside, turn left, walk for about sixty seconds and you're at Castle Square, the huge open space that leads into Old Town. So ideal!
There's so much to do in this area of Warsaw, and having a hostel so close means you can pop home for an afternoon nap or to charge your devices before heading out again in the evening. If you get hungry there's restaurants all around, from chain cafés to street food stalls to traditional eateries.
Does DREAM Hostel serve food and drink?
Breakfast isn't included in all bookings but you can order some from the bar/café upstairs for about €4.
They've also got a nightly happy hour from 6-8pm where you can get a local beer for 5 PLN (€1.15)!
There's also some fantastic eating options nearby. I'd recommend popping down to Zapiecek for some dumplings, you can get nine for 28 PLN (about €6.40) and you can mix and match all the different flavours.
Anything else to know about the hostel?
The hostel staff are absolute legends, and can help you with any city plans. They've got some great tour suggestions and can set you up with a ticket to the best pub crawl in town. Disclaimer: Polish vodka is stronger than you'd expect, so pace yourself. And yes, that's coming from experience.
The upstairs area is a really decent size, with more than enough space to eat your home-cooked meal, have a bevvie or five with your new hostel friends, or just chill out and watch some Netflix.
The verdict
DREAM Hostel was absolutely perfect for a solo traveller. The location is unreal, the rooms are brilliant, there's laundry and cooking facilities which is always a plus, and there are loads of other young travellers to meet and hang out with. AND it's crazy cheap! I'd stay there again in a heartbeat, and I'd recommend it to anyone considering a weekend in Warsaw.
Looking to stay at DREAM Hostel Warsaw? Check your travel dates right here.
Like this blog? Pin it!
Read more about my 52 in 52 adventure here, see all of my blog posts from the trip here, or check out my Instagram @findingalexx to see all of my travel photos.
All the basic details from my big 52 in 52 trip:
How do you find your flights? Skyscanner! I use the Everywhere tool to find the cheapest place to fly to each Tuesday
Do you fly every week? Not every week no, once I have the destination I check trains and buses to see if there's any other transport options aside from flying. If so, I usually book these using the Trainline app.
How do you book your accommodation? I book all my hotels, hostels and apartments on either booking.com or Hostelworld.
Do you have travel insurance? YES, I always travel with travel insurance and you should too. I'm insured for an annual policy with Worldcare NZ.
Do you offset your carbon credits? I sure do! I always offset when I book if the airline gives me the option (Ryanair does), and I also offset all my flights using Co2nsensus.com.
What luggage do you travel with? I travel with a 75cm Samsonite Cosmolite suitcase, a matching Samsonite Cosmolite 55cm cabin luggage hardcase, and a cheap laptop backpack.
What camera do you use? You can see the full list of what's in my camera bag right here.
What laptop do you use? I have a super portable HP Spectre x360 13.3″ laptop, which is an absolute dream to travel with.
For more FAQs about my 52 in 52 trip, see this post.
Huge thanks to DREAM Hostel for hosting me for five nights. As always, all opinions are my own and are based on my experience.