Please note this blog contains affiliate links that give me a small commission from any purchase, at no extra cost to you. I would never advertise anything I wouldn't use myself, and this commission helps Finding Alexx reach more travellers. Thank you for supporting me!
For me, San Sebastian is one of those cities that I had never even heard of and then suddenly a couple of years ago it was everywhere. It's been on my bucket list the whole time I was living in London and I never made it, so I was stoked to be able to include three days in San Sebastian during week #2 of my 52 countries in 52 weeks adventure. Here's a detailed San Sebastian travel guide, as well as what the best things to see, do and eat in San Sebastian.
YOU MIGHT ALSO LIKE: All the FAQs about my 52 in 52 adventure
Or skip straight to: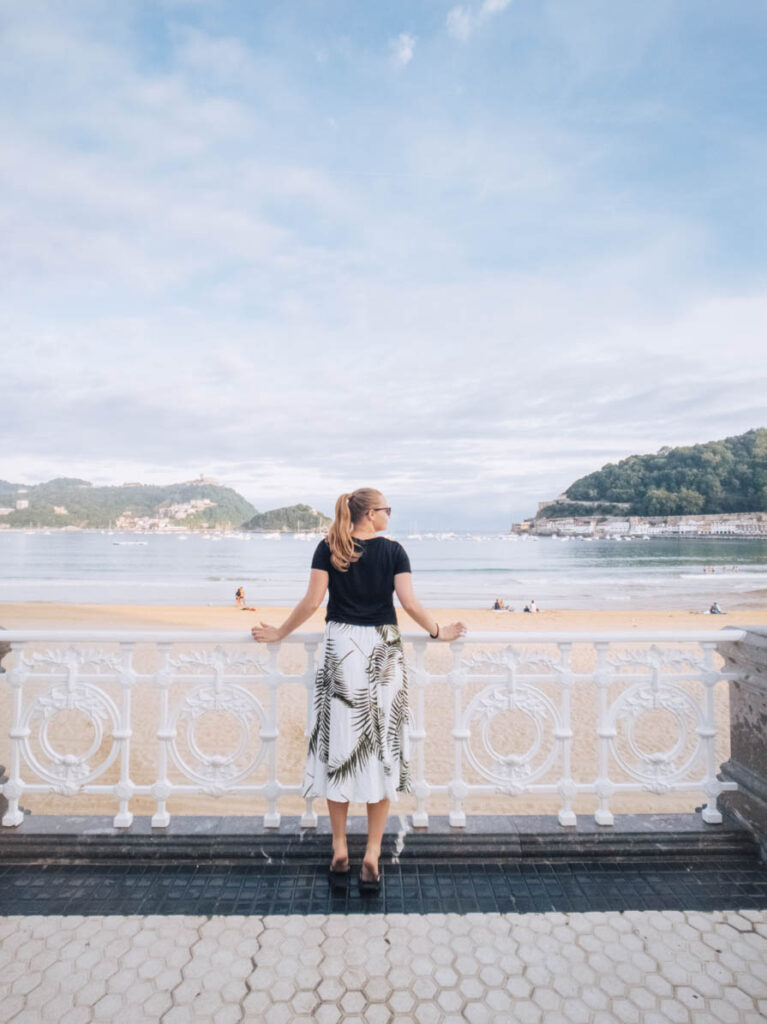 ---
San Sebastian basics
Currency: Euro (€)
How to pay for things: Major shops and restaurants will accept credit card, but most pintxos bars will be cash only
Language: Basque, which is totally different to Spanish. Fun fact, Basque is a language isolate, which means there's no other living languages that are related to it.
Weather: San Sebastian has mild weather all year. Summer temperatures are generally between 15° and 25°C (59° to 77°F) and winter days are usually between 6° and 12°C (43° and 54°F). August has the warmest seas, and due to it being a coastal city it rains all through the year.
Best time to go: I would suggest to avoid the high season of European summer holidays, from late June to late August. I was there mid-July and while the weather was beautiful, the beaches and pintxos bars were jam-packed. I'd recommend visiting just before summer (late April to early June) or once the summer crowds have dispersed (September to October).
---
How to get to San Sebastian
I made my way to San Sebastian by train, after spending a couple of nights exploring the stunning and underrated city of Zaragoza to kick off my second week of my year-long adventure. My train ticket cost €21 one way and it took three and a half hours.
If you're flying to San Sebastian, you have a couple of options. San Sebastian has an airport that's only 30 minutes from the city centre by bus, and the bus costs €2.45, but flights are notoriously expensive. Expect to pay at least £70 return in the off season from London, and likely at least £150-£250 return in summer.
One cheaper option is to fly into Biarritz Airport across the French border, and then catch the 45 minute bus to San Sebastian for €7 each way. You can easily find Ryanair flights for as low as £25 in the low season, or around £65 in high season, so a significant saving.
Your other budget-friendly option is to fly in and out of Bilbao, another Ryanair hub. Return flights in low season are from only £20 and you can fly in high season from £55, but the bus to San Sebastian costs €17 each way and takes about an hour and 15 minutes.
---
TRAVEL TIP:
I find all my flights using Skyscanner! You'll get the best deal if you're flexible on where to go. Just put in your origin, your departure date (or month) and type 'everywhere' into the destination bar to see the cheapest locations to fly to on your next holiday.
---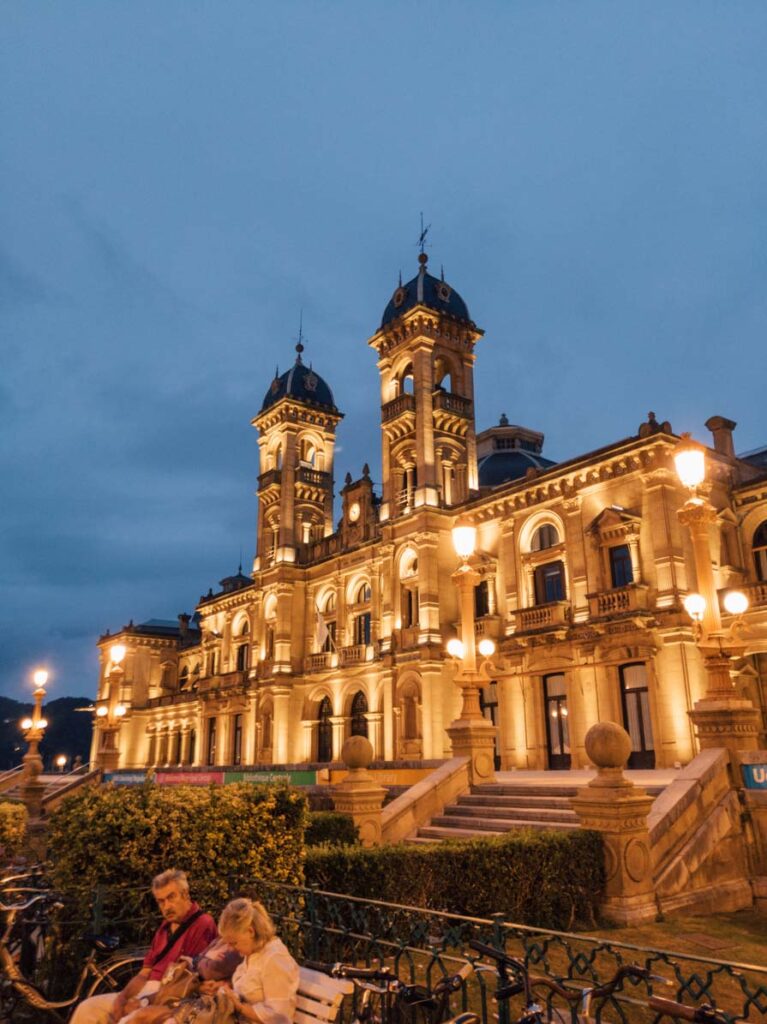 ---
How to get around San Sebastian
San Sebastian is easily explored by foot or bike. There's not much parking available, and the parking that is available is pricey, so it's not a great place to rent a car.
The city centre is small and most of the key things to do and see are within walking distance, plus it's a great way to get in some exercise for all the delicious food you'll be eating! If you're heading out to the beaches on the outskirts of the city you could rent a bike or e-bike and use the fantastic bike lanes the city's set up.
Or if it's wet and you want an easy transport option, there's a decent bus network and it's €1.70 per ride.
---
Where to stay in San Sebastian
Please note that the prices here are based on example dates mid-week in shoulder season, check booking.com for prices and availability on your San Sebastian travel dates. San Sebastian is notoriously expensive for accommodation, especially in summer, so I'd definitely recommend travelling outside of peak season to get the best bang for your buck.
Best budget accommodation in San Sebastian
One of the best hostels I've ever stayed in, and I've stayed in many, is A Room in the City in San Sebastian. It's just a couple of minutes from the beach so the perfect location, and it's housed in a renovated convent, complete with a huge chill out lounge, a nightclub, a rooftop terrace and a restaurant, bar and patio.
I only stayed for two nights but I would happily spend a week in San Sebastian staying at this hostel. The rooms are super spacious and clean, and each bed has a privacy curtain and its own plug, light, shelf and hooks, the ideal set up for a backpacker. There's lockers under each bed, and the locker key (and hostel key) is a waterproof bracelet so you don't have to worry about it getting stolen while you're out surfing or swimming. Hostels in San Sebastian aren't allowed to have full kitchens as it stops travellers from spending money on local food, but they do have a decent kitchen with microwaves and two large fridges.
The hostel bar/café had cheap sangria, plus delish breakfasts like avo and tomato or peanut butter and banana on toast. What a treat! I'd recommend this as my best place to stay in San Sebastian for sure, and they have private rooms too if you're not looking for dorm life. Prices start at about €26 for a dorm bed or €60 for a twin private with a shared bathroom, and you can check your travel dates here.
Best mid-range accommodation in San Sebastian
San Sebastian is one of the most expensive to visit in Spain, even more so than Barcelona and Madrid, so mid-range here means very basic double rooms without any extra facilities.
Two decent options are Pensión Old City House which starts at around €68 for a double with a shared bathroom, or Pensión T5 Donostia, where you can get a double room with a private bathroom from €87.
Best luxury accommodation in San Sebastian
If you're heading to San Sebastian for a treat yourself trip, there's plenty of nicer options if you can afford to splurge. Here's three of my best finds!
This apartment is brand new and right next to Old Town, with a full kitchen, washing machine and space for four people (one double bed and one sofa bed). Shoulder season prices start from about €300 a night.
For an ultra-fancy hotel in the city, the Maria Cristina 5* hotel is the winner. This is where movie stars and Spanish royalty stay when they're in town! A double room will set you back about €250-280 in low season, closer to €350 in shoulder season and probably €550-€650 in summer.
And finally, for a coastal getaway from your dreams, the Akelarre is a couple of kms from the city and is very, very high up on my must-stay list. There's a three Michelin-starred restaurant, a wellbeing and spa centre and even wine tasting on-site. Double rooms start at about €300 for shoulder season, or you can get a suite with a private pool from €550. One day!
YOU MIGHT ALSO LIKE: My ultimate Paris travel guide
---
How much to budget for San Sebastian
If you thought that visiting this small coastal city would be cheaper than Spain's main tourist spots, you're going to be disappointed. San Sebastian is one of the most expensive places to visit in the whole country.
But on the plus side, outside of accommodation and food, you probably don't have too much to worry about.
Swimming is free (obviously!) and if you're going to surf then you'll spend from €30 to rent a board per day, at least €20 per day for a wetsuit, and lessons will cost around €90 for a private lesson or €50 per person for a grouo of four or more.
I didn't spend any money on transport at all because I walked everywhere, but if you think you might use a bus it's €1.70 per ride or you can rent a bike for €5 for one hour, €10 for three or €20 for 24 hours.
Food is probably going to be your main expense, but if you were ever going to splurge on food, San Sebastian is the place to do it. You'll be able to find a cheap breakfast (juice, coffee and a pastry or sandwich) from €5, a healthy takeaway salad for lunch from €8 and a sit-down meal from €15. If you're going for evening pintxos you'll be paying from €1.50 to €4 per pintxo at most places, and a nice restaurant for dinner will probably cost at least €20 for a main meal.
Drinks are from €5 for a house wine or beer, and you can find fancy cocktails from between €8 and €10.
---
The best things to do in San Sebastian
1. A walking tour
If you haven't noticed already, I'm a huge proponent for walking tours to get your bearings! Plus in Europe there are so many free options where you just tip as you please afterwards.
The best free walking tour in San Sebastian is run by the legends at Go Local, a fully local team who know basically everything about the city, from places to eat and drink to the best gift shops to secret sunset views and photo spots. They also pride themselves on their sustainability practices like limiting group sizes, taking their tours to less-visited places and using locally-owned and run restaurants on their food tours.
If you want to explore slightly further afield or get some exercise in, Go Local also offers hiking tours, e-bike tours and bike rental.
2. Hit the surf
Zurriola Beach, just northeast of the Old Town, is the beach of choice for anyone looking to get active. The surf is ideal for beginners and intermediate surfers, and this golden stretch of sand is home to a number of championships throughout the year. Check out Zurriola Surf Eskola if you're looking for board rental or lessons.
3. Treat yourself to a spa day
La Perla Spa is a health and beauty centre that's fit for royals… And it was even the spa of choice for Queen Maria Cristina in the early 20th century. When the queen started spending time in the city over a century ago, the city transformed from a quaint beach town to a hub for Spain's rich and famous. These days the fanciness is still real, with glitzy hotels, Michelin-starred restaurants and spas dotted along the seaside.
Despite its high class clientele, La Perla is still affordable for normal travellers looking for a bit of luxury, with hydromassage baths starting at only €20.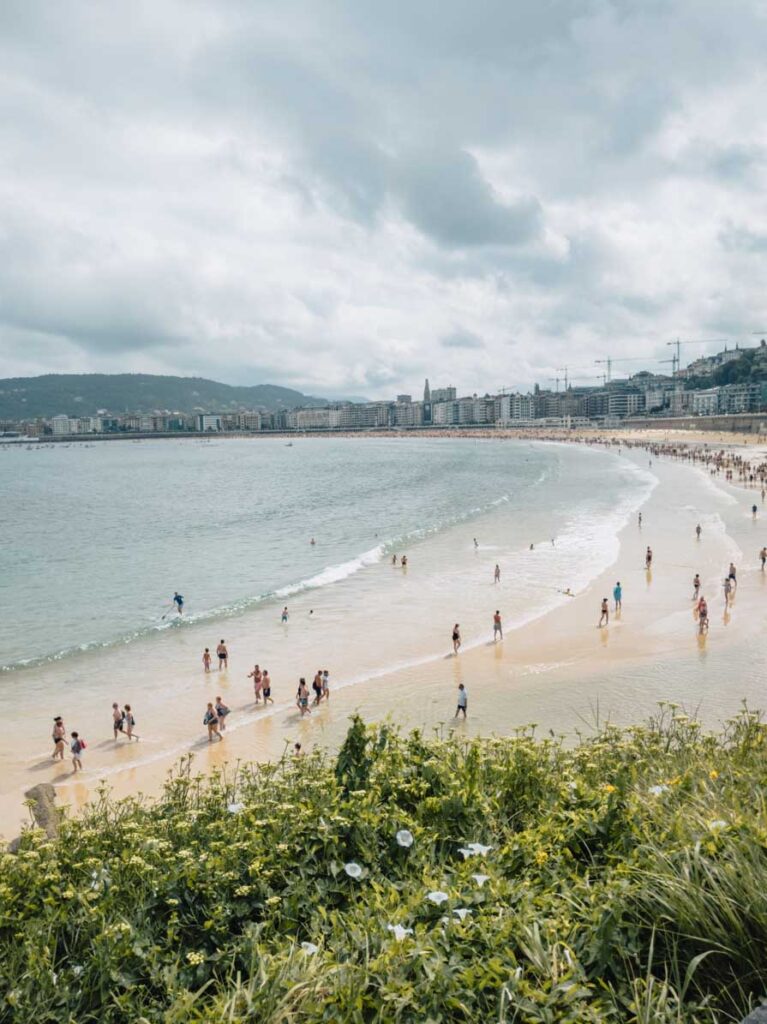 4. Shop up a storm
Let's be real, most European shopping streets look like the exact same mix of Zara, Bershka, Mango and probably a five-storey H&M. And yes, sometimes we're looking for that polkadot maxi dress that every other girl on the continent seems to have.
But if you're looking for one-of-a-kind outfits, beach threads to squeeze into your backpack, or locally-designed jewellery for a souvenir, San Sebastian delivers.
Head to the Gros district for surf shops and antique stores, visit Apartamento 14 to stock up on the funkiest local boutique goods, and see the team at Joyería Munoa in the Old Town for jewellery inspired by La Concha Bay and other San Sebastian hot spots.
5. Get dressed up for San Sebastian International Film Festival
San Sebastian's annual Zinemaldia is one of Europe's biggest film festivals, held every year in late-September. The city is packed to the brim with upcoming movie stars and famous directors, and although hotel prices skyrocket, it's a buzzing time to visit. If you're thinking of going during the festival then I'd definitely recommend booking early and staying at A Room in the City hostel to lock in a bed without breaking the bank.
YOU MIGHT ALSO LIKE: 20 things to do in Zaragoza
---
The best things to see in San Sebastian
1. The view from Mount Igueldo
This is the classic panoramic shot of San Sebastian, but it's well worth seeing it in person. Catch the funicular up to the viewpoint (and amusement park) for €2.30 one way or €3.75 return, or you can walk up steep stairs for about half an hour to reach the top.
Other San Sebastian views worth mentioning are Mount Ulia on the other side of the city, and Mount Urgull in between La Concha and Zurriola beaches.
2. Santa Clara Island
Sitting right in the middle of Concha Bay, Santa Clara is easily accessible by swimming, kayaking or ferry. Once you're there you can float the day away in the quiet little bays, trek to the top of the island or grab a refreshment at the island cafe.
The swim is just over 400m from Ondaretta Beach, at the bottom of Mount Igueldo, or 1.1km from the middle of La Concha beach. There are floating jetties on the way if you need to take a breather. Kayaks can be hired from multiple spots along La Concha, and the ferry costs €5.50.
3. Sunrise and sunset
Whether you're an early bird or a night owl, head to the beach or mountains for either sunrise or sunset and you're guaranteed to witness some incredible colours in the sky.
Mount Urgull is a local favourite to watch the sun set over the Bay of Biscay, or grab a gelato from Old Town and wander down to Zurriola Beach to watch the sky change colour.
For the early risers, Mount Igueldo is the perfect spot to see the sun come up, or pay a visit to La Concha to get in a dip before the rest of the city wakes up.
4. Tabakalera, the International Center for Contemporary Culture
In a huge building that was a tobacco factory for 90 years, the International Center for Contemporary Culture was opened in Tabakalera in 2015, in preparation for San Sebastian being 2016's European City of Culture. These days it's a cultural institution of the city, home to artists, schools, foundations, small businesses and loads more, who are all involved in keeping the Basque culture thriving through art and leisure.
The exhibitions change often and it's hard to describe what to expect, so you should go and experience it for yourself to get an insight into Basque history, art and culture.
5. The mix of modern art and Basque history at San Telmo Museum
San Telmo Museum, known locally as STM, is a newly-renovated museum with an incredible range of exhibitions, from ancient archaeological discoveries from Basque Country to fine art to robotic showcases from Basque engineers.
---
The best things to eat in San Sebastian
Before I start this part of the list, let me just say that the best things to eat in San Sebastian would be EVERYTHING. The city is bursting with world-class eateries, with more Michelin stars per square metre than any other city on the planet. My top two suggestions for foodies in San Sebastian would be 1) do a food tour at the start of your trip to learn about some of the local secrets, and 2) do a full day food crawl through Gros or the Old Town to try lots of small bites at loads of different pintxos bars.
BUT if I have to choose some San Sebastian must-eats (and one drink), these would be them.
1. Pintxo-pote Thursdays for cheap pintxos
Okay, this is a cop out because it's not an actual meal itself, so sue me. Pintxo-pote is a weekly event, where every Thursday a bunch of pinxto bars have a pintxo and a pote (a drink, like a house wine, beer or soft drink) for CHEAP. And by cheap I mean €1 or €1.50 in Amara Viejo district or €2 in the vibrant Gros district.
Head to either of the suburbs armed with stretchy trousers and loads of small change, and you're guaranteed to have the best night of your foodie life.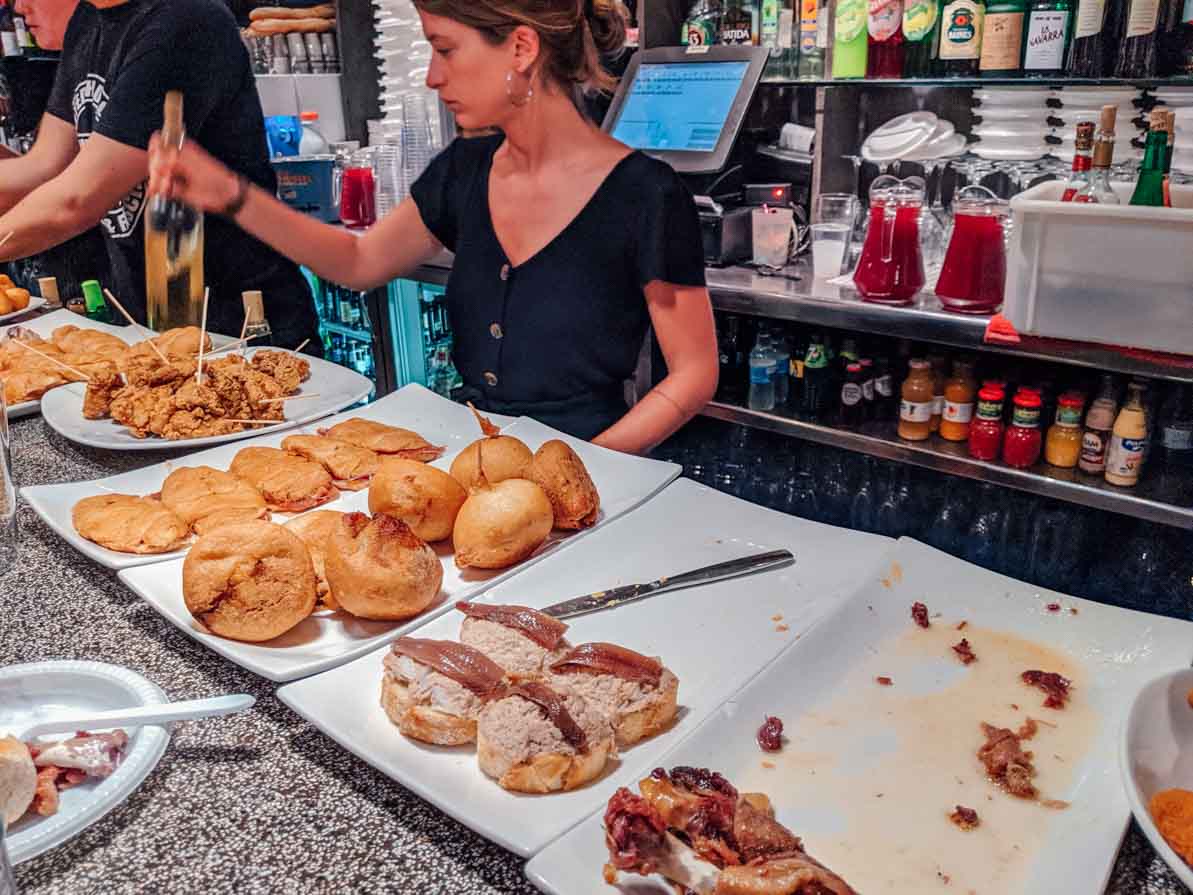 2. A Michelin-starred meal
There's no better place on the planet to try your first Michelin-starred meal than San Sebastian, with over 18 Michelin stars in the 25km radius from the city.
Arzak is a three-star favourite, famous for stunning food presentation and mind-blowing gourmet flavours. Adventurous eaters will love two-star Mugaritz, where you can choose a 24-course degustation menu or alternatively trust the chefs to custom-make dishes to your preference and palate. Then to get a taste of traditional Basque cuisine with a world-class twist, Alameda is a one Michelin star with reasonable prices, perfect for someone wanting a fancy experience without splurging the week's food money.
3. Cheesecake at La Viña
This creamy goodness is the best dessert in the city, hands down. La Viña gets busy in the evenings but it's worth the wait, this traditional Basque dish is probably the best cheesecake you'll ever have in your life.
4. Coffee and brunch at Sakona
Unlike seemingly every human in New Zealand, Australia, the UK and the US, Spaniards just aren't fussed about brunch. In a city that's famous for award-winning gastronomy, the pre-midday offerings are pretty scarce. That is, except for Sakona.
Sakona is one of the only spots in San Sebastian to get a classic eggs, bacon, avo, salmon etc. breakfast, as well as a really legit coffee. It's the perfect place for a brew and an eggs benny after a morning stroll along the river.
5. Get amongst good vibes at Dabadaba
One of the most raved-about nightlife spots in the city, Dabadaba is the place to see upcoming artists, groups and DJs. Their events range massively from punk rock to EDM to indie bands, and they're known for their top notch craft beer selection.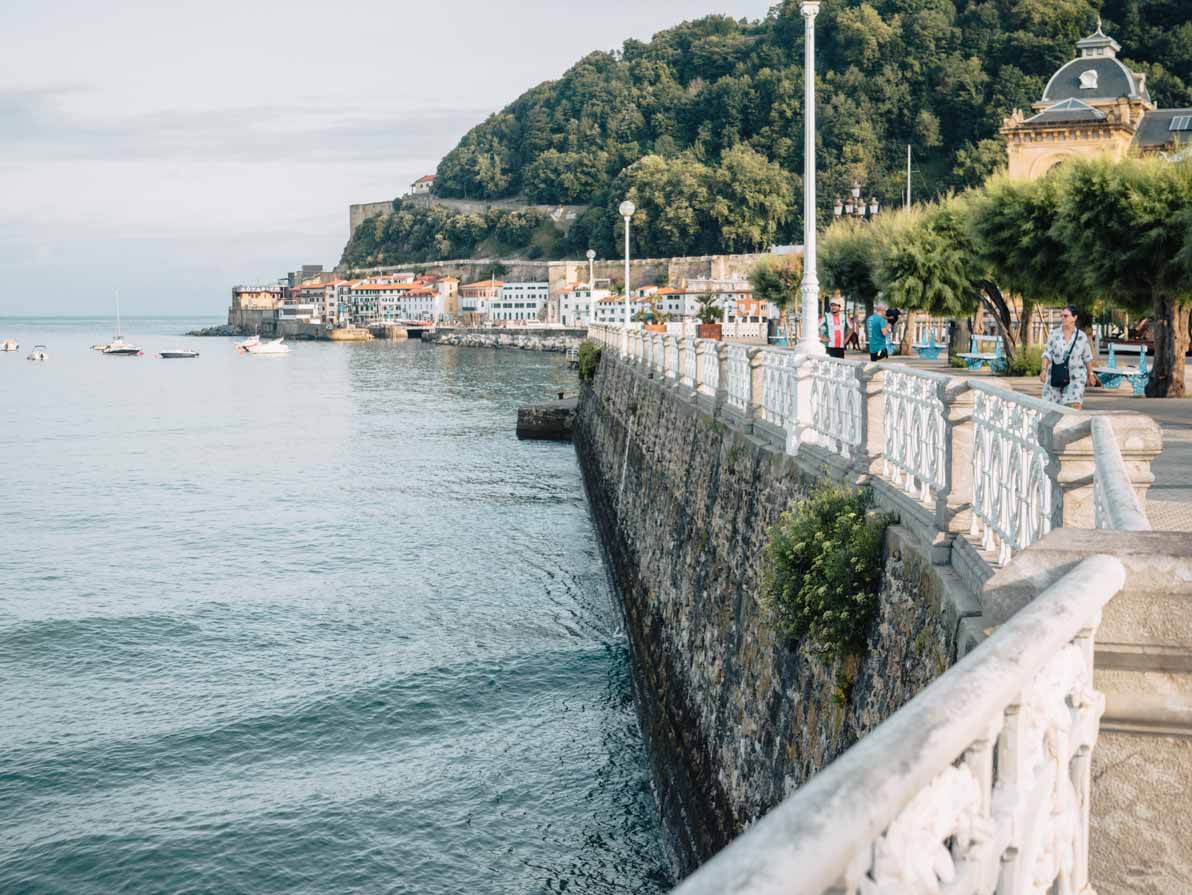 ---
Looking for somewhere to stay in San Sebastian? Check out all the hotels and apartments right here, and don't forget to sort by 'review score and price' to see the best value options first.
Are you a fellow foodie that's dreamed of going to San Sebastian? If you've already visited and have some more tips to share, let me know in the comments below!
Like this blog? Pin it!
Read more about my 52 in 52 adventure here, see all of my blog posts from the trip here, or check out my Instagram @findingalexx to see all of my travel photos.
---
All the basic details from my big 52 in 52 trip:
How do you find your flights? Skyscanner! I use the Everywhere tool to find the cheapest place to fly to each Tuesday
Do you fly every week? Not every week no, once I have the destination I check trains and buses to see if there's any other transport options aside from flying. If so, I usually book these using the Trainline app.
How do you book your accommodation? I book all my hotels, hostels and apartments on either booking.com or Hostelworld.
Do you have travel insurance? YES, I always travel with travel insurance and you should too. I'm insured for an annual policy with Worldcare NZ.
Do you offset your carbon credits? I sure do! I always offset when I book if the airline gives me the option (Ryanair does), and I also offset all my flights using Co2nsensus.com.
What luggage do you travel with? I travel with a 75cm Samsonite Cosmolite suitcase, a matching Samsonite Cosmolite 55cm cabin luggage hardcase, and a cheap laptop backpack.
What camera do you use? You can see the full list of what's in my camera bag right here.
What laptop do you use? I have a super portable HP Spectre x360 13.3″ laptop, which is an absolute dream to travel with.
For more FAQs about my 52 in 52 trip, see this post.
---
Huge thanks to San Sebastian Tourism for providing a free bike tour with Go Local on this trip. As always, all opinions are my own and are based on my personal experience.