Looking for some tips on solo travel in Amsterdam? If you're planning on travelling to Amsterdam alone, here's all you need to know to have an incredible solo Amsterdam adventure.
I've visited Amsterdam three times now, once on a Contiki tour and twice as an independent solo traveller, most recently in December 2022. And while I'm a firm believer of solo travel being an option for many, many destinations around the world, there's no denying that Amsterdam is a particularly safe, simple and straightforward option for any solo trip.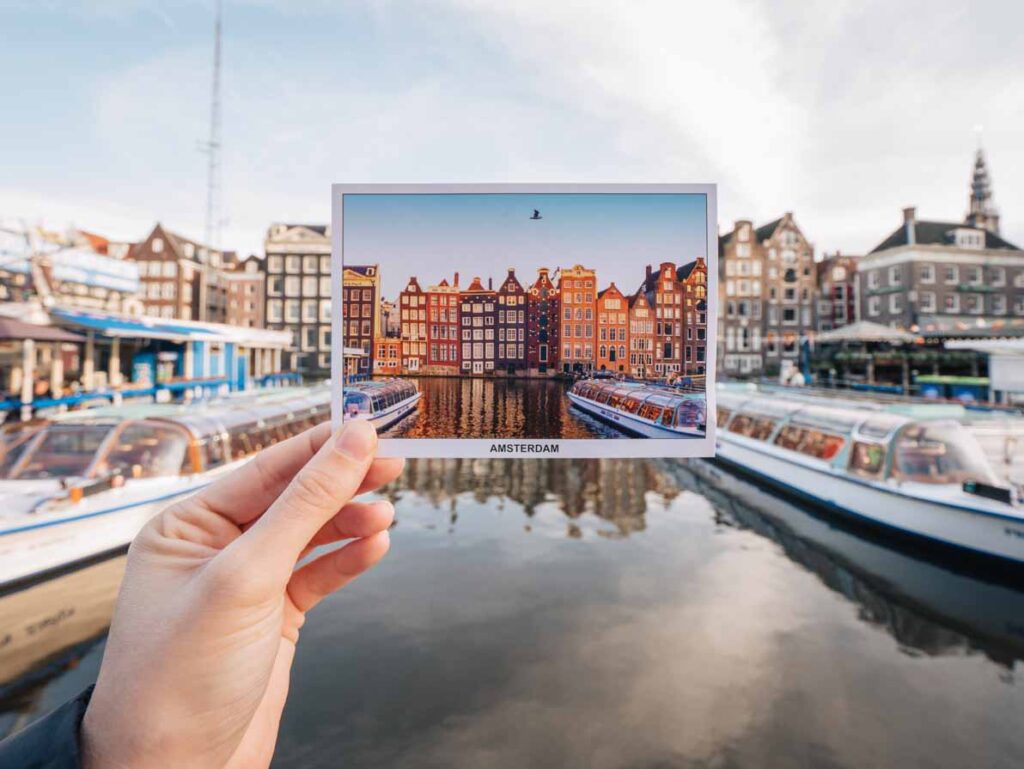 There's loads to do, see and eat while travelling alone in Amsterdam, it's easy to get around the city, and it's super safe with minimal concerns for solo female travellers.
So whether you're looking for a cultured museum-hopping weekend, a chilled out city break or want to dip your toe into Amsterdam's hectic nightlife, here's all you need to know about travelling solo in Amsterdam.
---
Solo travel in Amsterdam
Is Amsterdam safe to travel alone?
Absolutely, Amsterdam is one of the safest solo travel destinations not just in Europe but in the entire world. The Safe Cities Index 2021 by the Economist ranked Amsterdam as the 2nd safest city in the world (behind Copenhagen) in terms of personal security. It's 6th in the world for overall safety when taking into account other factors like infrastructure, digital security, health and environmental security.
As with any city around the globe, there is always a risk for minor crime like petty theft, and tourists are an easy target simply because they're often distracted and less aware of their surroundings. Take the same precautions you would while travelling to other major cities, like putting valuables inside a zipped cross-body bag, keep your phone somewhere secure and not in your back pocket, and avoid having expensive cameras on display if you can help it.
---
Is Amsterdam safe for solo female travel?
Solo female travel in Amsterdam is super safe, I felt perfectly comfortable exploring the city alone on all three of my trips. Violent crime is very low, most streets in the city are well-lit at night, and police are typically trustworthy and reliable here so if you do have an issue, they'll be able to help.
Unfortunately, us women still do need to take additional precautions to protect ourselves while travelling solo which our guy mates would never even think of. Always make sure you've got cellphone reception (roaming or a local SIM card) so you're not reliant on WiFi, avoid walking alone in unlit areas or anywhere you're unfamiliar with, and if you're planning to indulge in Amsterdam's *ahem* treats, make sure you're coherent enough to get home safely without falling into a canal (I imagine this happens often!).
In terms of solo female travel Amsterdam is one of the best destinations in the world for your first solo trip.
---
Why is Amsterdam a good option for solo travellers?
Aside from safety which I've already touched on, Amsterdam is a great solo travel destination for a number of reasons.
Firstly, the city is easy to navigate. I've found that one of the hardest parts of solo travel is that you have to do alllll the travel planning, including figuring out how to get from A to B. In some cities this can be frustrating and time-consuming, and you really feel the disadvantage of being solo! Amsterdam on the other hand is a compact city that's simple to get around, with a grid layout that can be somewhat maze-like at times, but even if you take a wrong turn it'll only add a minute or two onto your journey.
One of the best ways to get around Amsterdam is by bike, which is an ideal form of transport for solo travellers. No need to keep turning around to see if your friend is keeping up with you! Many hotels and hostels have bikes for guests to rent, or you can rent one through the Donkey Republic app or from one of the many bike shops in the city.
Another reason Amsterdam is solo-friendly is that it's a multilingual city where most of the locals speak English, so you'll be able to communicate without any language barriers. There may be a slight negative attitude about tourists in some communities, particularly those that have had house prices driven up by Airbnbs and drunken visitors causing disturbances in the small hours of the morning, but in general I found that Amsterdam locals are really welcoming and very much accepting of solo travellers.
And finally, many of Amsterdam's activities are perfect for a solo adventure. Wander through the museums at your own pace, take a boat ride down the canals, get amongst the city's culinary scene or shop up a storm in cute boutiques and funky thrift stores.
---
Safety tips for solo travel in Amsterdam
Keep valuables out of sight
Just like most major cities, you'll want to make sure your valuables are kept safe in a zipped bag, preferably one that goes across your body. If you're travelling with camera gear then consider getting a camera bag that's low key and inconspicuous, I use this black Brevite Jumper bag and love it, you can loop the zips together so it's harder for any ballsy burglars to undo.
Some travel bloggers encourage you to keep your passport and money in a money belt, but I'm not one of them. Almost everywhere in Amsterdam takes card, so there's no need to be travelling with a wad of Euros anyway. I say keep your passport at your hotel (unless you need it for ID, then have it in your zipped bag) and keep a small amount of cash in your wallet.
Be careful at night
We all know that Amsterdam's nightlife is an absolute hub of hedonism and debauchery, and there are some parts of the city that are particularly seedy after the sun goes down, especially the infamous Red Light District. If you choose to wander through Amsterdam's Red Light District as a solo female traveller you can probably (and unfortunately) expect some hassling from drunk, over-confident losers. They'll most likely be tourists, and they'll most likely be harmless, but it's never fun to be on the receiving end of unwanted attention, and this is one place you are likely to get it.
If you'd like to experience the Red Light District or Amsterdam's club scene as a solo traveller, the safest way to do it would be with an Red Light District organised tour. Many hostels run Red Light District night tours, pub crawls or coffee shop hopping, and this is one way you can see the city by night while also meeting other travellers and enjoying the safety of being in an organised group.
Bike and walk carefully
Honestly the biggest hazard for tourists in Amsterdam is the number of bikes on their roads! Many tourists won't be used to this many cyclists and there are constant accidents where someone has stepped off the footpath without looking, right into the path of a bicycle and getting knocked to the ground.
If you're walking, always be sure to check for oncoming cyclists before crossing the road, and if you like exploring with headphones on, I'd recommend turning noise cancelling off so you can hear for any bike bells to alert you.
If you're renting a bike to see the city on two wheels, you should ask for a helmet to a) protect you from injury if you fall and b) to ensure your travel insurance covers you in the event of an accident. Most locals won't wear one so you might feel like a bit of a dork, but safety comes first! Many travel insurance policies specify that to be covered for medical expenses, you need to take reasonable precautions to reduce the risk of injury, so if you fall off a bike and hit your head without a helmet, you may find that your policy won't cover you.
Consume with caution
Amsterdam's party scene is one key reason why it's so popular with revelling travellers, and whether you're happy to get amongst it solo or you'd prefer to take one of the organised tours, chances are you'll be drinking and/or smoking. Solo travel absolutely shouldn't stop you from doing that, but you do need to be a bit more cautious when you've got no one else in the city you can rely on to help if anything goes awry.
While I wish we lived in a world where solo female travellers could drink as much as they want and still be confident that they'll get home safely, that's unfortunately not reality.
Make friends at a hostel to party with and you might find someone you can trust as a buddy to keep an eye on each other throughout the night, keep track of your drinks and know your limit, and if you're unstable on your feet when heading back to your accommodation, get an Uber to avoid a dangerous stumble home along the canals.
In the Netherlands it's actually illegal to possess drugs however the Amsterdam coffee shops are allowed to sell cannabis under strict conditions thanks to the country's 'tolerance policy'. There are new laws coming into play in May 2023 though, including making it illegal to smoke weed on the streets (you can still smoke in coffee shops), and chances are they'll be stinging people with fines from the get-go to prove that they're serious. There will be a bigger crackdown on hard drugs, and keep in mind that any drug charges on your record can seriously affect your ability to travel.
Restaurants and bars will also have to close by 2am on Fridays and Saturdays, and the old city district will be closed to new visitors at 1am. Amsterdam's nightlife and the bad behaviour that comes with it has had a pretty severe impact on the quality of life of locals so this is them trying to reduce the harm that's being done, time will tell how it goes!
Get travel insurance
This goes for any international trip, but travel insurance is a must-have for Amsterdam. A good travel insurance policy could cover you for a bike crash, your phone being stolen, your flight being delayed due to weather or having to cancel your trip because you got sick a few days before.
I travel with Covermore travel insurance, they're based in New Zealand and Australia and I've only had good experiences with them so far. I've had to make three claims in the past ten months, two were paid out in full within three or four weeks of the claim, and I'm still waiting on the final claim (currently three weeks after I submitted it). My policy is the most comprehensive policy and I always get a long-term policy which covers me for 10-11 months, until the next time I'll be back in New Zealand.
If you're not from NZ or Australia, another good travel medical insurance company is SafetyWing, it's very much built for digital nomads and has really affordable medical plans. Their coverage of things like travel delays, lost checked luggage and stolen belongings is limited though so always check the policy wording before purchasing.
If SafetyWing doesn't suit you then WorldNomads is another option for citizens of many countries around the world.
---
Where to stay in Amsterdam as a solo traveller
There are plenty of hostels, hotels and apartments that are perfect for solo travel to Amsterdam.
Budget | For a chilled out and affordable stay, I love MEININGER Amstel. MEININGER is a hotel/hostel hybrid chain with locations all through Europe, and they offer great value rooms (both dorms and privates) as well as facilities like a shared kitchen, laundry, onsite bar, work-friendly spaces and more, always in a decent location near public transport. They Amstel location is right next to Amstel station, just an eight minute journey to Amsterdam Centraal but away from the craziness and tourist crowds of the city centre.
If you're a solo female traveller in Amsterdam and want somewhere safe and comfortable, Hostelle is a fantastic option. I stayed here a couple of years ago, my first experience at a female-only hostel! It's impeccably clean, the rooms are basic but comfy enough, there's a big kitchen, a decent common area, and events to meet other travellers. A really good choice for those who are new to solo female travel or anyone who just wants to be able to enjoy shared spaces without worrying about drunk men 🙃 (there are a lot of them in Amsterdam hostels).
If you want a party hostel, the Flying Pig Downtown Hostel and the Bulldog Hotel are both top-rated options for social butterflies.
Mid-range | Outside Inn, Met Hotel, Villa Yburg,and XO Hotels Couture
Luxury | Waldorf Astoria, Hotel TwentySeven, the Dylan, Conservatorium and De L'Europe
Self-contained | Treehouse Inn, Cityden BoLo, Social Hub and Hotel2Stay
---
How to get around Amsterdam
On ya bike! Amsterdam is built for bikes, and the city has an estimated 900,000 bikes in total (over 80,000 more bikes than people!). There are rental bikes available through the Donkey Republic app and lots of hostels have bikes to rent too.
Lots of the main sights in the city, like the Heineken Museum, Anne Frank's house, the major galleries and so on are really close and easily walked between. One of Amsterdam's charms is the little side streets that connect canals, so wandering around on foot is by far the best way to discover hidden gems and secret eateries.
If you're looking to go further out of the city or want to avoid wet weather, there's a decent metro system too. Tickets cost €3.40 (they're valid for an hour) and can be bought at the machines at each station, or you can buy 1, 2 or 3 day passes for €9, €15 and €21 respectively.
Keep in mind that many Airbnbs in Amsterdam are pretty cramped and won't offer luggage storage before and after your stay, so if you need to leave your suitcases somewhere secure you can store your bags with Nannybag and enjoy Amsterdam freely.
---
The best things to do while travelling alone in Amsterdam
Rent a bike and explore like a local
With almost 400km of bike lanes in the city (and plenty more bike-friendly streets in the historic centre), seeing Amsterdam by cycling is a fantastic way to tick off the sights and burn off some of those stroopwafels.
You could take a two-wheeled trip around the cobbled streets and canals in the city centre, rolling through the Nine Streets boutique district, the trendy Jordaan neighbourhood and passing the Rijksmuseum and Anne Frank's house, plus there's an easy beer stop at the Heineken Experience!
Want to escape the crowds? Cycle 40 minutes south to Amsterdamse Bos, a sprawling forest perfect for a picnic lunch or dinner. And if you're a confident biker, consider taking a half-day trip to Zaandam to see the windmills, or a full day trip to Edam for cheese tasting.
Search for the best photo spot
From the reflections of narrow houses still canals, to funky buildings straight out of an overactive imagination, to ultra-photogenic (and delicious) goodies, Amsterdam's one of the most photogenic cities in Europe.
For the quintessential Amsterdam Instagram shot, head to Damrak, the road that connects Central Station and Dam Square. There's a specific spot between two canal boat wharfs where you'll get a stunning shot of the city's classic colourful houses reflected in the canal below. Pro-tip: Head there first thing in the morning to get the best photos, as the street is absolutely packed with people from about 8.30am onwards.
Other spots to visit in the city are Rijksmuseum, the Nine Streets, Bloemenmarkt and the quaint little houses in the De Pijp neighbourhood.
If you're into architecture, abstract art, or both, jump on a train to Zaandam, a city just 11 minutes from Amsterdam Centraal. Head out of the station and turn left, and marvel at the epic work of art right in front of you, the Stacked Houses (official name is Inntel Hotel). You can stay here from about €55 a night, but I just popped down there for a quick photo of the architectural masterpiece! These walkways can be absolute wind tunnels because of the big buildings on either side (as you can see), so if you're shooting with a tripod, make sure it's stable.
Eat all the treats
Amsterdam's food scene is impressive overall, but nothing beats the sweet treats you'll find at independent eateries hidden away down random streets that line the canals.
You can't visit Amsterdam without indulging in a stroopwafel (or five), a delicacy made up of two thin waffles glued together with caramel. To try one, there are a couple of stops to add to your eat-inerary (see what I did there).
Original Stroopwafel, a street food stall in Albert Cuyp Markt, sells authentic stroopwafels for only €1.50, and the owner learnt to bake them in the true home of the stroopwafel, Gouda. For a snazzier stroopwafel, visit van Wonderen near the 9 Streets shopping district. Here you can choose from colourful toppings like marshmallows, M&Ms, fudge or nuts to take your stroopwafel portraits to the next level!
For photogenic cake pops that look great held against a canal backdrop, head to Polaberry, a little café that's also famous for chocolate-covered strawbs and other fruits. They have seasonal flavours and decorations, super cute. I'm not a coffee drinker myself but online reviews rave about the brew here too.
And to round off a sugary holiday, pop in to Winkel 43 for a plate of their authentic appeltaart, loved by locals, tourists and food critics alike. Spoiler alert: It will be the best apple pie you've ever tasted, hands down.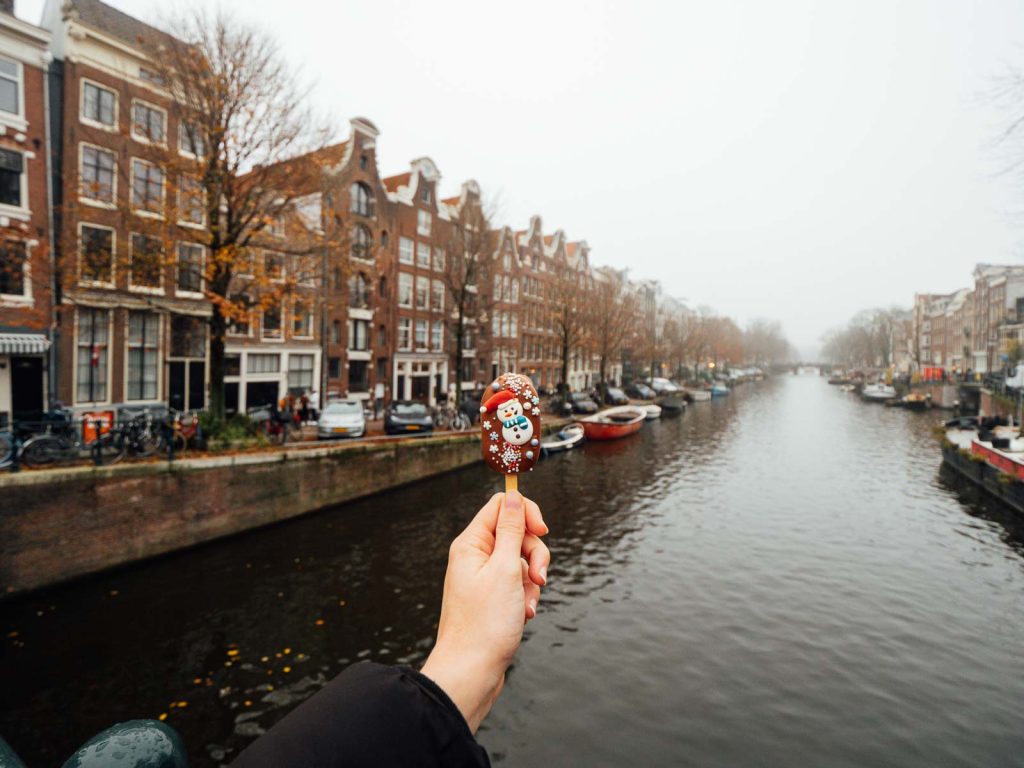 Enjoy the festival vibes
There are loads of festivals in Amsterdam if that's your vibe, from dance music to national days and everything in between.
My second trip coincidentally lined up with ADE (Amsterdam Dance Event) and it seemed like the entire city got amongst the buzz. The event itself includes a conference for the dance music/entertainment industry, plus loads of gigs around the city at event halls, bars, clubs and more. There were even DJ booths set up outside supermarkets and train stations!
If you prefer more cultural celebrations, consider timing your Amsterdam visit to coincide with King's Day on April 27, where the whole country dresses in orange to pay tribute to the King of the Netherlands. Expect boat parties, big crowds, and loooots of beer.
Other Amsterdam festivals to add to your calendar are the Tulp (tulip) Festival in April, the Amsterdam Light Festival over winter, and one of Europe's best LGBT Pride celebrations in late July/early August, complete with a canal parade.
Shop till you drop
Because I live out of my suitcase and travel for ten months of the year I can't really buy much on the road, and there's nowhere that makes me as sad about that as Amsterdam does. This place is packed to the brim with incredible shops, from vintage treasure troves to independent homeware stores to some of the cutest stationery shops I've ever seen. I'm coming back here with an empty suitcase as soon as I've bought a house that I can decorate (let's be honest, with NZ's housing market that'll probably be in 20 years).
Head to the Nine Streets for thrift stores and art galleries, Spiegelkwartier for quirky antique shops, P.C. Hooftstraat for the top designer brands and Albert Cuypmarkt for more than 250 stalls selling anything and everything.
Museum hop
There is a diverse selection of museums to choose from in Amsterdam, and the beauty of solo travel is that you can go through them however fast or however slow you want without impacting any travel buddies.
The most renowned museum is Rijksmuseum, home to masterpieces from the 18th to 21st century. Anne Frank Huis is a sombre but must-visit museum, a tribute to the famous diary writer located at the attic where Anne and her family hid from the Nazis. There's also the Van Gogh Museum with more than 1400 van Gogh artworks, Moco Museum for modern and contemporary (and Instagrammable!) exhibitions, or the Heineken Experience for an interactive journey through the beer behemoth's history.
---
I hope this solo travel Amsterdam guide has helped you plan your upcoming solo adventure in this beautiful city. As always, if there's anything you think I've missed, please let me know in the comments.
OTHER EUROPE BLOGS YOU MIGHT LIKE:
Huge thanks to the team at MEININGER Amstel for hosting me for a few nights during my time travelling solo in Amsterdam. As always all opinions are my own and are based on my personal experience.