Travelling solo to Porto? I spent a week in Porto as part of my crazy 52 countries in 52 weeks project, and absolutely adored exploring this historical city by myself. Here's my Porto solo travel guide with info on where to stay in Porto, how to get around Porto, how much you'll spend and the best things to do.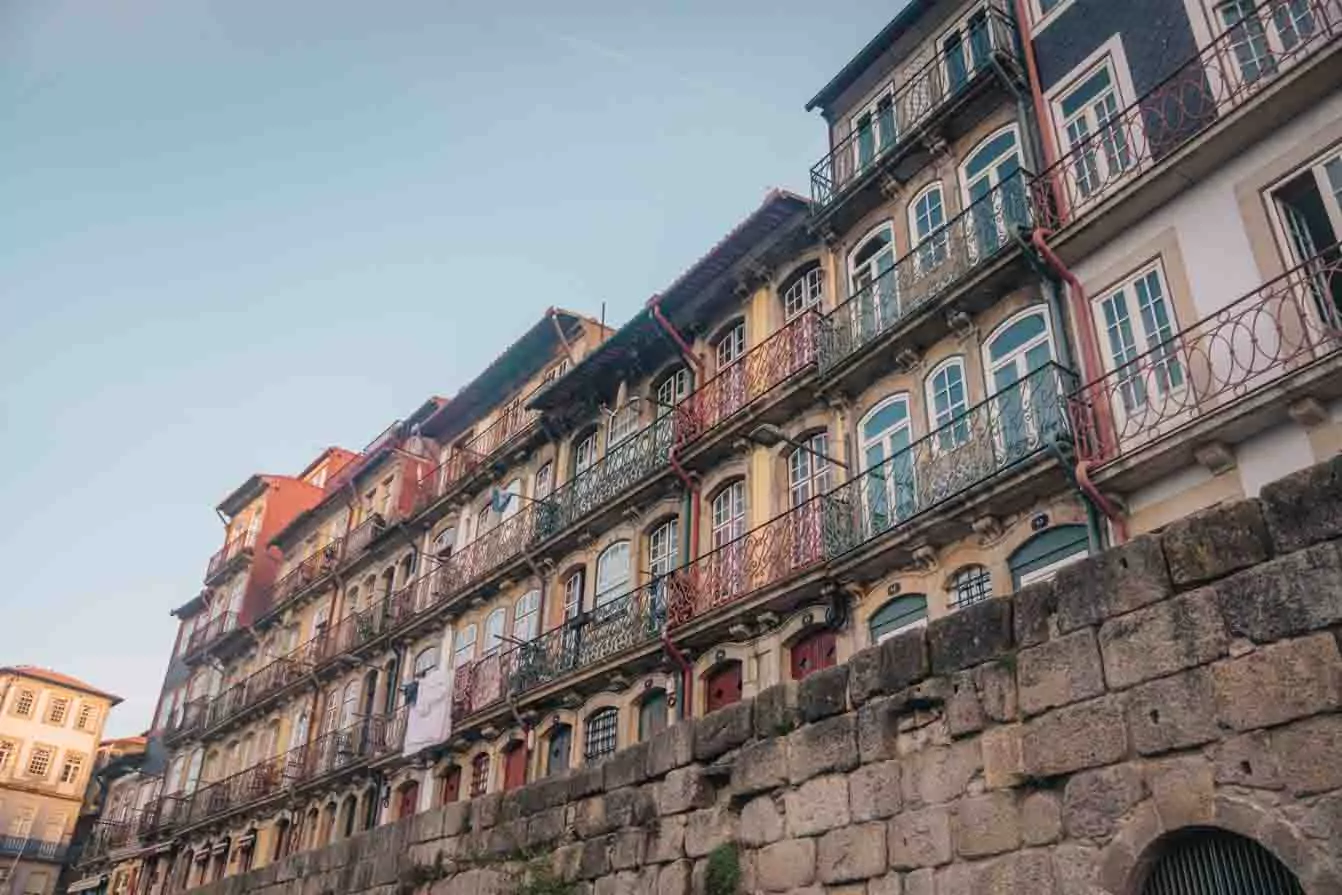 Porto is a brilliant destination for solo female travellers wanting to explore more of Europe. It's safe, the food scene is next level, and your money can go pretty far compared to other European city breaks.
Porto has a distinct vibe that sets it apart from the ultra chill Algarve coast and the big city of Lisbon. The city centre is packed full of beautiful tiled buildings and winding alleyways, there's a number of hipster hot spots dotted around town that boast Instagrammable cafes alongside authentic local eateries, and there's plenty of activities on offer to fill out your itinerary, from winery day trips to food tours to river cruises.
Here's my solo travel guide to Porto to help you plan your trip to one of my favourite European cities.
---
Porto solo travel summary
Best hostel: Selina Porto
Best self-contained apartment: São Miguel Apartments
Best luxury hotel: Maison Albar Hotels Le Monumental Palace
Best food tour: Secret Food Tour Porto
Best way to see the city: Take a cruise down Douro River
Best co-working space: Selina Navis
Best experience: Pastel de Nata Cooking Class
Best day trip: Wine tasting in the Douro Valley
---
Where to stay in Porto
Portugal is one of the countries that has massively embraced hostel culture, so there are loads of budget-friendly places to choose from.
My top pick for Porto is Selina Hostel, an epic backpacker hub with everything you need for your city break. The dorm rooms have pod-style beds with a shelf, privacy curtains and your own light and plugs, as well as private bathrooms and lockers. There's also private rooms available if you're keen to upgrade to your own space while still making the most of hostel facilities.
Selina has a huge courtyard, an on-site bar, a café serving breakfast and snacks, a work space, a full kitchen and a super cute secret library upstairs if you need some quiet time. It's easily walkable from a number of tourist sights in Porto, and it's an 8 minute walk from Trindade Metro Station.
If you stay at Selina, I'm going to let you in on a couple of my top picks for eats and drinks nearby! Espaco 77 is just around the corner and you can get a mini beer for €0.99, Zenith is down the road and has a delicious brunch menu, and Lareira is close by too and is the place to go to for authentic Portuguese snacks and sangria.
If you want your own self-contained apartment, Sao Miguel Apartments are a great value option set right amongst some of the must-sees, or for luxury hotels, consider splurging on Maison Albar Hotels Le Monumental Palace.
---
How to get around Porto
Like a lot of European cities, thanks to its uneven cobblestones, narrow streets and hills, Porto isn't so friendly for road traffic. But you'll be able to get around easily by foot, by tram or by metro.
A lot of Porto's must-see landmarks are in the historical centre which you'll most likely be staying in or near if you're in a hostel, or it's accessible by public transport from other parts of the city. It's a stunning city to walk around, and as always I'd recommend taking side streets to have a better chance of discovering less-touristy shops and eateries. Trams are a novelty and are worth jumping on for a ride and a photo, but they can have long waits since so many other tourists want to do the same.
The metro system is well-connected and is very safe, and there's city buses too although they're subject to crappy traffic. For public transport it's best to get an Andante card (available at stations or convenience stores) for €0.60 and top that up with however much you need. Bus and metro journeys cost €1.20 each, or if you buy 10 you'll get one free. You can also get a 24 hour unlimited pass for €7 or a 72 hour pass for €15 but you'd need to take loads of journeys to make that worth it.
To get from Porto airport to the city centre you can get on the metro for €2.45 which leaves every 20-30 minutes and takes about half an hour, or a taxi will set you back around €23-€25 without traffic.
There's Uber in the city too but when you take into account the congestion that builds up in the narrow streets, it's often faster to just walk or catch public transport.
---
How much to budget for Porto
In terms of cost of travelling, I would place Portugal as halfway between the cheap and cheerful Eastern European countries and the pricier Western destinations like France and Spain.
Porto is definitely doable on a budget but it's also one of those places where a little extra cash goes a long way!
For dorm accommodation expect to pay around €10-€15, or you can find a private room at a hostel or pension (cheap hotel) from €30. If you're on a tight budget, check to see if your accommodation includes breakfast and/or has kitchen facilities so you can save money in terms of food.
Like a lot of European cities, Porto's charm partly comes from the historic buildings in the old town, which are obviously free to look at. There are quite a few churches that are free to enter too, the Porto Cathedral in particular, and public museums are free on Sundays before 2pm.
Cheap restaurants will have mains from around €8 or you could treat yourself to a fancier meal from €15 per person, local beers or a glass of wine starts from €2 or imported beer will cost anywhere from €2.50 to €5, and you can get an espresso, a pastry and a pasteis de nata for breakfast from about €4.
---
Is Porto safe for solo female travellers?
In my experience, Porto is absolutely safe for solo female travellers. Portugal as a country is one of the best destinations for solo female travellers, with low violent crime rates as well as lower petty crime rates than other European countries.
Protect your belongings like you would in any other big city, by wearing a cross-body bag and hiding any valuables, but from a female safety perspective I felt totally comfortable wandering around the city by myself.
---
The best things to do in Porto
With a classic mix of culture, cuisine and architecture, Porto's got more than enough things to see, do and eat for any type of traveller. Here are four of my top picks!
Stroll along the Ribeira
Home to Porto's famous burnt orange tiled roofs, cobbled medieval streets and traditional riverside restaurants, the Ribeira district is Porto's historical centre and a UNESCO World Heritage Site.
A wander along the Douro River is a must-do in Portugal, as is seeing the view over the colourful houses from Ponte de Dom Luis, or sitting down for some Portuguese tapas or fresh seafood at one of the authentic restaurants hiding down the maze-like lanes.
Ribeira is by far the most touristy area of the city so if you're not a fan of crowds (particularly older, touristy crowds) I'd suggest heading there early in the morning, or counterintuitively check it out in the evening when there's live Fado bands playing and restaurants serving up good vibes and even better dishes.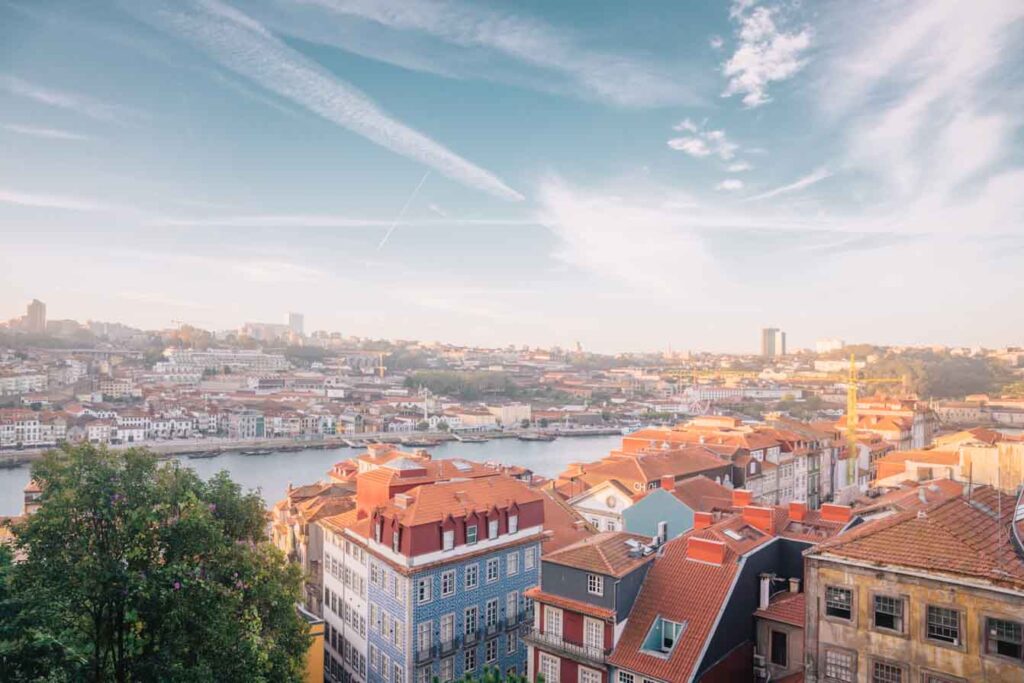 See the city's famous azulejos
'Azulejos' is the local name for the tiles, usually white and blue ones, that adorn churches, shopfronts, railway stations and museums throughout the city. They're a Porto icon, and they actually were first imported from Spain and Italy before Portuguese artists picked up the art in the 16th century and put their own spin on it.
If you walk aimlessly around the city I guarantee you'll spot some buildings decked out in azulejos, but there are some you absolutely can't miss.
Three of my favourite churches in the city are Igreja do Carmo, Igreja de Santo Ildefonso and Capela das Almas are all covered in blue and white tiles from the floor to the roof, and if you look closely you'll see religious stories depicted on the azulejos.
Another must-see is Sé do Porto, the city's cathedral, where the cloister is made up of bright tiles and Gothic-style architecture side by side. And if you're planning on catching a train to the suburbs or out of the city, or even if you're not, don't miss the stunning Sao Bento Train Station, a consistent place-getter on lists of the most beautiful railway stations on the planet. There are more than 20,000 tiles that make up the epic mural in the station's main lobby!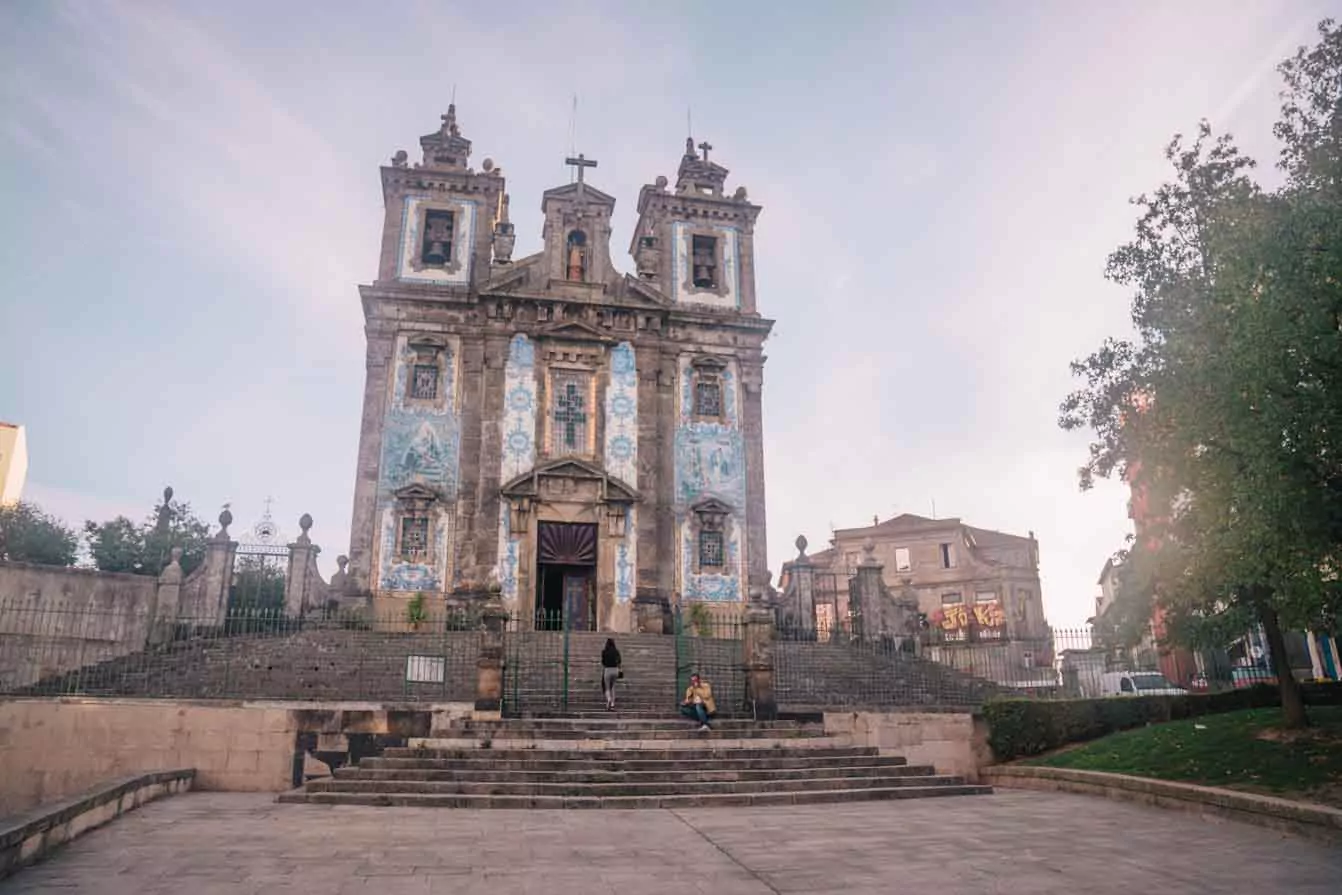 Hit the beach
While the Atlantic Ocean can be a lot chillier than Europe's Mediterranean beaches, it's still worthwhile to head out to Porto's coastal suburbs for a break from the city on your city break.
There are plenty of beaches in Foz do Douro or Matosinhos which are accessible by a short drive or by a 20-40 minute bus journey, from family areas to surf spots to nude beaches. These neighbourhoods have loads of eating options too, so they're the ideal location to head out for sunset and a bite to eat.
If you have access to a car or don't mind an hour-long train ride, head 70km south to Aveiro, a charming little city full of Venetian-style canals and colourful fishing boats. The town sits on the edge of a lagoon so there's no actual beach there, but Costa Nova is a short drive and has beautifully soft sand and Instagrammable beach huts.
Soak up the best views
With much of the city standing on steep hills overlooking the river, Porto boasts some stunning viewpoints that are easily accessible and, more importantly, most are totally free!
Although the actual palace no longer exists, the gardens of Palácio de Cristal are one of the city's most romantic spots to sit and enjoy the view over the Douro. They're free to enter and open till 9am in summer or 7pm in winter.
For a viewpoint set right amongst the red, orange and yellow historical buildings that Porto is famous for, head to Grilos Church down Rua das Aldas. Or if you want to get high (literally), visit the 75m-tall Clérigos Tower for insane panoramic views – it'll cost you €5 and there's over 200 steps, but it's worth it!
---
I hope this Porto solo travel guide has helped you plan your Porto adventure! Safe travels and have a pasteis de nata for me.