Planning a Maldives solo trip? This tropical paradise isn't just for honeymooners, there plenty of epic things to see and do to ensure you have the ultimate Maldives solo travel experience.
If you asked travellers what destinations are on their bucket list, you can be fairly certain that the Maldives would be a common answer. This dreamy island nation is typically associated with honeymooners, thanks to romantic resorts, pristine sandbanks and the assumption that prices are only worth it for celebrating something huge, like a recent wedding!
But it may surprise you to learn that not only can the Maldives be explored on a tighter budget than you'd expect, it's also an ideal location for solo travellers whether they're seeking relaxation, underwater adventures or a cultural experience.
I recently visited the Maldives twice in only a few months and I have to admit, I'm obsessed. For my first trip I was planning a safari trip to Sri Lanka and realised that the Maldives was only a short (and cheap!) flight away, how could I say no?! I booked a flight (first class on Emirates for only $128USD thanks to points I had accumulated pre-covid ✈️) and then managed to convince my parents to meet me there for the second half of the trip for my mum's birthday. I was fortunate enough to experience the Maldives in multiple different ways, firstly solo on a Maldives local island, then with family at luxury resorts.
For my second trip I won a spot at the inaugural Visit Maldives Storytellers' Conference and was invited back for a week, where I split my time once again between a local island (this time in the Addu Atoll) and a couple of resorts.
So if you're planning an upcoming solo trip to the Maldives, this travel guide has all you need to know, from how to plan your Maldives solo trip, tips for solo female travel in the Maldives, how to travel safely and responsibly in the Maldives as a solo traveller, and what to expect in terms of your Maldives solo trip cost.
---
How to plan a solo trip to the Maldives
Getting to the Maldives
The Maldives is well-connected to major cities all over the globe, with direct flights from Dubai, Abu Dhabi, India, Sri Lanka, Thailand, Malaysia, Singapore, Turkey, the UK, and some other countries in Asia, Europe and the Middle East.
If you're flying from Australia or New Zealand you'll need to have a stopover in Asia, and from the USA you can stop over in the Middle East or Asia to get there.
Flights to the Maldives can make up a huge chunk of the trip cost overall, but the good news is that there is a trick to finding cheap flights to the Maldives…
There are a number of low cost carriers who fly there direct with really affordable fares from Abu Dhabi (Wizz Air) and Kuala Lumpur (Air Asia) in particular, as well as from Sri Lanka (Fly Dubai) or India (IndiGo) if you are planning a trip there too. You can find flights from Abu Dhabi to Male return from only $185USD, and Kuala Lumpur to Male return from around $300USD.
Keep in mind that these budget airlines typically don't include checked luggage, the planes will be more cramped and less comfortable than a full service airline, and flight times might not be ideal, but if it's going to save you hundreds of dollars on your Maldives solo trip then it might be worth it.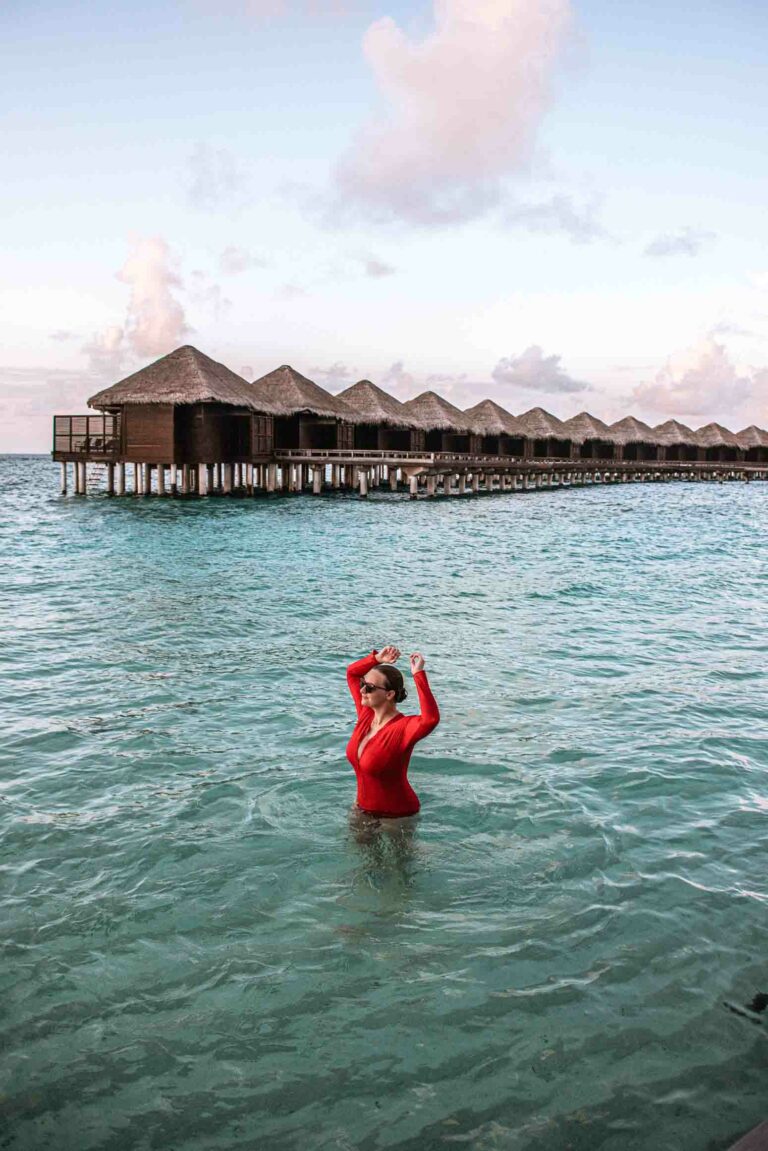 Choose your accommodation
Once you've confirmed your Maldives flights, it's time to consider where you'd like to stay.
For many decades the Maldives only offered resort accommodation, and tourists were not allowed to step foot on local islands. In the early 2000s regulations were changed to allow guesthouses to start operating on local islands, which provided a much cheaper, more authentic Maldivian experience for travellers looking for something different to resorts. These days there are also liveaboards dotted around the atolls, which are boats that are used for multi-night recreational diving trips.
If you're keen to explore the Maldives without breaking the bank, a guesthouse holiday on a local island might suit you. I spent my first Maldives solo trip staying at Ameera Guesthouse which is one of the top-rated and best value guesthouses on Dhiffushi local island, just 40 minutes from Male by speedboat.
Local islands typically offer cheaper excursions, authentic cuisine and more basic but budget-friendly accommodation, but it's important to remember that they almost always prohibit alcohol consumption, require conservative clothing except for on designated bikini beaches, and may have slower internet than what you're used to at home.
One exception to these rules are resorts on local islands, which are few and far between but they do exist. On my second trip to the Maldives I stayed at Equator Village in Addu Atoll, a local island resort which had a full bar, a private beach and swimming pool area where you could wear what you'd wear at any fancy resort.
If you're planning on treating yourself during your solo trip to the Maldives and you've got a bit of cash to splash, there is an endless selection of resorts to choose from. Cheaper resorts like Reethi Faru Resort, Meeru Island and Royal Island Resort have rooms from just $150-$300USD depending on the time of year, but most resorts start closer to $400USD+ per night. You could also combine a local island trip with a couple of nights at a resort nearby to get the best of both worlds, Dhiffushi local island is just a short boat trip from Meeru Island for example.
And if your main reason for visiting the Maldives solo is to experience the country's world-class diving opportunities, then a liveboard might suit what you're looking for. There are plenty of liveaboards running throughout the country to suit any diving preferences, from beginners looking to hone their skills to advanced divers wanting to explore the deep ocean, and from budget divers happy to skimp on home comforts through to those looking for a more upscale experience above water. You can find a bunch of Maldives liveaboard options here.
Find your transport
The next step of planning your Maldives solo travel adventure is to find your way from Male (where the international airport is) to your resort or island.
If you're staying on a local island, you will probably be able to choose between a local ferry or a speedboats. Local ferries are very cheap, around $1.50 per journey, but 3-5 times longer than a speedboat and generally run less often. The price for a shared speedboat will depend on the distance you're travelling but to give you an idea, I paid $35USD each way for a 45 minute speedboat from Male to Dhiffushi (a local island).
Some islands further away from Male require a domestic flight to get there, when I visited Addu Atoll it was a 1h 35m domestic flight from Male to Gan Airport.
If you're heading to a resort, you will either get there by speedboat or by seaplane depending on the distance. Resort transfers can be organised through your accommodation and seaplane prices begin at around $250USD per person return but can go up to $800USD per person for resorts that are further away, or even more expensive if you require a private seaplane.
Or go for a group tour
If the idea of planning your solo Maldives accommodation and transfers sounds confusing, perhaps a group tour would help give you the logistical support and comfort of travelling with people, but the independence of being able to go without waiting for a friend to join you.
There are a range of tours in the Maldives, from sailing trips on traditional dhoni boats to local island cultural experiences to resort hopping.
Pick your excursions
There is plenty more to see and do in the Maldives other than just enjoy paradise beaches, although you could do that too! Excursions can add up if they aren't included in your accommodation booking so it's best to plan ahead and think about what type of activities you'd like to do before you go.
I've listed loads of things to do while travelling solo in the Maldives later in this blog, but some ideas are snorkelling, diving, seeing whale sharks or manta rays, dolphin cruises, night fishing, cooking classes and more.
Work with a travel agent if you need to
If you prefer to enjoy your holiday without having to put too much work in at the start, consider using a travel agent to plan your Maldives trip.
Travel agents can be very hit and miss, and I say that after working in marketing at a global travel agency for six years! Their fees can be higher than the benefits they provide, they might try to push you into specific suppliers that give them the best commission, and worst of all, they might not have even been to the destination they're helping you plan.
BUT expert travel agents are absolutely worth their weight in gold, so fi you find one, hold onto them. They can save significant money by finding you wholesale deals you wouldn't be able to access as a consumer, they can help avoid annoying logistical blips like long stopovers or weird flight routes, and they can find accommodation, transport and activities that perfectly suit your travel preferences.
I found the Maldives particularly confusing because I was linking my own solo Maldives trip with my family resort getaway, and it was a nightmare trying to plan a trip where I was visiting a local island as well as two resorts, finding options that had epic dive sites as well as healthy food and was adults only, and had speedboat/seaplane schedules that suited our flight times.
For my first solo trip to the Maldives I ended up using Atoll Escapes, a new travel agency started by Maldivian Kiwis living in New Zealand to help travellers navigate the confusing landscape of planning a Maldives holiday. Sim & Zaina were absolutely incredible to deal with, they answered probably a hundred questions for me, they provided competitive quotes, and most importantly they planned a trip that was brilliantly aligned to what I wanted from my time in the Maldives.
Pack your bags
With all of that sorted, it's time to get packing!
If you're considering whether to take a suitcase or a backpack, it's just down to personal preference. If you're spending any time in Male City the footbaths aren't fantastic for suitcases and many buildings don't have elevators, but most travellers don't stay the night here anyway unless it's near the airport. If you're staying at local islands chances are your guesthouse will have a scooter with a trailer to carry any bags for you, and at the resorts your baggage will be looked after by resort staff.
For those lucky travellers catching a seaplane to a resort, be sure to check luggage restrictions as they are generally more strict than international airlines. For our seaplane flight with Trans Maldivian Airways (the main seaplane operator) the luggage limit was one 20kg check in suitcase and one 5kg bag for hand luggage. These are tiny planes with your hand luggage on your lap and your suitcases strapped in at the back of the plane, there's no space for additional bags. If your luggage is overweight there's a charge of around $5USD per additional kilo.
P.S. If your Maldives trip is a part of a bigger round the world trip and you have too much luggage or just don't want to lug around winter clothing unnecessarily, there's a luggage storage option at Male airport which charges $6USD per item per 24 hours.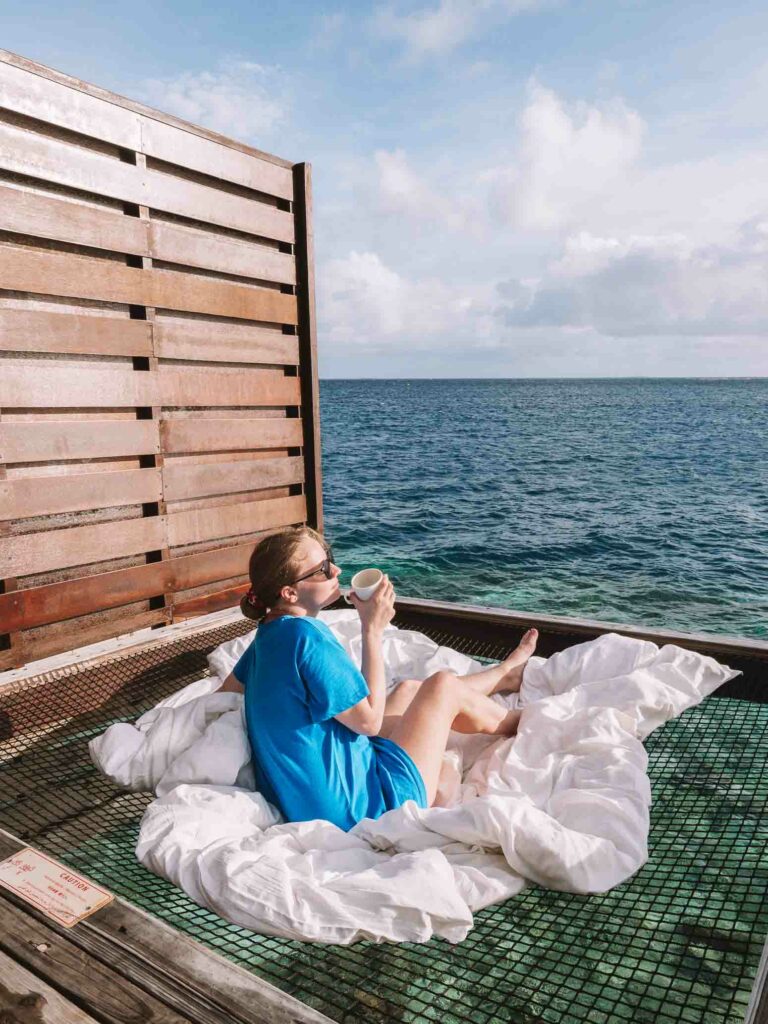 In terms of what to pack for the Maldives, here's a packing list to start you off:
Swimwear
Sunglasses
A hat
Conservative clothing if you're visiting a local island, like t-shirts, light trousers, sarongs and skirts
Light clothing that is comfortable to wear on hot days
One or two nice outfits if you're staying at a resort, some restaurants may have dress codes
Raincoat if visiting in the rainy season
A comfy jumper that you can wear on sunset cruises or night fishing, it doesn't ever get 'cold' but the ocean wind can be a bit chilly
Flip-flops/jandals/thongs/whatever you want to call them
One pair of nice shoes, many resorts don't allow flip-flops into their higher end restaurants
Reef-safe sunblock
After sun like aloe vera gel
A small first aid kit
Travel-sized toiletries
Water/reef shoes (I'm a confident swimmer and rarely use reef shoes but it's a good idea if you're not super confident in the water and want to be able to stand up if necessary)
A rash shirt (I'd say this is a necessity, the Maldivian sun is so harsh as it's close to the equator, and snorkelling with your back directly in the sunlight for hours each day is almost guaranteed to result in sunburn even if you're applying sunblock regularly)
An international adapter for your chargers
An underwater camera like a GoPro
Consider bringing some snacks from home if you're really keen to keep your costs down, snacks at resorts can be VERY expensive
And here's a few things not to bring to the Maldives as they're prohibited:
Pork (RIP my delicious prosciutto crisps I had to throw out at the airport on arrival)
Alcohol (you'll be able to order alcohol at resorts but it's prohibited on local islands)
Bibles or other non-Muslim religious books or idols
Adult fun toys 🙃 imagine how many honeymooners get caught out with this one haha
Drugs without a prescription
---
Is the Maldives safe for solo female travellers?
Safety is always a major concern for solo female travellers, and I felt completely safe the entire time in the Maldives, both on the local island and at the resorts. I've also never heard about any other travellers who have had issues with crime in the Maldives.
If you're spending any time in Male City then I'd recommend keeping your valuables hidden and ensuring your bag is zipped up and across your body, the same precautions you should take in any busy city. But overall, Maldives solo female travel is super safe.
---
How to stay safe in the Maldives as a solo traveller
Water safety
The most dangerous thing in the Maldives is probably the ocean, and it's not uncommon for there to be injuries and deaths caused by snorkelling, diving or boating accidents.
To keep safe in and around the water you should:
Tell guesthouse staff when you're going snorkelling so they know to raise the alarm if you aren't back by a certain time
Only swim and snorkel in designated areas, and never swim in boat channels
Even then sometimes small boats may enter the swimming/snorkelling areas on local islands, keep an eye out and consider wearing a life jacket or a bright rash shirt so you're easy to see
Listen carefully to instructions when operating a jet ski and be sure to stick to the areas you're allowed
Go out to see for snorkelling/diving/fishing trips with reputable operators who have life jackets on board in case of emergency
Wear sunblock and a rash shirt to keep safe from the harsh sun
The week I was at Dhiffushi there was an accident nearby at another local island where a tourist was killed after a boat hit him while he was snorkelling and the week after another tourist almost drowned, so water safety is genuinely something you need to be smart about.
Travel insurance
Travel insurance is essential when you travel anywhere, but especially to somewhere like the Maldives where transport to a hospital can be extremely expensive. From a phone going overboard to a nasty coral cut and infection to bad weather cancelling your flight, your dream Maldives holiday can quickly turn into a nightmare if you don't have comprehensive cover.
I use Cover-More travel insurance and have only had good experiences with them, with comprehensive cover and fast payouts. Kiwis and Aussies can book insurance through Cover-More Australia or Cover-More New Zealand, but if you're from somewhere else then SafetyWing is a good option for cheaper but less comprehensive coverage, or World Nomads is great for better coverage but is more expensive.
---
How to travel responsibly on a Maldives solo trip
The Maldives has a really tricky relationship with responsible tourism as a travel destination.
As an island nation they are extremely vulnerable to climate change and rising sea levels, however they're also hugely reliant on tourism which involves a significant amount of international flights, seaplane transfers and speedboats, which obviously contribute to the country's carbon emissions. There's also the impact on marine life from over-fishing, overwater bungalows being built near coral reefs, unethical wildlife tourism and more.
In the past 15 years the Maldives government has been taking responsible tourism and sustainability very seriously, and they have implemented a range of measures to try and clean up the islands, protect the wildlife and reduce the negative impact of visitors, like setting up waste reduction systems, protected marine biospheres, and additional taxes that tourists pay that go directly to sustainability projects.
It's certainly not perfect, and some accommodation providers/tourism operators are better than others, so as consumers it's important that we do our research to ensure we're giving our money to companies that have strong sustainability and responsible travel guidelines in place.
Here are some ways to ensure your Maldives solo trip is responsible and respectful in terms of locals, wildlife and the environment.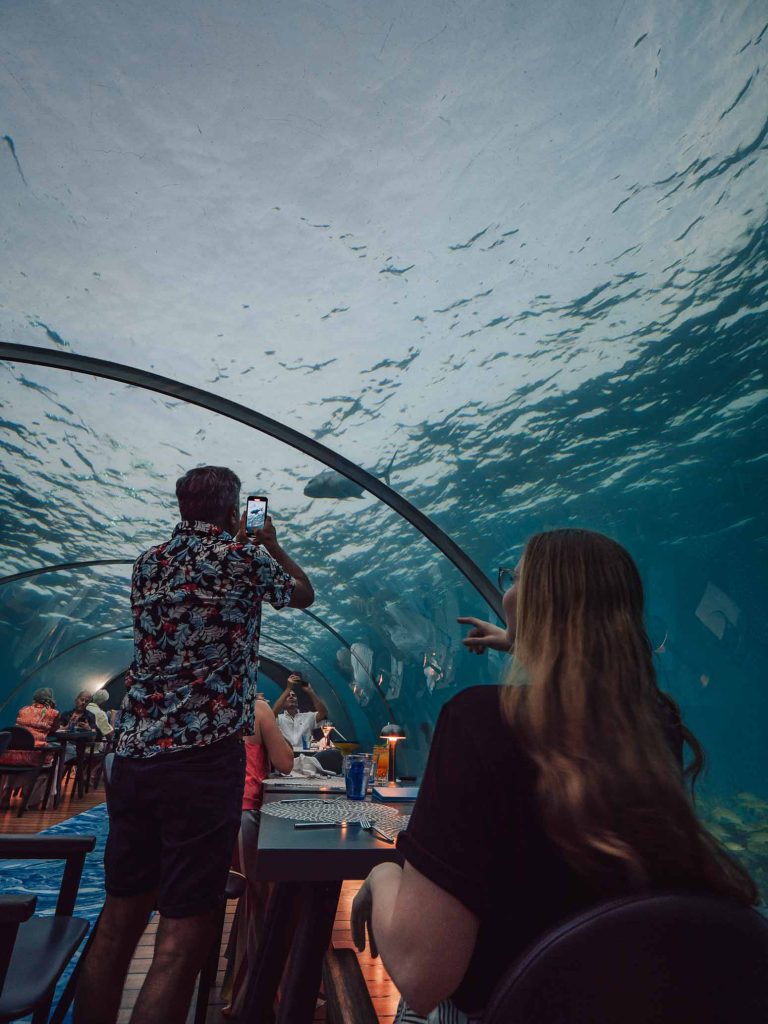 Respect local customs on local islands
The Maldives is a Muslim country, and it's essential to respect local norms and religious guidelines when visiting local islands.
This includes not taking alcohol with you and dressing modestly when in public (your usual swimwear is allowed on designated bikini beaches).
If you don't want to respect these rules then no problem, book a resort holiday instead where you can drink cocktails all day and wear what you want! But if you're planning on visiting a local island during your Maldives solo trip, you need to follow their rules.
Learn a bit of the local language
If you're staying on a local island you'll probably find that most guesthouse staff will speak at least basic English, but many other locals might not. Shopkeepers, waiters and excursion guides will always appreciate a 'thank you' in their language, which is known as Maldivian or 'Dhivehi'.
It's always good to at least learn how to say hello, please, thank you and goodbye in the local language when you arrive in a new destination, I like asking the accommodation staff how to say it as that way you hear the correct pronunciation rather than reading what a blog post tells you.
During my time in Addu Atoll I learnt a number of phrases in Dhivehi, I'm not going to type them up because I have no idea how to spell them using the Latin alphabet and I will absolutely butcher them haha but take my word for it! I can say 'where are we going next?', 'dolphin', 'delicious' and a few other equally important phrases.
If you're staying at a resort, pretty much all staff will speak English and many of them will be international anyway, but it never hurts to give it a go anyway.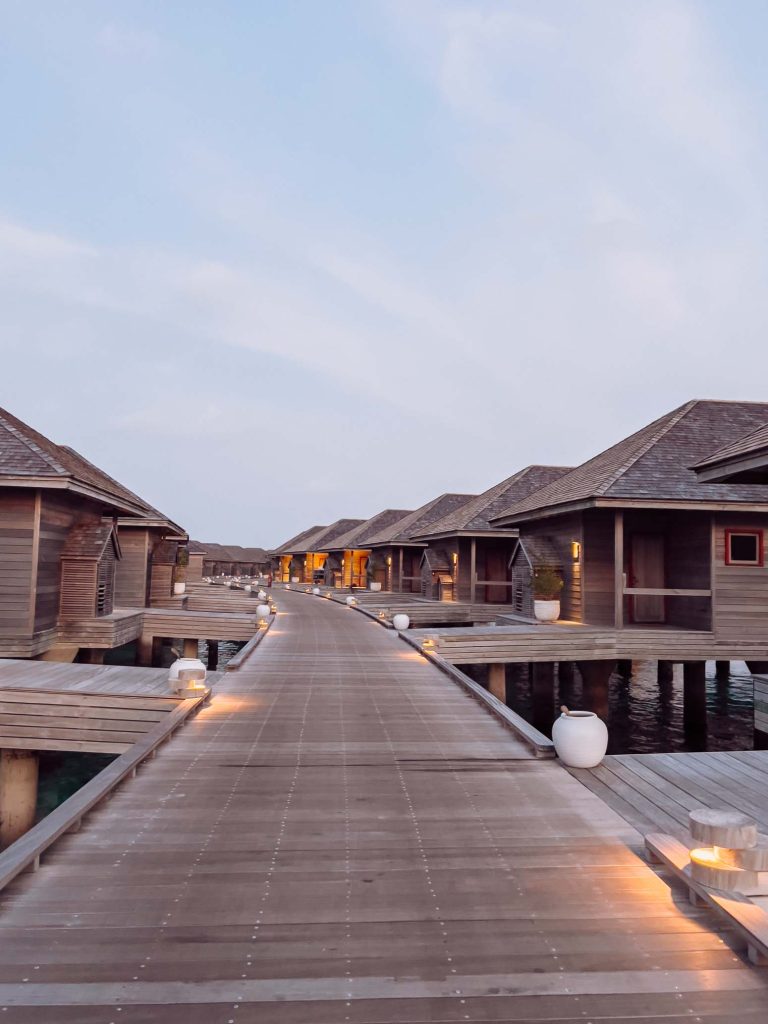 Be responsible with marine life
In the Maldives you can see tropical fish, turtles, manta rays, whale sharks and much more under the sea, making it one of the most mind-blowing places in the world for underwater adventures. Snorkelling and diving tourism is a significant source of revenue for the Maldives, but if it's not done responsibly, it can have an overwhelmingly negative impact on the marine life.
When snorkelling and diving be sure to avoid standing on or touching coral (for your safety too, coral cuts are prone to infection), wear reef-safe sunblock, and get involved with any coral planting or reef conservation activities at your resort. I did a day trip to Sheraton Full Moon Resort to partake in a coral planting workshop with their marine biologists and it was absolutely fascinating, we propagated coral onto metal frames, threw them into the ocean and then got to snorkel through their 'older' coral frames which are turning into coral pyramids, where the fish life is absolutely thriving. Such an incredible thing to see!
Another major threat to wildlife in the Maldives are tours that allow unethical interactions with whale sharks, turtles or manta rays. These animals should never be fed to encourage them to come closer to humans as this can disrupt their natural eating patterns, cause reliance on humans and result in them getting too close to boats which can result in injury and death. Many of the turtles in the Maldives especially are super chill around humans and will come up close, but they should never be touched or disturbed when trying to get away from people.
One of my all-time favourite marine life experiences was a snorkelling tour in Addu Nature Park, where a local guide from the park took us snorkelling in some of the clearest water I've ever seen. We saw a turtle up close almost immediately after jumping in the water and after 45 minutes or so we had witnessed at least six or seven more turtles, an octopus, eagle ray and even a lion fish as we were stepping out of the water.
The diversity of what we saw was amazing, but what was even more impactful was the guide's behaviour towards the animals and towards us. From the moment we saw the first turtle he reminded us to stay calm, stay back, and wait for the turtle to come to us. He ensured that we could all see the exciting things, but that we respected the animals and watched from afar rather than encouraging us to get up close with cameras, which might have helped the tour reviews but would've been detrimental to the creatures we were there to see. This is a perfect example of sustainable and responsible tourism that I want to support as a traveller and to promote as a travel blogger, I would 100% recommend the Addu Nature Park tours if you are spending time in Addu.
Real talk about ethical marine experiences in the Maldives
I did see an upsetting situation on one of my turtle snorkelling trips where some tourists missed out on seeing a turtle that had swum past and then gone deep under a rock to get away from the group of (very loud and splashy) swimmers. They complained to the local guide and said they paid to see a turtle, so the guide then swam down and disturbed the turtle under the rock in order to get it swimming again so the tourists could see it.
Extremely irresponsible behaviour but I do think that within the context of a power imbalance between tourists and local operators this situation is sadly not uncommon, where operators have to choose between unethical wildlife practices and happy customers, or responsible hands-off wildlife practices where customers might not get the experience they expect. It can be hard to understand the nuances of ethical animal tourism, especially as a Western leisure traveller who is immensely privileged and doesn't have to choose between making money unethically or acting ethically but having to provide refunds to unhappy customers. This is absolutely not to excuse his behaviour, but I think the tourists had more power in this situation and therefore I think the responsibility to act ethically lies with them for the most part.
There needs to be more education done here both for local operators and for travellers coming to the Maldives. Many resorts in the Maldives have very strict marine life guidelines that they follow, and some even have on-site marine biologists and actively participate in underwater conservation and coral reef regeneration. Choose your resort/operators wisely.
---
Things to do during a Maldives solo trip
Treat yourself
One of the best things about travelling solo is the freedom to do what you want, when you want, how you want. And in the Maldives, the options are endless!
If you want a week of spa treatments then book into a wellness resort, follow your dreams and get your dive certificate, tick off bucket list experiences like swimming with turtles, or simply rest and rejuvenate while sipping cocktails in an infinity pool.
Snorkelling
The Maldives is home to 3% of the world's coral reefs, so it's no surprise that the snorkelling opportunities are absolutely world-class. Many resorts have mind-blowing house reefs that are home to vibrant tropical fish, cute reef sharks and chilled out turtles, but if your island/resort doesn't have a house reef then a good snorkelling spot will only be a short boat ride away.
Diving
If you've already got your dive certification then diving has to be on your Maldives bucket list, and if you've never dived before, this is the perfect place to try!
There are incredible dive spots throughout the country, from simple shore dives right in front of your resort to boat dives surrounded by turtles and sharks.
I'm a keen diver and ticked off a few bucket list dive experiences in the Maldives. Firstly I did a night dive with nurse sharks, then I saw bioluminescence (glowing plankton) all around me during the night dive when we turned our torches off, and during another dive to a site aptly named 'turtle airport' there were literally turtles in every direction. So dreamy.
Sandbank trips
The Maldives is made up of over 1200 islands, most of which are uninhabited and some are just permanent sandbanks where pristine white sand beaches sit above the tide. You can take a boat trip to a sandbank for a few hours of sunbathing, swimming and snorkelling.
Dolphin cruises
Most resorts and local islands in the Maldives give you the chance to spot dolphins from a boat cruise, usually at sunset where you'll be able to enjoy the beautiful colours of the sky too.
Dolphins are known for being playful and often come right up to the boat, racing along the side, playing in the wake, or jumping and flipping to show off to their captive audience.
Our dolphin cruise in Addu Atoll run by the hotel I was staying at (Equator Village) was beyond impressive, we ended up surrounded by a pod of what seemed like hundreds of dolphins! There were loads circling our boat from afar and they'd take turns coming up closer to race us at the bow of the boat, to flip or to even show off something a little inappropriate 🙃 yes, we did actually witness dolphin mating and we saw very clearly and very closely a dolphin 🍆. Who knew dolphins were such exhibitionists?!
Resort days
Even if you're staying at a local island, many resorts offer day passes that allow you to enjoy their restaurants, bars and facilities. Resort passes differ in price and inclusions, some are all-inclusive (in which case you should drink to your heart's content!) and even include some excursions, while some simply give you access to the island and require you to pay for the food you order.
Fishing
Aside from tourism, fishing is the next biggest industry in the Maldives.
Many local islands still have small fishing boats that go out to catch fresh seafood each morning, and some resorts even have their own fishermen who provide the hotel kitchen with fish. The Maldives sea is only used by local fishermen and fishing boats, there are no multi-national corporations allowed to fish in these waters, and all fish in the Maldives are caught sustainably with processes in place like pole-and-line or hand-fishing where you can only catch one fish at a time,
Both local islands and resorts offer the opportunity to try your hand at catching your own lunch or dinner, from deep sea game fishing on a fancy boat to traditional handline fishing on a dhoni.
If you catch something during a resort fishing trip you will have the option of having it cooked for your lunch or dinner, and anything you don't eat can be donated to the kitchen for using for other guests.
Surfing
While the photos you've seen of the Maldives have probably all shown idyllic, calm beaches, there are actually some world-famous surf breaks for both beginners and experts.
The most popular local islands for surfing are Thulusdhoo and Himmafushi, and if you're looking for a surf-friendly resort then check out Cinnamon Dhonveli, Six Senses Laamu, Four Seasons Kuda Huraa or Adaaran Select Hudhuranfushi.
Enjoy the food
Staying on a local island during your solo Maldives trip will give you the chance to try good value local food, like grilled tuna, fish curry and lots of tropical fruit. And if you're staying at a resort, chances are you'll have access to a buffet of both local/international dishes as well as other restaurants on offer.
In the local islands I became obsessed with mashuni (a tuna coconut rice breakfast), fragrant fish curries, and the sheer variety of sweet treats which mostly incorporate coconut sugar or something similar. Delicious!
The resorts I stayed at in the Maldives (Kagi and Hurawalhi) had some of the most incredible hotel food I've ever experienced. Kagi was all about health and wellness so their meals had a big focus on freshness, with lighter options as well as hearty meat dishes or decent vegetarian cuisine. Hurawalhi on the other hand was just top level luxury, the buffet was by far the best quality buffet I've ever seen, and they even had an underwater restaurant serving up a degustation menu as you watch fish and sharks through the window.
Stargazing
Thanks to the fact that the country is so remote, there's minimal light pollution in the Maldives which makes it an incredible place for stargazing after a busy day of adventure. Grab a blanket, head to the beach and watch the stars above from the comfort of a beach chair.
See bioluminescence
The bright blue sparkles you can see in the photo below are caused by a natural phenomenon called bioluminescence, where a specific type of plankton emits light when it is disturbed by movement, like waves breaking on the sand.
Bioluminescence can be seen year-round in the Maldives and the chances of seeing it will depend on currents, ocean temperature and how dark the night sky is. I saw bioluminescence on five out of the nine nights I spent in the Maldives, with two nights being particularly vibrant and impressive.
They might look vibrant to the naked eye but they don't show up very well on a normal phone camera, you'll need to shoot long exposure with a camera on a tripod or hold your phone super still on night mode to get the colour and brightness.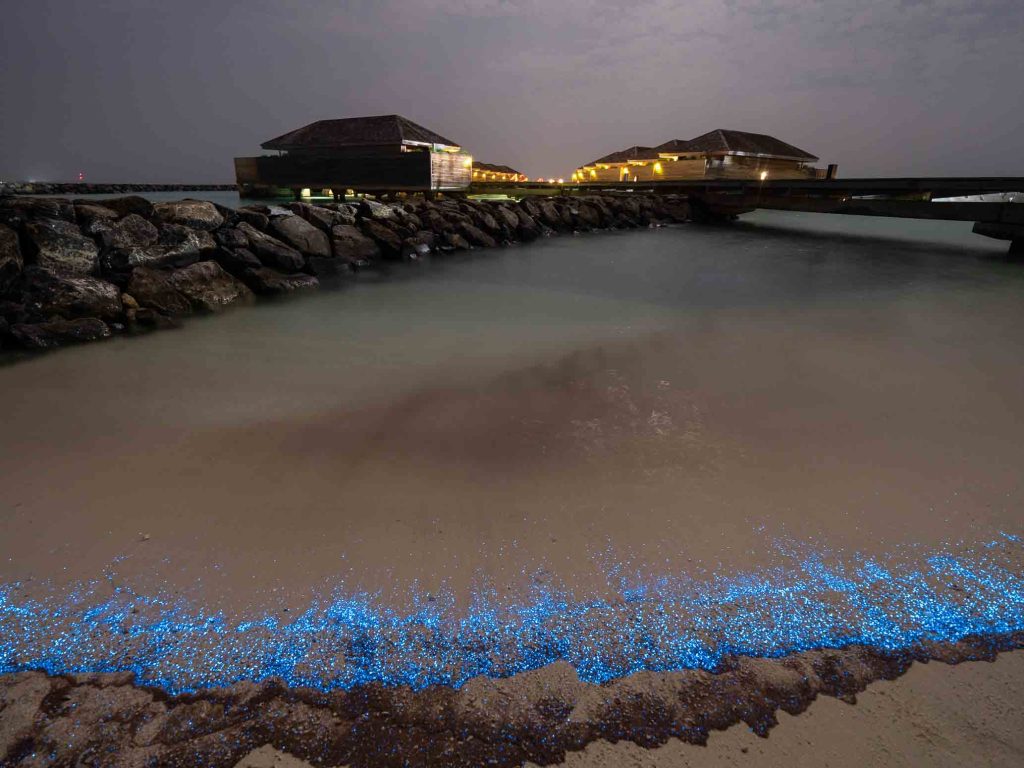 ---
What will a Maldives solo trip cost?
Travelling solo in the Maldives isn't exactly cheap compared to other Asian destinations like Thailand, Indonesia or Vietnam, but it can certainly be done on a range of budgets.
Flights to the Maldives
Prices will start anywhere from $180-$300USD return from Abu Dhabi (the cheapest place to fly from), $300-$450USD return from Asian cities like Kuala Lumpur, Singapore or Bangkok, and $375-$600USD return from the UK and Europe. From Australia/New Zealand prices start from around $1200-$2000AUD return, and from the US it's quite expensive ($1400USD or more from New York, upwards of $1800USD from Los Angeles).
These prices are based on low season dates, expect to pay more for high season. Book in advance to secure the best deal.
Transport in the Maldives
Local ferries can be as cheap as $1.50USD each way, speedboat trips up to an hour are usually $25-$45USD each way, and seaplane transfers will probably set you back $250-$500 return for the main resorts.
Accommodation in the Maldives
You can find accommodation in the Maldives to suit a solo trip of any budget.
Guesthouses start from $50-$100USD per night, usually including breakfast, in the low season (May to October), or from $135-$220USD per night in the busy season (November to April).
Resorts can start from as low as $150 in the low season but if you're visiting in the high season you'll probably be spending $350USD or more per night.
Food in the Maldives
If you're staying at a local island, a cheap food budget would be $15USD per day (enough for a local breakfast, curry for lunch, grilled tuna and a snack), but you could spend up to $60USD for fancier meals and/or more expensive seafood like lobster or a whole fish.
Most resorts have meal plans which end up being great value, so consider booking a full board package or going all-inclusive.
Excursions in the Maldives
Activities like cruises, snorkelling trips, sandbank visits and watersports can really add up and the prices will vary drastically depending on what you choose and if you're on a local island or at a resort.
Local island excursions are usually $30-$60 for a two to three hour trip of snorkelling, fishing, island hopping or dolphin cruising. Resort fees can be much more expensive but many resorts also offer specific excursions in their all-inclusive packages.
Overall budget for a Maldives solo trip
If you're travelling on a tight budget in the low season, you could enjoy seven days in the Maldives for $800-$1000USD (not including international flights).
If you're travelling in the shoulder season and want to split your time between a local island and a resort, expect to spend $1400-$2000USD for seven days.
And if you're wanting to enjoy a resort for the whole time, you'll be spending anywhere from $2500USD for a week in the low season or around $3700USD for a week at the cheap resorts, including speedboat transport, meals and a couple of excursions.
---
And there you have it, a detailed guide to travelling solo in the Maldives! I hope this has helped you plan your Maldives solo trip, if you have any questions then as always please let me know in the comments below and I'll get back to you, otherwise flick me a message over on Instagram at @findingalexx.
Other blogs you might like: