I was fortunate enough to win a spot at the inaugural Visit Maldives Storytellers' Conference in May/June 2023, a first-of-its-kind gathering of creators, journalists and photographers in the stunning tropical paradise of the Maldives. Here's all you need to know about the Storytellers' Conference.
The Maldives has been on my bucket list for years, since well before I started working in the travel industry.
As a photographer I've always been drawn to its idyllic landscapes and heavenly beaches, as a diver I've wanted to explore the thriving biodiversity of the Maldives' underwater world, and as a solo traveller with a somewhat limited budget I'm always up for a challenge to visit what's known as a luxurious, honeymoon destination with the challenges of being alone and financially hamstrung.
But never in a million years did I think that I'd be able to visit the Maldives twice in only a matter of months!
I was actually meant to visit back in March 2020, I was heading to Sri Lanka and knew that Male was a fairly affordable flight away ($150-$180USD is quite a common price for a one way flight), so it was a no-brainer. Obviously that trip got cancelled but I managed to move the Sri Lanka/Maldives combo to January 2023 instead.
I spent four days solo in the Maldives first, falling in love with local culture and discovering budget-friendly ways to explore on the local island Dhiffushi. After that I met my parents and brother at a resort for our first family holiday in 13 years, not a bad place for it! We dived, we ate, we drank, we swam with turtles, and we started discussing when we'd be able to come back for round two.
About a month later I received some more information from Visit Maldives about their upcoming Storytellers' Conference, something I first heard about at WTM London in November 2022. It was a competition for creators and journalists to win a spot at a conference in the Maldives, complete with fantastic guest speakers, breakout experiences to dive deeper into specific highlights of Maldivian tourism, and sideline experiences across the country to experience different travel opportunities in paradise.
So without any further ado, here's a detailed breakdown of the Visit Maldives Storytellers' Conference, what our itinerary looked like, some key takeaways from the experience, and some helpful info for when you plan your next Maldives adventure.
All about the Visit Maldives Storytellers' Conference
What is the Visit Maldives Storytellers' Conference?
The Visit Maldives Storytellers' Conference is a huge gathering of 70+ storytellers to learn about and experience tourism in the Maldives, with the aim of spreading awareness of all the Maldives has to offer.
The event included loads of fun activities, including an actual conference with guest speakers from the Maldives and beyond, a welcome party, a gala dinner, breakout sessions for storytellers to learn about various aspects of sustainable tourism, and a bunch of sideline experiences where the storytellers split off into groups to spend a few days discovering different parts of the country.
Who gets to go to the Visit Maldives Storytellers' Conference?
Content creators like bloggers, journalists, photographers, writers, media experts and more were invited to apply for the Storytellers' Conference.
How do you get a spot at the Visit Maldives Storytellers' Conference?
To apply in 2023 you had to share a video on Instagram or Facebook mentioning reasons to come to the Maldives or why the Maldives is at the top of your bucket list. Winners were selected by a panel based on things like creativity, quality content and originality of ideas, it wasn't just focused on how many views you get.
The entry mechanism might change for future conferences though so always check the details of what they are looking for before you apply.
Where is the Visit Maldives Storytellers' Conference?
In the Maldives of course!
For 2023 the conference itself was held at CROSSROADS Maldives, a brilliant location for events thanks to the fact that it connects two resorts, SAii Lagoon Hilton and the Hard Rock Hotel, along with a bunch of top-rated restaurants, some retail stores and a multitude of activities on offer. The Storytellers were split across both resorts, and we came together for the welcome party, conference and gala dinner.
There were three breakout sessions too, short but sweet introductions to different aspects of sustainable tourism in the Maldives. I selected the coral planting and marine biology breakout session which was held at the Sheraton Full Moon Resort and Spa, an easy speedboat ride from CROSSROADS.
The two other breakout sessions were one focused on sustainable fishing and gastronomy, set at a nearby sandbank, and one on culture and arts of the Maldives set at CROSSROADS itself.
The sideline experiences were dotted all around the country, in the end there were eight or nine different experiences from the far north to the far south (where I went!). My sideline experience was Addu Atoll, the southernmost atoll in the country, but there were also sideline experiences in Raa, Laamu, Kaafu, Ari and more.
Why did I apply for the Visit Maldives Storytellers' Conference?
One of the things I'm most passionate about as a creator is breaking down travel stereotypes and sharing epic adventures from destinations that someone might not have seen before, or that shakes up what they thought about a specific destination.
Tourism in the Maldives has boomed for decades thanks to dreamy beaches and romantic resorts, but it has become the victim of its own success in terms of assumptions, like:
It's only for honeymooners
It's too romantic for solo travellers
It's not family-friendly
It's too expensive
It's just loads of resorts without local culture
It's somewhere to go once in your life and then you've done it!
If you were just looking at viral Instagram posts, I can understand why you might think these assumptions are true, but if you're single, travelling solo, travelling with kids, travelling on a budget, or just travelling for fun with no big 'reason' to celebrate, these incorrect assumptions might stop you from even considering the Maldives as a destination. I want to debunk these!
On my first trip to the Maldives I purposefully split my time between a cheap and cheerful local island on a solo adventure, and a family trip with my parents to two different resorts, one with a huge health and sustainability focus, and one that was more luxurious, complete with an underwater restaurant.
Being able to experience three different sides of the Maldives meant I could create content comparing and contrasting different options, and my audience loved it, but I felt like there was still so much more to discover in terms of marine adventures, sustainability, gastronomy, culture and nature.
When I saw that the Visit Maldives Storytellers' Conference was open for applications, I saw an opportunity to get a deeper understanding of the tourism offerings in the Maldives, and to share more epic Maldives experiences with my readers and followers.
If I can convince people that solo travel in the Maldives is possible, that you don't have to be rich to come here, that there's plenty of cultural experiences to have, that the food is world-class, that the country is incredibly forward-thinking about sustainable tourism, and that it's actually a multiple-times-in-a-lifetime destination, then my mission will be successful.
When is the next Visit Maldives Storytellers' Conference?
The 2023 Storytellers' Conference only finished in June 2023 so there's no news on the next one yet. I'm not sure if they'll try to do one each year of if it will run every two/three years, but I will update this page as soon as I have any further information for 2024 and beyond!
And hopefully I will see you there 😉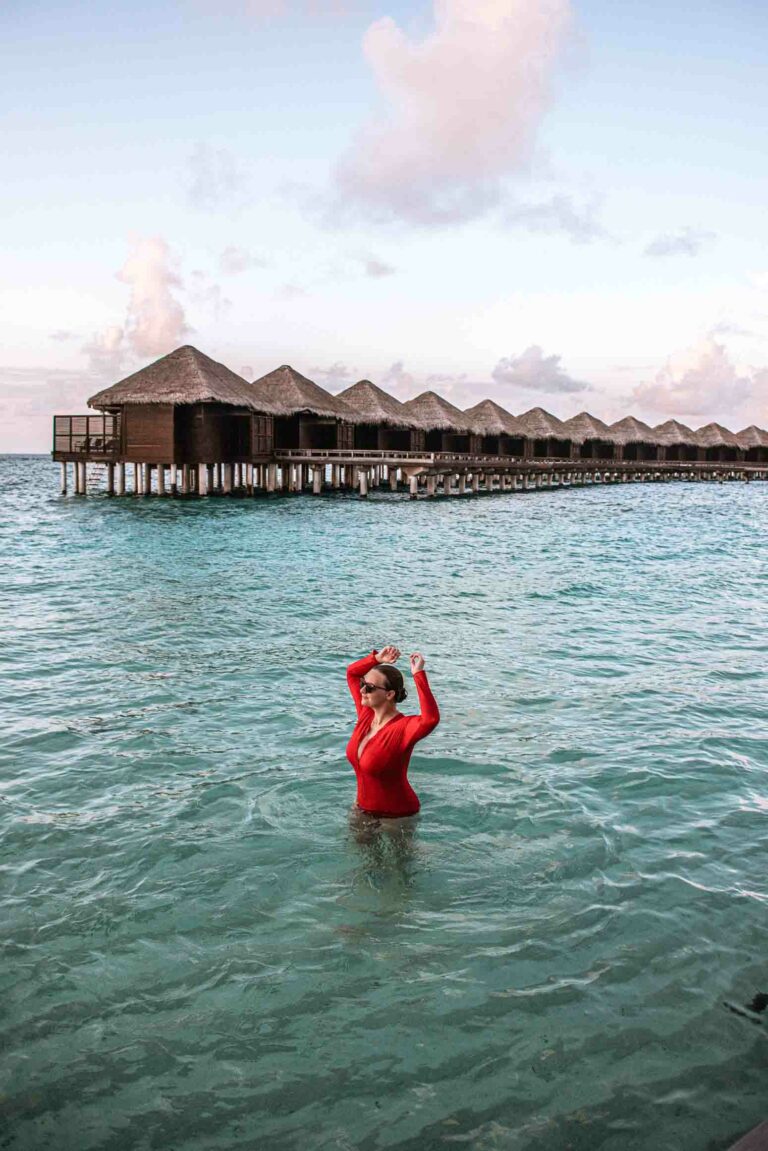 The Storytellers' Conference itinerary
Day one: Arrival day
Visit Maldives kindly sponsored international flights to and from the conference, so my long journey began by catching an eight hour flight from Brisbane to Singapore, then four hours at Changi Airport, before the final four hour leg from Singapore to Male. I was travelling with my friend and fellow content creator Dana from @wanderingdonut, and we met the legends Erin and Jackson from @thewaytowherever at Singapore Airport, who were also attending the conference.
We landed in Male just after 10pm, and our exciting Visit Maldives experience began immediately with a private transfer from the plane to an airport lounge to have our arrival processed. The VM team welcomed us with open arms and some merch at the airport, a brilliant way to kick off our week, however we'd been awake for almost 24 hours by this stage so we were pretty keen for bed haha.
The arrival process was quick and easy, and before we knew it we were in a speedboat for a short 20 minute transfer to CROSSROADS Maldives and our hotel, the SAii Lagoon Hilton. We checked in half asleep, and stumbled our way to our rooms to finally rest our bodies and minds.
I decided at about midnight that I needed food but had no energy to do anything other than walk to the minibar, where there was a packet of truffle chips for $10USD + tax 🙃 Did I eat them? Yes. Were they worth the money? Absolutely. No regrets.
Day two: Conference check in + welcome party
There's no better way to wake up than to blue skies and bluer water. It was so hot outside that my camera lens kept fogging up when I was trying to take photos!
This was the arrival day for most of the attendees, so we had most of the day to relax and enjoy the hotel facilities before the conference commitments kicked off that evening.
Erin, Jackson, Dana and I made an effort to explore the SAii and CROSSROADS adventures on offer, from pedalo boats and snorkelling to cocktails by the pool to biking our way around the two islands. This place is seriously dreamy!
We checked into the conference where we received a gift bag with a bunch of actually useful goodies, like an insulated drink bottle, a laptop sleeve, cute notebooks, pens, lanyards and more. From here we had another couple of hours to relax and get ready for the first official gathering of the conference, a beachfront welcome party at the neighbouring Hard Rock Hotel. We ordered a golf cart transfer and headed on our way to meet other creators!
The welcome party was such a vibe, the perfect way to start a few days of content creator goodness. We enjoyed some samba dancers with the most magical outfits and a bit of audience participation, delicious drinks (even some fruity shots!), a traditional welcome and great tunes. The weather got a bit nasty at one point but we headed under cover to continue the fun and then headed to dinner at one of the all-inclusive options.
Day three: Conference + breakout session + gala dinner
We all set our alarms for another early morning wake up for some sunrise content, well worth it before getting ready for the conference itself.
But we were in a bit of a dilemma, what do you wear to a conference that is literally on the beach?
Yep, the Visit Maldives Storytellers' Conference was *on the actual beach*, in a big marquee with air con, sand between your toes, comfy seats, the ideal situation to be learning about tourism in the Maldives. I'll never be content in a lecture hall or event centre ever again.
We walked the blue carpet, found a good spot for the four of us to sit, and got settled in for a few thought-provoking and inspiring hours of guest speakers.
The conference was officially opened with a call of a 'Sangu', a shell which in ancient times was blown to announce a gathering of villagers. Guests were provided with ice cold refreshments in glass bottles, no plastic to be seen, a fantastic example of Visit Maldives walking the talk about sustainable tourism.
Guest speakers included Vikas Swarup (diplomat and author of the book that was adapted into Slumdog Millionaire), Jessica Nabongo (the first Black woman to travel to every country in the world), Eleni Giokos (a CNN presenter) and Doug Lansky (MC, ex-travel journalist and current tourism advisor). We also heard from the Visit Maldives CEO, Thoyyib Mohamed, who was the brains behind the Storytellers' Conference, and had the chance to hear some super interesting debate topics during a panel on sustainable travel.
Between and after the speakers we witnessed a beautiful traditional performance and had time to browse some pop-up stalls from local artisans, unfortunately my suitcase is completely packed for nine months of travel so for me it was window shopping only!
After the conference we had time for a hearty lunch at SAii's beachfront buffet restaurant, before it was time to split into three groups and embark on our breakout experiences.
Myself, Erin and Dana had all chosen the Sheraton marine biology breakout experience, while Jackson was off to the culinary showcase on a sandbank.
The three of us joined the rest of our contingent and caught a speedboat transfer to the Sheraton, about half an hour away, where we met the resort's resident marine biologist @conservation_kate. She's a true marine biology legend, and she taught us all about how the Reefscapers team (who are located throughout Maldivian resorts and islands) are growing new coral reefs by propagating bits of coral onto steel pyramids that act as an artificial foundation for the reef to multiply. This was magical to witness, with rising sea temperatures and reef damage thanks to both natural disasters and human impact, it's so inspiring to see the work and research going into protecting and improving the underwater biodiversity.
After we planted 120 coral babies on our pyramid (which we can track the progress of online), it was time to dump it into the ocean! With a 1, 2, and 3, a couple of creators swung it into the air and let it sink into the water, for it to be relocated to its new home near the Sheraton's other coral pyramids.
We were even lucky enough to dive deeper, literally, into how our coral pyramids will look in the future, with a whirlwind snorkelling trip to see the existing pyramids that are already thriving. Just a stone's throw from the Sheraton's marine centre you'll see a bunch of coral pyramids that have turned into a bustling hub of marine life, with sharks, turtles and thousands of fish calling this place home. We came away feeling like we'd genuinely made an impact in our short but worthwhile breakout experience. Before we caught our speedboat transfer back home the lovely Sheraton team put on some beachfront sunset drinks for us, the hospitality we were shown here was so heartwarming and only being there for an afternoon was such a tease. We will be back for sure, and for longer next time!
But it was time to move on to something a little less sandy and more fancy, with a huge gala dinner awaiting us back at CROSSROADS. The struggle of going from a salty ocean experience to a formal dinner in a very short period is real, but we managed to pull ourselves together enough to make our entrance at the brilliant gala dinner.
It was a crazy night of neon lights, a mix of traditional performances along with globally popular music, a seemingly endless buffet, a chance to mix and mingle with other creators as well as the Visit Maldives team, and a true celebration of the success of the first ever Storytellers' Conference. Prizes were given away, people jumped in the pool, and thousands of photos were taken, but many of us had an early morning the following day for our next stop on our Maldives adventure so we had to get to bed at a somewhat reasonable time!
Day four: Sideline experience day one
Day four was the end of our CROSSROADS adventure but the start of our exciting sideline experience in Addu Atoll.
We had a group of eight of us;
Myself
Erin and Jackson from @thewaytowherever
Sammy from @sammyvagabond
Noon & Noon from @bestiewanderers
Diana from @mrsblinks
Santosh from @pickyourtrail
As well as the best local guides we could ask for, Maly and Mannu from the Visit Maldives team
Our Addu adventure began with a speedboat transfer to Male Airport and then a domestic flight to Gan Airport in Addu City. Before this I didn't even realise the Maldives had domestic flights, I naively assumed seaplanes were the only option for air transportation!
Addu Atoll is the southernmost atoll in the Maldives, we flew across the equator to reach it and it was about 1.5 hours in the air flying from Male.
On arrival in Addu we were whisked from the runway to a VIP lounge for an amazing local welcome, complete with fresh coconuts which were ideal as rehydration after a hot flight, before moving on to our first local island accommodation, a guesthouse called Pebbles Inn. Pebbles Inn was basic but more than comfortable, with spacious rooms, WiFi, hot showers, and just a few steps to the beach.
You really don't need to spend thousands of dollars a night to stay in the Maldives, local islands have guesthouses available from as low as $50-$100 per night!
By the time we settled in and freshened up it was early afternoon, and the lush scenery of Addu Nature Park was calling. The Nature Park is a protected area with incredible biodiversity, making it the ideal spot for both above water and below water nature experiences.
We started our trip with a visit to some birdwatching platforms in the Eydhigali Kilhi wetlands, keeping an eye out for the white tern, which isn't found anywhere else in the Maldives except for Addu Atoll. After we gave it a good go but had no luck, we got to choose from two adventures, either kayaking through the wetlands or snorkelling the coral reef.
I'm a sucker for anything underwater so obviously I chose snorkelling, but I have to be honest and say that our hopes weren't that high. The nature park is full of magnificent green scenery, but because of the mangroves and the type of sand/mud that the wetlands are made up of, the water didn't have that crystal clear blue look like the Maldives are known for. In fact as we were standing at the beach about to go in, all we could see was slightly choppy water with sea grass all through it.
But it's safe to say that our first impression was completely wrong, because only a few minutes after jumping in, we saw our first turtle! Followed by about five or six more, some of which were super chill and glided slowly around us, as well as an eagle ray, an octopus, moray eels and plenty of colourful fish. The water was warm, visibility was excellent, and the biodiversity was so much better than I expected. This was honestly one of the best snorkelling experiences I've ever had in my life, we were constantly in awe of something beautiful swimming past us.
We stayed in the water for as long as we could but eventually had to get out to join the other half of our group who had gone kayaking instead. The team at Addu Nature Park had put together some local snacks and treats for us, including my personal favourite hunihakaru folhi (a type of sweet coconut pancake thing), to pep us up after a physically exhausting but exceptionally enjoyable afternoon.
Dinner for our first night on the local island was at Equator Cuisine, a simple, laidback restaurant serving up delicious local dishes. While enjoying our evening meal we got to know our two Visit Maldives representatives Maly and Mannu, which culminated in a Dhivehi lesson, the local Maldivian language. We learnt how to say some helpful phrases like where are we going next (said 'konthaaku den dhany'), thank you ('shukuriyaa), delicious ('meeru'), dolphin ('koamas') and more, as well as how to write our names in the Dhivehi language. Please don't trust me on my spelling, I just remember how to say things!
We had another quick stop before we got home, a surprise visit to a fascinating man's private museum with knick-knacks, gadgets and artifacts from the Maldives and beyond. There were military-related things, old seafaring maps, vintage cellphones (and by that I mean a Nokia 2280), coins from all over the world and many more interesting things to discover.
After a huge travel and adventure day we all went to bed with a newfound appreciation for what the Maldives has to offer on the lesser-visited islands.
Day five: Sideline experience day two
Our second full day in Addu had us switching hotels, to the Equator Village at the other end of the atoll, back near the airport.
Equator Village is an affordable local island resort, and it's rare in that it's allowed to sell alcohol as it's classified as a resort rather than a guesthouse. Alcohol consumption is almost totally prohibited on local islands (whereas resort islands allow guests to drink with no restrictions) but Equator Village has a license to run a full bar, great for those of you wanting a budget-friendly holiday without giving up your beer, wine or cocktails.
Local performers welcomed us at the resort with an extremely talented crew of drummers, singers and dancers, the footwork was honestly mindblowing!
Once we'd checked into our rooms (light, bright and spacious) we were off on our next activity, one we'd all been waiting for… A dolphin cruise! We left from just next to the resort and headed out into the deep blue, with all our fingers crossed that we'd stumble across a pod. Yet again nature was on our side, and we found ourselves absolutely surrounded by a HUGE group of dolphins!
Some were curious and competitive, swimming right up to the bow of the boat and racing us as we went along. Some were show offs, jumping and even flipping out to catch our attention. Some were *ahem* a little inappropriate, we did in fact witness some dolphin mating and even caught a particular dolphin appendage on camera 🙃 as our Visit Maldives representative Mannu said, "YEAH, make more dolphin babies!".
A few hours chasing marine mammals had worked up an appetite, but we weren't hungry for long because day five's lunch was a local culinary experience in a family home. I'm a firm believer that local experiences are the best way to learn about a destination, and our lunch proved this was true.
The table was paaaacked to the edges with food, from local seafood and hearty curries to fragrant rice dishes and sweet treats to finish off. We even got to witness some Addu Bendi being cooked from scratch, a local specialty where coconut shavings are cooked with sugar and golden syrup and then rolled in banana leaf. 10/10, would eat again.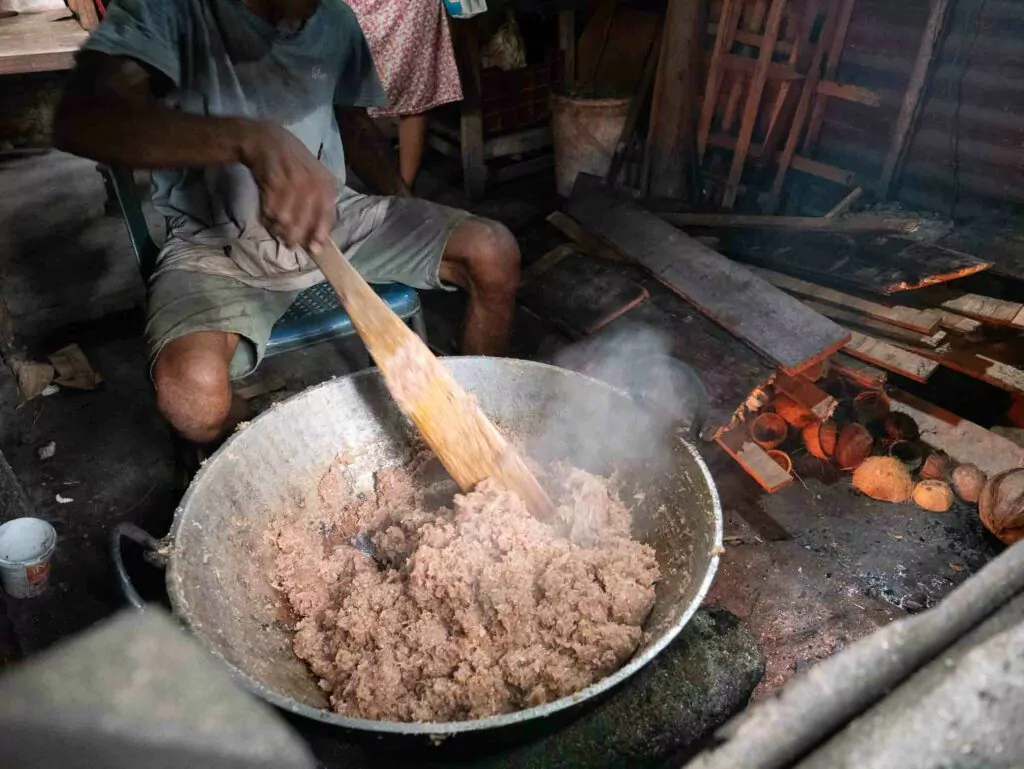 There's no better way to recover from a big meal than to go for a walk to aid digestion, so our guide from Equator Village showed us around the old British military base on the island, and then we drove to the southernmost point of the island to watch the sky turn gold during a stunning sunset.
To wrap up our time in Addu Atoll we finished off the trip with a magical dinner at the end of the resort's pier, with chefs cooking up fresh seafood right next to the water. Seafood tastes better when you can hear the waves crashing, it's just a fact!
Our gracious Equator Village host shared his gratitude for us coming to visit Addu, but really it's us who should be grateful to have experienced such an authentic, hospitable and off-the-beaten-track region of the Maldives.
Day six: Sideline experience day three
Day six saw us say goodbye to Addu, but the fun isn't over yet.
After landing back in Male we jumped on a speedboat for the 20 minute journey to our final stay in the Maldives, a dreamy 5* resort called Grand Park Kodhipparu. We were patiently waiting (okayyyy, maybe a bit impatiently) for confirmation of our room type, and when we saw 'RPWV' on our luggage tags, we all but jumped for joy upon realising that it stood for 'Reef Pool Water Villa'. The Maldives offers so much more than overwater bungalows, buttttt that doesn't mean that we didn't want to stay in an overwater bungalow as well as having all the other experiences!
On arrival at Grand Park Kodhipparu we were each met by a resort lifestyle host who would be our contact for any questions or issues. My host was Sayfina from Tajikistan, I told her that I'd never met anyone from Tajikistan before and she said she'd never met anyone from New Zealand before, so it was a first for both of us!
Sayfina drove the golf cart to my villa, and my heart started beating faster as we got closer to the water. Our dreams came true as the buggies drove onto the wooden pier heading towards huge villas looking out to the open ocean. We went inside and I hold to contain my excitement to a reasonable level while Sayfina explained some room details and my itinerary, but you better believe that as soon as she left, I did a happy dance all around the room.
There was a gigantic bed, a glass panel to look down into the water, a bathtub, a massive outdoor area with plunge infinity pool, chill out net and steps into the water, and a view that made me feel like I was the only person on earth. Vast ocean, clear water, fish swimming around my house, this is the life.
Grand Park Kodhipparu had put together a fantastic itinerary for us to experience the best of the resort. A resort stay is truly what you make of it and it's totally up to you to pick and choose the activities you care about. Some people prefer a solid plan to try out all the facilities and fun things on offer, whereas some prefer to totally clear their calendar and go with the flow.
I'm definitely the former, I need to make the most of my time and to do that I need to plan in advance the must-dos, must-eats and must-sees.
My first organised activity was a dive, I have my PADI Open Water certification and the Maldives is a world class dive destination, it would practically be illegal to come here as a diver and not make it underwater. I had a one-on-one dive with Faseeh, a local Maldivian diver, who was a superstar with the GoPro and got some of my favourite ever diving footage of me. Thank you Faseeh! Our visibility wasn't brilliant due to currents and weather but diving in the Maldives is magical even on the not-so-good days, we saw sharks, turtles, bright coral, trigger fish, clown fish and lots more.
Thanks to speedy golf cart transfers I made it from the dive centre to the beauty spa with just minutes to spare before my traditional Balinese massage, the ideal way to recover after a current dive. Grand Park Kodhipparu's spa centre is world-class, I'd recommend booking a package which includes a therapeutic bath, because the bathtub overlooking the ocean has got to be one of the most Instagrammable bathtubs in the world.
Though my body and mind were totally ready to go to sleep after the massage, our resort itinerary didn't rest, with a sunset cruise next on the agenda. Unfortunately the cloud cover meant we didn't get such a show but a sunset is always worth trying for. It did get a bit chilly in the wind as the sun went down so if you're jumping on a sunset cruise in the Maldives, make sure to take a light jumper just in case.
The weather continued to disrupt our plans a bit but the Grand Park team managed to change things around as best they could. Our beach dinner was moved inside to the fancy wine cellar, where we were treated to dish after dish after dish of deliciousness. Our final organised activity for the day was meant to be a cinema under the stars, but the wet weather option instead was a huge projector screen in the bar/restaurant with comfy beanbags. No complaints here! To top it all off they even brought out cute little containers of popcorn for us, if you know me at all you'll know that I am an absolute popcorn fiend, so this was the cherry on top of the cake for me.
Day seven: Sideline experience day four + departure
How is it the final day already?!
Members of our group were departing at different times throughout the day, so by breakfast we'd already said goodbye to half our squad. Erin, Jackson and I were all flying out late that night so we were lucky enough to get to spend the entire day at the resort.
It's worth noting that seaplanes in the Maldives only operate during daylight, so if you're staying at a resort far from Male and have a late night international flight, you'll probably need to catch a late afternoon seaplane and then spend a while at the airport.
Our last day in the Maldives was filled with resort fun, from snorkelling with reef sharks to floating around the infinity pool on a giant flamingo, to learning to cook mashuni (a delicious mixture of tuna and coconut sometimes with onion and chili), a mixology class with the resident mixologist, and a hearty dinner before the long journey to our next destination.
Grand Park Kodhipparu was the perfect end to such a eye-opening, educational, authentic Maldivian experience. One day wasn't anywhere near long enough, but I have no doubt that I'll be back in the future!
Key takeaways from the Visit Maldives Storytellers' Conference
Top five things I learnt about the Maldives
There is so much more to see and do than what you see on Instagram and YouTube. Your Maldivian bucket list should be so much more than see a whale shark and stay in an overwater bungalow! You could try and count how many different birds you see, learn to write your name in Dhivehi, plant your own coral babies, try your hand at cooking Maldivian dishes that you can show friends and family at home, learn about the British history of the nation, watch the impressive footwork of the boduberu dancers, or experience true Maldivian hospitality with a local island visit.
Maldivian culture is heartwarming, vibrant, and unique. If you only visit a resort you are unlikely to experience true Maldivian culture, so I'd always, always recommend adding at least a day visit (but ideally overnight) to a local island if you're planning on visiting the Maldives. It's in the local islands where you're more likely to learn bits of the language, indulge in homecooked local dishes, meet local families and children, and experience the Maldives in the most authentic way.
The Maldives has the most sustainable fishing industry of any country in the world. Foreign vessels are completely banned from fishing in Maldivian waters, and the tuna that makes up so much of Maldivian cuisine is all caught using low impact methods like pole-and-line, which Maldivians have been using for centuries. Responsible fishing practices also include only taking one fish at a time (no massive nets catching hundreds of fish with loads of collateral damage) and only taking home the target species. Not only does this type of fishing benefit the environment and protect the ocean habitat and marine life for years to come, it also means that the economic benefits go to Maldivian fishing companies rather than multinational corporations.
The southernmost atoll of Addu was home to a British air base a decade after the Maldives gained independence from Britain. Queen Elizabeth II visited Gan Island, where our sideline experience was, in 1972 and many Addu locals have fond memories of this time.
Maldivian people are some of the most hospitable people in the world. In all of my Maldives experiences, from the first local island I visited (Dhiffushi) to the two resorts on my last trip to Addu Atoll and Grand Park Kodhipparu, every single experience with Maldivians has been positive. I'll remember my dive instructor who helped me stay calm during tricky diving conditions, the resort chef who made such an effort to wish my mum a happy birthday, the guesthouse owners who went out of their way to ensure we had a good time on their island, the local ladies who spent hours in the kitchen preparing for our visit, the Addu Nature Park guide who taught us all about the animals both above and below water, and of course our brilliant Visit Maldives representatives Maly and Mannu, who I hope to see again in the future.
Takeaways from the conference
Bad things can happen anywhere, as Jessica Nabongo explained. This isn't meant to be scary or stop you from doing things, it's meant to remind you that bad things can happen at home just as much as they can happen overseas, and we shouldn't let fear get in the way of visiting new places that are out of our comfort zone.
Slow content is king, as explained by Doug Lanksy. Doug did a brilliant presentation about how creators and tourism boards can work together better, there were so many gems but what I particularly loved was that the best type of content is slow, thought out, has a story with it, and makes a true impact, rather than immediate content with no thought, no story and only an aim of being aesthetic enough to go viral. Tourism board trips are extremely time-intensive, for full-time travellers like myself it can take weeks to catch up on content, blogs, social media and emails after a packed press trip, but I always prefer to take my time creating truly impactful content rather than just 'ticking the box' and getting it out as quick as possible.
Sustainability is something both destinations and tourists have to work on together. There were some really interesting ideas that came out of the sustainability panel, including some thought-provoking debates over whose responsibility it is to ensure tourism is sustainable. The general consensus is that as travellers we vote with our dollars, so we should be putting money towards more sustainable businesses and rewarding responsible tourism practices, but also that destinations should be focusing on what they can do in terms of energy usage, waste management, water and so on to ensure they are building sustainable systems.
The Maldives is one of the most at-risk countries in terms of the impact of rising sea levels, and they do far more than their fair share for the environment based on their population. Many resorts have brilliant eco-friendly policies in place, there are marine biologists studying and protecting reefs throughout the country, and the country has devoted time, money and resources into ensuring sustainability is woven throughout all industries. Unfortunately the country is somewhat limited due to resources, there hasn't been enough progress in terms of electric boats and planes to make the transportation industry sustainable, some local islands don't have the infrastructure to provide safe drinking water so plastic bottles are still used, and waste disposal isn't easy when the islands are tiny and made of sand, but there is constant work being done to try and improve these processes.
Takeaways from the breakout experience
Coral can be propagated on steel pyramids to create an artificial foundation for a real living reef. Who knew?!
Rising sea temperatures can kill coral but many resorts have coral recovery programmes in place to protect and revive coral
Coral can live for literally thousands of years
Plastic zip ties are used in the coral planting process, which is an unfortunate use of plastic, however many biodegradable options have been trialled and none of them work. In this instance plastic is a necessary evil, but the benefit that comes from growing new coral outweighs the negative consequence of having to use plastic.
Takeaways from the sideline experience
Local islands are the true Maldives!
You can get many of the same experiences as you get at a resort, like sandbank visits, dolphin cruises, turtle snorkelling, kayaking and more, on local islands too, for a fraction of the cost
The ideal Maldives experience would be to split time between a local island (budget-friendly, authentic culture, meet the locals, get a unique experience) and a resort (iconic Maldives experience, Instagrammable, bucket list, cocktails)
Borubedu dancing is extremely skillful
Dhivehi is very difficult to write for people who are only used to the Latin alphabet
Two visits and a total of 17 days in the Maldives isn't enough, and I need to come back for longer and to visit more places!
All the details of my trip
Where we stayed
For the conference: SAii Lagoon
First night in Addu: Pebbles Inn
Second night in Addu: Equator Village
Our resort night: Grand Park Kodhipparu
How we got around
Domestic flight to and from Gan Island Airport
Speedboat from Male Airport to Grand Park Kodhipparu
Must-do activities
Coral planting
Dolphin cruise
Snorkelling with turtles
Scuba diving
Learn to cook some local dishes
Spa treatments at a resort
Mixology class
Sunset cruise
Beach dinner
I want to say a HUGE thank you, shukuriyaa, to the Visit Maldives team for putting together such an incredible experience for more than 70 creators from all over the globe. What a feat! From the initial welcome party through to our last few hours at the resort I had such a magical time, this trip is a life highlight and I learnt so much. I truly have left a part of my heart in the Maldives and I know for sure it's a destination which I will continue to return to for many years to come.
And if you made it aaaall the way to the end of this blog post, I'm going to reward you with some not-so-Instagrammable outtakes from the trip. Enjoy!