Looking for a local island in the Maldives to be able to experience this tropical paradise on a budget? Dhiffushi is the ideal Maldives local island for your upcoming Maldivian adventure.
Public service announcement: You DO NOT have to spend thousands of dollars to experience the Maldives. I repeat, you DO NOT have to spend thousands of dollars to experience the Maldives.
The Maldives is one of those destinations that tops the bucket lists of travellers all over the globe, thanks to its pristine beaches, epic marine adventures and thriving resort industry. The island nation's tourism industry kicked off in the 1970s, and since then has become a top contender for the dreamiest honeymoon destination in the world, with more than 160 resorts to choose from, many offering all-inclusive rates and those ultra-Instagrammable overwater bungalows.
But if you've been thinking that the Maldives is out of your league because you can afford to spend thousands of dollars for a beach holiday, I'm happy to tell you that you're wrong, and that the Maldives might actually be well within your budget!
The past 15 years has seen a drastic change in the Maldives tourism offerings, with the opening of local islands to tourists, and a growing number of guesthouses giving guests the chance to experience the stunning islands without having to blow all their savings.
2009 saw changes to local regulations that allowed tourists to stay on local islands amongst Maldivian citizens, and since then almost 400 guesthouses have opened on local islands, expanding the country's tourist market from honeymooners and high net worth travellers to families, solo travellers, and even backpackers.
I recently spent some time in the Maldives for a resort holiday with my parents, but I knew that I also wanted to experience life on a local island in the Maldives, so I added a trip to Dhiffushi local island onto my itinerary. Here is all you need to know about Dhiffushi local island in the Maldives, why it's worth visiting, and how to plan the perfect trip.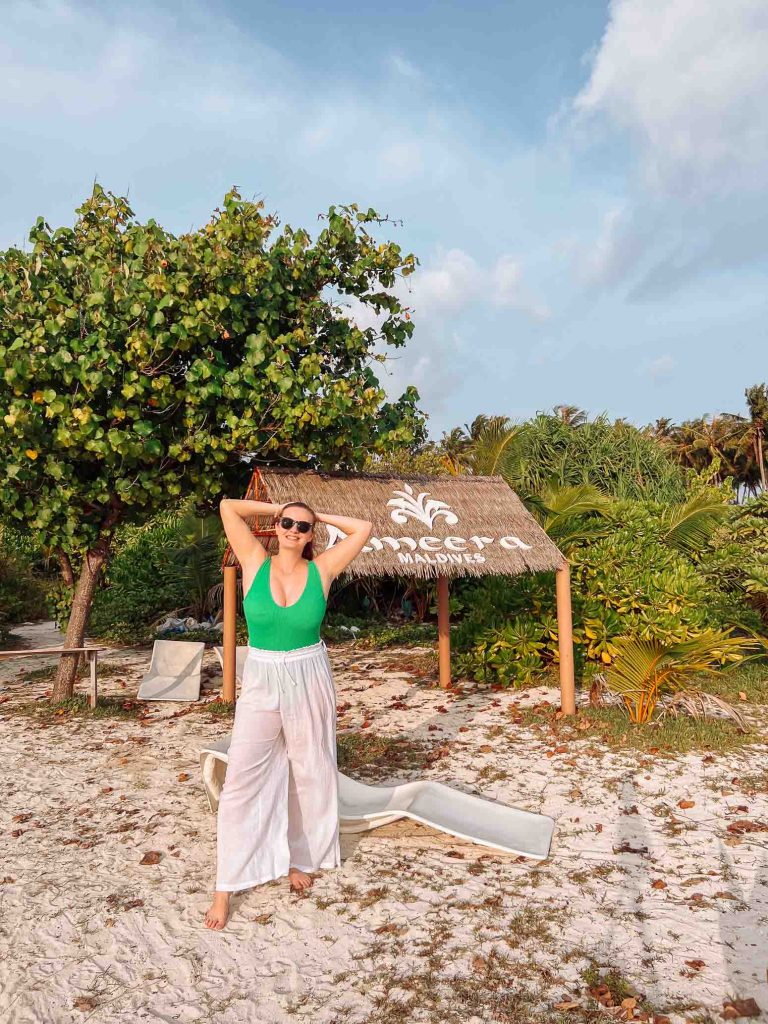 Where is Dhiffushi local island in the Maldives?
Dhiffushi is located in the Kaafu Atoll, just 37km northeast of Malé (the capital city and where the international airport is). It's the easternmost island in the Maldives, and therefore is the first one to see the sunrise each day.
---
How to get to the Maldives
You'll need to fly into the Maldives, landing at Velana International Airport in Malé.
Most major airlines like Emirates, Etihad, British Airways, Singapore Airlines, United, Lufthansa and more have routes that can get you to and from the Maldives, but flights from the UK, USA, Australia and Europe can be horrendously expensive. At least at first glance…
But if you dig a little deeper into the low cost options, there might be an easier way to get to the Maldives while saving some money, which you can put towards snorkelling trips and sandbank picnics instead.
There are some low cost carriers that fly direct to the Maldives for cheap, notably Wizz Air from Abu Dhabi, AirAsia from Kuala Lumpur, IndiGo from India and FlyDubai from Sri Lanka. With this in mind, you could look for cheap flights to get to one of those cities, then catch a cheap flight to the Maldives from there. You may end up paying less than half the price than what your initial flight search showed you!
If you're in the UK or Europe, using Abu Dhabi as a hub is your best bet at getting a good price. From Australia, New Zealand or Asia, get yourself to Kuala Lumpur and fly from there. Unfortunately from the USA there are no simple flight hubs that will save you money because the Maldives is just too far away, but if you're planning a big trip to Asia or the Middle East, the Maldives is easier and cheaper to add on than you'd expect.
---
How to get to Dhiffushi
Once you land in Malé, you'll need to catch a boat to Dhiffushi local island.
If you're on a tight backpacker budget, you might want to go for the cheap local ferry option. The local ferry from Malé to Dhiffushi costs just 22MVR (about $1.50USD) each way and runs daily except Mondays and Fridays, leaving at 2.30pm from Villingli Terminal in Malé, and arriving at Dhiffushi Harbour three hours and 15 minutes later at 5.45pm. The ferry stops at three other islands before finishing in Dhiffushi. To get back to Malé after your local island holiday, the ferry leaves Dhiffushi at 6.30am and gets to Malé at 9.45am.
The faster and more comfortable option to get from Malé to Dhiffushi is the Mee Altec Express speedboat, which costs $35USD per passenger and takes 40-45 minutes. The speedboat has a bit of a weird schedule and I saw a lot of incorrect information online. Based on my conversations with the boat staff, the current schedule for speedboats leaving Malé is:
Saturday to Thursday 11.30am and 4.30pm
Friday 8.30am
Additional night services on Thursday at 8pm and Fridays/Saturdays 9pm
The speedboat leaves from Jetty #1 in front of the Maldives Monetary Authority at these times, but it also makes a stop right outside the airport 10 minutes after the times above. You can find up-to-date speedboat info on their website, but your Dhiffushi guesthouse will also be able to book your transfer for you.
---
Why is the local island of Dhiffushi worth visiting?
Visiting a local island like Dhiffushi is a genuinely affordable alternative to the expensive resorts the Maldives is known for.
You can experience picture-perfect beaches, swimming with turtles, trying out scuba diving, visiting sandbanks and watching dolphins play around your boat at sunset, but for a fraction of the price of a resort island.
And aside from being budget-friendly, local islands like Dhiffushi also offer a glimpse into authentic Maldivian culture, which you are less likely to find at a resort. Try Maldivian cuisine, make friends with locals, learn about their traditions and more.
I chose to visit Dhiffushi itself for a few different reasons. It's accessible by a quick speedboat trip, it offers easy access to some incredible snorkelling spots, and it's less busy than some of the more well-known local islands like Maafushi and Thulusdhoo. It's also pretty small and easy to get around, about 900mx250m, with a population of only 1200 people, so it felt very local and low key rather than a buzzing tourist destination.
---
Where to stay in Dhiffushi
Dhiffushi offers a range of accommodation options to suit any budget or travel style, from back-to-basics through to fancy beachfront villas.
Where I stayed
I stayed at one of the best-rated and best value guesthouses on the island, Ameera Maldives, and I honestly can't rave about it enough.
It was literally 30 seconds from the beach, the room was comfortable with aircon and enough space for luggage, the guesthouse staff were super friendly and helpful, and their restaurant served up delicious local cuisine at really decent prices. They can also help you organise fun activities like turtle snorkelling, dolphin cruises or island visits, and each night they took me for a scooter ride to try find bioluminescence (which is magical by the way!).
Ameera's rates, like all accommodation in the Maldives, differ drastically depending on the time of year but in the low season (May to October) you can find rooms for as cheap as $50-100USD per night, and around $135-$220USD in high season (November to April). Ameera is rated 9.3/10 on booking.com and you can check your travel dates here.
Other accommodation on Dhiffushi local island
Budget | Aside from Ameera which I mentioned above, Isla Dhiffushi, Nirili Villa, Infinity Dhiffushi, Portia Hotel & Spa, and Bibee Maldives are the top-rated budget options.
Mid-range | Crown Beach Hotel, Sky Beach, Heron Beach Hotel and Crown Beach Villas are slightly more upmarket hotels rather than guesthouses.
Villa | If you're visiting Dhiffushi with a group of friends or family, the Veli Vilaa is a four-bedroom villa that fits up to 8 guests and costs from $690-$800USD per night, not bad for a full house on a tropical island.
Resort | Right next to Dhiffushi local island is a resort island called Meeru, it's a 4-star resort with great reviews (rated 9.3/10 on booking.com) and is one of the more affordable resorts in the Maldives. If you did want to experience a resort as well as a local island, you can easily add on a night or two at Meeru and just take a short boat transfer there from Dhiffushi. Rooms at Meeru start at $280USD including breakfast, lunch and dinner in the off season, or from $520USD in the high season.
---
Things to do in Dhiffushi
Bikini beach
Local islands in the Maldives have two different types of beaches, 'local beaches' which require tourists to dress modestly with respect for local norms, and 'bikini beaches' that allow tourists to wear bikinis (as you'd assume by the name).
Dhiffushi has three beaches and all of them are bikini beaches, meaning you can wear swimwear and sunbathe. You can't sunbathe without a top on on any local islands in the Maldives, and if you're walking from one of the bikini beaches to your guesthouse or to a restaurant then you need to ensure you're wearing modest clothing once you leave the beach.
Snorkelling
Dhiffushi does have a house reef that you can snorkel at just a few metres from the beach, and all guesthouses should have snorkel gear you can use. Unfortunately this reef isn't super vibrant and the coral is quite damaged, so it's better for beginner snorkellers looking to hone their skills in the water rather than any epic underwater adventures.
But if you want a more pristine snorkelling experience there are boat trips that go out to different snorkelling spots around the island each day, to see things like tropical fish, reef sharks and turtles. I paid $30USD for a two hour trip to a spot with turtles which included all snorkelling gear.
Diving
There are a few different scuba diving operators on Dhiffushi that can take you for discovery dives (first-time dives for beginners), do full dive courses, or take you out for some fun dives if you're already certified.
There are plenty of incredible dive sites within easy reach of Dhiffushi by boat, the Maldives is one of the most incredible places in the world to go diving, so this should absolutely be on your bucket list.
Watch the sunrise and sunset
Dhiffushi is the first place in the Maldives to see the sunrise, which is reason in itself to wake up early! The sunrise in Dhiffushi is between 5.55am and 6.10am, the Maldives are right by the equator so the sunrise/sunset time doesn't differ much.
If you're not an early riser (neither!) then sunset can be just as stunning and at a much more convenient time of around 6pm-6.18pm.
Expect to see the sky transform into vibrant shades of red, orange, yellow, pink and purple, and don't forget to take your camera!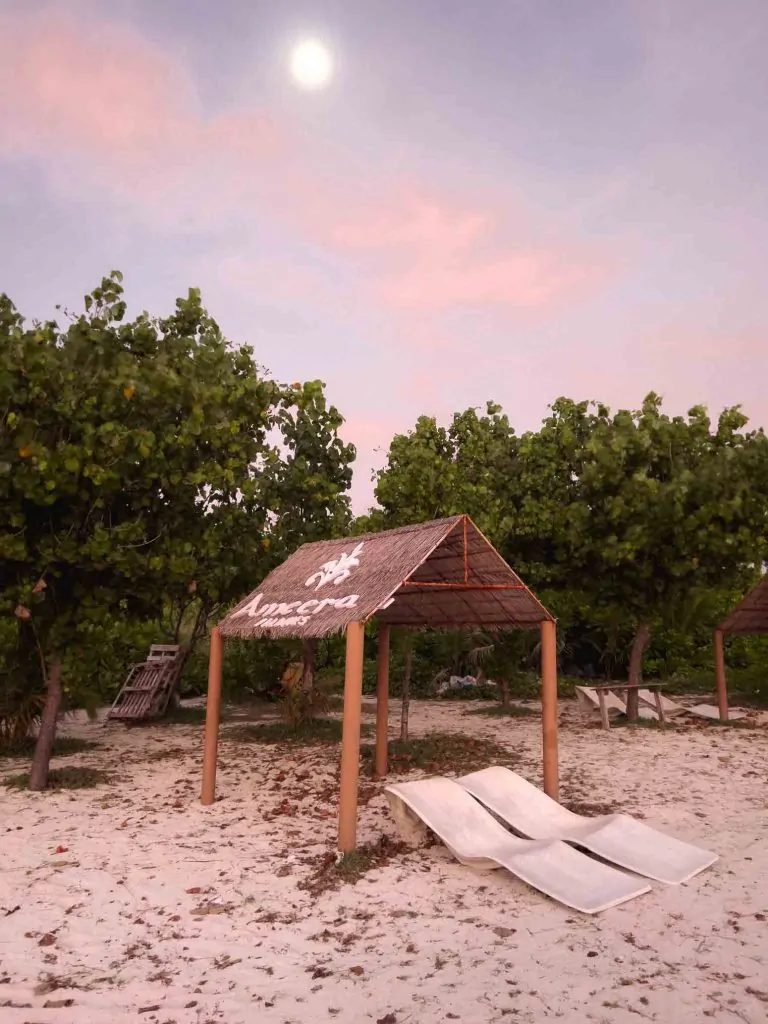 See bioluminescence
Bioluminescence is a natural phenomenon where living organisms emit light, and in the Maldives it's specifically a microscopic plankton that turns bright blue when disturbed by movement, like in breaking waves or when people walk along the sand.
Dhiffushi is a great place to spot bioluminescence all year, but it does require particular sea conditions (temperature + current) which can obviously change on the daily.
The good thing about Dhiffushi is that there are a few different sandy beaches where you might be able to find bioluminescence and they're only a short walk or shorter scooter ride from each other, so you've got two or three chances each night anyway.
Stargazing
Many islands in the Maldives are incredible for stargazing thanks to minimal light pollution, and Dhiffushi is no different. Set aside at least one night of your holiday to head down to the beach after dinner and soak up the sparkling night sky.
Spot dolphins
Have you ever been on a boat with dolphins racing you and playing in the wake? If not, the Maldives is the perfect place to get up close and personal with wild dolphins.
You can book a sunset cruise on a traditional Maldivian dhoni (boat) from Dhiffushi for $30USD per person, it starts at 5pm and goes for 1.5 hours.
Visit a resort
One option to experience a Maldives resort without spending up large on a night is to do a day trip to a resort, where you can experience buffet meals, all-inclusive packages and excursions.
Many resorts stopped offering day trips in 2020 due to Covid unfortunately and there's not a huge amount of info online as to who is offering them now in 2023, but you could get in touch with your guesthouse to ask the options, or speak to the teams at nearby resorts like Meeru, Kuda Villingili, Club Med Finolhu and Four Seasons Kuda Huraa.
Spend a couple of hours on a sandbank
One of the most iconic Maldivian landscapes is an island of white, powdery sand surrounded by bright blue water, and from Dhiffushi you can take a boat trip to enjoy a couple of hours on a nearby sandbank.
To give you a rough idea of pricing, when I was there in early 2023 a two hour trip was $30, a two hour trip including breakfast was $35USD, with lunch was $40USD, with a three course dinner was $120USD or if you want a BBQ dinner it's $130USD.
There was even an option to go glamping at a sandbank overnight including dinner and breakfast for $200USD.
Go fishing
Before local island tourism began in the Maldives, the main income source for Dhiffushi (and most other local islands) was fishing. These days Dhiffushi still has a strong fishing scene, with local fishermen catching fresh seafood to provide food to the island's homes and restaurants, as well as taking tourists out to try their luck at catching dinner themselves.
You can choose from day fishing or night fishing, with two hour trips ranging from $30-$50 depending on the boat/type of fishing, and most trips include your fish being grilled for lunch or dinner.
Enjoy local cuisine
Staying on a Maldives local island like Dhiffushi gives you the chance to taste authentic local cuisine for cheap, like fresh seafood, tuna curries, young coconut and tropical fruit.
You'll be able to find Western food on Dhiffushi like pizzas, burgers, pasta and chicken tenders, but I'd recommend giving local dishes a go, like kulhimas (chilli tuna breakfast dish with roti), mas huni (tuna, onion and coconut breakfast fish with roti), kottu roti (roti fried with meat, egg and veges) or grilled seafood.
Prices differ throughout the island but in general most local dishes are cheaper and better quality than the Western food on offer. Here are some prices from my guesthouse to give you an idea of what to expect:
Fried rice or noodles with meat or seafood $5-$7
Kottu roti $5
Tuna salad / green salad / cucumber salad $3
Tuna / chicken / egg sandwich $4
Pizza $7-10
Pasta $5-7
Curry $6-7
Medium grilled lobster $40
Grilled tuna steak $11
Grilled whole reef fish $10
Lobster pasta $40
Fish & chips $7
Grilled whole chicken with rice $12
Visit another local island or a private island
From Dhiffushi there are some other islands nearby that you can visit to see somewhere new.
You could visit nearby local island Thulusdhoo for another local island experience, it's busier than Thulusdhoo and offers some incredible surfing opportunities if that's your thing!
You could also treat yourself to a private island visit, and have your own little Castaway moment!
Any guesthouse will be able to organise these excursions for you, expect to pay around $100 for a full day trip including lunch.
---
Things to know about Dhiffushi local island in the Maldives
What currency do I need for Dhiffushi?
The Maldivian local currency is Rufiyaa (MVR) but everywhere on Dhiffushi will also accept USD, and some hotels even accept other major currencies like GBP or Euros. If you pay in another currency just be aware that you might receive MVR as change, which you are unlikely to be able to exchange when you get back home, so try to use up any local currency before you leave.
Is there an ATM in Dhiffushi?
Many Dhiffushi travel guides online say that there's no ATM on the island because that used to be the case, but as of early 2023 there is now a Bank of Maldives ATM where you can get out local cash if you need it.
Don't stress too much though, most hotels and restaurants take credit card, there was only one meal where I had to pay with cash.
Is Dhiffushi cheap?
Compared to Maldives resorts, Dhiffushi is SO cheap! You could enjoy a holiday here in the low season from $120-$140USD per day including accommodation, all meals and an excursion each day, which is significantly cheaper than what you'd get at any resort.
In saying that though, it's obviously nowhere near as cheap as many other tropical destinations like Thailand, Bali or some parts of Mexico.
But if you want to tick the Maldives off your bucket list, and you don't want to have to wait to save up or to have something like a honeymoon as a reason to treat yourself, Dhiffushi is certainly an affordable way of experiencing the Maldives.
Can you drink alcohol in Dhiffushi?
No, alcohol is prohibited on local islands so you won't be able to order or drink alcohol at your guesthouse, on the beach or at restaurants. You'll be able to drink alcohol if you choose to do a day trip to a nearby resort.
While I was on Dhiffushi I did see (and hear!) a boat anchored a little offshore with bright lights and loud music, and my guesthouse owner said it was a party boat that offers alcohol for tourists to drink while they're on the boat. I can't find any info about this online so I think it maybe flies (or sails haha) under the radar a bit, so ask your guesthouse owner if they can help you organise a trip if you're super desperate for a mojito.
What is the dress code for Dhiffushi local island?
When you aren't on one of the bikini beaches, you need to be dressed modestly to respect local customs. Men need to wear a t-shirt and shorts, and women need to cover their shoulders (t-shirt or kaftan/shawl is fine) and knees with a skirt, trousers or sarong.
I'm disappointed to say that during my time in Dhiffushi I witnessed quite a few tourists flouting these rules and trying to walk from the beach or harbour to their guesthouse in swimwear, or with a towel wrapped around their waist, or wearing a baggy shirt over wet swimwear which makes it see through and clingy which defeats the purpose of dressing modestly. At one stage I saw a local older gentlemen politely remind a tourist that she needed to dress appropriately while walking around the island and she literally rolled her eyes and walked away.
I am extremely passionate about women being able to wear what they want and not being blamed for what happens to them based on what they wear, and I disagree with the notion that women should be covered up for religious purposes and to not "tempt" men, *however*, when you visit another country as a tourist you are expected to abide by local norms and respect their culture.
If you don't want to cover up then absolutely no worries, head to one of the resorts where you can wear what you want and drink however much you want! But if you're wanting to visit the Maldives on a budget and experience local island life, you need to dress modestly.
Is there a doctor in Dhiffushi?
There is a health centre in Dhiffushi if you have any issues, and if you need further medical care, it's a 40-45 minute speedboat back to Malé.
Be sure to book travel insurance before you go in case of any medical issues, travel insurance generally also covers emergency assistance like boat transfers or seaplane transfers. I use Covermore (available for NZ and Australian travellers) but if you're from elsewhere you could check out SafetyWing for a cheaper policy or World Nomads for comprehensive cover.
Is Dhiffushi safe for solo female travellers?
Absolutely, I felt 100% safe during my time in Dhiffushi and wouldn't hesitate to recommend it to other solo female travellers.
Crime is so rare on the island because it's such a small population that relies heavily on tourists, if any local ever committed a crime against a tourist they would be immediately found out and shunned by the rest of the island. And because there's no alcohol, it's far less likely that there would be any misbehaving tourists, who make up a decent chunk of arrests in other beachy hot spots like Bali or Phuket.
The most dangerous thing in Dhiffushi would be the elements like water and the sun. Be sure to wear a life jacket if you aren't a confident swimmer or if you're out snorkelling for a few hours as you may get tired, and slap on sunscreen throughout the day because those rays close to the equator can buuuuurn baby burn. Believe me, I found this out on the first day.
What's the weather like in Dhiffushi?
Dhiffushi's weather is very mild, typically 26-28°C at night and 30-32°C during the day year-round. Dry season is November to April and rain is pretty rare during this time, with a daily chance of between 2-9%, and even in wet season (May-October) the daily chance of rain is only between 8-13%.
Is there fast WiFi on Dhiffushi?
The WiFi at my guesthouse (Ameera) was okay, not super fast for things like photo uploading or Netflix streaming, but it worked perfectly fine for browsing, researching, emails and writing my blogs. I did find super fast WiFi at the restaurant at the Heron Beach hotel, the owner said I was welcome to use the WiFi in the reception or just pop in for a coffee if I needed fast WiFi for some work stuff, so keep this in mind if you're a digital nomad in the Maldives.
Can you drink the tap water in Dhiffushi?
Dhiffushi has a water desalination plant and most water from taps is sea water that's had the salt removed and doesn't particularly taste very nice, but is safe to drink. In saying that every guesthouse on the island provides complimentary drinking water so I'd recommend sticking with that for your hydration, but brushing your teeth with tap water won't hurt you.
---
Even just a short trip to Dhiffushi seriously made an impact on me, and it felt like I was leaving part of my heart behind! This is such a beautiful part of a stunning country, it's easy on the wallet, met all my dreamy Maldives expectations, and I am already planning a return.
I hope this Dhiffushi local island blog post has helped you plan your upcoming Maldives trip. If you have any questions please let me know in the comments!