If you're looking for somewhere special to stay in Sri Lanka that will take your trip to the absolute next level, this is it. Here's all you need know about the award-winning Uga Chena Huts in Yala, Sri Lanka.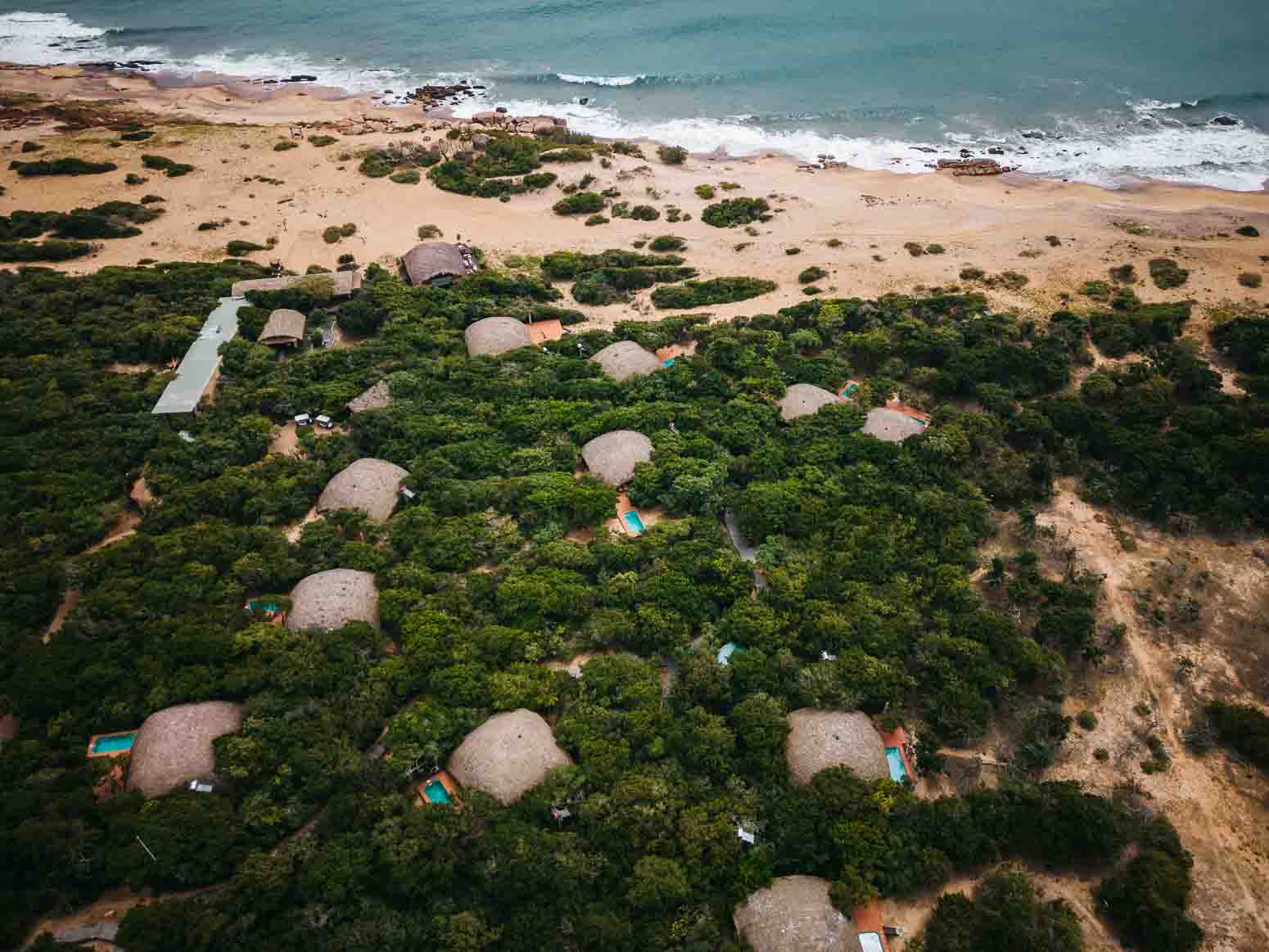 When planning my recent Sri Lanka adventure I unfortunately had to deal with some flight and tour issues which sadly cut my Sri Lanka trip short, leaving me with only four days in the country. During these four days was my 31st birthday, and my first ever solo birthday! So I knew I had to make the most of my limited time.
I decided to look for the most epic place to stay in Sri Lanka to celebrate the big 3-1, and though there are a bunch of incredible luxury accommodation options to choose from, Uga Chena Huts stood out as 'the One' for me.
I spent two magical days at Uga Chena Huts in the buffer zone of Yala National Park, Sri Lanka's second largest national park covering 978.8 km² of forest, grassland and lagoons. The hotel is like glamping on steroids, with stylish and comfortable thatched roof cabins each with a private pool, an all-inclusive set up with fantastic food and delicious drinks, and the inclusion of game drives for customers to experience Yala by jeep.
After having stayed at literally hundreds of hotels around the world, from iconic 5* hotels to ultra-fancy resorts to boutique glamping spots, I can be hard to impress. But at Uga Chena Huts, my jaw dropped further and further with every turn I took around the property.
Here's a detailed review of Uga Chena Huts in Yala, Sri Lanka, and why it should be at the top of your accommodation bucket list. Or if you already know you want to stay here, cross-check the price on their direct website with booking.com to make sure you're getting the best deal.
---
All about Uga Chena Huts
What is Uga Chena Huts?
Uga Chena Huts is an exclusive, boutique 5* hotel set amongst the lush forest near Yala National Park, with a particular focus on sustainable tourism and immersive natural experiences. They have 18 luxurious cabins and offer all-inclusive packages for guests which include meals, drinks and daily safari game drives.
Uga Chena Huts is part of the Uga Escapes brand which has four other incredible accommodations around Sri Lanka.
Where are the Uga Chena Huts?
You'll find Uga Chena Huts in southern Sri Lanka, just a short drive from Yala National Park. The huts are nestled amongst bushland bordered by golden sand, with a secluded beach just steps from the hotel restaurant. Ocean on one side, wildlife on the other, just dreamy!
What is included in your Uga Chena Huts booking?
When you book at Uga Chena Huts, you're not simply getting a hotel room. Each booking includes:
A spacious, comfortable cabin with a private plunge pool
Transport from the park entrance to the resort
Breakfast, lunch and dinner at Basses Restaurant
Drinking water
Tea, coffee, fresh juices and soft drinks
Selected beer, wine, spirits and cocktails
Minibar refilled each day
Six pieces of laundry each day
A safari game drive each day (choose from morning or evening drives) including park entrance fees
Snacks and drinks on safari game drives
How long to stay at Uga Chena Huts
I'd say a minimum two night stay would be necessary to be able to experience what Uga Chena Huts has to offer, this gives you enough time to try two different dishes for at least breakfast and dinner, a couple of game drives, time to indulge in the all-inclusive drinks, time at the spa and time exploring the property.
If you're a keen wildlife watcher or simply enjoy living in luxury, you could spend a week here and still enjoy every second.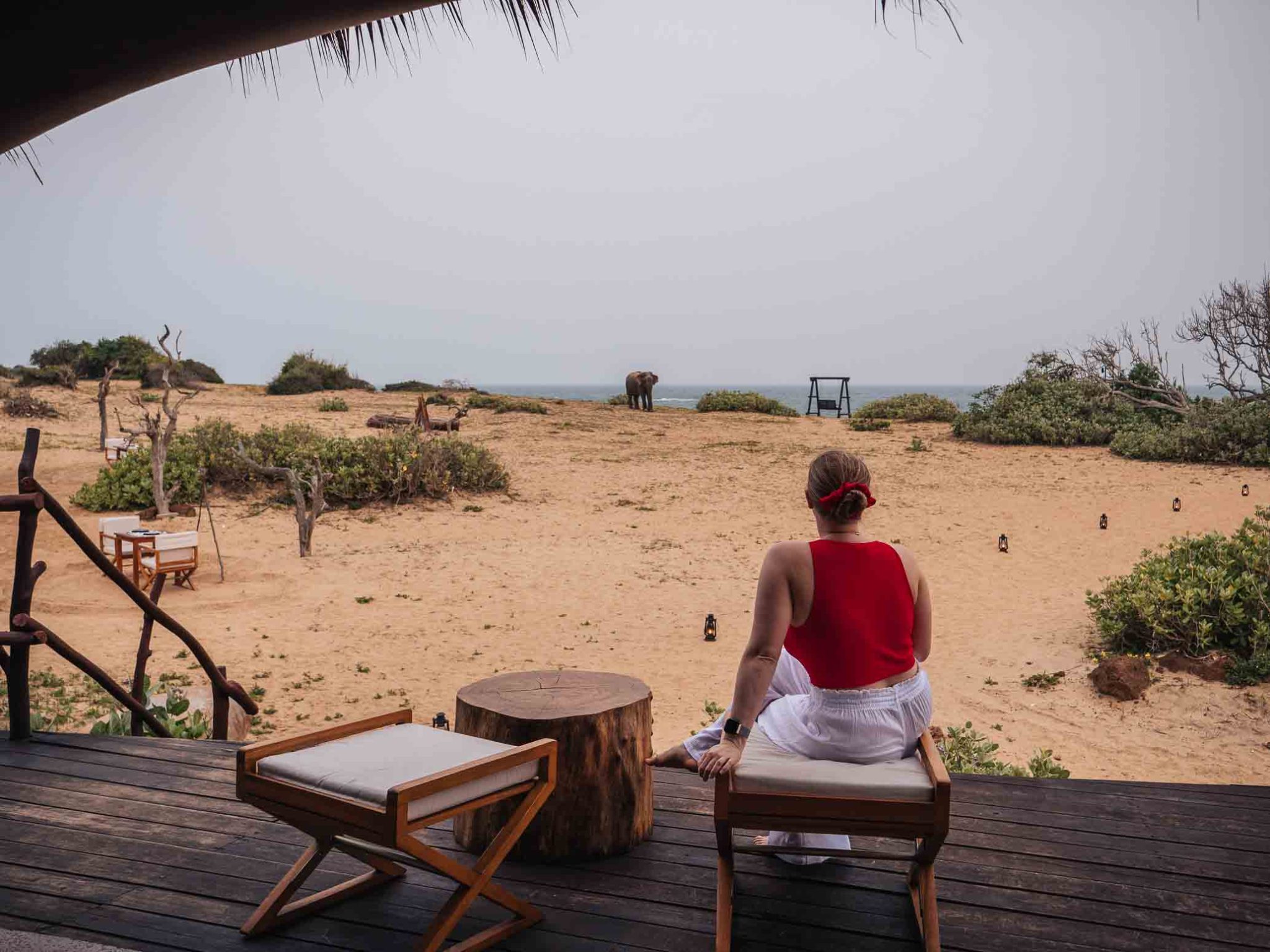 ---
Reasons why Uga Chena Huts need to be on your bucket list
The welcome is an incredible first impression
I'm a sucker for a good welcome at a new hotel, and Uga Chena Huts certainly knows how to impress.
A sign at the entrance to the park buffer zone states the most recent sightings of elephants, bears and leopards along the road to Uga Chena Huts (and a few other resorts in the area). From here it's a bumpy ride deep into the greenery, seemingly getting further and further away from civilisation. You've got to keep your eyes peeled for any movement in the bushes, you might be lucky enough to spot something exciting before you even reach the hotel!
At the hotel carpark you'll switch transportation into a golf cart to be taken to the reception area, where you'll be greeted with a deliciously refreshing welcome drink and a short welcome massage. Now I could get used to this!
The rooms are stunning
The cabins at Uga Chena Huts are the biggest cabins in the region, they have an open plan layout with a huge bed, living area, dining table and desk, with a bathroom area behind the bed with a free-standing bath. Each cabin also has a private deck with a small plunge pool for cooling off during the hot afternoons.
The huts are designed with both sustainability and authenticity in mind, using natural materials where possible that complement the natural landscape rather than impose on it. Each room is climate-controlled to keep you comfortable and has low-impact energy processes to avoid wasting resources.
The food is next level
The hotel restaurant, Basses, serves up three meals a day, with options ranging from Western-style dishes with a Sri Lankan twist through to hearty traditional dishes. The menu changes each day and is designed with seasonal, local produce availability in mind.
For breakfast you can choose from the classics of pancakes, porridge, or eggs (I recommend the fluffy eggs made with truffle oil, divine), or try a local-style breakfast with coconut and rice flour crepe, steamed rice flour noodles and flatbread with condiments. You'll also get a fresh fruit platter and fresh pastries. Pair this with a fresh pineapple juice and that's the perfect start to a day!
Lunch and dinner options are varied, with home comforts like pumpkin soup, innovative fusion dishes like beef wellington with a Sri Lankan influence, or dishes that showcase the best of Sri Lanka's cuisine like a bush mixed grill or a selection of assorted curries, ambula (sundried mango) sambals, chutney and pappadum.
When you're on a game drive you'll get snacks too, usually something like a fruit platter, freshly baked pastries or other finger foods.
You can see wild animals roaming around the property
One of the best things about Uga Chena Huts is that you can see wild animals roaming in and around the property itself! Of course wildlife spotting can't ever be guaranteed, but you're likely to see monitor lizards, wild boar, spotted deer and plenty of birds, and the chance of seeing elephants near the property is pretty high too.
It was my birthday on the day I checked in to Uga Chena Huts, and when chatting to the reception staff I said all I wanted for my birthday was to see an elephant on safari that afternoon. They said "you won't have to wait until then, come with us" and took me literally one minute around the corner, where an elephant was grazing on bush literally metres away from the resort! How cool is that?!
At the time I was staying there were three elephants who were hanging around the property, and each night they took an evening walk across the sand right in front of the hotel restaurant and bar, an incredible moment to enjoy with a cocktail in hand. And after dinner one night one elephant came back for his late night snack, getting right up close to the restaurant and even knocking over some lanterns in the sand as he left.
I do have a bit of an embarrassing story to share. After seeing the elephant so close at night I was on edge, keeping an eye and an ear out for other animals, and I was about to walk from reception to my hut with my torch when I heard what I thought was a growl. Was there a leopard near me waiting to pounce?! I freaked out and ran back to reception and said "I HEARD SOMETHING I think it's a leopard" so the staff walked in front, next to and beside me towards my room, I heard the sound again and said "DID YOU HEAR IT?", and one of them said "Ma'am, that's just the blender at the cocktail bar" 😂😂😂 then he said "if a leopard wants to kill you you aren't going to hear it first" so that was reassuring 🙃
And you'll spot loads more on the included game drives
Uga Chena Huts has its own expert rangers who will teach you all about the region's wildlife on a game drive, either early morning or mid-afternoon to early evening, when the animals are most active.
Our ranger, Hari, was an absolute legend with years of safari experience from both Botswana in Africa and here in Sri Lanka. We started our morning game drives at about 6am, enjoying the pastel-coloured skies as the sun rises, and the afternoon drives run from about 3/3.30pm until sunset.
On our game drives we saw plenty of elephants both up close and in the distance, wild boar, monkeys, water buffalo, spotted deer, sambar deer, mongooses (or mongeese, what's the correct plural?!), lots of peacocks, crested eagles, colourful bee-eaters, crocodiles and more.
One of Yala National Park's main drawcards is the chance to spot an elusive leopard. Yala has the highest density of leopards anywhere in the world, although they are still tricky to see and you've got to be lucky to tick a sighting off your bucket list. Uga Chena's rangers are experts at finding these gorgeous animals, they know where they go at what times of the day, they listen for hints from monkeys and birds, and they can spot them hiding behind leaves or sunbathing on rocks even far in the distance with binoculars.
I did three game drives in total during my time at Uga Chena Huts and we managed to see a leopard on the second drive, relaxing on a rock high above the forest behind some trees. It was an incredible moment, we had a few minutes enjoying the view through the binoculars, until another safari vehicle came over with a lady wearing bright red (you shouldn't wear bright colours on safari) and leaning way out of the car (this can distract or scare the animals). The leopard saw her immediately and jumped down into the forest, and that was the end of our sighting! Still very cool to tick this off the bucket list though.
It's super relaxing
The hotel's facilities are so dreamy and calm, it's the perfect place for a relaxing nature escape.
Treat yourself to a body scrub or massage at the beauty spa, lounge around the huge shared pool or take a refreshing dip in your private plunge pool, enjoy a sunset cocktail at the sundowner bar on the beach before dinner or indulge at the main cocktail bar throughout the day and night.
It will feel like home
I adore finding those rare places to stay that immediately feel homely even if you only stay a short time, but Uga Chena Huts is certainly one of them. This was my first solo birthday but I definitely felt the birthday love, I even got a birthday cake with a sparkler for dessert!
The staff are all incredibly friendly, it's the perfect mix of luxury while staying authentic and eco-friendly, everything was comfortable, the safari drives were a life highlight, the food was divine, and as I drove away from the hotel I was already planning a return with friends and family.
---
The final verdict on Uga Chena Huts
I genuinely cannot fault a thing at Uga Chena Huts, they have made it firmly to the top of my all-time favourite accommodation experiences.
10/10 for the food, delicious with varied options giving you the chance to try local dishes while also offering home comforts.
10/10 for the huts themselves, comfy beds, huge bath tubs, amazing pools that make you feel like you have your own private forest.
10/10 for the animal encounters, both elephant spotting from the comfort of the bar with a drink in hand, and seeing loads of wildlife on the safaris with expert rangers.
10/10 for location too, only four hours from Colombo by car which means it's doable even if you were visiting Sri Lanka for a short trip. I booked a private driver who was recommended to me by friends, his name is Shan and he was fantastic! Very friendly, the car was nothing fancy but had air con and was comfortable enough for a long drive, and I paid 55,000LKR ($170USD, $270NZD, $250AUD, £137) for Colombo to Yala on Saturday, then Yala to Colombo Airport on Monday. It would have been slightly cheaper if I had booked through the app PickMe (like Uber in Sri Lanka with options for long journeys too) but for longer trips I prefer to go with drivers who friends have previously travelled with. You can contact Shan on WhatsApp at +94762089142 or on Instagram at @travel_shan_.
If you're ready to book your Uga Chena Huts escape then check prices on their website and then cross-check with booking.com to make sure you're getting the best price.
---
Huge thanks to the Uga Chena Huts team for hosting me for two nights. As always, all opinions are my own and are entirely based on my personal experience.