Next Hotel is a boutique business hotel located in the middle of Melbourne's CBD, with brilliant staff, luxurious and stylish rooms, and incredible food onsite and nearby. Here's a detailed Next Hotel Melbourne review.
After a little something starting with 'C' and ending with 'ovid' interrupted my last round the world solo adventure, I've recently kicked off Alexx's World Trip: Take Two, starting with a 2.5 month stint in Australia.
And while I tend to split my travel time between different accommodation styles and budgets, I was pretty stoked to start the adventure with a couple of nights in a five star hotel in the middle of Melbourne's CBD! I started the trip as I *hoped* to go on, living in luxury, enjoying high rise views and ordering room service while sipping bubbles in my robe. Wishful thinking.
My experience at Next Hotel was honestly flawless, I was impressed from the moment I walked in until the moment I reluctantly dragged my suitcases out the door.
Here's a full review of my time at Next Hotel in Melbourne.
Where is Next Hotel?
You'll find Next at 103 Little Collins Street, providing guests easy access to world-class eateries, bustling inner city bars and shopping hot spots.
It's ideally located for business travellers and digital nomads who need or want to be in the city, as well as any tourists who want to enjoy Melbourne's cosmopolitan centre and all that it has to offer.
Turn left as you come out of the foyer and you'll be heading towards East Melbourne and the hipster meccas of Fitzroy and Collingwood, or turn right and you'll be city-bound, with a short walk to Fed Square and Bourke Street Mall.
The hotel room
I stayed in a Next Level King room, which was super spacious and had plenty of storage to hold my suitcases without taking up floor space.
The bed was huge and comfy, complete with European pillows for maximum plushness, and I had a brilliant sleep thanks to the black out blinds and total silence due to great insulation and being on a high level. There were tea and coffee making facilities, plus a well-stocked mini bar with a variety of funky tipples and treats.
There was a workspace which was big enough to hold my laptop, portable screen and all my camera gear which was handy as I usually end up needing to charge half my stuff on the ground which is basically an accident waiting to happen.
The marble-tiled bathroom was equally as spacious, loads of bench space, a big shower with great water pressure, and a massive mirror. The robe was the most comfortable hotel robe I've ever worn, and that's saying something! In the bathroom you'll also find Dyson hair gadgets and top quality Hunter Lab toiletries.
Next Hotel's interior design is contemporary without being over the top, and stylish without feeling too much like a luxury hotel that sees different visitors every night. It felt like a comfortable, tasteful city apartment that I'd live in myself if I could afford to live on the 19th floor of Little Collins Street, which I absolutely cannot, but you get what I'm saying.
The hotel facilities
All hotel guests have access to a 24 hour fitness centre with a range of machines. Did I use the gym? No. Will I ever use a hotel gym? It remains to be seen.
If you book a Club room or are a Club member, your booking comes with extra privileges like breakfast at the Club on the reception level, as well as refreshments all day and an aperitivo hour (or two) in the early evening from 5pm to 7pm. The Club also has work stations and meeting rooms if you're visiting Melbourne for business or need to smash out some work while you're there.
Food & drink at Next Hotel
Next Hotel boasts a brilliant award-winning restaurant called La Madonna, run by local culinary legends Danny Natoli and Adrian Li, and serves up breakfast, lunch, dinner and late night snacks.
La Madonna's breakfast menu includes the classics like granola, oatmeal and eggs, but also offers fancier options like a chili scramble, stracciatella and mushrooms on toast, and baked peach on brioche.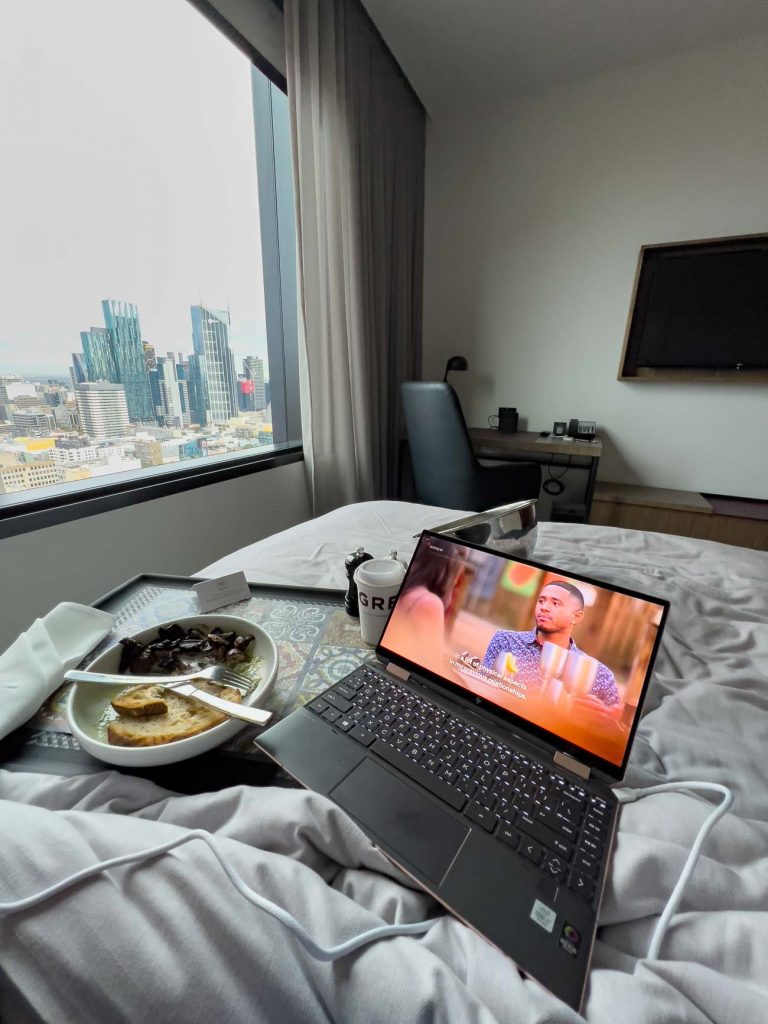 The main menu has a broad range of snacks (I recommend the fig carpaccio, divine), a few pastas, four mains (seafood, veggie, steak and lamb) and some Italian-inspired desserts.
Regardless of your alcohol preferences, La Madonna's well-stocked bar and expert bartenders will have you sorted. One of the hotel's most unique selling points is the barrel-ageing programme, where spirits and cocktails are matured in barrels before making it to your table. You can even see the barrels, such a cool idea! Choose from nine barrel-aged cocktails starting from $25 and going up to $42 for a Chartreuse, Luxardo, gin and lime cocktail matured in ex-Chartreuse barrels for a whopping 24 weeks.
For the sweet toothed travellers out there they also have some delicious seasonal creations using their house-made infused spirits and liqueurs, and the wine list is extensive if that's what you prefer.
If you're just looking for a morning coffee, a midday snack or just something more casual, Ingresso café on the ground floor is worth a stop.
The hospitality
I'll be honest and say that I generally avoid business hotels because they can often feel quite impersonal, but I found Next to be the total opposite.
One of the hardest things about solo travel is that you can go an entire day without speaking to another human, so staying at a hotel that doesn't go beyond polite hellos and goodbyes can be tough on those lonelier days. Staying at Next was like getting the best of both worlds, a luxurious, beautiful hotel room coupled with friendly and chatty staff that you might expect at a more casual accommodation like a hostel.
Every single staff member I encountered at Next went beyond the niceties and genuinely seemed interested in how my day was, what I was getting up to in the city, and how I was enjoying the hotel. These conversations can make all the difference to a solo traveller, and this is what took my experience from an excellent hotel stay to an unforgettable hotel stay.
What to do in the area
Melbourne CBD is packed to the brim with things to see and do depending on your travel preferences, but here are some ideas for your Melbourne itinerary:
Hit the shops! The main shopping areas in the CBD are Bourke Street Mall, Melbourne Central shopping centre and Emporium.
Wander around the award-winning Royal Botanic Gardens
See the city from the sky with a trip up to the Skydeck, on the 88th floor of the Eureka building
Stock up on cheese, bread and other treats at Queen Victoria Market
Hire an electric GoBoat and explore the city from the Yarra
Take a day trip to the Yarra Valley wineries, Phillip Island, or Mornington Peninsula
The verdict on Next Hotel, Melbourne
This is a big call but honestly this hotel was absolutely faultless.
The room itself was brilliantly comfortable and stylish, the food offerings were next level, the staff were honestly the best staff I've ever dealt with at a business hotel, and the location was unbeatable.
I'd recommend Next Hotel in a heartbeat to anyone looking for a luxury hotel in Melbourne, you won't be disappointed.