Planning a trip to the pristine Abel Tasman National Park? The Tasman region is an absolute gem, and there are plenty of fun things to do in Abel Tasman for active adventurers. Here are some of the best things to do in Abel Tasman National Park and the surrounding areas.
My first trip to Abel Tasman as part of my 2020 South Island road trip was unfortunately hampered by rough seas and stormy weather, so it was at the top of my 2021 New Zealand bucket list.
And in March, to celebrate a whole year of being "stuck" in my beautiful homeland of Aotearoa, I managed to see it in all its glory. Tick!
This place has truly got to be seen to be believed. Many international visitors and Kiwis alike are probably totally unaware that the South Island, famous for snowy peaks and wild coastline, is home to some of the best beaches our planet has to offer.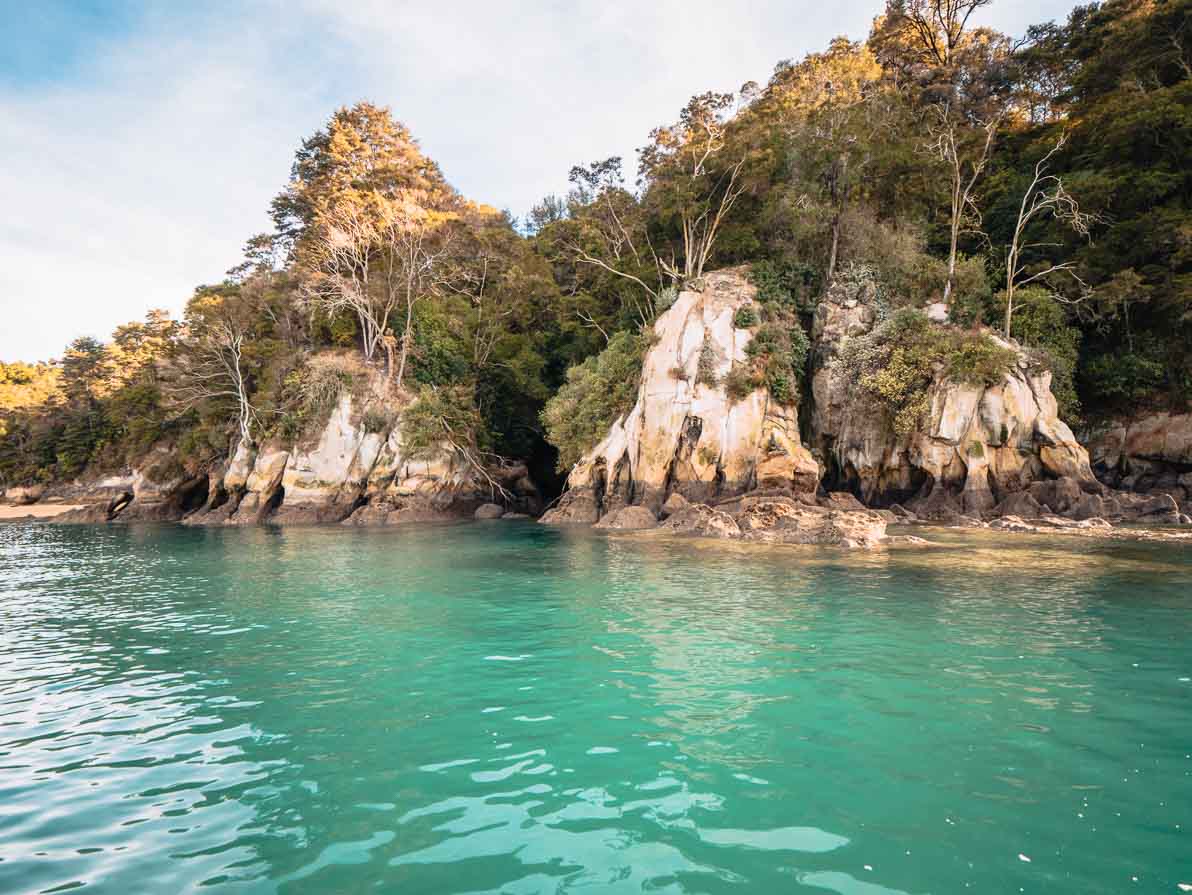 Spot seals sunbathing on the rocks of protected islands, swim in crystal clear water with blue and green hues that hardly look real, and wander through native fern forest in search of the best viewpoint over golden beaches.
If you're reading this then you're obviously considering a trip to Abel Tasman, so I'm here to tell you to do it, it's one of my all-time favourite places to visit in the South Island.
Whether you're hiking the Abel Tasman Coast Track and want to find some activities for afterwards, or if you're heading to the Tasman area for a relaxing beach weekend, there's loads of epic things to do in Abel Tasman to fit your travel preferences, timeframe and budget.
Read on to learn all about the best things to do in Abel Tasman and nearby.
---
How do you get to Abel Tasman National Park?
The entrance to the National Park is located on the edge of Marahau, which is a 60km (approx. 55 minute) drive from Nelson.
The main places to stay in and near Abel Tasman are Motueka (35 mins from Nelson), Kaiteriteri (45 mins from Nelson) and Marahau.
From the start point of the Abel Tasman Coast Track in Marahau, the best way to access the National Park is by hiking, kayaking or water taxi.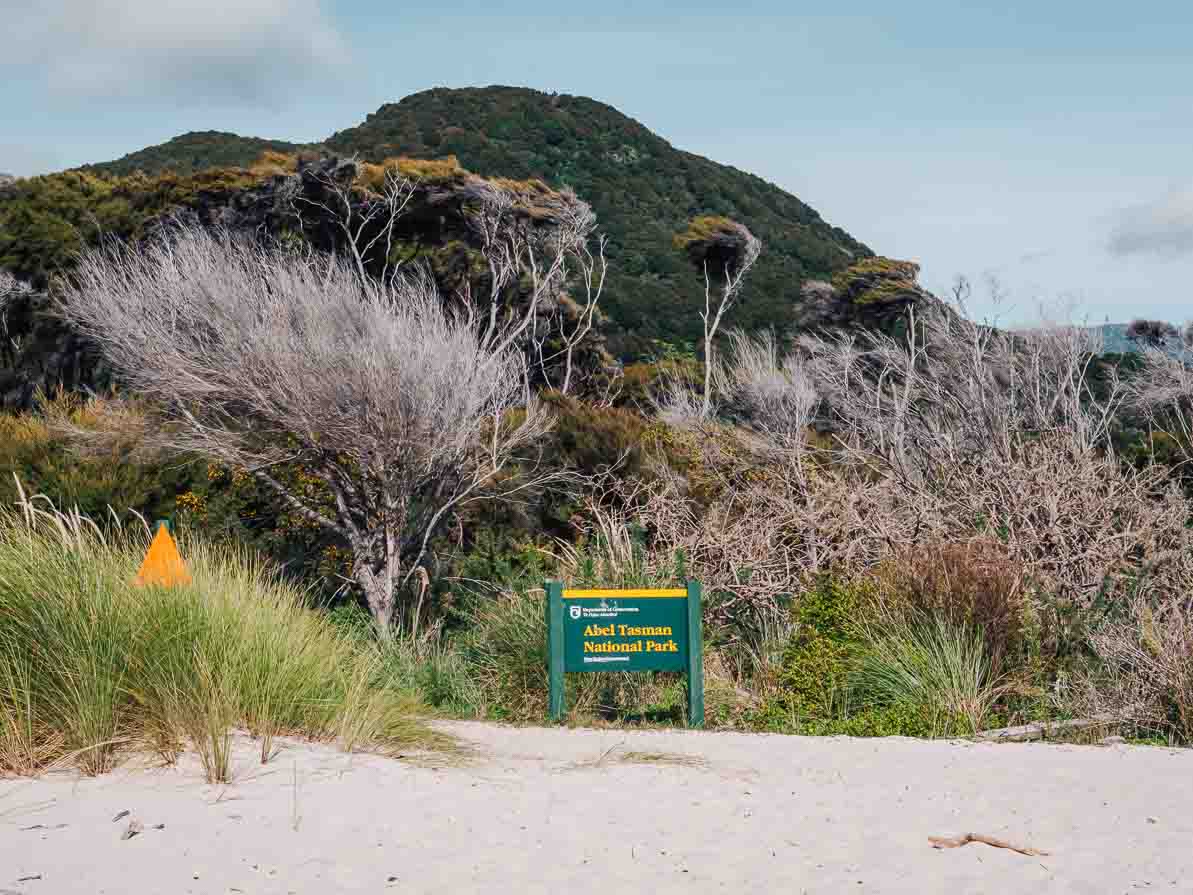 ---
How to get the best deals on things to do in Abel Tasman
If you're planning your Abel Tasman trip last minute (as in you're there in the next two weeks), check Bookme.co.nz!
Bookme is a last minute deals website for New Zealand travel which often has discounts of up to 50%. The discounts and suppliers change each day depending on availability but looking at it right now I can see 40% off a return water taxi trip, 35% off kayak hire and 20% off a skydive.
See all the Abel Tasman deals on Bookme here.
---
The Best Things to Do in Abel Tasman
1. Do a boat tour with Abel Tasman Eco Tours
Locally-owned and operated, Abel Tasman Eco Tours is my number one suggestion for things to do in Abel Tasman.
Their Golden Future Eco Boat Tour will take you all around the National Park's coast and the Tonga Island Marine Reserve, searching for penguins, seals, dolphins and other bird & marine life. You'll stop off at a couple of secluded beaches for snacks and lunch, learning about the area's history and ecology as you go, and it'll help you gain your bearings and learn about different bays, beaches and walks to do during the rest of your trip.
This small group boat tour sets itself apart from other Abel Tasman tours because of its strong focus on sustainable tourism. Each booking includes a donation to three local charities, the skipper is extremely clued up on all things conservation, and you'll come away with another level of appreciation for the Abel Tasman National Park.
If you're hanging around Abel Tasman for a few days, I'd recommend trying to book an Eco Tour at the beginning of your trip. That way you'll see basically all of the Abel Tasman beaches that the water taxis go to, and you can choose where to return to for more exploring or relaxing later!
Tours are $205 per adult and $125 per child, and you can find out more about the Golden Future tour here.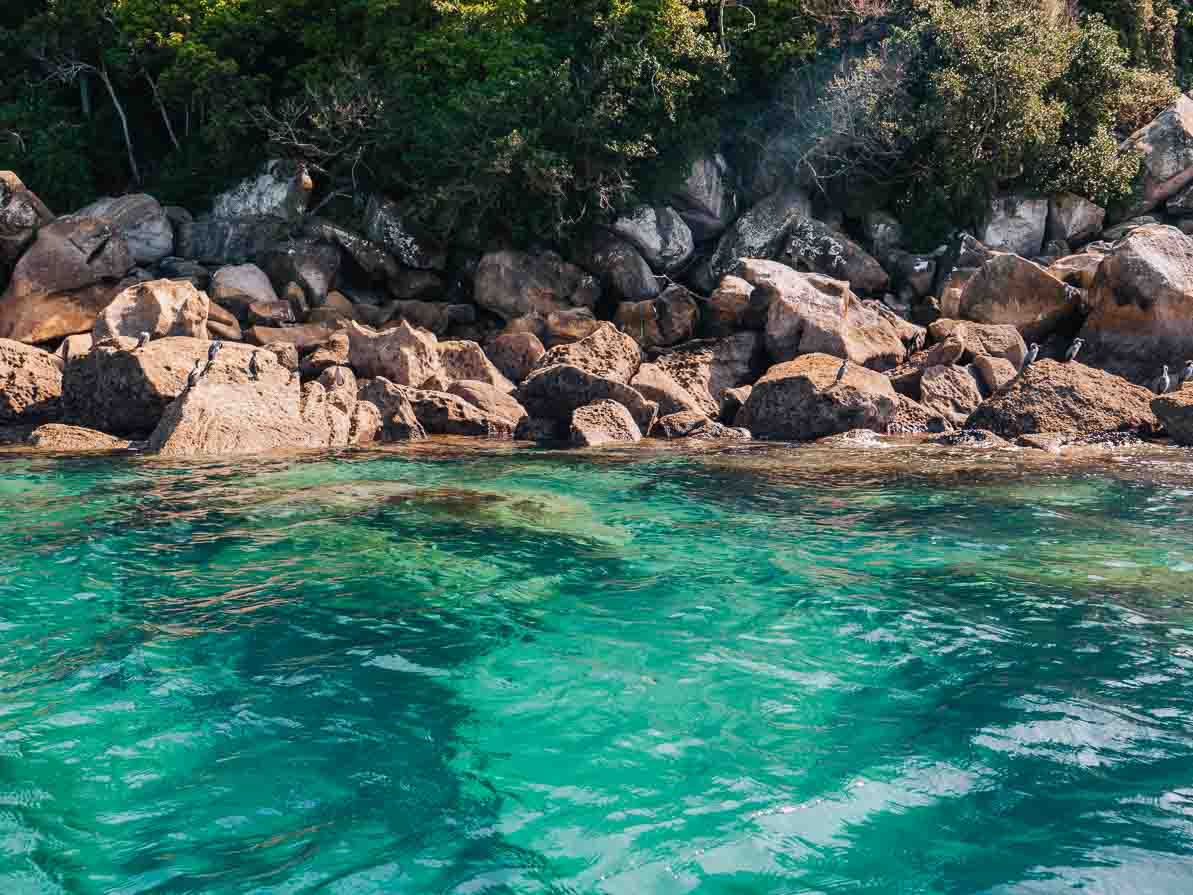 2. Take an Abel Tasman water taxi
Most of Abel Tasman National Park is actually inaccessible by car, so the easiest and quickest way around is by water taxi.
There are a few different Abel Tasman water taxi companies and shuttles who operate services for hikers and beachgoers, with options from both Kaiteriteri (Abel Tasman Sea Shuttle, Wilsons) and Marahau (Aqua Taxi, Marahau Water Taxis).
You can choose from a one way ticket (handy if you want to do a day walk, more info below), a return from the same spot, a return from two different spots (and walk in between) or a scenic cruise where you stay on-board and just enjoy the ride.
All boats leaving from Kaiteriteri will also stop at Split Apple Rock for photos.
The fares are basically the same across the board unless the companies are advertising seasonal specials, so I'd recommend cross-checking your options before you book to make sure you get the best deal.
To give you an idea of prices, the shortest Abel Tasman water taxi trip (Kaiteriteri to Apple Tree Bay) starts from about $30 one way, and to get all the way from Kaiteriteri to Totaranui (the furthest trip) you're looking at about $50 one way.
If you think you might want to try a few different beaches and day walks, Abel Tasman Sea Shuttles and Wilsons Abel Tasman both offer a three day passport where you can choose three different adventures for $172 and $175 respectively.
3. Walk the Abel Tasman Coast Track
New Zealand's most popular Great Walk will take you through thick native forest, across tidal estuaries and along golden beaches, with a recommended duration of 3-5 days to walk the full 60km track.
The mild climate year-round makes the Abel Tasman super popular with hikers of all abilities and ages, there are plenty of campgrounds and huts along the way, as well as a number of side trips to add on to your trip as you go.
Read more about the Abel Tasman Coast Track and book your hut here.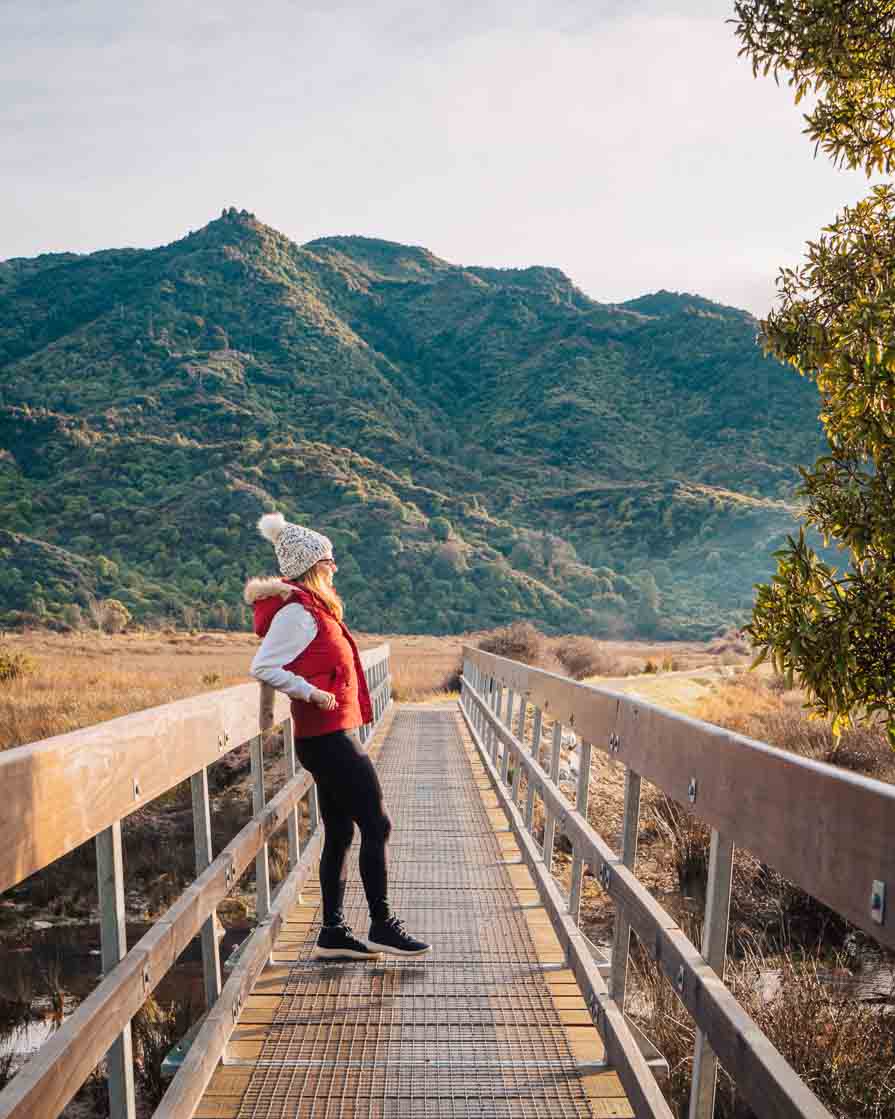 4. Abel Tasman day walks
If you don't have the time or desire to do the whole Coast Track, there are loads of day walks to give you a taste of Abel Tasman's natural beauty.
Using an Abel Tasman water taxi, you can basically choose any of the recommended day itineraries from the Coast Track itself.
If you're looking for a short walk with stunning views, you have to do the Te Pukatea Bay walk from Anchorage Bay. Te Pukatea is hands down my absolute favourite Abel Tasman Beach, with bright orange sand and pristine turquoise water, resident sting rays in the bay (they're harmless!) and weka hanging around the picnic tables hoping you drop some crumbs.
The water taxi will drop you at Anchorage ($74 return), then it's either a 1.5h loop walk on the Pitt Head Loop that'll take you to Te Pukatea Bay via a native fern forest, or a 20 minute one way to Te Pukatea and back.
Another easy add on for a day at Anchorage is the Cleopatra's Pool walk to a crystal clear swimming hole with a natural rock slide, only 1hr return.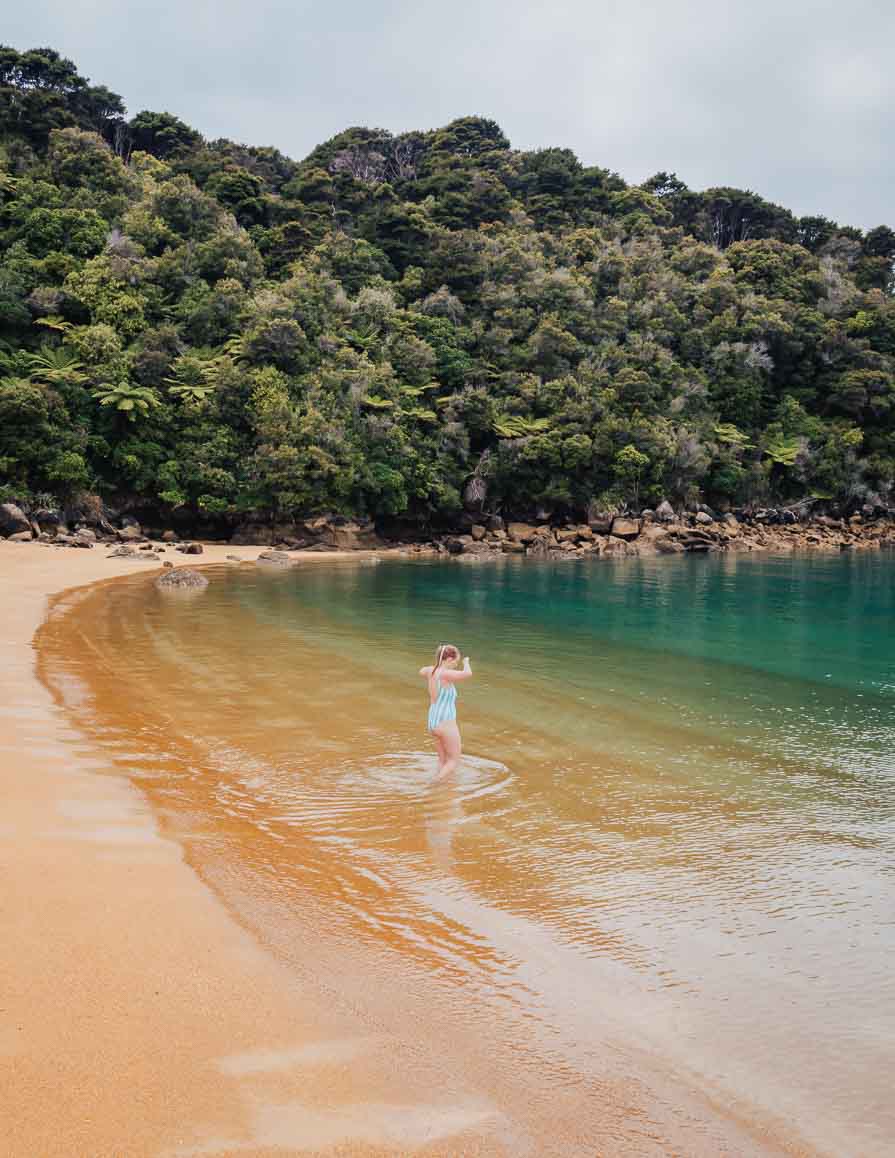 If you want something more challenging, consider the Awaroa to Medlands walk (4 hours), Medlands to Anchorage via Cleopatra's Pool and Falls River Swing Bridge (4 hours) or Medlands to Apple Tree Bay (5-6 hours).
For an intermediate walk with time to relax, consider doing Tonga Quarry to Medlands Beach (2 hours) or Anchorage to Apple Tree Bay. Each of these walks are available with both Wilsons and Sea Shuttle.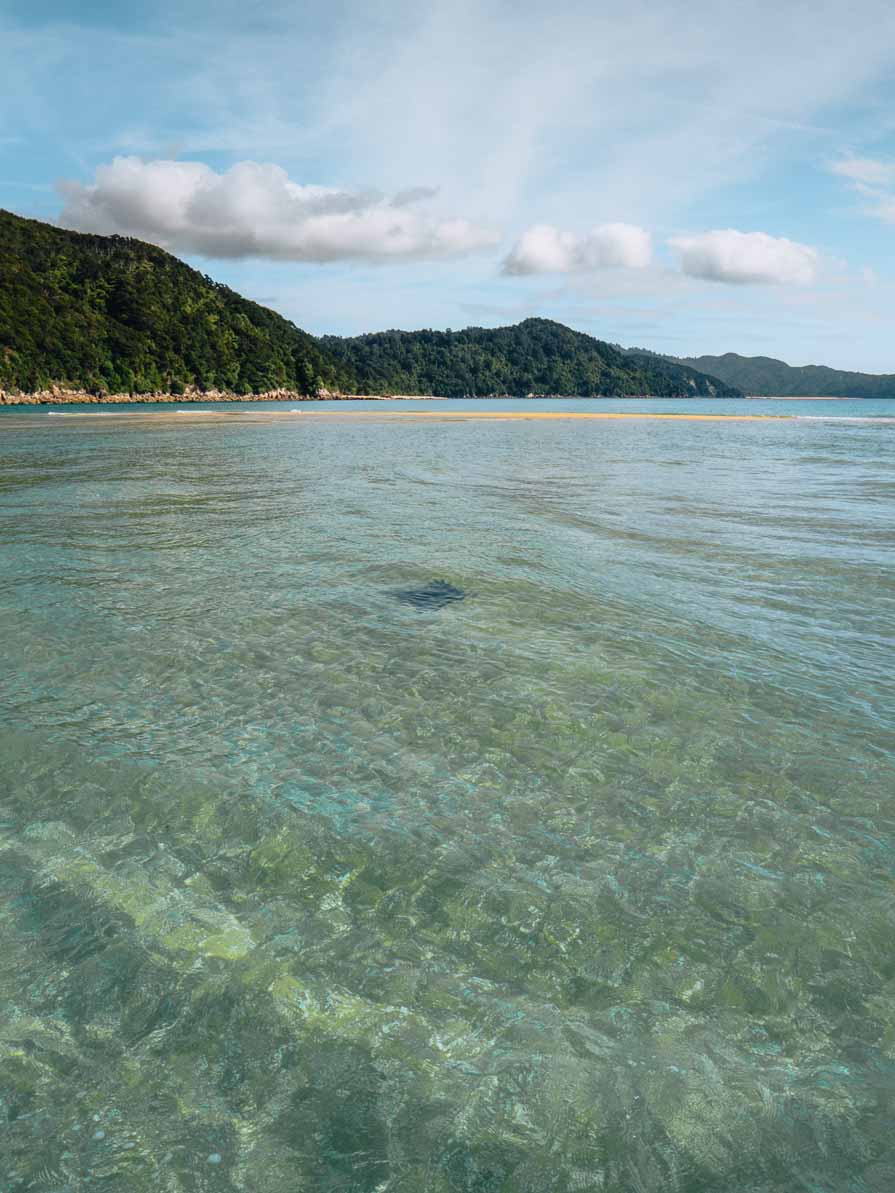 5. Enjoy a fancy meal in the National Park
Awaroa Lodge is a short walk from Awaroa Beach at the northern end of the National Park, only accessible by water taxi.
Book a return ticket to Awaroa by water taxi and spend your afternoon tucking into colourful platters and delicious regionally-inspired dishes before heading back to the beach for your pick up.
The restaurant is seasonal so check that it's open before booking, or take your own picnic lunch and set up a spot on the stunning Awaroa Beach.
Awaroa return tickets will cost around $85-90.
6. Kayaking Abel Tasman
One of the most popular Abel Tasman activities, kayaking is a brilliant way to explore the beaches and bays from the water.
You can choose from freedom hire or guided tours, with pick up options in both Kaiteriteri or Marahau, or opt for a combo of scenic cruise + guided kayak trip like this one with Wilson's. There's also kayaking options across the hill in Golden Bay.
Freedom kayak hire starts from around $50 for a half day or $85 for a full day, a three hour guided tour will set you back about $120, and a full day cruise + kayak costs about $165.
7. Abel Tasman Canyoning
Canyoning with Abel Tasman Canyons is one of the most unique things to do in Abel Tasman National Park, and if you fancy yourself as a bit of a daredevil, this has got to be on your New Zealand bucket list.
Get your adrenaline pumping as you jump, scramble, abseil and slide your way through the canyons of Torrent River, decked out in a cosy wetsuit and protected by top quality safety gear.
I haven't been able to make it on a trip with these guys yet due to weather + timing but I'm hoping to be able to give it a go next summer if I'm still "stuck" here!
Prices start from $289 per person.
7. Visit Kaiteriteri Beach
One of the main hubs for accommodation, Kaiteriteri is a 15 minute drive north from Motueka and 15 minutes south from Marahau (a smaller hub and access to the Coast Track).
Kaiteriteri itself has a bustling little town centre, with two campgrounds, a convenience store, playground, swimming areas and some eateries.
Just so you know: The food places here have pretty average reviews and seem to be quite expensive so we actually just bought our own food at Motueka supermarket to cook in our self-contained Kaiteriteri apartment. This is pretty common in tourist spots overseas but it's the first time I've found it in New Zealand, usually the food scene has at least one place that's worth trying, but the options here are minimal.
There's a viewpoint on the northern end of town, off to the right as you make your way out towards Marahau, with some stellar views over Kaiteriteri Beach. Well worth a stop!
8. Horse trekking
With options for beginners as well as experienced horse riders, Abel Tasman Horse Trekking offers two hour beach treks from only $115.
There are some requirements you'll need to meet, including a weight limit, so read more here.
9. See the Riwaka Resurgence
Take a short 10 minute walk through a mossy forest before reaching the otherworldly Riwaka Resurgence, where bright turquoise water which seemingly emerges from nowhere.
In reality, the Resurgence is actually created by a river that has woven underground through the limestone and marble that makes up Takaka Hill, reaching sunlight again at Riwaka in the form of a crystal clear pool. The area is recognised as tapu (sacred) to local tangata whenua (people of the land) and it's absolutely an Abel Tasman must-see.
10. Head across the hill to Takaka & Golden Bay
Although the drive may be slightly unnerving, visiting the far reaches and wild western beaches of the Golden Bay district is one of the coolest things to do in Abel Tasman.
REAL TALK: The road over Takaka Hill was damaged a few years back and roadworks are ongoing, meaning that a section of the road is one-lane-only and under 24-hour traffic light control. I'm not going to sugar-coat it, this road takes you around tight bends with steep drops sometimes without barriers. If you're not a confident driver, consider taking a group tour to this area instead.
Once the drive is out of the way, you can choose from a variety of things to do.
Get amongst the local art scene with a visit to the galleries that make up the Golden Bay Arts Trail, pop into the town market on Saturday mornings, or hop between unspoilt beach towns like Pohara, Collingwood and Pakawau.
11. Walk to Te Waikoropupu Spring
One of the first things to do in Abel Tasman once you're over Takaka Hill is the loop walk at Te Waikoropupu Springs, the largest freshwater springs in Aotearoa and the largest cold water springs in the entire Southern Hemisphere.
The Scenic Reserve is tapu (like the Riwaka Resurgence) and contact with the water is forbidden, however seeing the insane clarity of the spring from the boardwalk is seriously mind-blowing.
Te Waikoropupu boasts some of the clearest water ever measured on earth, with visibility of up to 63 metres, only beaten by a lake in Antarctica. How crazy is that!
The loop walk is 45 minutes through the forest or you can get to the spring and back in 25 minutes if you turn right at the start point.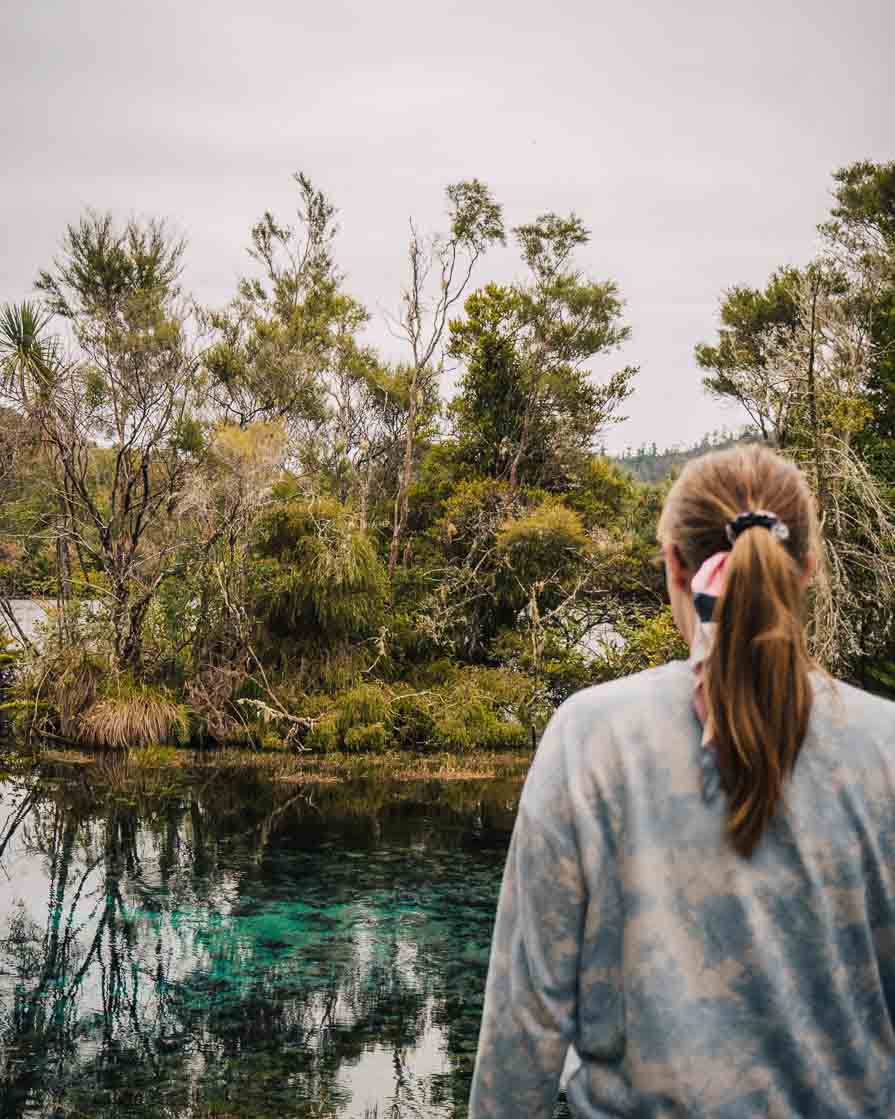 12. Watch the sunset at Wharariki Beach
Rugged arches and windswept coastal forest set Wharariki apart from the other Abel Tasman beaches, serving up wild west coast vibes 45 minutes northwest of Takaka.
Stay overnight at the Wharariki Holiday Park to maximise your chance of seeing a famous Wharariki sunset, and keep an eye out for seal pups playing in the rock pools.
13. Explore Farewell Spit
If you've gone this far, you can't leave without visiting the 34km stretch of sand at Farewell Spit.
Only accessible by guided tour, the sandspit is one of the largest in in the world and is home to more than 90 species of migratory birds, including gannets, waders and oyster-catchers.
A tour will also take you to Cape Farewell (the northernmost point of the South Island), to the historic lighthouse, and let you race your travel buddies down powdery sand dunes.
14. Eat the best doughnuts of your life in Motueka
Big call but I stand by it! Step inside the Smoking Barrel in Motueka and you'll be immediately wowed by the range of doughnuts in their cabinet.
Their impressive line up changes weekly and past flavours include bacon & eggs benedict, lemon meringue pie, Creme Egg (for Easter of course) and alcoholic Snickers doughnuts. They have to be seen (and eaten) to be believed.
The Smoking Barrel also serves up a brilliant brunch menu as well as slow smoked American BBQ all day, but they're only open Thursday to Sunday so plan your visit accordingly.
15. Skydive in Abel Tasman
See the undulating hills of Kahurangi National Park and the vivid water and beaches of Abel Tasman National Park from above with a skydive, one the best Abel Tasman activities for thrill seekers!
Choose from a 13,500ft jump from $339 or a 16,000ft jump from $429, or check Bookme.co.nz for last minute deals that could let you save up to 30%.
---
Accommodation in Abel Tasman
Camping: Kaiteriteri Recreation Reserve has a beachfront campground with easy access to water taxis, the Barn Cabins & Camping in Marahau is ideal if you need somewhere to park up your campervan while you hike the Abel Tasman Coast Track, or Motueka TOP 10 is a brilliant family-friendly option with easy access to the restaurants and shops in town.
Budget: Budget accomm is hard to come by in Abel Tasman, so your best bet is to stay at a dorm or cabin at one of the campgrounds. Kaiteriteri Reserve has small cabins with access to the campground bathrooms, and the Barn has dorms and a range of cabins that offer great value.
Mid-range: Abel Tasman Lodge has been named as New Zealand's best small hotel for three years in a row! It's in Marahau just 400m from the start of the Coast Track, and they offer sun-soaked rooms decked out with modern facilities and comfy furnishings.
Luxury: If you want to splurge, and I mean really splurge, you can't go past the award-winning Split Apple Retreat. Perched high amongst native bush overlooking the entrance to Abel Tasman National Park, this luxurious spa retreat is renowned for its world-class cuisine, unbeatable views and an infinity pool from my dreams. Hands down one of the best places to stay in New Zealand!
---
I hope this list of epic Abel Tasman activities has helped you plan out your itinerary for exploring the National Park! If I've missed any of the best things to do in Abel Tasman, or if you have any questions about the area, just let me know in the comments.
MORE NEW ZEALAND BLOGS:
Like this blog? Pin it!
Big thanks to Abel Tasman Eco Tours for hosting me on the Golden Futures Boat Trip. As always, all opinions are my own and are based on my personal experience.