On my recent solo South Island road trip, I drove my own car down south and took the Bluebridge Ferry from Wellington to Picton (and back).
It was my first time on the Bluebridge and I was impressed! The check in process was smooth and easy, both of the boats had great facilities, and having access to a private cabin to do some work and lie down was such a game changer.
Here's a detailed review of my experience on the Bluebridge Cook Strait Ferry.
---
Who are Bluebridge Cook Strait Ferries?
Bluebridge have been running passenger ferries between Wellington and Picton since 2002. They have two ferries, the Straitsman and the Feronia, and I travelled one way on each.
Their schedule has between two and four passenger + car sailings each way daily, depending on season and day of the week.
Bluebridge are particularly focused on offering great deals for different types of travellers, with discounts for students and families as well as offering AfterPay.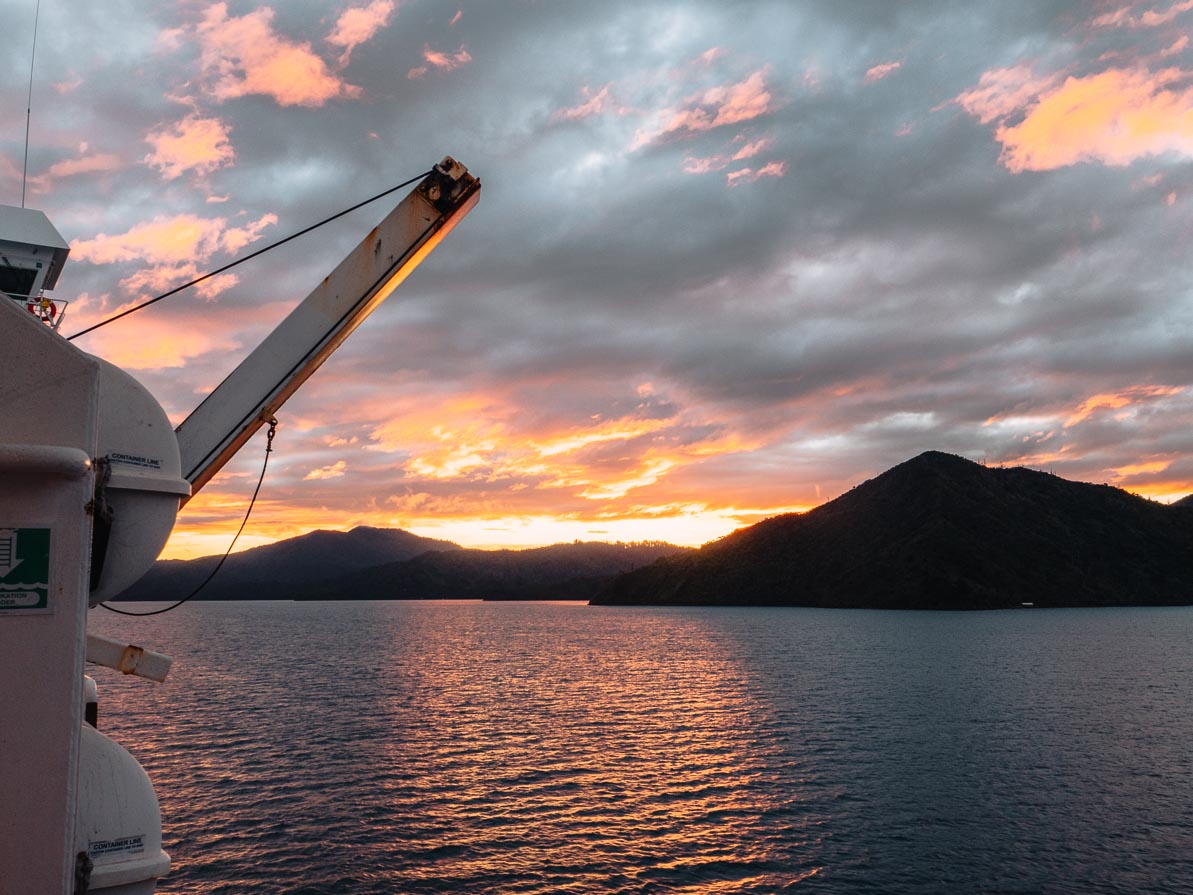 ---
Checking in to the Bluebridge ferry
The Bluebridge Ferry Terminal in Wellington is in the central city, right opposite Wellington Station, making it super convenient for walk-on passengers and commuters but still easy enough to reach from the motorway.
Check in starts an hour before the boat leaves and it was a straightforward process, you just drive up to the window to get a ticket and then wait your turn before heading up to the boat. I was driving a Rav 4 which was much less stressful to park on the ferry compared to the 6.3m campervan I was driving last year!
Once parking up (with your handbrake on tight!) you grab whatever you'll need for the next few hours and make your way up to the passenger lounge, you aren't able to access the vehicle deck until you arrive in Picton.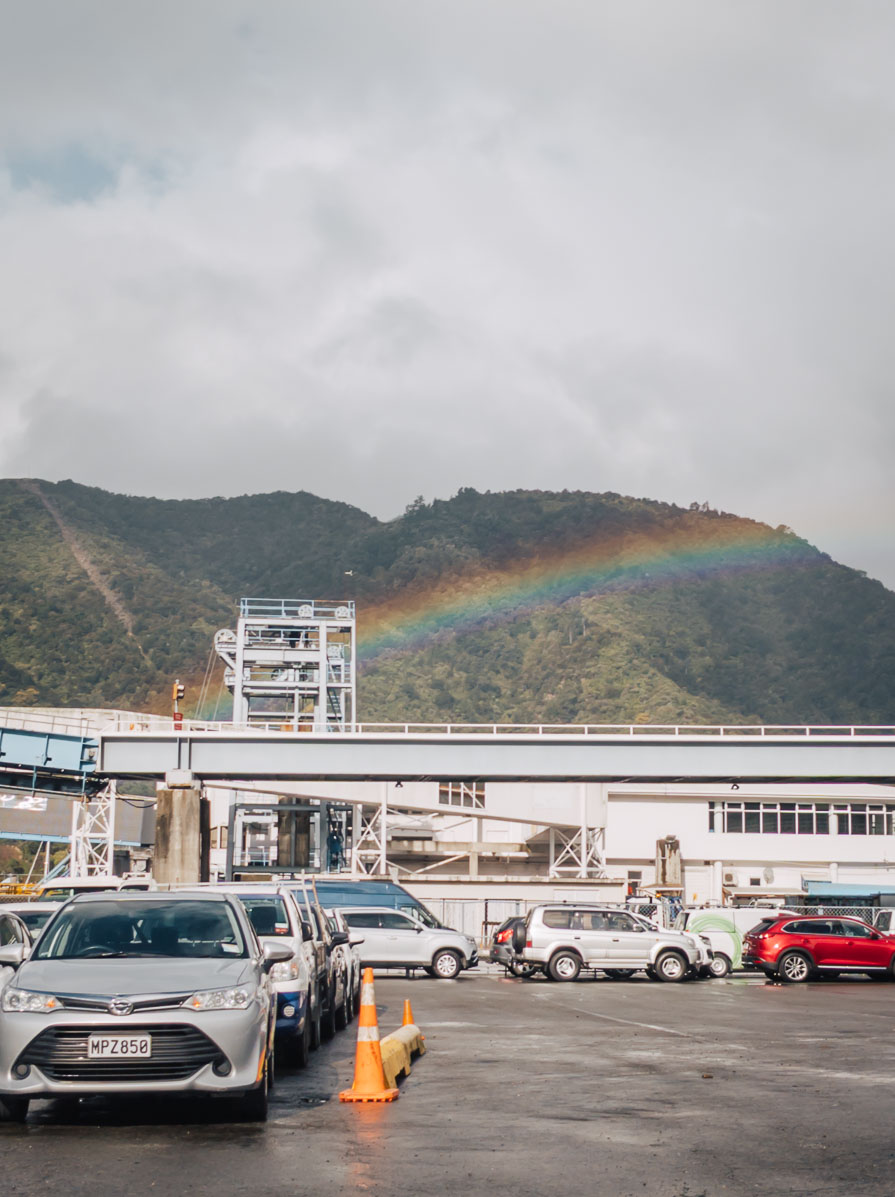 ---
Bluebridge ferry facilities
The two ferries are quite different in size and layout so it does depend which one you go on.
My trip south was on the Straitsman, the smaller but newer ferry in their fleet. The Straitsman has a café/dining area in the centre of the ferry, then comfortable seating with great views along the front and sides of the café, a family room, and a movie theatre room (free access!) between the café and the front of the ferry.
In terms of outdoor space on the Straitsman there's passenger areas along both sides at the main level and then you can head up to the top deck for the best views out the back of the ferry. I'd recommend heading up about an hour before you arrive in Picton for the best Marlborough Sounds scenery.
On my way back north I was on the Strait Feronia, the largest ferry that crosses the Cook Strait. The passenger area on this boat was significantly bigger, with a quiet room, family room, movie theatre with a big screen, working area with loads of plugs, a big lounge and another dining area, plus a café and a bar.
Outside on the Strait Feronia there's more space, with a front viewing deck on the main passenger level as well as a large deck right up top.
---
Bluebridge ferry cabins
Having a private cabin on the ferry crossing was such a bonus, and for $30 for a single room ($40 for twin or $60 for family room) it is absolutely worth the small amount of money.
The cabins aren't fancy but in the days of COVID I'm all for having my own space to lie down, with the added bonus of having a desk area and a private en suite. The bed is comfortable enough for a nap and the free WiFi onboard worked perfectly fine in my cabin.
---
Bluebridge ferry food
The Bluebridge café serves up a decent menu of classic cooked meals, gourmet toasties and lots of sandwiches and other snacks.
The brunch menu includes a smoothie bowl, eggs benedict, big breakfast and a bacon & egg buttie. For lunch or dinner if you want something hearty there's a soup of the day, poké bowl, burgers, steak sandwich and fish & chips, to name a few. For a lighter meal there's nachos, fries, wedges, a range of delicious toasties and hummus with flatbread.
There's also a kids menu with a few different options for the little ones.
In terms of liquid refreshments they have local wine, beer (both craft beer and the usual suspects), non-alcoholic beverages like soft drinks and juices, tea and L'Affare coffee.
---
Bluebridge ferry prices
Prices for a one way sailing passenger-only start from $54 (or from $62 for more flexible tickets) and if you're taking a car tickets start at $174 (or from $202 for a flexible ticket).
---
How to book your Bluebridge Ferry
You can book direct with Bluebridge right here.
---
MORE NEW ZEALAND BLOGS YOU MIGHT LIKE: