During my 2.5 months in Australia I was lucky enough to visit loads of incredible spots, from major tourist destinations right through to little-known hidden gems, but the hidden gem that absolutely takes the cake is Byfield on the Capricorn Coast. This place is pure paradise!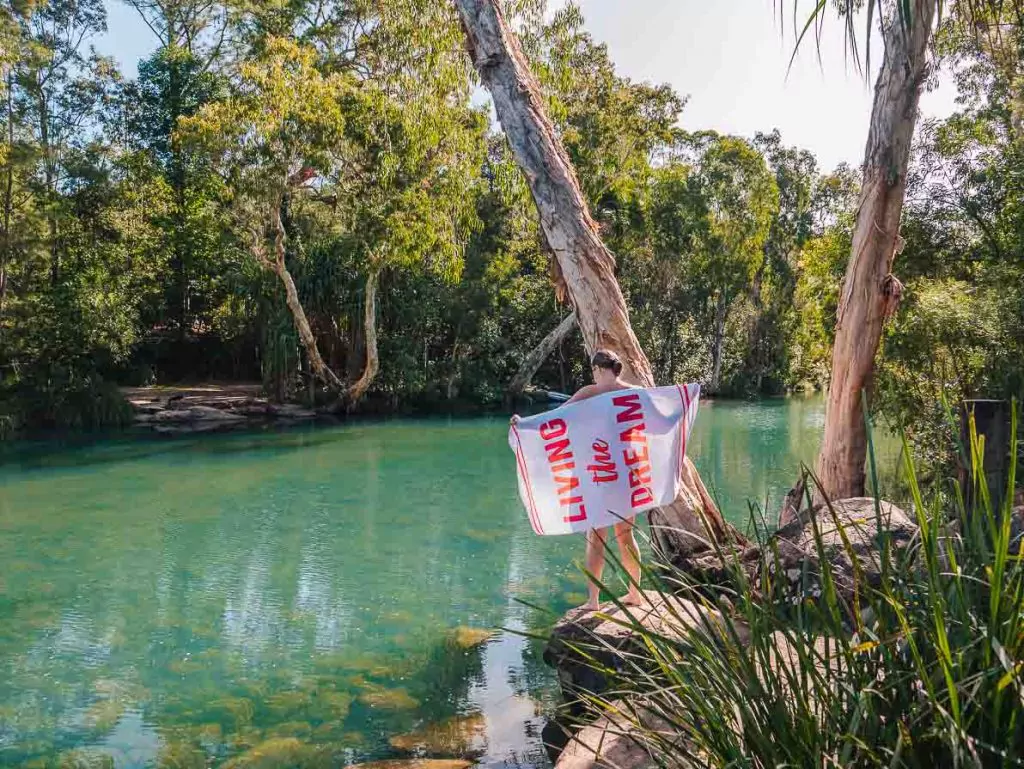 I have to admit that most of my Queensland knowledge focused on Cairns and the Whitsundays, I didn't know much at all about the smaller coastal towns that sit alongside the Southern Great Barrier Reef, and I knew even less about any of the inland adventures on offer.
But after spending just a couple of days exploring Byfield's swimming holes, meeting some locals and enjoying the serenity, I know for sure that I need to come back for longer next time. Here's why I think Byfield needs to be on every Queensland road trip itinerary!
Read next: The ultimate Australia bucket list
---
Where is Byfield?
Byfield is a small village just 30 minutes from Yeppoon, an hour from Rockhampton and about half way between Bundaberg and Airlie Beach.
The village is nestled between Byfield State Forest and Byfield National Park, so there's plenty of outdoor activities to fill any Byfield itinerary.
---
Where to stay in Byfield
If you're camping (tent or van) there are 10 different places to set up camp in Byfield National Park and Byfield State Forest, ranging from easy-access spots with decent facilities right through to total off-grid campsites.
The two most accessible campsites are Upper Stony Creek and Water Park Creek, you can reach these with any vehicle (no 4WD required) and they have toilets, BBQ facilities and picnic tables. Red Rock is another popular spot for conventional vehicles and it has bathrooms and picnic tables but no BBQ.
If you're ready for an off-grid, off-road adventure there's some options at Five Rocks, Nine Mile Beach and Scout's Camp.
You can see all the Byfield camping options here.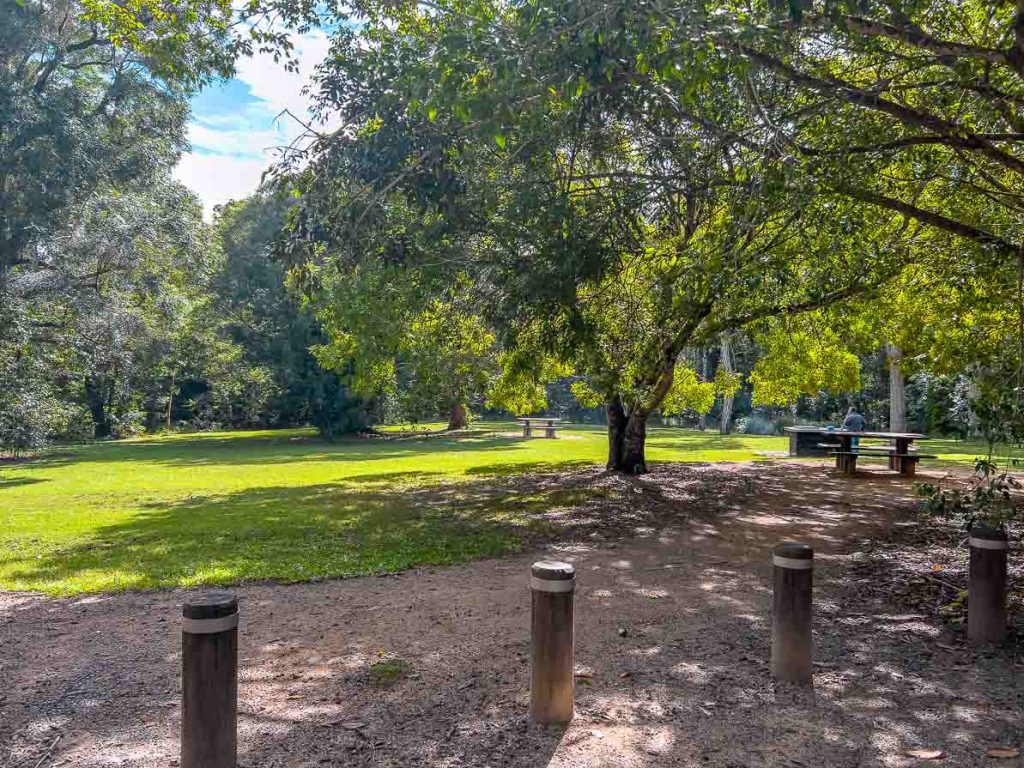 If you prefer an actual house to a tent or a car then you're in luck, Getaways at Byfield has some gorgeous, peaceful cabins just a few minutes from Byfield village centre. I spent two nights in the Luv Shack, a spacious pond-front unit complete with a full kitchen, indoor spa bath and balcony for early morning coffee and bird-watching. There's a fire and a heat pump for temperature control, and the property also has a pool and BBQ facilities for guests to use.
Arriving at Getaways felt like I was driving to my own private part of the forest, with no light pollution at night and no sound except for nature. And as an added bonus, the owners provide each guest with a delicious home-baked focaccia! This was the perfect spot to be based while exploring Byfield.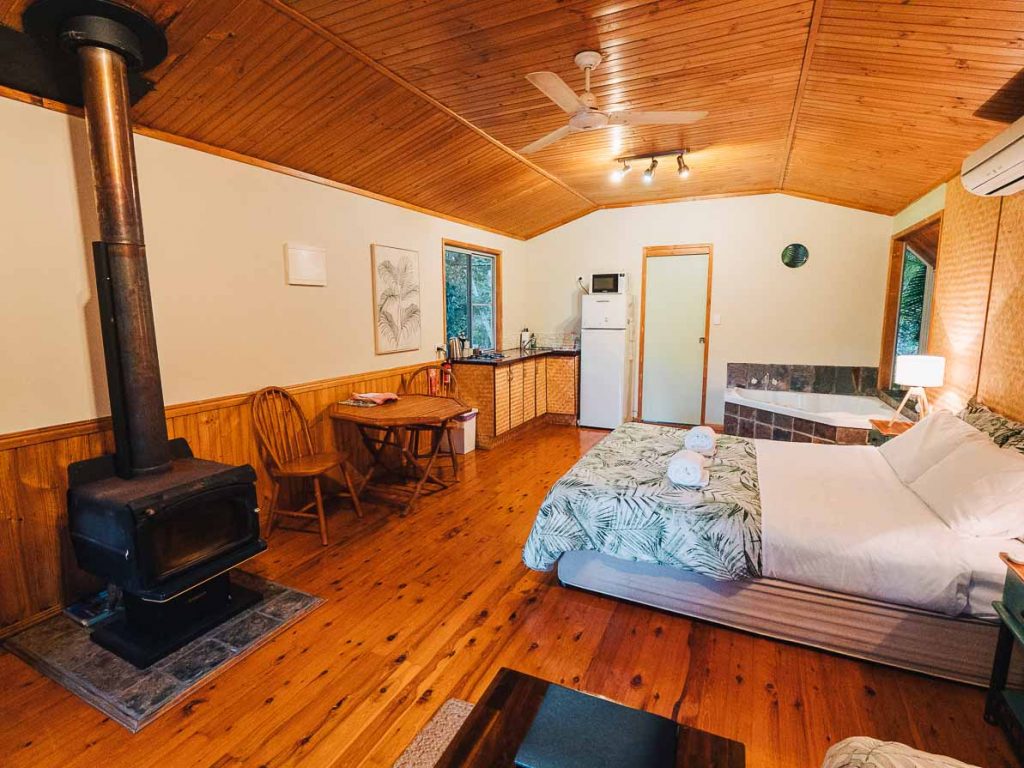 ---
Byfield travel tips
There are a couple of things you need to know about Byfield before heading to this part of Queensland to ensure you have an unforgettable trip for all the right reasons.
Food options are limited. The Byfield General Store is open 9am to 4pm daily and sells gas, basic groceries and other essentials, and their café serves up burgers, toasted sandwiches, classic breakfast dishes, milkshakes and fresh juices. I can personally recommend the cheese and Vegemite toastie, perfectly partnered with a chocolate shake.
If you're heading to Byfield for a couple of days or more and want to stock up, stop in Rockhampton or Yeppoon for a proper supermarket.
Cell service can be spotty in Byfield and the state forest/national park. I had full 4G reception on Optus at Upper Stony Creek and in the centre of Byfield (at the carpark/bus stop in front of the General Store) but reception wavers in and out as you're driving to Byfield, and there was minimal reception and no WiFi at Getaways. No issue if you're happy to be off the grid, but if you need internet access for work or whatever else you might need to park up at the bus stop to hot spot your phone to your laptop and work from the back seat, like I did! If you're heading off road you should consider taking a satellite phone or PLB with you in case of any emergencies.
Just like anywhere in Queensland (or in Australia for that matter) make sure you've stocked up on sunblock, insect repellent, food and water in your car.
It should go without saying but take only photos, leave only footprints! There are limited waste disposal options in national parks in order to avoid wildlife getting into them so be sure to pack rubbish bags in your car and take any waste with you when you leave.
---
Reasons to visit Byfield
Stony Creek
Stony Creek alone is enough of a reason to add Byfield to your Queensland road trip, and I can honestly say it's the most underrated place that I visited in the whole of Australia. I spent a day here and it was a highlight of my entire trip!
Stony Creek is a swimming hole and campground in the middle of Byfield State Forest, only 10 minutes from the centre of Byfield by car, and it's accessible by normal car (no need for 4WD or high clearance). It's a dirt road for the last little bit but my Hyundai Kona rental car handled it totally fine, you'll just need a car wash later.
Park up at Stony Creek and choose your adventure. Do you want to sit and enjoy a picnic in the sun, take a refreshing dip in the magical swimming hole, or go exploring through the forest?
There's plenty of flat grass for you to set up your picnic but be sure to stop at Byfield General Store for some essentials first. If you want to do a bigger shop then head to Yeppoon (25 minute drive), the IGA has a great selection of local treats and Baked on 44 sells a brilliant range of French and other European cheese, bread, meats and spreads.
There used to be some longer walking tracks at Stony Creek but unfortunately these are closed due to logging operations, however there is a 20 minute 900m circuit through the forest that has some incredible creek views and another epic photo spot with huge boulders. I also saw a couple of wallabies grazing amongst the trees, too cute.
Then back at the main campground, the swimming hole itself is just pure magic. There's no crocs (woohoo!) but there are signs that say to beware of stonefish, so I'd recommend taking water shoes and maybe a pool noodle to help you float rather than walking on the rocks. I did speak to locals at the swimming hole who said they've been swimming there for years and have never seen or heard of a stonefish being in that main swimming area, only up the creek where no one swims, so don't let that put you off. Better safe than sorry though, wear shoes and float instead! I bought my water shoes from Big W for a grand total of $11.
The water is refreshing, I visited in May so it was a 'cool' 26 degrees outside and the water was definitely a bit chilly but after a few minutes of getting used to it I was in my happy place! I jumped in and out for a good couple of hours taking photos before my skin got too wrinkly and I had to get dry to avoid turning into a raisin. The water is so clear, you can see little turtles swimming around if you're lucky, it's just one of those places that will blow your mind.
The camping
Whether you're rolling in a luxury motorhome, a kitted out 4WD with a rooftop tent or you're going back to basics with a swag, Byfield is the dream destination for campers. There's sand dune, headland and forest campgrounds to choose from with a variety of facilities.
2WDers can spend their evenings at Upper Stony Creek, Water Park Creek or Red Rocks which are well-equipped for trailers, campervans or tents, or if you have a high clearance 4WD the world region is your oyster.
Five Rocks has 12 campsites and offers access to a vehicle-free beach, Nine Mile Beach has four camping areas in the dunes, or Scouts Camp has a single foreshore site for up to 15 people, only accessible by boat or by foot at low tide. Intrepid camping at its finest!
You need to book your campsite before your visit, and book ahead if you can as they do get booked up, especially popular spots like Upper Stony, and especially during weekends, holidays and busy season. In Queensland, campsites at national parks and state forests are $7 per adult per night or $28 per family per night, with a family being one or two adults and accompanying children under 18, up to a total of eight people.
The off-roading
Even if you don't have time to stay overnight, Byfield National Park is well-worth a visit for any off-road enthusiast, with wild and rugged coastline, sand dunes and forest ready for you to explore. The environment can be tricky to navigate though, so if you're not a confident 4WDer you'll want to travel with friends in a convoy to be safe, be prepared for the worst case scenario of getting stuck in the sand, and take plenty of food and water.
To access all the off-road goodness Byfield National Park has to offer, you first have to tackle Big Sandy, a one kilometre dune and a somewhat difficult 4WD track with thick sections and ruts along the way. It's only a single lane so you'll need to radio ahead to ensure you won't meet someone coming from the opposite direction.
Once Big Sandy is in your rear-view mirror, the rest of the national park is intermediate 4WD track with a bunch of walking tracks that stem from the main carparks. Some of the most popular spots to add to your Byfield National Park 4WD itinerary are Little Five Rocks Beach, Nine Mile Beach, the Banksia Circuit walk and Stockyard Point Headland.
The wildlife
Because it's so quiet compared to many other national parks and state forests, Byfield's flora and fauna are thriving, with plenty of birds, bats, sealife and other creatures to spot during your trip. Sandy Point, Corio Bay and Stockyard Point Lookout are the best wildlife spotting stops on the 4WD tracks, but even at Upper Stony Creek I saw a few wallabies, some turtles and some amazingly colourful birds.
And if you want to take your Byfield wildlife experience to the next level, you can't miss the incredible Cooberrie Park Wildlife Sanctuary, about half way between Yeppoon and Byfield. This phenomenal not-for-profit rehabilitation centre houses animals that have been injured, orphaned or confiscated from unregistered and unfit owners, with the aim of either returning the animals to the wild if possible, or providing a safe, comfortable, loving retirement home for them to see out their days. Oh, my heart!
I always find myself in ethical dilemmas about zoos, sanctuaries and wildlife parks and it's hard to distinguish the good from the not-so-good, but I had such a brilliant, eye-opening chat with the team at Cooberrie and came away with so much more knowledge about how these organisations work in Australia and in Queensland in particular.
Cooberrie is home to more than 300 animals, from pure dingoes to reptiles to wallabies, kangaroos, wombats, koalas and more, and most of the enclosures have signs up explaining a bit about the animal and how they got to Cooberrie which is always nice to read. The sanctuary also offers up-close-and-personal wildlife experiences like koala holding, kangaroo feeding and reptile encounters, following very specific animal welfare guidelines and with all proceeds going towards housing and helping more animals.
The peace and quiet
One of the best parts about my Byfield experience was that at many of the stops on my trip, I was the only one or one of the only ones there. A nice change from the craziness of Noosa, Airlie Beach and Cairns! And that's just visiting the 2WD tracks, it would feel even more remote and isolated (in the best way possible) if you had a 4WD to hit the off-road tracks.
Byfield is the kind of place that I'd love to come for a week-long getaway in my future Defender with an epic rooftop tent, with a couple of days spent at Upper Stony enjoying the swimming hole and picnic spot before hitting the epic sand dunes and viewpoints in the National Park. Next goal: Get a Defender!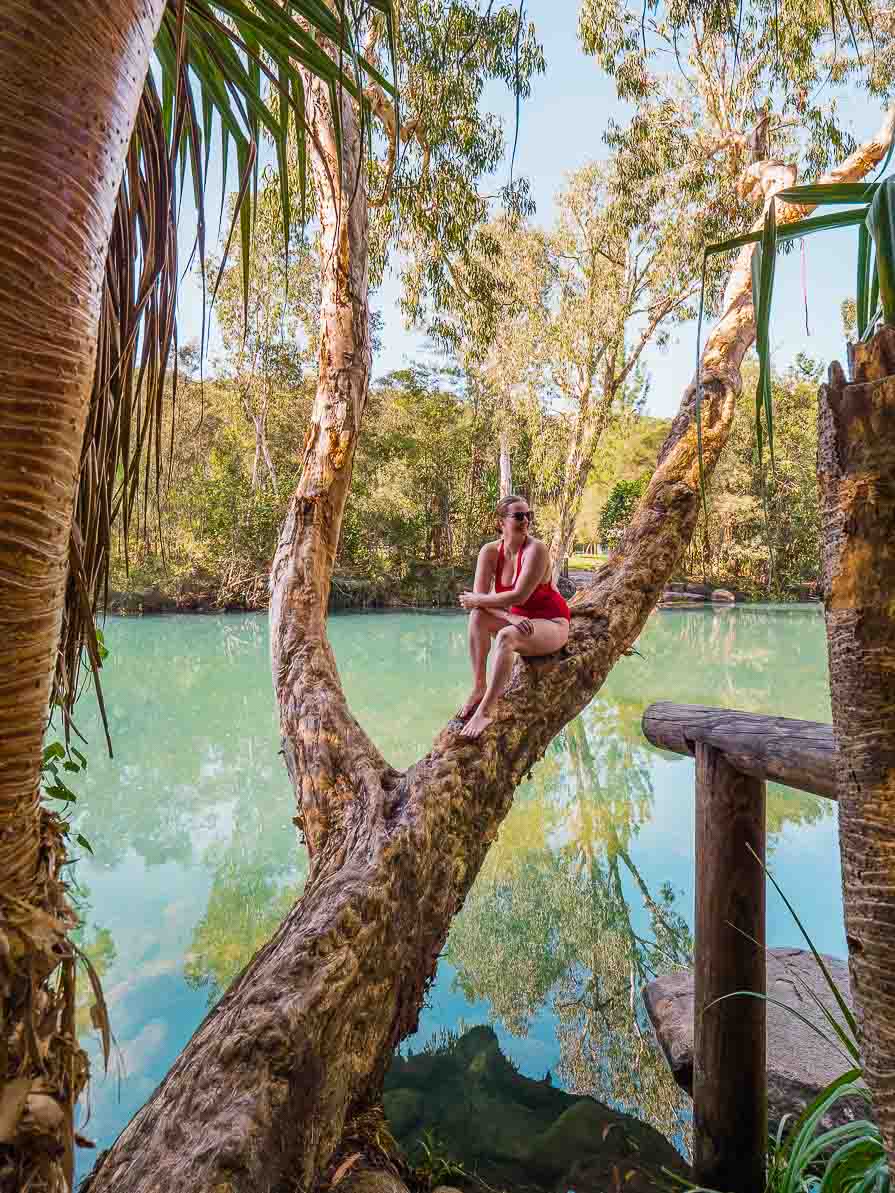 ---
Have you added Byfield to your Queensland bucket list? If you have any questions about Byfield or if you're planning a trip there yourself then let me know in the comments! And if you want to see more photos and videos of my Byfield visit, head to my Instagram @findingalexx and find my "QLD #2" highlight for an in-depth explanation of what I got up to.
This trip was supported by the fantastic team at Capricorn Coast Tourism. As always, all opinions are my own and are based on my personal experience. I would never recommend a destination I didn't love and I guarantee you'll fall in love with Byfield just like I did!
Here are some useful Australia links to help you plan your trip:
My ultimate Australia travel guide has all you need to know before you go
I use booking.com to find all my accommodation, just search your dates and then sort it by 'reviews and best price' to find the best value places to stay
I use Skyscanner to find my flights and then I always book direct with the airline to avoid any third-party difficulties if flights get cancelled or changed
I use GetYourGuide, Viator and Klook to find the best things to do in each destination, as well as checking discount sites like BookMe or Groupon for last-minute deals
I use Covermore NZ travel insurance for my annual insurance policy and I've had a fantastic experience with them so far, they're also in Australia but if you're from elsewhere then you could check out SafetyWing or World Nomads who both provide top-rated policies
And some other Australia blog posts that you might want to read next: