Aotearoa's often-overlooked 'third island', Stewart Island is a must-visit for intrepid adventurers, hikers or bird watchers. There are things to do on Stewart Island to suit all budgets and timeframes, whether you're popping over for a cheap and quick getaway or plan on staying a while.
Despite only being an hour's ferry ride from the South Island, or an even shorter flight, Stewart Island has remained reasonably off-the-beaten-track even as New Zealand's tourism industry has grown. In pre-COVID times it was gaining popularity with return travellers, but was often left off first-time visitors' South Island itineraries.
YOU MIGHT ALSO LIKE: The Ultimate New Zealand Bucket List
But now, with travel restrictions meaning fewer tourists and basically no group tours, there's never been a better time to get amongst the abundance of wildlife and remote beaches of Rakiura (the te reo Maori name for Stewart Island).
So from seeing the iconic kiwi in its natural habitat, to catching a glimpse of the magical aurora australis, to having a beer in New Zealand's southernmost pub, here's some of the best things to do on Stewart Island plus info on how to get there and where to stay.
---
Where is Stewart Island?
Stewart Island is 30km southwest from Bluff, at the bottom of New Zealand's South Island. The body of water between the islands is called Foveaux Strait.
How to get to Stewart Island
Stewart Island is easily reached by either ferry or plane.
Stewart Island ferry
The Stewart Island ferry runs from Bluff to Oban (the township on the island) and takes an hour, with one daily sailing in winter, two from October, and a third added from 26 December to 28 February.
Tickets are $89 one way/$159 return for adults, or $45 one way/$80 return for kids.
If you're coming from Queenstown, Bluff is just under a three hour drive, and you need to check in 30 minutes before your ferry leaves.
PRO TIP: Foveaux Strait is quite exposed and as such the ocean conditions can get rough. The sailings will always be cancelled if it's not safe, but if you're prone to motion sickness I suggest you take some seasickness pills for your trip.
Stewart Island flights
If you're short on time or if you just want the best views, Stewart Island Flights offer a 20 minute scenic flight from Invercargill Airport direct to the island.
Prices are $130 one way or $225 return, and that includes 15kg of baggage.
---
The best things to do on Stewart Island
See a kiwi in the wild
Home to just over 400 people and more than 10,000 kiwi, Stewart Island is your best bet if seeing a wild kiwi is on your New Zealand bucket list.
Over 85% of the island is Department of Conservation land, meaning native wildlife has plenty of space to thrive.
There are many stories of locals and tourists alike spotting kiwis wandering around at night not far from Oban's main town centre, and even of the birds making a rare daytime appearance on Ulva Island or along the Rakiura Track, but if you want the best chance to see a kiwi I highly recommend booking a kiwi spotting tour.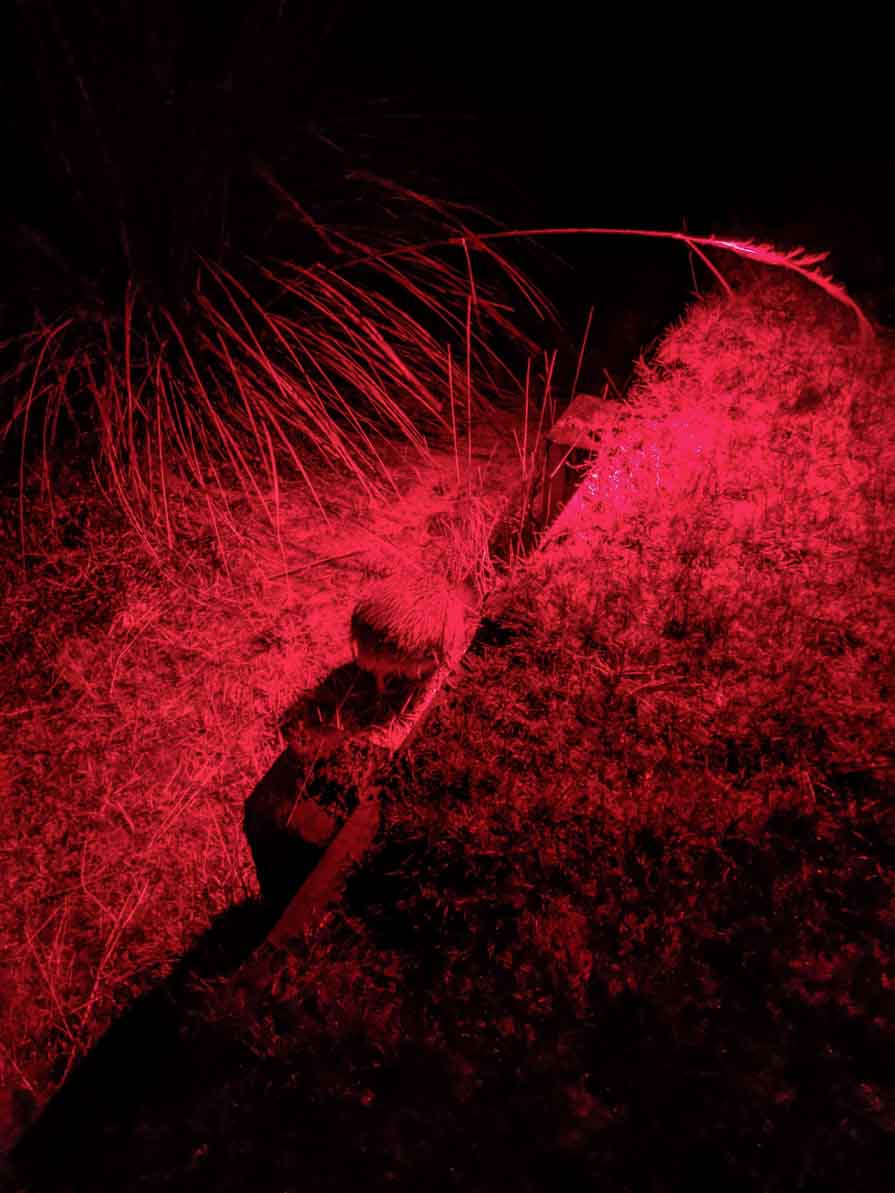 We went with Furhana from Ruggedy Range, she's been running tours for more than 20 years and is extremely knowledgeable about kiwis and other Stewart Island wildlife. Her tours focus on sustainable and responsible kiwi spotting, ensuring that your kiwi spotting experience doesn't negatively impact the little guys and gals that you're trying to spot.
On our Ruggedy Range tour we managed to spot five kiwis (!!!) as well as a little blue penguin, and we even were lucky enough to see a male kiwi perform its mating call. That was an unforgettable moment.
RESPONSIBLE TRAVEL TIP: If you do decide to look for the birds yourself, please do it responsibly. Be careful if driving around the island in the dark, don't make loud noises or sudden movements if you see a kiwi, and don't shine torches on them or use flash photography.
---
Stargaze
One of the world's five Dark Sky Sanctuaries, and one of two island sanctuaries, Stewart Island's sky on a good night is just divine. So much so, that the te reo Maori name 'Rakiura' translates to 'land of the glowing skies'. Aptly named!
The light pollution on the island is minimal so it'll just take you a short walk from Oban to get a good view without any distractions. Watching the night sky and spotting the iconic Southern Cross is by far one of the best things to do on Stewart Island.
---
See the Aurora Australis
If you're lucky enough to visit during a period of high solar activity, you might be able to spot the green, yellow, purple and pink hues of the Aurora Australis, also known as the Southern Lights.
Stewart Island is the best part of New Zealand to catch a glimpse of the Southern Lights, thanks to its southern location and lack of light pollution. You can check the KP index for solar activity here, or chat to the locals who will be able to tell you more.
---
Visit Ulva Island
Bird nerds, this one's for you! Ulva Island is a pristine conservation sanctuary and a hot spot for many flying (and non-flying) native creatures.
There are a few water taxis who do the short trip from Stewart Island's Golden Bay to Ulva Island, for around $20 return, or you can book a guided tour if you want to learn all about the flora and fauna. Ruggedy Range runs one with brilliant reviews, you can read about it here.
On our trip to Ulva Island we saw sea lions, weka, kaka, the beautiful Stewart Island Robin and loads more.
---
Hike the Rakiura Track
One of the 10 Great Walks of New Zealand, the Rakiura Track is a 32km intermediate-rated loop that'll take you three days.
There are two huts as well as designated camping spots, but facilities are basic so you'll need to take a portable stove and fuel with you. Weather can change quickly this far south (and anywhere in New Zealand really!) so make sure you're prepared with the right clothing.
Once on the track you'll be rewarded with pristine native forest, beaches that look tropical and abandoned settlements. Cross your fingers for a kiwi sighting!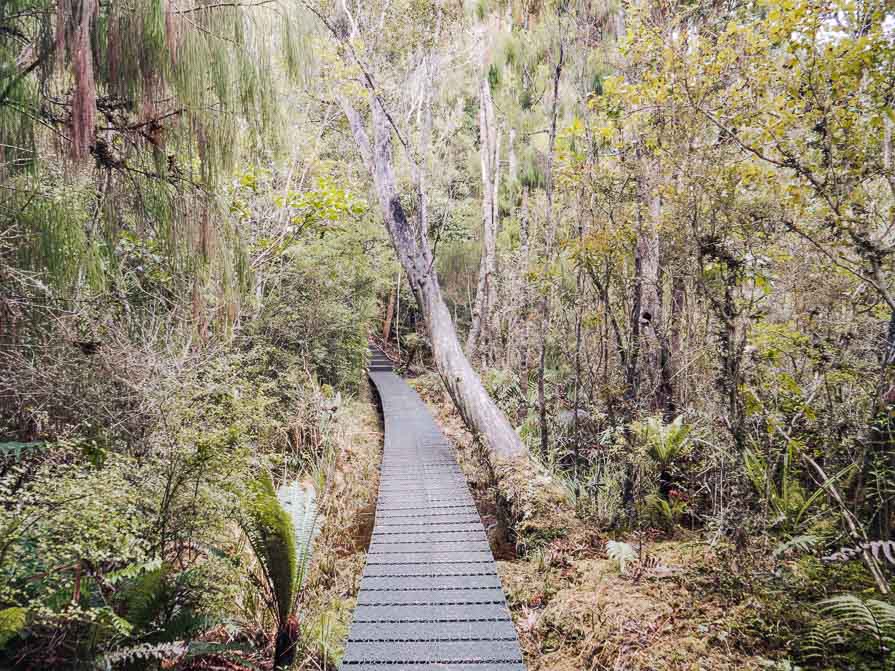 ---
See the penguins at dusk
If you head down to the main wharf in Oban at dusk and look towards the rocky coves on the left, you'll probably witness the Little Blue Penguins heading home for the night.
We saw a few bobbing heads out in the harbour first, before watching a few penguins swimming in one by one and meandering up the rocks. Too cute!
YOU MIGHT ALSO LIKE: 22 of the Best Places to Visit in the South Island
Visit the South Sea Pub
There are only about 400 people living on Stewart Island, and each night you'll see quite a few of them at the South Sea Hotel pub!
This icon sits right across the road from Oban's beach and is a must-visit for any Stewart Island trip. And best of all, drinks are CHEAP! A glass of house wine was only $6, not bad for the only pub on an island.
Food is great too, the hot smoked salmon baguette is something I'll think about for a long time.
PRO TIP: Don't miss the pub quiz on Sunday nights!
Go kayaking
Get up close and personal with Stewart Island's marine life by doing a kayak tour with a local guide. You might sea sea lions, penguins, albatross and more!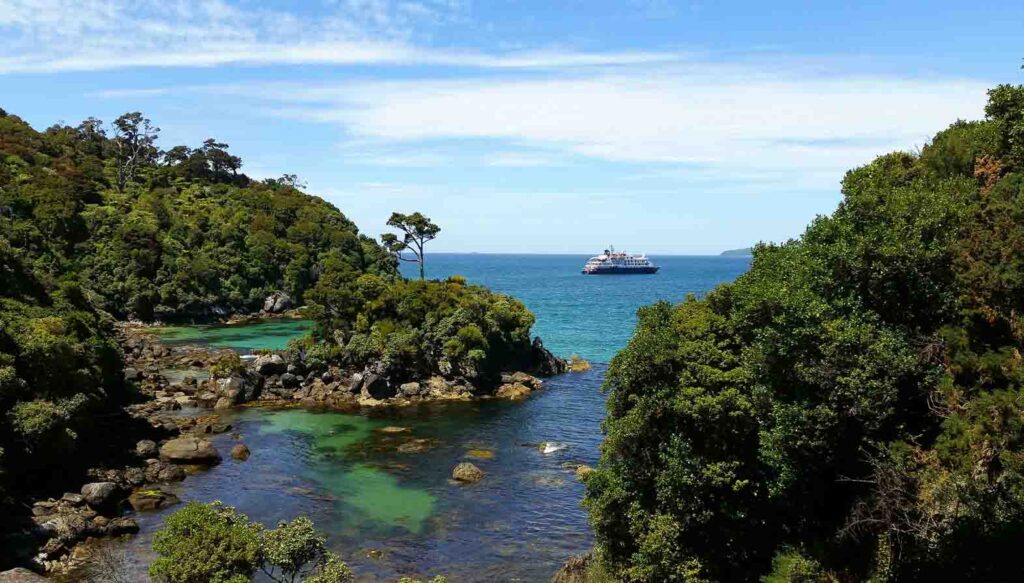 ---
Where to stay on Stewart Island
Stewart Island Backpackers
We spent our two nights on Stewart Island at Stewart Island Backpackers, a brilliant option if you're on a budget and just a five minute walk from the ferry.
There are private rooms as well as dorms, with shared bathrooms and a huge kitchen and living space. Dorm beds are $39 per night or it's $79 for a private double or twin. The rooms and facilities are basic but are totally sufficient for a short stay.
Airbnbs on Stewart Island
If you want somewhere private and self-contained, there's a range of Airbnbs in Oban to fit any budget.
My top picks are the Inlet View house with space for six people, or the beautiful Beech Bach for two people which includes the use of a car.
Somewhere fancy
Church Hill Boutique Lodge has three guest rooms with panoramic views over Halfmoon Bay, a short walk from the main centre of Oban. One room has a wood-fired outdoor hot tub, and there's a world-class restaurant onsite for when you get peckish.
Not quite what you're looking for? You can check your travel dates for all Stewart Island hotels on booking.com or Airbnb.
---
Hopefully this list of things to do on Stewart Island has helped you plan our your Rakiura itinerary. Have a brilliant time exploring this untouched paradise and let me know if you manage to spot a kiwi!
RELATED READS:
Like this blog? Pin it!