Swimming with dolphins in Kaikoura is a top highlight of my time being "stuck" in New Zealand, and it's an absolute must-do for any South Island adventure.
Kaikoura is one of New Zealand's most popular coastal tourist spots, best known for its easy access to marine life.
From whale watching tours to sea kayaking with seals to swimming with dusky dolphins or watching seabirds from a boat, the opportunities to get up close and personal with nature are endless. These opportunities make Kaikoura one of the best places to visit in the South Island.
But if you want a truly once-in-a-lifetime experience that you'll never forget, a Kaikoura dolphin swim is guaranteed to blow your mind. No South Island road trip would be complete without one!
Here's everything you need to know before booking your Kaikoura swim with dolphins experience, including where to find the best deals, what to expect and other helpful tips to ensure you have the best time in the water with these majestic creatures.
---
Where can you swim with dolphins in New Zealand?
There are a few different organised tour options if you want to swim with wild dolphins in New Zealand.
I've done two dolphin swims in NZ so far, the Marlborough Sounds one with E-Ko Tours and the Kaikoura Dolphin Encounter.
You used to be able to swim with bottlenose dolphins in the Bay of Islands (the top of the North Island) but due to changes in the dolphin behaviour seen in local pods, the Department of Conservation introduced restrictions on human interaction with dolphins.
The other dolphin swim options around the country have DOC permits and operate under strict protocols regarding how and when they interact with these beauties.
If you are on a private boat and you see dolphins you are allowed to swim with them however if there are juveniles in the pod then it's a no go. Obviously when you're not a professional dolphin spotter or marine biologist it's going to be tough to be sure that there's no babies around, so better safe than sorry and stay out of the water unless you're on an organised dolphin swim trip.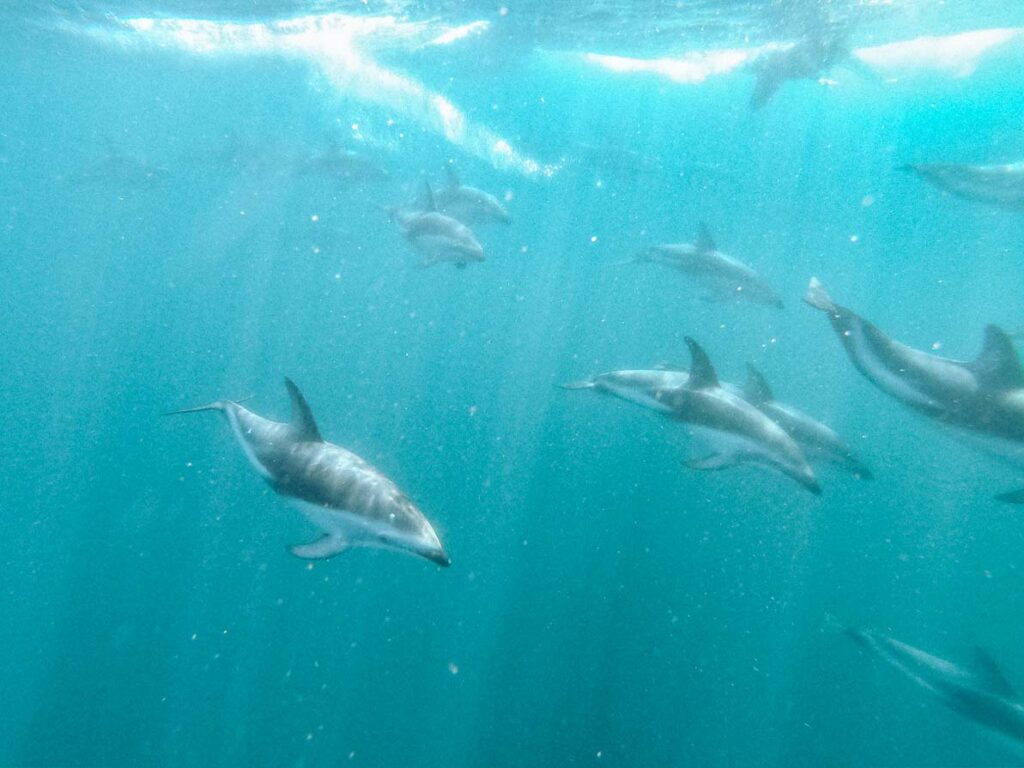 ---
How to get to Kaikoura
Kaikoura is just over 1.5 hours south of Blenheim on SH1 (128km), or 2h 20m north of Christchurch (180km).
In 2016 a large earthquake hit the Kaikoura coast which resulted in massive road damage and closed the main highway on and off for a few years, however the road has been remade and is now totally fine to drive during the day.
They are still doing some reinforcement work during nights especially so if you're planning on leaving or arriving late, be sure to check the most up to date road conditions.
---
What is Kaikoura Dolphin Encounter?
Dolphin Encounter is a local tourism operator that has been running Kaikoura swim with dolphins experiences for almost 30 years. Their base is located on the Esplanade in Kaikoura, with a café and gift shop attached for before or after your tour.
Dolphin Encounter runs two tours a day in summer (Oct-Apr), one at 8.30am and one at 12.30pm. From May to September the tour happens once a day at 10.15am.
Each tour takes about 3.5 hours from beginning to end, including getting ready at the base and then heading out to the boat. You'll be on the boat for about 2.5 hours, and there's usually between 30 and 40 minutes of swim time spread over two to four swims.
The dolphins in Kaikoura are dusky dolphins, which are some of the most playful and interactive dolphins in New Zealand. They love showing off with jumps, they'll circle you as you're swimming, and they'll get right up close to check you out.
After the swimming time is over you'll get to take off your wetsuit and get into something warm and dry, then you'll have some viewing time up the front of the boat to watch the dolphins from above water too.
---
How to get the best deals on your Kaikoura Dolphin Encounter
The usual price for swimming with dolphins in Kaikoura is $210 per adult or $195 for kids aged 8-14 years old. If you just want to go on the boat to watch, not swim, tickets are $105 for adults or $65 for kids 5-14 years old.
You can buy tickets on Klook, one of my favourite websites for booking adventures in New Zealand and all around the world. Klook has a best price guarantee so if you find a cheaper price for the same experience, they'll refund you the difference.
If you're booking last minute (i.e. if you plan on doing it in the next week) you'll be able to find the best deal on Bookme.co.nz, New Zealand's top travel deals website. Right now the Bookme price is showing $167.90, which is a 20% discount.
---
What's it like to swim with dolphins?
In a word, it's magical!
Jumping into the open ocean and landing in a pod of dolphins is pretty insane, and it's hard to describe how it feels.
Each Kaikoura dolphin swim is going to be different, but we literally spent ten minutes straight in the middle of this gigantic pod of dusky dolphins, with some of them coming right up to us and circling us which means they want to play. Racing a dolphin going around in circles is a sure-fire way to give yourself a headache, but who else can say they raced a dolphin?!
It's a crazy feeling because you're kind of head-down in the ocean looking everywhere for the dolphins and then suddenly one will zoom up from underneath you either wanting to have a closer look at you or trying to play.
The actual tour experience will depend on many things as they just go where the dolphins are, but most trips will give you two or three opportunities to jump in the water with the dolphins.
Also yes, it's cold.
My dolphin swim in Kaikoura was in March so the beginning of autumn and maaaan it was chilly. But you're suited up in a full body thick wetsuit (plus gloves and boots in winter) so once the initial shock of cold water on your face has subsided, you'll be good to go.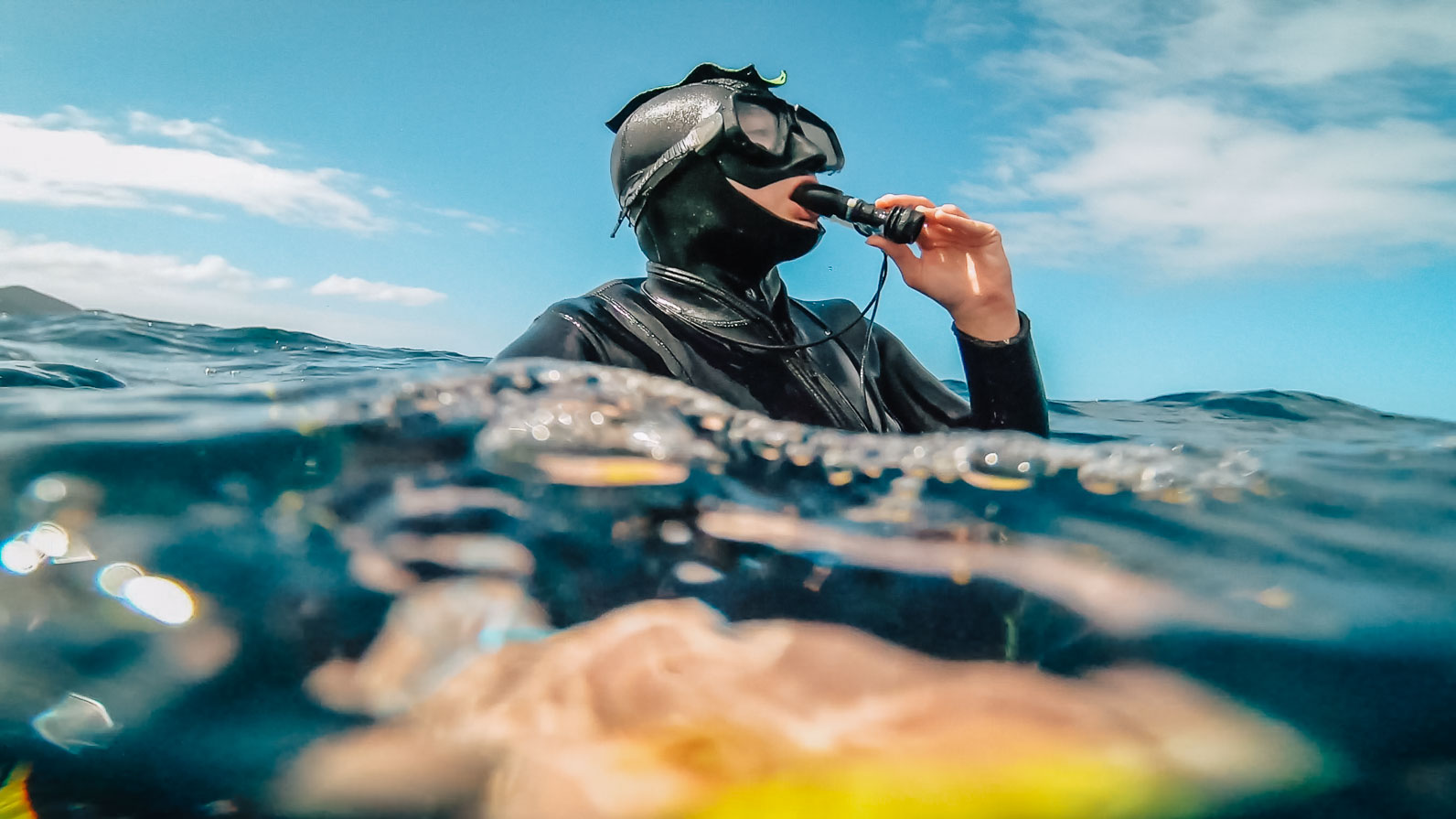 ---
It is okay to swim with wild dolphins?
New Zealand has strict rules about human interaction with wildlife and the dolphin swim operators are permitted to run these tours by DOC.
There are restrictions around how long you can spend with the dolphins, you can't swim near any babies, and DOC does continuous research on any potential adverse effects on the dolphins. You also aren't allowed to touch the dolphins at all for obvious reasons.
What sets these experiences apart from so many dolphin swims overseas is that these dolphins are totally wild. They aren't baited, attracted or trapped in any way, they have total free movement and can swim away from the boats and swimmers if they want to.
I strongly oppose any tourism experiences that involve captive wildlife for entertainment purposes so you'll never find me swimming with dolphins in any other way except for the open ocean.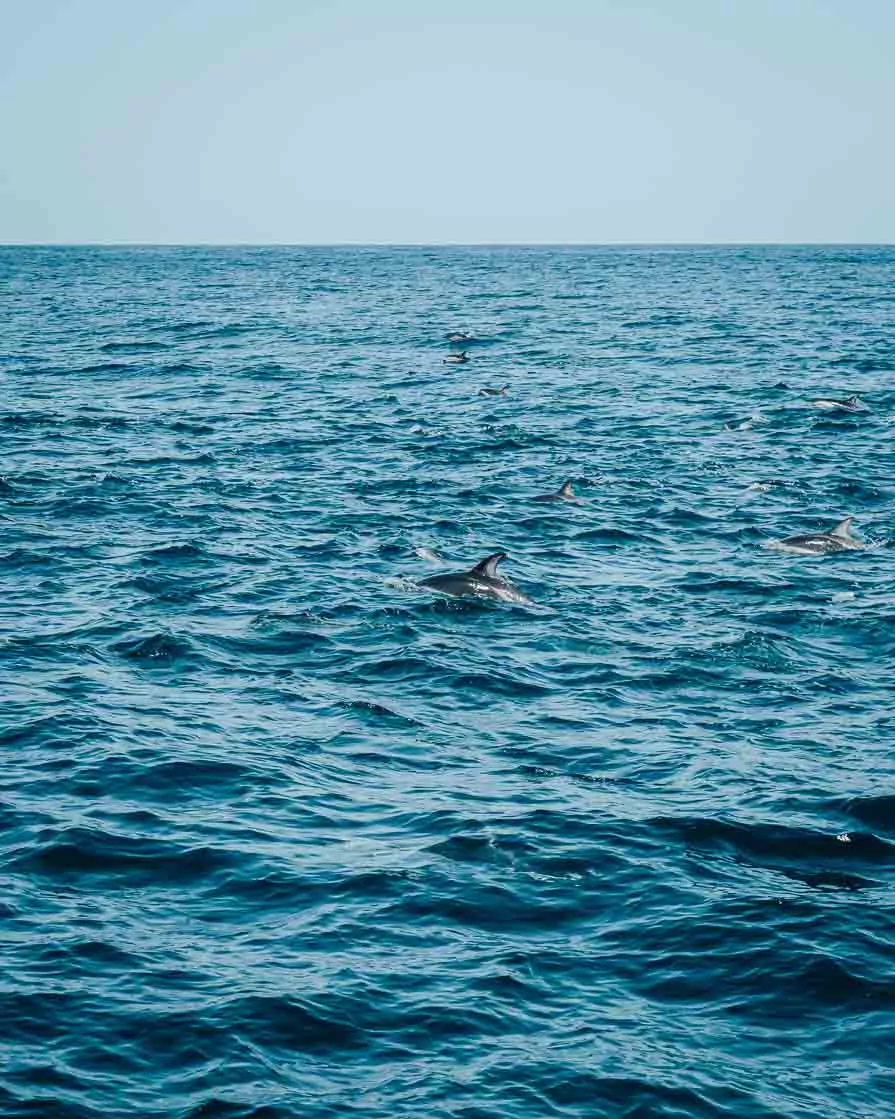 ---
It it safe?
Swimming with dolphins in Kaikoura is like swimming in the open ocean anywhere else, so you obviously need to be a confident swimmer.
You don't have to wear life jackets as these can make it harder to float on your stomach and keep your head down, which is the best way to spot dolphins, but the wetsuits are so thick and buoyant that they keep you afloat anyway.
If you do really want to wear a life jacket that option is available too.
The sea conditions will differ depending on the day, when we went out it was a moderate swell and it was definitely a bit choppy. I'm confident in the water and grew up around boats so I was fine, but most of our tour group did end up getting seasick by the end of the trip.
If you know you get seasick then it's best to take medication before the trip, or consider doing the Marlborough Sounds dolphin swim with E-Ko Tours who guarantee you won't get sick (as they stay in the Sounds where it's totally flat!).
---
Helpful tips to get the most out of your Kaikoura dolphin swim
Use a GoPro to get the best photos
All my underwater photos are shot on my GoPro. I use a GoPro Hero 7 Black, but I'm keen to upgrade to the new GoPro Hero 9 which has a screen on the front so you can see what you're shooting even in selfie mode.
I also have a floating mount for my GoPro to use while snorkelling, this way even if the leash comes off my wrist the GoPro will stay on top of the water with a bright yellow handle so it's easy to find. You can buy these floating handles at Dolphin Encounter, or buy one on Amazon here.
Give yourself a few potential days in case sea conditions are bad
The open ocean is unpredictable and sometimes the boats won't be able to go out. I'd recommend setting aside a few potential days in Kaikoura and booking a tour on the first day, then you can move it to the following days if necessary.
Take a towel and a set of warm, dry clothes for afterwards
After swimming for at least half an hour on and off, you're going to be cold! Be sure to take some super warm clothes, preferably with a windbreaker, so you can get changed out of your wetsuit and then stay toasty while you dolphin watch and head back into shore.
When is the best time of the year to swim with dolphins in Kaikoura
You can swim with dolphins year-round! Dolphin Encounter say that in winter they're found a bit further out to sea compared to summer, but tours in both seasons still have a really high likelihood of finding and swimming with dolphins.
---
Other things to do in Kaikoura
Get amongst the seafood scene with fresh crayfish from Nin's Bin, a legendary food stall about 20 mins north of Kaikoura
Spot the baby seals playing in rock pools at Ohau Point Seal Colony
Spot some whales on a whale watching tour, or go all out with a Wings Over Whales whale watching flight
Book a kayak trip with Kaikoura Kayaks and head out to sea to spot seals, dolphins, albatross and other creatures
Where to stay in Kaikoura
We stayed in an incredible Kaikoura glamping spot, one of my favourite glamping spots in New Zealand!
PurePods are a brilliant locally-owned glamping company with a few different locations in the Canterbury area, and we spent a night in their Manakau PurePod, 20 minutes inland from Kaikoura on rural land surrounded by mountains.
If you're looking for somewhere off the grid with incredible views and stargazing opportunities, this epic little glass box is the perfect place for you.
---
If you're planning a trip to Kaikoura, I hope I've convinced you to book in a swim with dolphins experience! If you have any questions before you book just let me know in the comments, or head over to Instagram and flick me a message there.
MORE NEW ZEALAND TRAVEL GUIDES:
Like this blog? Pin it!