If you're looking to treat yourself to a luxury getaway or a staycation if you're an Auckland local, the Cordis is up there with the best hotels in New Zealand. Read on for my full review.
For my 30th birthday I had hoped to be in the Maldives, staying at one of those overwater villas with a waterslide, but alas it was not meant to be and I was still "stuck" in New Zealand after almost two years of closed borders. If I couldn't be in the Maldives, I knew I needed somewhat of a consolation prize in the form of a luxurious staycation not too far from home. Enter: the Cordis, a five star luxury hotel in Central Auckland.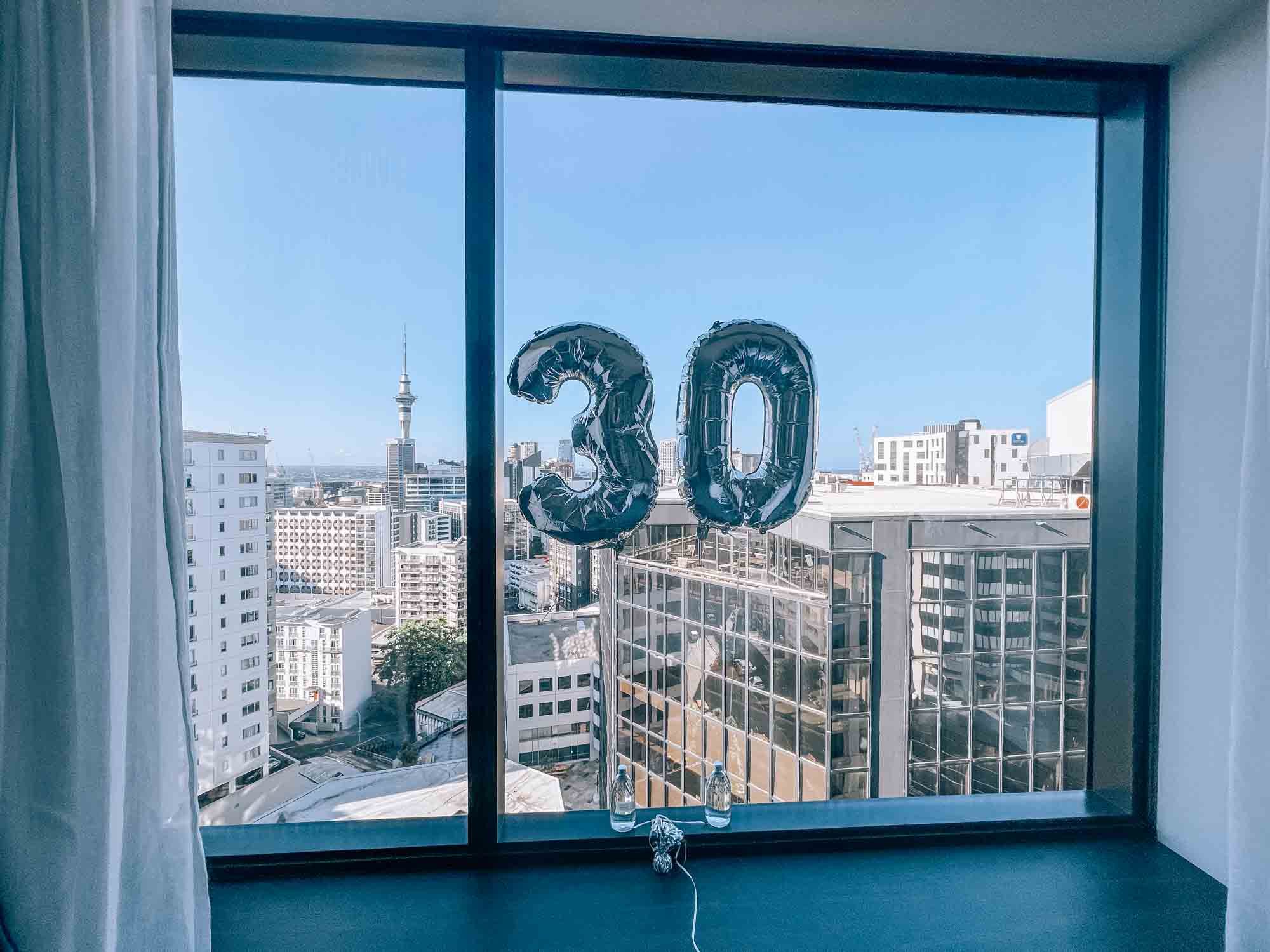 I lived in Auckland for university in a residential hall just a short walk from what is now the Cordis but used to be the Langham. I never had the chance to stay there (poor student life!) but I did wait outside the back entrance for a few hours back in 2013 to see Justin Bieber arrive after flying into NZ for his concert. It was a true life highlight, but I thought it was about time to make some new memories here that didn't involve stalking a celebrity when I was 21 years old.
The Cordis is an iconic hotel in Auckland, boasting a grand lounge for high tea and cocktails, a huge events space and a world-class buffet restaurant that offers interactive dining experiences. And with a brand new tower that opened in 2021, this was the perfect place to say goodbye to my 20s and enter a new decade.
Where is the Cordis?
The Cordis is on Symonds Street, just past the intersection with Karangahape Road (K Road). It's within easy walking distance to Queen Street, downtown and the hospital, and a longer walk or bus will get you to Newmarket or Ponsonby with bus stops right outside.
If you're taking a car there's valet parking available for $45 per night, or there's a carpark building just behind the hotel with an overnight rate (4pm-6am) of $15 or a 24 hour rate of $35.
The room
We stayed in a Premiere Skyline room in the new Pinnacle Tower, and we were impressed the moment we walked into the room. The bathroom was lush, with a huge mirror, rain shower and bath tub complete with Sky Tower views, with an electronic blind for privacy.
There were three of us so we had a double room and the beds were just as you'd expect at a five star hotel. There was enough room for all our stuff and it didn't feel cramped which was a nice change from our MIQ hotel a few weeks earlier!
We arrived to a little dessert platter of eclairs, fresh fruit, cakes and macarons, my all-time favourite sweet treat. And when we returned after dinner, we saw that the housekeeping staff had come in for turndown service to prep our beds and leave a little Whittaker's choc on the pillow.
But the best thing about the Pinnacle Tower is by far the view, we were on the 12th floor and had a brilliant vantage point that stretched across the city and included the Sky Tower as well as the actual apartment I lived in for two years more than a decade ago.
The facilities
The Cordis has a bunch of fitness and wellness facilities for every type of traveller, from a sun-soaked pool and jacuzzi to a divine beauty spa to a well-equipped gym.
While we didn't have time to indulge in a spa treatment unfortunately (next time!), we did soak our hangovers away in the rooftop pool the morning after one too many cocktails.
The food and drink
There are a number of different food and drink options depending on what you're looking for.
High tea at the Cordis
We treated ourselves to an afternoon sitting of the famous high tea at the Chandelier Lounge, which is priced very reasonably at $69 for the food and tea, with upgrade options for champagne or other drinks.
The summer menu included a bottom tier of three sandwiches (classic ham, cucumber/pea/goats' cheese, and egg), a middle tier of various canapes (pulled beef short rib in a cone, goats' cheese filo pastry, smoked salmon blini and pea panna cotta), and a top tier of sweet treats that I can't remember the names* of but trust me when I say they were delicious. There was a variety of teas to choose from but we mostly went for cocktails and champagne to keep with the 30th celebration vibes.
*I checked the menu for the names after publishing and can confirm that the sweet treats were a milk choc + hazelnut royale, vanilla + strawberry mille feuille, berry + honeycomb pebble, peach + cream tartlette and a raspberry + yuzu macaron. Phew!
After filling up on the finger foods there were some scones (savoury and sweet) before having an extra dessert plate brought out for my birthday with even more sugary goodness.
Eight Buffet
I haven't had the pleasure of dining at Eight yet but I'm giving it a little shout out in this review because I've heard so many friends talk about how much they love it.
The restaurant is all about interactive dining, with eight different stations serving up different cuisines while putting on a show for the diners.
Our Land is Alive
This one is a new addition to the Cordis, an Aotearoa-themed cocktail bar with a seriously impressive drinks list and a decent bar snacks menu. We actually weren't so sure when we walked in as the music was a bit more chill than we expected and the bar was super quiet, although that was understandable as it was the first weekend in red light restrictions which limits the way bars can operate.
But it only took a few minutes for the bartender to impress us and our minds were changed. The cocktail list here is super unique, with options like the Hauraki Sunrise (Black Collar vodka, raspberry syrup, apple and elderflower saccharum and lemon juice), the Manuka Old Fashioned (Manuka-smoked bourbon, NZ honey and bitters) and the Pinot Negroni (vermouth, Reid + Reid aperitivo, pinot noir and negroni gin).
We only ate some bar snacks here (I recommend the pork scratchings with apple purée!) but there's a full food menu with hearty Kiwi dishes like seared kingfish, ribs and beef brisket.
Things to do in the area
The Cordis is handy to many of Auckland's main suburbs, from the endless food and drink options downtown and in the Viaduct, to funky retailers in Ponsonby, to the mega mall in Newmarket.
If you're looking for a nice brunch, some of my favourite cafés within a short drive of the Cordis are Chuffed (CBD), Williams Eatery (Wynyard Quarter), Hello Friends & Allies (Newmarket), Scullery (K Rd), Postal Service (Grey Lynn) and Rosie (Parnell).
For a fancy lunch or dinner, you could head to Ponsonby (Blue Breeze Inn for incredible Asian fusion, Prego or SPQR for Italian, or Jervois Steak House for, well, steak!), Britomart (Vivace for sharing plates, Café Hanoi for Vietnamese, Amano for Italian-inspired dishes or Cassia for creative Indian food), or the Viaduct (White + Wong's for Asian cuisine, Soul Bar for classic world-class bistro food or Esther for sustainable dishes and local seafood).
Keen for some cocktails? Start off with the Cordis' own Our Land is Alive, then try out the QT Rooftop, Saint Alice, Everybody's, Coley + Punch, Talulah, and end the night at Caretaker, an epic speakeasy-style bar where they have no menu and instead the bartenders create a bespoke cocktail to suit your personal preferences.
In terms of activities in Auckland, there is so much to do so I'll add "write a full Auckland blog" to my to do list, but in the meantime here are some Auckland bucket list activities:
See the city from the Sky Tower
Visit the Auckland War Memorial Museum
Check out the Auckland Art Gallery
Climb one of the many volcanoes (Maungawhau/Mt Eden and Maungakiekie/One Tree Hill are the most popular, or head out to Rangitoto Island to wander through native bush and see some lava caves)
Do a day trip to Waiheke Island for wine tasting
Watch the sunset at Piha or another west coast beach
Hit a local market
The verdict on the Cordis, Auckland
This was a gorgeous place to see in my 30th birthday, and a lovely treat that felt like a little staycation considering I lived in Auckland for eight years and never really stayed in any hotels up there!
The staff were fantastic, the hotel décor was impressive from the moment you walked in, the pool was just perfect for the morning after a big night, and the rooms were so stunning it was hard to leave.
I highly recommend the Cordis if you're wanting to treat yourself to a five star getaway with easy access to all that Auckland has to offer.
BOOK IT: Rooms at the Cordis start from just $275 a night
Thanks to Cordis Hotel for offering a media rate for this trip. My reviews are, as always, totally honest and based on my own personal experience.