Tossing up where to stay in Tauranga? I was lucky enough to spend a night at Trinity Wharf, a gorgeous waterfront hotel with spacious rooms, incredible ocean views and a funky infinity pool. Here's my detailed Trinity Wharf Tauranga review.
January 28th 2021 was my 29th birthday, my first birthday in NZ for the past four years. When I was considering where and how to celebrate, I was really keen to a) eat some good food and b) swim in an infinity pool. Finding the latter in New Zealand was much harder than I anticipated!
In classic Alexx style I created a spreadsheet to collect all the different lodges and hotels with infinity pools in New Zealand, noting down prices, distance from my hometown and other extras.
After vetoing everything over $400 per night I wasn't left with many options, but one of those leftover ended up being perfect. Trinity Wharf Tauranga was less than an hour and a half from my house, it has a stunning oceanfront infinity pool, and rooms start from only $230 a night. Absolute bargain!
Read on for my full Trinity Wharf Tauranga review to see why I loved it so much, and why you should book it for your next Bay of Plenty holiday.
---
An overview of Trinity Wharf Tauranga
Trinity Wharf Tauranga is a classic and great value hotel in Tauranga, right on the waterfront next to the bridge that takes you to Mount Maunganui.
They have over 120 rooms and apartments to choose from, ranging from budget-friendly urban rooms to larger apartments with balconies and sweeping sea views.
The hotel is within walking distance to the Strand and a short drive from the Mount.
---
What are the rooms at Trinity Wharf like?
We stayed in a Harbour Deluxe Spa room, with a king bed, bathroom with a bath, and a shared balcony (with one other room) overlooking the water. Our room was a corner room and had ocean views on two sides.
The room was reasonably basic but spacious and comfortable. The bed was great which is always the most important thing about hotels for me! And waking up to sunrise over the ocean isn't bad either.
---
Trinity Wharf facilities
Trinity Wharf is very business-friendly so it has all the facilities you'd expect from a business hotel, including an onsite gym, conference rooms, room service, free WiFi etc.
But the real gem of Trinity Wharf is of course the infinity edge swimming pool!
The pool isn't heated but it catches a decent amount of sun so it was fine for us to swim in both in the evening and early morning (in summer that is).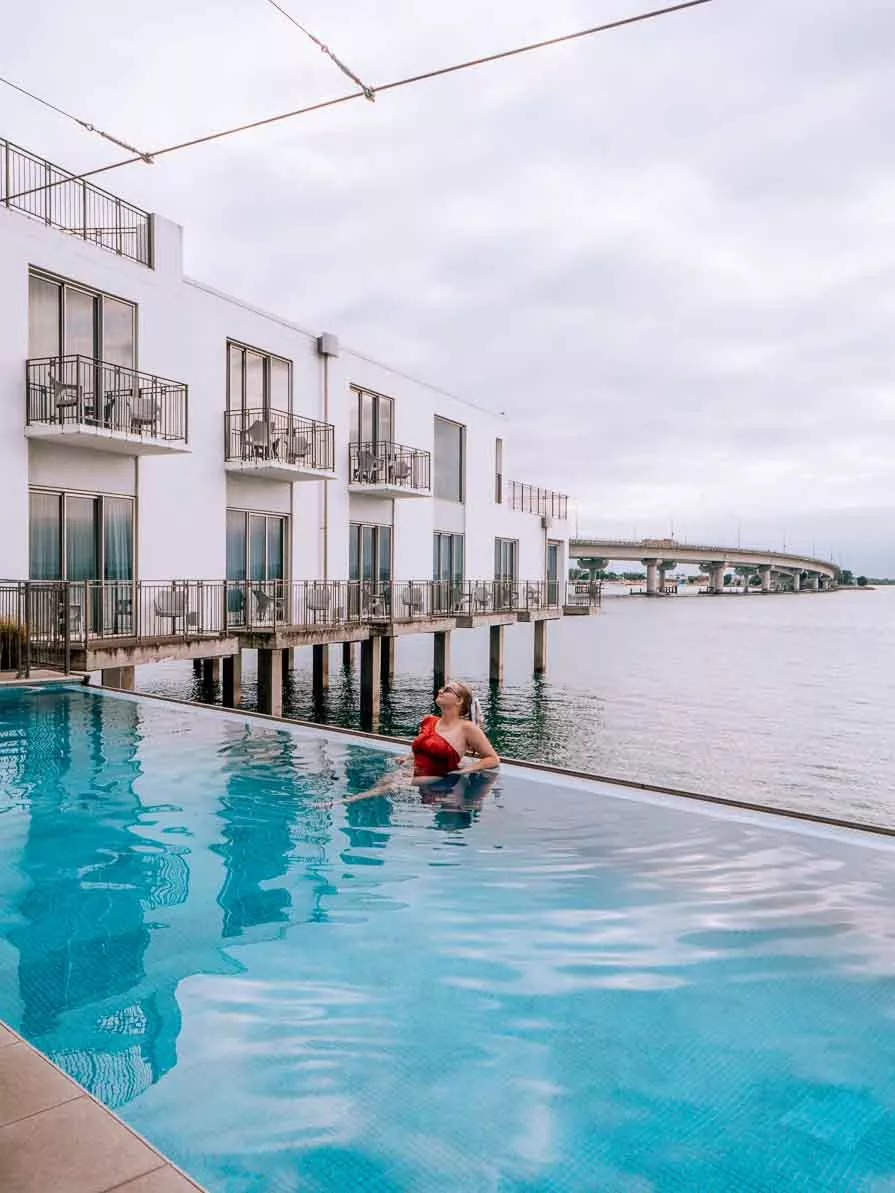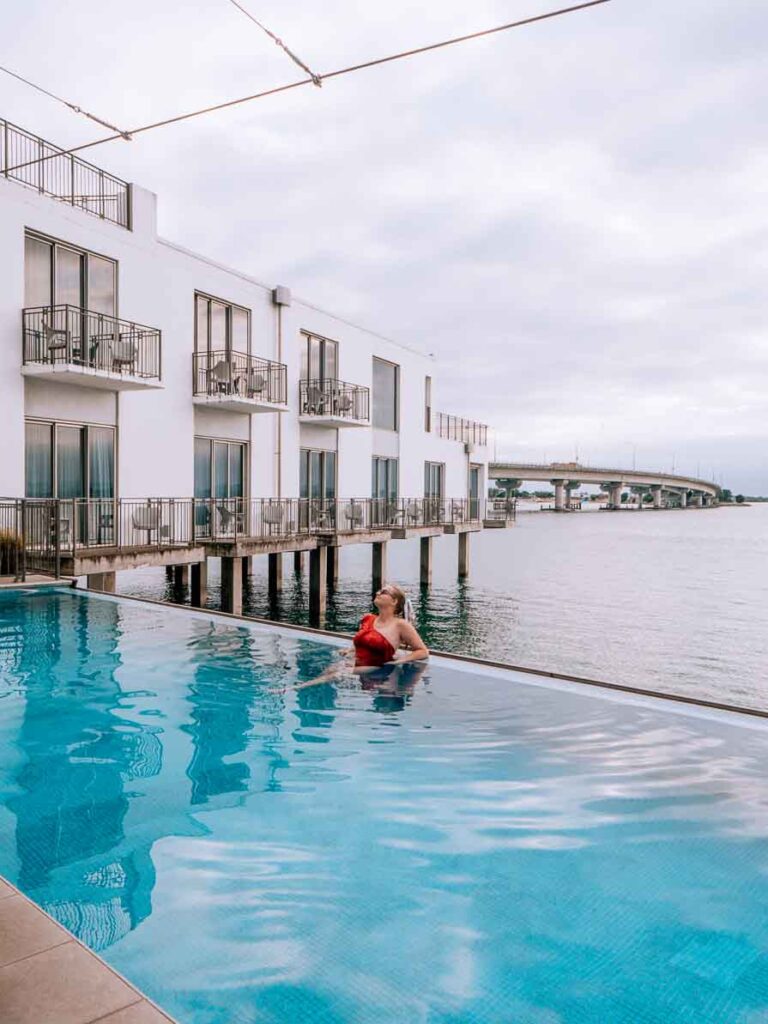 The pool is bordered by rooms on both sides, a conference room behind it, and the ocean in front. Though the photos make it look like it's right on the water, there's actually a bike path between the pool and the shore, but this doesn't impact the experience.
Trinity Wharf also has free parking onsite so no need to worry about what to do with your car.
---
Food & drink
The hotel has an onsite restaurant serving up breakfast and dinner daily, as well as lunch on weekends and high tea on Wednesday to Saturday afternoons.
We didn't eat there because we had food plans locked in elsewhere, but the restaurant menu looked delish and I've heard great things about the high tea!
The bar also has a decent drinks menu with some fancy (and huge) cocktails, definitely worth a stop before you head out for an evening.
For breakfast you can choose from a huge buffet or an a la carte menu with granola, eggs benedict or French toast.
---
Where is Trinity Wharf?
Trinity Wharf is located at 51 Dive Crescent, just two minutes off State Highway 2 before you go over the bridge.
---
The final verdict
The hotel is a beautiful spot for a Bay of Plenty getaway if you're looking for somewhere comfortable, good value and with brilliant views.
I do wish we'd stayed an extra night to be able to take advantage of the restaurant and bar (our 24 hours in Tauranga was packed so we didn't manage to eat at the hotel this time) but I'm sure I'll head back again some time soon. I can hear that infinity pool calling me!
---
How to book Trinity Wharf Tauranga
You'll get the best deal by booking directly with the hotel right here, with room rates starting from only $230 per night for two people.
If you want to cross-check the price with booking.com, you can do that by clicking here.
RELATED READS:
---
Like this blog? Pin it!
Huge thanks to the Trinity Wharf Tauranga team for hosting us for one night. As always, all opinions are my own and are completely based on my personal opinion.