A Milford Sound scenic flyover with Glenorchy Air is an absolute bucket list experience., here's a detailed review of my incredible time in the sky with these local legends.
It's hard to explain to you how incredible my Milford Sound scenic flyover was, but I'll try!
My recent visit to Queenstown was hampered by some inclement weather but I managed to get a half day of clear skies, so I immediately jumped at the chance to lock in a Milford Sound flight with Glenorchy Air.
Only a few hours later and I was wandering over the tarmac to reach our six-seater Cessna plane, ready to take to the skies for an hour and 20 minutes of pure bliss and endless photography opportunities.
I'm a sucker for good views so any scenic flight is going to impress me, but oh my gosh this was honestly mind-blowing. From glacial rivers to snow-capped mountains to alpine lakes and Milford Sound's famous waterfalls, I'd even go as far as saying this might be the best scenic flight in the world. I genuinely don't know anywhere else that could offer so much variety of scenery in such a small area.
If you're already hankering to book your own Milford Sound flight with Glenorchy Air then book it here, or read on for more info and photos from my experience.
---
Why do a scenic flight over Milford Sound?
Milford Sound is one of the best places to visit in the South Island.
I'm actually a firm believer that driving to Milford Sound is a must-do in itself if you have time, but a scenic flight gives you out of this world views without taking up too much of your Queenstown itinerary.
You can even combine a coach trip there with a flight back and get the best of both worlds, more on that below.
A flight in this little corner of Aotearoa is incredible because of the multitude of different landscapes you'll get to see, giving you unbeatable bang for your buck. You'll fly over the snowy ranges that surround Queenstown, braided rivers (NZ is one of the only countries to have them), glacial lakes high up in the Fiordland mountains and all the way out to the Tasman Sea before coming back on a different route.
Not sold yet? Here are some shots to convince you!
---
Why choose Glenorchy Air?
Glenorchy Air are a small locally-owned company in Queenstown who have been taking travellers on epic sky high adventures since 1992.
So many tourism operators in Queenstown are owned by large commercial enterprises, so I always love finding and supporting small businesses where I can.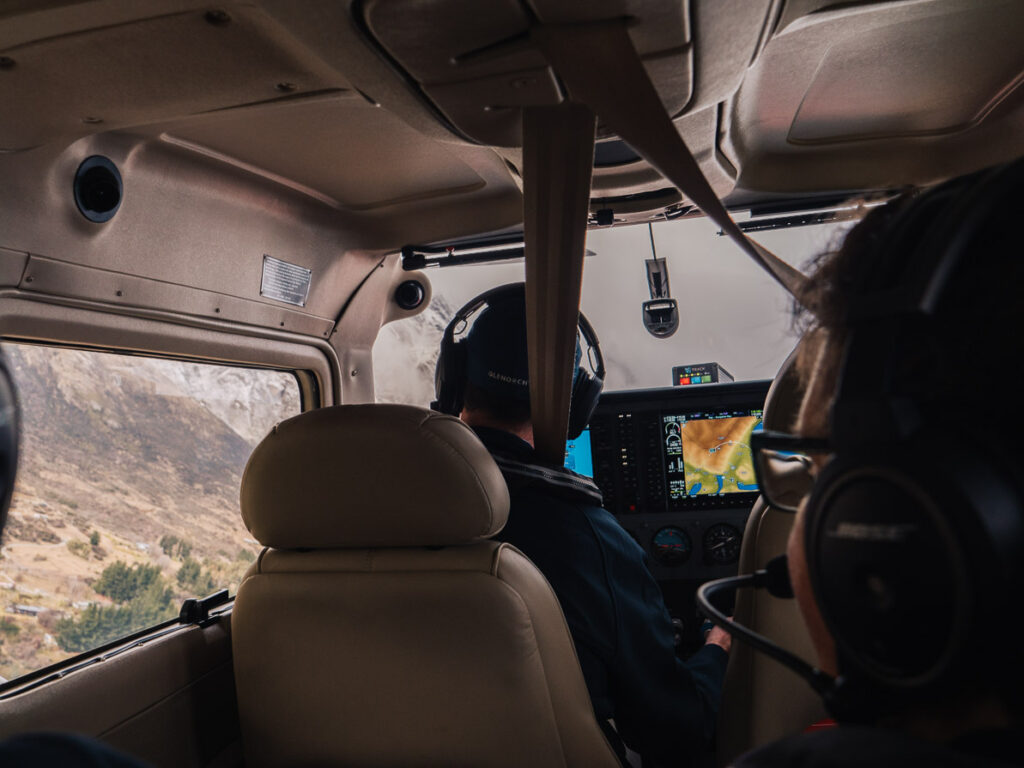 Glenorchy Air are based out of Queenstown Airport and have a premium fleet of four aircraft purpose-built for sightseeing, where every flyer gets a window seat. No need to shotgun the best spot! Their biggest plane holds 13 passengers, they have one for seven passengers and our Cessna 206 had space for five passengers.
Their customer service is brilliant, my flight was organised in less than an hour from the time I emailed them, and they offer pick up from Queenstown so you can avoid the hassle of heading out to the airport.
Our pilot, Jim, has had years of flying experience and provided excellent commentary on the way, keeping us informed about where we were flying, letting us know when it would get bumpy (it did for a bit but it wasn't too bad!) and answering all our dumb questions.
---
Which flight should you choose?
Glenorchy Air has a bunch of different scenic flight options from Queenstown depending on what you're looking for.
Ultimate Overnight Experience
If you are lucky enough to have time to fit in a night away from Queenstown, my top recommendation would be the Ultimate Overnight Experience.
This package includes a coach trip to Milford Sound to tick off the best photo spots on the way, a nature cruise around the fiord, a night at the stunning Milford Sound Lodge, breakfast the next morning and then a flight back to Queenstown.
Spending a night in Milford Sound means you get to experience it without the day trippers, and having the foreshore to yourself at sunset is pure magic.
Prices start from $814 per adult and $485 per child and you can book it here.
Coach-Cruise-Fly
If you can't fit in a night away but have a full day to dedicate to seeing Milford Sound, a Coach-Cruise-Fly gives you the road trip experience with all the best photo stops, the must-do nature cruise and an incredible flight over the mountains and lakes back to Queenstown.
These trips depart Queenstown at 7am and you'll arrive back just before 4pm so it is a busy day, but it's well worth it. The Coach-Cruise-Fly is currently on special for $499 for an adult (down from $619), or $369 for a child.
Fly-Cruise-Fly
For those short on time, or if you've got kids who can't handle the long drive, a Fly-Cruise-Fly is a four hour experience that includes 1h 20m in the sky and 1h 45m on the water from $449 for adults (down from $550) and $299 for kids.
There's also a Fly-Explore-Fly option for a return flight and two hours to explore Milford Sound on land at your own pace if you don't want to go on the boat, this is a bit cheaper at $399 for adults/$249 for kids.
Scenic Flyover
This is the trip that I did, the Scenic Flyover is a 1h 20m flight to and from Queenstown without a landing.
If you haven't been to Milford Sound before then I highly recommend doing one of the flights with a landing because seeing the scale of the mountains from ground level is mind-blowing, but if you've already visited Fiordland by road (or are planning to later in your trip) and want to see it from the sky, a scenic flyover is a super efficient way to do it without cutting too much into your Queenstown time.
The Scenic Flyover is $349 for adults (down from $399) and $199 for kids.
---
What was the scenic flyover like?
It. Was. Insane.
Queenstown is my favourite airport in the world to fly in and out of because you're flanked by mountains, and the flight to Milford Sound was just incredible view after incredible view.
Our plane seated five passengers but there were only three of us, so I was lucky enough to take one of the back seats for myself which meant I had a window on each side! It also meant that I spent my entire 80 minutes leaning from one side to the other, switching between three cameras (all with different lenses) and my phone, not wanting to miss the best shot.
When I got home and backed up my SD cards it became apparent that there were hundreds of 'best shots', and when I woke up the next morning my abs were literally sore from moving around so much in the back of the plane!
Each flight will have a slightly different route depending on the weather but our trip took us over the Shotover River, the Dart-Rees Valley's braided rivers (so cool to see from above), rugged mountain ranges and icy glaciers before making it out to the wild West Coast where the Tasman Sea meets Milford Sound.
Getting a bird's eye view of Milford Sound was a life highlight, especially as I had kayaked there just a couple of days earlier, it was so special to see it from the sea as well as from the sky.
The Milford Sound portion of the trip took us all around the highlights, seeing Mitre Peak and Mt Tutoko from different angles on both sides of the plane, spotting some of the famous alpine lakes that are impossible to see without a flight, and watching the boats make their way through the fiord like tiny floating ants.
The scenic flyover does stay quite high to avoid the flights that are landing or taking off from Milford Sound so you don't really get to see any of the mountains at eye level, this would be a benefit of doing a flight with a landing, but the flyover was still absolutely stunning.
On our way back to Queenstown we took a slightly different route and flew over the entrance to Homer Tunnel, the Gertrude Saddle, Hollyford Valley and more, before seeing another seemingly endless run of mountains and finally making it to Lake Wakatipu, past the road to Glenorchy and coming in right above Queenstown's city centre before landing.
I honestly can't rave about the flight enough, it was beyond beautiful and I'll never forget it. I want to do it again without my cameras so I can really soak up the views!
---
How to book your Glenorchy Air scenic flight
Check out all of Glenorchy Air's Milford Sound flights right here.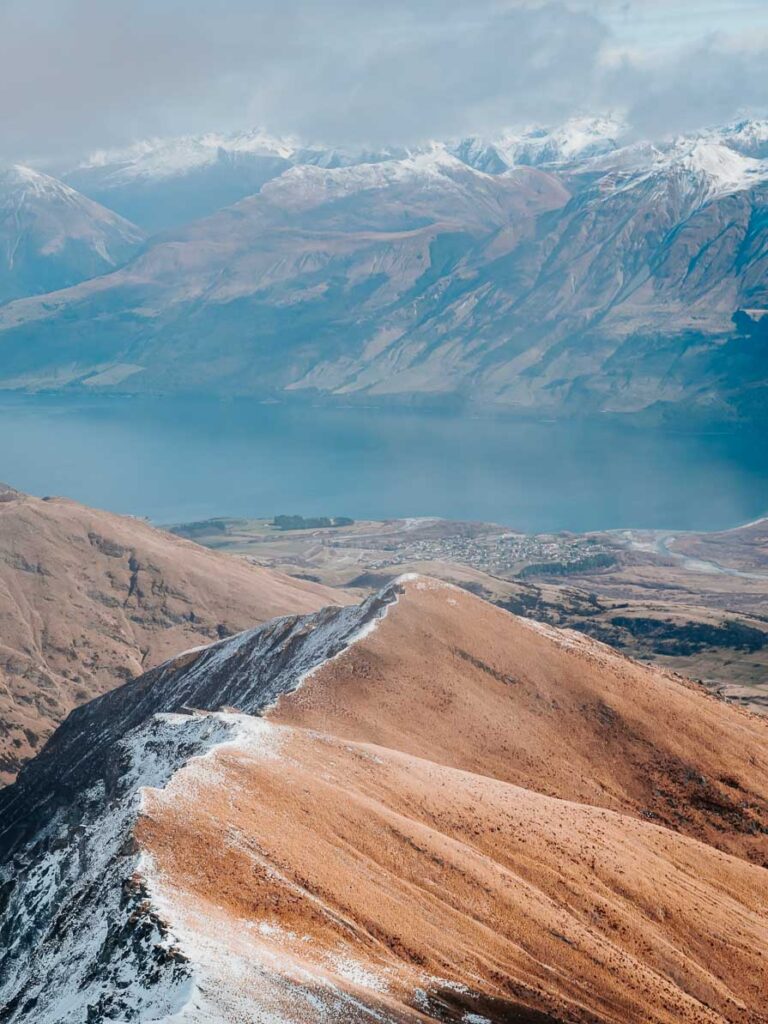 ---
MORE SOUTH ISLAND TRAVEL GUIDES:
Like this blog? Pin it!