Often overlooked as a half-way point between Europe and the Southern Hemisphere, I'm a firm believer that Dubai as a tourist destination is totally underrated. I've visited this Middle Eastern hot spot twice now, spending 10 days in Dubai in total, but I reckon 3 days in Dubai is the perfect length of time to experience the glitz and glam of the city, have some epic adventures and make the most of an easy stopover.
The United Arab Emirates is definitely not the cheapest destination in the world, and you'll need to have a bit of spare cash to enjoy yourself, but if you can afford it then Dubai is totally worth the splurge.
From crazy theme parks and world-famous landmarks to funky restaurants, adrenaline-rush activities and fancy shopping malls, plus where to stay and what to pack, here's all you need to know to plan an unforgettable 3 days in Dubai itinerary.
Things to know before you plan your Dubai itinerary
How to get around Dubai
Unlike a lot of major cities around the world, Dubai is very spread out, so getting from A to B can take a long time depending on where you're going.
The public transport system is vast and includes buses, trams, metro and the Palm monorail. Tickets start from 3AED (£0.66/$1.32NZD) per journey, or you can get an unlimited day pass for 14AED (£3.08/$6.16NZD).
To use public transport you'll need a Nol card, you can get a tourist paper Nol card for only 2AED and use that for up to 10 journeys or 5 daily passes, more than enough for 3 days in Dubai. Download the Wojhati app to plan your route.
If you're in a rush, taxis and rideshare apps like Uber and the local version, Careem, are very affordable in Dubai because of low petrol prices. Taxis actually end up being cheaper than the apps normally as the apps have a service charge, but the apps give you a ballpark figure of what you can expect to pay.
Note that traffic jams can be horrendous in Dubai at peak travel times so take this into account before you jump into a cab.
Sign up for Uber here and you'll get a sweet discount on your first ride!
What to wear in Dubai
The UAE is a Muslim country, but only 20% of the population are Emirati nationals and the rest are expats from all over the globe. This means it can be confusing to know what the customs and regulations are around what to wear, and not all residents follow the rules.
On top of this, Dubai's temperature is hot, hot, hot year-round, reaching average highs of early 40s in July and August, and the 'cold' months of December and January still hitting average highs of 25°C and 26°C.
It's super important to respect local religions and customs any time you visit somewhere new, and Dubai is no different. Both tourists and residents alike are expected to dress conservatively when out in public in Dubai, but the level of modesty does depend on what part of the city you're in.
If you're visiting anywhere in Old Dubai, like the Spice or Gold Souk, around Dubai Creek or the Al Fahidi historical district, it's respectful to have your shoulders and knees covered. This part of Dubai is where many Emirati and other Muslim residents live, eat and worship.
If you're planning on heading into the shopping malls, you'll be fine to wear 'normal' clothes provided they're not too showy. No cleavage, nothing too short and nothing too tight. Malls also get FREEZING because they blast the air conditioning, so I'd recommend taking a jacket or a jumper to cover up.
In the Dubai suburbs that are more tailored to expats and tourists, like Jumeirah Beach and the Dubai Marina, it's more acceptable to dress casually, but this doesn't mean bikinis, butt shorts and tight tank tops in shops and restaurants.
Keep the beachwear for when you're swimming, the clubwear for clubbing and just use your common sense to be respectful.
How to get a Dubai SIM card
Dubai isn't included on most international roaming plans unfortunately, or if it is then it'll likely be at a significant extra cost.
My top tip for getting connected in Dubai is to purchase a Dubai SIM card online that'll be ready for you to pick up when you arrive. This one on Klook is a bit cheaper than buying it in person and the set up only takes ten minutes at the airport.
Do you need a visa for Dubai?
Some countries are able to secure a visa on arrival at Dubai airport and some may need a pre-approved visa. You can check visa requirements for the UAE here.
Where to stay in Dubai
I would recommend staying in areas that are well-connected with metro or tram lines, or near key tourist areas like Dubai Marina, Jumeirah Beach Residence (JBR), Downtown Dubai or Bur Dubai.
Accommodation in Dubai isn't cheap, and it'll cost you a bit more to stay in a good location, but there's nothing worse than a 30 minute walk from a metro stop to your hotel in blistering desert heat.
Where to stay in Dubai on a budget
Dubai on a budget is a bit of an oxymoron in itself, but there are a few ways to keep your costs down. Hostels are few and far between in the UAE due, mostly due to hotel owners having a big say in tourism regulations, but I found a great spot for anyone looking for somewhere cheap and cheerful.
Sea View Beach Stay is ideally located, with facilities like a kitchen and access to a pool and gym, and they have dorm rooms for both males and females. It's super clean, basic but comfortable, and a great way to meet other travellers. Best of all, they're just a short walk from the main entertainment area in Jumeriah Beach!
You can find out more details and check your travel dates online here.
Self-contained apartments in Dubai
Sonder Apartments are a game changer in the accommodation space, bringing the best of both hotels and apartment rentals to over 25 cities around the globe. I was lucky enough to test out their new Dubai apartments in the JBR area, and I'm totally, absolutely, 100% sold.
Dubai is expensive to visit, so having somewhere with a full kitchen can massively help bring your costs down. Throw in the incredibly comfy bed, beachfront location, work space, laundry facilities, a fancy bathroom and access to the Rixos Premium pool and private beach area, and the value that Sonder offers is a no-brainer. Oh, and the rooms are stunning.
Read my full review of my Sonder Dubai apartment, or find out more about Sonder online.
YOU MIGHT ALSO LIKE: A huge list of all the best places I've stayed around the world
Somewhere fancy to stay in Dubai
I spent a night at the gorgeous Al Seef Heritage Hotel, near Dubai's Al Fahidi historical district, and it was an incredible experience.
It felt authentic and reminiscent of Old Dubai, with rustic details, faultless staff and a location smack bang in the middle of a new entertainment and tourism development. A huge buffet breakfast is included, there's a hotel golf cart to get you around the area, and the rooms feel exotic and unique, a nice change from Dubai's usual business-style luxury hotels.
See more about Al Seef Heritage Hotel and check your travel dates online here.
Things to do with 3 days in Dubai
There are so many things to do in Dubai, whether you're a thrill seeker, a foodie or a family with young kiddos. 3 days in Dubai could be filled easily with adventures from sunrise to well after sunset, so here's a huge list of my favourite things to do in the city.
See the view from the top of the Burj Khalifa
The 'At the Top' experience at the Burj Khalifa, the world's tallest building at 828m, is one of Dubai's must-dos. Speed up to level 124 in the world's fastest elevator in only 35 seconds, then pop a bit higher to the observation deck on level 148, 555m in the air to see Downtown Dubai from a surreal viewpoint. Ticket lines can be long at peak times, so I'd suggest booking online here on Klook to skip having to wait.
The Burj Khalifa also has an impressive fountain show in front of the building and next to Dubai Mall. The show is on daily at 1pm and 1.30pm, with an show at 2pm on Fridays, or head to the even better evening shows every half an hour from 6pm to 10pm daily, or until 11pm on Thursdays, Fridays and Saturdays. The Dubai fountain show is world-class so you can't miss it.
Hit the theme parks
If you love a bit of adrenaline, Dubai is definitely the city for you.
IMG Worlds of Adventure is the world's largest indoor theme park, spanning a massive 1.65 million square feet. Home to movie and TV productions like the Marvel Cinematic Universe and Cartoon Network, this place is the perfect spot to escape the heat and get your heart rate pumping.
I rate the Velocirator, a rollercoaster that begins inside the park and speeds outside into the blinding desert light, spinning you around and crazy speeds. I think I did this one about five times!
If you're heading out to IMG, a 30 minute drive from the Dubai Marina, consider adding the nearby Dubai Miracle Garden onto your itinerary to tick off another must-see and a beautiful photo spot.
For hardcore theme park fans, Dubai Parks and Resorts is definitely worth a visit. It's got four theme parks – Motiongate is Hollywood-themed, Bollywood Parks is self-explanatory, and then there's Legoland and Legoland Water Park. You can choose to visit one park, or opt for a two-park one-day pass to get the best bang for your buck.
Or get wet at a water park
Dubai's sweltering desert heat can make being outside in the middle of the day near unbearable, but luckily the water parks offer a reprieve!
Aquaventure Waterpark, located at the Atlantis Hotel on the Palm Jumeirah Island, has some pretty insane waterslides. The Trapdoor waterslide has you stand on a platform that retracts from under your feet letting you fall, the Leap of Faith is almost a vertical drop, and the Aquaconda is a giant funnel group ride.
You can also book the Atlantis buffet lunch with your waterpark ticket, and you won't be disappointed! Just be sure to go with an empty stomach.
Wild Wadi Waterpark is the other local favourite, with more than 30 rides, a huge family area and lazy rivers to help you get around the attractions.
YOU MIGHT ALSO LIKE: 15 carry on essentials for long haul flights
Shop up a storm
Shopping in Dubai is not for the faint-hearted. From fancy beachfront retail districts to mega malls to authentic souqs selling jewellery and trinkets, this city is a shopaholic's heaven.
The Gold Souk and Spice Souk are both a must-visit for tourists, to get a feel for Old Dubai before the skyscrapers popped up. Be sure to dress appropriately in this area as there are many mosques and local schools nearby.
The Beach by Meraas, a recent development at JBR, has international sports and casual brands amongst some amazing restaurants and event spaces.
For some intensive retail therapy though, you can't go past the Dubai Mall. The second-largest mall in the world by land area, you'll need to have comfy shoes and a bit of money to make the most of it. In fact, you could easily spend all 3 days in Dubai right here!
Other favourites of mine are the Marina Mall, the Mall of the Emirates and the Dubai Outlet Mall for sweet bargains.
Hit the ocean
Dubai's got a number of next level ocean adventures for thrill seekers to join at the beach or the marina.
My personal recommendation is to jump on a speedboat ride, it's loads of fun and you'll get an insane view of the cityscape from the water. Try and book at sunset to get the best light for photos.
You can also book jet ski rides, jump on a banana boat, or try your hand at the flyboard, a jetpack-like gadget that helps you fly above water. It has to be seen to be believed!
Do a desert safari
A classic tourist activity on any Dubai stopover, a desert safari is worth the hype.
You'll get picked up from your hotel, put into a 4WD vehicle and head out of the city. The drivers are hilarious, with great banter and some impressive driving skills! Hoon over the dunes and skid through the sand, holding on for dear life.
The crazy drive will end at a desert camp, set up with authentic Arabian BBQ dinner and drinks, then it's time to get amongst local entertainment like henna tattoos, belly dancing and trying on some traditional Emirati outfits.
A quick note on animal welfare in Dubai: Most (in fact all that I researched) desert safaris offer a camel ride at their desert camps, as well as falcon shows and other forms of entertainment that use animals. Camels are able to carry up to 90kgs comfortably, so any camel ride with more than one person is, in my eyes, unethical, and not something I would engage in.
I have previously ridden a camel on our Jordan tour once we spoke to the bedouin and were confident the camels weren't being forced to carry more than they can handle (i.e. max. one person), weren't being chained up all day and weren't walking non-stop in desert heat. In Dubai I'm not aware of animal welfare regulations or how these animals are treated. Just something to consider when you book your adventures, so you can make informed choices about the activities you take part in.
YOU MIGHT ALSO LIKE: How I can afford to stay at world-class hotels without blowing my budget
Float over the sand dunes in a hot air balloon
To see the sand dunes from a different angle, get high with a hot air balloon ride. The views are absolutely incredible, and it's a unique experience that you'll never forget.
I booked this hot air balloon ride, and it included a ride in a vintage Landrover plus a delicious buffet breakfast, complete with caviar. Fancy!
Visit the Al Fahidi historical district
Al Fahidi is a heritage area near Dubai Creek that showcases what Dubai life was like from the mid-19th century until the development boom of the 1970s, and it's a must-visit spot to add to your Dubai itinerary.
Home to a number of museums, mosques, cultural spaces and heritage buildings, this Old Dubai area refreshing change from the modern Dubai high-rises and busy malls in the city centre. There's also an impressive events programme in Al Fahidi, so keep an eye out for anything that's on during your Dubai visit.
Take an abra down Dubai Creek
One of the cheapest touristy things you can do during your three days in Dubai is to take an abra, a traditional boat, from one side of Dubai Creek to the other. A ticket from Bur Dubai (near Al Fahidi) to Deira (near the Old Souk) will set you back a whopping 1AED, or £0.22/$0.44NZD.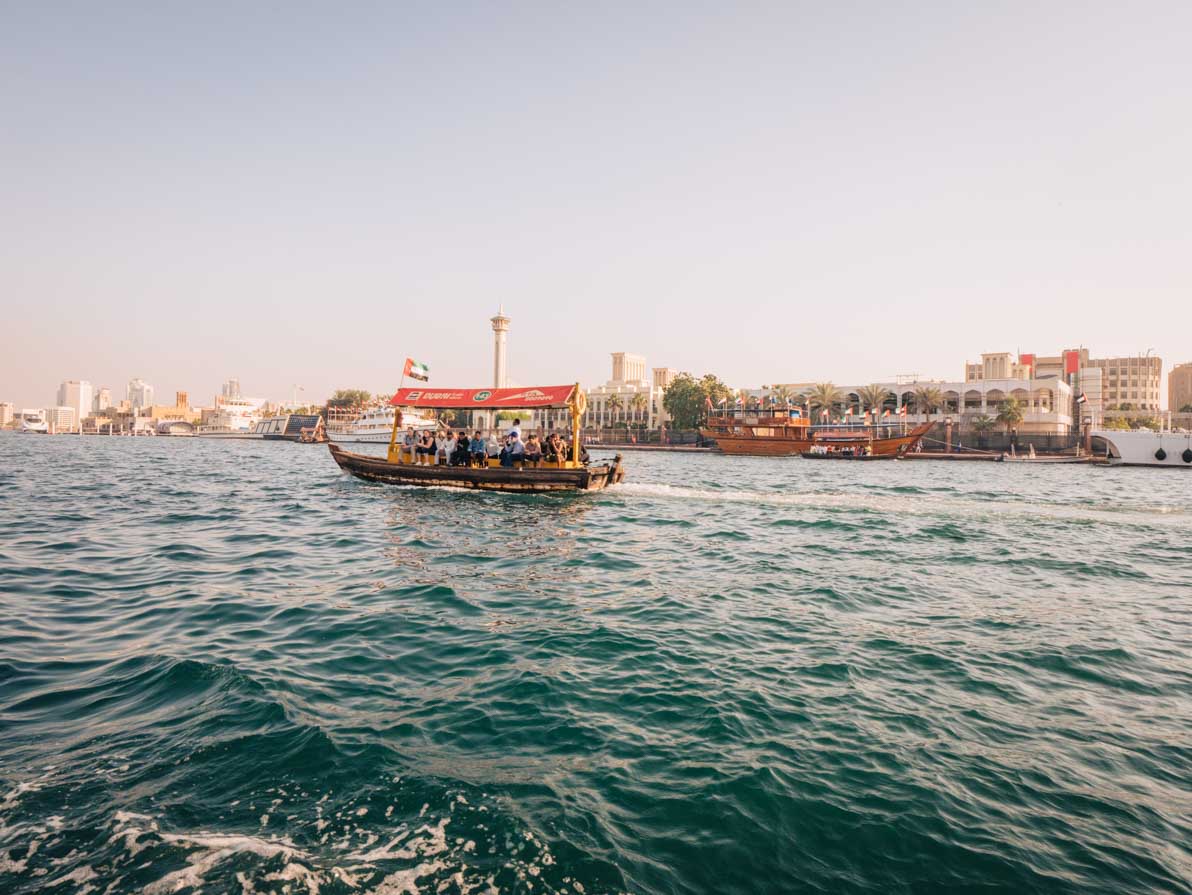 Go skiing… no, seriously!
Not necessarily an activity you'd expect in a desert destination, but you can actually ski in Dubai! Well, inside a mall anyway.
You can see the sloped ceiling of the Mall of the Emirates from miles away, and that slope is actually an indoor ski field with 22,500 square metres of ski area! Ski Dubai is another brilliant option to escape the heat and do something different during your Dubai trip.
You can rent gear there and there's also toboggans, bob sleds or even an inflatable Zorb ball to roll down if you aren't a fan of skiing or snowboarding.
Do a skydive
I can't speak from experience here because there's no way I'd ever willingly throw myself out of a plane, but a Dubai skydive seems to be a top pick for adrenaline junkies around the globe.
The idea of being able to see desert, skyscrapers and man-made palm-shaped islands from way up in the sky is almost enough to convince me to try it, but then I promptly remember that I would probably pass out if I was freefalling anyway. BUT if you're braver than me, consider adding this to your Dubai bucket list!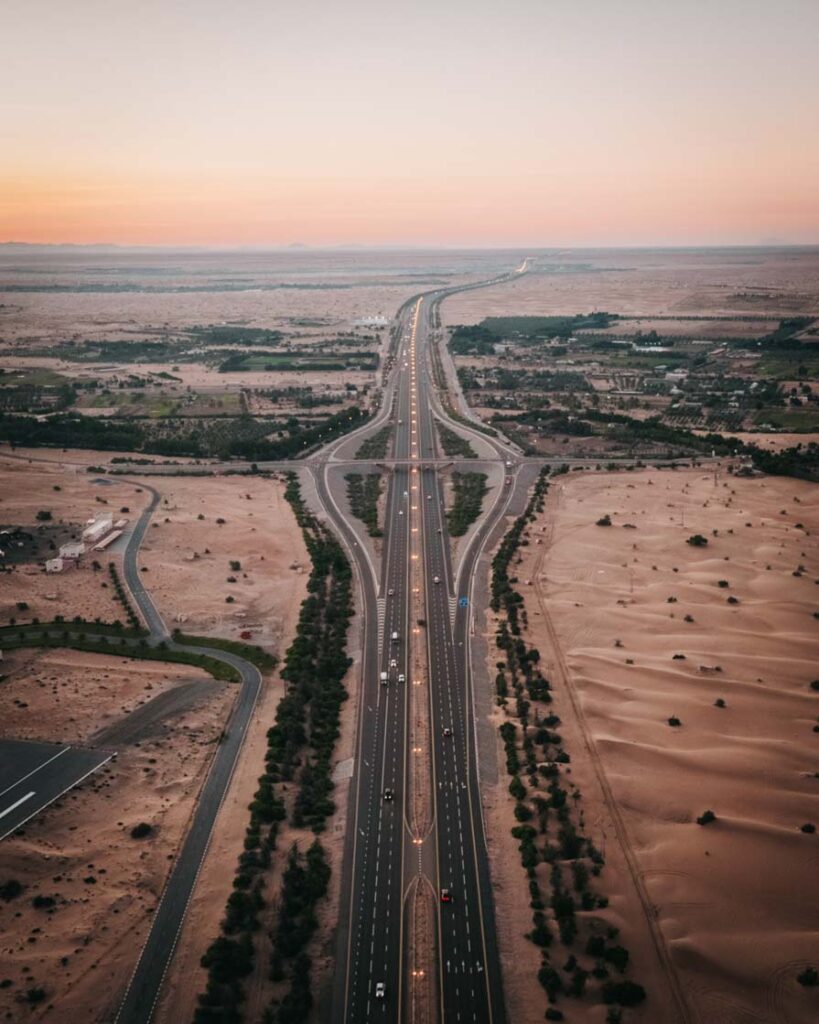 Jump on a dinner cruise
This city is absolutely stunning at night, so an evening cruise past all the lit up buildings is an amazing activity for a special occasion. You can catch a cruise from the Deira area or near the Marina.
There's a number available, ranging from cheaper options on larger boats to authentic dhow cruises to luxury private boat trips, but this one here is mid-range in terms of price and has great reviews.
Treat yourself to a ultra-fancy meal
If you can't afford to stay at the Burj Al Arab (neither can the vast majority of humans on the planet), why not get dressed up and visit the only 7-star hotel in the world for a meal instead?
The Burj Al Arab has a number of on-site restaurants serving up international cuisine for a fraction of the room price. It'll still set you back more than a normal meal, but the restaurants are highly-rated, with world-class chefs and super sophisticated atmospheres.
Bab Al Yam offers buffet lunch and dinners in a contemporary setting, SkyView has cocktails and tapas with 27th floor views over the water, Al Muntaha serves up fancy French cuisine, Sahn Eddar high tea is world-class, and Al Mahara is one of the city's most extravagant seafood restaurants complete with a floor-to-ceiling aquarium.
If you book a restaurant meal voucher on the Klook website, you'll get a small discount (around 10%) on the total price too! That's a win.
YOU MIGHT ALSO LIKE: FAQs about my 52 countries in 52 weeks trip
Have the highest high tea in the world
High tea connoisseurs won't be able to pass this one up… You can enjoy the highest high tea in the world on the 152nd to 154th floors of the Burj Khalifa! Be sure to book in advance for this one, and booking on Klook means you get a small discount and can skip the line.
Have the best brunch of your life
Brunch in Dubai is a cultural phenomenon of its own, where expats and travellers alike take to the fancy hotels and funky restaurants for all-you-can-eat (and sometimes all-you-can-drink!) culinary experiences.
The weekend in the UAE is Friday and Saturday, and brunch typically begins at 12pm on Friday. Yes, technically this makes it lunch, but I don't make the rules.
Zuma and Nobu Atlantis are two of the most popular options and it's best to book them in advance. Coya Dubai is ideal for anyone keen to party, and Breeze Beach Grill is beachfront casual. Bulgari Yacht Club is a top pick for seafood fanatics, Suq at the Four Seasons has a more authentic buffet with Arabian dishes amongst international favourites, and London Social is a hit with anyone who's ever spent time in (and fallen in love with) England's capital city.
Enjoy Ladies' Day
Ladies' Day is another Dubai institution most tourists might not know about, but it's one of the best ways to make the most of your Dubai budget if your itinerary coincides with the right days of the week.
Ladies' Nights began in years past, being held on Tuesday evenings to attract the female expat residents in the city. In recent times Ladies' Night transformed into Ladies' Day, with some restaurants and bars extending the deals beyond the usual Tuesday too.
Ladies' Day deals range from free bar entry or free pool access all the way through to unlimited champagne, cocktails, lunch or, if you're really lucky, all the above. Most restaurants and beach bars will have a cheap deal for a set amount of drinks and meals or small bites, like 100AED (£20/$40NZD) for five drinks and a platter.
Deals change often so check at your hotel for the best Ladies' Day offers nearby.
YOU MIGHT ALSO LIKE: The Ultimate Guide to Solo Female Travel
Go all out with a helicopter tour of the city
If you're keen to see the city from the sky but prefer to not be falling while you're at it, a Dubai helicopter flight is a once-in-a-lifetime experience. You'll get to see the world's tallest building amongst many other skyscrapers, the 7-star Burj Al Arab, incredible man-made islands and the sand dunes that surround the city too.
Do a day trip
If you have a bit longer than three days in Dubai or if you've been before, why not add a day trip to somewhere else in the UAE onto your itinerary?
Abu Dhabi is just over an hour away and there's plenty to see and do there, from the exquisite Sheikh Zayed Grand Mosque to Ferrari World theme park with the world's fastest rollercoaster. You can do a city tour with a small group day trip, or get transfers to the city and then do your own thing when you're there.
Want a taste of paradise? Jump on this day trip to Lebanon Island, part of the man-made World Islands development. You'll get access to golden beaches, swimming areas, restaurants and bars. Note that this definitely isn't a budget-friendly option, but if you are happy to splurge on a luxury experience, it's a unique opportunity.
For a more cultural experience and an insight into the UAE's history, this day trip to the emirate of Ras Al Khaimah is something most tourists won't get to experience.
I hope this travel guide has helped you plan what to do, see and eat during your Dubai stopover! If I've missed anything important or if you have any questions, let me know in the comments below.
Looking for somewhere to stay in Dubai? Check out all the hotels and apartments right here, and don't forget to sort by 'review score and price' to see the best value options first.
Like this blog? Pin it!
Read more about my 52 in 52 adventure here, see all of my blog posts from the trip here, or check out my Instagram @findingalexx to see all of my travel photos.
All the basic details from my big 52 in 52 trip:
How do you find your flights? Skyscanner! I use the Everywhere tool to find the cheapest place to fly to each Tuesday
Do you fly every week? Not every week no, once I have the destination I check trains and buses to see if there's any other transport options aside from flying. If so, I usually book these using the Trainline app.
How do you book your accommodation? I book all my hotels, hostels and apartments on either booking.com or Hostelworld.
Do you have travel insurance? YES, I always travel with travel insurance and you should too. I'm insured for an annual policy with Worldcare NZ.
Do you offset your carbon credits? I sure do! I always offset when I book if the airline gives me the option (Ryanair does), and I also offset all my flights using Co2nsensus.com.
What luggage do you travel with? I travel with a 75cm Samsonite Cosmolite suitcase, a matching Samsonite Cosmolite 55cm cabin luggage hardcase, and a cheap laptop backpack.
What camera do you use? You can see the full list of what's in my camera bag right here.
What laptop do you use? I have a super portable HP Spectre x360 13.3″ laptop, which is an absolute dream to travel with.
For more FAQs about my 52 in 52 trip, see this post.