When I travel, I tend to split my time in a destination between hostels and hotels. That means I get to benefit from a full kitchen in one (hello healthy home-cooked meals!) and a comfortable place to sleep and work in the other. But in week #21 of my 52 in 52 trip, a week in Dubai, I stumbled across Sonder Dubai, serviced apartments in the funky JBR area which gives you the best of both worlds, plus loads of added extras.
Here's a full review of the Sonder Dubai apartment.
YOU MIGHT ALSO LIKE: The ultimate travel guide for 3 days in Dubai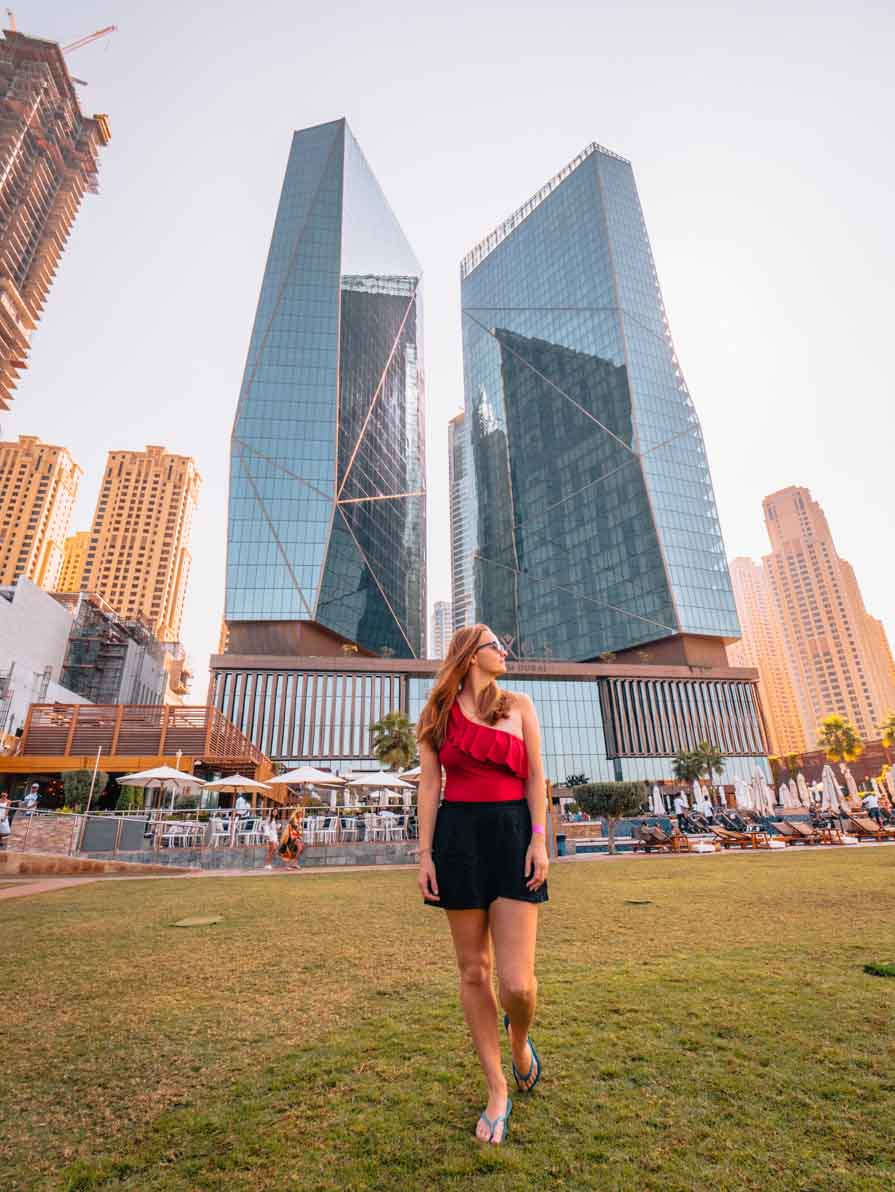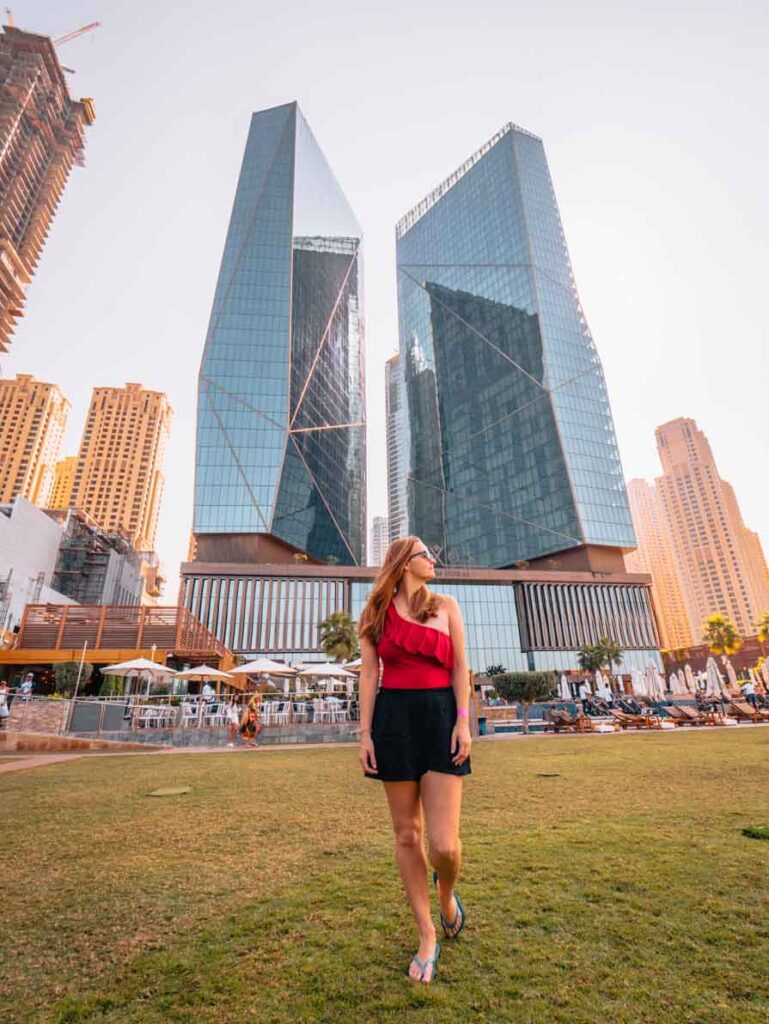 What is Sonder?
Sonder has apartments available for short-term and long-term rent in 28 cities around the globe, from the USA to the UK to Italy and more.
The apartments are seriously stunning, it was as if someone jumped into my brain (and my Pinterest page!) and designed it exactly as I would myself. Soft but light colours, modern furnishings and some incredible artwork.
And they are so much more than a pretty place to stay! Sonder prides themselves on Taking Stay Further, with apartments that are serviced like a hotel but with the layout and comfort of a home. Somewhere you can have your cake (or even cook it yourself in the full kitchen) and eat it too.
YOU MIGHT ALSO LIKE: How I can afford to stay at world-class hotels without blowing my budget
The service is next level, with easy self-check in, 24/7 support through the app, a fully equipped kitchen, laundry facilities and toiletries.
And each of their apartments is located in an ideal part of the city with good transport links, somewhere walkable, and somewhere safe.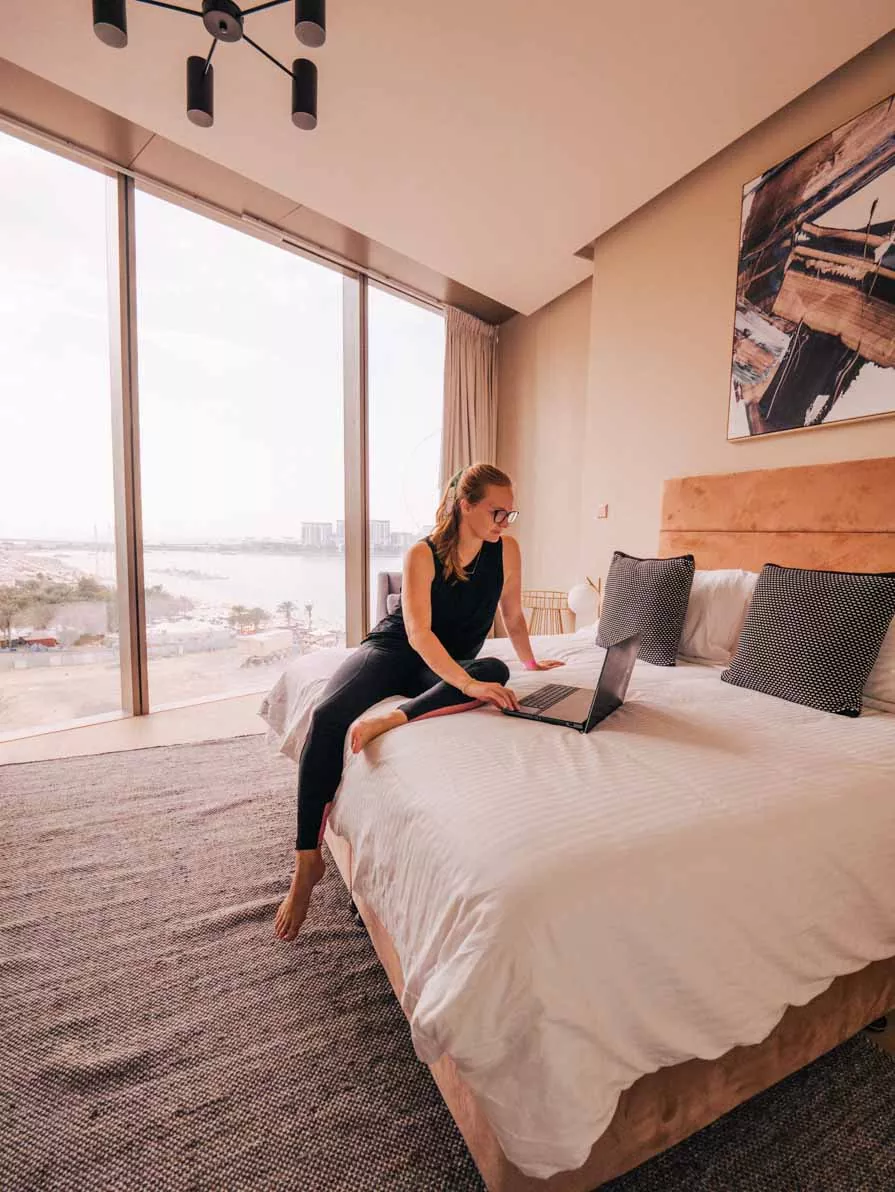 How was the Sonder Dubai apartment?
Oh my gosh, it was the apartment from my dreams!
Huge floor-to-ceiling windows in the lounge and bedroom with all-day natural light, loads of space in both rooms, and fully furnished with everything you'd have in an actual house: a desk, a couch and coffee table, a dining table, decent lighting, a bath (!!!), a full kitchen and a washing machine.
It was the type of apartment that I long for when I'm travelling solo, so it was actually hard to drag myself outside to explore the destination. Now that's a sign of a good place to stay!
YOU MIGHT ALSO LIKE: The ultimate 7 day Jordan itinerary
How about the facilities?
Sonder Dubai is located in the JBR (Jumeirah Beach Residence) area, within the Al Fattan Crystal Towers complex, in the same building as Rixos Premium Hotel.
The apartment building itself is next level, with an elegant lobby lined with upmarket shops and funky restaurants, a fitness centre for Sonder guests to use, and a huge pool area which is also included in your apartment rental.
The building is beachfront, with a private beach area right in front of the complex and is a short walk to The Beach JBR shopping, dining and entertainment district.
YOU MIGHT ALSO LIKE: A huge list of all the best places I've stayed around the world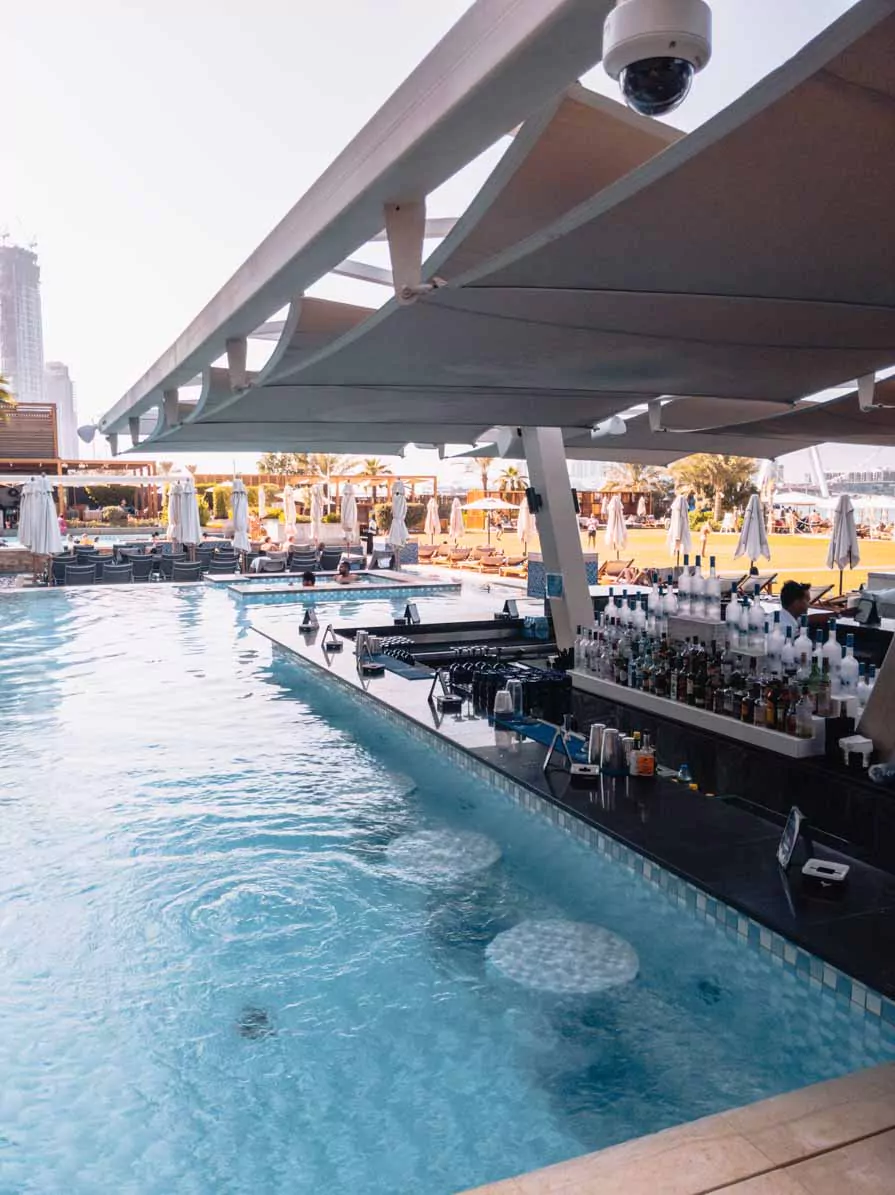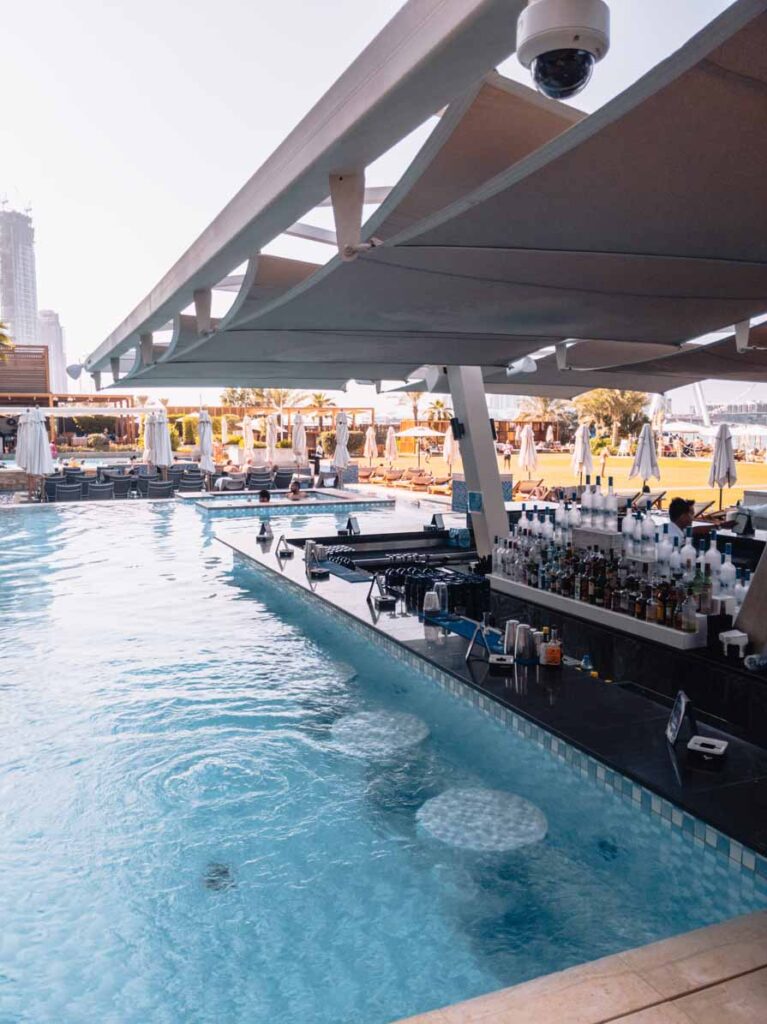 Where is Sonder Dubai?
Sonder JBR Suites is located in JBR, just behind Dubai Marina, right on the beach.
It's within walking distance to the Marina, Marina Mall and The Beach by Meraas, and is close to transport links to get to the rest of the city.
The closest metro station is DMCC Metro Station 1, a 20 minute walk, or you can catch the tram only 5 minutes away from the apartment.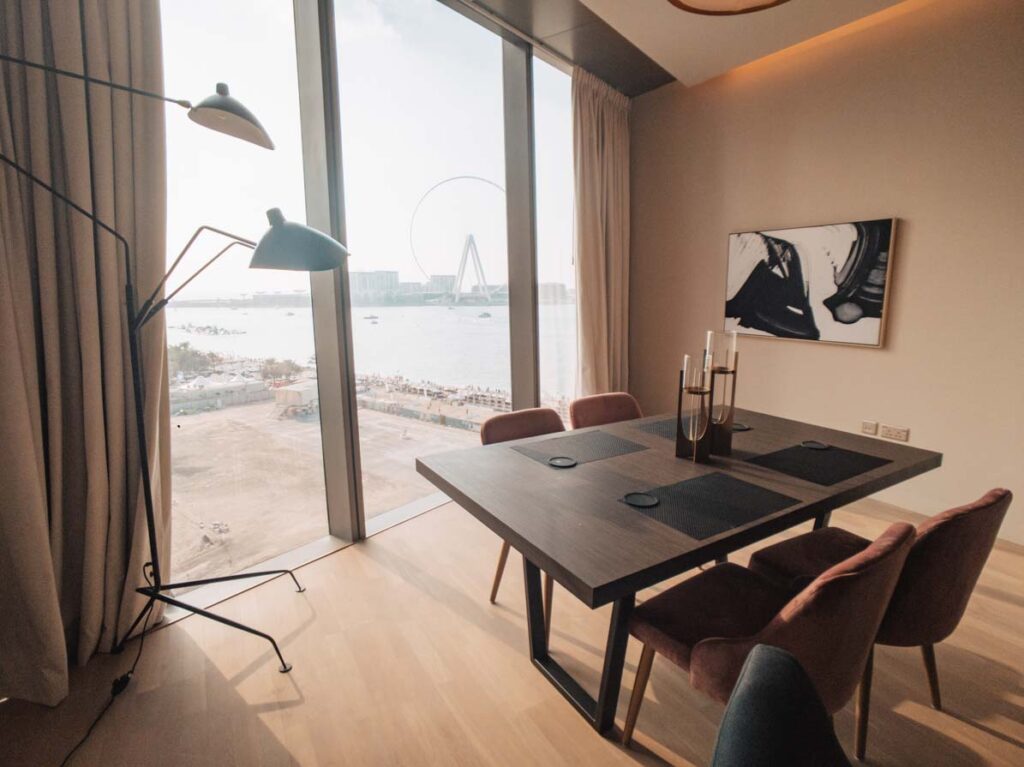 Does Sonder Dubai serve food and drink?
There's no room service at the apartment but there are plenty of restaurants, bars and supermarkets nearby. The apartment building itself has eight places to eat and drink depending on what you're looking for.
YOU MIGHT ALSO LIKE: FAQs about my 52 countries in 52 weeks trip
Azure Beach Club has great cocktails and weekly ladies' day deals, STK is a world-renowned steak restaurant, Black Tap is a casual burger bar with the craziest milkshakes you've ever seen, and Luigia is an Italian eatery with a deliciously authentic menu. I rate the Luigia Petali, a pizza petal with cheese, mushrooms, bresaola and truffle. I don't want to talk it up but it's legitimately life-changing.
There's also plenty of options nearby from McDonalds to Carrefour supermarket to fancy restaurants, so there's something to fill your belly regardless of what you feel like.
The verdict
As far as apartments go, Sonder Dubai was pretty much perfect. Super spacious for a solo traveller (could comfortably fit a couple, and they have two and three bedroom options available too), beautifully designed, impeccably clean and the ideal spot to base yourself whether you're in Dubai for work or play or a bit of both.
Then beyond the room, the apartment building's facilities are included in the price you pay, and that is insane value for money. There's a fitness centre, you get free entry to the pool and beach club, and you're literally a few minutes' from a golden beach.
I'll be returning to Sonder Dubai next time I'm in Dubai, and I'll hopefully stay in Sonder apartments in other cities around the world too.
Looking to stay at Sonder Dubai for an upcoming trip? Search your travel dates right here.
Like this blog? Pin it!
Read more about my 52 in 52 adventure here, see all of my blog posts from the trip here, or check out my Instagram @findingalexx to see all of my travel photos.
All the basic details from my big 52 in 52 trip:
How do you find your flights? Skyscanner! I use the Everywhere tool to find the cheapest place to fly to each Tuesday
Do you fly every week? Not every week no, once I have the destination I check trains and buses to see if there's any other transport options aside from flying. If so, I usually book these using the Trainline app.
How do you book your accommodation? I book all my hotels, hostels and apartments on either booking.com or Hostelworld.
Do you have travel insurance? YES, I always travel with travel insurance and you should too. I'm insured for an annual policy with Worldcare NZ.
Do you offset your carbon credits? I sure do! I always offset when I book if the airline gives me the option (Ryanair does), and I also offset all my flights using Co2nsensus.com.
What luggage do you travel with? I travel with a 75cm Samsonite Cosmolite suitcase, a matching Samsonite Cosmolite 55cm cabin luggage hardcase, and a cheap laptop backpack.
What camera do you use? You can see the full list of what's in my camera bag right here.
What laptop do you use? I have a super portable HP Spectre x360 13.3″ laptop, which is an absolute dream to travel with.
For more FAQs about my 52 in 52 trip, see this post.
Huge thanks to Sonder for hosting me for two nights. As always, all opinions are my own and are based on my experience.