Planning a Hawke's Bay holiday? From the classic cellar doors and epic eateries to spectacular viewpoints and funky architecture, here's a round up of all the best things to do in Hawke's Bay.
Home to some of New Zealand's best wine and food experiences, Hawke's Bay has carved out a name for itself as one of Aotearoa's premiere foodie destinations, but that's not all that's on offer.
Throw in brilliant bike trails, stunning art deco architecture, cultural experiences and (usually) year-round sun, and you'll soon understand why I think this is New Zealand's most underrated region.
My first Hawke's Bay visit was last year as part of our North Island road trip, but we only managed to spend a couple of nights in Napier and definitely didn't do enough research before the trip.
So when I was planning a mother & daughter road trip down to Wellington a couple of weeks ago and had to figure out where to stop on the way that both Mum and I would enjoy, this piece of paradise was the obvious option!
We ate, we drank, we biked, we saw and we conquered, and now I'm sharing all the best experiences from our trip with you so you can make the most of your time in the region too.
Here are ten of the best things to do in Hawke's Bay plus my top recommendations for accommodation and restaurants.
---
10 of the best things to do in Hawke's Bay
1. Wine, wine, wine
Considering that Hawke's Bay holds the title of New Zealand's oldest wine region, there's no other way to kick off this list than with the reds and whites bursting out of more than 200 vineyards, 70 wineries and 30 cellar doors.
Whether you prefer a full-bodied red or a ripe chardonnay, or a boutique independent vineyard or an iconic commercial winery, there is literally a Hawke's Bay winery that suits every type of traveller*.
You could easily spend an entire week tasting wines and eating in winery restaurants and you wouldn't even scratch the surface, but here are a few of my favourites:
*If you aren't a big wine drinker don't despair, there's also Zeffer Cidery, a few craft breweries, and even Hastings Distillers for those who want something a little *ahem* stronger.
---
2. Explore by bike
I'll be the first to admit that cycling isn't my preferred method of transportation. I'm ever-so-slightly impatient and it's not exactly the most efficient of ways to get around, plus it hurts my butt…
BUT (see what I did there) one morning of hitting Hawke's Bay's vast network of cycle trails and I'm basically a bike convert. Well, an e-bike convert anyway.
Nearly 200km of scenic bike trails and paths make up the Hawke's Bay Trails, one of 22 Great Rides in New Zealand. You can choose tracks past wineries, along the coast or through forests, with mostly Grade 1 (easiest) rides along flat terrain with plenty of food stops and even some swimming spots along the way.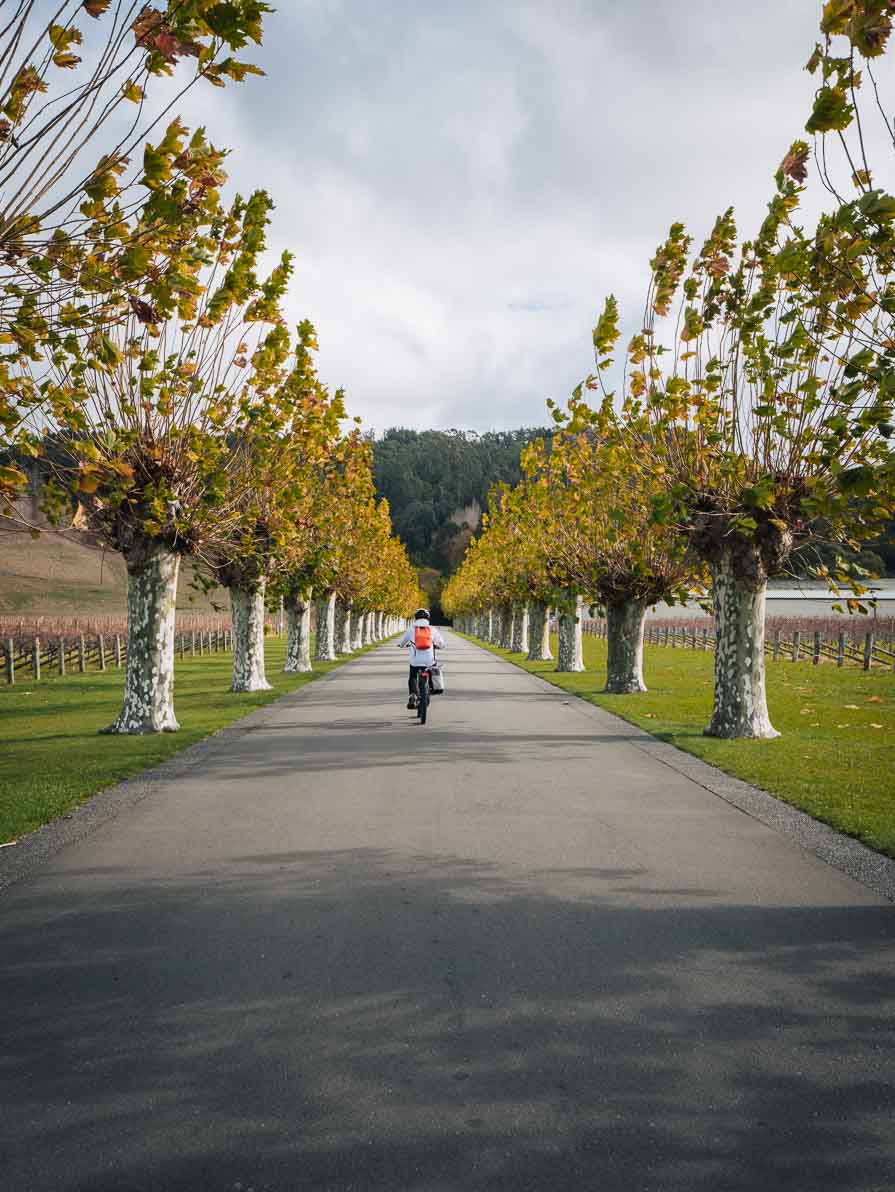 We rented e-bikes from Takaro Trails in Ahuriri, ideally located next to Ahuriri Estuary with easy access to some of the main trails, and headed out to Church Road and Mission Estate for wine tastings and lunch.
Takaro Trails have self-guided tours from $45pp, and a $10pp upgrade gets you a gel seat cover (a must-have in my opinion!), carrier bag for the wine you'll definitely buy, and one of their newer bikes.
And if you really love cycling and want to see more of the region on two wheels, Takaro Trails also offer multi-day bike tours with accommodation included.
---
3. Eat your way around the region
I have a confession: I've said in the past that New Zealand's food scene doesn't compare to other foodie destinations around the world. Well, three days in Hawke's Bay has absolutely proven me wrong.
In the 57 countries I've visited, I've never been anywhere with such a high concentration of incredible eateries for such a low population. And having spent time in food hot spots like Istanbul, Hanoi and Porto, that is seriously saying something.
The food in Napier, Havelock North and Hastings is so good that I actually have to write a full blog on the best restaurants in Hawke's Bay (coming this week!), but here's a quick rundown of my must-eats to add to any food-lover's itinerary:
Make sure you check on opening hours for the various eateries too as many wineries are only open Thursday to Sunday in winter, and some restaurants only open for dinner later in the week.
---
4. Honey and cheese tasting at Arataki Honey
Praise Cheesus, this brand new Hawke's Bay activity at Arataki Honey has secured itself as one of my top food experiences of all time.
Arataki Honey Visitor Centre is already one of the best things to do in Hawke's Bay for families, with an educational and interactive environment complete with dress ups, spot-the-queen beehive windows and free honey tasting.
But if you like cheese even half as much as I do, their new food pairing experience is going to blow your mind.
A joint venture with local cheese legends Origin Earth as well as other Hawke's Bay suppliers, this tasting includes a deep dive into the different honeys, how they're made and tasting notes of each, before pairing them with cheese, fruit, figs, salami and more. The flavour pairings they suggest are just incredible, and there are endless combos for you to try yourself at the end of the educational part of the experience.
The tour is still being fine-tuned (we were the guinea pigs for it which was awesome!) but they hope to be ready for customers in August, and can do groups of up to 8 people if you're planning a family or friends getaway to the Hawke's Bay.
This is hands down my top suggestion for the best things to do in Hawke's Bay for foodies. I'll update the link once it's available to book on their website, but in the meantime you can get in touch with them using the contact form and check to see if it'll be available for your travel dates.
Book it here: Arataki Honey
---
5. Learn about local Māori culture
To break up the food, wine, more food and more wine, head over the hill to beautiful Waimarama for one of the most authentic Maori experiences on offer in New Zealand, run by local kaitiaki (guardians of the land) at Waimarama Maori Tours.
This laidback coastal village has a strong connection with its Maori heritage. There are various settlements and sacred sites in the hills behind it and the main beach was the landing spot of an original migration waka (a canoe) more than 800 years ago.
You'll learn all about how Maori iwi (tribes) have used and still use the area, visit pā sites (fortified villages), and wander through a thriving conservation reserve with the chance to learn about the area's cultural history from local experts.
There's also an Under the Stars tour which is held at the celestial disc inside Hakikino Conservation Reserve, and minimal light pollution means that it's ideal for stargazing and a lesson on Maori celestial navigation and constellations. Photographers are free to bring their cameras if you're keen on some astrophotography!
This is a truly authentic, educational experience giving you an insight into Maori history and life. It's not an entertainment centre like Tamaki Maori Village or a museum like Waitangi Treaty Grounds (which are both great, just a different way to learn about traditions).
Waimarama Maori Tours is more about an intimate and spiritual journey on a beautiful reserve with the chance to learn from experts on Maori heritage.
Learn more here: Waimarama Maori Tours
---
6. See the view from Te Mata Peak
Giving off serious Jurassic Park vibes, visiting the 399m high lookout up this unique mountain is one of the best things to do in Hawke's Bay.
You'll be able to look across the Heretaunga Plains, out to Mahia Peninsula, and on a clear day keep an eye out for Mount Ruapehu in the distance. And if you catch it on a moody day (like we did) it's still worth it, you might even be able to capture a rainbow coming out of your bum!
Te Mata Peak is rich in Maori history, with strong ties to legends from the Ngati Kahungunu tribe. Legend says that a local chief fell in love with a rival chief's daughter, and to prove his love he was given a list of near-impossible tasks to complete. The final task was to bite his way through the cliffs to form a path for the people, but he choked and died while attempting to finish it. The shape of the hills depicts his body and European settlers called it the Sleeping Giant.
There's a windy road up to the top and it's narrow in parts, but we were able to drive up in our 6.3m long campervan with no issues. Just go slow as there are bits where you'll have to give way if there's a car coming uphill when you're going down.
You can also walk or mountain bike up to the top with various tracks available depending on your fitness level, more info available here.
---
7. Get amongst the Art Deco vibes in Napier
In 1931 Napier was hit by a 7.8 magnitude earthquake which caused widespread damage to the region, killing 256 people and levelling hundreds of buildings. In the aftermath, the city was predominantly rebuilt in the then-modern Art Deco style, with many of the buildings having been restored and protected in the past 30 years.
You'll be able to see some of the iconic buildings with a quick wander around town, but to get a true Art Deco experience I'd recommend adding one of these tours into your Hawke's Bay itinerary:
And if you're a true Art Deco fan, or if you just like a good excuse to dress up, you can't miss the annual Art Deco Festival held in February each year (16-20 February in 2022).
Go back in time with outfits, entertainment and vehicles from the 1920s and 30s, and enjoy a long weekend of musical performances, vintage car parades, world-class food and drink and more.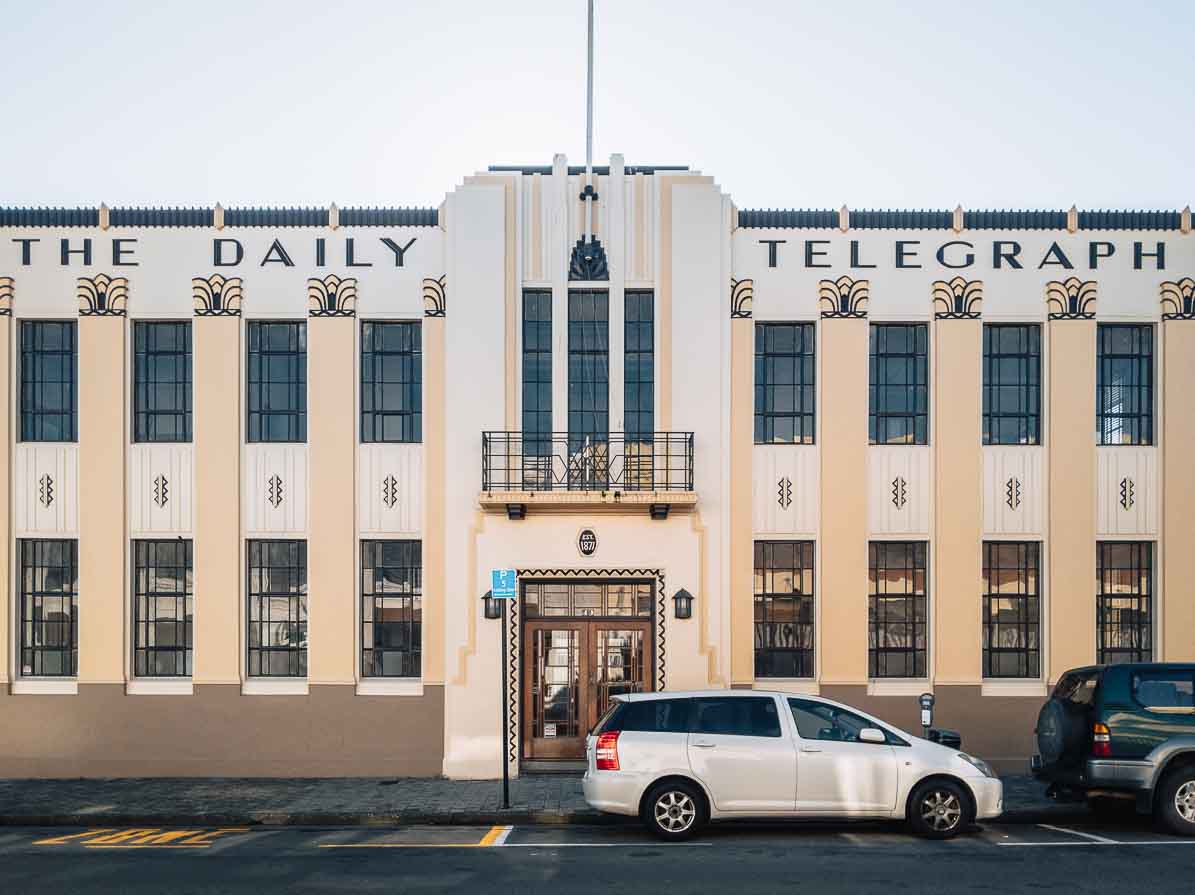 ---
8. Enjoy the sun!
With a subtropical climate offering year-round sun (2000 annual sun hours on average), dry summers and mild winters, Hawke's Bay is the ideal location for those who need their Vitamin D.
Whether your idea of an outdoor adventure is a daytime concert, a white water rafting trip or catching sunrise or sunset at one of the many beaches in Hawke's Bay, there are things to do in the region for every kind of sun lover.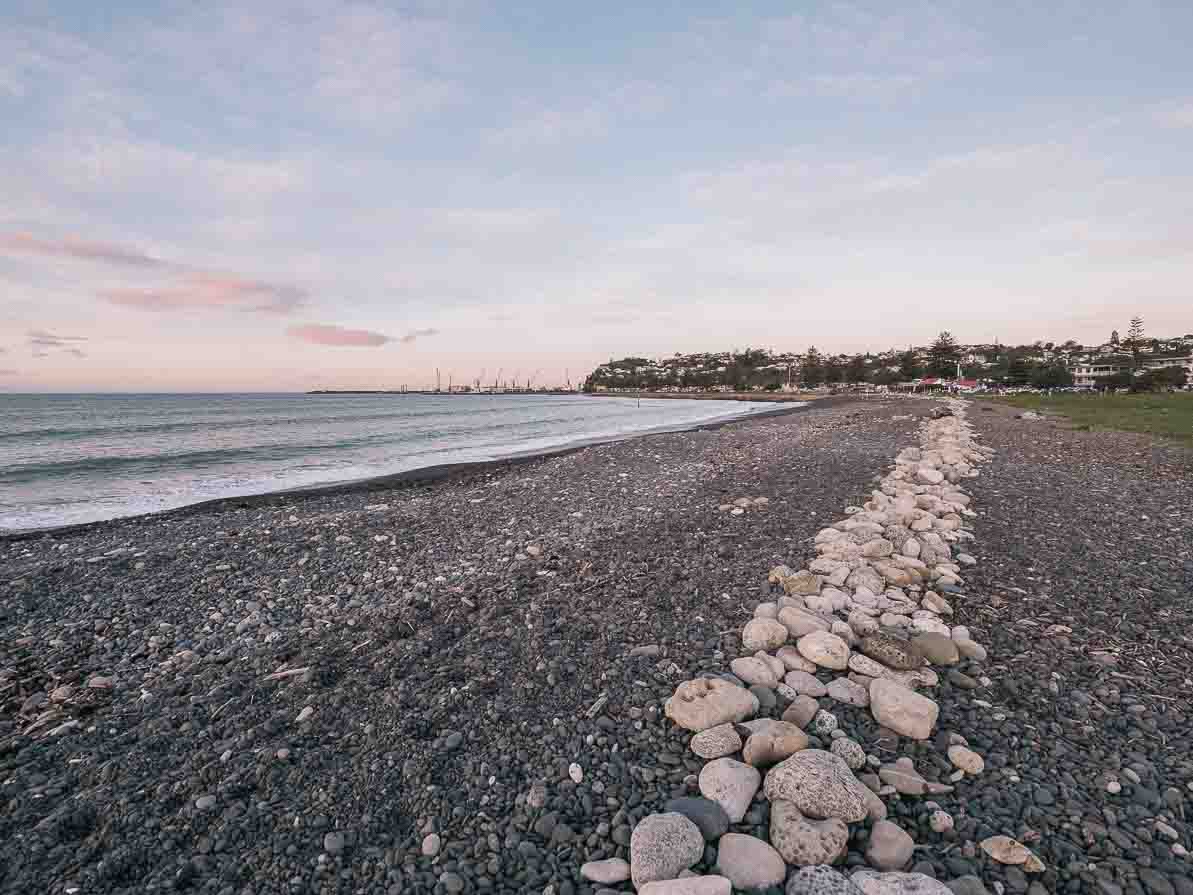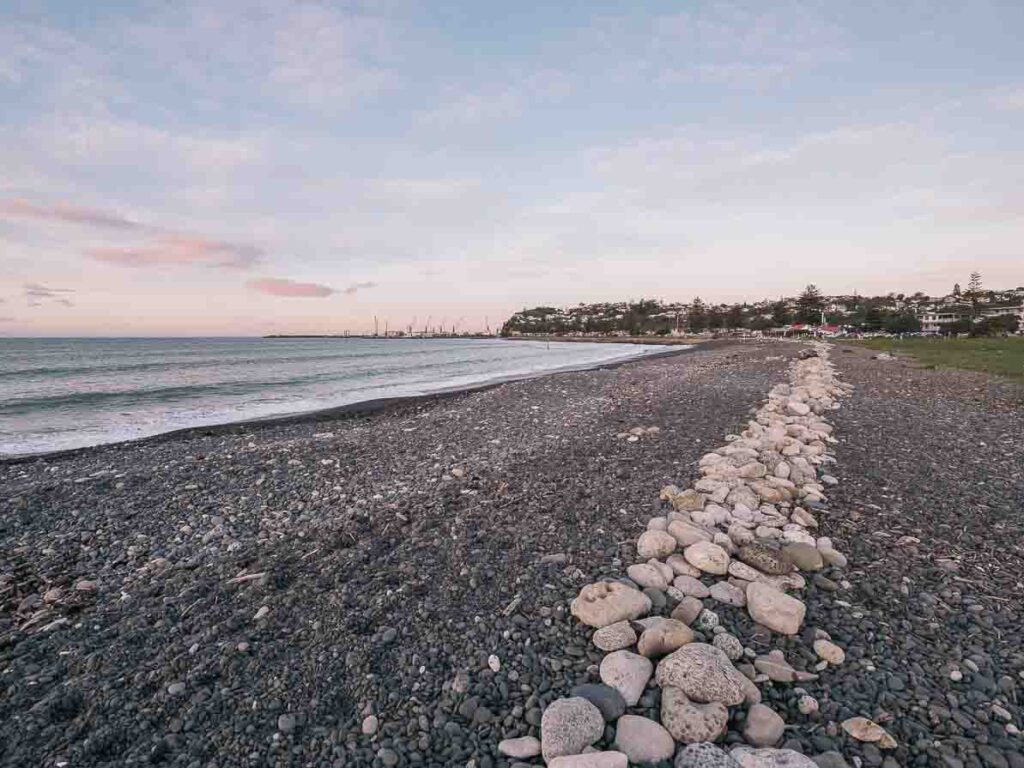 ---
9. Get active
For those of you who need a little movement included in your Hawke's Bay itinerary, there's plenty of opportunities to get your legs moving and your blood pumping.
Chase waterfalls with a short walk to Maraetotara Falls (20 mins return + leave time for a dip at the swimming hole), Te Ana Falls (30 mins return) or Shine Falls (1.5 hours return).
Wander through the 223 California Redwoods with the Big Redwoods Track at the base of Te Mata Peak (1 hour loop), visit a lesser-known viewpoint with a 3 hour return walk to Bell Rock, or go all out with a tramp around Lake Waikaremoana, one of New Zealand's Great Walks (options for short walks, day hikes + the full 3/4 day tramp).
And if you prefer seeking thrills rather than steps, consider trying your hand at paddling through rapids with a white water rafting trip down the Mohaka River. They have grade 2, 3 and 5 rapids so you can choose your exhilaration level, then get suited up in your water gear and head out onto the water for narrow canyons and huge boulders. Epic!
---
10. Treat yourself
I'm always a fan of finding destinations that lend themselves to a luxury weekend away or a girls' trip, and Hawke's Bay is an ideal place to visit for a birthday, anniversary, bachelorette party or a solo-moon to show yourself some love.
Here are some suggestions for things to do in Hawke's Bay if you're celebrating something special:
Or for the ultimate Hawke's Bay experience, you can't beat staying at the five star Cape Kidnappers lodge. With a world-class golf course, a fine dining restaurant serving up a five course tasting menu, and an infinity pool looking out to the rugged coastline, this is one for your New Zealand bucket list.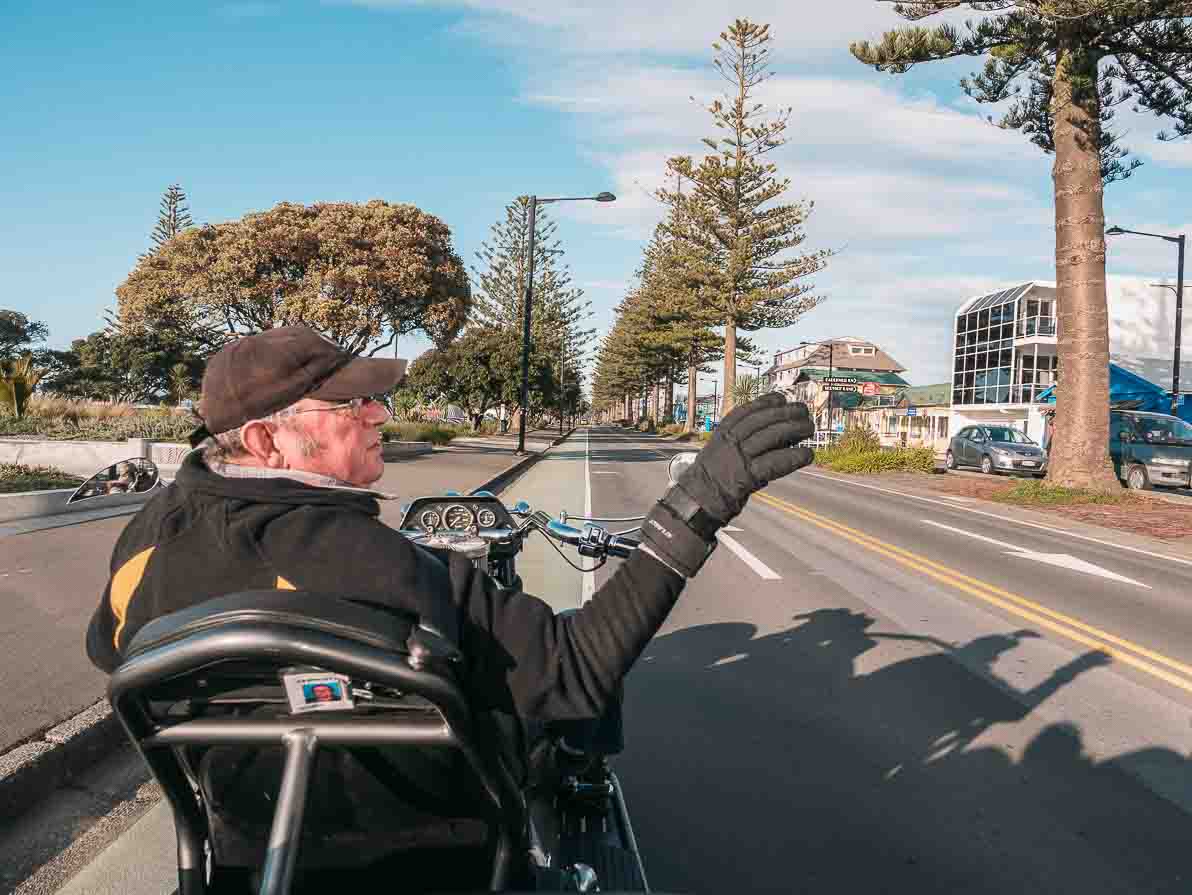 ---
Accommodation in Hawke's Bay
There are some fantastic hostels, hotels and holiday homes available in Napier, Havelock North and Hastings. Here are my picks for the best places to stay in Hawke's Bay.
Budget | Archie's Bunker and Toad Hall Backpackers are the best-rated hostels in Napier
Mid-range | Greenmeadows on Gloucester and Pebble Beach Motor Inn are both decent Napier options for under $150 a night, and Cottage on St Andrews is a good value option near Havelock North
Luxury | We stayed at the 4.5 star Porters Boutique Hotel in Havelock North and I absolutely loved it. Free parking, brilliantly comfortable beds and the added bonus of having my favourite restaurant, Malo, right downstairs!
Self-contained | We also spent a few nights at Meadowood House, a beautifully restored Art Deco villa with the most amazing decor. Artwork of iconic entertainers line the walls, there's a vintage radiogram in the sitting room, patterned wallpaper in each room and even a speakeasy shed in the garden. There are four bedrooms and three bathrooms with a fully-equipped kitchen, so this would be ideal for families or a group of friends wanting somewhere spacious to enjoy their Hawke's Bay holiday. I'll be back here for sure!
---
I hope this Hawke's Bay travel guide has helped you plan out your visit to this spectacular corner of the North Island. If you think I've missed any important things to do in Hawke's Bay just let me know in the comments!
MORE NEW ZEALAND TRAVEL GUIDES:
Our trip to Hawke's Bay was sponsored by Hawke's Bay Tourism. As always all opinions are my own and are totally based on my personal experience.
Like this blog? Pin it!