One of the sunniest places in Aotearoa, this charming seaside city on the North Island's east coast is ideal for a summertime getaway. If you're looking for things to do in Napier or the Hawke's Bay, there's a tonne of activities and experiences depending on your travel style and budget!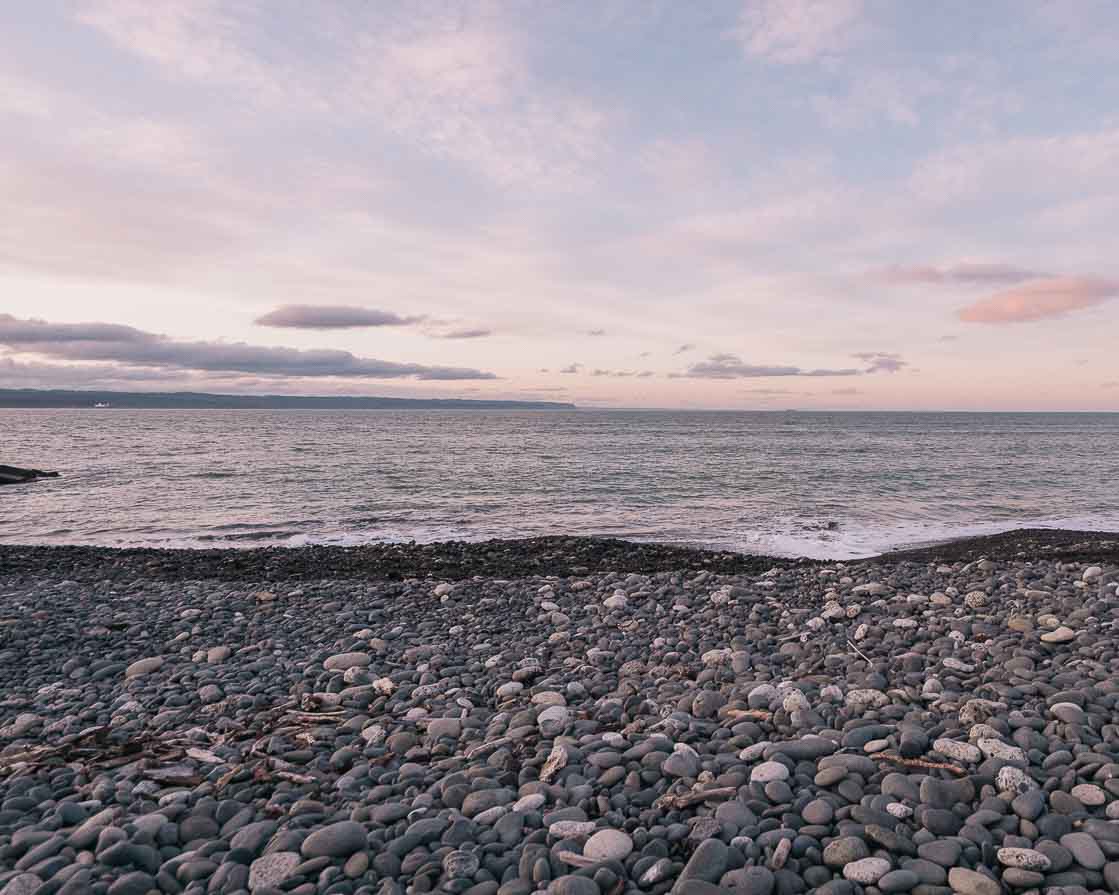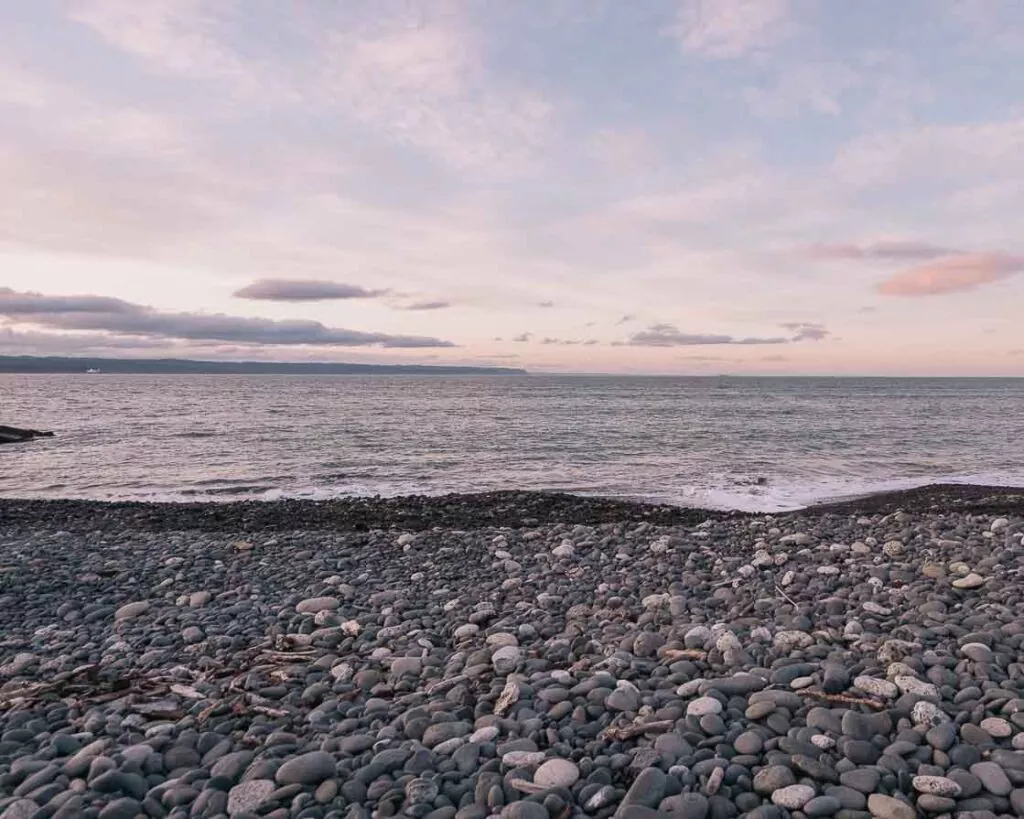 We spent a couple of days there on our huge New Zealand campervan road trip this past winter, and I'm already planning a return for when it's warmer. Napier's home to a growing food scene, quirky Art Deco architecture and an impressive collection of vintage and antique shops, with world-class wineries, short walks and wildlife colonies within easy reach of the city.
Whether you're planning a domestic adventure or you're looking for epic stops on your New Zealand road trip, there's plenty of epic things to do in Napier to make it a welcome addition to any North Island itinerary.
RELATED READ: The Ultimate New Zealand Bucket List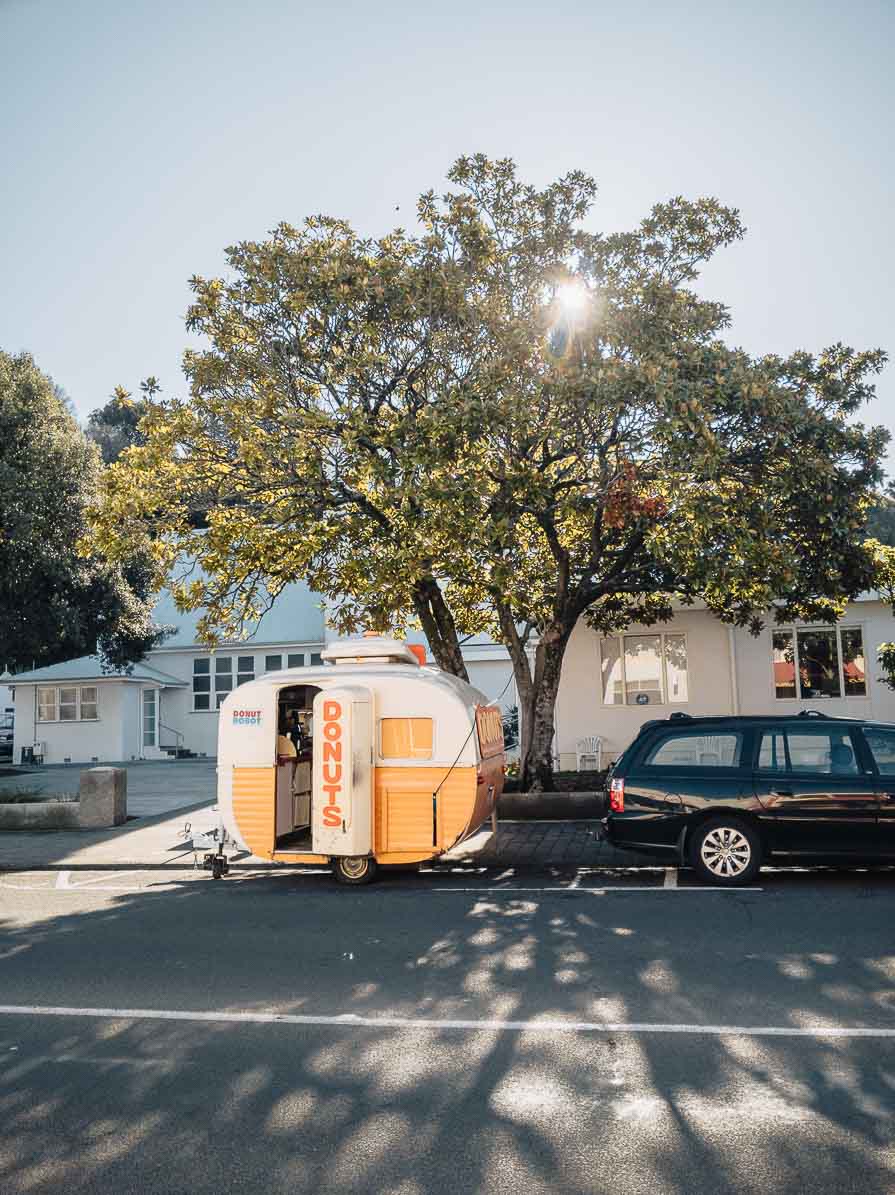 ---
Things to do in Napier
Shop 'til you drop
I'd suggest heading to Napier with a bit of spending money and some spare room in your suitcase, because you'll struggle to leave the city without treating yourself to a souvenir from one of the funky gift shops or vintage stores.
Napier Antiques & Jewellery Centre is packed with art deco accessories and vintage collectables, Whales Tale in Ahuriri is a maze of antiques from all over the globe, Jak & Co is a funky homeware design store, and The Department of Curiosities and Fine Things is packed with Kiwi-made artwork and knick-knacks.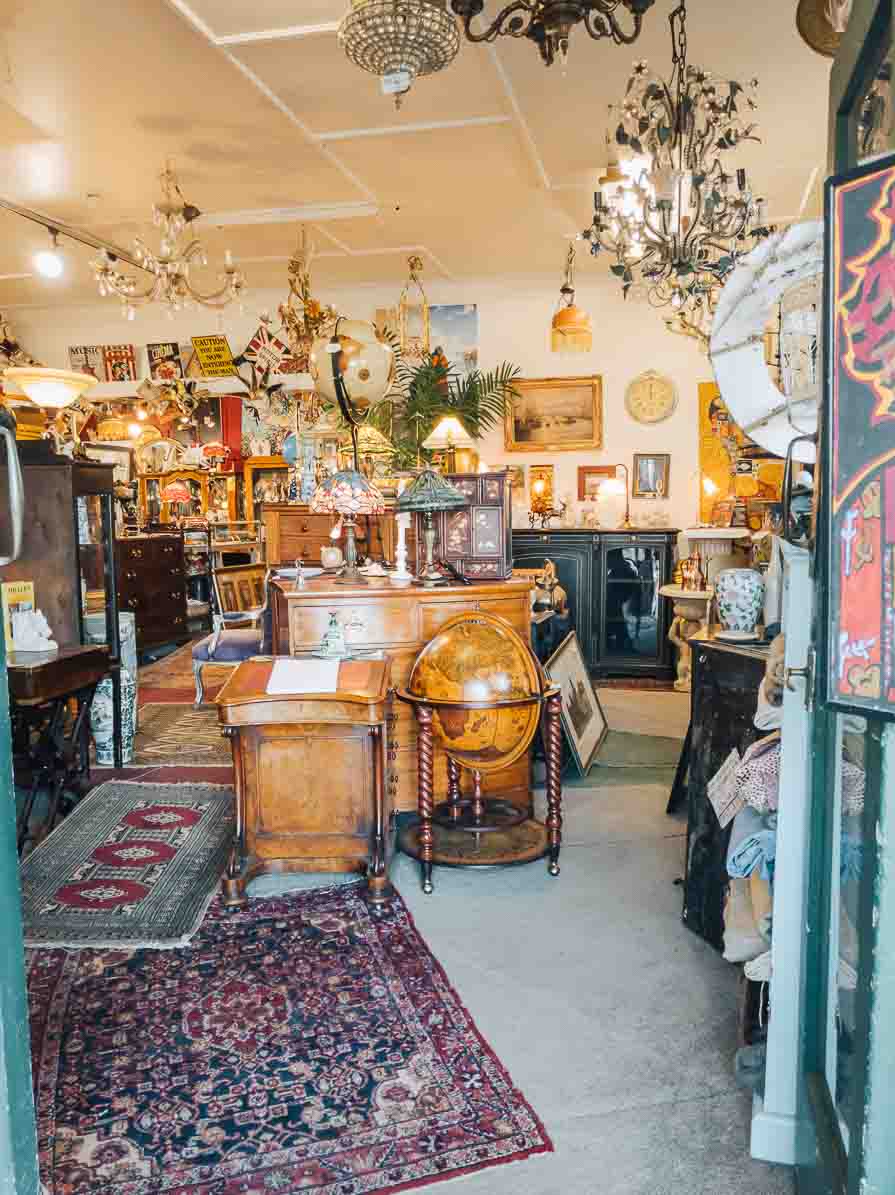 See the view from Te Mata Peak
You can't get any more 'panoramic' than this viewpoint. Te Mata Peak is 399m high and offers uninterrupted views of the Hawke's Bay's rolling hills, vast vineyards and Pacific coast, making it one of the best things to do in Napier.
You can drive to the top via a slightly precarious cliff-side road (not dangerous if you go slow, but looking over the edge might give you a bit of a fright!) or opt for some exercise with a short hike up to the lookout. You can choose from five different walks ranging from 40 minutes to 2.5 hours depending on how far you want to go.
Te Mata Peak holds a special place in local Maori legend, it's said to be the resting place of Te Mata, a chief from Waimarama, after he died trying to prove his love to the daughter of a rival chief.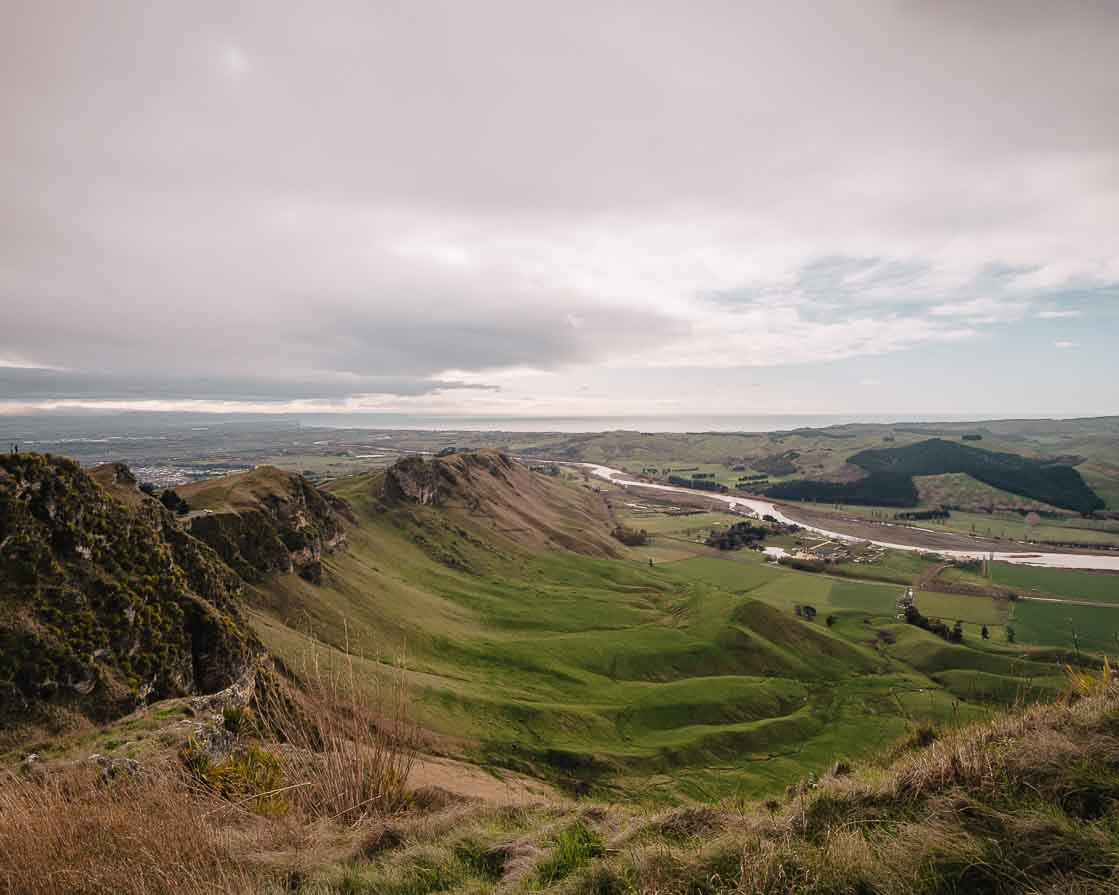 Visit the aquarium
The National Aquarium of New Zealand takes up a decent chunk of the central city's main coastal road, Marine Parade. The centre's ethos is all about conservation and sustainability, and they work closely with scientific organisations, educational institutions and the Department of Conservation to advocate for the importance of marine biodiversity and healthy oceans.
You'll be able to see rescued penguins at Little Penguin Cove, national icons like the kiwi and tuatara, and more than 100 different marine species from around the globe.
Do a trike tour around the city
This has got to be the most unique way to see Napier! The legends at Supertrike Napier will take you for a spin around the city and surrounds in their custom-made V8 Supertrike that can fit four passengers.
Our driver, Bob, was a passionate Napier local with loads of stories to share about Napier and Hawke's Bay history and culture, and we managed to get some serious speed on the country roads too. Such a thrill!
Supertrike has a few different tours to choose from, like a short highway blast or city tour, a wine or beer tasting tour, a Te Mata Peak excursion of a bespoke tour to suit your to do list. Prices start at $50 for the shortest tour, $165 for wine tasting, and up to $650 per person for a full day private tour.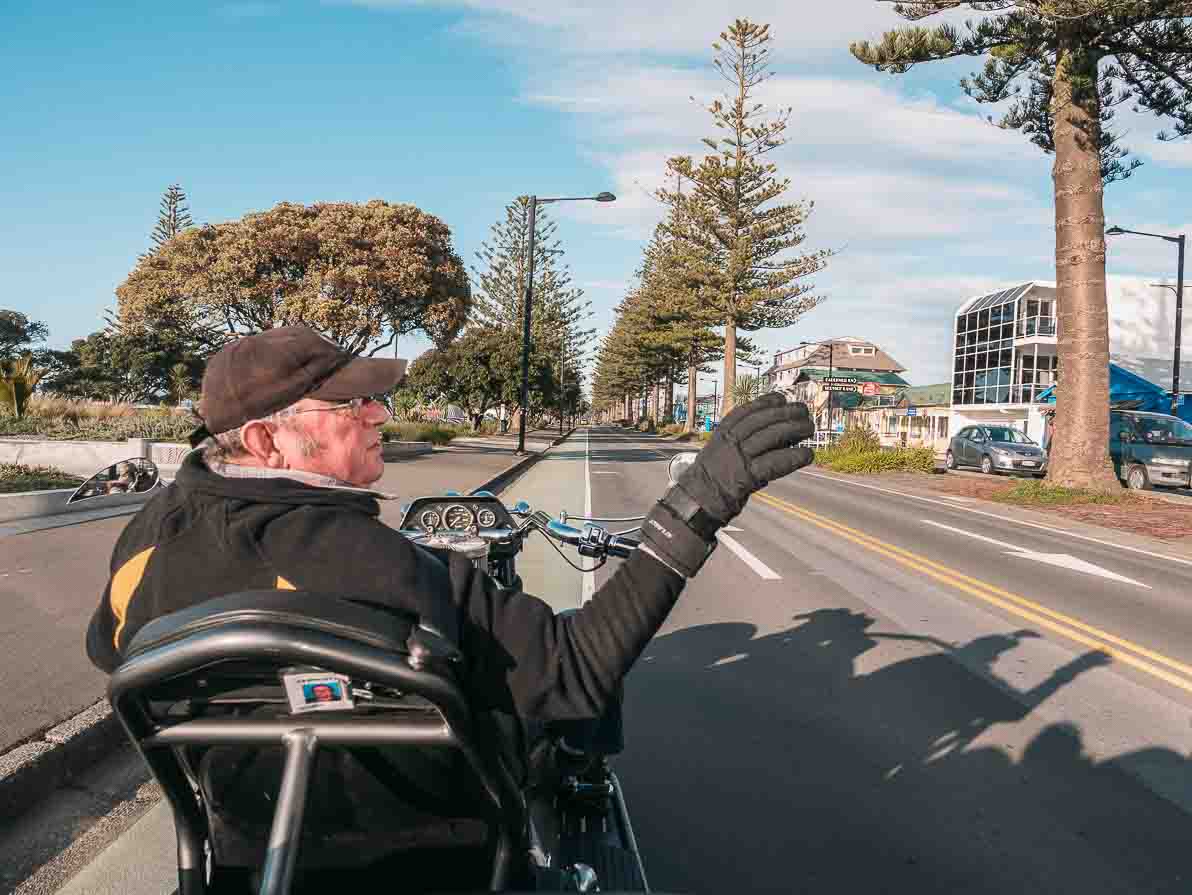 Try a Napier wine tour
Some of New Zealand's best wineries are found within a short drive from Napier, so no self-respecting vino can come here and not hit the vineyards.
To make your wine day easy and breezy, jump on an organised wine tour. This way you'll have your transport to and from Napier sorted, cellar door tastings for three or four wineries and a cheese platter to nibble on.
If you'd prefer a self-guided tour instead, check out On Yer Bike for e-bike/cruiser bike/tandem bike hire (I'd like to see you try the last one drunk!) or draw straws to find a sober driver and do a vineyard road trip.
Church Road and Mission Estate are two of the best-known vineyards, Black Barn is a little boutique one with gorgeous views and equally gorgeous food, and the Urban Winery in Napier's Ahuriri suburb has a brilliant menu with one of the best cheese dishes I've ever had. And that's saying something! It was the baked goat's cheese, you're welcome.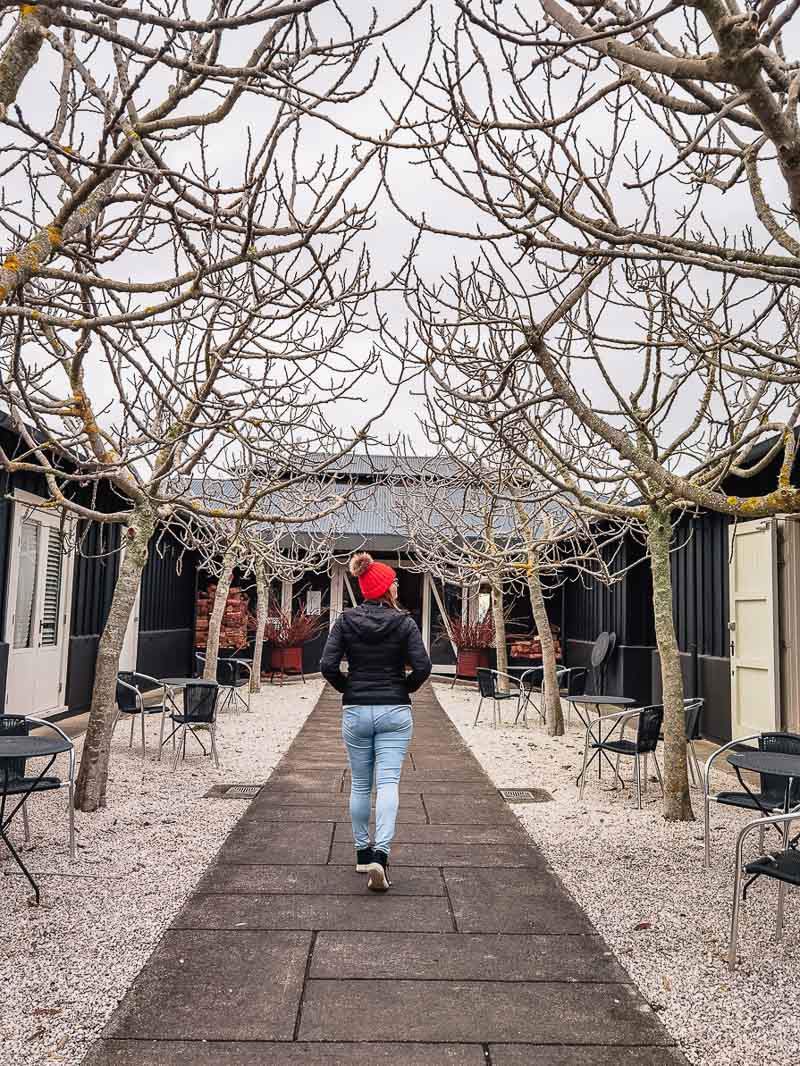 What about Craggy Range? If you're familiar with Hawke's Bay wineries, you'll notice I've left out probably the most famous vineyard, Craggy Range. Craggy Range is Australian-owned and they've had issues with local iwi, after cutting a track into the tapu (sacred) Te Mata Peak without consultation with the Ngāti Kahungunu tribe. We visited Craggy Range on our road trip before hearing about this controversy and I was gutted that I'd supported a business with no cultural sensitivity, so I'm informing you so you're aware and can make your own decisions.
Do an art deco tour
In 1931, a devastating earthquake hit the Hawke's Bay and caused over 250 deaths, thousands of injuries and mass destruction to the region's buildings. In the aftermath, a phoenix rose from the ashes in the form of the best Art Deco-inspired architecture found in the country.
These days Napier's Art Deco vibes are still going strong, with iconic buildings like the Daily Telegraph and the National Tobacco Company, as well as vintage car museums, costume shops, and a huge Art Deco festival held at the end of summer.
The best way to experience the best of this era in Napier is on an Art Deco tour. You can get a self-guided walk brochure from the Art Deco Trust for $10, or go for a guided tour with a knowledgeable local either by foot or by classic car.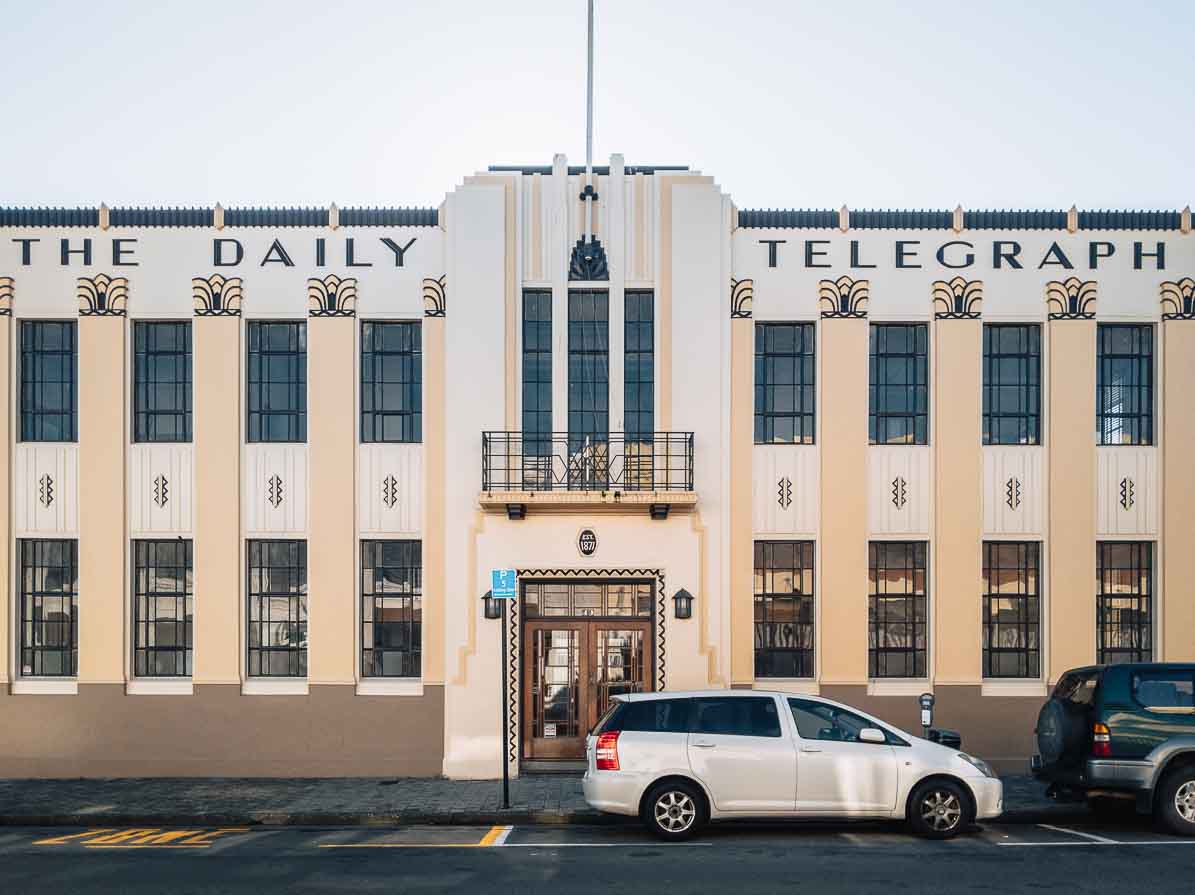 Check out the food scene
From the freshest seafood possible to Southeast Asian street food to Pacific-inspired fine dining, this is a fantastic destination for foodies to visit.
Pacifica, on Marine Parade, has been rated one of the best restaurants in the country, well worth a visit if you can snag a table. Bistronomy and Hunger Monger are also great for dinner, and Bahn Mi Saigon or Kilim Cafe are delicious options for a cheap lunch. For brunch, you can't miss the super funky Mister D.
Get the best view from Bluff Hill
Bluff Hill sits between central Napier and Ahuriri, providing expansive views over the port and Pacific Ocean. The hill is one of the city's premier residential suburbs, with grand character homes lining the streets, and an epic viewpoint at the top.
You can drive up and park at the top, or if you're keen to break a sweat you can make your way up the ramps and steps to the lookout.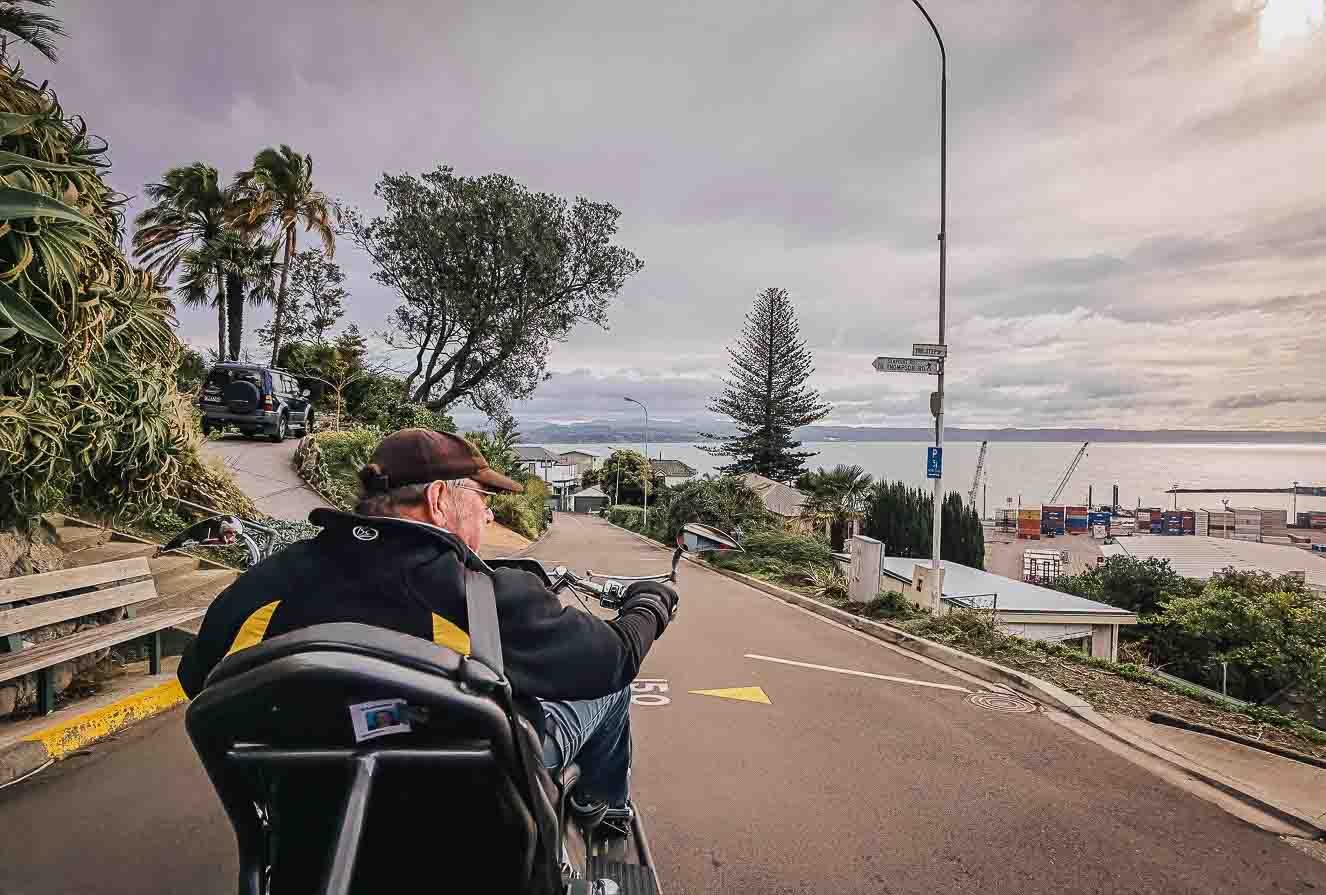 Visit Napier Prison
This 1862 prison on Bluff Hill is a unique Napier attraction with a few different audio-tour experiences on offer, including gory historical tours, family-friendly tours and ghost tours.
Dress up like a prisoner, have your fingerprints taken, get your very own mugshot and try your luck at figuring out the puzzles in the escape room.
See the gannets at Cape Kidnappers
With white cliffs that could be mistaken for Dover in the UK, Cape Kidnappers is a part of the Hawke's Bay that many people don't get to explore. Take a day tour to visit the gannet colony, or if you're an experienced hiker you could do the five hour return tramping track when it's open during October and April.
Check the tides first, and read more about the walk on the DOC website.
---
The best Napier accommodation
Freedom camping in Napier
Napier has a number of designated freedom camping spots where you can stay overnight in a certified self-contained vehicle. You can see all of the freedom camping options on the Rankers app or website.
The freedom camping spot in Napier that we stayed at was one of the best spots of our whole trip! It was Perfume Point in Ahuriri, right by the ocean. There's clean public toilets, you'll get a stunning sunset and sunrise, and you might even see penguins on the rocks at night. It's got a 95% rating on Rankers, so we're not the only ones who love it.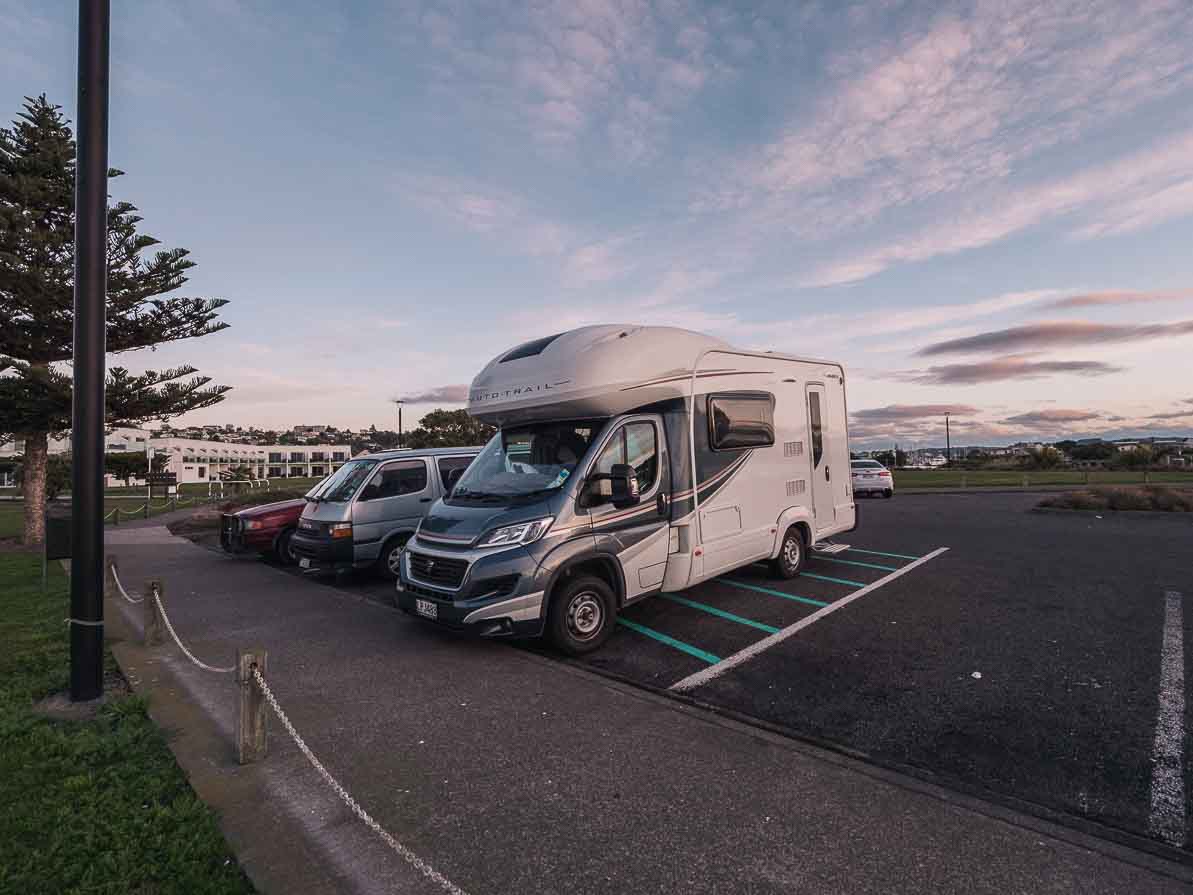 The best Napier holiday park
If you're in a campervan and need a powered site or some proper facilities, there are a couple of holiday parks in Napier and a few more in nearby Bayview. Kennedy Park Resort is rated 68% on Rankers and Westshore Holiday Park is 59%.
For better reviews (and therefore better facilities) check out Hawkes Bay Holiday Park just south of Bayview.
Where to stay in Napier on a budget
if you need to keep costs low and don't mind being ten minutes out of the city, Greenmeadows on Gloucester is a motel with self-contained studios from $135 a night and a 9.1 rating on booking.com. If you need to stay central, Pebble Beach Motor Inn on Marine Parade has luxury studios available from only $210 a night.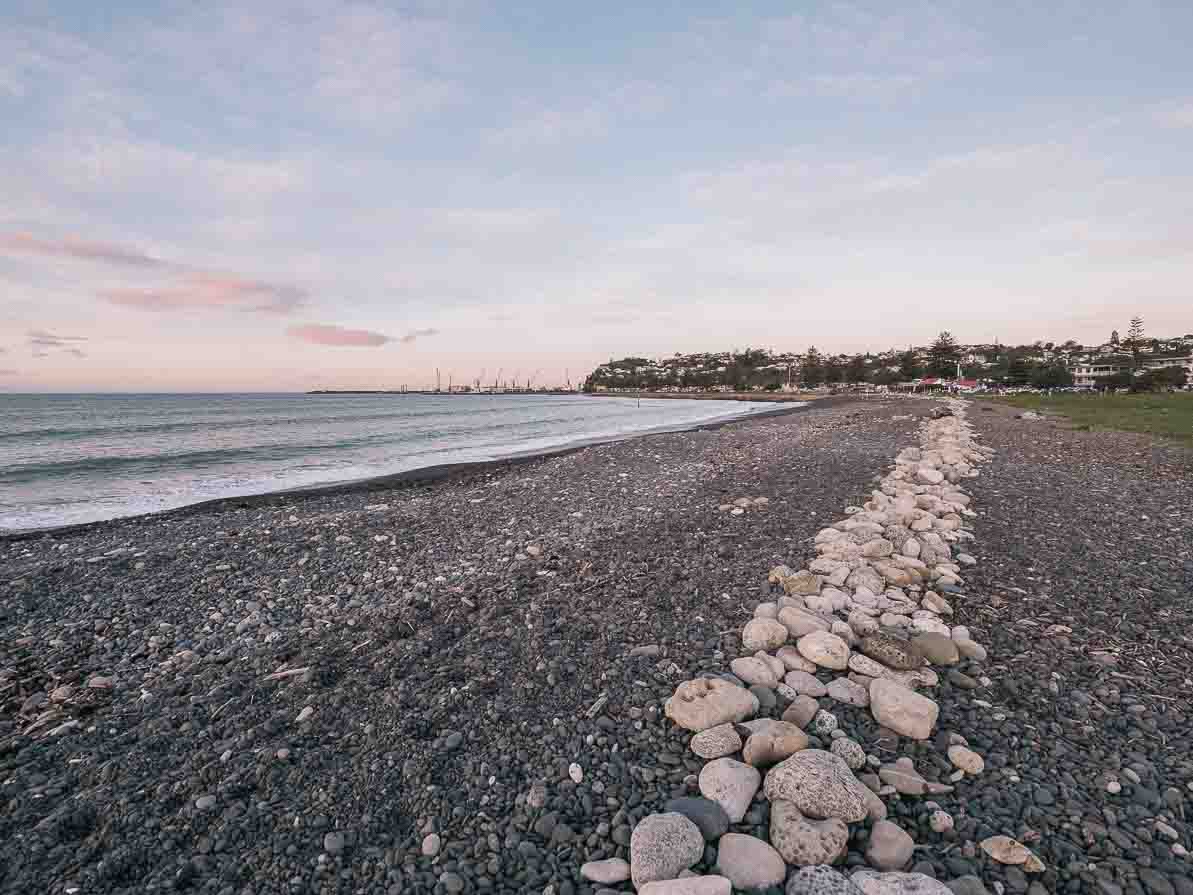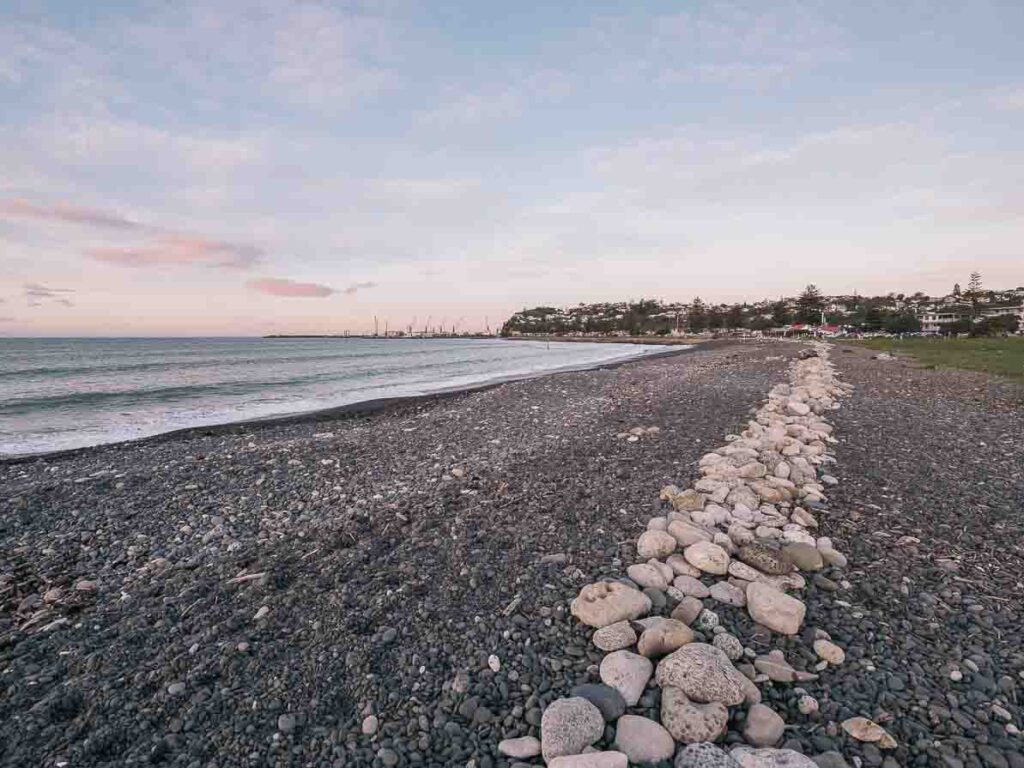 For backpackers/hostels, there's Archie's Bunker and Toad Hall Backpackers with rooms from about $50 per night.
The best Napier Airbnbs
Blue Hill Studio on Bluff Hill is a charming little studio, this inner city apartment with a balcony and ocean views is ideal for a city break, and the Esplanade Beachhouse can fit six guests and is right on the water.
The best fancy hotel in Napier
The iconic Dome Hotel in Napier has well-equipped boutique apartments with waterfront views right in the middle of all the action. And for a pretty stunning hotel prices aren't bad, beginning at only $170 per night.
Looking for somewhere to stay in Napier? Check out all the Napier Airbnb options here, search for hotels and motels on booking.com, or download the Rankers app to find holiday parks and campsites.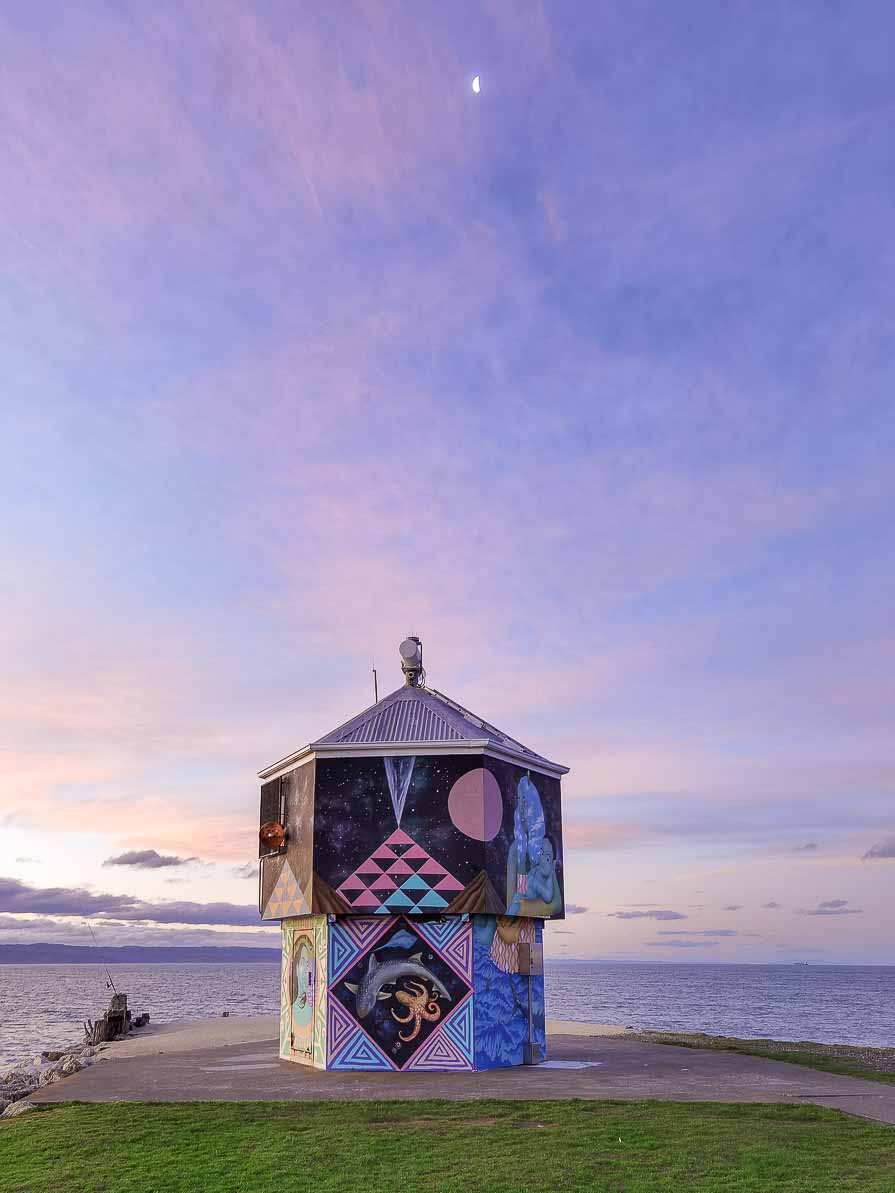 I hope this list of fun things to do in Napier has helped you plan your Napier itinerary! If you have something I should add to the list please let me know in the comments, and enjoy your stay.
RELATED READS:
Like this blog? Pin it!
Huge thanks to our driver Bob and the team at Supertrike for taking us out for a spin during our time in Napier. As always all opinions are completely honest and are based on my personal experience.