Paragliding in Queenstown is one of the city's most epic adventure activities, and it's got to be the best place in the country to get a sky high view.
After first paragliding during my week in Switzerland, I was obsessed with the feeling of floating through the sky without having to throw myself out of a plane. I don't mind heights, I'm all for parachutes, but I'm not a fan of free-falls. Paragliding is the perfect option for someone like me!
So to celebrate the end of our three month New Zealand campervan trip, I wanted to wrap up this crazy adventure on a high note… literally. After looking at all the thrilling activities in Queenstown (of which there are many) I settled on the highest commercial take off paragliding flight in the city.
RELATED READ: The Ultimate New Zealand Bucket List
If you're considering it, here's a bit more info on paragliding Queenstown, how my experience was and how you can book it for yourself.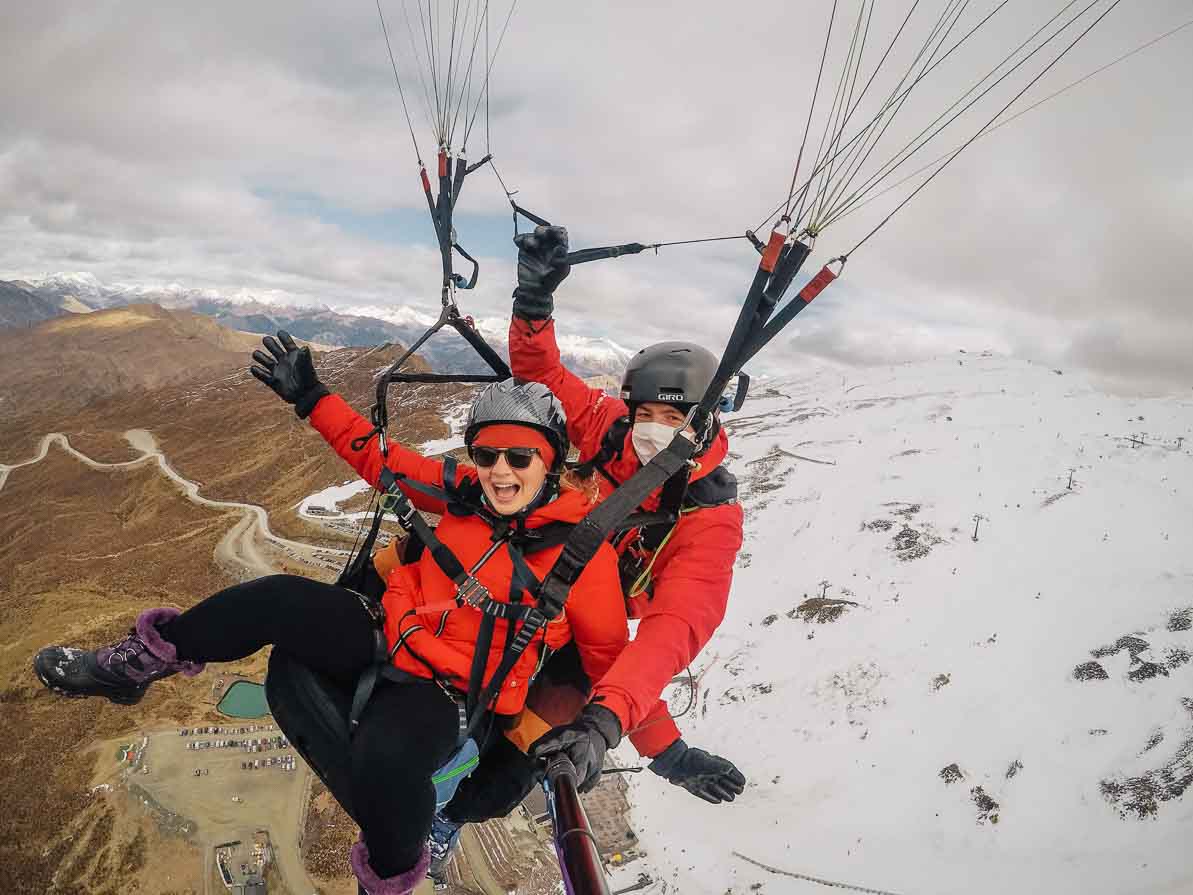 ---
Why go paragliding in Queenstown?
I mean the real question is why not?!
Queenstown is packed to the brim with experiences that will get your heart racing, like jet-boating, ziplining, bungy jumping and loads more, but nothing is quite as special as seeing snowy mountains and rugged valleys from the sky.
There aren't too many commercial paragliding operators in New Zealand, with options in Auckland, Nelson and Christchurch offering instructional flights but not leisure flights.
If you're wanting to enjoy a mountain-top take off and soak up some insane 360° views, this is the place to do it. And that's why I included paragliding in Queenstown in my ultimate New Zealand bucket list!
---
Paragliding, skydiving or hang-gliding?
If you're looking at hanging out of some kind of contraption hundreds of metres in the sky, there are three options for you: hang-gliding, skydiving or paragliding. Also, you might be slightly crazy.
Skydiving is a common #1 on the New Zealand bucket list of both international travellers and locals alike, and Queenstown is one of the most popular places to try it.
But if you prefer a less terrifying option, or if you've skydived already and want to try something else, or you'd prefer to test out your tolerance for heights before jumping out of a plane, paragliding is the perfect option.
You can also go hang-gliding in Queenstown too! I haven't tried this myself but a friend who has done all three said that hang-gliding can get you up to higher speeds than paragliding, and the feeling of lying flat (as opposed to sitting in a chair-like harness while paragliding) takes the thrill to the next level.
---
What paragliding Queenstown options are there?
There are a few Queenstown paragliding companies that have different take off points.
The closest to the city is Gforce Paragliding, located at the top of the Queenstown Gondola. These guys are the only company allowed to operate over Queenstown itself, however they're limited on height and take off from about 450m high, meaning your flight time is 8-10 minutes on average. Prices here start from $199 but you have to pay for your gondola ticket separately, which is $44.
The Queenstown paragliding company we went with, Coronet Peak Tandems, have a couple of take off options that are significantly higher than the gondola. With higher take off, you've got more room to play with the updrafts, meaning more time in the sky!
Coronet Peak Tandems have a shuttle to take you to and from central Queenstown to the take off point, and prices start from $205 for the lower take off or $235 for the higher option.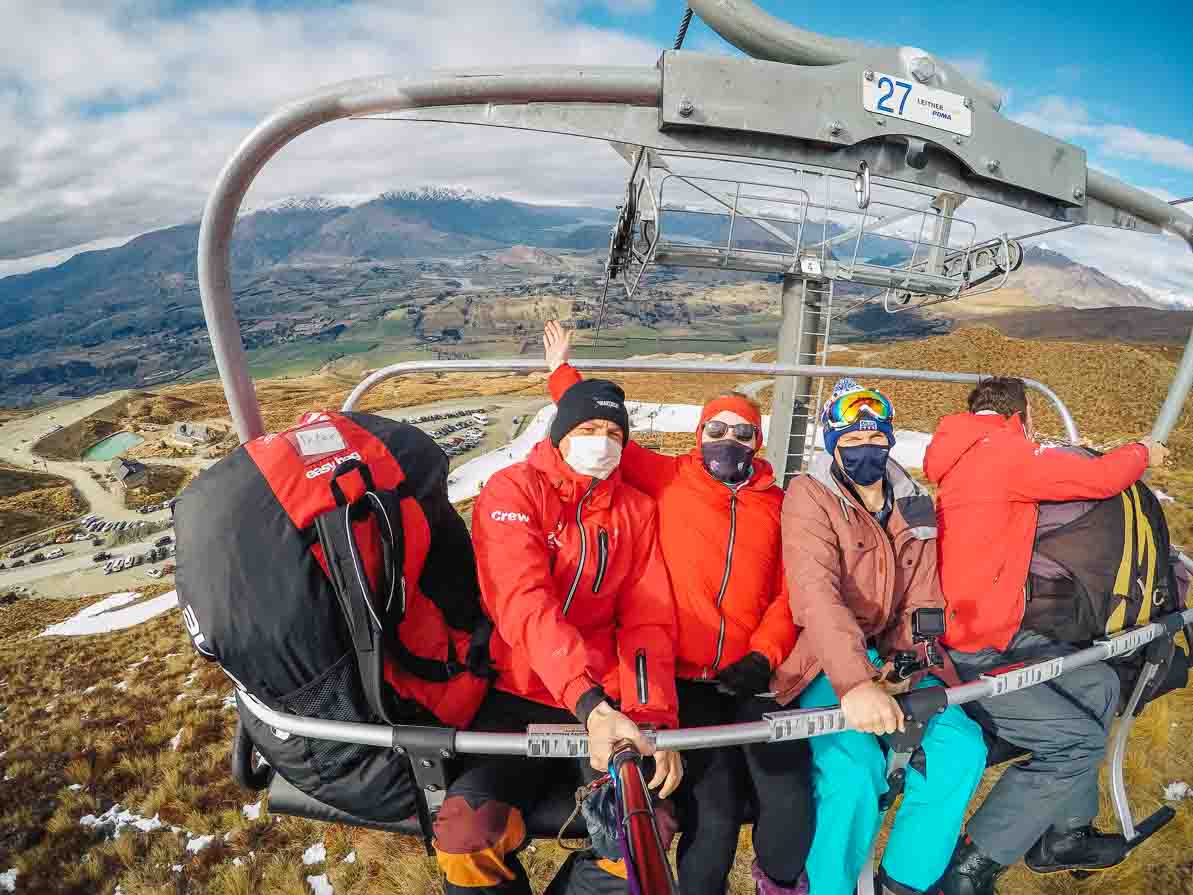 ---
How was the paragliding flight?
Oh my gosh, it was BRILLIANT.
Because we were there in winter, we opted for the take off point on Coronet Peak skifield. We caught the chairlift up to the take off point which was literally covered in snow! Actual magic.
This take-off point is 1,100 metres high, so more than twice the height of the gondola in the city.
After the pilots sorted out the chutes, it was our turn one by one to get hooked in and time the wind for a perfect take off. We had some pretty big gusts so while my Switzerland take-off was a run and glide, Queenstown was more of a single step and getting picked up immediately!
After a few thrilling seconds of intense speed, we got into a smooth rhythm and I was totally speechless trying to wrap my head around the killer views. My pilot was a legend, he was explaining the wind patterns to me, chatting about other places around the world to go paragliding, and he let me fly the glider myself! For about ten seconds anyway until I freaked out.
Depending on the weather, sometimes the pilots are able to show you some aerobatic tricks and spins if you're up for it. I can't say no to a rollercoaster so there's no way I could say no to this, and the insane gravitational forces you feel while spinning around and around looking straight down at the ground is an unforgettable experience.
We had some decent updrafts on our flight so I would say in total we were in the sky for about 15 minutes, with one guy in our group probably getting closer to 20. Lucky bugger!
---
Is it scary?
Fear is subjective but as someone who feels sick at the idea of falling, paragliding was not scary for me at all.
Aside from the lack of freefall, the biggest difference between skydiving and paragliding is that with paragliding you have a seat-style harness, where you're almost sitting on top of the pilot's own seat, rather than with skydiving where you are connected back to stomach and have your entire body dangling.
The feeling of paragliding is overwhelming calmness, it's quiet in the sky and the wind lets you float rather than jolting you with any sudden movements. And from a heights perspective, without the fall or a jump (like a bungy) it's hard to fathom how high up you are so I don't think you feel the same dread as having to freefall!
---
How do I book?
I'm glad you asked! You can lock in your paragliding Queenstown session with Coronet Peak Tandems right here.
---
Important things to know before paragliding in Queenstown
Wear clothes that are appropriate for the season. When we went at the end of winter it was FREEZING, we needed thermal layers plus gloves plus decent socks. Coronet Peak Tandems can provide gloves, boots and jackets if you need them.
Get the photos! Did you even paraglide if you don't have photo proof?! The pilots are decent GoPro photographers and they're trained to capture the best moments of your flight, so it's worth spending a bit extra for the photos and footage.
Or take a camera. You may be able to take your own camera if you have a safe way of securing it, like a GoPro chest strap. Check with the company before you book to avoid disappointment.
You'll need a decent level of fitness. Taking off can require a little bit of a run!
You'll go where the wind takes you, literally. Don't be that person who complains because the view wasn't what you wanted, or you weren't up in the sky long enough. You're at the mercy of wind and thermal activity so just enjoy the ride!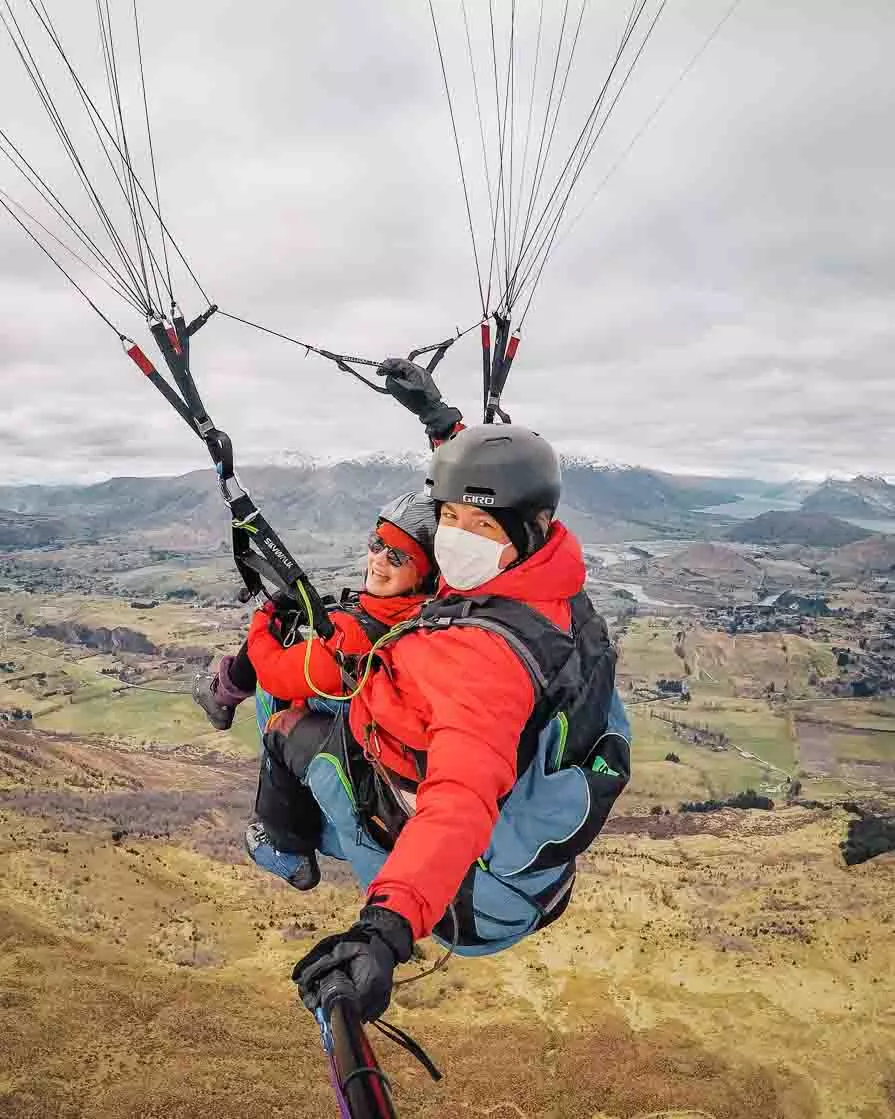 ---
Where to stay in Queenstown
Budget: If you're on a tight budget, I recommend Nomads Hostel right in the centre of the city. They've got decent dorm rooms plus private rooms available, a huge kitchen and shared living area, and are in a brilliant location amongst all the action.
Fancy: For a beautiful boutique hotel, you can't go past the stunning Kamana Lakehouse. The rooms are beautifully decorated and comfortable, the restaurant is world class, and they have private hot tubs (for an extra fee) with views over the lake and mountains. Divine!
Apartment: If you'd prefer somewhere self-contained, Goodstays Queenstown has a huge range of apartments and homes to choose from. We stayed in this massive three bedroom townhouse with free parking, two huge balconies, a full kitchen and large living and dining area, perfect for a family or group.
If you want to see all accommodation options in Queenstown, you can search your dates on booking.com here, Airbnb here or Hostelworld here.
---
If you end up booking a paragliding trip with Coronet Peak Tandems I'd love to know, post a comment below!
RELATED READS:
Like this blog? Pin it!
Huge thanks to Coronet Peak Tandems for taking me paragliding free of charge. As always all opinions are my own and based on my personal experience.