If you prefer your glamping getaway to have epic views, modern comforts and a touch of opulence, this newly-built, ultra stylish treehouse in the middle of the South Island is calling your name.
Nest Treehouses are the newest kid on the New Zealand glamping block, and after one whirlwind stay I'm already predicting that they're a strong contender for being one of the most epic South Island glamping spots.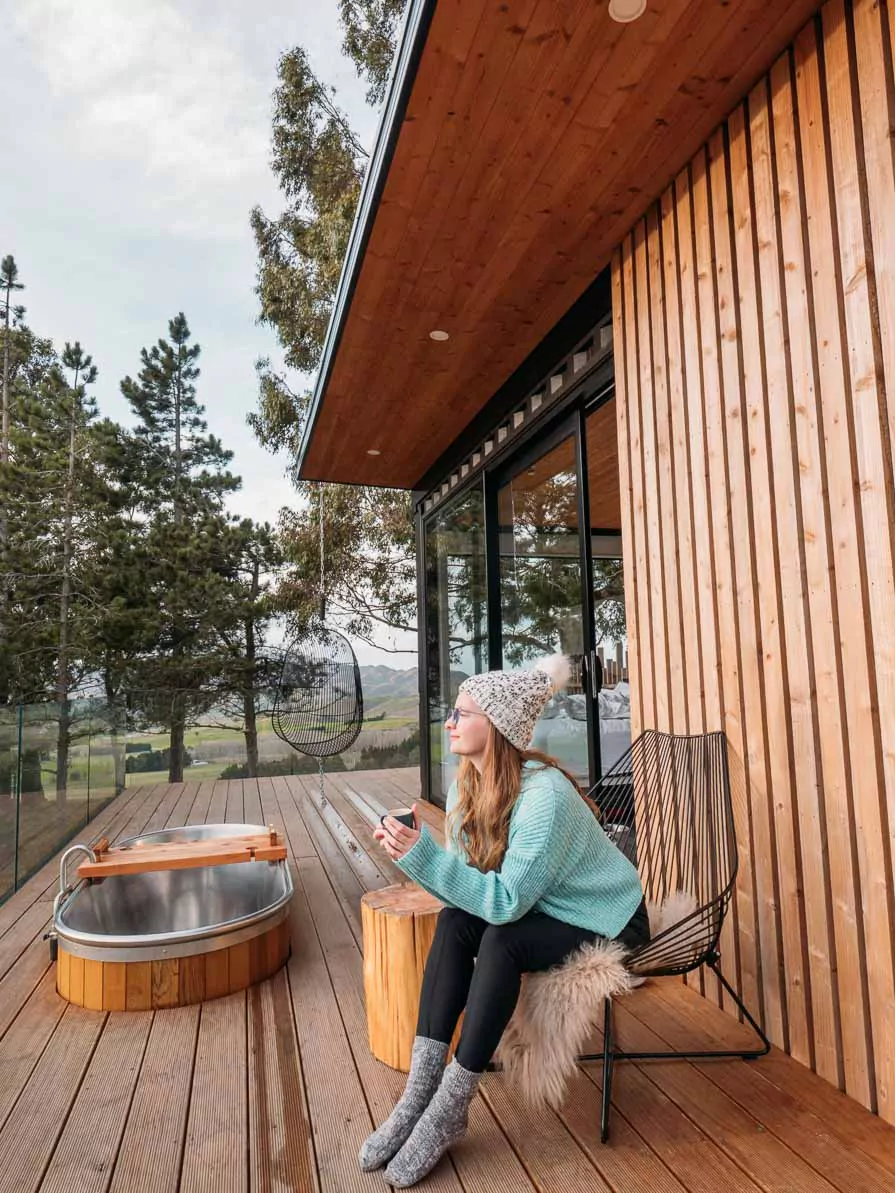 This architecturally-designed treetop abode is the perfect combination of luxury and nostalgia, with home comforts like a gas fire, WiFi and outdoor kitchen facilities along with a sunken outdoor bath, a sauna nestled between the trees and the optional add on of Instagrammable platters and breakfast hampers.
On a warm, sunny day you can open the ranch slider for ideal indoor-outdoor flow, cook up a storm on the Weber BBQ and treat your inner child to a play on the swings next to the house. And on a cooler day you can cosy up inside with the fire on, enjoy views of rolling farmland bordered with mountains (snow-capped through much of winter!) and hop into a hot bath under the stars. This place is perfect for adventures in any season.
If you're already sold and have this place on your bucket list, you can check your travel dates right here.
And if you'd like to find out more, scroll down for some photos and a full review of the treehouse of my dreams.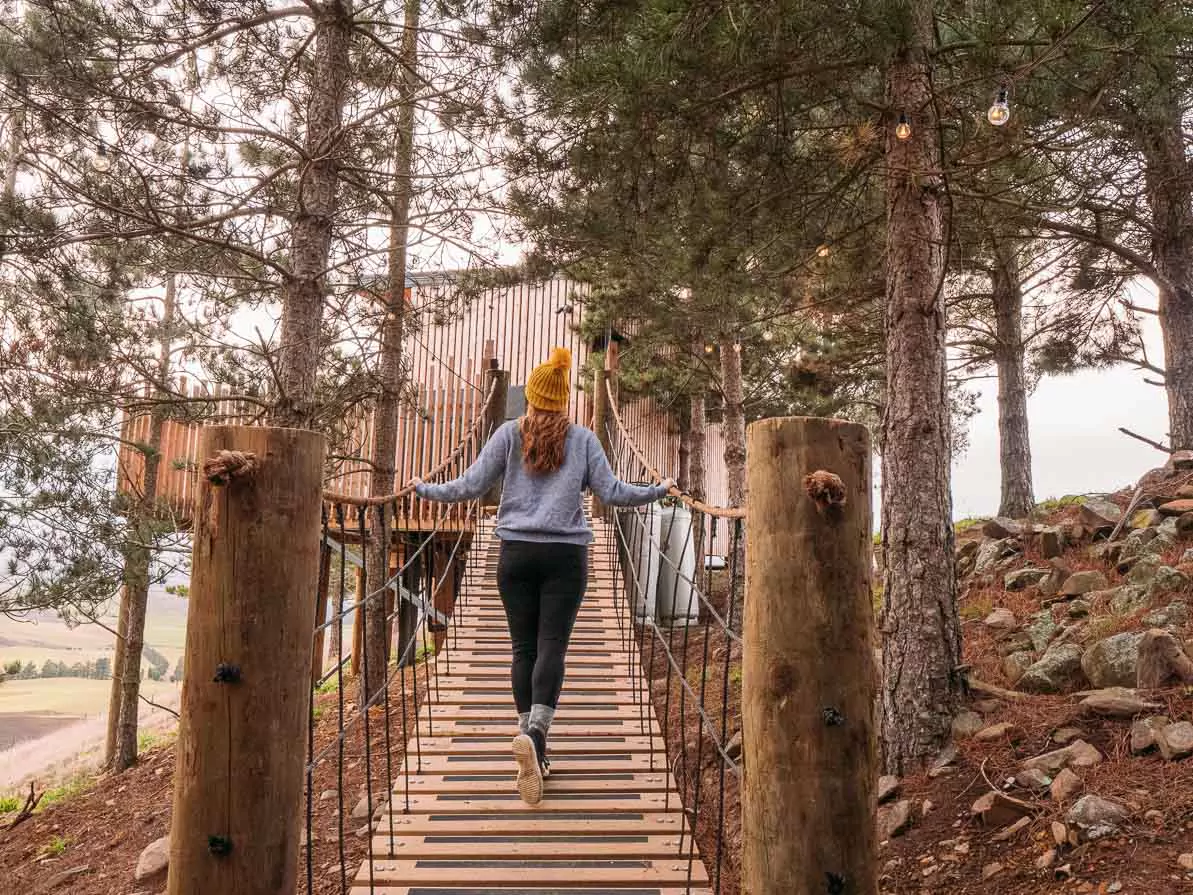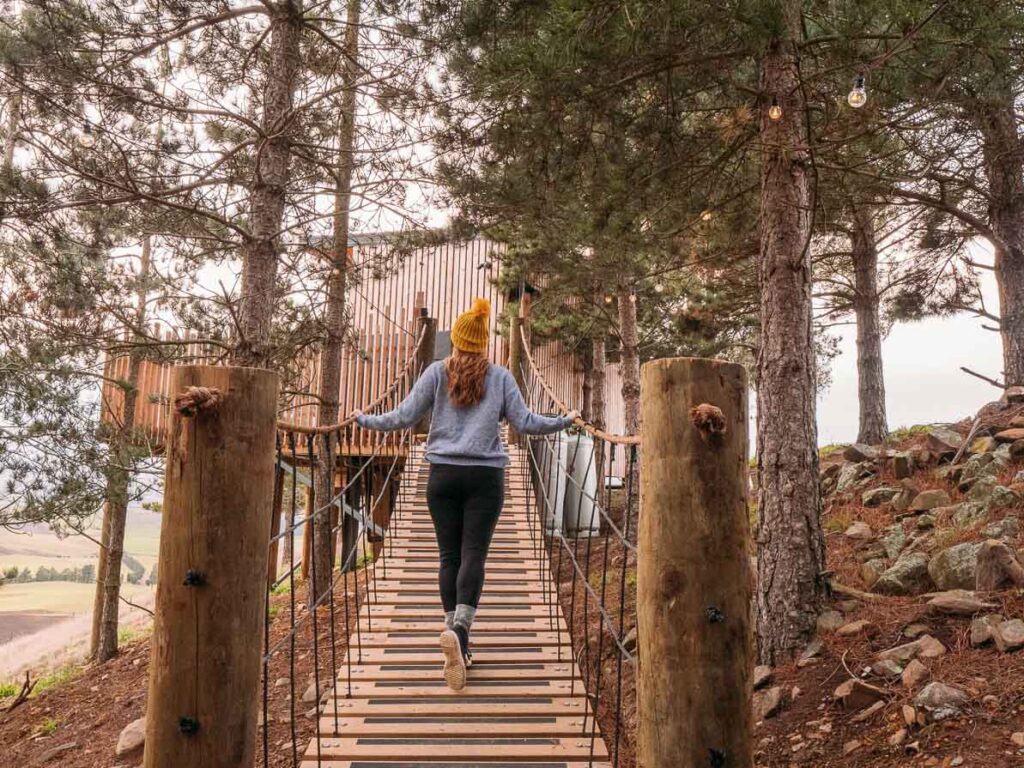 ---
Where is Nest Treehouse?
Nest Treehouse is about as off the beaten track as you can get, but it's still easy to reach if you're travelling around the South Island. It's located in Hakataramea Valley in South Canterbury, half way between Oamaru and Omarama (both about 45 minutes away).
The closest village is Kurow (Richie McCaw's hometown by the way!) 10 minutes away, and it's about 2h from Wanaka, 2h 40m from Queenstown and 3h 30m from Christchurch. If you're planning a holiday the Mackenzie District, Nest Treehouse is only 1h 5m from Twizel or 1h 45m from Tekapo.
Once you reach the farm it's a short drive on farm tracks to reach your treehouse.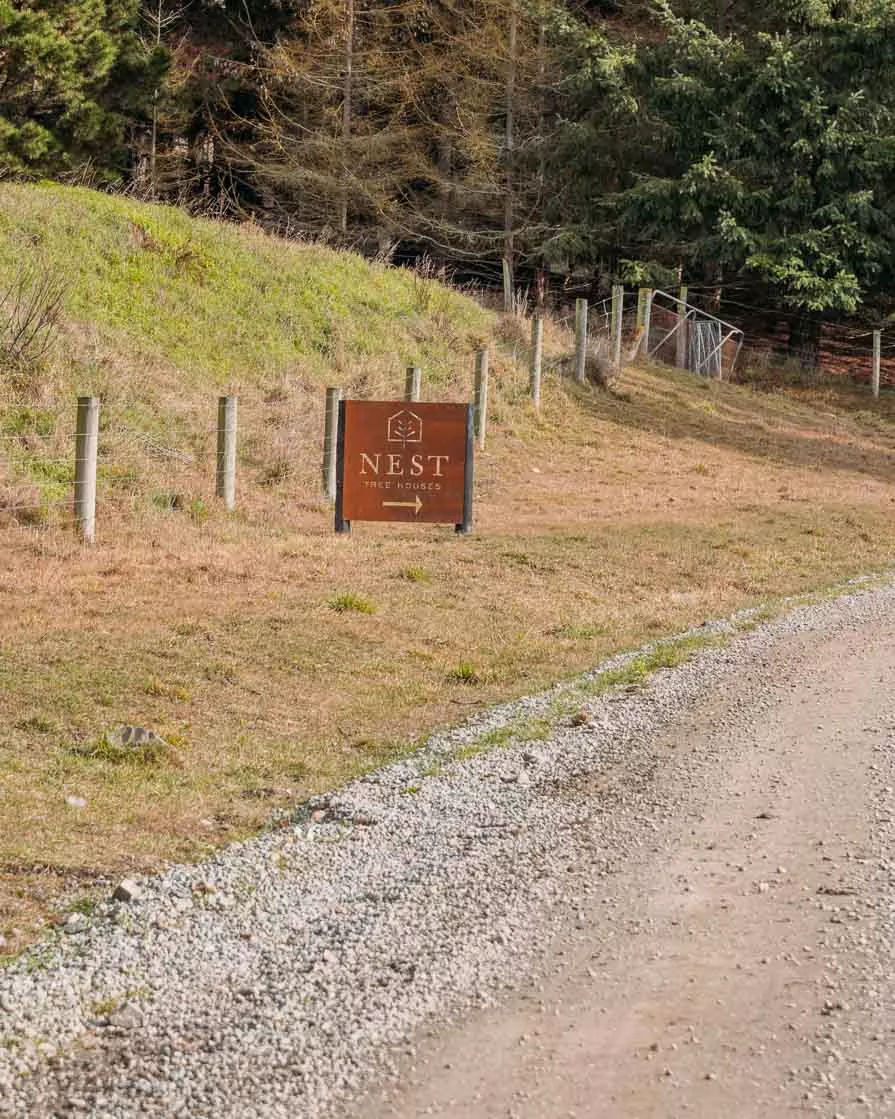 ---
About Nest Treehouse
Where do I even start?! Andy and Liz have built the most gorgeous tiny house in the trees. The design is simple and elegant, the use of space is brilliant (there's storage under the bed, a TV that pops down from the ceiling and cooking facilities camouflaged at the side of the house), and that outdoor bath is just unbeatable.
Some glamping spots lean into the rustic, off-grid vibe and take you back to basics, which is totally fine if that's what you're after! But Nest doesn't do that, this treehouse lets you immerse yourself into nature without having to sacrifice on niceties like comfort, electricity, a proper bathroom and WiFi.
If you're a first-time glamper and want to dip your toes into the unique accommodation scene, if you're a parent who needs a break but still requires the ability to get in touch with your family, or if you're keen for a nature escape but plan on taking your laptop to get shit done (hi, me too!), Nest is perfect.
And if you want to enjoy some time off the grid, just switch your phone off 😉
---
The bedroom
The treehouse is a container-style home with an open plan bedroom/living area.
The bed is ridiculously comfortable, with lush linen and warm winter blankets (not that you need them, with the option of both a heat pump and a gas fire).
There's storage space under the bed for bags and suitcases, and there are some almost hidden draws at the end of the bed if you have little bits and pieces you want to put away.
There are plugs available for keeping your electronics juiced, there's a TV that folds down from the ceiling and has Chromecast to connect your phone or laptop, and there's a comfy two seater couch as well as a bunch of books to keep you occupied during your down time.
---
The bathroom
Hallelujah for glamping spots with full bathrooms! With a flushing toilet, ring light mirror, shower with great water pressure, plant-based toiletries from Real World and comfy robes, the Nest bathroom is more than sufficient.
---
The kitchen
Inside the treehouse you've got a kettle, a toaster and a mini fridge, and outside there's an outdoor kitchen with a BBQ and cooking utensils.
A continental breakfast is provided, with toasted muesli, yoghurt, fruit, toast, honey and jam. There's also home-baked cookies and tea/coffee/hot chocolate available for you to whip up your own brew.
To go all out in the food department, Nest offers add on food packages to have some snacks ready and waiting when you arrive. I got the bubbles and bites package ($70), which includes a colourful snack platter of meats/cheeses/dips plus a bottle of bubbles, or for $60 you can get a bigger lunch or dinner platter.
For breakfast the next morning you can upgrade to Hamper #1 for freshly-baked cinnamon scrolls, fresh juice and fruits delivered to the start of your swing bridge, or Hamper #2 for all the ingredients you need for a morning fry up, including eggs, bacon, mushrooms and sausages.
---
The extras
The extras are what takes this treehouse to the next level.
Firstly let's talk about my favourite part of this whole place, the sunken outdoor bath. This bath is big enough for two, comes with a bath caddy for holding your food and drink, and has incredible panoramic views over the farmland and up to the mountains.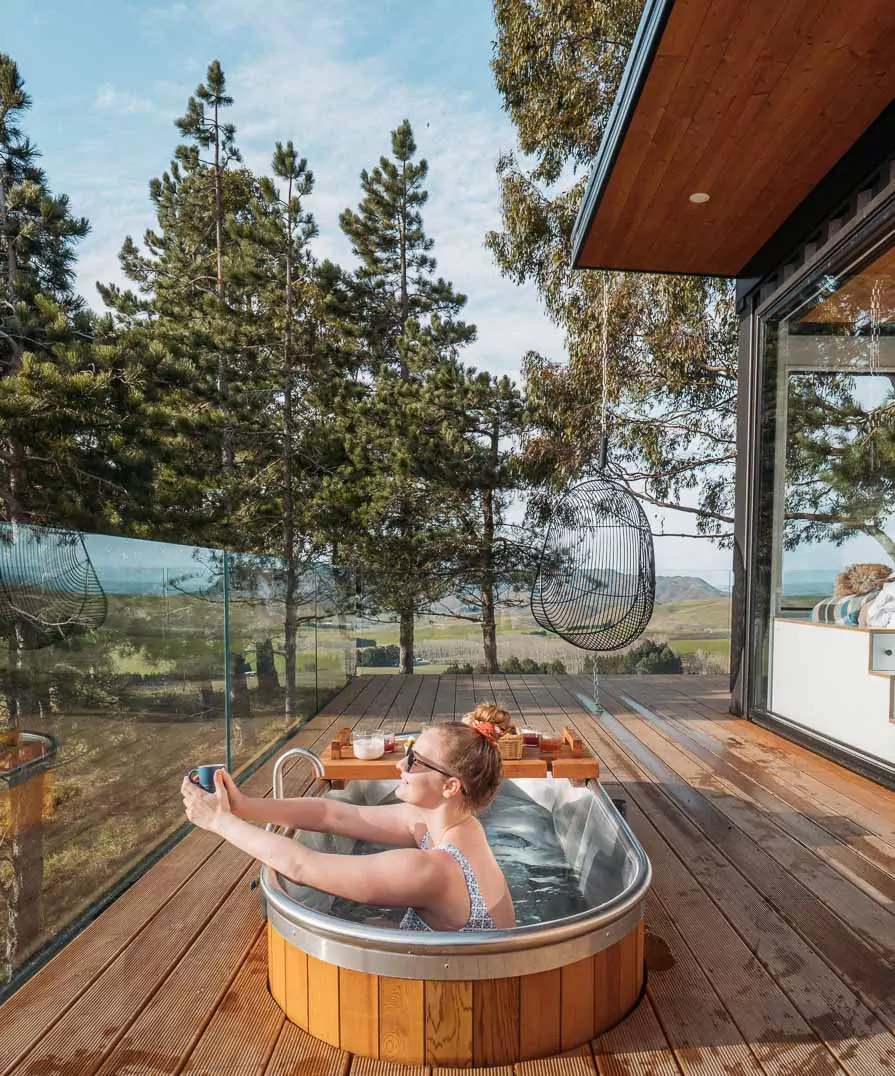 There's a UE Boom speaker provided so you can switch on your favourite tunes, and don't forget to add in some Real World bath salts (you'll find them in the bathroom) for maximum relaxation.
If you want to bathe in steam rather than water, you're in luck… Because Nest has a cedar sauna pod hidden in the forest. When you arrive at the forest, instead of following the path to the right to head to the treehouse, turn left and you'll see another swing bridge to the sauna. This is what dreams are made of!
The WiFi in the treehouse works perfectly but my phone had full cell service the whole time anyway, and the heating is more than sufficient to keep you warm even when it's snowing outside.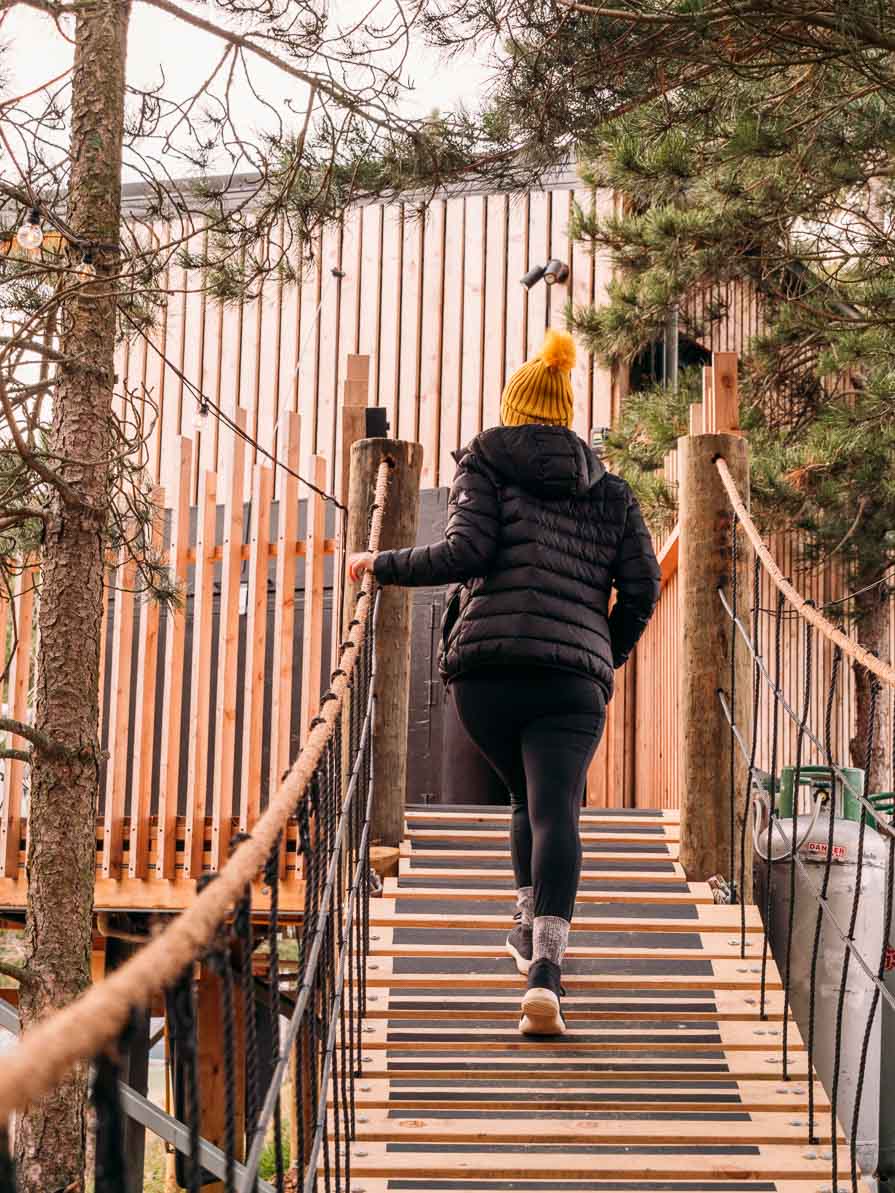 ---
The views
The house has floor to ceiling windows on two sides so you can soak up the landscape, made up of seemingly endless farmland and a barrier of mountains behind them.
If you're blessed with a clear night sky you'll be able to see thousands of stars, as the light pollution is next to nothing.
---
The area
This part of the country is often left off the major itineraries but I think it's so underrated, there's plenty to do nearby to fill your trip with adventures.
The Waitaki District refers to a slice of land that stretches from the east coast through to the Southern Alps, encompassing southern Canterbury and the northeast corner of Otago. Some of the major towns that you'll probably recognise are Omarama, Oamaru and Moeraki.
Omarama's two major claims to fame are the Instagrammable Omarama Hot Tubs (be sure to book in advance), and the natural phenomenon of the Clay Cliffs, made up of otherworldly rock formations ($5 cash entry per car).
Oamaru is my favourite small town in New Zealand, home to a weird and wonderful Steampunk Museum, world-class book and gift shops (Presence on Harbour is my top pick) and a penguin colony. There are some cute cafes in town and one of my favourite eateries in New Zealand, Riverstone Kitchen, is just 15 minutes north (45 mins from the treehouse).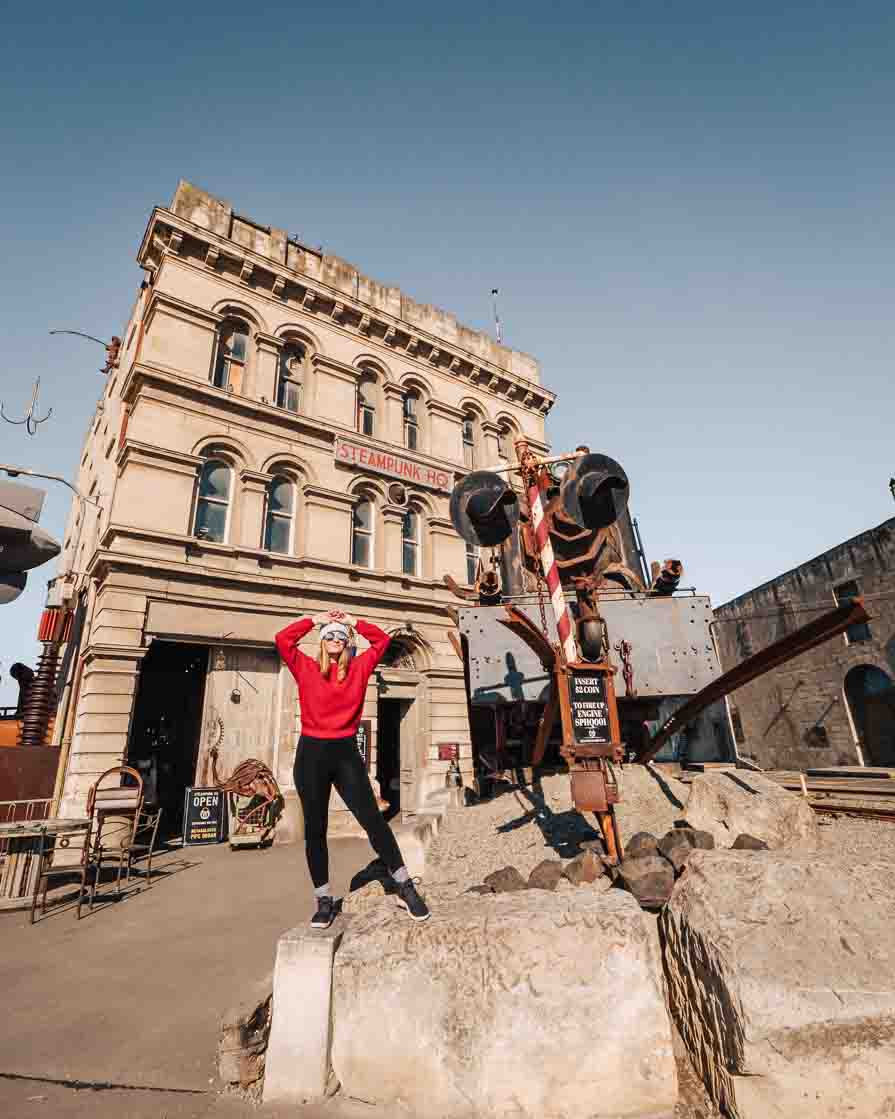 Moeraki is 1.5 hours south of Nest Treehouse but it's worth a visit for seafood fans just to tick off the famous restaurant Fleur's Place, or you could swing up to the Mackenzie Country to try some of the many things to do in Tekapo.
Cyclists also might like to try out the Alps 2 Ocean bike path, a multi-day trail that runs through Waitaki Valley from Oamaru to Aoraki Mount Cook Village.
---
The verdict on Nest Treehouse
Pure magic. This is exactly the type of accommodation I adore, simple yet stunning, providing good views, a great night's sleep, and opportunities to rest and relax. The fact that it's Instagrammable from literally every angle doesn't hurt either!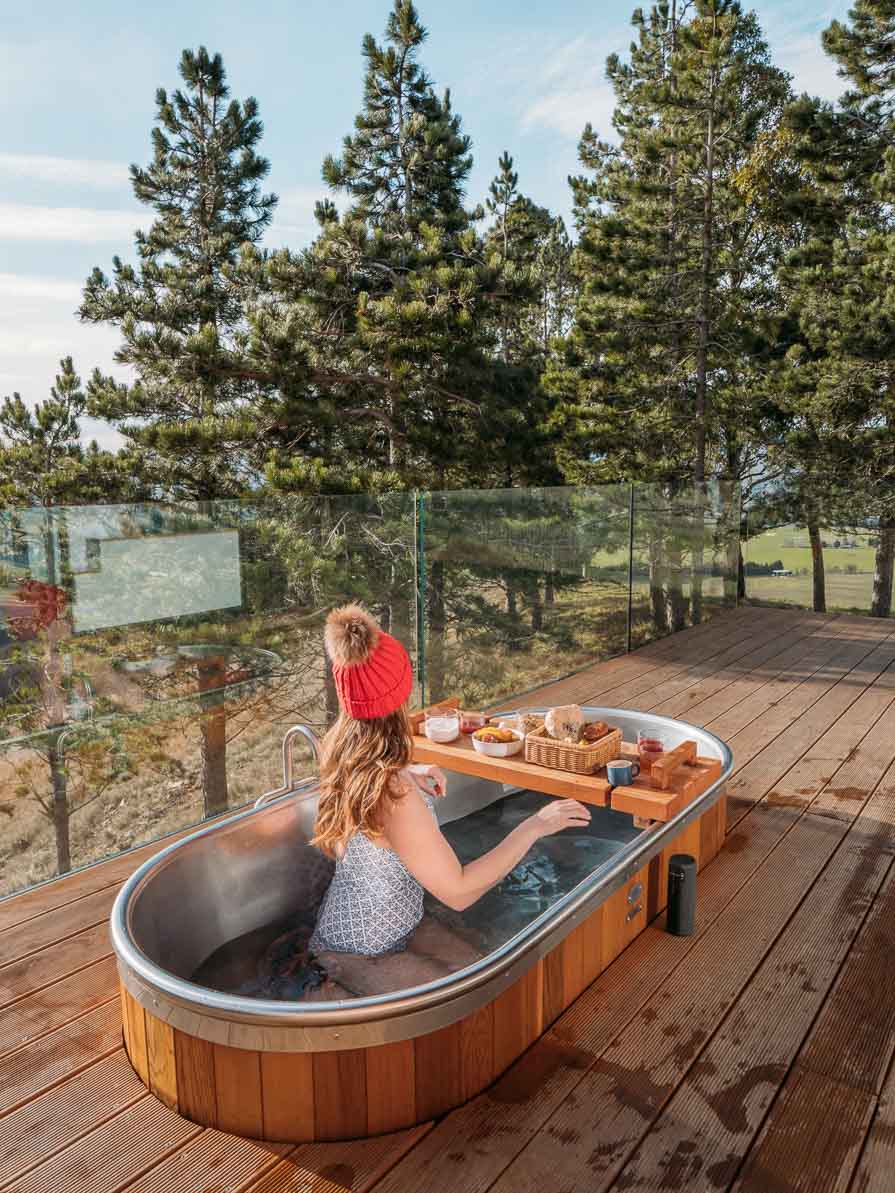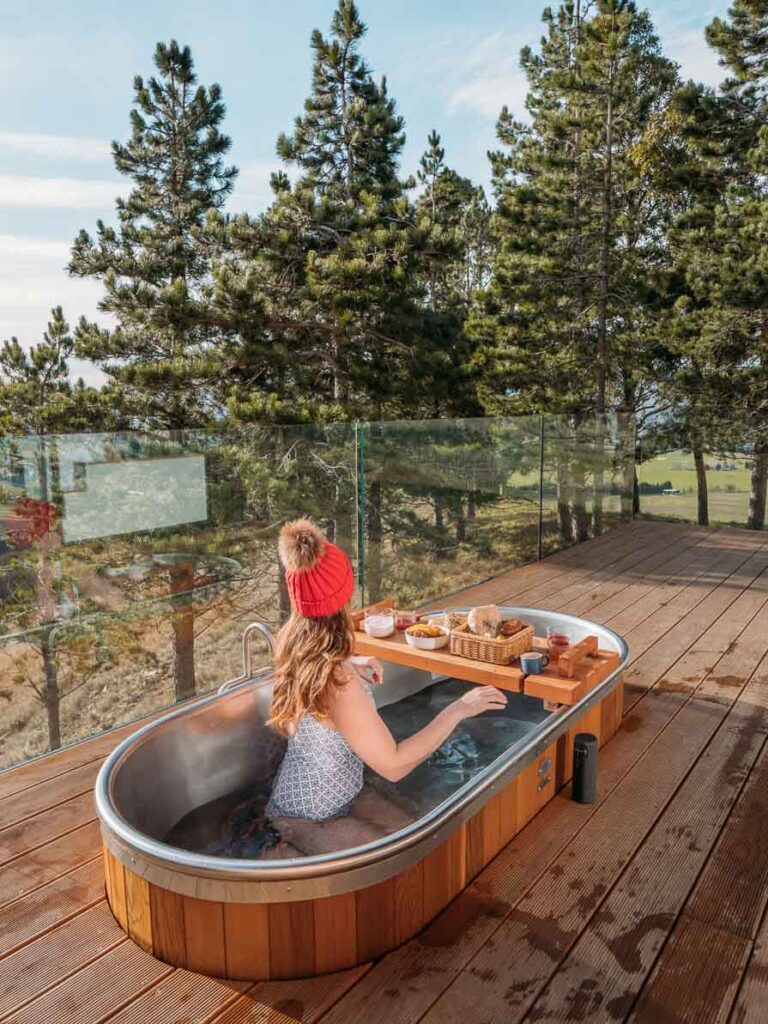 ---
Book your stay at Nest Treehouse
Nest Treehouse starts at $490 per night and you can book it here on their website.
---
I hope this review has helped you decide whether to pay Nest Treehouse a visit! If you have any questions about the destination or things to do in the area just let me know in the comments and I'll get back to you. Safe travels!
---
Read more about New Zealand
---
Like this blog? Pin it!
I was kindly hosted by Nest Treehouse but as always all opinions are my own and are 100% based on my personal experience.