New Zealand's scenery is simply legendary, particularly the dramatic landscapes in the South Island, but the bright turquoise Lake Tekapo set against a backdrop of snow-dusted peaks is perhaps one of the best outlooks in the country.
Located half-way between Queenstown and Christchurch, Tekapo is a worthwhile addition to any South Island road trip, and there's loads of fun things to do in Tekapo to warrant at least an overnight stay. I visited for the first time in August 2020, and have already been back twice since then!
RELATED READ: The Ultimate New Zealand Bucket List
Adventurers will love exploring the Mackenzie backcountry, there are hikes and hot pools for anyone looking to get active and then relax, and the stargazing here is near unbeatable.
Read on to see all the best things to do in Tekapo to add to your South Island itinerary.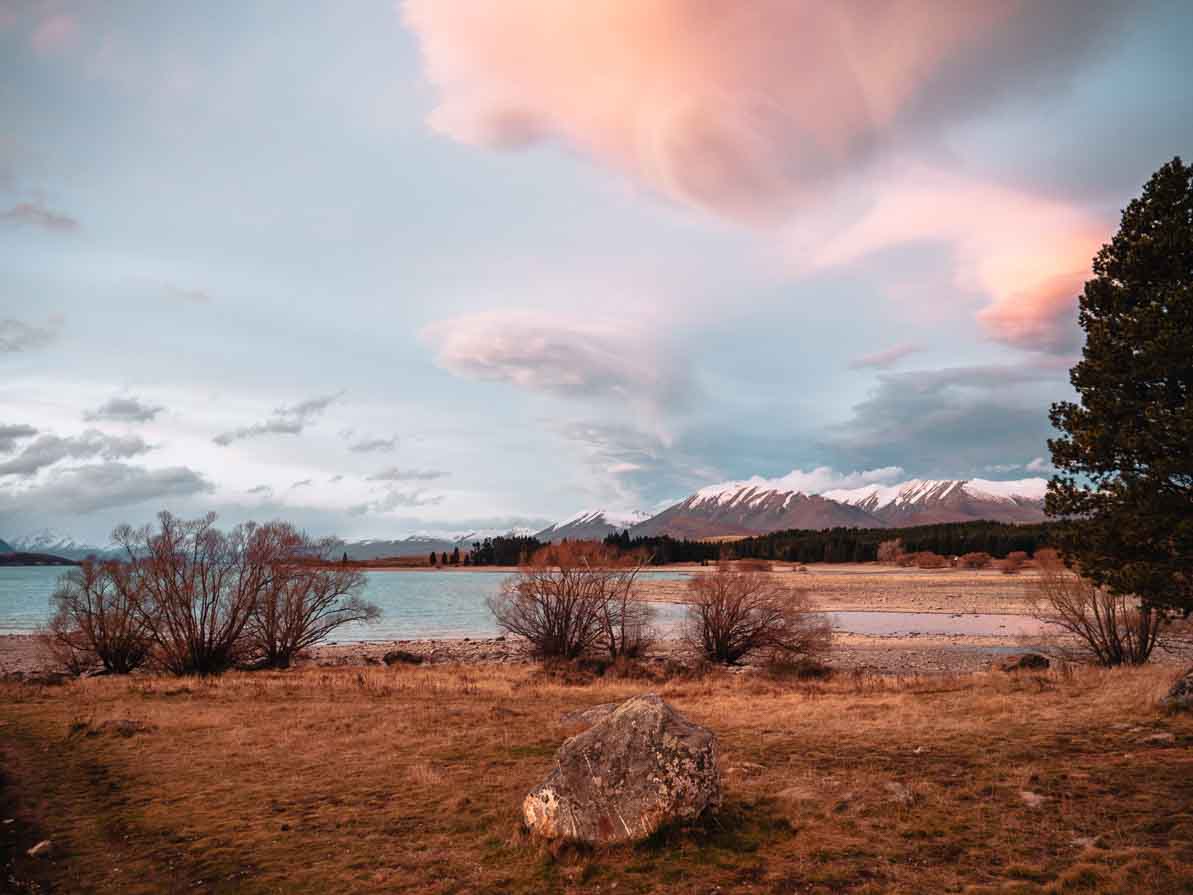 Things to do in Tekapo
See the crazy bright blue water in the lake
Lake Tekapo's turquoise water is a result of glaciers grinding rocks down to a fine powder, which is suspended in the water, giving it a milky blue colour.
I know these photos look overly edited but that's truly just the colour of the lake! You've got to see it with your own eyes to believe it.
Cost: Free!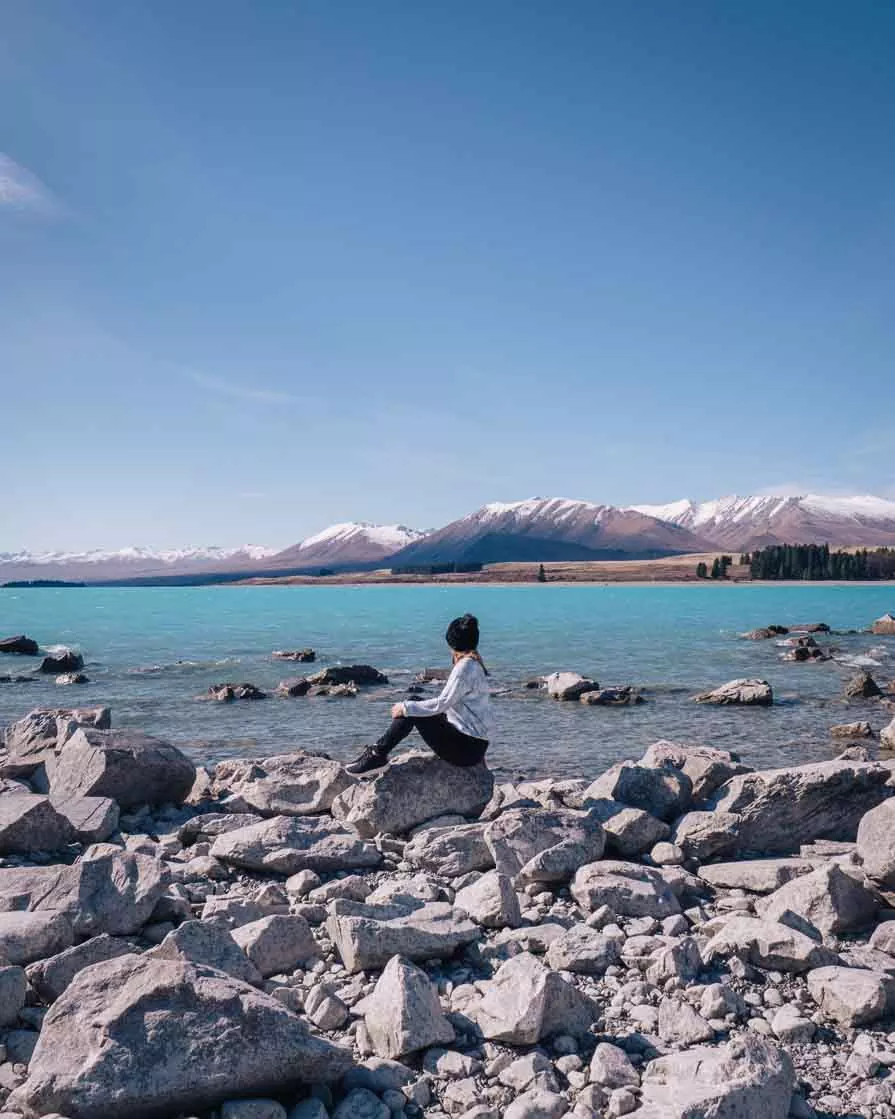 ---
Hike up to the Mt John viewpoint
360 degree panorama views await! Take a 1.5-2 hour return hike from the Tekapo Springs carpark up to to Mt John viewing platform, or drive up to the observatory and do the 30 minute summit track.
For more serious hikers you could also consider the 13km Richmond Trail along the eastern side of the lake.
Cost: Free!
---
Go stargazing
Tekapo is located within the 4,300 kilometre Aoraki Mackenzie International Dark Sky Reserve, meaning there's minimal light pollution and often ideal conditions for seeing the night sky.
If you head outside on a clear night you'll be blown away by the bright stars sparkling up above. Just magic!
And if you're keen to get a proper stargazing experience complete with a mini astronomy lesson, seeing celestial objects through a telescope and even getting a long exposure photo of you and your travel buddies under the stars, I highly recommend booking a trip with the legends at Chameleon Stargazing.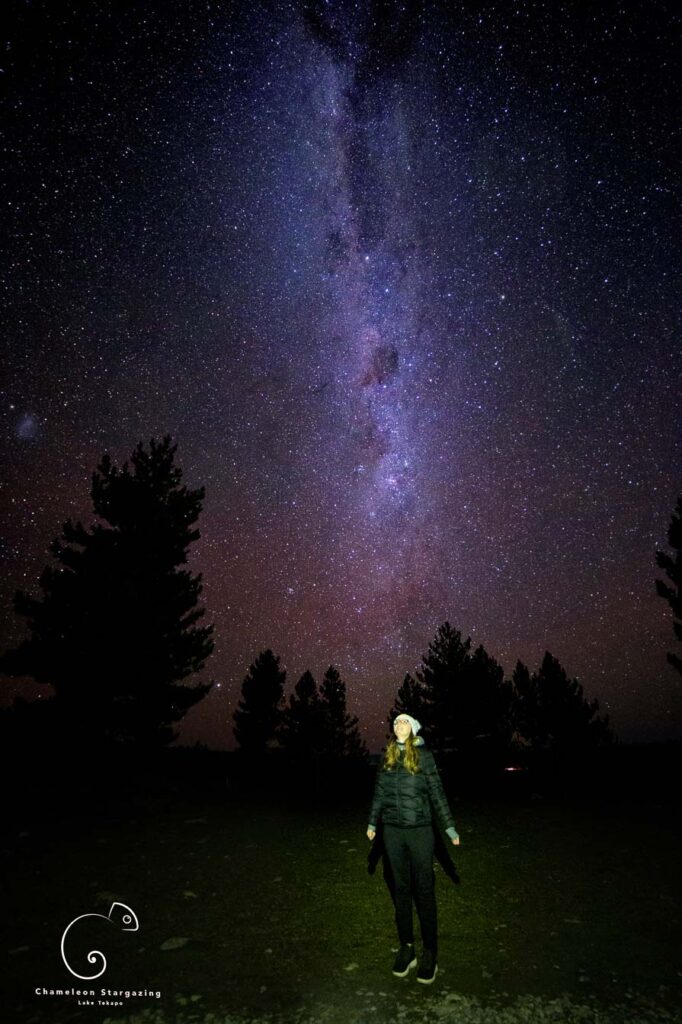 Their stargazing base is just outside of town but there's absolutely no light pollution, giving you the best chance of experiencing Tekapo's famous night sky. The session is about 90 minutes long, with 30 minutes of education about the stars, 30 minutes using the telescope and then 30 minutes of free time for questions, photos etc. You'll want to wear warm clothes obviously but they provide you with blankets, hot chocolate and marshmallows to toast over a fire.
If you're in a group and want a private tour they offer them from only $230 per group, and they can even bring the telescope to your accommodation for an at-home session.
Cost: Free if you just head outside haha but paid tours start from just $55 per person with Chameleon Stargazing, they're the best value stargazing tours in Tekapo!
PRO TIP: Be sure to take warm clothes if you're planning on standing outside at night, Tekapo has an alpine climate and temperature can change quickly.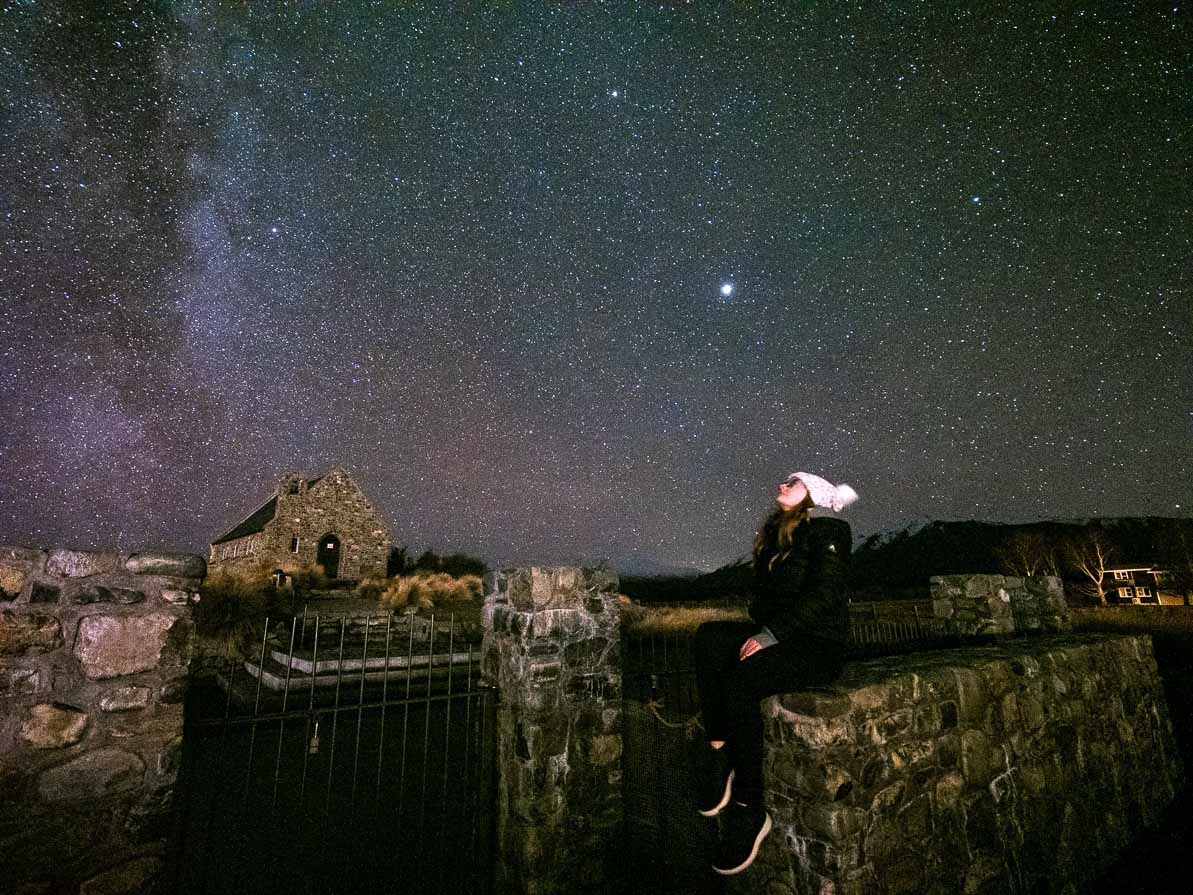 ---
Visit the observatory
If a bit of mountaintop stargazing tickles your fancy, book a Mt John Observatory stargazing experience with the Dark Sky Project. Your ticket gets you a 105-minute session learning about the stars and viewing through an astro telescope.
Cost: $149 for adults, $85 for kids
---
Relax in the hot springs
Our arrival in Tekapo came after a nightmare of a travel day, driving seven hours from Glenorchy to Christchurch with a hole in our ceiling after a campervan mishap. 0/10 would not recommend doing the same.
And let me tell you, walking into the steamy 38° adults-only hot pool at Tekapo Springs overlooking Lake Tekapo was a DREAM. I could basically feel the stress and tension dissipate from my body. This is one of my favourite things to do in Tekapo!
When we were there we got an added bonus in the form of snowfall while we were in the hot pools, which was something to tick off the New Zealand bucket list.
The cafe at Tekapo Springs is worth a stop too, they stock the famous Fairlie Pies and when we went they had a brilliant range of fancy hot chocolates.
Cost: $27 for a one-day pass, $43 for a two-day pass (or $15/$24 for kids aged 3-15)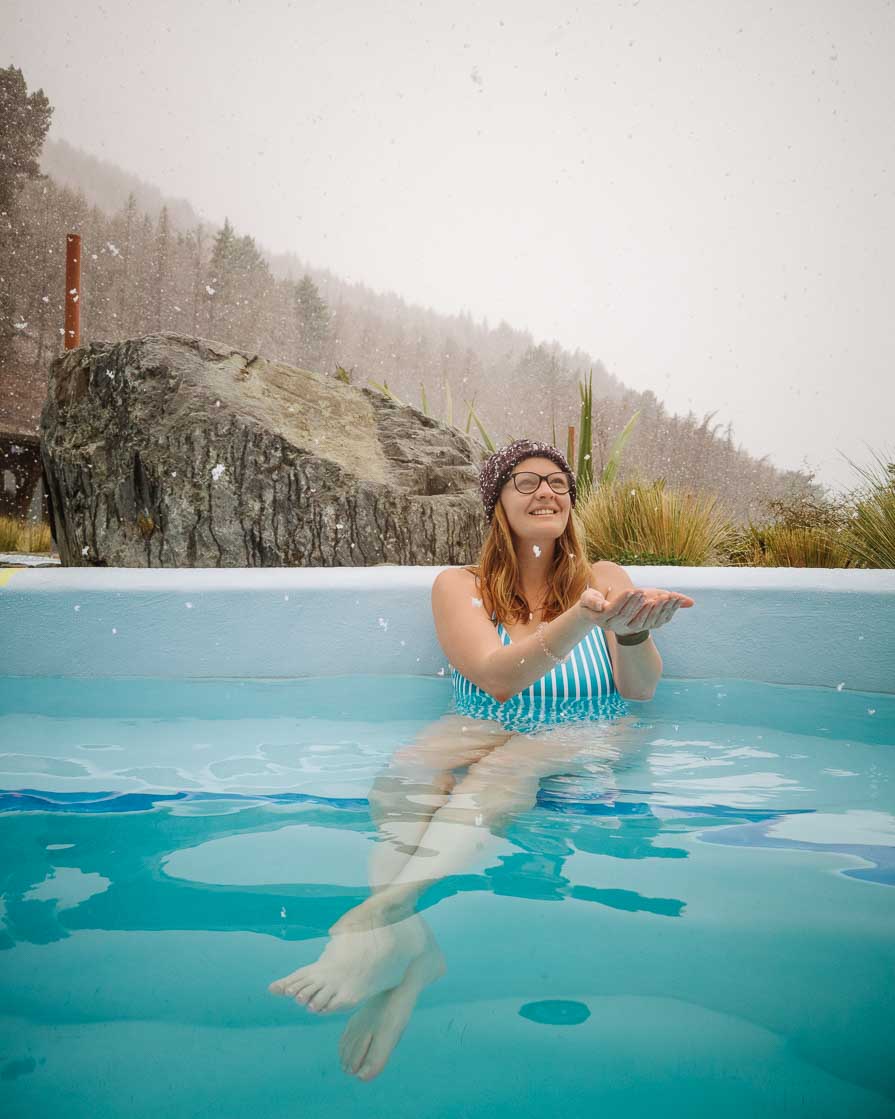 ---
Stargaze while soaking in the hot springs
You can actually combine two of Tekapo's best activities by booking a tour with Tekapo Stargazing.
These guys run stargazing sessions up at the Tekapo Springs complex, with astronomy experts showing you the stars and planets through a telescope for an hour, and then the next hour spent listening to local stories and Maori legends about the night sky while you soak in the hot pools.
You'll get a robe and towel included in the ticket price too so you can stay warm as you make your way from the hot pool back to the changing room.
Cost: Normally $149 but currently on special for $99
---
Do an astrophotography tour
If you're a keen photographer and you want the best chance of capturing an epic nightscape or timelapse, book an astrophotography tour with Silver River Stargazing.
I had actually planned our entire South Island itinerary around this tour and was so looking forward to getting some jaw-dropping Milky Way shots but due to campervan issues we had to change up our plans, and ended up missing out. But this is number one on my 2021 New Zealand travel plans!
Cost: $199
---
See the Church of the Good Shepherd
Said to be the most photographed church in New Zealand, the Church of the Good Shepherd is perched right on Lake Tekapo's rocky shores.
It was built back in the 1930s to honour the farming families who braved the Mackenzie Country's harsh conditions and pioneered the South Island agricultural industry.
You can visit the church grounds daily from 8am to 8pm, and there are church services at 4pm on Sunday. You can also book a tour inside the church for $10 per person by prior arrangement.
Cost: Free to visit church grounds
---
Go skiing in winter
You don't have to go all the way to Queenstown for a day on the slopes, staying in Lake Tekapo gives you easy access to three smaller (and cheaper, and less busy!) ski fields.
Round Hill is the closest, just half an hour away, and has a good range of runs for beginners through to advanced. Mt Dobson is a bit further, a 44km drive, and has wide open runs with a huge learners' area. Ohau Snow Field is just over 100km away and is best for intermediates, with two terrain parks as well.
Cost: Varies per skifield
YOU MIGHT ALSO LIKE: 22 of the Best Places to Visit in the South Island of New Zealand
---
See the lupins in summer
If you think Tekapo couldn't get any prettier, wait until you see the lake bordered by thousands of pink and purple lupins at the beginning of summer.
Lupins are actually an introduced plant species that is considered invasive, and they spread rampantly across riverbeds and shores in the Canterbury region. BUT because they bring a significant amount of tourism to Tekapo, they are generally left to their own devices in this part of the country.
Cost: Free
PRO-TIP: The lupins are best seen from mid-November to mid-January.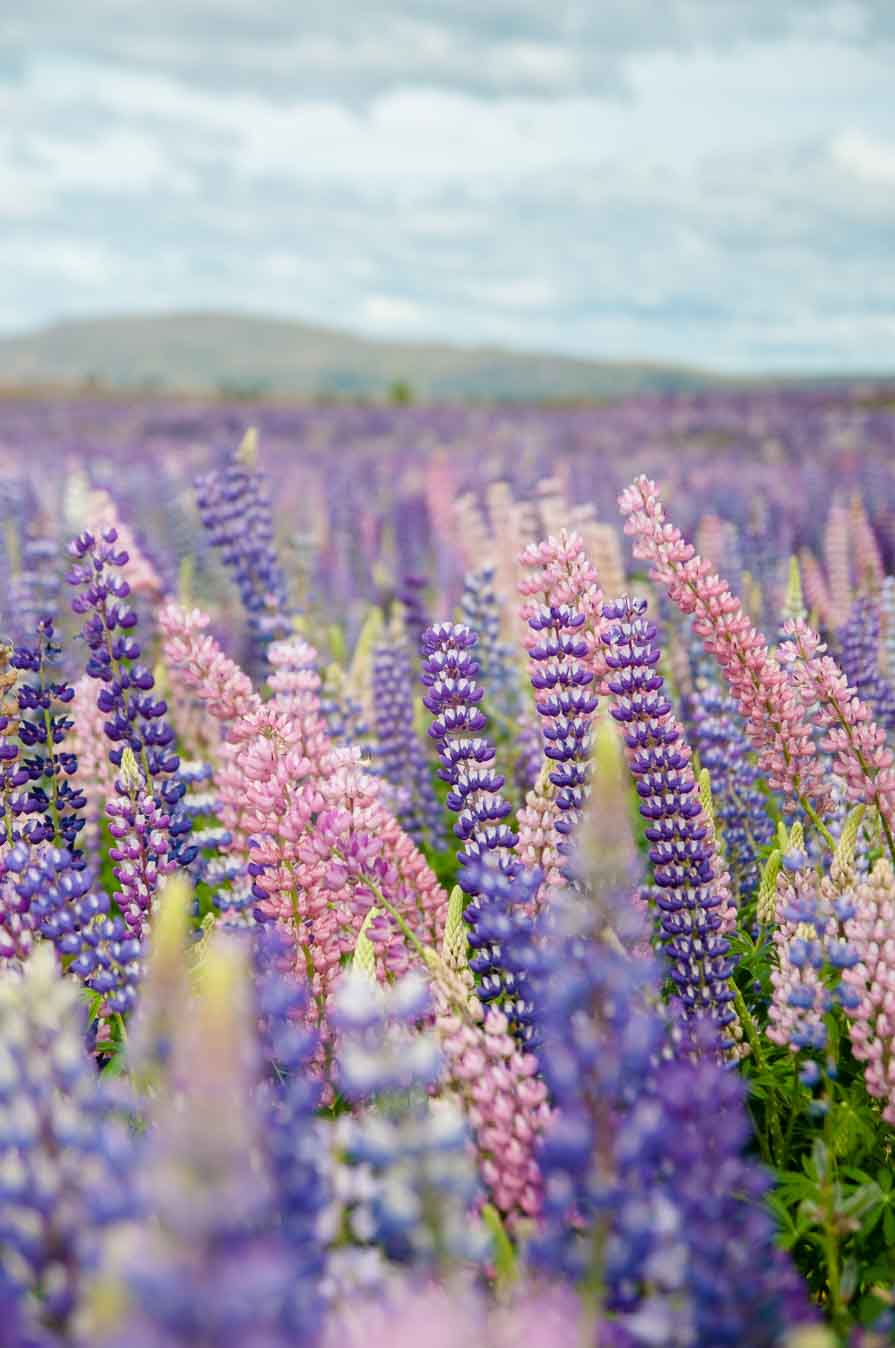 ---
Visit Lake Alexandrina
A lesser known lake in the Mackenzie Country, Lake Alexandrina is less than a 15 minute (very picturesque) drive.
There are a number of walking tracks here too so bring your activewear!
Cost: Free
---
Do a scenic flight
This one's a bit of a splurge but if you can afford it, I guarantee you won't be disappointed. There's a range of scenic flight options from Tekapo's premier pilots at Air Safaris, from short Lake Tekapo flyovers to epic adventures that take you all the way to Fox and Franz Josef Glacier on the West Coast.
The flights currently have brilliant specials on as well so if you're tossing it up, there's never been a better time to do one.
Cost: From $149 for a 15 minute helicopter ride or $395 for the Grand Traverse 50 minute over Aoraki Mt Cook and the West Coast
---
Go horse trekking
Get amongst the Mackenzie backcountry on horseback with Mackenzie Alpine Horse Trekking. Whether you're a first-timer or an experienced rider there's a trek option to suit your needs, from 30 minute forest rides to 3.5 hour journeys around Mt John to all the best photo spots.
You'll need to book a tour in advance for this one as the team at MAHT are currently running on a reduced schedule due to borders being closed.
Cost: Ranges from $55 to $199 per person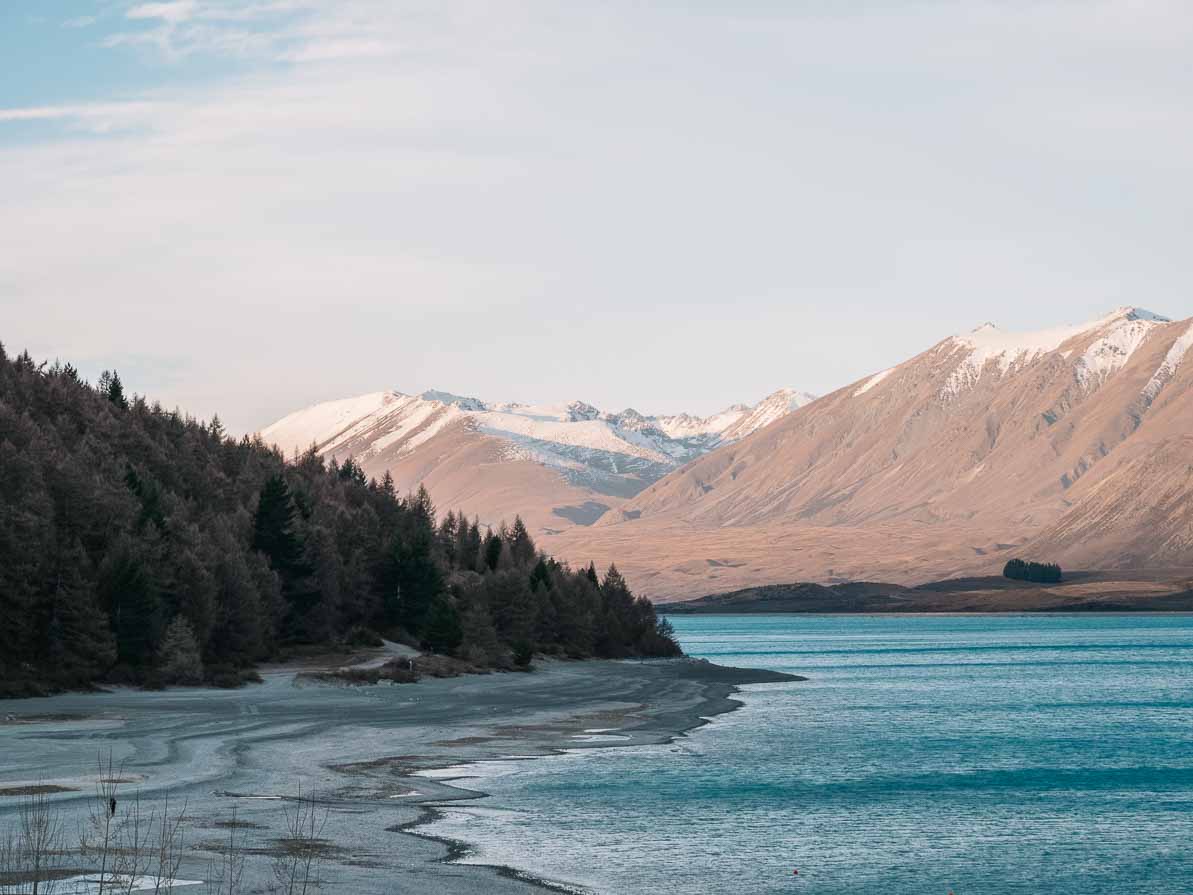 ---
Go jetboating
Wrap up in something warm and hit this glacial lake in a jet boat! You'll get all the best views right from the water, learn about the geography and history of Lake Tekapo, and enjoy some crazy spins that'll get your heart pumping.
Tekapo Jet has been closed all year and will reopen in December for summer so lock in your trip and support a small local business.
Cost: $95 per person
---
Do a farm tour
Ideal for families with little ones, Lake Tekapo Farm Tours run authentic Kiwi experiences on two working high country farms.
Go off-roading between photo stops, historic huts and even bee hives, saying hi to sheep, pigs, alpacas and horses on the way.
Cost: $69 for adults or $55 for kids
---
Ride along the Alps2Ocean bike trail
Considered one of Aotearoa's 22 Great Rides, the Alps2Ocean cycle trail is one of the best things to do in Tekapo for cyclists or active adventurers.
The entire trail will take 4-6 days but there are 9 sections between easy and intermediate grade if you're looking to just ride for a day.
You can rent bikes or e-bikes from BeSpoke Bike Hire.
Cost: Rental starts from $15 an hour for a bike or $60 for half day use of an e-bike
---
Get off the beaten track with a 4WD tour
Tekapo Adventures run epic scenic tours through Mackenzie Country's high country stations in their fancy Land Rover Defenders, and I was lucky enough to try one out for myself on my third visit to Tekapo.
Drive over tussock-covered plains and rocky riverbeds flanked by a stretch of mountains that never ends, while learning all about farming culture and the landscapes that make Tekapo so popular.
They offer different tours depending on the season and weather conditions, I did the Cass Valley tour in August 2021 and it was brilliant. We ventured deep into Glenmore Station, past thousands of merino sheep, through alpine streams and past tarns with picture perfect reflections. Such a unique way to experience rural New Zealand and definitely a Tekapo must-do.
---
Take a day trip
If you've ticked off all of these things to do in Tekapo (well done if you have!) and you want to explore a bit beyond, there's a bunch of day trip options if you have your own transport.
Head to Omarama to visit the otherworldly Clay Cliffs ($5 cash payment on entry), drive to Aoraki Mt Cook Village in an hour and 15 minutes to see New Zealand's tallest mountain and hike the Hooker Valley or Tasman Glacier track, or check out the nearby Lake Pukaki, Lake Ohau or Twizel.
---
The best Lake Tekapo accommodation
If you're looking for where to stay in Tekapo you can see all the options on booking.com or Airbnb, and here are a few of my top suggestions.
For campervans: We parked up our Jucy Green Machine at Lake Tekapo Motels & Holiday Park. They've got campsites and cabins available right across the road from the lake and just a short walk to the hot springs! Decent facilities and an ideal location.
On a budget: The YHA Lake Tekapo is one of the best-rated backpacker hostels in the country, with a 9.3 score on booking.com from more than 1,200 reviews. They've got both dorm rooms and private rooms, located smack bang in the middle of Tekapo Village, and they have two shared kitchens and common areas.
Best value: Three Rivers Lodge is on the other side of the bridge, and they have comfy rooms with great views for a good price.
Somewhere fancy: If you're happy to spend a bit more for somewhere luxurious just a short walk from town, the Alpine Lodges at The Cairns golf course are brilliant. Our two bedroom lodge had super comfy beds, a full kitchen, fire place and huge outdoor deck. They also have an early 1900s homestead, a funky little red farm hut for two, and a cottage with two bedrooms plus a loft with two single beds, as well as an on-site petting zoo with alpacas, sheep and a kunekune pig!
For a group: There are loads of rental homes and Airbnbs in Tekapo if you're travelling as a family or in a group of friends. The Black House is one on my wishlist, a three bedroom holiday home with a lush outdoor bath, and a 4.9 ratings on Airbnb!
There's also this Alpine Lodge for up to 8 people, or the charming Aldourie Lodge just across the road from the Church of the Good Shepherd.
Freedom camping: Freedom camping (camping on a public road in a self-contained vehicle) isn't allowed in Tekapo township but there is a designated camping spot at Edwards Stream along State Highway 8 just before you reach Tekapo.
TRAVEL TIP: Download the Rankers app on iPhone or Android to find all of New Zealand's designated freedom camping spots, DOC campsites and holiday parks.
Somewhere unique: For a semi-self-contained glamping experience with insane views and an outdoor bath, Skyscape in Twizel (45 mins from Tekapo) is one for the bucket list. This glass pod offers unbeatable stargazing views from the comfort of your bed!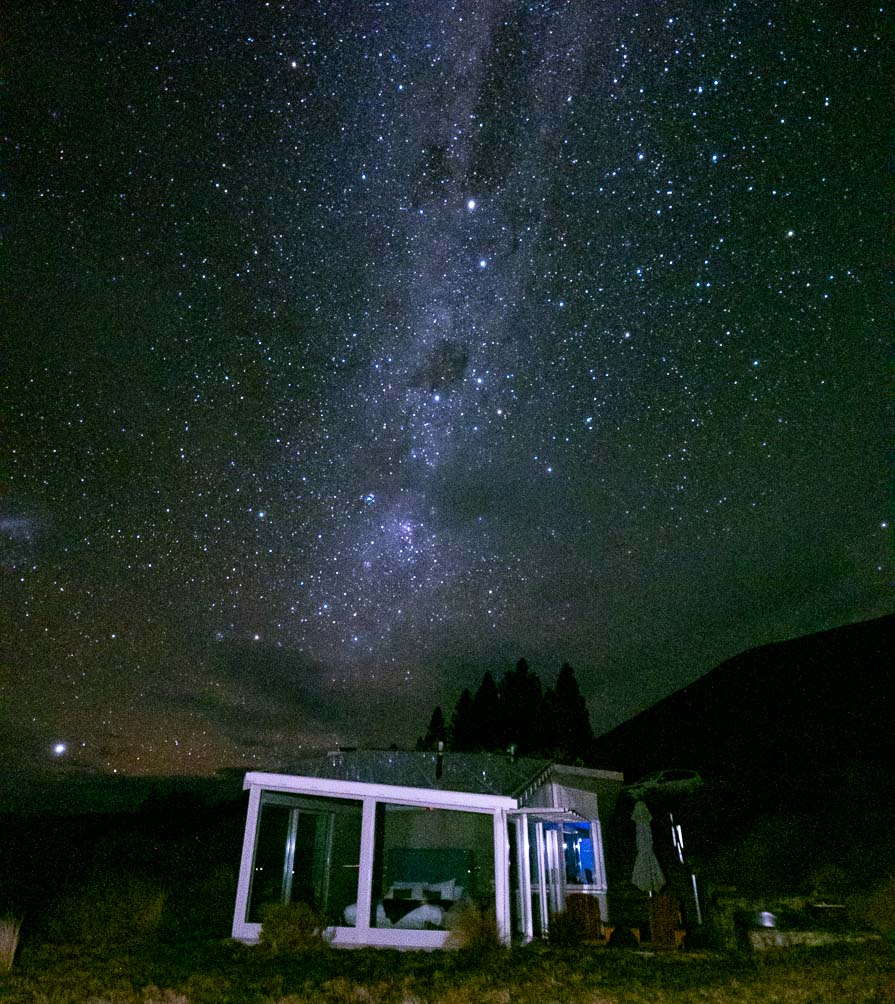 ---
Thanks for reading, I hope this has given you some helpful ideas about epic things to do in Tekapo! If you think I've missed something important then let me know in the comments so I can add it to the list.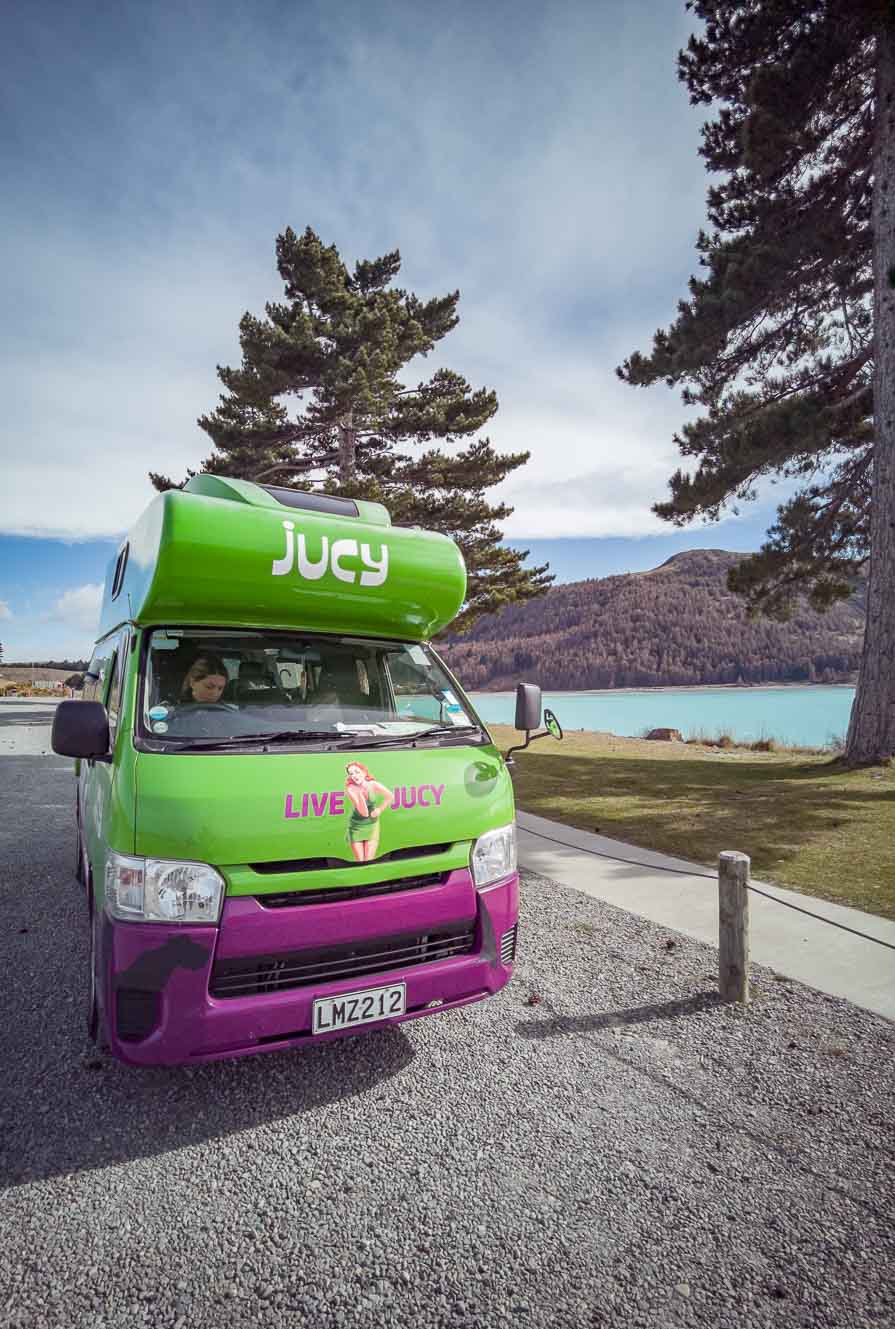 RELATED READS:
Like this blog? Pin it!
Big thanks to Lake Tekapo Motels & Holiday Parks and Tekapo Stargazing for hosting me on my Tekapo adventure. As always, all opinions are my own and are based on my personal experience.