Step aside Queenstown, there are plenty of epic things to do in Franz Josef Glacier for adventurers that make it (and the rest of the West Coast) somewhere worth adding to your New Zealand bucket list.
Franz Josef Glacier is one of the most unique places to visit in the South Island, with a range of epic things to do and see depending on your travel style. Get your heart racing with a thrilling quad bike tour, hike through ice caves on an actual glacier or soak all your stress away with a hot pool session. Or better yet, do all three!
The glacier itself is one of the most accessible in the world, able to be viewed for free with a short walk off the main highway, or if you've got the money you can explore the glacier's icy landscape by foot with a heli-hike.
Throw in a second glacier nearby (Fox Glacier), views of New Zealand's highest mountain (Aoraki Mount Cook) and a short drive to the wild West Coast beaches, and you've got the makings of a dream destination for tourists to explore.
Read on for some of the best things to do in Franz Josef Glacier, how to get there and where to stay when you're there.
Real talk: Franz Josef Glacier has been one of the hardest-hit tourist destinations in New Zealand. The town is heavily reliant on tourism and for obvious reasons, they've seen a massive decline in visitor numbers in the past year.

If you're considering visiting Franz Josef Glacier, which I assume you are if you're reading this, please book a trip there and support some local businesses. They really need the help right now!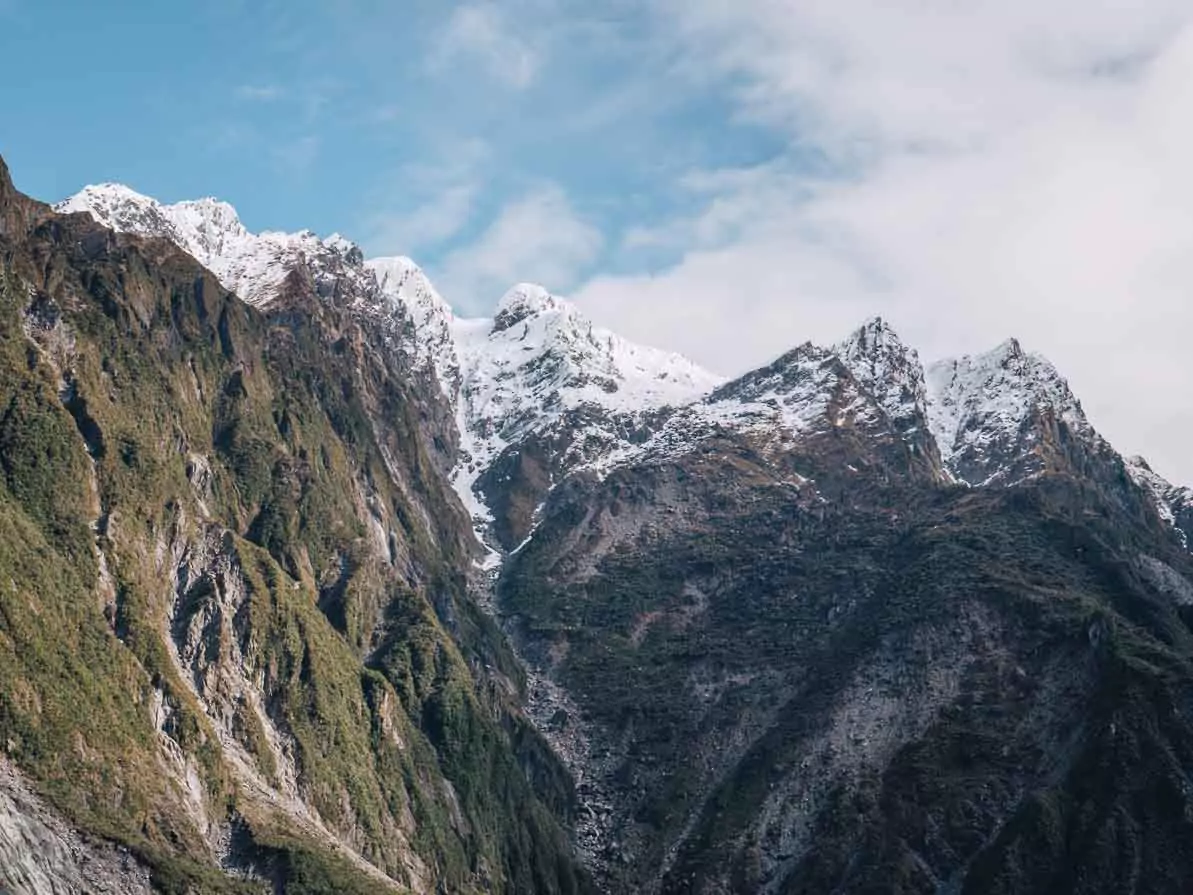 ---
Things to do in Franz Josef Glacier
Do a heli hike to the glacier
There's no other way to start a "things to do in Franz Josef Glacier" list than with the heli hike, the region's most famous and most epic activity.
Meet the Glacier Guides crew at their base in town and you'll get decked out in warm, comfy, glacier-friendly gear, complete with boots, crampons and walking poles. Then you'll wander down to the helipad and cross your fingers for the front seat or window seat to get the best photos!
The journey onto the glacier is literally incredible in itself, hovering past sky-high waterfalls and snowcapped peaks, and that's only the beginning of your adventure. Once you step onto the ice you'll learn about safety precautions, get comfortable walking in your crampons, and start exploring with your guide.
Squeeze through icy crevasses, climb into ice caves and listen out for ice falls further up the glacier (where the tours go it's basically flat so there's minimal risk of any damaging falls).
It's tough on your legs and you'll come home with a newfound appreciation for flat ground, but it's one of the coolest things I've ever done in all my travels.
Heli-hikes aren't cheap, the usual price is $485 ($455 for kids up to 16) which includes around two hours on the ice. You can book it here on Viator.
HOWEVER you can sometimes get a last minute deal on bookme.co.nz, a New Zealand travel website with loads of discounted tourism experiences. We booked ours a few days before our trip and managed to get it for $110 off, meaning it was $375 each. They also have deals on loads of other things in this list so click the link below and bookmark it for future use!
Check out all the current Franz Josef deals on Bookme.co.nz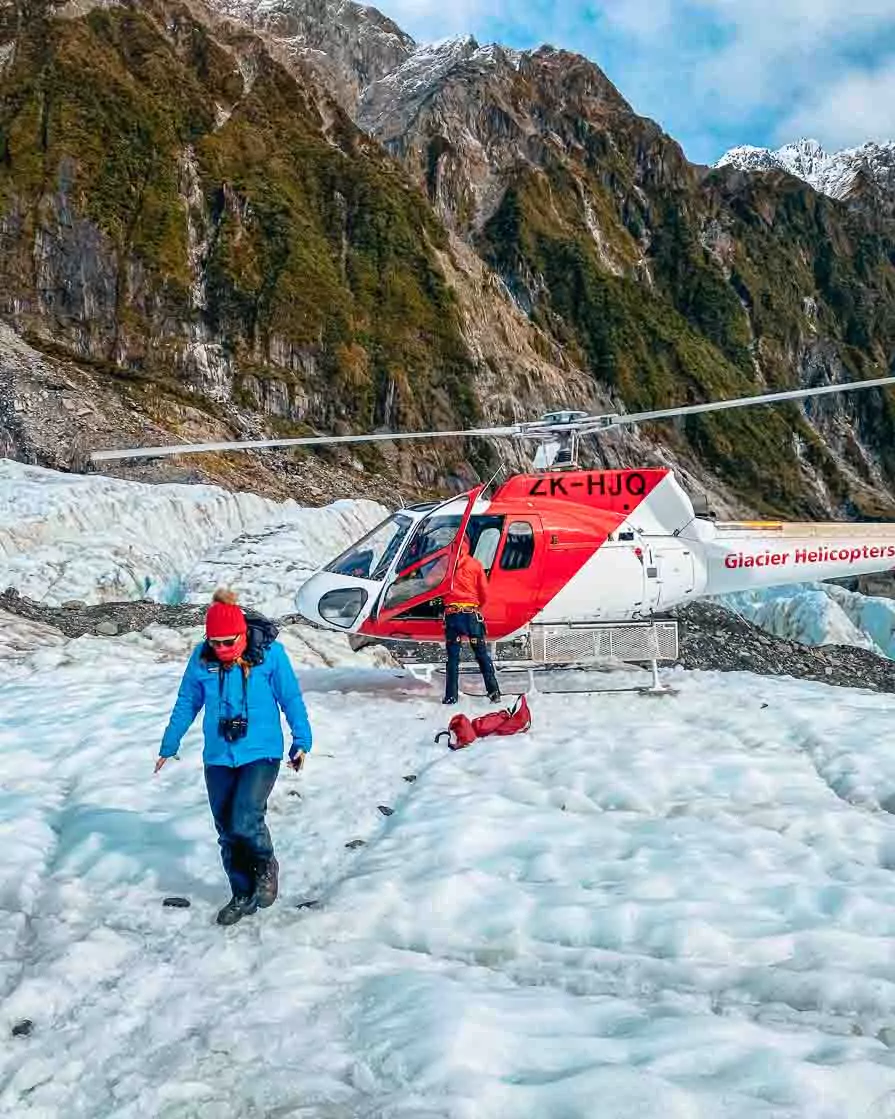 Hike to the glacier viewpoint
If you don't want to spend hundreds of dollars seeing the glacier, you can do an easy 1.5 hour round trip walk to the viewpoint where you'll be able to see and take photos of the glacier.
The glacier has receded a lot in the past 20 years so the viewpoint used to be much closer but it's still a better view than from the road.
Soak in the hot pools
The Franz Josef Glacier hot pools were closed last year when I visited (due to COVID) but they've now come back to life and are open Friday to Monday from 2.30pm to 8.30pm.
Rest and recharge amongst lush rainforest, the ideal end to a busy day full of Franz Josef activities. The main pool ticket costs $29 each adult or you can book a private pool for two people for $99.
Skydive over the glacier and mountains
You can skydive in a number of places around New Zealand but is there anything cooler than skydiving over two glaciers? I don't think so!
You can choose from a 9000, 13500 or 16500 skydive, or go all out and book the highest skydive available in New Zealand, the 20,000 Kea Jump with a whopping 85 second freefall. Insane!
Book the skydive on Get Your Guide or check bookme.co.nz to see if there are any deals for your travel dates.
Take a scenic flight
Franz Josef Village is surrounded by spectacular scenic beauty, with Westland Tai Poutini National Park and Aoraki Mount Cook in the background, and there's no better way to see it than from the sky.
There are a bunch of different helicopter tour options available depending on your budget.
This Grand Tour with HeliServices NZ is at the upper end in terms of budget but you'll get to see both glaciers plus Tasman Glacier, Aoraki and Mount Tasman, and they've got the only permit to land on the snow inside Westland Tai Poutini National Park.
If you prefer the idea of a fixed-wing aircraft, this Grand Traverse plane tour does a similar route without a snow landing.
For a cheaper helicopter option (starting from around $280) you could do a flight that takes you over Franz Josef Glacier and gives you a snow landing in a different spot.
And I know I'm sounding like a broken record now but check bookme.co.nz for scenic flight deals, they often have at least 20% off!
See Fox Glacier
Though Franz Josef Glacier tends to hog the spotlight, neighbouring Fox Glacier is equally as impressive and just a short drive away.
Franz Josef is steeper which means more ice movement, and apparently that results in more caves and crevasses made out of the famous blue ice.
Fox Glacier is more gradual however the photos I've seen look just as epic (and as blue!) as our experience on Franz Josef. Hopefully I'll be able to head there myself later this year so I can compare the two from my own personal experience.
You can see Fox Glacier from a few different easy walks, and Fox also has heli-hikes and helicopter tours available.
Say kia ora to the rarest kiwi at the West Coast Wildlife Centre
The West Coast Wildlife Centre is located right in the middle of Franz Josef Glacier Village, and it's one of the best things to do in Franz Josef on a rainy day.
Home to the rowi kiwi and the Haast tokoeka kiwi, both critically endangered, as well as the tuatara, the centre has partnered with the Department of Conservation to run a breeding and rearing facility.
You can either visit the centre on a self-guided ticket or book the VIP Backstage Pass to learn all about the centre's work from one of their wildlife rangers.
They're open 8.30am to 5pm every day of the year except Christmas, and you can book a skip-the-line ticket to avoid queues on weekends and in school holidays.
Spot a kiwi in the wild at Okarito
If you'd prefer to see a kiwi in the wild you won't have to go far, there's a bunch living in Okarito which is a quiet seaside village about 25 minutes' drive from Franz Josef.
Okarito Kiwi Tours, run by local guide Ian, can take you deep into kiwi habitat and help you spot some rare rowi kiwi in the wild. They have an 85% success rate at spotting the birds, and they're the only licensed kiwi tour in the South Island.
Spotting a wild kiwi is one of the most popular things to do on Stewart Island and it was a personal life highlight for me, so I'm keen to try my luck at kiwi spotting on the West Coast when I head back down!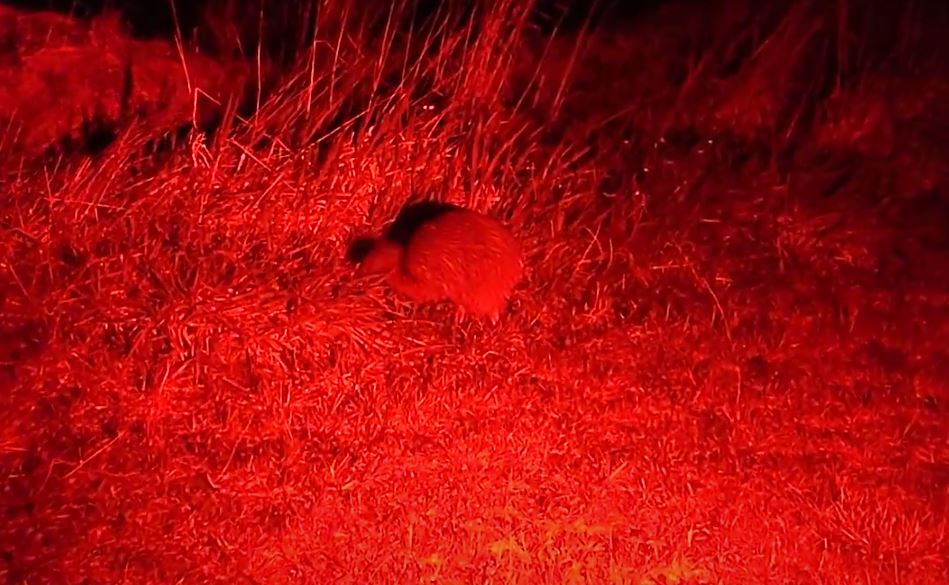 Go off-road with a quad bike tour
Race through glacial streams and over rocky riverbeds with an epic 2-hour ATV tour, one of the most thrilling Franz Josef activities.
Take in views of the rainforest, cloud-piercing mountains and even spot the glacier from below if you catch it on a clear day.
You'll get decked out in all the right gear (expect to get wet and dirty!), then head off for your adventure which will include some photo stops and a break to learn about the area.
And the good news is this trip is even more exciting when it's raining!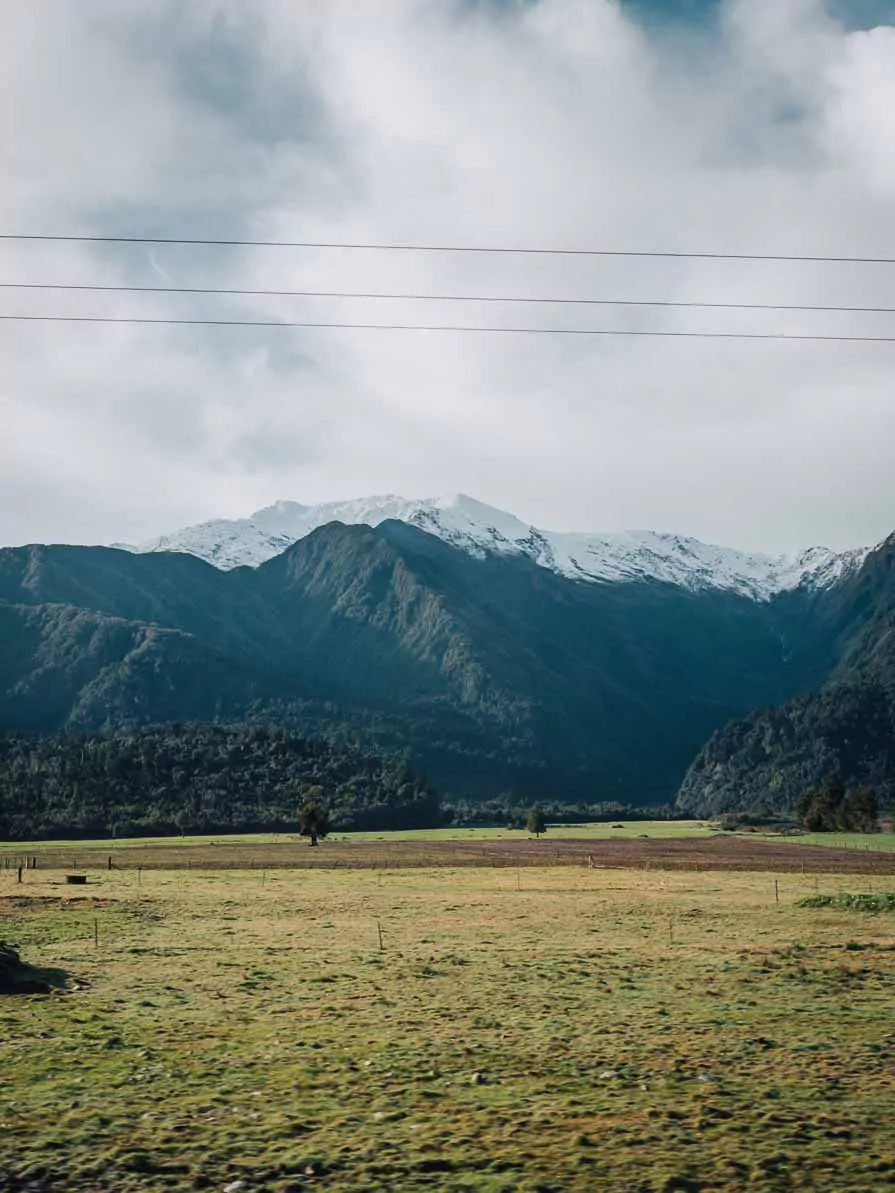 Kayak on Lake Mapourika
Paddle around the stunning Lake Mapourika on a guided kayak tour, and cross your fingers for a still day to see the perfect mirrored reflections of the Southern Alps.
Learn about the region's ecology and history from an expert local guide and keep an ear out for native bird song coming from the dense rainforest.
Book your kayak tour here.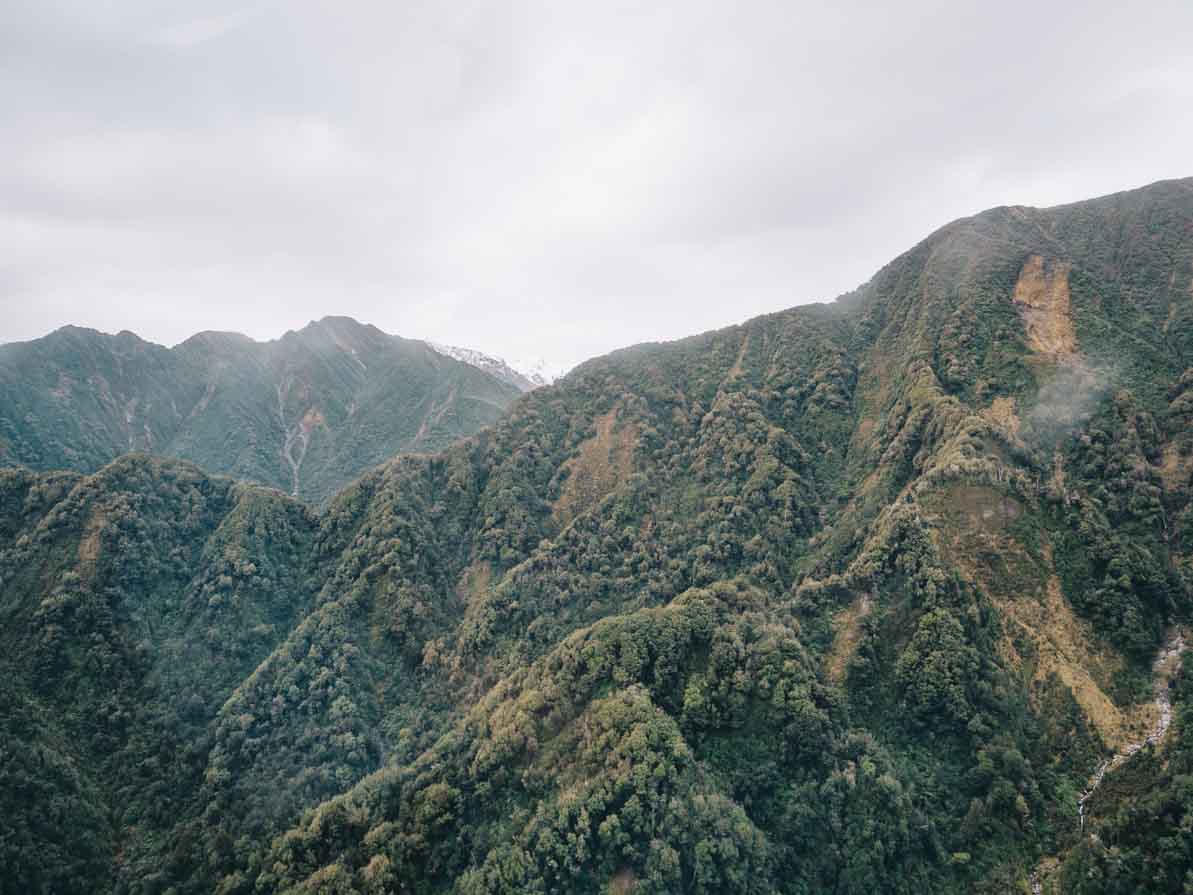 Do a scenic lake cruise
Or if you want to see the mountain and rainforest reflections without having to work out your arms, opt for a scenic cruise on Lake Mapourika instead.
The cruise is two hours and I guarantee the views will blow your mind.
Visit Lake Matheson
Another spot with postcard-like reflections is Lake Matheson, where you'll find Aoraki Mount Cook mirrored in the lake below on a clear day.
The walk around the lake is a 1.5 hour loop, or it'll take you about 15 minutes from the carpark to reach the photo spot if you just want to go there and back.
Take in the scenery with a horse trek
6km south of Fox Glacier township is Experience Fox Glacier Horse Trekking, with rides for both beginners and experienced riders.
The beginner ride is one hour down the beautiful Cook River Trail, or there are half day and full day options if you're more confident on horseback.
Recoup with a bevvie and hearty meal in town
After ticking off all those things to do in Franz Josef Glacier, you're going to deserve a decent meal and a beer! Luckily Franz Josef has a number of highly-rated restaurants and bars to try out at the end of a long day.
Monsoon and the Landing are both gastropub-style eateries, Snake Bite is known for top-notch Asian fusion with a great drinks list, and Blue Ice and Alice May are a bit fancier.
If you're looking for a Franz Josef brunch spot then check out Full of Beans, they've got an impressive menu as well as a bunch of cabinet options for lunch on the go, and be sure to try one of their huge milkshakes!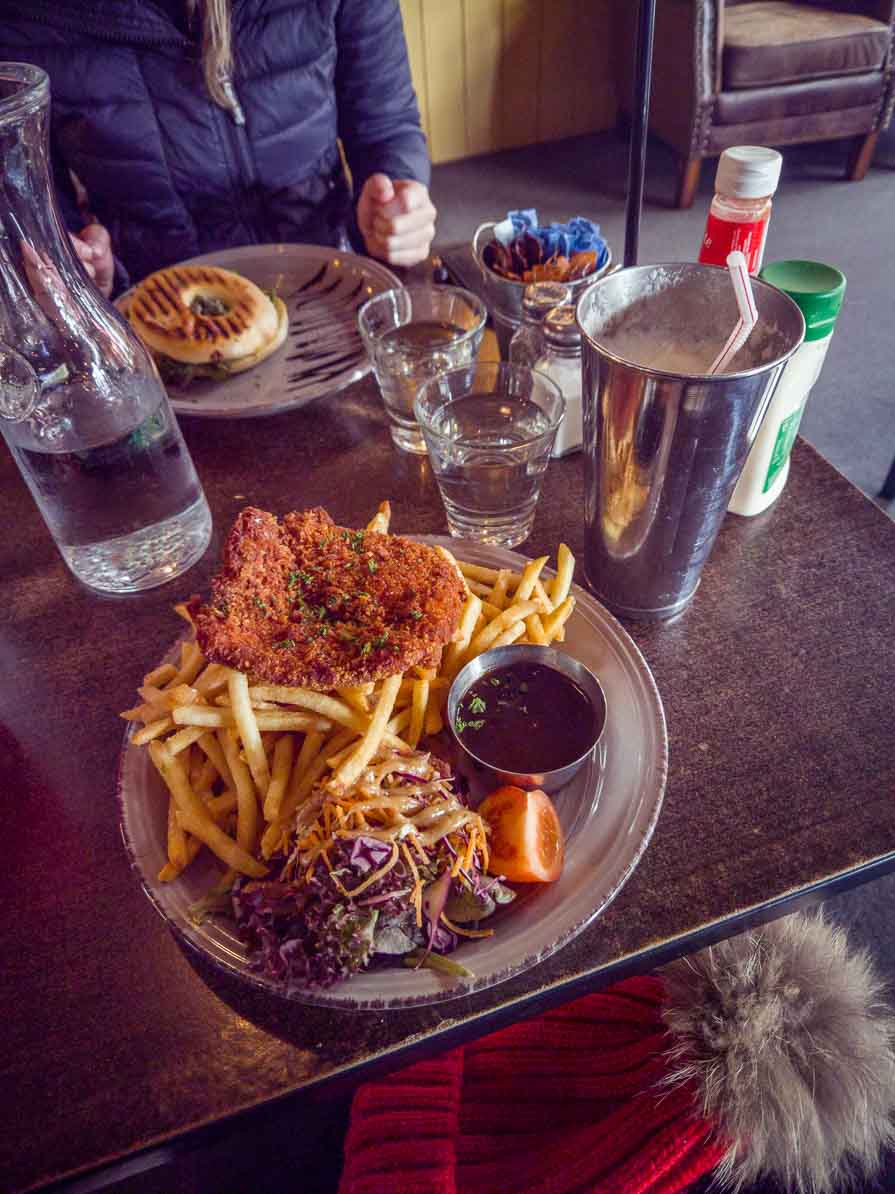 Road trip up or down the coast
If you've ticked off all these things to do in Franz Josef (well done!) then you could spend some time road tripping up or down the coast.
To the north you've got Okarito (25 mins), Ross Beach (1h 20m) and Hokitika (1h 40m) and to the south you've the striking Haast Pass just over 2.5 hours away.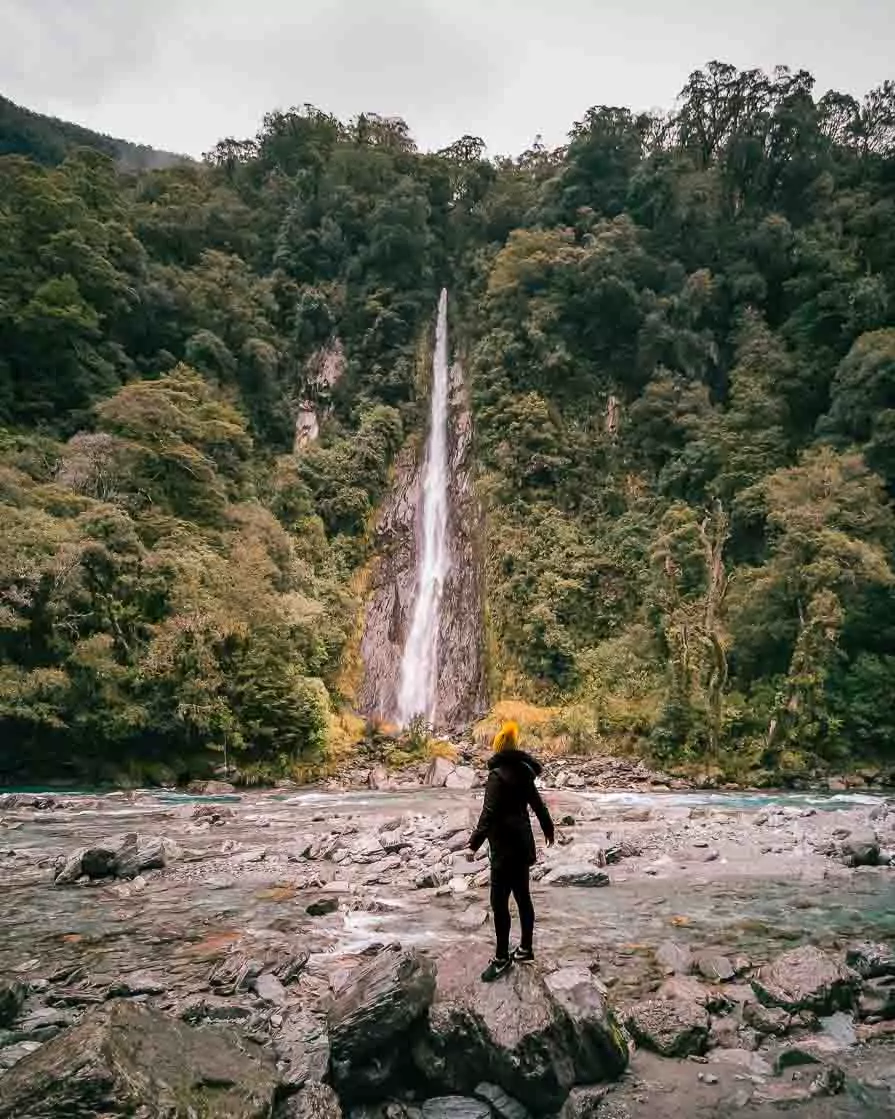 ---
Accommodation in Franz Josef Glacier
There's plenty of accommodation in Franz Josef Glacier to choose from depending on your budget.
Cheap & cheerful: Rainforest Holiday Park has one of the most beautiful campgrounds I've ever seen! They have powered sites nestled amongst sky high native trees, giving you privacy and your own personal bird song as entertainment. They also have dorm rooms and motel-style accommodation onsite.
Mid-range: Rainforest Retreat's lodge cabin was our home in Franz Josef and it was ideal, warm and cosy with comfortable beds and a delicious breakfast included.
Somewhere fancy: If you want to stay in luxury, you can't go past the 5* Te Waonui Forest Retreat, or the Rainforest Retreat also has deluxe treehouses available!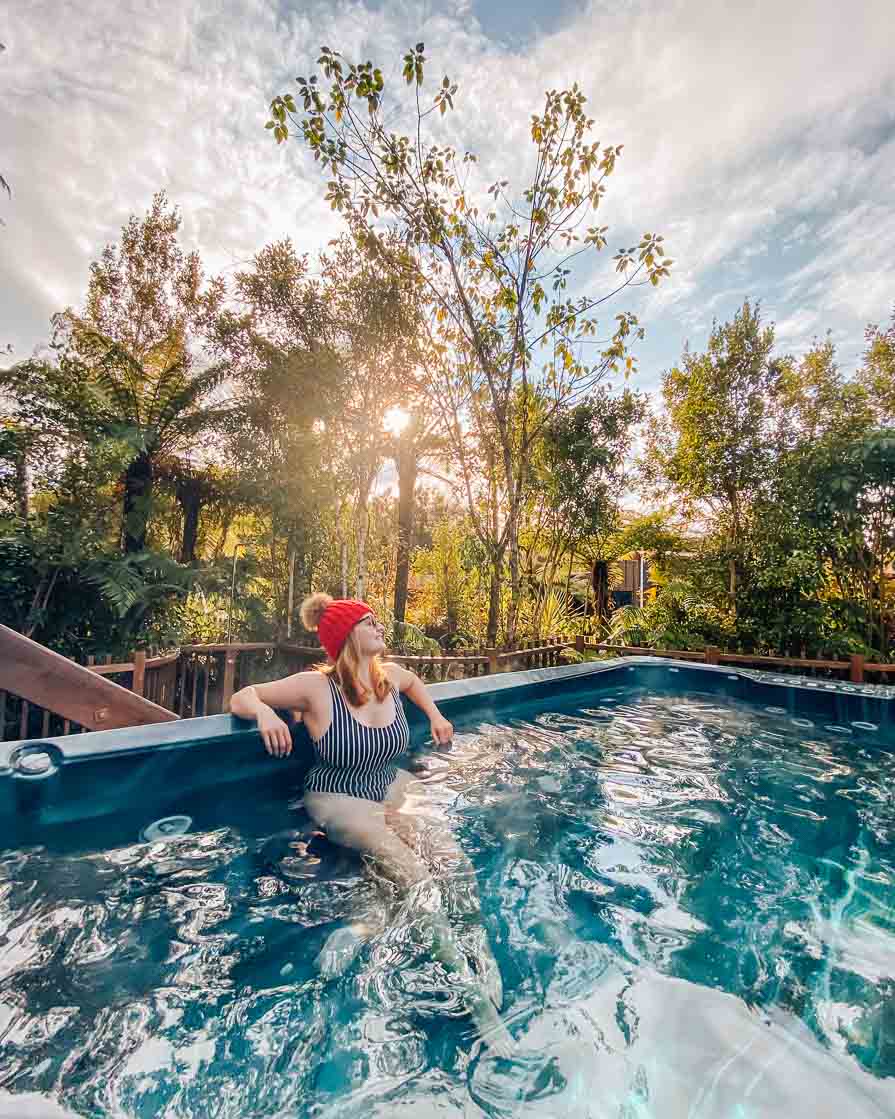 Somewhere further up the West Coast: If you're heading up towards Westport, check out the funky little tiny houses available for rent at Out the Bay. They are cosy, comfy, eco-friendly container-style houses with kitchenettes, lounge space and an outdoor brazier. You'll get a sweet sunset and it's only a short drive to the seal colony!
---
How do you get to Franz Josef Glacier
Franz Josef Glacier is not exactly as easy to reach as other South Island hot spots, like Queenstown or Christchurch, but I guarantee it's worth the drive.
Franz Josef Glacier from Queenstown or Wanaka
If you're driving from Queenstown or Wanaka as part of a South Island road trip, you'll first go through the dramatic Haast Pass which hugs the border of Mount Aspiring National Park, before making your way up the coast to reach Franz Josef Glacier.
Distance from Queenstown: 353km, approx. 4h 45m
Distance from Wanaka: 286km, approx. 3h 40m
Places to stop on the way:
Blue Pools track (1 hour return, 3km)
Thunder Creek Falls (10 min walk)
Fantail Falls (2 min walk)
Ship Creek Beach (three walk options, 20 mins to 1h 30m)
Bruce Bay for coastal views
Franz Josef Glacier from Nelson-Tasman or Marlborough
If you're heading south to visit Franz Josef Glacier from Marlborough or the Nelson/ Tasman region, you'll wind your way down between Kahurangi National Park and Nelson Lakes National Park before meeting the West Coast at either Westport or slightly further south at Greymouth.
Distance from Greymouth: 170km, 2h 10m
Distance from Westport: 274km, 3h 35m
Distance from Nelson: 453km, 5h 45m
Places to stop on the way:
Punakaiki Pancake Rocks
Ross Beach (the TOP 10 Holiday Park was one of the best campgrounds in New Zealand on our road trip)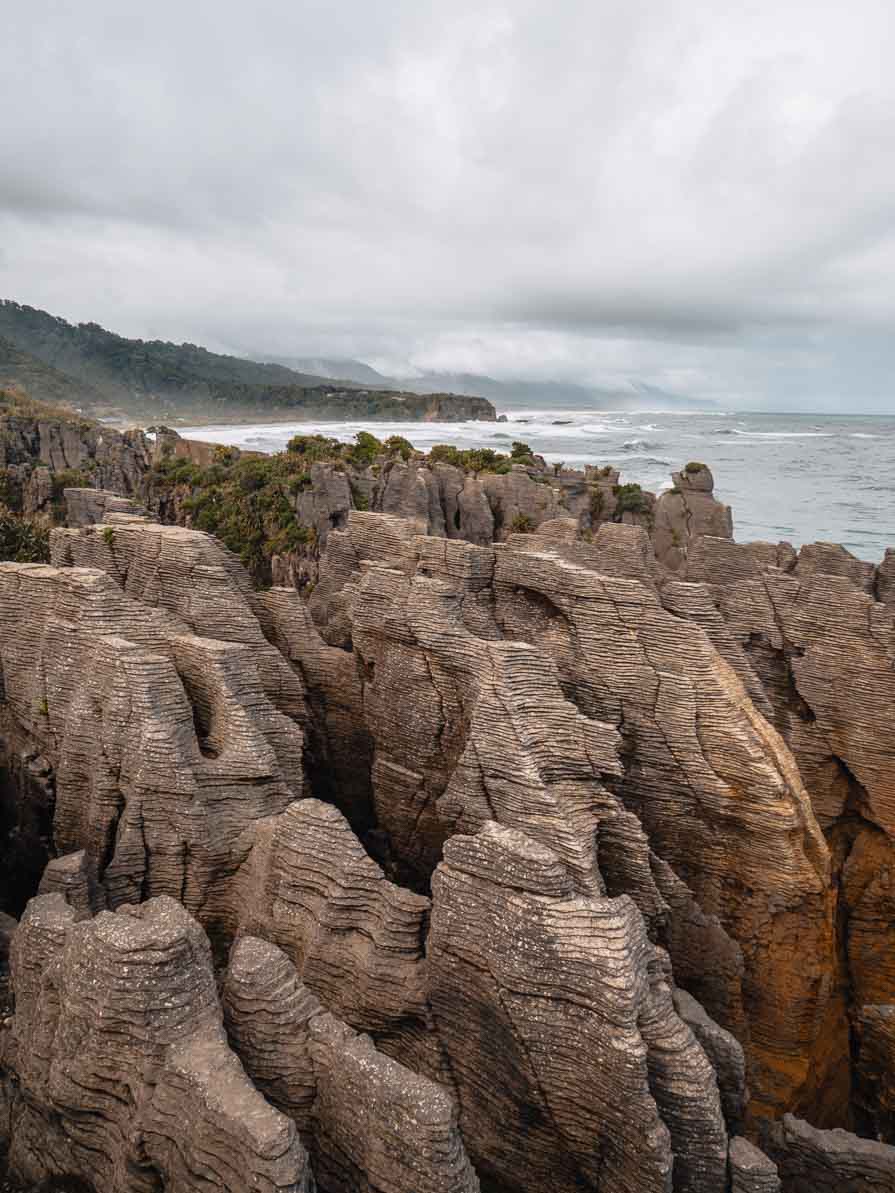 Franz Josef Glacier from Christchurch
If you're flying into Christchurch to begin your South Island road trip then to get to Franz Josef Glacier you'll have to drive over Arthur's Pass (one of New Zealand's best drives) where you'll meet the West Coast between Greymouth and Hokitika.
The total drive to Franz Josef Glacier from Christchurch is about 4h 50m (380km).
The nearest airport to Franz Josef Glacier
The closest regional airport to Franz Josef Glacier is Hokitika, which is 1h 45m north on the West Coast. There are rental cars available to pick up in Hokitika as well as buses to get you from A to B.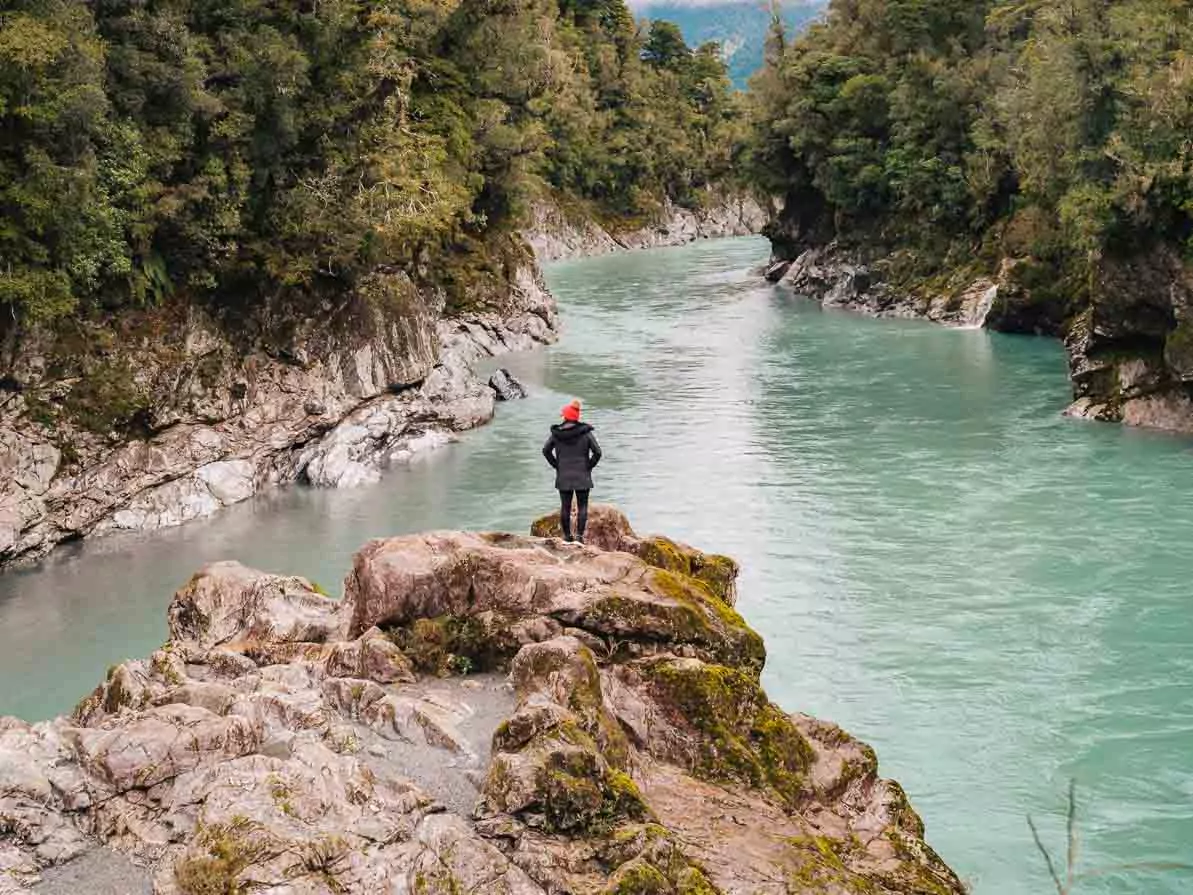 ---
When is the best time to visit Franz Josef Glacier?
If you're currently in New Zealand (aren't we lucky!) then the best time to visit Franz Josef Glacier is NOW.
In normal times the town is absolutely bustling with tourists, motels are full, heli flights get booked up and it's tough to get a spot at a restaurant. Whether you're a Kiwi, an NZ resident or an expat or international student currently living in New Zealand, Franz Josef is absolutely worth visiting before our borders reopen, so book a trip for whenever you're able to.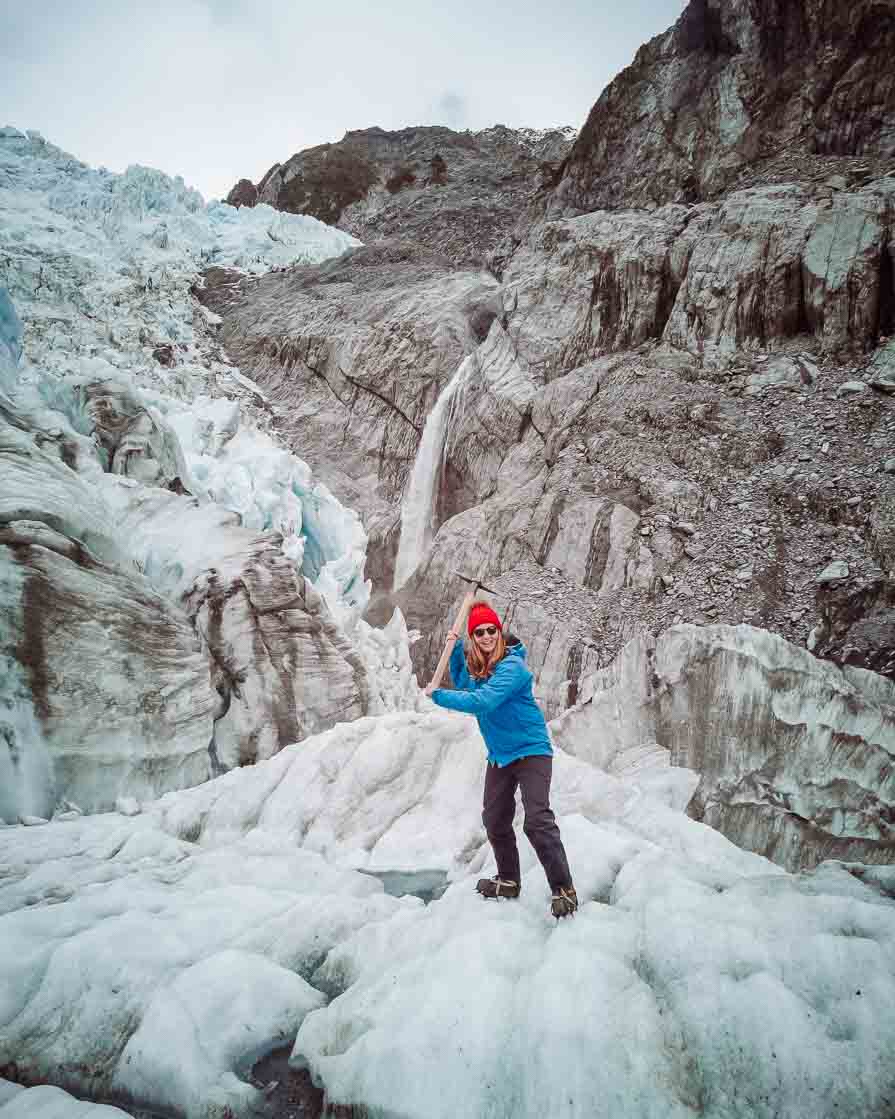 If you're planning a trip to New Zealand when that beautiful day finally comes, I always recommend visiting outside of peak season to make the most of the destinations. Shoulder season means lower prices, less people and often, in New Zealand, better weather.
Franz Josef is the warmest from December to March, and gets the most rain in December and January. Warm weather and rain means faster melting of the glacier, which can mean less ice caves to explore, and it also means more chance of cloudy skies.
Shoulder season or winter however will give you more ice features to see on the glacier, higher likelihood of blue skies, and an added bonus of cheaper prices.
Franz Josef Glacier and the rest of our South Island have pretty mild temperatures year-round so you won't be walking on a glacier in -20°C, like you might be in the Northern Hemisphere's winter.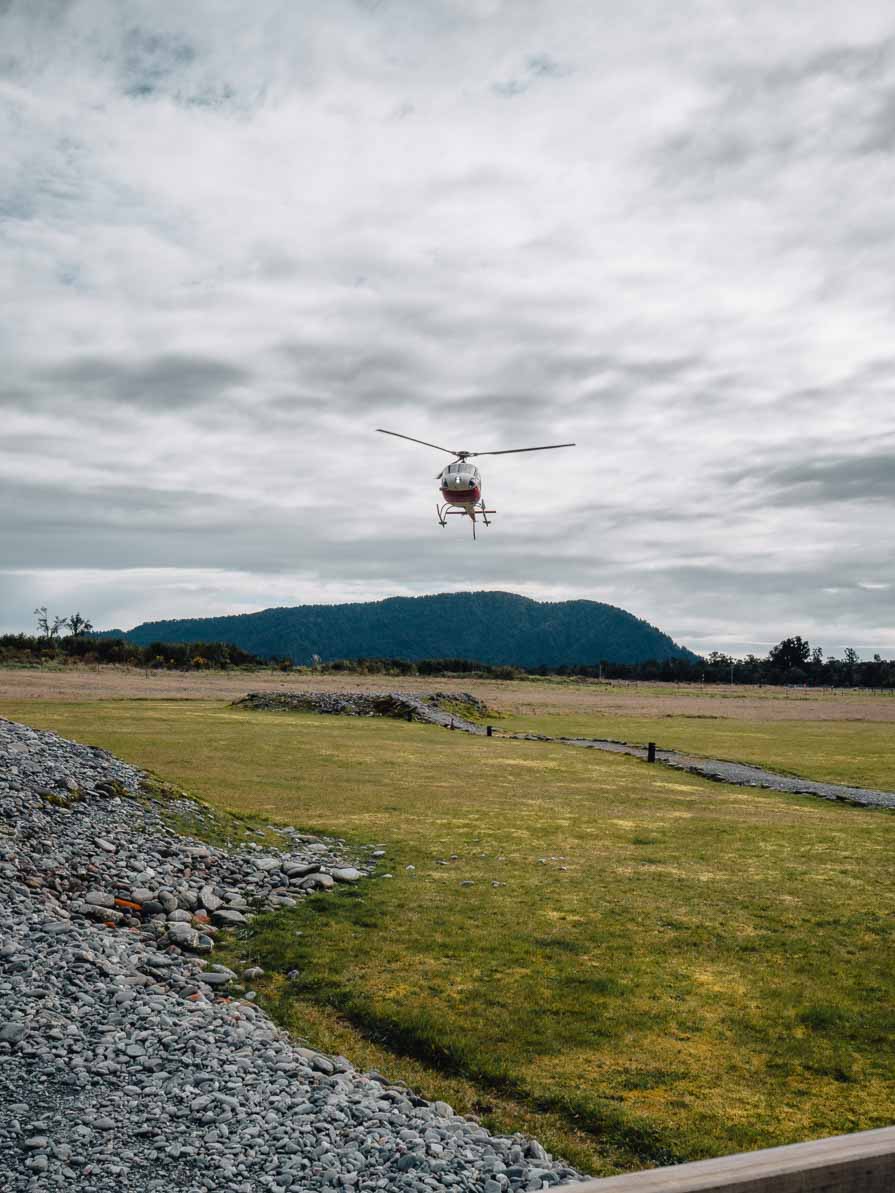 ---
Phew, and that's my list of all the best things to do in Franz Josef Glacier! It's only a little town but it's absolutely packed with thrilling activities and killer views, .
Enjoy your trip and safe travels!
More New Zealand blogs you might like:
Like this blog? Pin it!