If you're keen do a Queenstown wine tour without having to draw straws for a sober driver, this is the best wine tour in town (and in the world!).
Whether you're a seasoned wine connoisseur or a newbie to the vino scene, the Wine Sampler by Altitude Tours is a brilliant way to experience the best cellar doors in Gibbston Valley.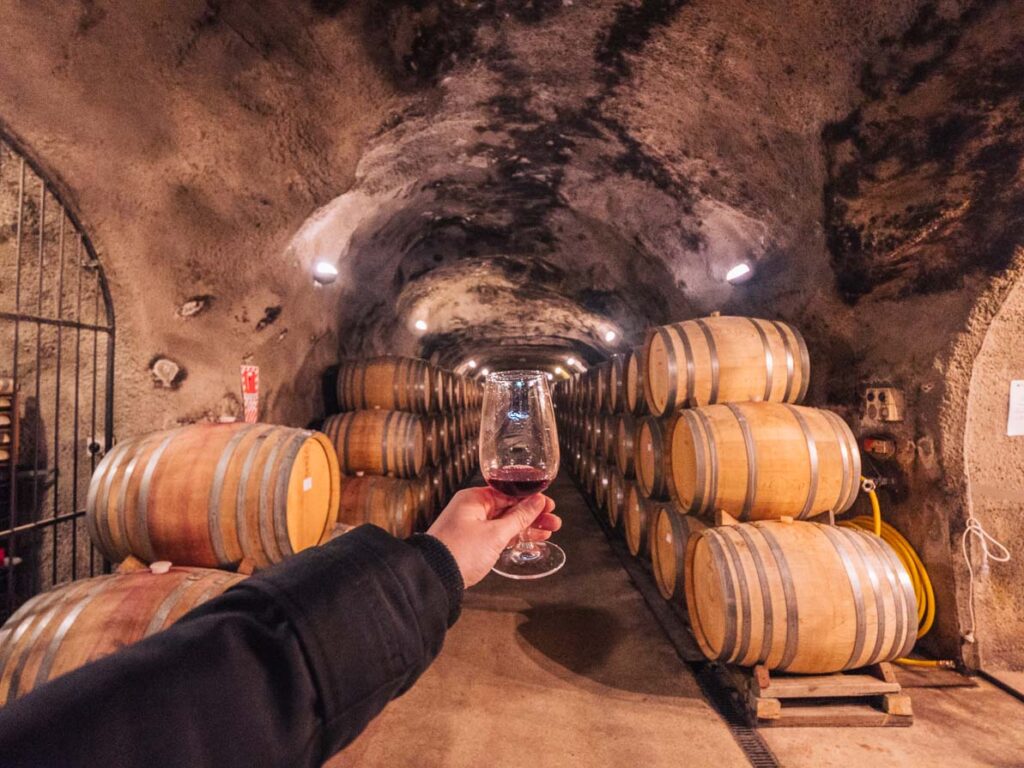 With legendary driver-guides, four world-class wineries on the itinerary including a stop for lunch (at your own cost), more than 18 wines to try (!!!) and a luxury van full of drinking buddies, you've got all the makings for an unforgettable day trip.
Here's why you should do a Queenstown wine tour, why the Wine Sampler is the best choice, and top tips for making the most of your trip.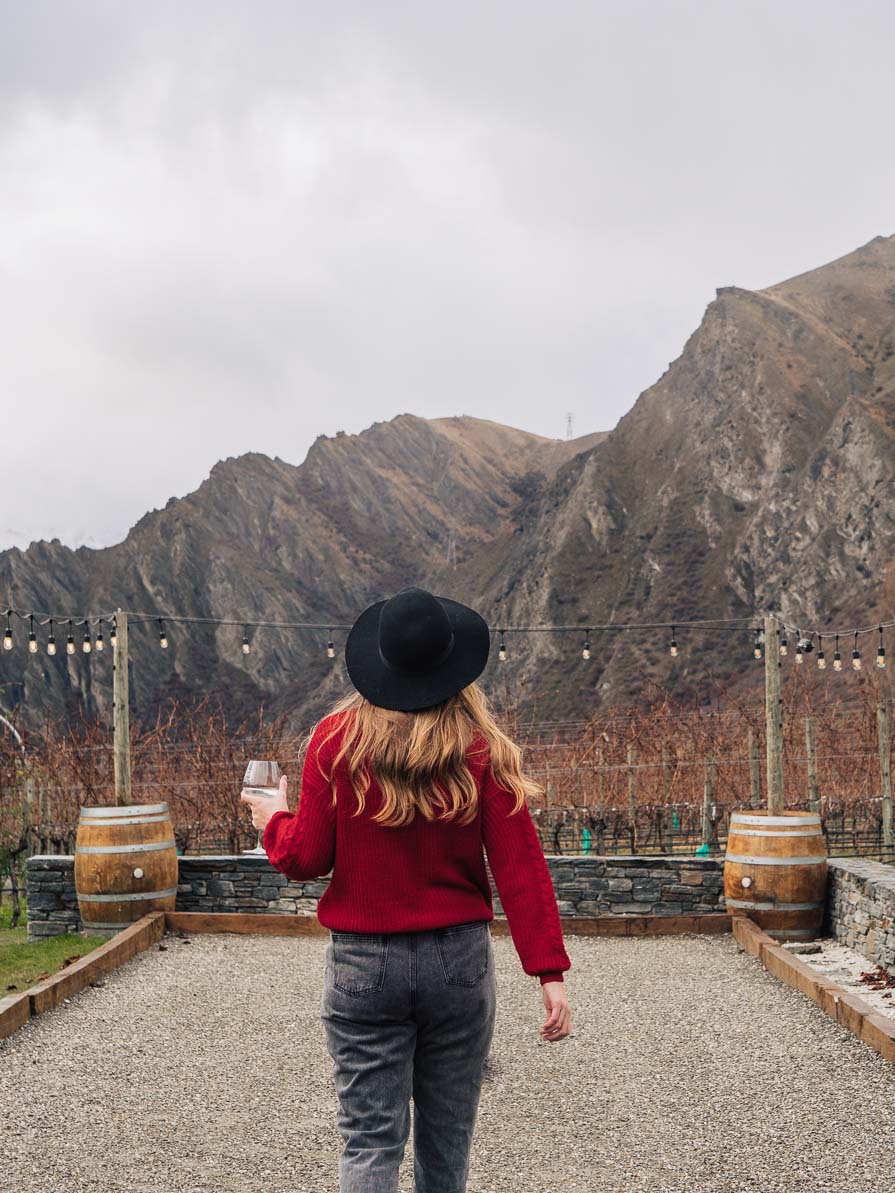 ---
Why do a Queenstown wine tour?
The real question is wine not! Queenstown is a stone's throw away from Central Otago's finest vineyards, famous mainly for their pinot noir but also boasting other cool climate wines like riesling and pinot gris if you prefer white wine.
Central Otago's boutique vineyards and dramatic landscapes make it ideal for a wine tour for all different types of travellers, from lifelong wine drinkers through to those looking to relax after the active adventures that bring them down to this part of the country.
Throw in some brilliant characters running tours and cellar doors, incredible lunch options and door-to-door service, and you'll soon see why a Queenstown wine tour is a must do for any Queenstown itinerary.
---
Why choose Altitude Tours?
Because they're the best in the world. No, seriously! Altitude's Wine Sampler tour recently won Top Wine Experience in the world at the TripAdvisor Travellers' Choice Awards 2021, as well as fourth best overall experience in New Zealand. How impressive is that?!
These guys have only been operating for less than five years and they've already made a name for themselves as premium tour operators, and the Wine Sampler boasts a whopping 271 five star reviews on TripAdvisor, 5 four stars, and none below.
Altitude's vans are luxurious Mercedes Sprinters with loads of space, comfy seats and a decent sound system, their guides are all super experienced with both wine and the region, and the tour itinerary sees the best bits of Gibbston Valley without rushing you.
Altitude also runs a few other wine tours if you're looking for something different, or if you want to lock in another activity. There's the Twilight Wine and Craft Beer tour (ideal if you want to try both grapes and hops and/or if you'd prefer a later start in the day), the Central Otago Wine Tour which is a full day around Gibbston, Bannockburn, Bendigo and Cromwell, or they offer bespoke private wine tours tailored to your preference.
And for non-wine-related adventures, check out their Glenorchy scenic tour, Milford Sound tours and Mt Cook tour.
---
What was the Queenstown wine tour like?
The Wine Sampler tour was loads of fun! I flew solo and had 10 others join me (four couples, one pair of friends).
Our guide, Tania, is a long-time Queenstown resident and has been working with Altitude for four years. She was hilarious, she had extensive knowledge about the region and kept us entertained while making our way from A to B.
Our first stop was Gibbston Valley, where we did a wine cave tour and enjoyed our tastings in a dungeon that's been built into the hill. This is such a unique way to experience a winery, and a great starting point for the tour.
Stop #2 was Kinross, a funky winery which partners with a few smaller wineries in the region to give you the chance to taste more than just one brand.
This was also our lunch stop and oh my gosh, the food was divine. I opted for the antipasti platter which was delicious but the woodfired pizzas gave me mega food envy.
Lunch is additional but I highly recommend eating something, or you might be sleeping in the van by the time the last winery comes around.
Our third stop was Mt Rosa, a rustic barn-style cellar door with the world's cutest mascot, a little doggo named Baz. Mt Rosa was my favourite winery in terms of the actual wine, they had a pinot blanc that blew my mind.
And for our final winery we headed to Brennan Wines, a small family-owned casual cellar door with some unique varieties to try, like a tempranillo, a muscat, and a triple blend of muscat, riesling and gewürztraminer. Please note that the final winery may change depending on day of the week as some wineries close on Mondays and Tuesdays.
The tour picked everyone up from their accommodation in Queenstown and dropped you back after, so there's no need to keep anyone on the waters so they can drive. Too easy!
As a little bonus we also got a drip-stop spout as well as an Altitude wine glass to take home as a souvenir (packed in a hard cardboard cylinder for safe packing).
---
All the details
The Wine Sampler tour runs daily from 10am and it lasts about five hours.
Adults are $189 and kids are $119 (without the wine, obviously).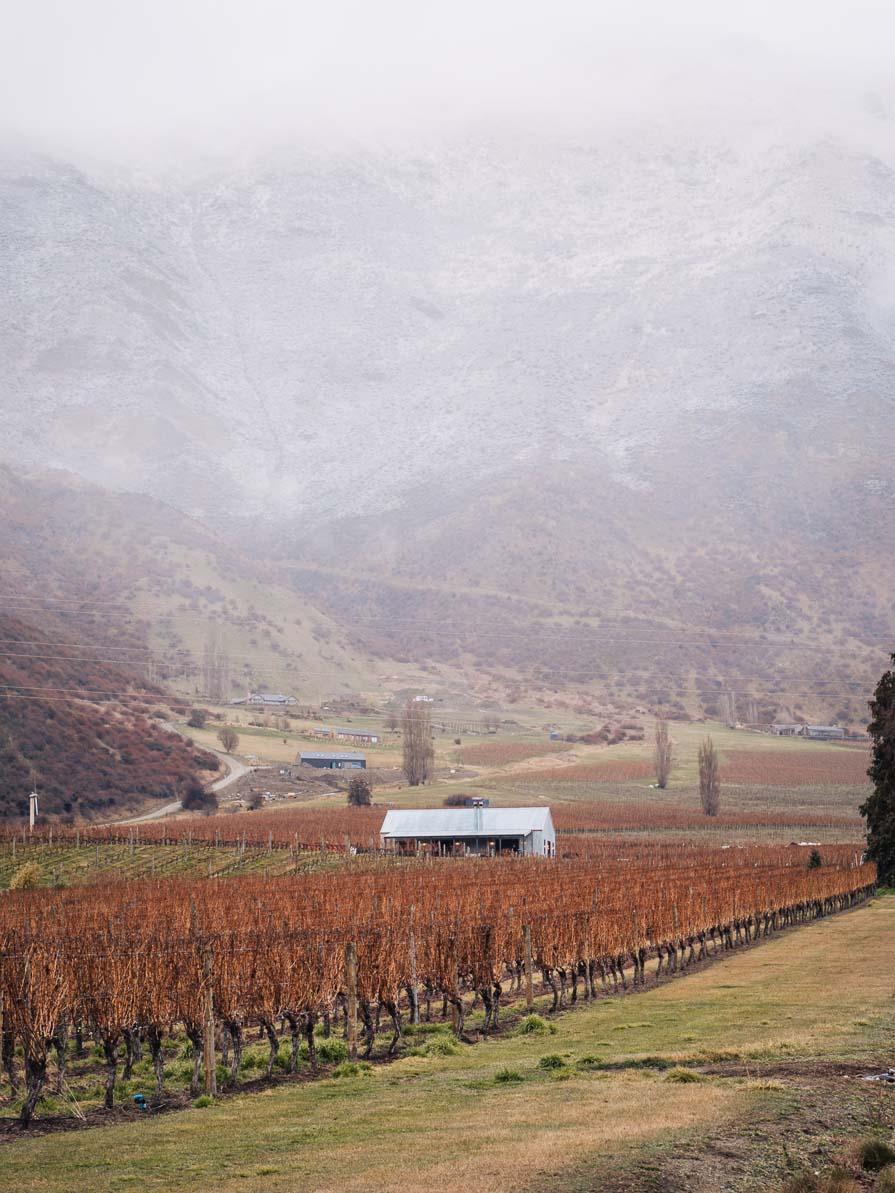 ---
Helpful tips to get the most out of your Queenstown wine tour
Choose the right day for it
The wine tour runs every day and you don't know the weather in advance, so what I mean by this is to choose the right day in your itinerary. Avoid doing it the day after a planned big night (no one wants to drink wine at 11am after getting home from World Bar at 3am), and maybe don't book a bungy jump for afterwards. Actually, maybe it's the perfect time to book a bungy jump!
Take a milk thistle beforehand
If you haven't heard of this hangover-reducing supplement before, you're welcome. Some may say it's the placebo effect, but the many Sunday mornings where I've felt far better than my friends prove that it's worth the try.
Order lunch!
I'll say it again: order lunch. Firstly the food is amazing, secondly four wineries and 18 tasters really adds up on an empty stomach.
Ask questions
Both your guide and the cellar door staff are experts on all things wine, so don't be afraid to ask questions if you want to learn more.
Take notes about your favourite wines
You're going to be trying A LOT and at some stage I guarantee you'll forget whether you preferred the Mt Rosa pinot blanc over the Gibbston Valley pinot gris, so take notes of the ones you like as you try them.
And order some to get delivered to your house
Most of the wineries offer deals for buying in bulk, whether that's a discount or free shipping or both. You can of course buy a bottle or two from each winery to take with you in the van, or order a case to be waiting for you at home when you get back.
---
Other things to do in Queenstown
---
Where to stay in Queenstown
Budget | YHA Queenstown Lakefront is a brilliant budget option, offering dorm rooms and private rooms with great facilities just a short walk from town
Mid-range | Kamana Lakehouse is my pick for the best value hotel in town, it's got the most incredible views of the lake and mountains, beautifully designed rooms, a world-class restaurant on site and private hot tubs bookable for guests only, giving Onsen Hot Pools a run for their money
Somewhere fancy | If you want to splurge on a luxury hotel, you can't go wrong with Eichardt's, Azur Lodge or the impeccable Matakauri Lodge
Self-contained | Chambers Penthouse is an excellent self-contained option right in the middle of town. It's got three bedrooms, two bathrooms (one with a spa bath), a full kitchen, huge living + dining space, laundry facilities and a carpark, plus the balcony view is next level.
---
I hope this review has helped you decide if you'll go on a Queenstown wine tour! I had such an epic day with Altitude, this was my maybe 12th time in Queenstown and the first time I've even visited the wineries so it was a nice change from my usual ski-until-my-legs-are-dead Queenstown habits. Enjoy your trip!
MORE NEW ZEALAND TRAVEL GUIDES:
Like this blog? Pin it!