I've spent many, many nights in hostels all over the globe, and my experiences have ranged from cancelling my booking as soon as I walked into the dorm room, through to being so impressed that I could honestly stay for a month. The Surf House in Byron Bay is the latter!
During my epic Australia road trip I made an effort to stay at accommodation that spanned different budgets, from cheap and cheerful hostels to mid-range self-contained options to luxury hotels. The Surf House is a bit of a mix of the first two, it's a hostel with dorms as well as private rooms, it's affordable, but it's also super stylish, so comfortable and exceeded my expectations of any usual hostel.
Here's some more info about the Surf House in Byron Bay.
Where is the Surf House in Byron Bay?
Right on the main street! The Surf House is located on the corner of Fletcher St and Lawson St, amongst all the shops, restaurants and bars that Byron Bay has to offer.
Want to head to the beach? It'll take you a grand total of about two minutes, one if you walk fast.
If you're driving, Byron Bay is just over an hour from the Gold Coast. There's secure underground parking available at the Surf House for $10 per day.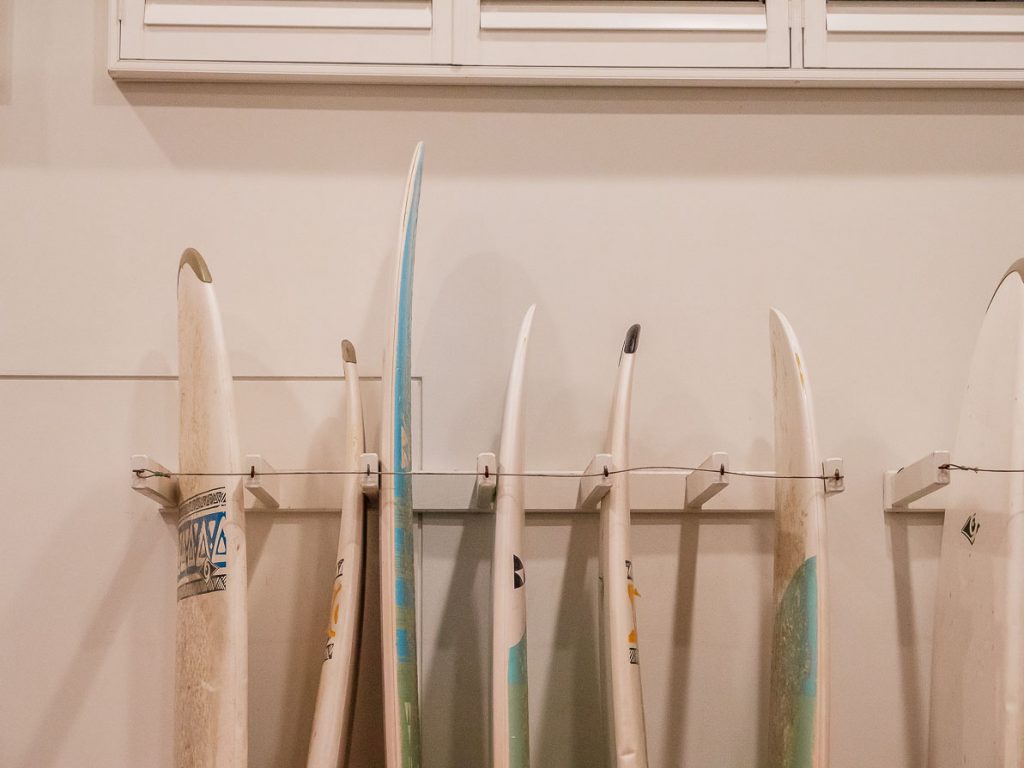 What are the rooms like?
I stayed in a private room with an en suite and a balcony. Yes, in a hostel! My room was spacious, with a double bed, a luggage/clothing rack, a TV, air con and a ceiling fan.
What I loved about it the most though was that it was bright and airy, hostel rooms can often be dark, dingy and stuffy which is pretty horrible when you work while travelling, so having a hostel room that is sun-soaked with natural light and that has a ranch slider door was such a nice treat. There was no desk unfortunately but there's plenty of work-friendly space in the shared dining area or rooftop bar (more on that soon!).
The dorm rooms are basic but comfortable, and there are shared bathrooms on each floor that are cleaned often.
What facilities does the Surf House have?
The Surf House has a full kitchen with plenty of space and all the appliances you'd need to cook up a storm, including air fryers a.k.a. the best addiction to have come out of the pandemic. The kitchen is open from 7am to 10pm and is cleaned regularly.
The dining area has loads of tables and chairs, as well as board games to play with new-found travel buddies. I also used this room as my workspace for the couple of days I was there, I set up my laptop stand and typed away for about ten hours straight on both days! The reality of being a travel blogger, there is much more 'blog' than there is 'travel' haha. There's another lounge-style area next to reception too with comfy couches if you want to chill out.
But the coolest part of the Surf House hands down is the rooftop bar, Byron's only one, which serves up local brews, fancy cocktails (on a budget of course, it is a hostel after all) and pizzas each night with a side of great tunes. Cocktails are $13, beer from $6, wine is $7.50 and pizzas are $10, but there's also happy hour each day from 3-6pm with $5 beer, wine and spirits, plus there's deals like $8 Aperols on Mondays and $5 pizzas on Tuesdays.
There's also surfboards and boogie boards that you can use for free for the day.
What is there to do in the area?
Byron Bay has an endless selection of activities to fill your itinerary, whether you want to see the scenery, eat your way around the town or hit the waves. Here are some of the best things to do in Byron Bay:
Go surfing, grab a free surfboard from the hostel and try your luck, or book a surf lesson down at the beach
Head out to the Farm for a true farm-to-table culinary experience
Spot dolphins year-round and whales in winter with a kayak tour or boat cruise
Walk (or drive) up to the lighthouse at Cape Byron, where you can also spot whales and dolphins sometimes!
Taste local craft beer at Stone and Wood
Try out some plant-based restaurants, like Elixiba, No Bones, Folk and Manna Haven
The verdict on the Surf House
The Surf House is up there with the best hostels I've ever stayed in for sure. The vibe was youthful and fun without being too loud or crazy, it was always super clean, the staff were so friendly, and the location is totally unbeatable. I'd happily stay here for weeks if I had the luxury of staying in one place for long enough!
Dorms start from $42 and private rooms start from $149, search your travel dates at the Surf House here.
But if that's a bit out of your price range or if you're looking for something away from the hustle and bustle, the same company also runs Wake Up! Byron Bay which is a hostel right opposite Belongil Beach. It's still got great facilities but the vibe is definitely more backpacker rather than boutique, and it's cheaper! Dorms are about the same price, from $41, but their private rooms start from $129, you can search your travel dates for Wake Up! Byron Bay here.
Thanks to Surf House and Wake Up! Byron Bay for hosting me during my time in Byron. As always all opinions are my own and are based on my personal experience at the accommodation.