Known as the home of the manta ray, Lady Elliot Island is one of the absolute gems of Queensland's Southern Great Barrier Reef, and it's a must-do addition to any Queensland itinerary. Here's all you need to know about spending a day out at Lady Elliot Island.
Lady Elliot Island is a coral cay located right at the southern tip of the Great Barrier Reef, accessible by plane from Bundaberg, Hervey Bay, the Gold Coast or Brisbane.
You can only explore the island through Lady Elliot Island Eco Resort, which runs the island's accommodation and activities. The eco resort offers day trips or you can book an overnight or multi-night stay to really make the most of your Lady Elliot Island experience.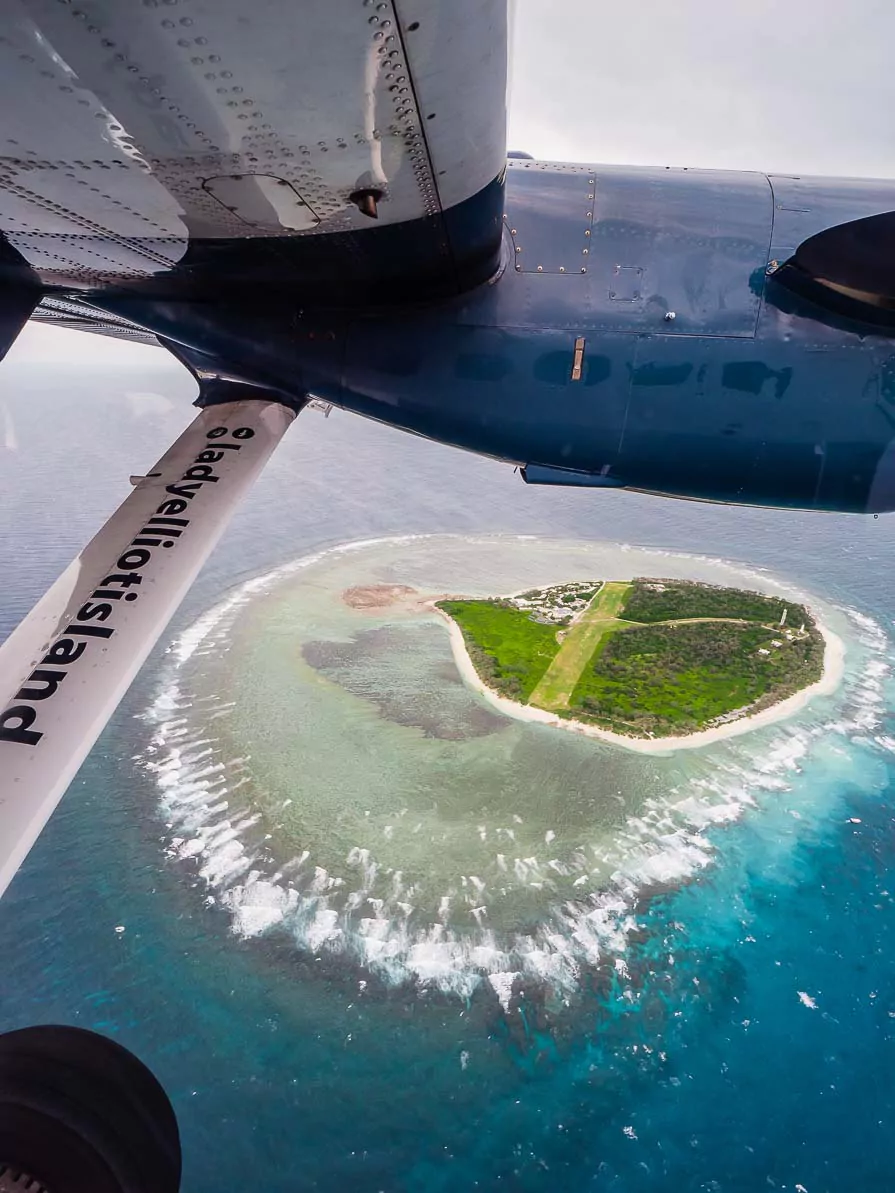 I recently did a day trip to Lady Elliot Island as part of my Brisbane to Cairns road trip, and it was hands down a highlight of my 2.5 months in Australia. We did have some issues with weather hampering our activities (more on that soon) but overall it was an incredible and unique experience, and I'd love to return for longer next time.
Here's all you need to know about Lady Elliot Island before booking your trip!
Book it now: Lady Elliot Island day trip or search your travel dates for an overnight stay
Where is Lady Elliot Island?
Lady Elliot Island is the southernmost island in the Great Barrier Reef, and it's officially part of Queensland's Bundaberg region.
How do you get to Lady Elliot Island?
Lady Elliot Island is only accessible by flight, and you can fly from Bundaberg, Hervey Bay, Brisbane or Coolangatta (the Gold Coast).
Hervey Bay to Lady Elliot Island takes about 40 minutes by plane, Bundaberg is 30 minutes, Brisbane is 1h 20m and the Gold Coast is 1h 40m.
If you're visiting Lady Elliot Island on a day trip then your flight is included in the price with set times, and if you're staying overnight you can book your flight when you book your accommodation. Flights are $385 return from Bundaberg or Hervey Bay, and $790 return from Brisbane or Coolangatta (with prices rising $30 from 1 April 2023).
How do you get around Lady Elliot Island?
The island is tiny, only 42 hectares in total, so it takes about 45 minutes to walk right around the island! Too easy.
How long should you stay on Lady Elliot Island?
I was a bit short on time during my Brisbane to Cairns road trip so I could only spend a day at Lady Elliot Island and it was absolutely worth it, but if you are able to spend a night or two out at the island you'll be able to enjoy a much more extensive and relaxing Lady Elliot experience.
A day trip will give you the opportunity to do some snorkelling, enjoy a beachfront lunch and then tick off another couple of activities (like kayaking, an educational reef walk or more time in the water), but staying overnight gives you access to early morning and pre-sunset snorkelling, stargazing, more time to pick the brains of the island's marine experts, and even the opportunity to dive if you stay long enough to have the required surface interval before flying.
Another thing to note is that the island is famous for its manta rays, which are generally easy to find on the main snorkelling side of the island, but the longer you stay, more snorkelling you do, the higher chance you'll see them!
What does the day trip include?
The Lady Elliot Island day trip includes the following:
Return flights from your chosen airport
An island orientation tour
A glass bottom boat ride out to a snorkelling spot
A guided snorkelling tour + snorkelling equipment
A buffet lunch
Free time in the afternoon to snorkel, relax or join another guided activity (like kayaking, reef walk, fish feeding)
What does an overnight stay include?
Overnight rates start from $438 per night for two people in a cabin (or $312 if you're travelling solo) and there are more expensive options for fancier accomm like glamping tents or two-bedroom units. The overnight rate includes:
Buffet dinner and breakfast (lunch buffet or a la carte available at extra cost)
Use of snorkel equipment
One glass bottom boat ride + guided snorkel tour per stay
Land activities like a historical tour, bird watching tour, island discovery tour or island survival tour
Night activities like stargazing, quiz nights and seasonal turtle watching
Option to add on activities like clear-bottom kayaking ($30 single, $60 double), a sunset cruise ($55) or an advanced snorkel safari ($42)
Diving available as long as you can have a 12 hour surface interval for one dive or 18 hour surface interval for multiple dives before leaving the island
Some helpful info about Lady Elliot Island
The facilities
Lady Elliot Island is an island in the middle of the ocean with limited infrastructure, which means you might not have some of your home comforts.
The accommodation is basic but very clean and comfortable, with hot showers, flushing toilets and decent beds. The island is off the grid which means no WiFi or TVs. If you desperately need WiFi for any reason you can get access while sitting at the restaurant but it's pretty average in terms of speed, so I'd recommend downloading some podcasts or shows before flying out and then switching on your out-of-office and enjoying the digital detox.
I only had the lunch buffet (I didn't try the a la carte menu) and I will say the food was nothing special but there was lots of variety (hot dishes, salads, DIY wraps and sandwiches).
The wildlife
As I mentioned already, the island is famous for its high likelihood of manta ray sightings. Mantas can be found here year-round and more than 700 individual mantas have been identified by the island's marine team. Keep an eye out as you fly in and out, these majestic creatures can often be seen from the sky as they glide through the water.
Unfortunately for me, the day I visited we had very unusual weather hit the island which meant we couldn't snorkel in the main manta snorkelling area, and instead had to spend our snorkelling time on the other side of the island. No manta viewings for us! The guides made it very clear that the direction of wind and swell was really uncommon so it's just a case of nature not playing ball for the day.
We did still get to see a few turtles and lots of vibrant coral and fish, but I'll need to return in the future to tick the manta swim off my Australia bucket list.
Lady Elliot Island also offers some of the best and most exclusive turtle-watching experiences, with laying season running from November to February and hatching from January to March. If you're visiting the island during these dates you'll be able to get up close and personal (while still respecting the animals' space) to watch the event with the island's marine experts giving you a full run down on what's happening.
There are loads of other animals you might spot during your time at Lady Elliot Island too, like dolphins, whales (May to November), reef fish and seabirds.
Sustainability
Lady Elliot Island Eco Resort is an Australian leader in ethical and responsible tourism, with a huge focus on minimising impact on the World Heritage-listed Great Barrier Reef.
You'll see huge solar panels as you fly in that run the island, native coral cay vegetation has been planted to restore the island to its natural state, there's a carbon offset programme in place for the flights and the tap water on the island is desalinated sea water that's totally safe to drink (just be mindful of your consumption).
The final verdict on Lady Elliot Island
I think Lady Elliot Island Eco Resort offers a really unique way to experience the Great Barrier Reef, with sustainability and marine life as the main focus.
The day trip is an incredible additional to any short-on-time Brisbane to Cairns road trip itinerary, but if you can afford (in terms of both time and money) an overnight or multi-day stay you'll be rewarded with loads of underwater time, plenty of educational marine experiences and a much-needed digital detox too.
Find out more about a Lady Elliot Island day trip here >>
Or book your overnight stay at Lady Elliot Island here >>
---
Are you looking at Lady Elliot Island as part of a bigger Australia adventure?
Here are some useful Australia links to help you plan your trip:
My ultimate Australia travel guide has all you need to know before you go
I use booking.com to find all my accommodation, just search your dates and then sort it by 'reviews and best price' to find the best value places to stay
I use Skyscanner to find my flights and then I always book direct with the airline to avoid any third-party difficulties if flights get cancelled or changed
I use GetYourGuide, Viator and Klook to find the best things to do in each destination, as well as checking discount sites like BookMe or Groupon for last-minute deals
I use Covermore NZ travel insurance for my annual insurance policy and I've had a fantastic experience with them so far, they're also in Australia but if you're from elsewhere then you could check out SafetyWing or World Nomads who both provide top-rated policies
And some other Australia blog posts that you might want to read next:
---
My Lady Elliot Island experience was sponsored by my long-term experiences partner, Klook. As always all opinions are my own and are based on my personal experience.