If you want to stay somewhere fancy in Sydney look no further, the Kimpton Margot opened in early 2022 and has quickly risen to the top of Sydney's best hotels list.
This newcomer to the luxury hotel scene in Sydney is one to put on your accommodation bucket list.
The Kimpton Margot exudes Art Deco charm, the exquisite architecture and vibrant interior design are honestly mind-blowing. And when those are partnered with warm and welcoming staff, fantastic food offerings and exciting amenities like a yoga room, Peloton bikes and a rooftop pool, you've got the makings of one of Australia's best hotels.
I'm a sucker for a hotel with character, and the Kimpton Margot has it in spades. The heritage-listed building has been lovingly restored and decorated with colourful furnishings that perfectly complement the grandeur, and the rooms themselves feel luxurious while also giving off comfortable, homely vibes. That's the perfect mix.
If you already want to book your stay at the Kimpton Margot you can search your travel dates here, or read on for my detailed review of my stay at the hotel.
Where is the Kimpton Margot?
The Kimpton Margot is located on the southern end of Pitt Street, on the block between the Town Hall and World Square. It's an ideal spot for accessing Sydney's shopping centres and streets, world-class eateries and buzzing nightlife.
The vibe at the Kimpton Margot
The vibe I got from the Kimpton Margot is that it is exactly what a boutique design hotel should be, where colours, shapes and materials come together with light, architecture and technology to form a spectacular aesthetic experience. Throw in the aforementioned brilliant staff, a strong focus on health and wellbeing and fun extras like free bikes, and you'll soon understand why I'm obsessed with this place.
The Kimpton Margot is actually tucked right into the middle of the block in a part of Sydney that isn't particularly flashy, which makes the opulence of the stunning lobby even more impressive once you walk inside. My initial feeling was that it felt like stepping back in time, like I was walking into a European business hotel in the 1930s, in the best way possible, but the melting pot of furniture, trinkets and artwork are distinctly 2022.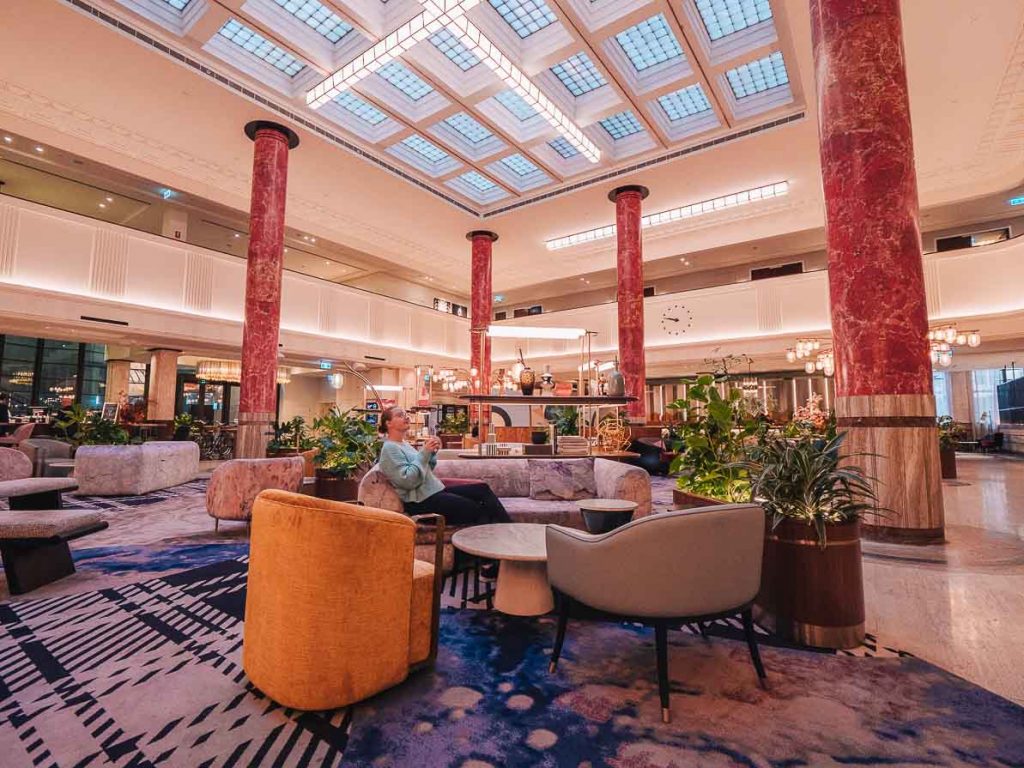 Chilled out tunes play over the speakers, there's infused ice-cold water as you wait for a spot at the front desk, and the staff are friendly and helpful without being too serious (as some luxury hotels are!).
Once you've got your room key you really need to turn around and just take in the sheer scale of this lobby, because it is truly magnificent. Two-storey red Scagliola pillars hold up the ceiling which is adorned with a huge grid of glass-tiled skylights, complete with a lit up cross, while the lobby itself is jam-packed with plush couches, statement armchairs and curved bench seats that hug the pillars.
Every element of the hotel works together so harmoniously, it's one of the best boutique hotels I've ever stayed at for sure.
Oh also, it's dog-friendly! You can bring your four-legged friend for your Kimpton getaway.
What are the rooms like at the Kimpton Margot?
I stayed in a one bedroom suite and oh my gosh, it was beyond divine.
The suite was HUGE, it had a dedicated workspace which was ideal as I had a tonnnnne of Australia blogs to write, a kitchenette with a dining table, a couch and TV, and then a separate bedroom with bathroom (complete with bath tub). There was also an additional toilet off the lounge area.
I feel like I say this for every hotel I write about which is unsurprising because every nice hotel should have a good bed, but the bed at the Kimpton Margot was outstandingly comfortable, I had the best sleep of the trip after wrapping up 2.5 months of travelling Australia.
The room also had a bunch of noteworthy extras, like a DIY gin and tonic waiting for me on arrival, Mr Smith toiletries and the most gorgeous hotel robe I've ever seen, illustrated by local artist Georgia Draws a House. If I wasn't travelling the world for the foreseeable future (with very limited suitcase space) I would've bought one to take home!
What are the facilities like?
The Kimpton Margot has a variety of facilities on offer and a one night stay at the start of winter definitely wasn't enough time to make use of them, so I'll need to come back.
One thing I absolutely love about the Kimpton brand is that every (I think anyway) Kimpton hotel hosts a daily social hour, where guests can enjoy a drink while mingling after a day of work or exploring. I headed downstairs at 5pm to try it out and there was complimentary wine as well as a paid martini trolley, which is basically the classy adult version of an ice cream truck. There's also a healthier version of social hour each morning called Morning Kickstart, with a complimentary tea bar in the grand lobby.
There's a well-equipped gym complete with Peloton bikes, a yoga room, in-room yoga mats if you prefer to downward dog in the privacy if your own room, and Lekker bikes available for guests to use around the city.
If you're visiting in the warmer months, I can guarantee you'll want to spend a significant chunk of time on Level Seven, the open-air rooftop pool and lounge area. You can soak up the sun, swim between skyscrapers towering above and enjoy drinks and light bites from the bar. I couldn't bring myself to take a dip during my stay in the middle of June but best be believed I'll be back in summer at some stage.
Food and drink at the Kimpton Margot
The jewel in the Kimpton's culinary crown is Luke's Kitchen, run by homegrown hero Luke Mangan, an award-winning Aussie chef who calls Sydney home. You can grab breakfast on the daily, lunch is served Thursdays and Fridays, dinner is available from Wednesday to Saturday, and there's a brilliant bottomless brunch each Saturday.
Unfortunately I stayed on a Tuesday which meant the restaurant wasn't open for lunch or dinner, but I did enjoy some deliciously fancy cocktails from the Wilmot Bar in the lobby and ordered off their snack menu which comes from the kitchen of Luke's Kitchen anyway. We got the fish and chips (an Australian classic), a cheeseboard and some amaaazing truffle fries.
For a special occasion there's the Cellar by Luke, an exclusive cellar room off the main lobby where you can enjoy a degustation menu, wine pairings and one of the city's best whiskey collections.
For daytime sustenance the Pantry at Margots serves up great coffee and sweet treats.
The verdict on the Kimpton Margot
I loved this place so much that it's going to be my go-to Sydney hotel for any future visits.
The size of the rooms is such a nice change from other inner-city hotels I've stayed at, the art and interior design are strikingly beautiful, the facilities are top-notch and to top it all off the staff make you feel like you're truly at home.
Whether you're heading to Sydney on a business trip, a romantic weekend retreat, a girls getaway or a solo adventure, the Kimpton is guaranteed to impress.
Search your travel dates here >>
Are you travelling further than just Sydney?
Here are some useful Australia links to help you plan your trip:
My ultimate Australia travel guide has all you need to know before you go
I use booking.com to find all my accommodation, just search your dates and then sort it by 'reviews and best price' to find the best value places to stay
I use Skyscanner to find my flights and then I always book direct with the airline to avoid any third-party difficulties if flights get cancelled or changed
I use GetYourGuide, Viator and Klook to find the best things to do in each destination, as well as checking discount sites like BookMe or Groupon for last-minute deals
I use Covermore NZ travel insurance for my annual insurance policy and I've had a fantastic experience with them so far, they're also in Australia but if you're from elsewhere then you could check out SafetyWing or World Nomads who both provide top-rated policies
And some other Australia blog posts that you might want to read next:
---
Thanks to the Kimpton Margot team for hosting me for one night. As always all opinions are my own and are based on my personal experience at the hotel.