Looking for somewhere to stay in Kangaroo Island that won't break the bank? With newly-renovated rooms, gorgeous interiors and an unbeatable location, Seaview Motel is my top pick for the best value accommodation on Kangaroo Island.
I recently spent two days on Kangaroo Island (not long enough, FYI!) exploring the beaches, meeting the wildlife and enjoying the culinary scene as a South Australia side trip added onto my three days in Adelaide. I visited with one of my best friends and her husband, and we had a brilliant time!
There is loads to see, do and eat on the island, and the accommodation ranges from cheap and not-so-cheerful right through to world-class luxury resorts.
We wanted to spend our evenings somewhere comfortable with easy access to food and drink without having to spend hundreds per night, so we were stoked when we came across Seaview Motel. Here's a detailed review of our experience and why I reckon Seaview Motel is the best value accommodation in Kangaroo Island.
Where is Seaview Motel?
Seaview Motel is located on the coast of Kingscote, Kangaroo Island's largest town and a hub of entertainment and shopping.
It's right across the road from the ocean and only a few minutes' walk from a bunch of restaurants and cafes.
If you're coming from the Kangaroo Island ferry, Seaview Motel is about a 45 minute drive.
What's the motel like?
I'll be honest and say that I haven't had the most brilliant experiences with motels in Australia. Many of them are tiny, dated and pretty rundown, and not even that cheap.
Thankfully, Seaview is the opposite! The rooms are spacious, the interior design is modern and bright, the beds are comfortable, the shower pressure is fantastic and the location is unreal. Rooms start from only $150 per night in the low season, super cheap when you look at the quality, comfort and location.
The room
We stayed in a triple room (for our romantic three-person holiday haha) and there was plenty of space.
We had one queen bed and one single bed, a TV, a chair, a kitchenette with fridge + kettle + tea/coffee, some storage space and a bathroom. Our balcony had a table and chairs and we could see the ocean from our bedroom.
The final verdict
We thought Seaview was ideal for what we needed: a comfortable, decent-sized room that was close to eateries so we didn't have to drive too far at night.
KI has loads of expensive apartments on offer if that's your thing, or there's some back-to-basics budget accommodation, but there isn't a huge choice for affordable yet comfortable places to stay. Seaview is absolutely perfect for anyone looking for that mid-range accomm, and I can't wait to go back in the future (for longer next time!).
Check your travel dates for Seaview Motel here.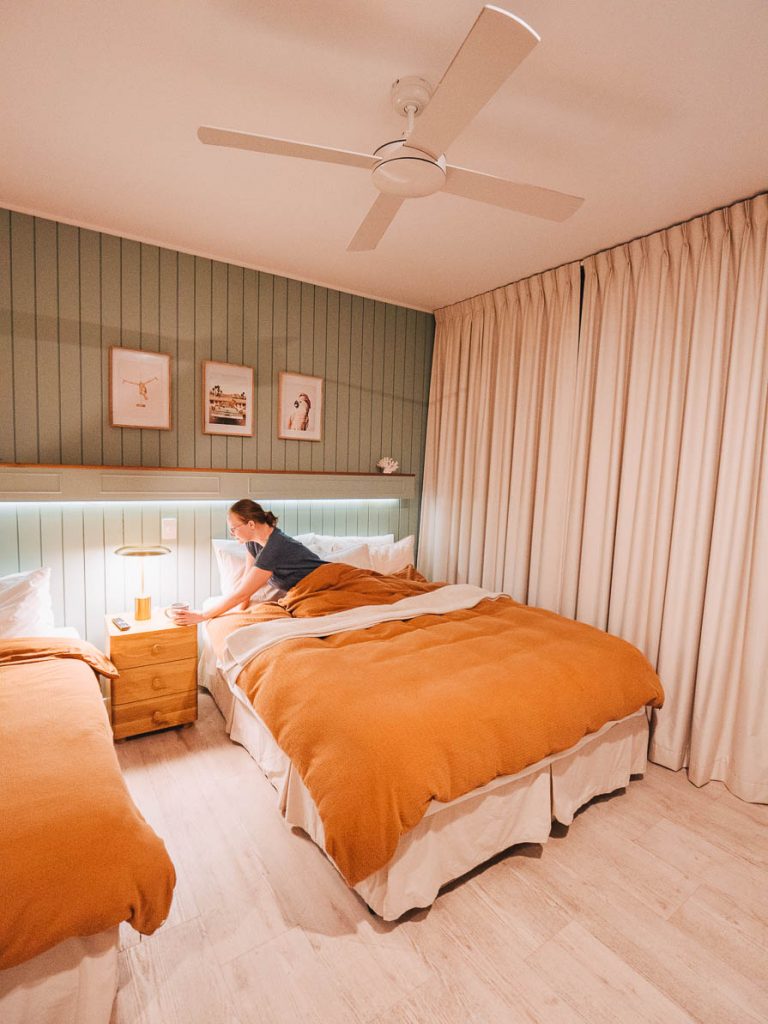 ---
Other blogs you might like:
Adelaide: Three day Adelaide itinerary
Kangaroo Island: Reasons to visit Kangaroo Island