Wondering how to spend 24 hours in Florence, Italy? Here's the perfect one day Florence itinerary with the best things to see, do and eat in this magnificent city.
Ciao bella! Welcome to Florence, home to breathtaking architecture, mouthwatering cuisine and some of the world's most marvellous masterpieces. Whether you're a history buff, an art enthusiast or a culinary connoisseur, this charming city is guaranteed to impress.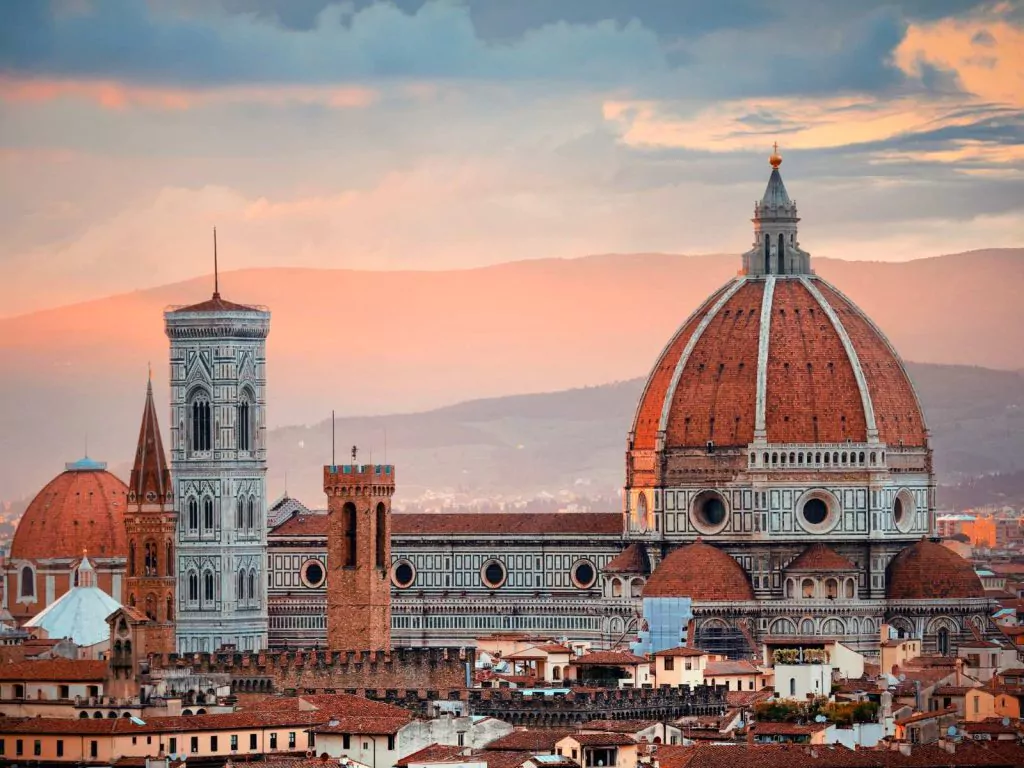 While there is plenty to see and do in Florence to keep you busy for an extended visit, the city is compact enough that you can still tick off a bunch of must-dos with only 24 hours in Florence. Of course a longer stay lets you dig deeper into the city's culture, but sometimes whirlwind Europe trips or weekend breaks only allow for a one day Florence adventure, so here's some top tips to make the most of your time.
With this 1 day Florence itinerary you'll be able to see some iconic paintings and sculptures, learn about the city's architecture, taste local flavours, watch sunset in the best spot in town, and toast to a brilliant day in Florence after your adventure ends.
Read on for a detailed breakdown of what to see in Florence in one day, as well as where to stay, how to get around, and what to do if you have more time.
---
Summary of the perfect 24 hours in Florence
Morning
Grab an early morning coffee and delicious pastry at Ghibellina Forno Pasticceria, the best-rated breakfast spot in the city (opens at 6.30am)
Walk past Basilica di Santa Croce di Firenze to get to the Uffizi Gallery
See the Birth of Venus and other renowned masterpieces in the Uffizi Gallery
Head to all'Antico Vinaio to get a world-famous sandwich for an early lunch, the busiest hours are 12pm-3pm so if you can get there just before 12 that's ideal!
Afternoon
Evening
Enjoy an afternoon aperitivo session, some good options are Hotel Calimala's rooftop bar, B-Roof, Santa Cocktail Club or Dorsoduro 3821
Or if you don't mind a walk, head to Piazzale Michelangelo to watch the sun set behind the city's rooftops
Finish up the day with a delicious dinner at a local trattoria, I absolutely adore Trattoria Dall'Oste (4.8/5 from 15,000+ reviews) but some other highly-rated ones are Trattoria Za Za, Trattoria da Giorgio, Antica Trattoria da Tito and Trattoria La Gratella
---
Where to stay during your 24 hours in Florence
Budget | My go-to for a budget-friendly place to stay in Florence is Yellowsquare hostel, a brilliant social hostel with fantastic facilities including a shared kitchen, dedicated co-working space and even a rooftop pool!
Mid-range | For a mid-range budget consider Morandi alla Crocetta, 3110 ArtHotel, Room Mate Luca, Solo Experience Hotel and Residence Leopoldo
Luxury | For a fancy stay check out Villa Cora, Relais Santa Croce, Four Seasons Firenze or The Place Firenze
Self-contained | Some top-rated options with kitchens/kitchenettes are Urban Retreat, Oro Nero Florence, Geppi's Apartment and Donati Luxury Tower Suites
---
Things to do during your 24 hours in Florence
See the Cattedrale di Santa Maria del Fiore
The iconic Santa Maria del Fiore, or simply 'the Duomo', is Florence's architectural marvel. Construction began in 1296 and wasn't finished until the dome was complete 140 years later in 1436. The exterior decoration took another 450 years, with the marble façade finally being completed in 1887.
The dome is an engineering masterpiece, designed by a Florentine founding father of Renaissance architecture, Filippo Brunelleschi. It's the largest masonry dome in the world, made from more than four million bricks, and at the time was higher and wider than any octagonal dome that had ever been built, with no Gothic buttresses to support the dome as these were used in rival cities like Milan. To make the story even more mind-blowing, Brunelleschi was a trained goldsmith and had no formal training as an architect or engineer.
You can see the Brunelleschi's Dome of Santa Maria del Fiore from vantage points all over the city, or head to Piazza del Duomo to see the cathedral up close, but it's well worth exploring from the inside if you have time.
The cheapest ticket available includes the baptistery, the Opera del Duomo Museum and the Santa Reparata Crypt, or you can upgrade to a pass that includes Giotto's Bell Tower, or the Brunelleschi Pass which includes the Bell Tower and the Dome itself.
Be sure to book in advance because tickets do sell out, and if there are no tickets left for your date, you might be able to get a spot on a guided tour instead.
Marvel at the masterpieces in Uffizi Gallery
One of the oldest museums in the world, and holding one of the most impressive art collections ever found in one place, the Uffizi Gallery is an absolute must-visit for any art lovers when they visit Florence.
The gallery is home to countless paintings and sculptures hailing from the Middle Ages right through to contemporary times, but it's most famous for Renaissance pieces from Botticelli, Michelangelo, Da Vinci and more.
Unsurprisingly, as Florence's premier museum and gallery, it's basically busy from open till close every single day, so if you've only got 24 hours in Florence you'll definitely want to book tickets in advance to lock in your visit. If tickets sell out, or if you'd prefer to learn about the art from an expert as you look around, you can often book last minute guided tours like this top-rated one.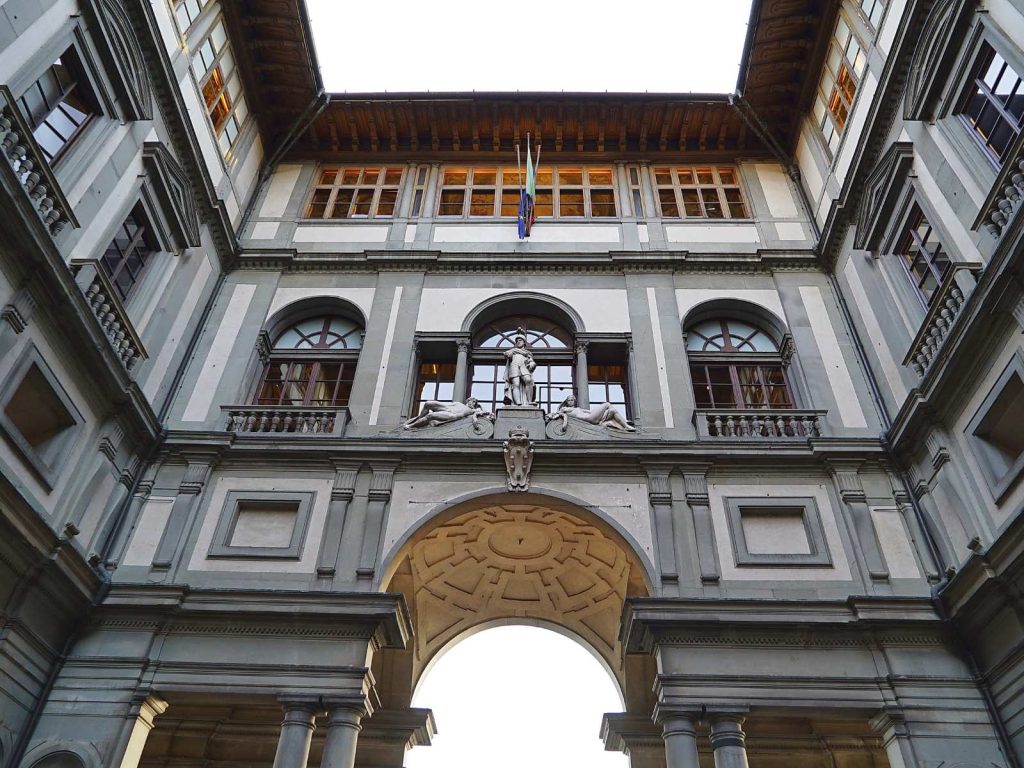 Say 'ciao!' to David at the Galleria dell'Accademia
No visit to Florence would be complete without coming face-to-face (or more like face-to-feet) with Michelangelo's David, who you'll find at the Galleria dell'Accademia. Perhaps the most famous statue in the world, David stands tall at 17ft basking in natural light underneath a glass ceiling.
The level of detail in the sculpture is spectacular, particularly looking at the veins on his hands and his muscle tone, and he was carved out of a single piece of marble in the early 16th century.
This is another one you'll need to pre-book, as slots to see David and the other works in the Galleria dell'Accademia sell out in advance. Check for Galleria dell'Accademia tickets here, or consider a guided tour instead.
Get lost in the Historic Centre of Florence
The UNESCO World Heritage-listed center storico of Florence is a cobblestoned maze of museums, churches, galleries and other buildings of historical significance, and wandering through the area's narrow streets without a map to guide you is the best way to experience the true Florence.
You'll have to make your way through this part of the city to get to and from almost every place mentioned in this Florence itinerary so no need to set aside specific time for it, just be sure to enjoy the journey rather than just the destination.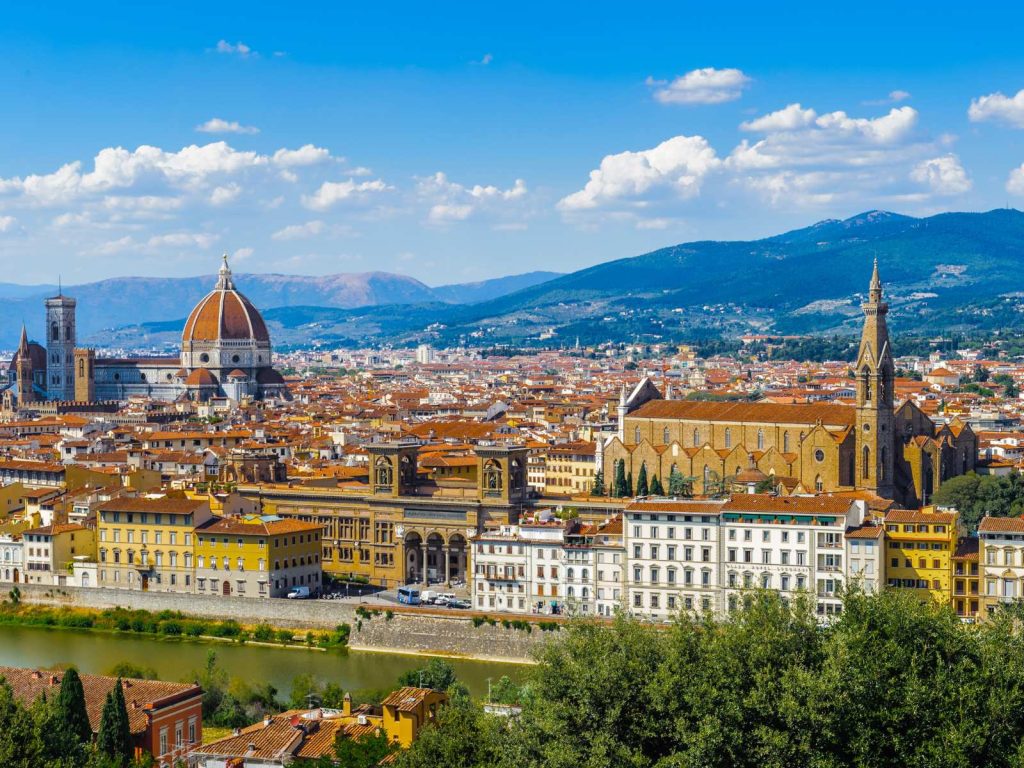 Visit the Santa Maria Novella church
Sitting opposite Florence's main train station of the same name, Santa Maria Novella is yet another impressive work of architecture and art, constructed between 1279 and 1350, but with the intricate marble façade not fully completed until 1470.
I haven't been into the church yet, instead opting to visit the Duomo and the previously mentioned galleries on my visits to Florence, but you can buy tickets to admire the interior and artworks inside or just make sure you walk by to see the beautiful building from outside.
Walk across the Ponte Vecchio
Connecting the two sides of Florence over the Arno river, the Ponte Vecchio (translated as the 'old bridge') is a medieval arched bridge with a somewhat tumultuous history.
Said to have originated in Roman times, mention of the bridge first appears in a 996 document but floods in 1117, 1333 and 1966 caused major damage and required significant rebuild. Surprisingly, the Ponte Vecchio was the only bridge in Florence to survive World War II, apparently due to an order from Hitler himself.
The bridge was once packed with fishmongers, butchers and tanners, who threw animal offcuts and waste into the river to avoid stinking out the city's streets. In 1564 Vasari's Corridor (which you might have heard about from Dan Brown's Inferno) was built to link Palazzo Pitti and Palazzo Vecchio, crossing over the top of the Ponte Vecchio. At this time the bridge's tenants changed to goldsmiths and jewellers, a more appropriate industry for a bridge linking two palaces.
These days the jewellery stores remain but you'll also find souvenir shops, gelato stalls and thousands of tourists. But crossing the Arno via the Ponte Vecchio must be done, so brave the crowds and make sure you set aside a bit of time to see this historic structure.
Explore the Mercato Centrale
Housed in a market hall originally built in 1874, Mercato Centrale is the bustling hub of Florence's culinary scene.
The ground floor houses vendors selling fruit and vegetables, fresh pasta, cured meats, cheeses, bread, pastries, truffles and more, open from 7am to 2pm Monday to Saturday. Each morning you'll find locals filling their shopping bags for their weekly grocery shopping, and you know that means the prices and the quality are top-notch.
On the first floor there's a food court that pays homage to both Italian and global cuisine, with street food-style stalls, wine bars and restaurants serving up pizza, pasta, burgers, gelato and loads more. This is open from 10am until midnight each day.
At the Mercato Centrale you might find live music, cooking demonstrations, workshops and even tastings if you're lucky.
I will say that a market this epic does come with a high chance of experiencing analysis paralysis while deciding what to eat. A food tour is a fantastic way to avoid that if you have the time (a good alternative to the museums if you prefer eating over art-ing), you can see some top-rated Mercato Centrale tours here.
Line up for a world-famous sandwich
I know, I know, when you only have one day in Florence it seems a waste to spend any time in line for anything. But if you're keen to try one of Italy's, if not the world's, best sandwiches, all'Antico Vinaio is absolutely unbeatable.
Now boasting a number of locations throughout Italy as well as one in New York City and one in Los Angeles, all'Antico Vinaio's original location is down via dei Neri, just a stone's throw from Palazzo Vecchio. By about 12pm the line will be a few metres down the street and it generally won't finish until 4pm, even longer on weekends or holidays. If you're keen to try a sandwich for lunch it's best to get there before 12pm.
The menu is absolutely divine, they serve up schiacciate (an Italian flatbread) with all sorts of meats, cheeses and spreads. Some popular sandwich choices are La Boss with prosciutto, pecorino, cream of truffle and rocket leaves, La Tricolore with beef carpaccio, cream of pistachio, stracciatella cheese and chopped hazelnuts, or my personal favourite, Nada Come La Fuma with pancetta, mild gorgonzola or honey. YUM.
Watch sunset from Piazzale Michelangelo
If you don't mind a 30 minute walk from the city (or a 10 minute cab), Piazzale Michelangelo is without a doubt the best sunset spot in town. This hilltop square offers expansive, panoramic views of Florence's historic centre all the way out to the rolling countryside behind the city.
This is a popular viewpoint for both tourists and locals alike but there's plenty of space to sit and soak up the incredible view as the sky changes colour, perfectly complementing Florence's iconic orange, red and brown rooftops. Stay a bit longer and you'll be treated to the sight of the city's lights being reflected in the Arno river.
This is the perfect way to wrap up a one day Florence itinerary.
---
How many days in Florence
If you're really keen to tick off the main tourist sights as well as discover some hidden gems and not feel too overwhelmed, three days in Florence would be ideal. 24 hours in Florence is doable to see the top landmarks but it will be a fast-paced trip, two days in Florence gives you a bit more time to spread out the must-dos, but three days will be much more relaxed.
With four days in Florence (or more) that gives you the chance to add on some day trips to places nearby like Bologna, San Gimignano, Siena and the Chianti wine region.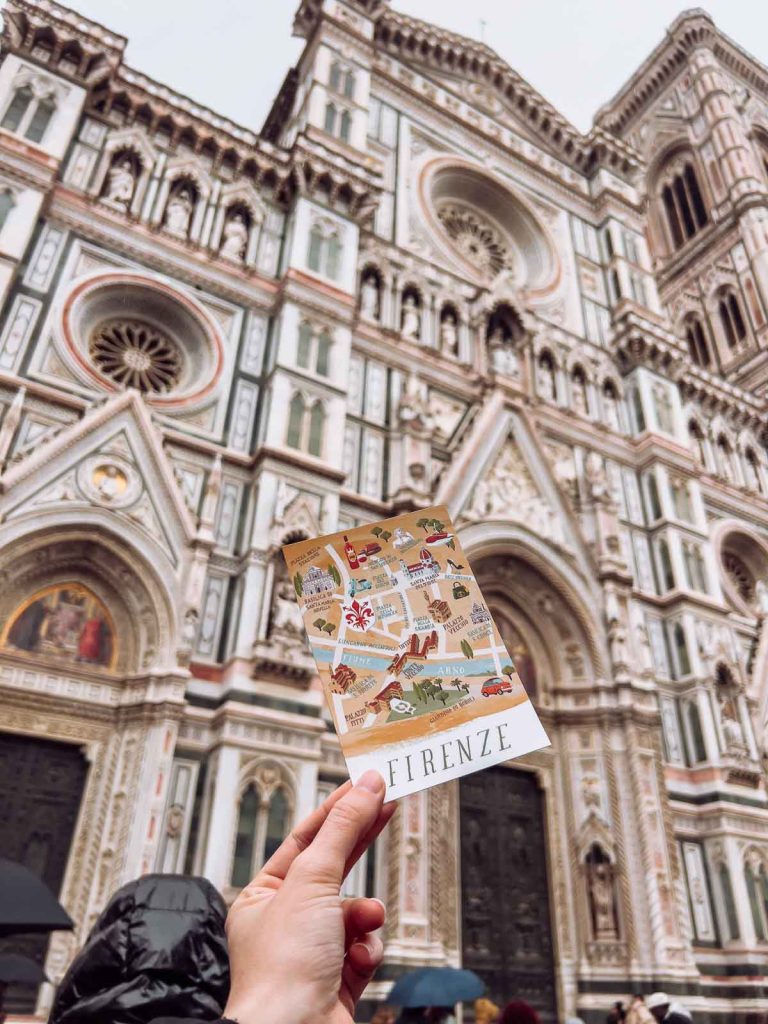 ---
What to do with two or three days in Florence?
If you're lucky enough to have more than one day in Florence, here are some options for more things to see and do in the area: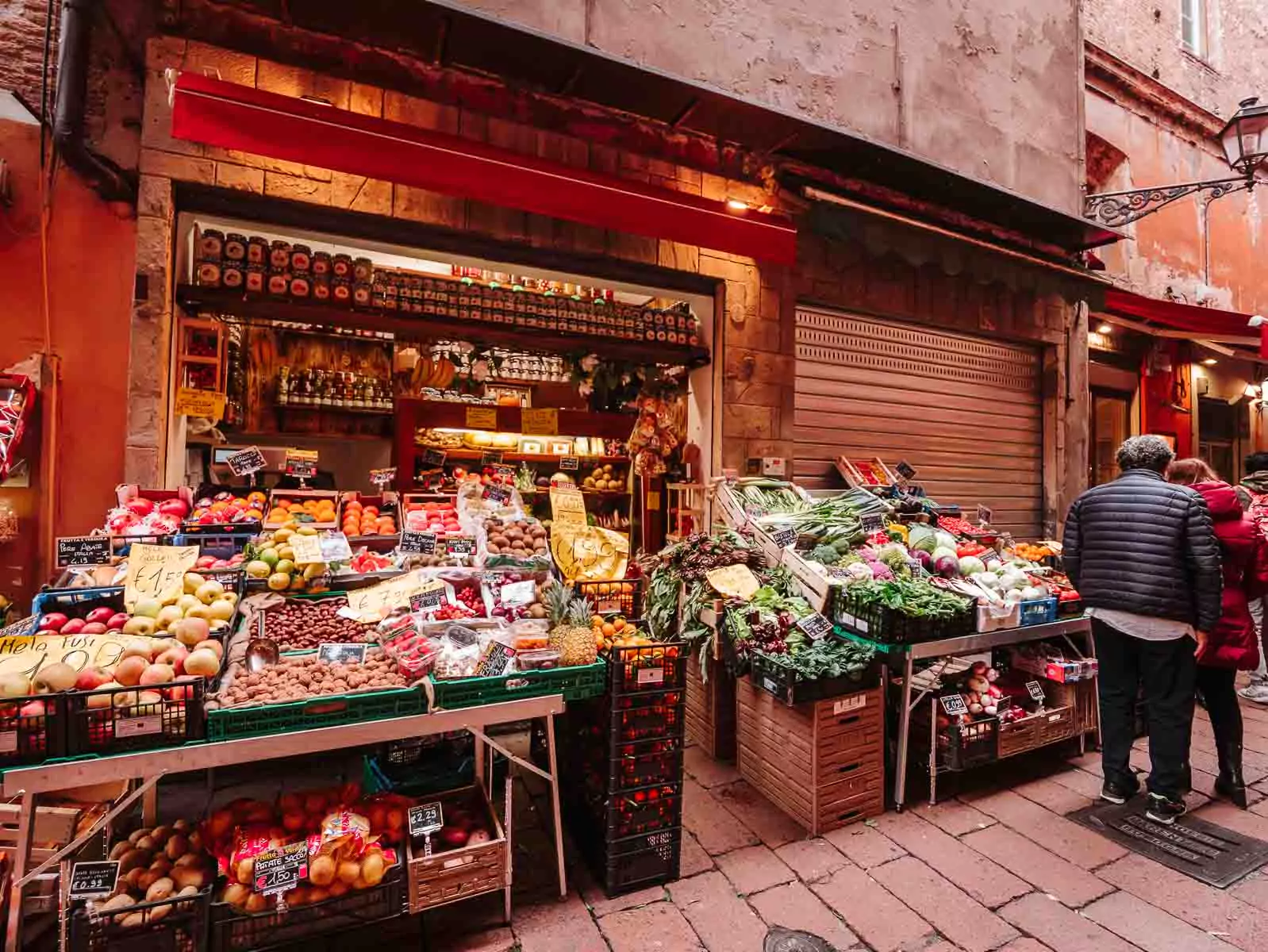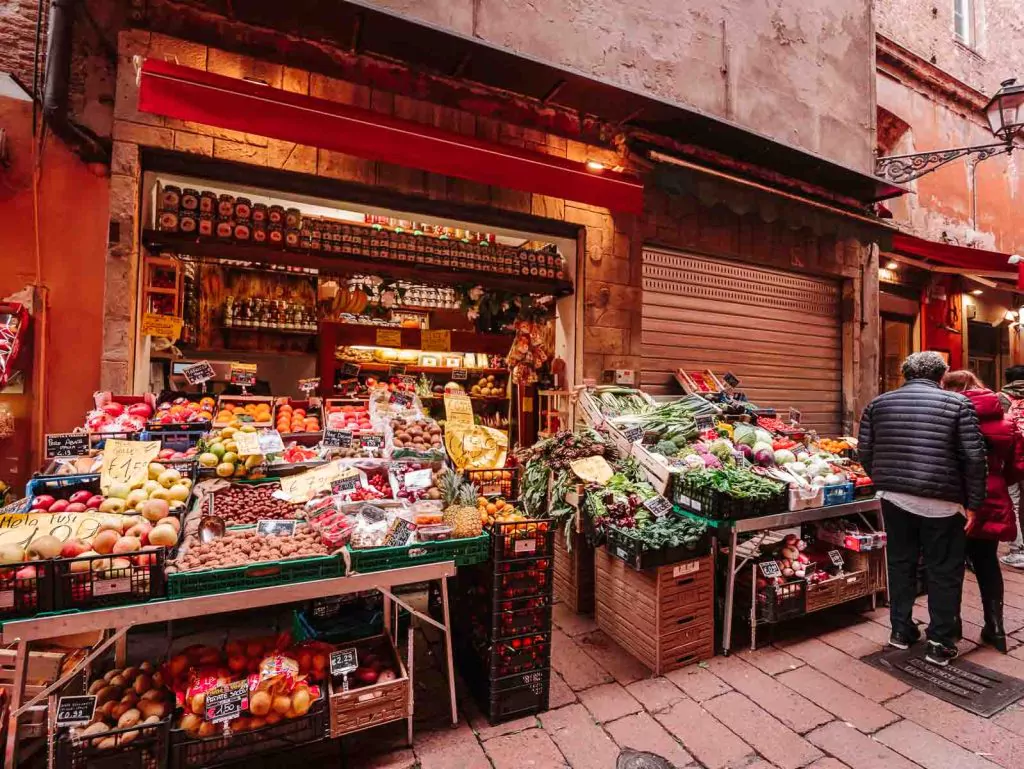 ---
How to get to Florence
Florence is easily accessible by plane, train or car, making it simple to get to and from even if you're just visiting for a short time.
If you're doing a Europe road trip and plan on driving to Florence, it's just over three hours north of Rome or just over four hours south of Milan, making it a great place to stop overnight between the two.
If you're flying in, Florence's airport is officially called Aeroporto di Firenze-Peretola (formally Amerigo Vespucci Airport, IATA code FLR). The airport is only 10 minutes from the city by car without traffic, or a 22 minute tram journey to the main train station on the T2 line.
And if you're exploring Europe by train, Florence is easy to get to from main cities all over Italy. Rome to Florence takes 1h 35m on the high speed train, Milan to Florence is around two hours, and Venice to Florence is about 2h 15m. There are also cheaper regional trains available but these are slower.
If you're travelling by train and just have one day in Florence, you can make use of self luggage storage in Florence to store your bags somewhere safe and secure while you explore the city.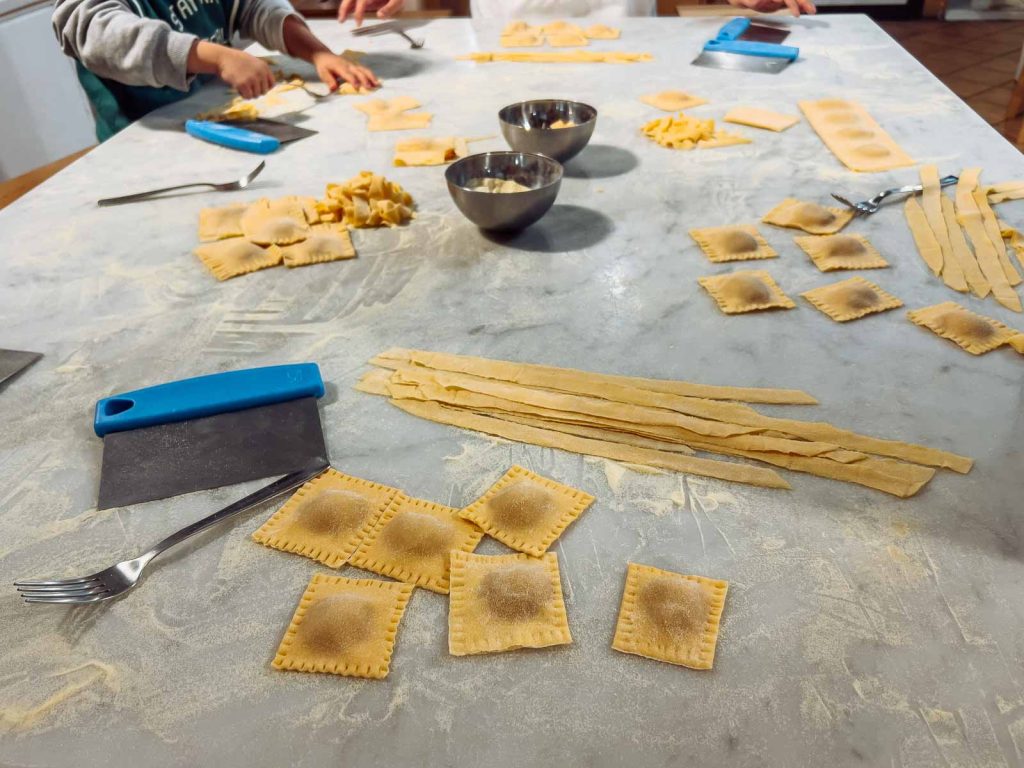 ---
How to get around Florence
Florence is a fairly small city and the best way to get around on a fine day is definitely to walk. Just make sure you wear comfy shoes, it's all cobblestones and you might end up taking the 463 stairs up to the top of the Duomo's dome!
Much of the city is pedestrian or authorised cars only, so if you're renting a car in Italy, it's best to park it at your hotel and utilise other transport options instead. If you'd like to catch a cab just be aware that taxis are quite expensive in Florence, the minimum charge is €3.30 or on Saturdays, Sundays and public holidays it's €5.30. There's no Uber, the best way to catch a cab is to go to one of the designated taxi stands which they have at most major squares and landmarks.
There is a tram and bus network that connects the center storico (historic centre) with suburban Florence, but if you're staying in the main city centre then walking is your best option.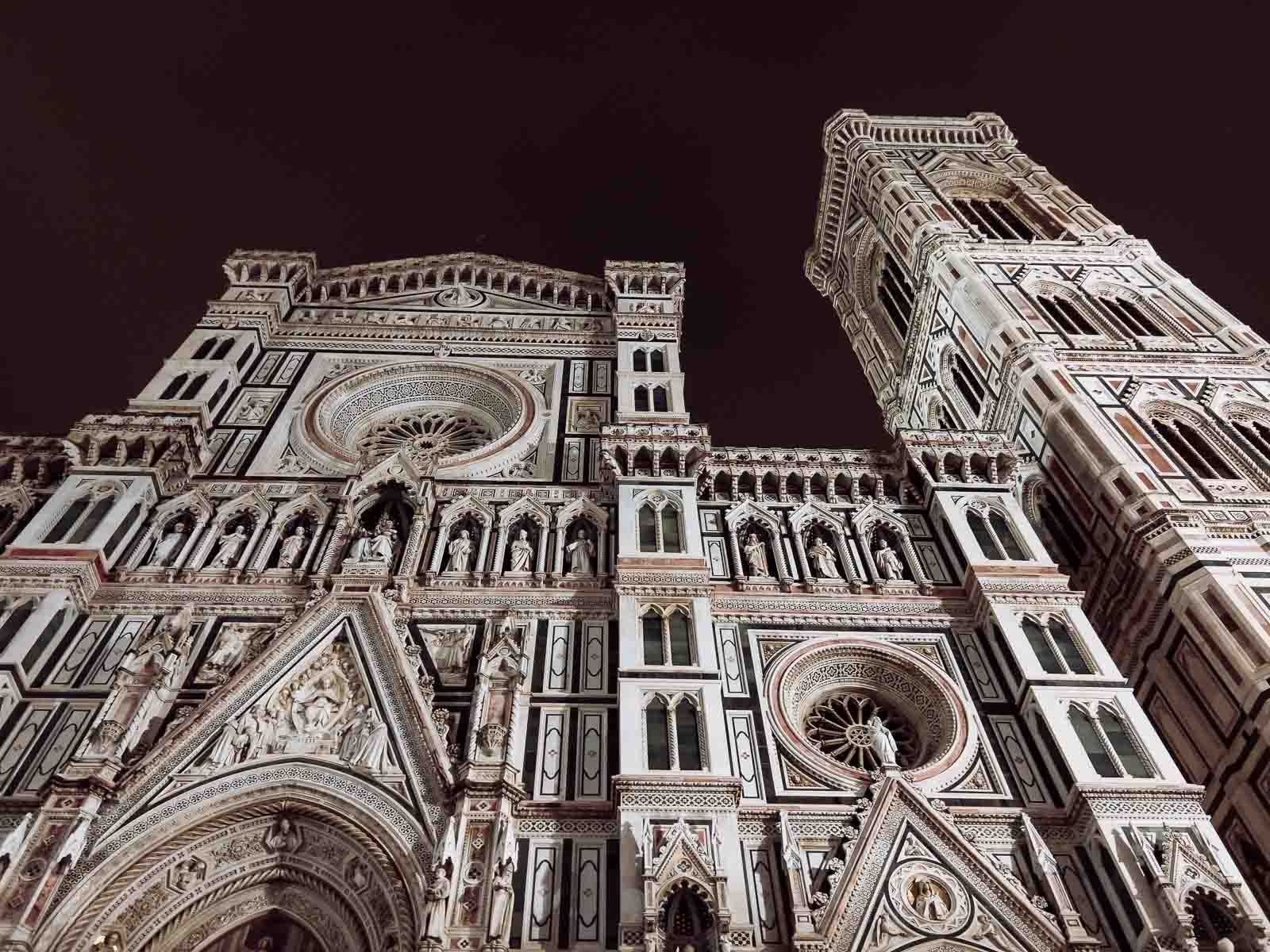 ---
There you have it, a whirlwind 24 hours in Florence! Of course there is plenty more to see and do in this stunning city but I hope your 1 day in Florence gives you a taste of what it has to offer, and maybe it'll convince you to stay for longer next time.
If you think I've missed anything important or if you have any questions you need answered to help plan your 24 hours in Florence, let me know in the comments below or send me a message on Instagram @findingalexx.
Buon viaggio!
MORE ITALY & EUROPE BLOGS YOU MIGHT LIKE: